What difference can a single dollar make?
I have a question for Andrena Curtis.
How much is a dollar?
It's a simple question that she has no problem answering.
A dollar is 100 pennies. Twenty nickels. Ten dimes. Four quarters. Or any combination of pennies, nickels, dimes and quarters that total 100 cents.
That question, and my next, are lead-ups to the question I'm really here to ask.
What is the value of a dollar to you?
"What do you mean?" she answers with her own questions. "A dollar is a dollar, right?"
I am talking to Curtis, a $10 (£8.80) an hour clothing processor at Goodwill retail store and donation center in Perry, Florida, and her co-worker, Kristina Smith. I want to know the real value of a dollar to workers and families who count and depend on every dollar they earn. So I pose a hypothetical question: if you received a dollar-an-hour pay increase, how would it affect your life?
Smith, who works part-time, 20 hours each week, wastes no time explaining the impact of the extra $16 she would bring home each week after taxes. "It means a little more gas in my tank and a little more food on my table. Any little bit helps."
Smith continues: "We're getting a dollar raise when the minimum wage goes up to $11, and I think it's about time. We work hard, and I didn't think it was fair that other people were making all this money, and the people who were working their butts off, like us, were getting the least amount of money. So I'm happy – it's about time."
In 2020, Florida voters passed Florida for a Fair Wage's constitutional amendment, which mandated raising the state's minimum wage from $8.65 an hour to $10 an hour in September 2021, with one dollar-an-hour increases annually until it reaches $15 in 2026. This year's increase from $10 to $11 went into effect 30 September.
But Curtis and Smith's excitement doesn't translate for everyone. For small business owners, like Dean Faulkenberry, who depend on minimum wage workers to keep the business in the black, it's hard to be excited about the possible demise of his business. Faulkenberry, the manager and owner of the Fair Store, predicts the annual dollar-an-hour wage increase to $15 in 2026 will be a dagger in the heart of the 97-year-old family-owned clothing retailer in downtown Perry.
"You're talking about a business that's been around for a long time and done things right to stay in business," he explains. "The Fair Store has survived regional malls. We survived Walmart. We survived Amazon and the internet. We've even survived hurricanes. But we may not survive this minimum wage increase."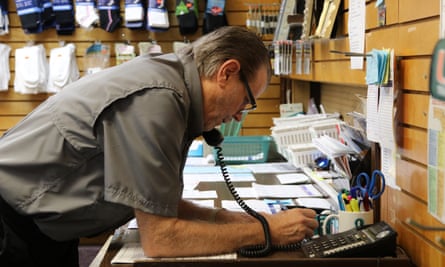 It seems the impact of a dollar more an hour minimum wage increase – a discernible gauge of the dollar's real value, depends on whether you're receiving it or paying it.
Five years ago Andrena Curtis clocked in for the first time at Goodwill's retail store. It was her first full-time job. Her job as a clothes processor is to sort through donated apparel, tag the salable items, then place them on hangers and racks inside the store. Today, she's hanging tagged shirts on the racks inside the store. She does this with a smile. She speaks to every customer who comes within speaking distance. Some she knows, some she doesn't. It's obvious that Curtis loves her job. She's content and happy here.
Curtis is the mother of a 31-year-old daughter and grandmother of five – four girls and a boy. She lives in a one-bedroom subsidized apartment in Perrytown Apartments, but she dreams of one day moving into a house with a fenced-in yard for her grandchildren to play in. When she moved into the apartment 11 years ago, the complex was named Tidewater Apartments, but the locals called it "the Projects". Some still do.
Currently, she adds $20 or $30 to one of her weekly checks to cover her $361 monthly rent. When her pay increases from $10 to $11 an hour, she will bring home approximately $32 more each week. Then, she won't have to add anything. A paycheck will cover her rent.
Curtis has been working to turn her dream of buying her first car into reality. In March 2020 and March 2021, she set aside part of her income tax return to purchase a car. She didn't want a monthly payment, so her plan was to save a few dollars every week from her paycheck and add it to her savings until she had enough for a car. By the end of each year, her savings had been depleted by expected and unexpected bills, school clothes for her grandchildren, holiday gifts and a birthday party or two. This year she did the same and set aside part of her tax return in March.
In October, Curtis, who has given herself a birthday party each of the past 10 years, will use the last of this year's car savings to give herself a 48th birthday party. She doesn't feel bad about spending the money on her party because she has a plan. Hypothetically speaking, she says she could start saving the extra $32 every week and put that with next year's tax return to buy a car. She's doubtful that will happen though.
These types of dreams are what Curtis calls life dreams – things she hopes to do or things she want to have at some point in her life. The dreams that drive her the most – those that make her get up, get dressed, and punch the time clock every morning – are the ones that move her daughter and five grandchildren closer to the life she envisions for them. A life with a future that doesn't mimic her own life, which included foster care and feeling left behind because of a learning disability. "I work to pay my bills and take care of my grandchildren," Curtis clarifies. "It helps that I love my job and learning new things. It helps that I love the people I work with and the company I work for. But don't get it twisted. I work to pay my bills and take care of my grandchildren."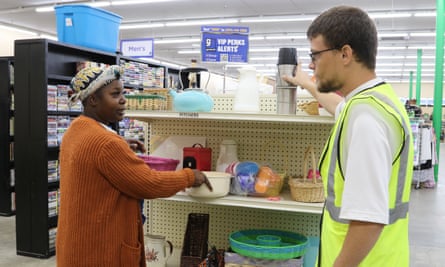 While one paycheck covers her rent, another paycheck usually covers her utility bills, which average $300 to $350 every month. Twice a year, during the summer months and during the winter months, she's usually eligible for utility assistance from local social services agencies.
A third paycheck covers bills like cable, which averages $120 each month, and her and her granddaughter's $100 to $125 cellphone bill. This paycheck also pays for grocery. The day I interviewed Curtis she told me she had just gotten a notice that she will receive a $3 raise on her food stamps – from $20 to $23 each month. She expects to become ineligible for food stamps when her pay goes up one dollar to $11 an hour.
Curtis uses her fourth paycheck for any unexpected expenses and to help her daughter, who she encouraged to return to school to become a certified phlebotomist. "I don't mind making some sacrifices to help my daughter out while she is in school because she'll be better able to take care of my grandchildren when she graduates," Curtis explains.
Curtis already has plans for the extra $32 she will bring home each week after taxes when the new minimum wage goes into effect. "I'm too ready for my dollar raise," Curtis adds, "I will bring home about $120 more every month. That will help with grocery since I'm probably going to lose my $23 food stamps. It will also pay for gymnastics class for my six-year-old granddaughter. She's been wanting to take gymnastics for a while. Who knows? This extra dollar might take her to the Olympics one day."
Goodwill, a non-profit job training and development organization, doesn't expect to reduce the hours or layoff any of its nine minimum-wage employees at the Perry retail store.
'This is going to be catastrophic to mom-and-pop businesses'
The Fair Store's days may be numbered.
The family-owned apparel store has been a fixture in downtown Perry since 1925. It survived the Depression, wartime economies, and the decline of downtowns in America's small towns during the 1970s and 1980s. The store, which sits across the street from the courthouse, managed to endure when the internet introduced the world to Amazon and allowed customers to shop online just like they would in a brick-and-mortar store.
Today, small businesses like the Fair Store are facing another threat – a mandate that increases Florida's minimum wage by one dollar an hour annually for four years. But this threat is different from the others, says store manager Dean Faulkenberry. For him, it's a "dagger in the heart" of small businesses.
"On September 30, we'll start paying a dollar more an hour, $11 an hour, to meet the minimum wage requirement. That's $2.35 more than what it was two years ago. A 25% increase in what we were paying for wages two years ago. The inflation we're experiencing in the state of Florida is fueled by the fact that businesses are paying 25% more in wages than what they were paying just two years ago. Right now, including myself, we have four part-time employees. Those four people are the people who will be affected by this. Margins in the retail industry are slim and if you increase the cost of wages by a one dollar each year for five years, there's no room for keeping your power on."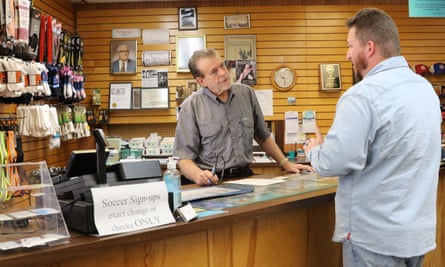 Faulkenberry is showing me around the store while a part-time clerk mans the store. The Fair Store survived by adapting, but its owners are not looking forward to the changes that the new minimum wage law will bring. When the store opened, and for most of its 97 years in business, it was primarily a clothing and shoes store. Today, the store's business is mostly driven by the area's work industry. The racks of men's suits, dress and casual clothes, shoes and tennis shoes have been replaced by safety-toe boots, medical uniforms and law enforcement accessories.
"The Glickmans understood their business," he says. "They knew how to treat their customers. And they knew when it was time to change things up." Faulkenberry should know. He's married to the store's owner, Marsha Doll, granddaughter of the store's founder.
"This is going to be catastrophic to mom-and-pop businesses," he tells me. "Most will have to let their employers go and let mom and pop – my wife and myself, run the store because we can't afford to hire anyone else. There will be so many businesses going out of business because they just can't afford it."
Faulkenberry's prediction has a better-than-good chance of coming true based on the findings of a 2020 study, Estimating the Impact of a $15 Minimum Wage in Florida, by economists David MacPherson and William Even. MacPherson and Even conservatively estimate that 158,000 jobs will be lost as a result of the state's new minimum wage law, with 32,727 of those jobs being in the retail industry. According to MacPherson, these jobs will be lost because employers in industries with narrow profit margins cannot offset the cost of the wage mandate through higher prices, so they are forced to reduce their workforce. "The people who benefit from this dollar-more wage increase are the ones who get the raise and don't get terminated," MacPherson states. "The people who lose are the ones who get terminated because the employer can no longer afford to pay them the higher wage."
Therein lies the problem for Faulkenberry.
"Some people say why don't you just raise your prices, pass it along to the consumer," he expounds. "You can't do that. Say I have a pair of boots out there and the suggested retail price is $200 based on the cost of the product and what the company thinks its retail price should be. Because wages are going to be substantially more, can I just make the price $250? No. People shop the internet, and the internet keeps everyone in sales pretty much honest. If I raised the price and somebody saw it later with the suggested retail price, they'd say I'm a rip-off. So, I can't arbitrarily raise the price of my products because wages go up. I have to eat that. There are slim margins in the retail industry. You either eat the extra cost of wages or go out of business."
In addition to wages, the profit margin from the sale of those boots and other items at the store has to cover expenses like shipping, utilities, insurance and store supplies. After these expenses are deducted from the profit margin, you're left with the net profit, hopefully a positive number. For Faulkenberry and the Fair Store, the biggest expense is the cost of goods sold or inventory cost, followed by payroll, utilities and insurance.
Faulkenberry believes the minimum wage was created for entry-level and part-time jobs for people entering the workforce with little to no experience, including high school and college students. "I don't think anyone expected minimum wage to be jobs for people to support families. This was supposed to be for entry-level jobs. If you need to make more money work, you can do it two ways – work your way up through the organization over time or get additional education."
No longer hypothetical
My hypothetical question about the impact of receiving a dollar-an-hour pay raise became reality on 30 September for Florida's minimum wage workers, like Curtis and Smith. Both saw the raise in their last two paychecks.
"I worked 30-some hours the first and the second week of October, but I brought home close to what I was bringing home for 40 hours because the minimum wage went up a dollar," Curtis said. "I was really happy about that, but now I'm ready to work a full 40-hour week to see what I bring home."
Reality became much grimmer for small business owners like Faulkenberry that day. Faulkenberry said his business will survive this dollar-an-hour wage increase but a dollar increase each year for the next three years may be the straw that breaks the camel's back.
"Raising the minimum wage by one dollar each year instead of raising it to $15 all at once eases the pain somewhat, but it still doesn't change the inevitable," Faulkenberry said. "This is going to be a catastrophe for small businesses."
Source: https://www.theguardian.com/us-news/2022/nov/08/what-difference-can-a-single-dollar-make
Fed announces smallest interest hike in a year as inflation 'eases somewhat'
The US Federal Reserve signaled a slowdown in its fight against soaring inflation on Wednesday, announcing its smallest hike in interest rates in almost a year.
After its latest meeting, the Fed announced a quarter-point increase in its benchmark interest rate to a range of 4.5% to 4.75%, the smallest increase since March last year. "Inflation has eased somewhat but remains elevated," the Fed said in a statement adding that "ongoing increases" will be appropriate as it seeks to bring prices down.
"We covered a lot of ground, and the full effects of our rapid tightening so far are yet to be felt. Even so, we have more work to do," said Fed chair Jerome Powell.
Inflation in the US has been running at levels unseen since the 1980s, triggering a cost of living crisis as the price of everything from eggs to gas and rent has shot up.
In order to tamp down inflation the Fed has aggressively hiked rates as it seeks to cool the economy and bring prices back under control.
A year ago the Fed rate – which affects the interest rates on everything from business and personal loans to mortgages and credit card rates – was close to zero. After the most rapid series of rises since the 1980s, it is now at a level last seen in 2007.
There are signs that prices are coming down. In December, the annual rate of inflation fell to 6.5% from 7.1% in the previous month, the sixth straight month of yearly declines and well below the peak of 9.1% it hit in June, its highest rate since 1982.
Consumer spending – the largest driver of the economy – fell 0.2% from November to December. The housing market has slowed and many of the major tech companies have announced large job cuts as they have moved to rein in spending.
But inflation remains well above the Fed's annual target rate of 2% and the central bank has said it will keep rates high until price stability is achieved. The Fed also continues to worry about the jobs market. The unemployment rate was 3.5% in December, a 50-year low and on Wednesday the labor department announced there were 11m job openings in the US in December – almost two available jobs for every person looking for one and an increase from November.
The tight labor market has driven up wages and Powell, has made clear that the central bank believes rising wages threaten to spur on inflation – a so-called wage-price spiral. "You don't see that yet, but the whole point is, once you see it, you have a serious problem. That means that effectively in people's decision-making, inflation has become a real salient issue," said Powell. "That is what we can't allow to happen."
Bank of England raises UK interest rates to 4%
The Bank of England has blamed the inflationary impact of higher than expected wage rises for an increase in interest rates from 3.5% to 4%, piling more pressure on mortgage payers and businesses struggling to pay off their loans.
Amid calls from unions for higher wages to protect against the worst falls in living standards for 100 years, a majority of the Bank's monetary policy committee (MPC) said the 0.5 percentage point rise was needed after a jump in private sector wages above the central bank's previous forecasts.
Marking its 10th consecutive rate increase, the Bank said the economy would enter a shorter and shallower recession than it predicted last year – with output falling by 1% from peak to trough compared with a 3% drop it said in November.
Bank staff now expected GDP to have grown by 0.1% in the final quarter of 2022, stronger than predicted in November. That would mean the UK did not enter a technical recession in 2022, as previously thought after the economy shank by 0.3% in the third quarter.
The UK economy is forecast to shrink in each quarter of 2023 and the first quarter of 2024 before staging a modest recovery.
The Bank said the hit to trade from Britain was being felt sooner than previously expected. "The effects of Brexit on trade are now estimated to be emerging more quickly than previously assumed, and that lowers productivity somewhat," it said.
The 0.5-point increase was forecast by City analysts, who expect the Bank to raise interest rates again to 4.5% in the spring before a series of cuts next year brings Bank rate back to 3.5%.
More than 1.5 million mortgage payers are expected to suffer an average £3,000-a-year increase in interest payments when they refinance their loans this year as well as the hundreds of thousands of households that refinanced at higher rates in 2022.
Monthly bills for households in the rental sector have rocketed, with landlords blaming higher borrowing costs for the rises.
Two members of the nine-member MPC voted to keep rates at 3.5%, arguing that the effects of previous rates rises had yet to feed through into the wider economy.
Silvana Tenreyro and Swati Dhingra, both seconded from the London School of Economics to the MPC, have repeatedly warned that the central bank underestimates the impact of previous interest rate rises and should pause to judge the effects on mortgage holders, renters and small businesses before taking further action.
The MPC's majority view was that it would "continue to monitor closely indications of persistent inflationary pressures, including the tightness of labour market conditions and the behaviour of wage growth and services inflation".
In a warning to workers, it said if there was evidence of "more persistent pressures, then further tightening in monetary policy would be required".
The Bank expects the headline rate of inflation to fall rapidly this year from December's 10.5% to 3.5% by the end of the year, and then 1% in 2024. The Bank has an inflation target of 2%.
The MPC said GDP would only reach its previous peak in 2019 by 2026, indicating that a combination of staff shortages fuelled by the Covid-19 pandemic and Brexit combined with high energy prices had reduced the economy's capacity to grow.
After the turmoil in financial markets that followed Liz Truss's mini-budget, investors forecast interest rates peaking at 5.25%, but the highest they expected before today's meeting was 4.5%.
Private sector wages increased by 7.2% in the three months to November, according to official figures that show the highest rises going to workers in the financial services sector and business services such as accountancy and the legal industry. Most negotiated wage rises are about 4%, according to industry surveys.
Shell's actual spending on renewables is fraction of what it claims, group alleges
Shell has misleadingly overstated how much it is spending on renewable energy and should be investigated and potentially fined by the US financial regulator, according to a non-profit group which has lodged a complaint against the oil giant.
The US Securities and Exchange Commission (SEC) has been urged to act over Shell's most recent annual report in which it stated 12% of its capital expenditure was funneled into a division called Renewables and Energy Solutions in 2021. The division's webpage, which is adorned with pictures of wind turbines and solar panels, says it is working to invest in "wind, solar, electric vehicle charging, hydrogen, and more".
However, Global Witness, the activist group that has lodged the new complaint with the SEC, argues that just 1.5% of Shell's capital expenditure has been used to develop genuine renewables, such as wind and solar, with much of the rest of the division's resources devoted to gas, which is a fossil fuel.
"What Shell has said about the energy transition is not reflected in what they are doing," said Zorka Milin, senior adviser at Global Witness. "This business unit is fundamentally mislabeled, it has very little in the way of renewables and investors could be lulled into thinking Shell is doing far more on renewables than it is.
"This is greenwashing. Gas, whatever it may be, is not renewable, it's part of the problem. I hope the SEC opens an investigation and imposes appropriate penalties to stop this greenwashing."
Shell does not have a full breakdown of its renewable energy activity in its annual reports but Global Witness said that by examining the document they could find $288m in wind and solar investment in 2021, which is equivalent to 1.5% of Shell's capital expenditure. Much of the spending by the Renewables and Energy Solutions division appears to be on the trading and marketing of gas.
Should the SEC act over the issue, it will mark the most aggressive regulatory foray yet by the US federal government against a fossil fuel sector that is facing multiple lawsuits in several states for misleading investors and the public over what they knew about the climate crisis.
Shell, which is headquartered in London but is listed on the New York stock exchange, has denied misleading investors. "We're confident Shell's financial disclosures are fully compliant with all SEC and other reporting requirements," said a company spokeswoman.
The Shell spokeswoman said the company budgeted $20bn for "energy transition activities" in 2022, which is a third of its total operational and capital expenditure spending. This investment went towards renewable energy, hydrogen fuels, capturing carbon at the source of pollution and research and development, she said.
Most of the world's largest oil companies now accept that burning their product is causing global heating and have committed to the goals of the Paris climate agreement. But their shift away from fossil fuels has been ponderous – only about 5% of oil and gas company capital expenditure went to wind, solar and other renewables in 2022, according to the International Energy Agency. This was up from just 1% in 2019.
Last year was a particularly lucrative one for oil companies' traditional business model, with soaring fossil fuel costs in the wake of Russia's invasion of Ukraine prompting record profits for some of the wealthiest businesses in the world. Exxon made a record annual profit of nearly $56bn last year, while Chevron has reported a $36.5bn profit for 2022.
Milin said she hoped the SEC, which is separately mulling new requirements for companies to disclose their greenhouse gases, would act to deter other oil companies. "No more will we allow big polluters to pull the wool over our eyes while the world burns," she said. The SEC did not respond to a request for comment.
Bruce Huber, an expert in environmental law at Notre Dame University, said the new complaint highlights the external pressure that environmentalists are now placing upon fossil fuel companies.
"What we're seeing now is climate activists poring over the disclosures of energy firms with a fine-tooth comb, looking for any misstatements that could be the basis for liability or penalty," he said.
"Whether these tactics will actually induce Shell or its competitors to decarbonize is unclear, but even if not, those firms won't be able to sneeze without someone looking for a securities violation."