'We build those cars': US workers on Ford picket line demand a fair share
Under blue skies in Wayne, Michigan, a half-hour outside Detroit, the mood was festive but defiant as hundreds of autoworkers settled in for the first weekend of picketing at the entrances to Ford's Michigan Assembly Plant.
Ford's workers were among the first to go out in a series of targeted strikes that marked the beginning of the largest industrial action taken by US car workers in over a decade.
A chorus of horns blared in support from Michigan Avenue, a busy highway running through the nation's automotive heartland. Strikers turned away semi-truck after semi-truck trying to deliver parts to the plant, which produces the Ranger and Bronco. "Hell no, you're not coming in here, keep it moving," a worker yelled.
The United Auto Workers (UAW) president, Shawn Fain, called the strike after failing to reach new union contracts with Ford, General Motors and Stellantis before a midnight Thursday deadline.
The strikers' message: they're no longer accepting the automakers' "corporate greed". They point to the companies' record profits in recent years and huge stock buyback programs that are enacted as workers struggle to make ends meet.
Ford's CEO, Jim Farley, briefly stopped by to meet with picketers. Several workers near retirement weren't particularly impressed by the gesture. He made $29m a year, they noted, while hourly workers were "fighting to get money to survive after we leave here", said plant worker Stu Jackson. "How many years do we even have left to live after we retire? Ten years?" asked Jackson, who highlighted the toll factory work exacts on workers' bodies and health.
"Did you see Farley in his tailored European suit? Wasn't he sharp?" Jackson asked. "He looks like the $29m man. Those nice shoes.
"And look at us," Jackson added with indignation, motioning to the small group dressed in jeans, T-shirts and sweatpants. "This isn't fair."
As Fain has pointed out repeatedly, CEO pay has soared as the car companies have recovered from the 2008/2009 financial crisis. Pay for the big three companies' bosses jumped by 40% between 2013 and 2022. The GM boss, Mary Barra, took home $29m in 2022. Meanwhile, auto manufacturing workers have seen their average real hourly earnings fall 19.3% since 2008, according to the Economics Policy Institute.
Domonique Hicks, a young mother of three who lives in Detroit, said the $16.67-an-hour wage she received was not feeding her children.
"We're here to take back what Ford took from us," Hicks said. "They didn't want to bargain with us so we're making a statement – if you can make millions and billions, then we deserve something. We build those cars." The strike will go on for as long as Ford "wants to keep their checkbook in their pocket", she added.
Among other issues, the union is calling for a 40%-plus pay increase, an end to two-tier wage systems in which new hires are paid significantly less for doing the same work and the restoration of benefits cut to help save the car companies after the 2008/2009 recession drove them to bankruptcy.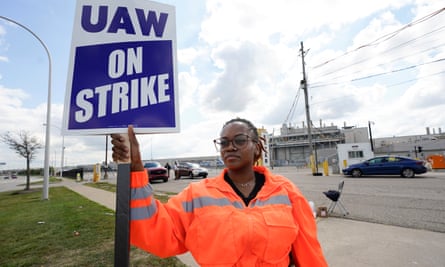 Auto executives expressed frustration as the strike entered its first weekend. A Ford spokesman called the UAW's terms "unsustainable". "I'm extremely frustrated and disappointed. We don't need to be in a strike right now," Barra told CNBC on Friday.
The White House is watching developments closely. On Friday Joe Biden said his team was engaged in trying to find a resolution and called on the car companies to "go further" in their negotiations with striking workers.
"The companies have made some significant offers. But I believe that should go further to ensure record corporate profits mean record contracts," he said. "Record corporate profits, which they have, should be shared by record contracts for the UAW," Biden reiterated.
Hicks said she had a message for those who oppose the strike, or worry about how it will affect the economy. "People are hurting. You're talking about shutting down the economy? [The auto companies] are shutting down the economy because they aren't putting money back into it, so we're here to get it.
"How am I supposed to feed my kids?" Hicks asked. "We're just trying to live and support our family."
Even with a wage of about $24 an hour after starting at $16 nearly four years ago, plant worker Amanda Robinson says she can barely afford the payments on her car and there's not much left after bills at the end of the month to raise her three-year-old son.
Working in the plant is not an "easy walk in the park, sit at a desk" job, she said. It was grueling and took a physical toll, Robinson added, and they deserved better wages.
"We're showing them that we're not playing," she said. "We're willing to do whatever it takes. Everybody is standing behind us."
Source: https://www.theguardian.com/business/2023/sep/16/ford-strike-picket-line-workers
Adidas chief exec: Kanye West 'didn't mean what he said' with antisemitic comments
Bjørn Gulden, chief executive of Adidas, has lamented the end of the company's lucrative partnership with Kanye West, saying, "I don't think he meant what he said," regarding the rapper's antisemitic comments in October 2022.
West, who has changed his name to Ye, wrote on X (formerly Twitter) that he was "going death con 3 On JEWISH PEOPLE … You guys have toyed with me and tried to black ball anyone whoever opposes your agenda". On Instagram, he posted a screenshot of a conversation with Diddy, where he wrote: "Ima use you as an example to show the Jewish people that told you to call me that no one can threaten or influence me." Ye had caused further anger earlier that month by including T-shirts with the slogan White Lives Matter in a Yeezy fashion show in Paris.
Later in October, Adidas ended a creative partnership with Ye that had begun in 2015, saying his comments were "unacceptable, hateful and dangerous, and they violate the company's values of diversity and inclusion, mutual respect and fairness".
In December, Ye caused further outrage after posting an image of a swastika blended with the Star of David to X and praising Adolf Hitler and Nazis in an interview with Infowars host Alex Jones. "I see good things about Hitler," said Ye. "Every human being has something of value that they brought to the table, especially Hitler … [Nazis] did good things too." He added: "There's a lot of things that I love about Hitler."
Now, speaking on the Norwegian podcast In Good Company, Gulden elaborated on the rapper's departure, prior to Gulden's tenure which began in January after he left Puma.
"I think Kanye West is one of the most creative people in the world," he said. "Both in music and what I call street culture. So he's extremely creative and has together with Adi created a Yeezy line that was very successful. And then, as creative people, he did some statements, which wasn't that good. And that caused Adi to break the contract and withdraw the product. Very unfortunate, because I don't think he meant what he said and I don't think he's a bad person – it just came across that way.
"That meant we lost that business. One of the most successful collabs in history – very sad. But again, when you work with third parties, that could happen. It's part of the game. That can happen with an athlete, it can happen with an entertainer. It's part of the business."
With its futurist silhouettes and pop-cultural heft, Yeezy became a successful brand for Adidas, generating £1.3bn in 2021, 7% of Adidas's overall annual revenue. It was a major source of income for Ye, who took a reported 11% royalty cut.
After cutting ties with Ye, Adidas was lumbered with more than £1bn of unsold Yeezy stock. In May, Gulden announced plans for the stock, saying it would be sold but with a "significant amount" of proceeds handed to groups which combat hate speech, including the Anti-Defamation League, the Philonise & Keeta Floyd Institute for Social Change (run by the family of George Floyd) and the Foundation to Combat Antisemitism. At the time, Gulden said: "There is no place in sport or society for hate of any kind and we remain committed to fighting against it."
Jonathan Greenblatt, chief executive of the Anti-Defamation League who had condemned Ye as a "vicious antisemite" who "put Jews in danger", welcomed the move as "a thoughtful and caring resolution".
But the musician will still earn his share of profits, which has caused some consternation. Josef Schuster, president of the Central Council of Jews in Germany, said Adidas's donations were "highly commendable … [but] the fact that Kanye West would profit financially from the sale is highly problematic".
The end of the Yeezy product line contributed to a £350m drop in sales for Adidas in the first quarter of 2023, in a year-on-year comparison with 2022. Announcing those results in May, Gulden said: "2023 will be a bumpy year with disappointing numbers … the loss of Yeezy [is] of course hurting us."
Ye, who has hinted at a 2024 presidential run to follow his 2020 campaign, has kept a relatively low profile since his antisemitic comments, though has remained a tabloid fixation for his relationship with girlfriend and co-worker Bianca Censori. The couple were pictured together at London fashion week last week.
FTX sues Sam Bankman-Fried's parents, claiming they received millions in gifts
FTX is suing the parents of Sam Bankman-Fried, two longtime Stanford Law School professors, alleging that the couple inappropriately used company funds to enrich themselves through gifts and donations.
The cryptocurrency company, now operating under CEO John Jay Ray III, an expert in helping companies recover after bankruptcy, claims Joseph Bankman and Barbara Fried received funds from their son's company in the form of gifts and donations to specific causes.
The lawsuit is the company's first legal pursuit against Bankman-Fried's parents for their role in the company.
"As Bankman-Fried's parents, Bankman and Fried exploited their access and influence within the FTX enterprise to enrich themselves, directly and indirectly, by millions of dollars," the lawsuit said. "Despite presenting itself to investors and the public as a sophisticated group of cryptocurrency exchanges and businesses, the FTX Group was a self-described 'family business'."
The lawsuit said Bankman and Fried received a $10m gift and a $16.4m luxury home in the Bahamas, where FTX was based, "despite knowing or blatantly ignoring that the FTX Group was insolvent or on the brink of insolvency". The couple also advocated for "tens of millions of dollars" of company funds to be used for political and charitable contributions, including to Stanford and to Mind the Gap, a leftwing super political action committee (Pac) co-founded by Fried.
The couple "either knew – or ignored bright red flags revealing – that their son, Bankman-Fried, and other FTX Insiders were orchestrating a vast fraudulent scheme to profit and promote their personal and charitable agendas at [the company's] expense".
The company is also accusing Bankman of trying to help cover up FTX mismanagement and fraud, saying that he "portrayed himself as the proverbial adult in the room – and was uniquely positioned to fulfill that role – as he worked alongside inexperienced fellow executive officers, directors and and managers responsible for safeguarding billions of dollars."
The couple has not publicly commented on the lawsuit, though a spokesperson last year told the New York Times that Bankman had worked for FTX for 11 months and said "most of his time was spent identifying worthy health-related charities".
Bankman-Fried faces seven counts of federal charges, including charges of fraud and money laundering. After spending months under house arrest in his parents' home in Palo Alto, Bankman-Fried was sent to a Brooklyn jail in August after a judge ruled he had tampered with witnesses. The former FTX CEO had leaked to the New York Times personal writings of Caroline Ellison, Bankman-Fried former romantic partner and former chief executive of Alameda Research, the hedge fund that was connected to FTX.
Bankman-Fried's lawyers have been fighting for his release from prison ahead of his 3 October trial start date.
Instacart shares jump 43% in grocery delivery business's Nasdaq debut
Shares in online grocery delivery business Instacart jumped 43% in its Nasdaq trading debut on Tuesday.
While shares dropped back in later trading, ending the day up just over 12%, the price pop was the second successful initial public offering (IPO) in a week following the sale of British microchip designer Arm.
Instacart's shares started trading at $30 and closed at $34.23, valuing the company at about $11bn. That's about half the valuation it received from investors last March.
Instacart's core business is to send couriers to grocery stores to pick out orders and deliver them to homes, but in recent years it has expanded into advertising and technology services, including artificial intelligence operations.
Instacart executives pitched the offering as an opportunity to get in on a revolution in the grocery business that, they said, had notably lagged in developing technologies to meet shifting consumer habits.
US consumers are ordering more groceries online than they did before the pandemic, when demand for home delivery soared, but they are doing so less often. Instacart has only recently started making profits after years of losses and faces strong competition from Uber and DoorDash.
Instacart's share offering was backed by big investors, including PepsiCo, Norway's Norges Bank and Sequoia Capital.
Among the winners from the IPO is Apoorva Mehta, 37, who co-founded the company in 2012 and stepped down as CEO in 2021. Mehta's 10% stake in the firm is now valued at $1.3bn.
Instacart currently has more than 3,000 employees and about 600,000 "shoppers" – independent contractors who pick up orders. The company has said it will pay bonuses to shoppers who have delivered at least 5,000 orders and a $20,000 bonus to those who have delivered at least 15,000 orders.