Virtues of courage, compassion, work, friendship — these must be taught, say Bill Bennett, Elayne Bennett
One of the most popular and significant moral primers of our time has returned this fall in a new and updated 30th anniversary edition — just in time for Thanksgiving and Christmas. 
The editors and authors, William J. Bennett and Elayne Glover Bennett, spoke to Fox News Digital exclusively in a joint phone interview a couple of days ago about "The Book of Virtues: 30th Anniversary Edition."
They revealed how much they believe the lessons they share on courage, compassion, work, honesty, friendship, faith and more are needed today, perhaps even more than they were needed 30 years ago. 
ON KIDS AND READING, WILLIAM BENNETT SHARES 'INCREDIBLE LITERACY SUCCESS' IN MONTGOMERY, ALABAMA
Said William Bennett of American society in 2022, "Politics has so overwhelmed us today that we sometimes forget there are things that are even more important than that — such as the raising of children. We thought it was time to renew that idea with this book."
Yet "we didn't just want to put out the book again," he said. "We have new stories, new selections added to this edition. And we kept in what we think is the best."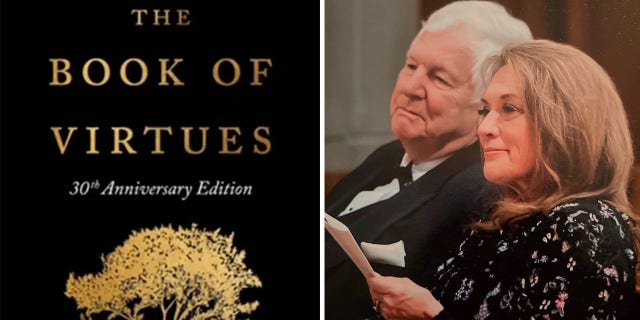 He also said, "If we needed it then [in 1993], we need it even more now." 
He noted that 30% of the material in the 30th anniversary edition is new and different from the original book. 
Elayne Bennett said it's key for parents to have "a collection they can go to. Often there's the teachable moment, when parents feel their child has done something notably wrong. And they're trying to think of a way to teach the child, instead of saying, 'No, don't do that,' or, 'Oh, that's bad.'"
"There's the teachable moment, when parents feel their child has done something notably wrong. And they're trying to think of a way to teach the child." — Elayne G. Bennett to Fox News Digital
Rather than fritter away a teachable moment by using negative or ineffective language, parents can instead reclaim their role as their children's first teachers and go "larger" than just the child's particular action at hand, the Bennetts stress.
With this book, "they have a resource — and can say instead, 'Let's read some stories from the section on work and the value of work, or on compassion and why it's important, or on friendship and what it means to be a good friend,'" said Elayne Bennett.
WHY GRATITUDE TRUMPS A 'GIVE ME' CULTURE — AND HOW PARENTS CAN TEACH KIDS TO DO FOR OTHERS 
The authors are themselves the parents of two grown sons and the grandparents of a grandson named William. They've spent their lives devoted to the values they share.
William Bennett, the author and editor of more than 25 books, served as secretary of education and chair of the National Endowment for the Humanities under President Ronald Reagan. He was also director of the Office of National Drug Control Policy under President George H.W. Bush.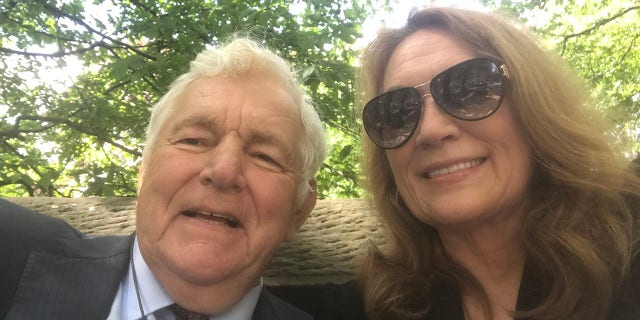 Bill Bennett is a respected voice on cultural, educational and political issues and is the Washington Fellow of the American Strategy Group (amstrategy.org). He is a Fox News contributor. 
Elayne Bennett, a longtime educator, is founder and president of the Best Friends Foundation and author of a core curriculum that targets bullying, drug abuse and violence prevention. The curriculum emphasizes character development for kids in kindergarten up through high school.
She's in her 35th year of teaching it and today works primarily in schools in Washington, D.C. (bestfriendsfoundation.org).  
"I don't think we talk enough about the value of work, the reward of work and the pleasure that comes with the notion of a job well done." — Bill Bennett to Fox News Digital
Bill Bennett said about work — one of the book's 10 themed chapters — "These stories are needed now more than ever. My friend Nick Eberstadt at AEI [American Enterprise Institute] points out there are seven million men aged 25-55 who are able-bodied and unemployed — and not looking for work. A lot of them are spending time watching the screen in their house, and there's a lot of opioid use."
And "they're not working," he emphasized.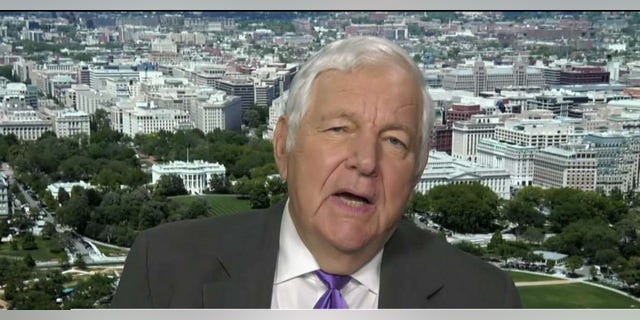 "This is a complicated set of issues," he said. "But one of the issues is — and I just spoke to the Republican governors about this — I don't think we talk enough about the value of work, the reward of work and the pleasure that comes with the notion of a job well done."
He mentioned the importance of "that feeling that you've done something good. And it's finished, and you did it. And I'm not sure we're talking to children and young people about that, and even less so today than we did 30 years ago, from the statistics."
THE IMPORTANCE OF WORK AND THE BENEFITS OF HONEST LABOR
Each chapter of the book "begins with a very simple set of things — and the stories then get deeper and more complex," he said. 
In the chapter on work, the Bennetts kick off with "The Little Red Hen" and "The Ants and the Grasshopper" (one of Aesop's Fables). Eventually, after other stories and selections, comes the text of the speech, "In Praise of the Strenuous Life" by Theodore Roosevelt. 
"The world always changes, but virtues do not." — Bill Bennett in his new book
Teddy Roosevelt gave this well-known and still-popular speech in 1899, shortly after he became governor of New York. 
He warned fellow citizens against standing "idly by" in the face of new challenges and instead urged others, "It is only through strife, through hard and dangerous endeavor, that we shall ultimately win the goal of true national greatness."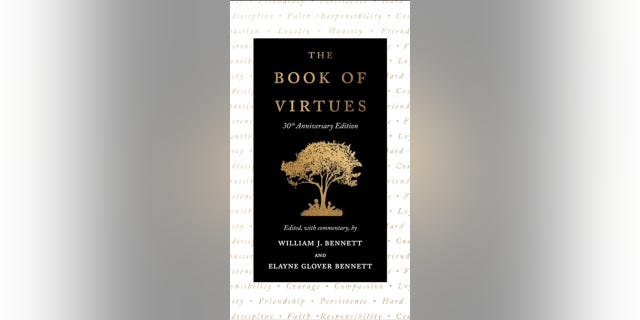 Said Bill Bennett about the selections in the work chapter, "We share the value and importance of work. We need to renew that emphasis" among today's young people, he said — because "if we don't teach them, they may not learn it in this world on their own."
Instead, he said, "they could get by with government subventions or the support of others. It's bad for men in particular not to work," he added. 
MIKE ROWE SOUNDS THE ALARM ON A DECLINING WORK ETHIC: 'THE REFLECTION IS KIND OF HIDEOUS'
By the way, "it's not that we're inventing the wheel here," said Bill Bennett. "We are reminding people of these points. We were touched the last time around, Elayne and I, by how many people wrote to us and said, 'Oh, I never heard that story before.' We have to take into account illiteracy today and what's being taught" in the schools or by the parents — or not being taught, he said.
Elayne Bennett said about the book's chapter on friendship and the selections within this theme, "Friendship has been at the core of my work." 
"We have to take into account illiteracy today and what's being taught." — Bill Bennett to Fox News Digital
She said her husband was the one who shared with her Aristotle's quote about friendship — "that the best kind of friend to have is that person who makes you a better person. And that is our credo."
Elayne Bennett right now is teaching this concept to young kids in Washington, D.C., about what it means to be a friend, the couple both said.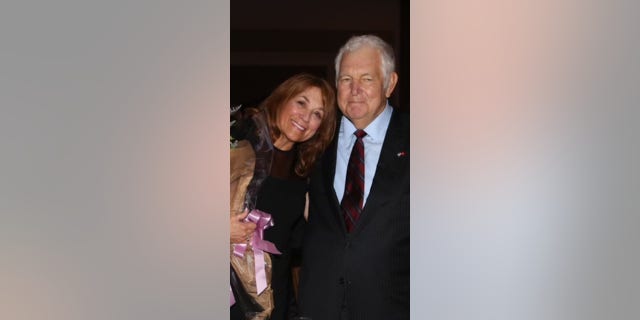 "She's encouraging them to make the right decisions about friends and discouraging them from making the wrong decisions," said Bill Bennett of his wife.
Elayne Bennett stressed the book's inclusion of the remarkable story of Helen Keller's teacher, Anne Sullivan — and that "there is no friendship more sacred than that between student and teacher." 
And "I think we forget that," said Elayne Bennett. Students can tell when the best teachers show their care and dedication — "there are real gems," she added.
"Knowing who Helen Keller is — it's part of being literate." — Elayne Bennett to Fox News Digital
One of the greatest examples of the student-teacher bond is the story of how Anne Sullivan changed Helen Keller's life by teaching the young girl — blind, deaf and mute due to an illness as a small child — to connect with and understand the world around her through sign language. 
"Helen Keller grew up to be a great woman," as the Bennetts share in their book.
WORLD WAR II VETERAN CELEBRATES 100TH BIRTHDAY, REVEALS HIS SECRETS AND 'LIFETIME OF INSPIRATION'
"She devoted her life to helping people who could not see or hear. She worked hard, wrote books, and traveled across the seas. Everywhere she went, she brought people courage and hope. Presidents and kings greeted her and the whole world grew to love her. A childhood that had begun in darkness and loneliness turned into life of much light and joy."
"And the most important day in my life," Helen Keller said, "was the day my teacher came to me."
Added Elayne Bennett, "Knowing who Helen Keller is — it's part of being literate. Knowing who Father Flanagan is — the man who founded Boys Town [in Nebraska in 1917] — this is part of being a literate person, too," she said.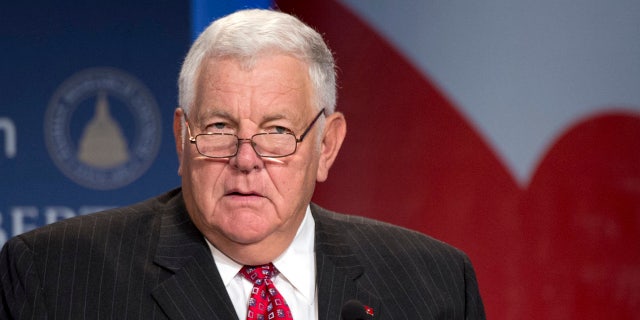 "So is knowing the phrase, 'He ain't heavy. He's my brother.' The magnitude and meaning of that phrase — and the emotion it conveys — every child should know that phrase and where it came from," she said.
The Bennetts also commented on the enormous amount of time that so many kids today in America (and around the world) spend on screens — and that excessive screen time can't teach the key character traits of honesty, compassion, friendship, loyalty and more. 
SECRETS OF GETTING INTO THE HOLIDAY SPIRIT THIS YEAR: GIVE BACK TO OTHERS
Parents need to "limit screen time," said Bill Bennett. "Limitations and rules" are important, he said. "But you also have to fight something with something. Our boys, when they were growing up, went to sleep with the stories in 'The Book of Virtues.'"
"Wordsworth said, 'What we have loved, others will love, and we will teach them how.' So if you read to your kids, they, too, will develop an interest in reading." — Bill Bennett to Fox News Digital
Said Bill Bennett, "Wordsworth said, 'What we have loved, others will love, and we will teach them how.' So if you read to your kids, they, too, will develop an interest in reading," added Bennett.
"The Book of Virtues," first published in 1993, has sold nearly three million copies since publication, according to publisher Simon & Schuster. 
CLICK HERE TO SIGN UP FOR OUR LIFESTYLE NEWSLETTER
It draws on the Bible, American history, Greek mythology, English poetry, fairy tales and modern fiction to share with children (and people of any age, really) the many virtuous paths to follow — and the paths they should avoid as well.
The Bennetts' new updated edition also includes stories about and references to more recent history. People such as Mother Teresa, Colin Powell, the heroes of 9/11 and the heroes of the War in Afghanistan are also included among the examples of American culture, history and traditions. 
"A human being without faith, without reverence for anything, is a human being morally adrift." — Bill Bennett and Elayne Bennett in their new book
Among many other lessons, the couple share that when responsibility is instilled in children, they learn to take charge of themselves and their conduct — and own up to their actions. 
The Bennetts say parents must have clear and consistent expectations so that children can learn responsibility from practices such as household chores, homework, extracurricular activities and after-school jobs.
CLICK HERE TO GET THE FOX NEWS APP
They also stress faith — another one of the book's chapter themes. 
"Faith is a source of discipline and power and meaning in the lives of the faithful of any major religious creed," they write. "It is a potent force in human experience. A shared faith binds people together in ways that cannot be duplicated by any other means."  
The Bennetts also write, "A human being without faith, without reverence for anything, is a human being morally adrift."
Source: https://www.foxnews.com/lifestyle/virtues-courage-compassion-work-friendship-taught-bill-bennett-elayne-bennett
Kidnapping survivor shouts on viral Instagram, 'Stop scrolling!' as she reveals faces of missing Americans
"Stop scrolling. I need your help."
With these six words, Alicia "Kozak" Kozakiewicz is doing everything she can to help those who are missing be found.
Kozak, a motivational speaker and internet safety expert in Raleigh, North Carolina, was 13 years old when she was lured from her Pennsylvania home and kidnapped by an online predator before he transferred her to Virginia, Kozak told Fox News Digital.
PENNSYLVANIA KIDNAPPING SURVIVOR REMEMBERS DRAGGING 'COLD, HEAVY CHAIN' FROM CAPTOR'S DUNGEON DURING RESCUE
Kozak, 35, credits her "miraculous" rescue to the work of her missing person poster that at the time was seen across the U.S.
"I want to help share that miracle with others and give others the chance of that miracle," Kozak shared.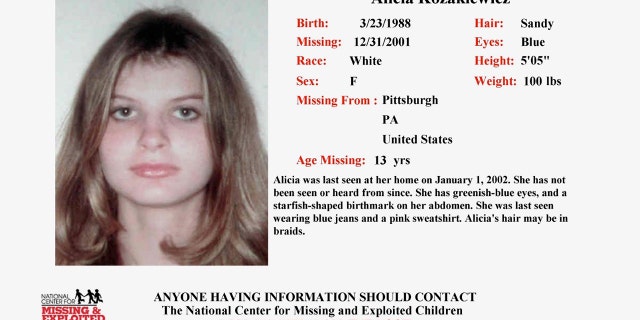 Kozak uses her online platform to share the posters of missing individuals who may not be getting as much news coverage as other cases.
"Every missing person deserves media attention," said Kozak. "Unfortunately, sometimes that isn't feasible and the stories that are told are likely to be limited."
'DO YOU KNOW THESE WWII VETERANS?': MISSOURI HISTORICAL SOCIETY ASKS FOR HELP IN IDENTIFYING UNNAMED HEROES
"Through the 'Stop scrolling!' videos, we're able to give the missing person a greater chance of being seen and recovered," she added. 
"You never know who's going to have that one right tip."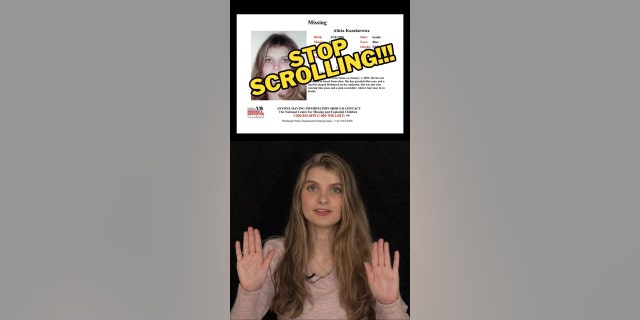 In 2002, Kozak was raped and beaten before FBI agents stormed the property where she was held captive on Jan. 4 – four days after she was declared missing. 
Her attacker, whose name she will not mention, reportedly served at least 17 years before violating the terms of his parole, according to the Pittsburgh Post-Gazette. 
The man is no longer in prison, Kozak said.
Since she was set free, Kozak uses her experience to try and help save the lives of others. 
HURRICANE IAN IN FLORIDA SPURS FRANTIC MESSAGES ABOUT MISSING LOVED ONES AND WRECKED HOMES
In May, which was Missing and Unidentified Persons Awareness Month, Kozak — with the help of her boyfriend Eric Lind — used her platform to launch a "Missing Persons Challenge."
Each day, Kozak was uploading new videos of missing persons to her Instagram and TikTok, where she has a combined 265,000 followers. She encouraged users to circulate the missing persons' posters in the hopes of bringing them home.
Kozak said that thanks to social media, users have the power to share these posters with millions of other people across the globe "in seconds."
"I was one of the lucky ones, but we don't have to leave it to luck."

— Alicia Kozak
In the comments section of Kozak's poster videos, people are trying to ignite conversations about her posts, even sharing their favorite colors or their pets' names. They're doing anything they can to increase viewers and the number of shares.
MEET THE AMERICAN WHO EARNED THE MEDAL OF HONOR AND WAS MIA IN KOREA FOR 73 YEARS, CPL. LUTHER HERSCHEL STORY
"It's about engagement. People want to help that video be seen by others," Kozak said.
Kozak has spoken with family members of those she's highlighted over the past month, and some have reached out to her asking to make a video of their loved one who is missing.
"One of the most important things is hope — and what I really wish is that these posters provide that hope and that support to that family who has maybe been working to get that story out there, and they feel helpless," said Kozak. 
POLICE WARN PARENTS AGAINST BACK-TO-SCHOOL PHOTO TREND
"It is one of the most helpless situations to have somebody be missing," she continued. 
"You don't know where to go, you don't know where to turn and often the media doesn't listen."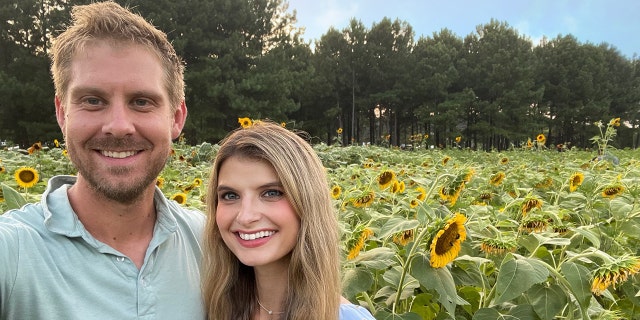 When it comes to missing persons, people may make assumptions as to why a person is missing and end up believing that "they are somehow less worthy of being found," Kozak said.
"Every missing person deserves to be found," she added. 
"It doesn't matter what their background is [or] what they've been struggling with. If anything, it's more of a reason to be concerned."
Kozak recently shared the poster of a missing person who was diagnosed with Huntington's disease, Kevin Eby — and interviewed his wife and son on her YouTube channel.
OHIO MOM SAYS VIRAL PARENTING TIP ON TIKTOK HELPED HER FIND HER LOST TODDLER IN PUBLIC: 'I KNEW WHAT TO DO'
In the video, she asked the family what people can do to help find Eby and what they should be looking for, in his case.
Since Kozak first shared Eby's poster and spoke with his family, Eby was found — but not alive.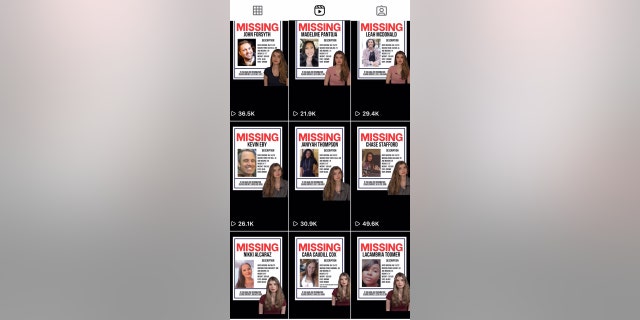 "I always celebrate [the stories of] the one's that are brought home safely. I take a moment and just feel that joy," Kozak said.
"And when somebody is found deceased, I take a moment of silence," she added.
While Kozak may never have met those who were missing, she does feel impacted by their stories after communicating with their families, she said.
AFTER THEIR TWO KIDS DIED IN A FALLING TREE ACCIDENT, PARENTS RENT BILLBOARD 'TO SAVE ANOTHER LIFE'
"It can be really heavy … but that's part of being an advocate," she noted.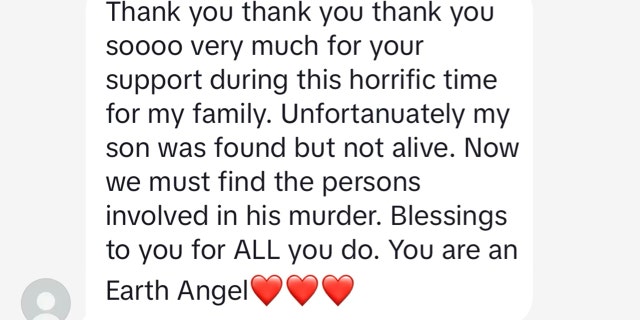 Kozak said that while not all stories have a happy ending, families just want an answer, or at least hope.
PARENTS ARE WARNED CHILD KIDNAPPINGS MOST LIKELY ATTEMPTED DURING THESE DISTINCT TIMES OF DAY
"What kept me going was that I knew my family loved me and I knew they were looking for me," Kozak shared.
She went on, "I knew they were going to do anything and everything to find me and I held onto that hope and I held onto that love — and that's what got me through it."
"Somebody somewhere was the last person to see the missing person. Somebody somewhere has the answers, and we can bring those answers to light."

— Alicia Kozak
Hope prevailed as Kozak was brought out of her nightmare and reunited with her family.
"It wasn't until my dad hugged me that I knew I was saved and nothing and no one would hurt me again," Kozak stated.
2 CALIFORNIA KIDS REUNITED WITH FAMILY AFTER THEY WERE 'KIDNAPPED' IN STOLEN CAR: WHAT PARENTS MUST KNOW NOW
Kozak remembers her dad saying, "If we could duplicate that hug all over the world there would be no more wars."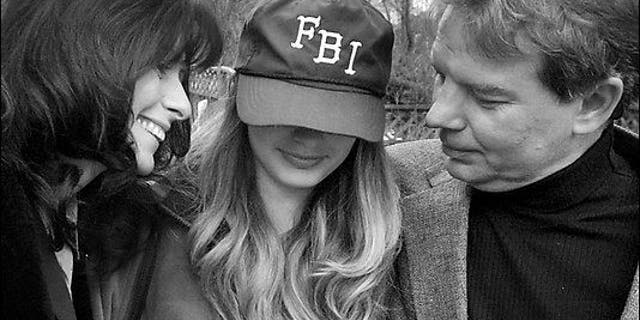 Kozak said, "That hug was so powerful. It was safety, it was security, it was a miracle." 
Kozak started sharing her when she was just 14 years old – one year after being rescued. She said it's been her purpose as she was "given a second chance at life."
MOM'S VIRAL 'STRANGER DANGER' STRATEGY ALERTS PARENTS OF CRUCIAL TALKING POINT THEY MAY BE MISSING
"If my poster was not out there I do not believe that I would be here today," she added.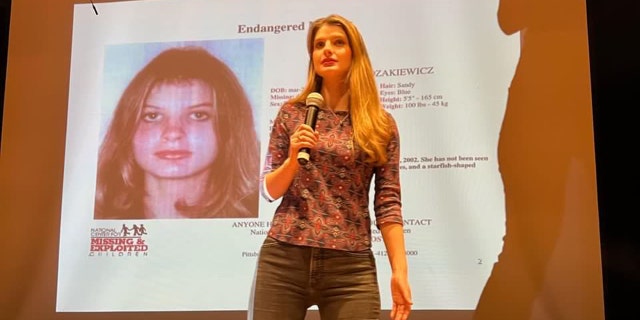 Kozak has testified before Congress in hopes of passing "Alicia's Law," which provides "a dedicated steady stream of state-specific funding to the Internet Crimes Against Children (ICAC) Task Forces," according to her website. 
Alicia's Law has been passed in at least 11 states.
She also founded the "The Alicia Project" as a way to promote "internet and child safety awareness, advocate for missing and recovered persons and battles against child sexual exploitation and human trafficking."
GABBY PETITO'S FAMILY ANNOUNCES NEW BILL TO HELP FIND MISSING PERSONS: 'A HUGE STEP FORWARD'
Kozak has worked alongside the National Center for Missing and Exploited Children (NCMEC), but she credits her boyfriend, Lind, for his help on the "Missing Persons Challenge."
"He has helped me with this more than I could have ever asked," Kozak said.
"I find it beautiful how the people commenting connect over shared hope. Hope is powerful when magnified."

— Alicia Kozak
Lind has been the editor on Kozak's TikTok videos and Instagram Reels – making them extra engaging for audiences.
Many of their videos have been seen by hundreds of thousands of people with the goal of tracking down the missing.
"I find it beautiful how the people commenting connect over shared hope," Kozak said. "Hope is powerful when magnified."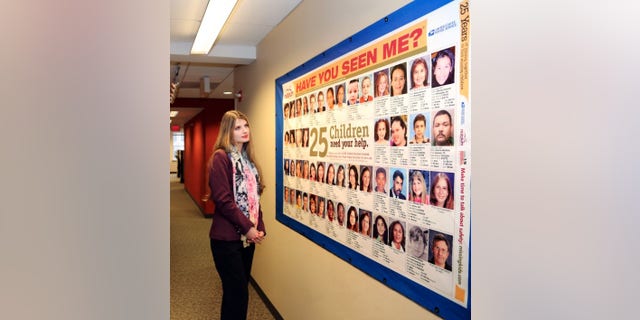 Fox News Digital was unable to track down up-to-date statistics on the success rates of missing person posters being the key to tracking down missing or unidentified people, though Kozak said she feels the visual is effective in many ways.
IDAHO WOMAN ARRESTED IN BOY'S DISAPPEARANCE MADE TIKTOK POSTS STANDING IN FRONT OF HIS MISSING PERSON FLYER
"I do believe that there has been a direct correlation between these videos and several of these missing people returned home," Kozak commented.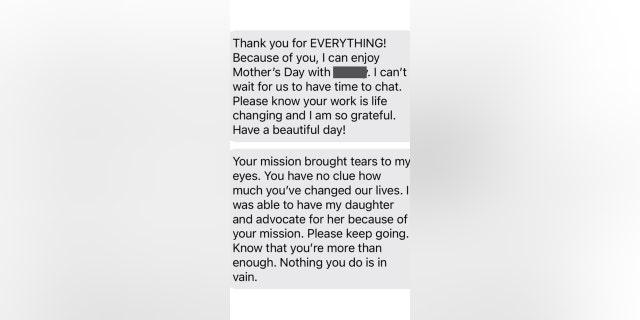 Kozak's advice is for everyone to have a decent photo of a loved one handy.
"Please make sure that you have a clear current photo and that's not to say something bad is going to happen to you family member or that they will go missing, but it's really good to be prepared so you can put the best information out there," Kozak explained.
It is estimated 460,000 children are reported missing each year.

— National Crime Information Center
Missing person posters have been circulating since the National Child Safety Council initiated the "Missing Children Milk Carton Program" in December 1984.
The Library of Congress considers Etan Patz to be the "first missing child on a milk carton."
As technology improved, posters are now more visible outside of milk cartons, police stations or storefront windows.
CLICK HERE TO SIGN UP FOR OUR LIFESTYLE NEWSLETTER
In 2015, the National Crime Information Center, along with the Federal Bureau of Investigation, estimated around 460,000 children are reported missing each year.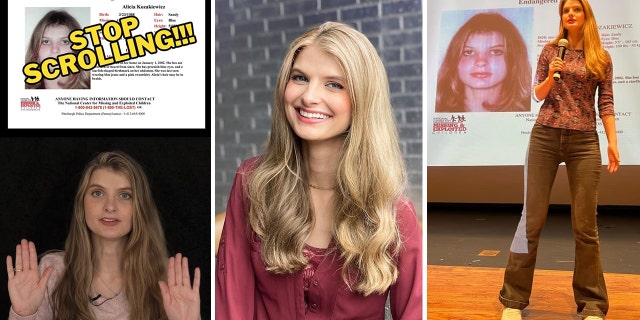 Kozak realizes she cannot help find every single child or individual who goes missing, but she's determined to try.
"Somebody somewhere was the last person to see the missing person," she said. "Somebody somewhere has the answers, and we can bring those answers to light."
CLICK HERE TO GET THE FOX NEWS APP
"I was one of the lucky ones, but we don't have to leave it to luck. We can all take action and help."
D-Day battle sites every American should see as epic invasion fascination draws millions to Normandy
The quiet beaches and rural villages of Normandy, France, exploded with fire and fury in the early morning hours of June 6, 1944. 
D-Day. The climactic battle of World War II. 
The United States and its Allies landed nearly 160,000 men, with more than 9,000 killed or wounded, in the first 24 hours alone.
US NAVY, MARINE CORPS JOINED BY IKE, A 'FACILITY DOG,' ABOARD USS WASP FOR MENTAL HEALTH BOOST
"The Great Crusade," as it was called by Gen. Dwight Eisenhower, left a lasting imprint on the Norman people and the local landscape. 
The epic battle draws an estimated 5 million visitors to Normandy each year. Many of them arrive in early June when the region is alive with festivals, memorials and reenactments celebrating an invasion the French call le debarquement — the landing.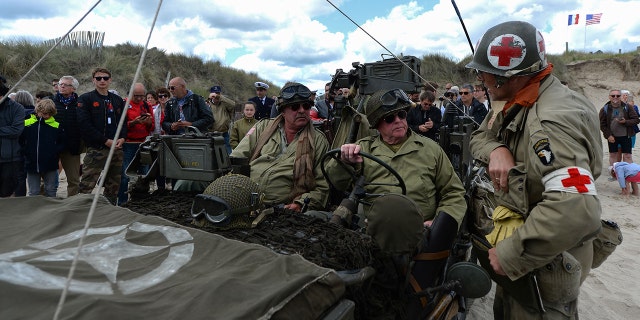 D-Day Festival Normandy, an annual celebration hosted by the Normandy tourism board, offers scores of events and ceremonies across the sprawling 50-mile invasion-day battlefield. 
It began this year on May 27 and ends June 18. 
The Allies landed nearly 160,000 men, with more than 9,000 killed or wounded, in the first 24 hours alone.
Here's a countdown to 12 D-Day sites every visitor should see to understand the full scope of this "Day of Days."
D-DAY 78 YEARS LATER: HOW FDR'S POWERFUL PRAYER UNITED AMERICANS
Major battle sites and museums are punctuated by countless private tributes from the citizens of Normandy who express their appreciation for la deliverance in many ways large and small. 
12 – Iron Mike Memorial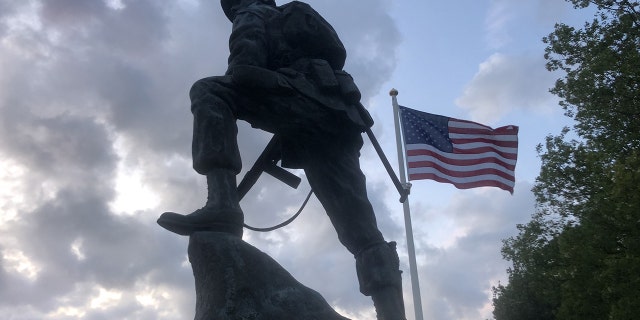 American paratroopers landed soon after midnight on June 6, with the main objective of securing the far western edge of the invasion beachhead for the amphibious landings to follow at sunrise. 
The Iron Mike Memorial at La Fiere pays honor to the outnumbered paratroopers of the 82nd Airborne who from June 6 to June 9 heroically repelled repeated German attacks at a bridgehead over the Merderet River. 
The climactic bridge battle scene of the fictional film "Saving Private Ryan" was inspired by the ferocious fighting here at La Fiere. 
11 – German cemetery at La Cambe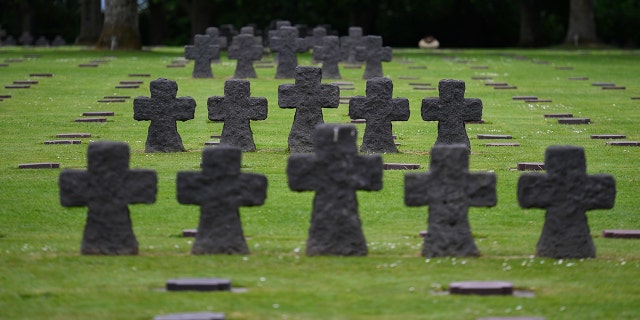 The ebullient heroism of many Normandy battlefield sites that pay homage to victorious Allied troops is contrasted by a grim German cemetery just inland from the cliffs of Pointe du Hoc. 
La Cambe is the final resting place of 21,000 German soldiers — the identities of many unknown — buried under short, thick, black crosses. 
The stark, sober landscape pays testament to the fact that no nation's youth suffered more under the Nazis than Germany itself. An estimated 200,000 Germans were killed or wounded in the two month-long Battle of Normandy that followed D-Day. 
10 – Angoville au Plain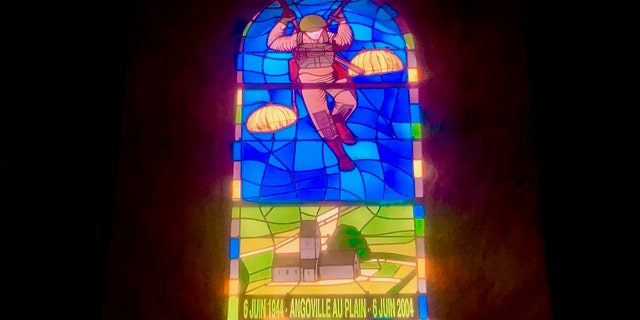 The scope of D-Day is almost too large to fathom. 
The tales of individual heroics found throughout the region give the massive battle a human touch. 
The tiny village of Angoville-au-Plain is one of those places. Two U.S. Army medics, who landed in the first wave of paratroopers, ended up in this village apparently lost to the rest of their units. 
Kenneth J. Moore and Robert E. Wright turned the village's 700-year-old church into an aid station. Over two days, they saved 80 lives of both American and German soldiers; they also treated a local child wounded in the battle. 
"U.S. Army medics Kenneth J. Moore and Robert E. Wright turned the village's 700-year-old church into an aid station, saving 80 lives over two days." 
They used the pews as beds and several of the benches still bear bloodstains today. 
A small cemetery outside the church includes the graves of Americans killed on D-Day. 
The heroics of American paratroopers are remembered in the stained-glass windows of churches near the invasion beaches of Normandy, including in Angoville au Plain. 
9 – Sainte Marie du Mont/Brecourt Manor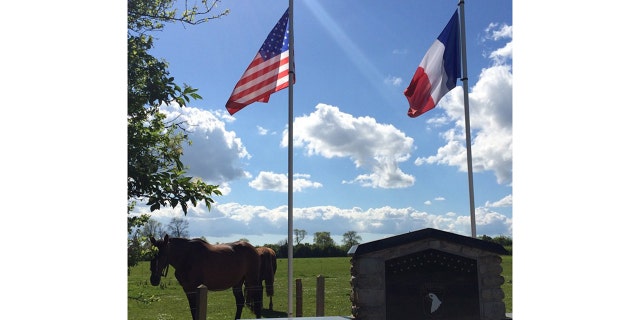 The pretty little village of Sainte Marie du Mont sits just inland from Utah Beach. It housed a German garrison on the morning of June 6. 
American paratroopers landed in and around the village to clear and secure a causeway that would allow seaborne raiders to move inland. 
In the early hours of the landing, a small group of paratroopers in Sainte Marie du Mont heroically assaulted and silenced four German heavy guns that were firing on the troops on Utah Beach from nearby Brecourt Manor. 
The incredible attack is dramatically recounted in the epic HBO miniseries "Band of Brothers." A memorial marks the site today, under French and American flags. 
LAST SURVIVING 'BAND OF BROTHERS' MEMBER BRADFORD FREEMAN DEAD AT 97
The small cathedral in the center of Sainte Marie du Mont offers images of U.S. troops crammed in for church services on the first Sunday after D-Day, among other haunting reminders of the battle. 
8. Carentan/Dead Man's Corner Museum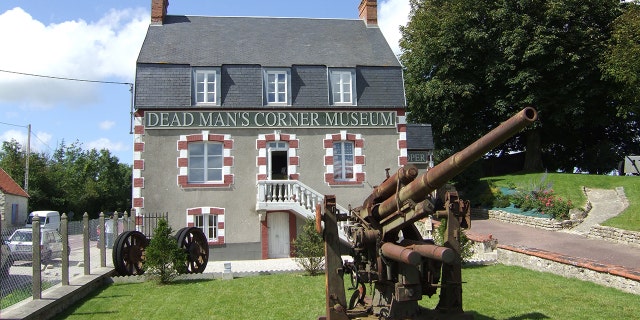 Carentan is a small crossroads town on the estuary that separated Omaha Beach to the east and Utah Beach to the northwest. 
The ferocious three-day battle to take the town and link up the invasion forces is portrayed dramatically in episode three of HBO miniseries "Band of Brothers."
The building that houses the Dead Man's Corner Museum was the headquarters of the German garrison defending Carentan on D-Day. It was then taken over as headquarters of the unit of America's 101st Airborne Division that liberated the town. 
The museum gets its name not just from the deadly combat of 1944, but because the building was reportedly haunted even before the war.
7. Bernard Lebrec farmhouse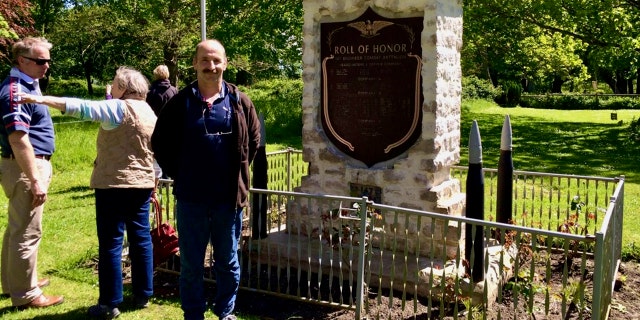 The main road along Omaha Beach (D514) is speckled with apple orchards and family farmhouses, with distilleries that produce the local specialties: effervescent hard cider and an apple spirit called Calvados. Most offer samples and shops that sell Norman gourmet specialties.
The Bernard Lebrec family farm in Englesqueville la Percee, a short distance from the famous cliffs of Pointe du Hoc, is built into the turrets of an old medieval castle. 
MEET THE AMERICAN WHO HONORS THE MEMORY OF 200,000 FALLEN WAR HEROES
Visitors can sample Lebrec's cider or calvados, scan his collection of World War II memorabilia and stick a pin in one of the maps on the wall that track his visitors from around the globe. 
His property — his backyard — also contains a monument to U.S. Army engineers, who turned an adjoining orchard into a landing strip in just three days, helping drive the Allies deeper into Normandy and ultimately onto victory.
6 – Arromanches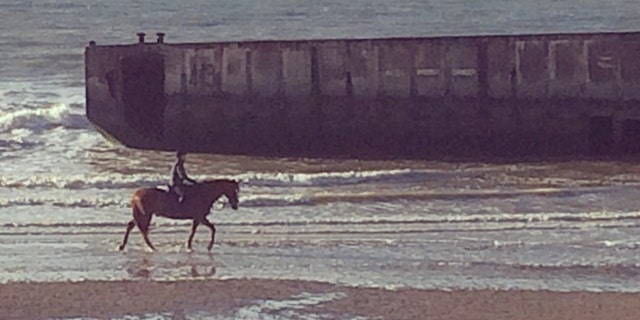 This coastal village on Gold Beach in the British invasion sector is just a couple miles east of deadly Omaha Beach in the American invasion sector. 
It's an ideal spot to take in the scope of the invasion. 
Diners at some of the waterfront cafés in Arromanches can see the hulking steel remnants of one of the Allied "mulberries" – artificial harbors towed across the English Channel and erected almost overnight to assist the unloading of the stunning stream of men and equipment that poured into Normandy in the days and weeks that followed D-Day. 
Nearby are the German guns of Longue Sur Mer – haunting concrete bunkers that housed artillery that battled with Allied warships on D-Day – and several museums. 
The town square of Arromanches is a popular gathering spot for World War II reenactors.
5 – Utah Beach Landing Museum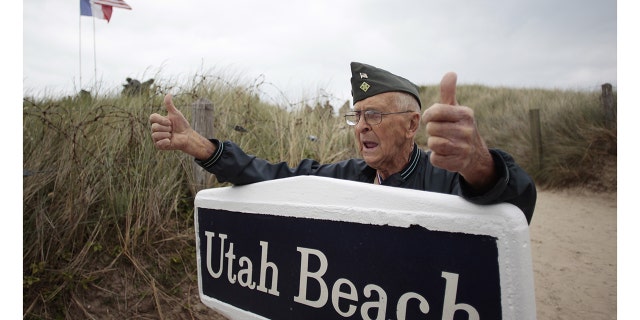 Utah Beach marked the far western end of the five British, Canadian and American invasion beaches. 
The beautiful Utah Beach Landing Museum serves as the centerpiece of the many landmarks and monuments that mark the D-Day battle here. 
The museum on a low bluff overlooking the beach is surrounded by numerous other sites, including several devoted to the ships and naval forces that delivered the invaders and ran logistics on the beach during the invasion.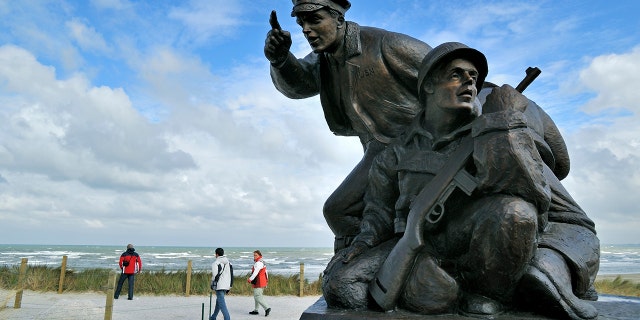 Among them: the Higgins Boat Monument, dedicated to the iconic landing craft made by New Orleans boat builder Andrew Higgins, the U.S. Navy Normandy Monument and the recently added Lone Sailor Monument. 
Café Le Roosevelt, located across the street from the museum, is a popular stop to relax on busy tours and enjoy the taste of Norman fare. 
4 – Pointe du Hoc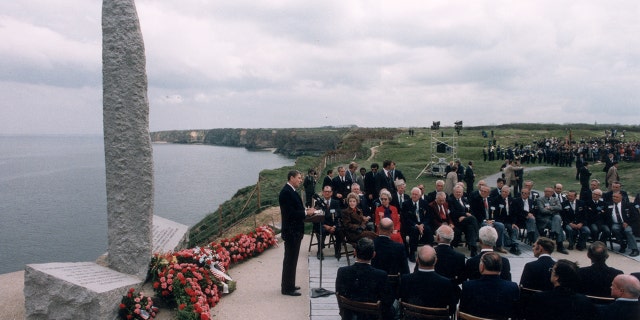 Pointe du Hoc, a towering cliff between Omaha Beach and Utah Beach, is the site of an incredible assault by U.S. Army Rangers on D-Day. 
They scaled the cliffs by ropes and ladders under fire from German defenders to take out a nest of deadly artillery overlooking the invasion beaches. 
"When one Ranger fell, another would take his place. When one rope was cut, a Ranger would grab another and begin his climb again," President Ronald Reagan said on this spot on June 6, 1984, in his famous "Boys of Pointe du Hoc" speech, written by White House speechwriter Peggy Noonan. 
"When one Ranger fell, another would take his place. When one rope was cut, a Ranger would grab another and begin his climb again."
"They climbed, shot back, and held their footing. Soon, one by one, the Rangers pulled themselves over the top, and in seizing the firm land at the top of these cliffs, they began to seize back the continent of Europe." 
The ground atop the cliff is still pockmarked by artillery shells, the remnants of German batteries and monuments to the Rangers. 
3 – Pegasus Bridge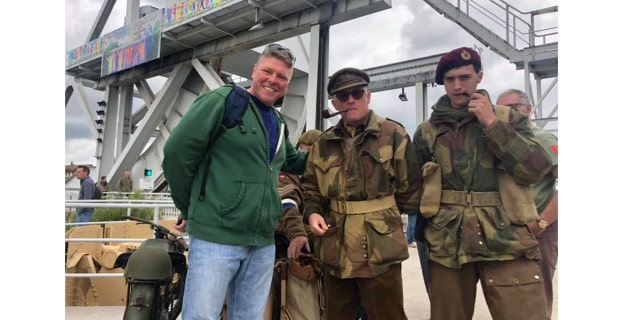 Nowhere is the dauntless spirit of British invaders on D-Day more evident than at Pegasus Bridge. The heroic attack, led by Maj. John Howard, is legendary in the annals of warfare on both sides of the Atlantic.
Howard's Ox & Bucks Infantry of the 6th Airborne Division made a daring glider assault, crash landing the aircraft just after midnight, to capture two bridges over the Caen Canal and parallel Orne River. 
He reported the successful capture of the two bridges with the code words, "Ham and Jam." The real battle had only just begun: Howard and his unit held off repeated attacks while awaiting seaborne relief.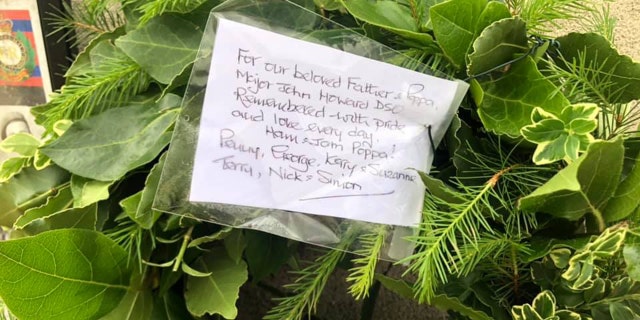 The D-Day hero's family left an incredible handwritten tribute to him at Pegasus Bridge to celebrate the 75th anniversary of D-Day in 2019. 
"For our beloved Father and Poppa … remembered with pride and love every day. Ham & Jam Poppa!" 
2 – Sainte Mere Eglise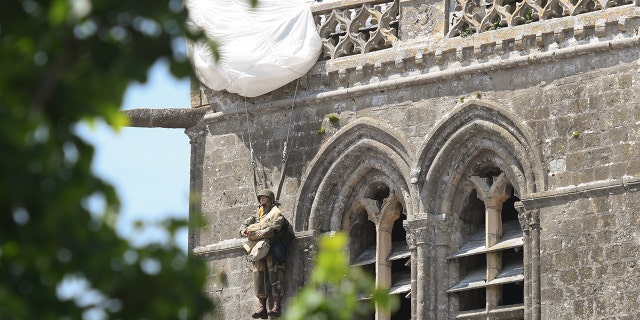 This village a few miles inland of Utah Beach is celebrated as the first town in France liberated on D-Day and is the center of many celebrations of the battle. 
An effigy of American paratrooper Pvt. John Steele hangs in perpetuity from the church steeple in constant memory of the incredible events in the village on June 6.
The horrific scene of D-Day fighting in Sainte Mere Eglise served as the dramatic centerpiece of the 1962 ensemble-cast war epic "The Longest Day" (based on the much better book of the same name by Irish war correspondent Cornelius Ryan). 
By sheer coincidence, villagers and dozens of German soldiers had formed a bucket brigade in the town square that very evening to put out a large fire in the center of town – just as American paratroopers began to fall from the sky far from their intended drop zones.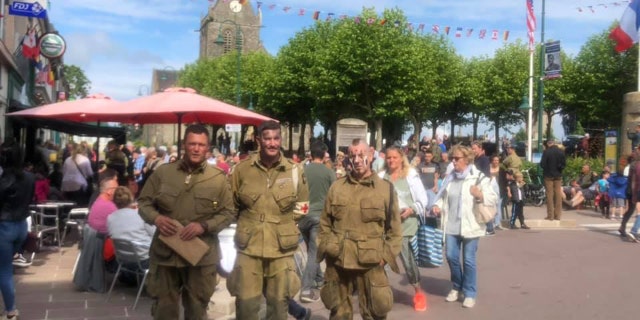 Many GIs were slaughtered by the German troops who turned their guns to the sky – at least one American died horrifically as he fell into the flames.
Steele was shot as he hung from the church steeple but somehow survived and was taken prisoner. He quickly escaped, found his fellow paratroopers and rejoined the battle. 
Steele and fellow U.S. paratroopers remain legendary folk heroes in Sainte Mere Eglise, honored with monuments, street names, museums and an array of tributes.
1. Normandy American Cemetery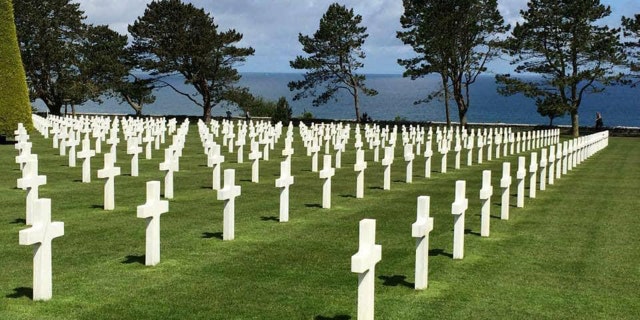 The American Battle Monuments Commission operates dozens of cemeteries around the world commemorating U.S. war dead and missing in action. 
CLICK HERE TO SIGN UP FOR OUR LIFESTYLE NEWSLETTER
Many are larger, but none are more famous, pristine, haunting or hallowed than Normandy American Cemetery Overlooking Omaha Beach, where allied invaders suffered the greatest carnage on D-Day. 
Visitors first pass through a museum that gives context to the battle and the meaning of the pristine rows of crosses and Stars of David that line the cemetery; guests can also look up the location of individual soldiers.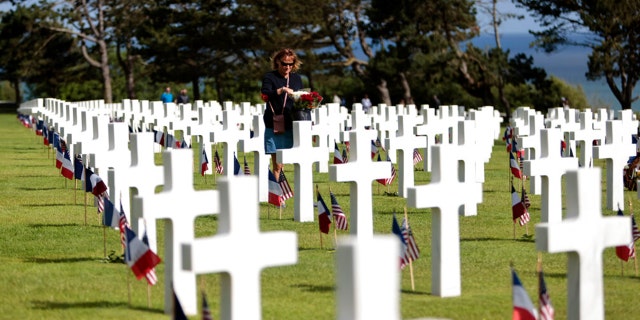 The cemetery also highlights the daunting challenge that faced American troops on D-Day. 
They first had to cross a vast, wide sandy beach that was littered with obstacles, then make their way up a surprisingly high bluff – all while under withering enemy fire.
CLICK HERE TO GET THE FOX NEWS APP
Steps lead down from the cemetery to the beautiful, wide placid beach. 
Visitors today collect sand as a souvenir or splash in the gentle surf that ran red with American blood on June 6, 1944. 
Liver, insects, sardines — oh my!: 8 'gross' foods that nutritionists say you should eat
Did you have a grandmother who used to serve cow tongue sandwiches — and you had to steel yourself for that first bite? 
How about that strange-smelling soup your next door neighbor always used to dole out liberally?  
Turns out some of the foods we may perceive as offputting have numerous health benefits.
No food is inherently "gross," stressed Natalie Gillett, a registered dietitian and owner of Natalie Gillett Nutrition, a New Jersey-based private practice. Instead, such judgments are often shaped by cultural and psychological factors, she said.
CALIFORNIA PROPOSES BILL TO BAN SOME FOOD PRODUCTS WHILE NUTRITIONISTS FRET ABOUT 'GROSS' INGREDIENTS
"The foods that may cause us to cringe are actually widely appreciated in different countries," said Gillett. 
"It's time to challenge these stigmas and give seemingly 'gross' foods a second chance to win you over with their health benefits and surprisingly delicious flavors that contribute to our overall well-being."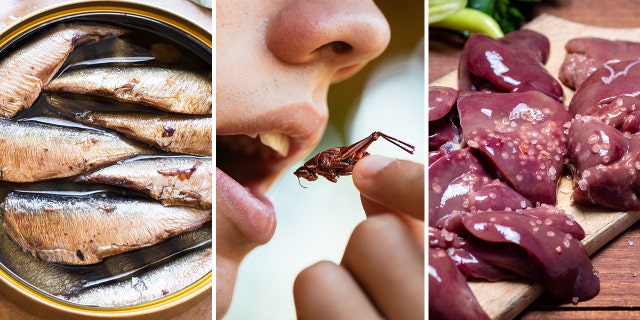 Gillett also said that "slimy, smelly, chunky" are all food descriptions that may initially elicit a "yuck" factor. 
"But hold onto your taste buds and keep your gag reflex in check, because these perceptions often lead us to overlook the remarkable nutritional value hidden within these foods," she said.
Paulina Lee, a gut health functional dietitian and founder of Savvy Stummy, LLC in Texas, echoed Gillett's sentiment. 
"Every culture has healthy foods that some may find unappetizing. Because individuals are different, they have different food preferences and cultural foods that they may have grown up with," she said. 
BE WELL: IMPROVE YOUR GUT HEALTH WITH 5 TOP TIPS FROM A NUTRITIONAL THERAPIST
Preferences may vary due to smells, textures and tastes. Still, "it doesn't make the food any less nutritious,"Lee explained.
So-called "icky" foods such as organ meats like liver have lots of B vitamins and protein that are beneficial to our health, according to Lee. 
Fermented foods, she also mentioned, "tend to have strange smells and odd textures, but which contain live bacteria or probiotics, that are beneficial for our gut health."
Ahead, here are 8 foods that might elicit a "yuck" but are a big "yes" for your health.
Tremella mushrooms
Lee singled out these mushrooms — also known as silver ear mushroom, yin'er or snow fungus — as nutrient-dense stars. 
They are popular in China, she said, but some may find the slimy texture of the mushroom odd. 
"Despite its shape and texture, tremella mushrooms are an excellent source of fiber and vitamin D, and also contain antioxidants, vitamins B1, B2, and B6, folate, zinc, potassium calcium, magnesium, iron and copper," she said, adding that Tremella mushrooms have hydrating and anti-aging properties.
"Tremella mushrooms are usually purchased in its dried form," she said. "When preparing, they need to be soaked in water before cooking." 
EAT THESE FOODS TO LIVE A LONG LIFE, EXPERTS SAY
Lee recommended adding them into stir-fries for a nice crisp texture or you can make sweet, nourishing dessert soup with tremella mushrooms, goji berries, jujubes and honey. 
Natto 
Natto is a traditional Japanese dish made from fermented soybeans "and characterized by a distinctive aroma, a wrinkly bacterial layer on the surface of the soybeans and a desirable degree of stickiness that may be off-putting to some," said Lee. 
Despite its smell and appearance, natto has many nutritional benefits, said Lee, "like enzyme and probiotic potential to aid digestion, vitamin K2 content to help build strong bones and high fiber content to promote heart health."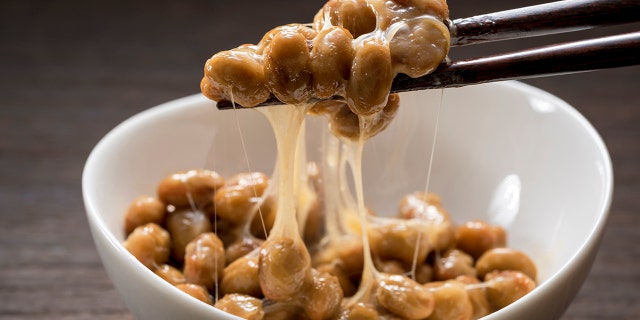 If you're ready to add natto to your next meal, Lee suggested enjoying it with soy sauce and mustard or adding it into rice, miso soup or omelets.
Cottage cheese
"Cottage cheese is one of those foods people have a visceral reaction to, which is a shame because it is a lean protein that is also rich in calcium," said Rachel Engelhart, a registered dietitian with RE Nutrition LLC based in Washington, D.C. 
FOODS THAT MAY HELP CALM SEASONAL ALLERGIES, ACCORDING TO HEALTH EXPERTS
"Many people take issue with the chunky consistency," she added. 
"Choosing a whipped variety (like Friendship's whipped 1%) might be preferable for people who take issue with the texture. As long as you don't have a dairy allergy, there is nothing gross about cottage cheese!"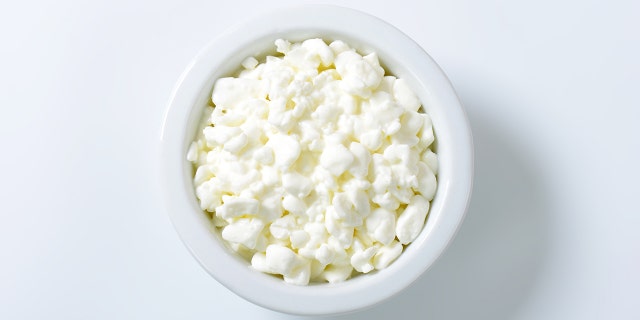 When it comes time to chow down on it, Engelhart said this versatile food can be served sweet or savory. 
Eat it as a "sweet meal or snack topped with berries and granola. Toast topped with jam and cottage cheese is also delicious, or for a savory twist, it can be enjoyed on toast with mashed avocado and cottage cheese topped off with some salt and pepper," she suggested.
Fermented foods
As noted above, some people who are turned off by fermented foods may be doing their health a disservice.
FDA PROPOSES PLANT-BASED, DAIRY-FREE MILK CAN BE CALLED 'MILK' AND ASKS FOR PUBLIC FEEDBACK
"Sauerkraut, a European classic, and kimchi, a Korean staple, may initially repulse you with their tangy flavors and unique textures. But hold on tight, because they are teeming with probiotics that promote a healthy gut microbiome and aid digestion," said Gillett.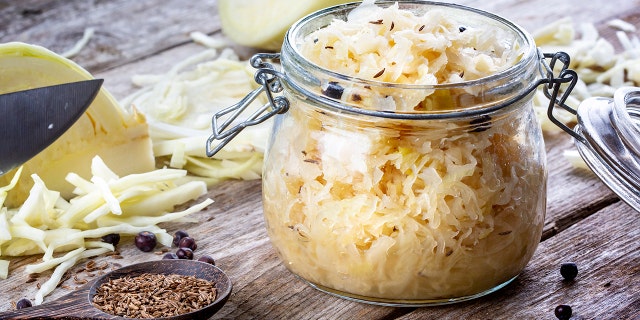 As for how to eat this gut-health-supportive food more regularly, Gillett suggested topping your salads or sandwiches with a generous portion, for an "extra zing of flavor."
"Blend kimchi or sauerkraut into dressings or sauces, injecting a tangy kick into your favorite dishes," she said.
Sardines
Does your bodybuilding friend or gym partner chow down on sardines straight out of the can post-workout, much to your disgust? The person might be onto something. 
THESE ARE THE BEST IMMUNE-BOOSTING FOODS, ACCORDING TO NUTRITION EXPERTS
"Although some might find sardines to be fishy and slimy, sardines are packed with nutrients, like vitamin D, vitamin B12 and selenium and are packed with protein," said Lee.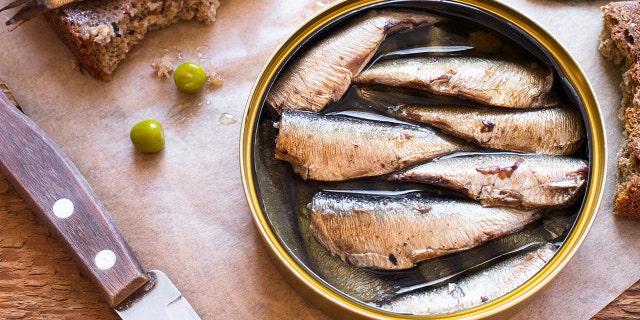 "Despite how sardines look and smell, they are low in mercury, and provide benefits like anti-inflammatory properties, promoting bone health, and supporting metabolism and detox." 
To enhance their taste, Lee advised sprinkling salt, freshly ground pepper, and lemon or vinegar over them. 
RUNNING 1 MILE A DAY IS GAINING POPULARITY ONLINE: HOW IT CAN IMPROVE YOUR HEALTH
Or, "add them to crackers with some hot sauce or mustard. Add a few to your salad, or mix sardines with mayo, salt and pepper, like a tuna salad." 
For another tasty use of sardines, add cream cheese to them for a sandwich.
Tuna fish
Ah, the lunchtime staple — how some folks hate thee. 
You may, however, be missing out on a lot of healthy perks.
"Tuna fish is a food that many think is gross because of its aggressive smell. The truth is that tuna fish is a wonderful source of protein, omega 3 fatty acids, and vitamin B12 so if you can get over the strong smell, it's a really good food to enjoy on occasion," said Engelhart.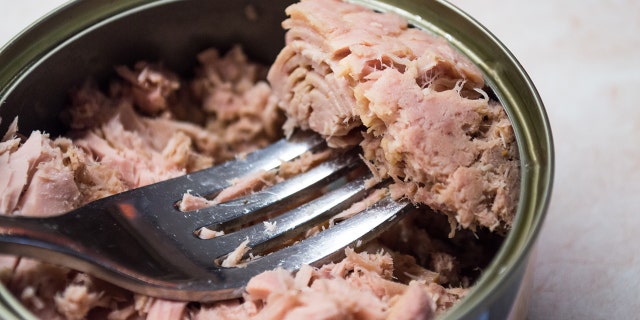 Because tuna is also a source of mercury, Engelhart said it's better to limit the intake of albacore white tuna to four ounces a week and skipjack light tuna to 12 ounces a week. 
When preparing it, try it mixed with mayo, as per tradition or opt for mashed avocado or greek yogurt, suggested Engelhart. 
HEALTHY LIVING HABITS INCLUDE EATING DINNER EARLIER — IT MAY ALSO HELP KEEP WEIGHT DOWN
"It's delicious stuffed in a pita, or topped with cheese on a tuna melt," she said.
Organ meats
Pass the kidneys, please. 
"While liver, kidneys, and heart may seem daunting with their strong flavors and unfamiliar textures, they are celebrated in various culinary traditions worldwide," said Gillett. 
"French cuisine delights in foie gras, a delicacy made from duck or goose liver. In Chinese cuisine, chicken livers and beef tripe shine in flavorful stir-fries and soups," she added, commenting that these organ meats are powerhouses of nutrition – packed with vitamins, minerals and essential fatty acids.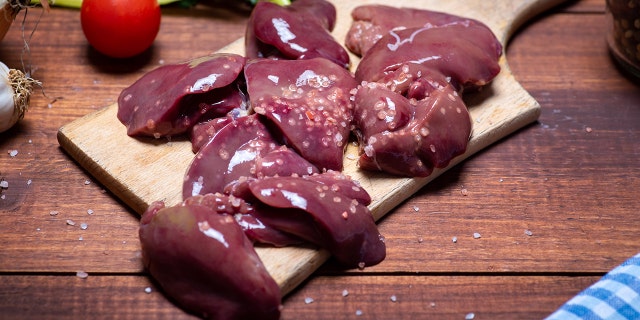 "Chicken liver, for example, contains 350% of your daily value (%DV) for vitamin B12 and 72% DV for iron," she says. "Try it for yourself by marinating and grilling slices of organ meats with onions and herbs, creating a rich and savory dish." 
BABY EATS BUGS: MOM WHOSE DAUGHTER CONSUMES CRICKETS INSISTS THEY'RE HEALTHY AND 'CHEAPER' THAN MEAT
Here's another pro-tip from Gillett: If the visual challenge of organ meats on your plate grosses you out, "embrace stealth health by mincing them and adding them to meatballs or sausages."
Insects
You may not be excited by this one, but believe it or not, insects "offer a sustainable and protein-rich food source, brimming with essential amino acids, vitamins and minerals," according to Gillett. 
CLICK HERE TO SIGN UP FOR OUR LIFESTYLE NEWSLETTER
As the nutritionists point out, just two tablespoons of cricket powder provide excellent sources of riboflavin, vitamin B12 and biotin – not bad for a small serving size.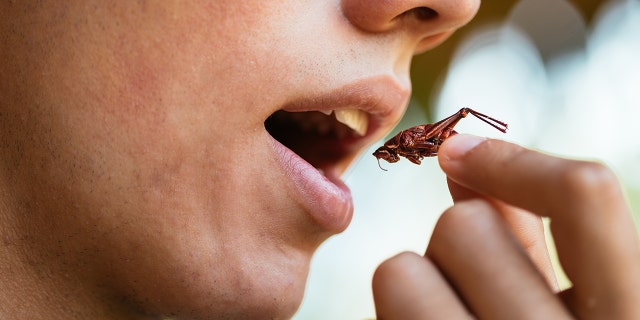 "In Thailand, fried crickets and silkworm larvae are relished as crunchy snacks, while Mexico boasts chapulines — seasoned roasted grasshoppers," she said. 
CLICK HERE TO GET THE FOX NEWS APP
"Incorporate insects into your diet by adding cricket flour to baked goods for an extra protein boost. The cricket-for-consumption market is slowly growing in the U.S. so you just may be able to find cricket protein powder and bars at a store near you," Gillett added.