Virginia Navy veteran says all veterans deserve thanks, not just those who saw battle
Quawnishia Morgan, 41, knew from an early age while growing up in Baltimore, Maryland, that she was destined for the military. Today, as a veteran, she also has definite ideas about Veterans Day and what it means — and what it should mean. 
"I come from a family with a lot of children in the house," she told Fox News Digital by phone.
"My parents were foster parents — so it was pretty obvious there wasn't an abundance of money to go around to fund college education and things like that."
VETERANS DAY AND ITS HISTORY: 6 KEY FACTS TO KNOW
A talented singer, she also knew the music industry was a tough one to break into and a very unsteady career path at that.
'Finally realized my passion'
In high school, she joined Navy ROTC, a move that "really finalized my passion for what I wanted to do and where I wanted to go in life," she said.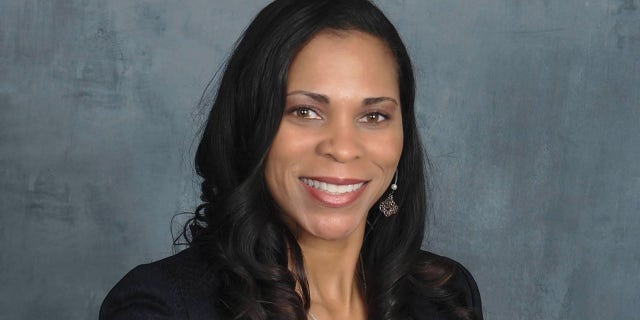 "I joined the military for two reasons. One reason was to get away from home, first and foremost," she said. 
"The second reason was basically to solidify a future for myself," she said. "Although I felt I was good enough to be a singer, that wasn't a sure plan."
Morgan served in the Navy as an aviation storekeeper. When she first joined, she did not even know there was an aviation division. 
VETERANS DAY: 5 THINGS TO DO AND SAY TO HONOR AMERICA'S HEROES
"I knew I wanted to go in the Navy — but I didn't necessarily know what I wanted to do because I don't come from a family with heavy military influence," Morgan said. 
Working in a military-adjacent role has brought back "a sense of connection and pride [in] the military and back to my sisters and brothers [who] wore the same uniform I wore."
Now living in Virginia, Morgan said she initially wanted to join the Air Force, yet ran into roadblocks when she learned she'd have to take additional exams. "I was just so eager to get out there and be on my own and be independent," she said. 
When the recruiter told her the Navy had an aviation side, she knew that's what she wanted to do.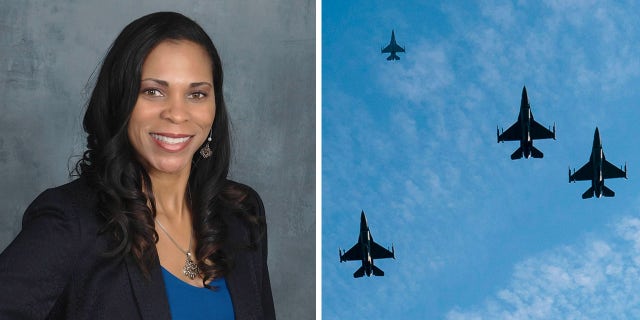 At the time, the Navy allowed recruits to determine the role they were suited for best. 
Morgan first tried to be an air framer — "someone who works on the outside of an aircraft." That didn't work out; Morgan now says she "could never imagine" doing that role.
Her next job was a much better fit. 
"I landed in supply, which then were called 'aviation storekeepers,'" she said. Aviation storekeepers are "in charge of all of the supplies and equipment, as well as ordering military uniforms, aircraft parts and things like that, even down to pens and pencils."
"That's all I ever wanted, to still really serve and be a part of that process for people who wear the uniform."
"So you were pretty much the supply house for the entire unit," she explained. 
While in the Navy, she met the man who would become her husband. After four years, she left active duty but quickly felt an "emptiness." 
VETERAN SUICIDE PREVENTION WORK NEEDS 'FUNDAMENTAL CHANGE,' SAYS MISSION ROLE CALL — HERE'S HOW
Morgan re-enlisted in the Navy Reserve and served an additional three years. 
Civilian life proved challenging for Morgan. She worked "jobs that I was less passionate about" compared to her military service, she said.
Eventually, she landed at ADS, a company that supplies military gear and tactical equipment to the U.S. military. She said that working in a military-adjacent role has brought back "a sense of connection and pride [in] the military and back to my sisters and brothers [who] wore the same uniform that I wore."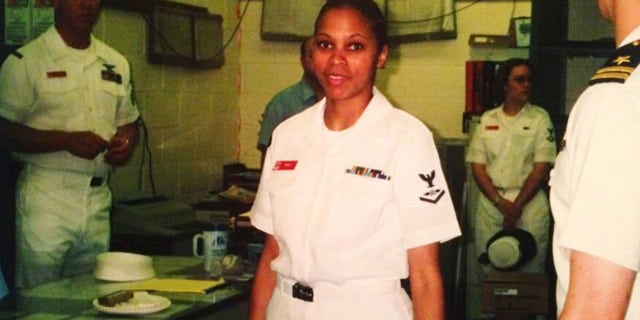 "And that's what ultimately allowed me to separate from the military, because I stopped chasing it in uniform services, and I was actually content and happy with my place at ADS," she said. 
"I still, even now, am in the supply industry and in the supply sector — and I still have military members relying on me to get their gear to them."
"Sometimes people just need to stop and listen and be more observant. And they can learn a lot."
"That's all I ever wanted, to still really serve and be a part of that process for people who wear the uniform. So it's very, very rewarding for me."
Veterans Day means a lot to all who have served
Now, as a veteran, Morgan said that Veterans Day is "super, super important" and she wishes society had a broader view about what a "veteran" actually is. 
"I think oftentimes when people think about Veterans Day, they only think about the members [who] fought wars, or they only think about the retirees," Morgan said.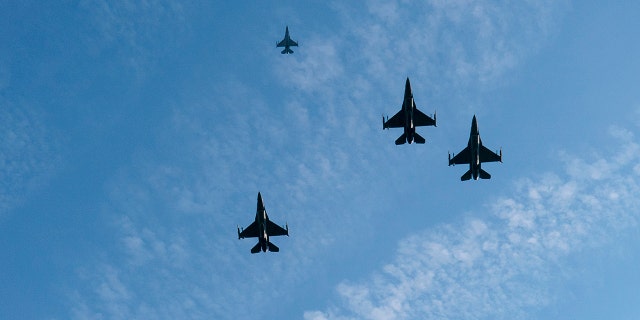 "But for me, Veterans Day is for anyone who chose to wear the uniform and served their enlistment. And whether they left [the service] or retired — as long as they served under honorary conditions, to me, that's a veteran."
She said that even today, people will see her car with its veteran tags and assume it belongs to someone else. 
VETERAN OF US ARMY REGAINS ABILITY TO MOVE FINGERS WITH NEW PROCEDURE, PROSTHETICS: HOPE FOR 'NORMAL' FUTURE
"People in society just have these mixed feelings of what a veteran is supposed to look like," said Morgan. "But it's truly anybody who served their country under honorable conditions."
To better support veterans, both on Veterans Day and the other days of the year, Morgan believes "people could stand to be a little more open." 
CLICK HERE TO SIGN UP FOR OUR LIFESTYLE NEWSLETTER
"I think sometimes people just need to stop and listen and be more observant. And they can learn a lot," she said. 
"Because you can meet someone, and they may have only served four years — or they maybe they've served 26, like my husband. That doesn't mean their job means anything less."
CLICK HERE TO GET THE FOX NEWS APP 
"People in society just have to be more open to anyone who chose to serve their country because it's a very brave thing to do — and not a lot of people are built for it." 
Source: https://www.foxnews.com/lifestyle/virginia-navy-veteran-all-veterans-deserve-thanks-not-just-battle
NY Times article on Biden's age ripped as 'slobbering,' 'embarrassing' after latest fall
The New York Times is facing ridicule on Twitter after an article Sunday painted President Biden's old age in a positive light, describing the 80-year-old president as "sharp," "fit" and having "striking stamina."
The Times article by White House reporters Peter Baker, Michael Shear, Katie Rogers and Zolan Kanno-Youngs, titled, "Inside the Complicated Reality of Being America's Oldest President," claimed Biden's aides have been purposely limiting his exposure to the media to avoid any potential gaffes.
"The two Joe Bidens coexist in the same octogenarian president: Sharp and wise at critical moments, the product of decades of seasoning, able to rise to the occasion even in the dead of night to confront a dangerous world," the article said. "Yet a little slower, a little softer, a little harder of hearing, a little more tentative in his walk, a little more prone to occasional lapses of memory in ways that feel familiar to anyone who has reached their ninth decade or has a parent who has."
"Like many his age, Mr. Biden repeats phrases and retells the same story, often fact-challenged stories again and again," the article continued. "He can be quirky; when children visit, he may randomly pull a book of William Butler Yeats off his desk and start reading Irish poetry to them."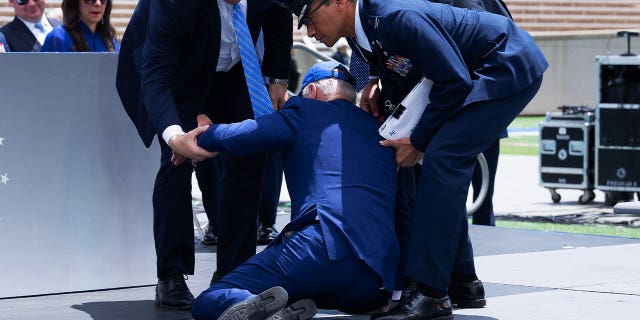 "At the same time, he is trim and fit, exercises five days a week and does not drink," it added. "He has at times exhibited striking stamina, such as when he flew to Poland then boarded a nine-hour train ride to make a secret visit to Kyiv, spent hours on the ground, then endured another nine-hour train ride and a flight to Warsaw. A study of his schedule by Mr. Biden's aides shows that he has traveled slightly more in the first few months of his third year in office than Mr. Obama did in his."
BIDEN'S FALL AT AIR FORCE COMMENCEMENT DRAWS CONCERN, MOCKERY: 'THIS ISN'T FAIR TO ANYONE'
Steve Guest, a special adviser for communications for Sen. Ted Cruz, R-Texas, called the article "embarrassing."
News Cycle Media President Jon Nicosia called the article "slobbering."
Former Obama speechwriter Jonathan Favreau, who now co-hosts "Pod Save America," said the article was "pretty positive."
National Review contributor Pradheep Shanker said the article was "not totally objective" but at least opened the door for questioning the president's capabilities.
"Good for the Times to actually write this… It's still not totally objective, but it's a solid effort at least," Shanker wrote. "I mean those is a positive spin at best. What's more likely is that many, many of the presidential level decisions are not being made by Biden at all."
Biden tripped and fell during a U.S. Air Force Academy commencement ceremony Thursday, prompting three Secret Service agents to rush to help the president up.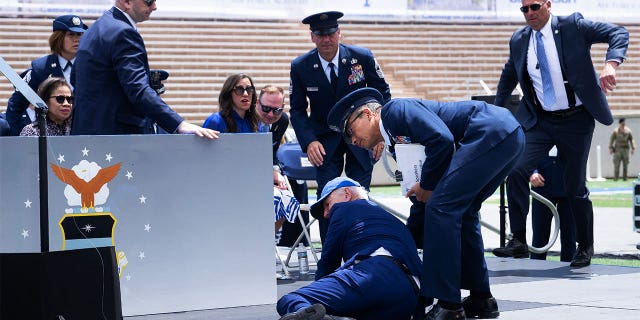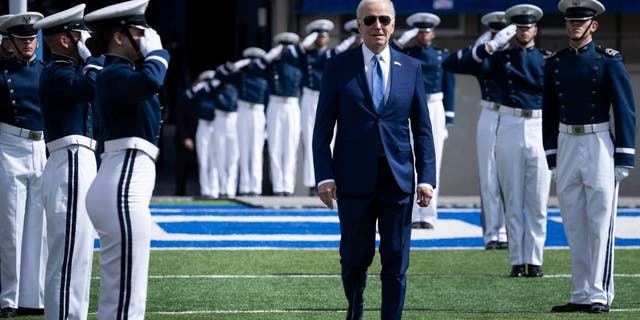 The White House said Thursday that Biden tripped over a sandbag and was not injured by the fall. 
The fall reignited concerns about Biden's age, prompting a number of media outlets to pounce and seize on Republicans voicing concerns about Biden's physical health.
Capitol Police stop youth choir during national anthem performance, sparking outrage: 'I was shocked'
Video footage showing a South Carolina-based children's choir being stopped by a Capitol Police officer from singing the national anthem in the U.S. Capitol has gone viral with millions of views.
Capitol Police said singers with the Rushingbrook Children's Choir from Greenville were stopped because of a "miscommunication," which occurred May 26.
Capitol Police initially issued a statement that said they were under the impression the group didn't have permission to perform in the building but clarified later that they "were not aware that the Speaker's Office had approved this performance."
Choir director David Rasbach and another choir leader said the visit was approved by the office of House Speaker Kevin McCarthy, R-Calif., which the speaker's office confirmed.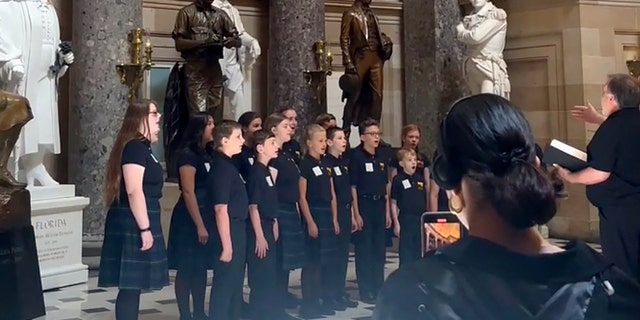 "I was shocked, I was dismayed, I was stunned," Rasbach, who said he secured permission from three congressional offices to perform at the U.S. Capitol, told the Daily Signal. "I couldn't believe that was happening, that they would stop the national anthem, of all songs."
Video of the event showed the children singing as a Capitol Police officer spoke with two other men. One of the men, who appears to be a congressional staffer, then approached Rasbach. A few seconds later, Rasbach motioned to the choir and cut them off to stop singing.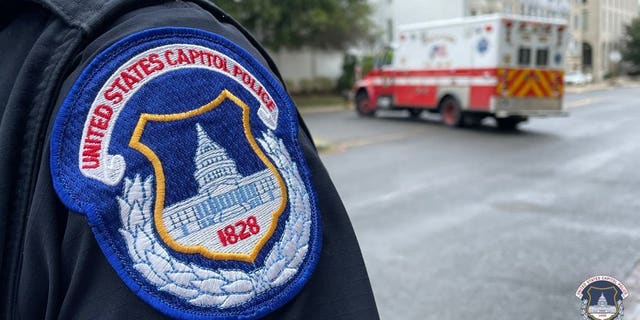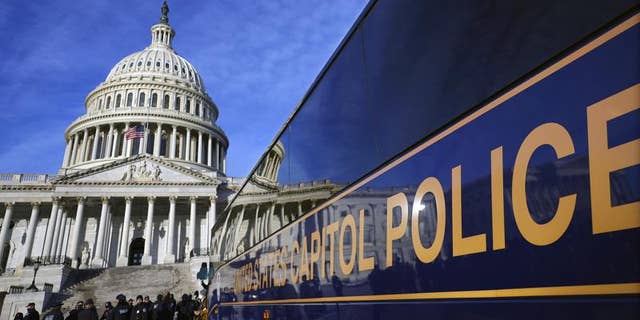 Some Republicans accused Capitol Police of taking action against the kids due to political bias, but the Capitol Police said that is untrue and accused the congressional staffer of lying "to the officers multiple times about having permission from various offices" in one emailed statement to the Daily Signal.
"Recently somebody posted a video of a children's choir singing the Star-Spangled Banner in the U.S. Capitol Building and wrongfully claimed we stopped the performance because it 'might offend someone,'" the Capitol Police said. "Here is the truth. Demonstrations and musical performances are not allowed in the U.S. Capitol."
"Of course, because the singers in this situation were children, our officers were reasonable and allowed the children to finish their beautiful rendition of the Star-Spangled Banner," the statement added. "The Congressional staff member who was accompanying the group knew the rules, yet lied to the officers multiple times about having permission from various offices. The staffer put both the choir and our officers, who were simply doing their jobs, in an awkward and embarrassing position."
McCarthy and three Republican members of Congress involved in inviting the group to the Capitol issued a joint statement, saying they were "very disappointed" that the performance was cut short.
"We recently learned that schoolchildren from South Carolina were interrupted while singing our National Anthem at the Capitol. These children were welcomed by the Speaker's Office to joyfully express their love of this nation while visiting the Capitol, and we are all very disappointed to learn their celebration was cut short," McCarthy and three House Republicans said. "We are delighted that the People's House has been reopened particularly for our children and we look forward to welcoming more Americans back to the halls of Congress."
Capitol Police did not immediately respond to Fox News Digital's request for comment.
CLICK HERE TO GET THE FOX NEWS APP
The Associated Press contributed to this report.
Biden admin slammed as granting 'major coup' to China after top officials visit on Tiananmen massacre date
EXCLUSIVE: The Biden administration is getting slammed as handing a "major coup" to Chinese President Xi Jinping after two senior officials made a trip to China on Sunday in an attempt to ease tensions between the two countries.
Critics immediately pointed out that Sunday, June 4, marks the 34th anniversary of the Tiananmen Square massacre, when the Chinese military slaughtered hundreds, possibly thousands, of pro-democracy protesters.
Daniel Kritenbrink, the assistant secretary of state for East Asian and Pacific affairs, and Sarah Beran, the National Security Council's senior director for China and Taiwan affairs, arrived in Beijing to discuss "key issues in the bilateral relationship," the State Department said in a press release.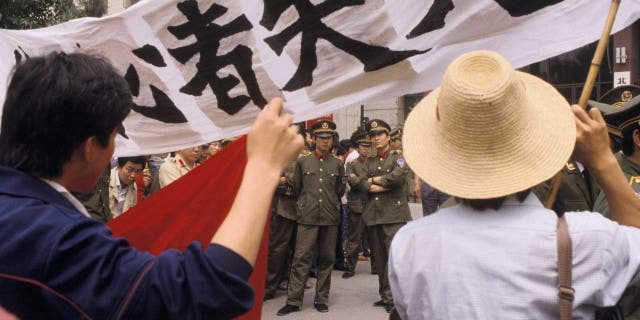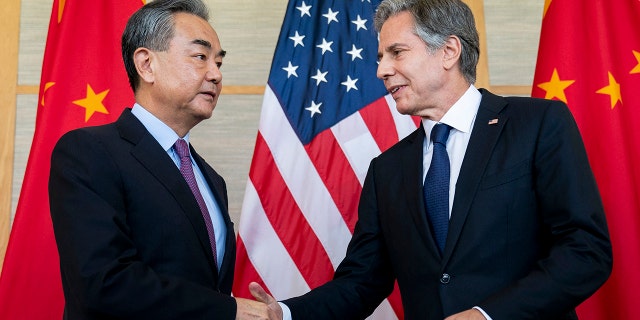 Rep. Darrell Issa, R-Calif., called attention to the timing of the trip on Twitter.
"Is the Biden Administration sending senior officials to China as we remember the anniversary of the massacre in Tiananmen Square?" he wrote.
BLINKEN AND WIFE EMAILED FREQUENTLY WITH HUNTER BIDEN, RAISING QUESTIONS ABOUT ROLE IN LAPTOP COVER STORY
Issa, who serves on the House Foreign Affairs Committee, told Fox News Digital that the trip only benefits China and Chinese President Xi Jinping while weakening the United States' position on the world stage.
"This is no ordinary foreign policy stumble," he said. "It's a concession demanded by the Chinese and granted by a White House and State Department willing to bend. It's a major coup for Xi, and America's position in the world just got weaker – where it matters most." 
"There's no way the Congress can just look away and let this go," he added.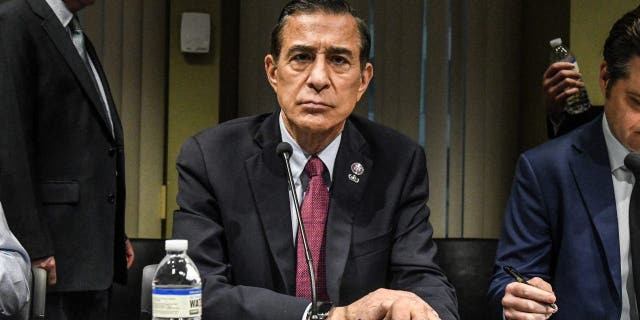 Nearly two hours after the first press release, the State Department issued another one honoring the Tiananmen Square anniversary.
"Tomorrow, we observe the 34th anniversary of the Tiananmen Square Massacre," the release said. "On June 4th, 1989, the Government of the People's Republic of China (PRC) sent tanks into Tiananmen Square to brutally repress peaceful Chinese pro-democracy protesters and bystanders alike." 
"The victims' bravery will not be forgotten and continues to inspire advocates for these principles around the world," it added. "The United States will continue advocating for people's human rights and fundamental freedoms in China and around the world."
BLINKEN SAYS 'I DON'T DO POLITICS' DESPITE SPENDING DECADES IN POLITICS, DONATING LAVISHLY TO DEMS
Issa's office said he plans to send a letter to Secretary of State Antony Blinken demanding answers about the China trip.
A State Department spokesperson told Reuters that Kritenbrink's official meetings will begin Monday, and that he would raise the issue of human rights in the communist country.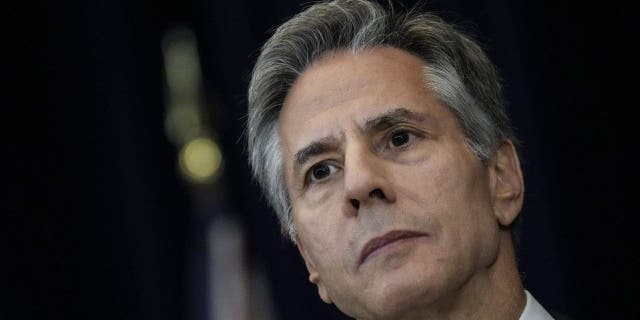 Michael Sobolik, a fellow in Indo-Pacific Studies at the American Foreign Policy Council, responded to the press release about the China visit by asking, "Is this a joke?"
Isaac Stone Fish, the CEO of Strategic Risks, which "quantifies corporate exposure to China," and a visiting fellow at the Atlantic Council, offered a "pro-tip" on Twitter, saying, "Don't be a senior government official visiting China on the anniversary of Tiananmen Square."
Fox News Digital asked the State Department and the White House whether the Tiananmen Square massacre would be discussed, but neither responded.
Dialogue between the Biden administration and Beijing has been nearly dormant in recent months as attempts at interactions have been shuttered since the U.S. shot down a Chinese surveillance balloon that traversed the country earlier this year.
A previously scheduled trip by Blinken, where he was expected to meet with Xi, was canceled because of the China spy balloon incident.
The U.S.-China relationship has been further strained over China's military activity in the South China Sea and the United States' support of Taiwan.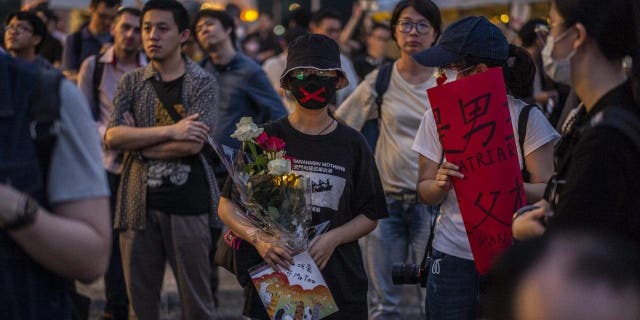 CLICK HERE TO GET THE FOX NEWS APP
Additionally, Beijing has taken umbrage after the U.S. warned China against arming Russia to help its war in Ukraine. 
CIA Director William Burns secretly visited China last month in an effort to restore relations, meeting with his Chinese counterparts to emphasize "the importance of maintaining open lines of communication in intelligence channels," according to the Financial Times, which first reported the visit. 
Fox News' Louis Casiano contributed to this report.