Senate GOP won't move leadership elections despite calls for delay
Senate Republicans won't delay their leadership elections set for next week despite a growing number of calls from conservative senators who want a postponement and are growing frustrated with Minority Leader Mitch McConnell and other leaders.
"It makes no sense for Senate to have leadership elections before GA runoff," Sen. Ted Cruz, R-Texas, tweeted Friday. "We don't yet know whether we'll have a majority & Herschel Walker deserves a say in our leadership. Critically, we need to hear a specific plan for the next 2 yrs from any candidate for leadership."
Sen. Marco Rubio, R-Fla., also tweeted Friday that the leadership vote "should be postponed." Sen. Cynthia Lummis, R-Wyo., tweeted in support of Rubio's proposition. So did Sen. Josh Hawley, R-Mo., who has vocally opposed bringing McConnell back as the top Senate Republican.
But a Senate GOP aide confirmed to Fox News Digital that elections will go on as planned.
RUBIO CALLS FOR DELAY IN SENATE GOP LEADERSHIP ELECTIONS IN APPARENT SWIPE AT MCCONNELL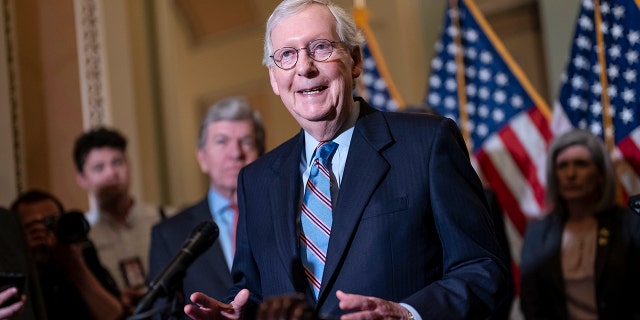 Former President Donald Trump has repeatedly called for McConnell, R-Ky., to be replaced as party leader.
McConnell has been in uncomfortable positions within his party in recent years. He was in the minority of his party in voting for several pieces of legislation in the current Congress, including an infrastructure bill, a China competition bill and a gun control bill.
GEORGIA RUNOFF: TRUMP FACTOR, SHORTENED SCHEDULE POSE CHALLENGES FOR WALKER
Those votes are among the reasons multiple GOP Senate candidates said they would not vote for McConnell to have another term as leader, including Senator-elect Eric Schmitt, R-Mo.
Sen. Rick Scott, R-Fla., has also repeatedly refused to say he'll support McConnell for party leader or rule out challenging him for the role.
But McConnell still has a lot of cushion before his bid to become the longest-serving party leader in Senate history is at risk. Unlike House speaker elections, which require a majority of the chamber, senators elect their party leaders by a simple majority of the conference.
It's not expected that enough members will come out in opposition to McConnell to oust him from his leadership post, and comments today made it appear unlikely that leadership elections would be postponed.
CLICK HERE TO GET THE FOX NEWS APP 
"Members are frustrated, and they're looking for an outlet to have a conversation. There will be a robust discussion at lunch on Tuesday," at Senate GOP aide told Fox News Digital. "There will also be a lot of questions about candidate quality/campaign priorities and mistakes. A lot of these will be directed at Scott, especially if the reports are true that he was preparing to challenge McConnell before Election Day had even concluded."
Fox News' Chris Pandolfo contributed to this report.
Source: https://www.foxnews.com/politics/senate-gop-wont-move-leadership-elections-calls-delay
Another Biden campaign co-chair has ties to Hunter, asked for his briefing 'on the Ukraine'
FIRST ON FOX: Democratic Rep. Lisa Blunt Rochester, one of the Biden campaign's national co-chairs and a likely Senate candidate, thanked Hunter Biden in 2016 for his "generous contribution" to her campaign and asked if he could brief her "on the Ukraine," emails show.
Blunt Rochester, who was named co-chair along with several others, including Sen. Chris Coons, D-Del., previously served in the same role for Biden's 2020 presidential campaign. She is expected to launch a run for the open Senate seat in Delaware this month, Politico reported.
Fox News Digital previously reported that Hunter served as an outside adviser to Coons during his successful 2010 Senate bid, making Blunt Rochester at least the second campaign co-chair with ties to the embattled first son.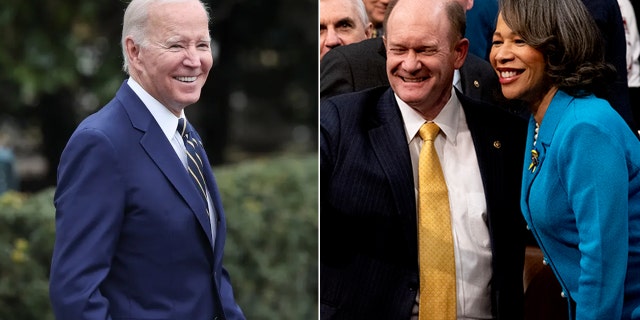 Months before winning her election against Republican Hans Reigle, Blunt Rochester sent an email to Hunter thanking him for donating to her campaign.
BIDEN'S CLAIM TO HAVE NO KNOWLEDGE OF HUNTER'S BUSINESS DEALINGS IS BECOMING HARDER TO MAINTAIN
"I just told Brian that I saw your contribution online," she wrote Feb. 5, 2016. "I can't thank you enough. You know that it's not easy running for any office.  It means a lot to have you on my team.
"By the way, I'm sure Brian will tell you that I will be in DC next Tuesday and Wednesday."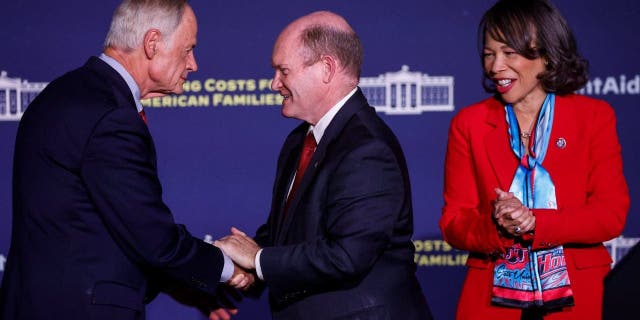 Hunter replied less than an hour later, writing, "Let me know what more I can do- lets do a fundraiser in the second quarter down here in DC."
Ten days later, on the evening of Feb 15, 2016, Blunt Rochester thanked Hunter again for the donation and asked if he could brief her "on the Ukraine."
Hunter made four donations to Blunt Rochester's campaign in 2016, totaling $3,000, according to FEC records.
"Thank you again for your generous contribution to my campaign," she wrote. "Your support means so much to me. Brian suggested I reached out to you to see if you could brief me on the Ukraine. Is there someone who manages your calendar or should I give you a few times for a phone call?"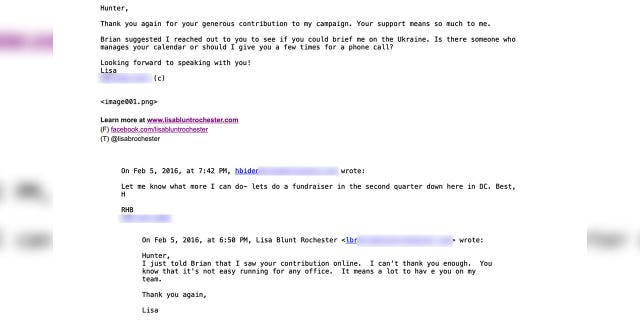 "Let me know when you have time," Hunter responded.
"Are you free tomorrow after 2:00 or anytime on Friday?" Blunt Rochester asked Feb. 17, 2016.
Hunter replied an hour later, saying he'd be available to discuss Ukraine the following week.
"I am at my World Food Program Board retreat through Friday," he wrote. "Let's look for sometime next week. More than Ukraine I'd love to talk to you about the Syrian Refugee Crisis. I just returned from the refugee camps in Jordan and Lebanon and it is dire circumstances. Let me know."
"FYI," Blunt Rochester responded, "I worked in Jordan for three months in 2002 on a USAID funded project. I am very interested in what is happening in the region."
Hunter then forwarded the email chain to Joan Mayer, an executive of Hunter's now-defunct investment firm Rosemont Seneca Advisors, and asked her to schedule a call with Blunt Rochester.
The Biden and Blunt Rochester campaigns did not respond to Fox News Digital's requests for comment.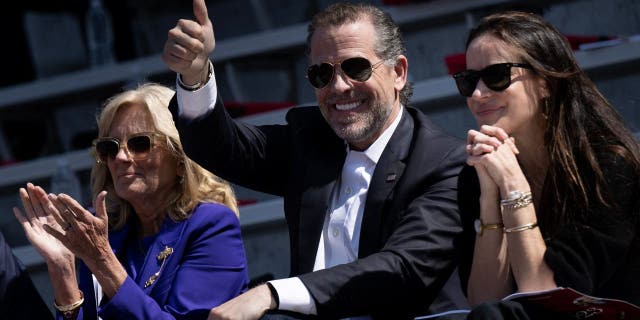 BIDEN GOLFS WITH BROTHER WHO PROFITED FROM FAMILY'S SHADY CHINA BUSINESS DEALS
The email thread with Blunt Rochester started one day after Hunter thanked the president of Ukrainian energy company Burisma Holdings for "extravagant" birthday gifts. 
Fox News Digital reported Wednesday that, in addition to the more than $50,000 a month Hunter received while serving on Burisma's board from April 2014 to April 2019, the then-vice president's son apparently received lavish gifts from the company's founder, Mykola Zlochevsky, less than two months before the top Ukraine prosecutor investigating Burisma was infamously fired.
On Feb. 4, 2016, Hunter wrote that he was thankful for the "beautiful birthday gifts" that he described as "far too extravagant but much appreciated."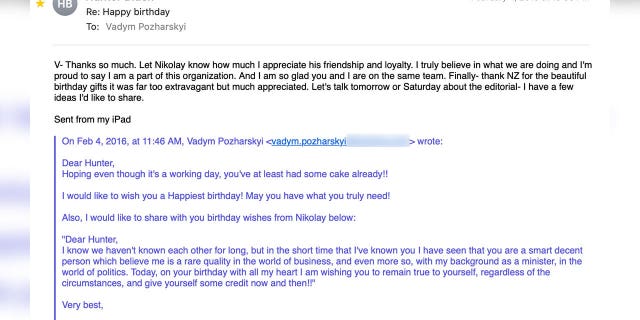 The Obama administration pushed for the prosecutor investigating Zlochevsky at the time, Viktor Shokin, to be removed from his post. Less than two weeks after Hunter expressed gratitude for the gifts from Zlochevsky, the Obama White House released a readout of Vice President Biden's call with Ukraine's president at the time, saying, "The Vice President also commended President Poroshenko's decision to replace Prosecutor General Shokin, which paves the way for needed reform of the prosecutorial service."
On the same day as the readout, Hunter Biden's longtime business partner, Eric Schwerin, emailed him an article that mentioned Poroshenko calling for Shokin's resignation in his statement.
At the end of March 2016, Schwerin forwarded another article to Hunter with the headline "Ukraine's parliament sacks corruption-tainted prosecutor," referring to Shokin.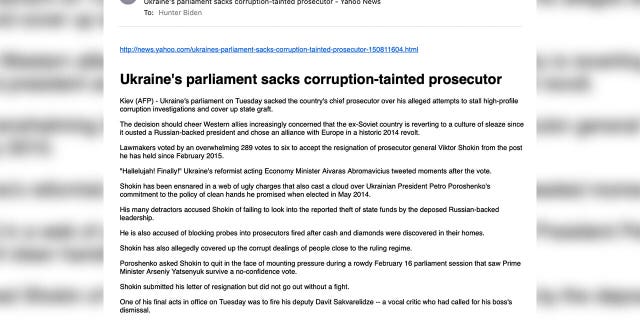 Shokin was fired in late March 2016, and the case was closed by the prosecutor who replaced him. Joe Biden later boasted on camera in 2018 that when he was vice president he successfully pressured Ukraine to fire Shokin.
CLICK HERE TO GET THE FOX NEWS APP
"I said, 'I'm telling you, you're not getting the billion dollars.' I said, 'You're not getting the billion. I'm going to be leaving here in, I think it was about six hours.' I looked at them and said, 'I'm leaving in six hours.' If the prosecutor is not fired, you're not getting the money," Biden said, according to a transcript of Biden's remarks at the Council on Foreign Relations. 
"Well, son of a b—-. (Laughter.) He got fired. And they put in place someone who was solid at the time."
Biden allies, though, maintained that his intervention had nothing to do with his son but was rather tied to the administration's concerns of corruption in Ukraine. At the time, as vice president to former President Obama, Biden was running U.S.-Ukraine policy and anti-corruption campaigns. 
Fox News' Haley Chi-Sing contributed to this report.
Biden vetoes bill cancelling his $400 billion student loan handout, vows he's 'not going to back down'
President Biden on Wednesday vetoed the bill that would have scrapped his $400 billion student loan handout and vowed he wasn't "going to back down" when it came to forgiving the college debt of millions across the country.
"Folks, Republican in Congress led an effort to pass a bill blocking my administration's plan to provide up to $10,000 in student debt relief and up to $20,000 for borrowers that received a Pell Grant. Nearly 90% of those relief dollars go to people making less than $75,000 a year," Biden said in a video posted on Twitter. 
"I'm not going to back down on my efforts to help tens of millions of working and middle class families. That's why I'm going to veto this bill," he said. 
AOC SAYS SUPREME COURT 'CORRUPTION' WILL KILL BIDEN STUDENT LOAN HANDOUT
Amid his railing against Republicans, Biden made no mention of the two Democratic senators, Joe Manchin, D-W.Va., and Jon Tester, D-Mont., who joined all Republicans in voting to advance the bill last week. Independent Arizona Sen. Kyrsten Sinema also voted in favor with the final tally coming to 52-46.
Biden also made no mention of Rep. Jared Golden, D-Maine, and Rep. Marie Gluesenkamp Perez, D-Wash., who joined Republicans in voting for the bill in the House of Representatives. The final House vote tally was 218-203.
The president went on to say that some of the members who voted for the bill had "personally received loans to keep their small business afloat during the pandemic," and supported "huge tax cuts for corporations and the wealthy." 
CHRIS CHRISTIE RIPS 'JUVENILE,' 'BABY' TRUMP AFTER FORMER PRESIDENT TARGETS HIM WITH FAT JOKES: 'LIKE A CHILD'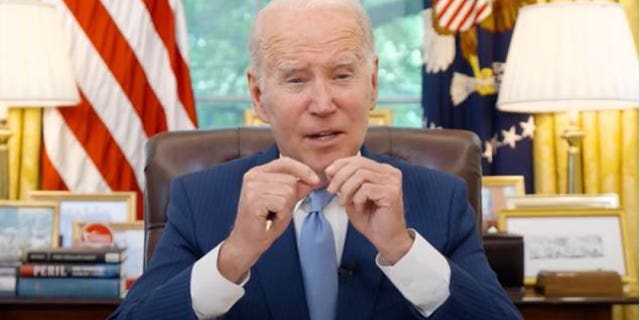 "But when it comes to hardworking Americans trying to get ahead, dealing with student debt relief, that's where they drew the line. I think it's wrong," he said.
"Let me make something really clear, I'm never going to apologize for helping working and middle class Americans as they recover from this pandemic. Never," he added before signing his veto of the bill.
Biden's veto of the bill marks his fifth veto since taking office.
Under the program announced last year, Biden said he would cancel up to $10,000 in student loans for people making less than $125,000, and up to $20,000 for students who received Pell Grants. That program was expected to cost the government more than $400 billion in lost debt repayment, but the program was put on hold after a court blocked it.
BIDEN JOINS AOC IN LINKING CANADIAN WILDFIRES TO 'CLIMATE CRISIS'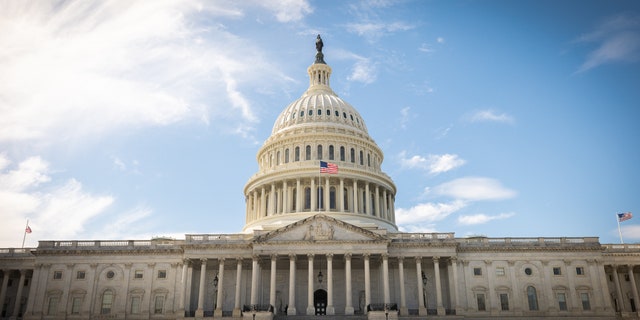 The resolution approved by the House and Senate was written under the Congressional Review Act, which lets Congress reject an executive branch policy as long as both the House and Senate pass a resolution disapproving of that policy.
Given the mostly partisan nature of the votes in the House and Senate, it's unlikely Congress will be able to find the two-thirds majority needed in each chamber to override Biden's veto.
CLICK HERE TO GET THE FOX NEWS APP
Fox News' Peter Kasperowicz contributed to this report.
Michigan man pleads guilty to assisting Whitmer kidnapping scheme
A man accused of aiding a plot to kidnap Michigan's governor pleaded guilty Wednesday, the ninth conviction in state and federal courts since agents broke up an astonishing scheme by anti-government rebels in 2020.
Shawn Fix said he provided material support for an act of terrorism, namely the strategy to snatch Gov. Gretchen Whitmer at her vacation home in Antrim County. Prosecutors agreed to drop a weapon charge.
Fix trained with a militia, the Wolverine Watchmen, for "politically motivated violence," prosecutors have said, and hosted a five-hour meeting at his Belleville home where there was much discussion about kidnapping Whitmer.
MICHIGAN MAN CHARGED WITH AIDING WHITMER KIDNAPPING PLOT TO CHANGE PLEA
Fix, 40, acknowledged helping plot leader Adam Fox pinpoint the location of Whitmer's home, key information that was used for a 2020 ride to find the property in northern Michigan.
"Guilty," Fix told the judge.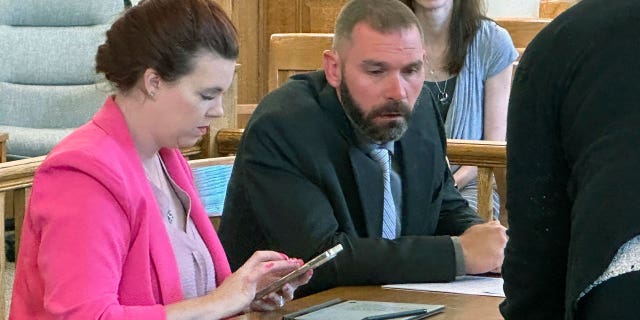 He appeared in an Antrim County court, one of five people charged in that leg of the investigation. A co-defendant pleaded guilty to a lesser charge in March, leaving three other men to face trial in August.
Fix, who faces a maximum penalty of 20 years in prison, agreed to testify if called by prosecutors.
The main kidnapping conspiracy case was handled in federal court, where four men, including ringleaders Fox and Barry Croft Jr., were convicted. Two others were acquitted.
WISCONSIN MAN CHARGED IN WHITMER KIDNAPPING PLOT TO CHANGE PLEA
Separately, three men were convicted at trial in Jackson County, the site of militia training, and are serving long prison terms.
Whitmer, a Democrat, was targeted as part of a broad effort by anti-government extremists to trigger a civil war around the time of the 2020 presidential election, investigators said. Her COVID-19 policies, which shut down schools and restricted the economy, were deeply scorned by foes.
But informants and undercover FBI agents were inside the group for months, leading to arrests in October 2020. Whitmer was not physically harmed.
CLICK HERE TO GET THE FOX NEWS APP
After the plot was thwarted, Whitmer blamed then-President Donald Trump, saying he had given "comfort to those who spread fear and hatred and division." Last August, after 19 months out of office, Trump called the kidnapping plan a "fake deal."