Particle politics revisited
Republicans nominated House Minority Leader Kevin McCarthy, R-Calif., to become Speaker of the House when the GOP seizes control in January.
But it's far from clear that McCarthy can attain the votes to become Speaker. McCarthy has spent the past few days making not-so-subtle promises which may help him become Speaker. McCarthy demanded that Homeland Security Secretary Alejandro Mayorkas resign or face potential impeachment during a trip to the southern border. McCarthy also promised that "next year, Republicans will start every day of Congress with prayer and the Pledge of Allegiance. No exceptions."
Republicans can adopt any rule they want as it pertains to House operations when the GOP claims control in January. But the House routinely begins each session with the prayer and pledge anyway. In fact, House rule XIV dictates "the daily order of business…shall be as follows: First. Prayer by the Chaplain. Second. Reading and Approval of the Journal, unless postponed under clause 8 of rule XX. Third: The pledge of Allegiance to the Flag."
Of course, Republicans could always alter the rule to ensure that the "Approval of the Journal" doesn't interrupt the prayer and pledge. But that's pretty minimal.
MCCARTHY CALLS ON MAYORKAS TO RESIGN OR POTENTIALLY FACE IMPEACHMENT INQUIRY: 'ENOUGH IS ENOUGH'
This underscores that McCarthy is doing all he can to command enough votes to become Speaker. Making promises to bounce Reps. Ilhan Omar, D-Minn., Adam Schiff, D-Calif., and Eric Swalwell, D-Calif., from committees. Hinting at impeachment to sate the appetite of the right over the border. Appealing to religious conservatives.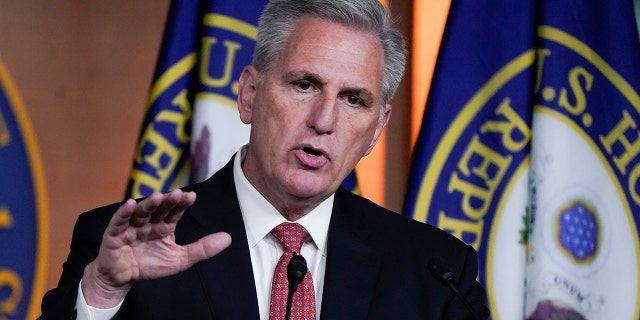 It may work. But so far, the math isn't in favor of McCarthy when the floor vote hits in January. Reps. Ralph Norman, R-S.C., Matt Gaetz, R-Fla., Matt Rosendale, R-Mont., Andy Biggs, R-Ariz., and Bob Good, R-Va., are unlikely to support McCarthy. That could be enough votes right there to sink McCarthy's bid for the gavel.
But if not McCarthy, who? 
House Minority Whip Steve Scalise, R-La.? House Republican Conference Chairwoman Elise Stefanik, R-N.Y.? Rep. and incoming House Majority Whip Tom Emmer, R-Minn.? Rep. Jim Jordan, R-Ohio? Rep. Patrick McHenry, R-N.C.?
It wasn't that long ago that McCarthy was supposed to succeed former House Speaker John Boehner, R-Ohio as Speaker. And then former Speaker Paul Ryan, R-Wisc., took the job – despite an adamant claim a few weeks before that he didn't want the gig. 
There were times over the past 15 to 20 years that the next GOP leader or House Speaker was supposed to be former House Majority Leader Eric Cantor, R-Va. Cantor lost his primary. Former Rep. Tom Reynolds, R-N.Y. was considered as a potential successor to former House Speaker Dennis Hastert, R-Ill. Rep. Pete Sessions, R-Tex., tinkered with a leadership bid a few years ago.
Other names who have gone by the wayside: Rep. Daniel Webster, R-Fla., and former Rep. Jason Chaffetz, R-Utah.
This brings us to one of my most enduring theses about Congress. Who winds up in or out of Congressional leadership posts is contingent upon "particle" politics. In other words, infinitesimal, minute, sub-atomic political particles decide who emerge as Congressional leaders. It was hard to see how McCarthy wouldn't become Speaker seven years ago. Yet he didn't claim the gavel. It was hard to see how Ryan would become Speaker in 2015. Yet he did.
Right now, McCarthy is the odds-on favorite to become House Speaker on January 3 next year. But McCarthy lacks the votes – so far. Thus, does someone else actually become Speaker through means which aren't yet clear?
Possible.
ILHAN OMAR, ERIC SWALWELL HIT BACK AT MCCARTHY OVER PLEDGE TO BLOCK THEM FROM HOUSE COMMITTEES
It's all because of "particle politics." 
A similar phenomenon unfolded on the Democratic side of the aisle to succeed House Speaker Nancy Pelosi, D-Calif., as the leader of the party.
The ascension to succeed Pelosi is a Washington parlor game played for years. House Majority Leader Steny Hoyer, D-Md., and House Majority Whip Jim Clyburn, D-S.C., helped Pelosi form three legs of a stool representing all wings of the House Democratic Caucus. In other words, if you subtract one of the legs, the stool collapses. It was often thought that once Pelosi goes, all three go. That kind of happened with Pelosi and Hoyer stepping away from leadership roles. Clyburn remains – but with a lower-profile leadership post. 
But figuring out who was to succeed Pelosi was a mystery which went on for a decade-and-a-half.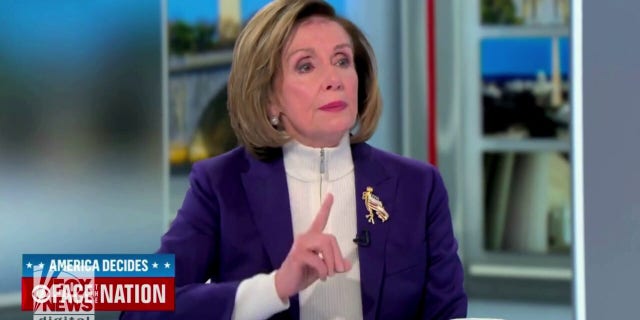 Pelosi and Hoyer have had a rivalry dating back to when they interned together in the office of late Sen. Daniel Brewster, D-Md., in the 1960s. Pelosi often blocked Hoyer's leadership bids. Pelosi endorsed the late Rep. Jack Murtha, D-Penn., for Majority Leader in 2006. Yet Hoyer prevailed. And Hoyer would never directly challenge Pelosi for the Democrats' top leadership post. Hoyer lacked the votes and would lose. However, over the years, Republicans privately conceded they feared Hoyer more as Pelosi as Speaker. That's because of Hoyer's stellar reputation of working across the aisle and not presenting the GOP with a liberal foil.
But that opportunity never came for Hoyer. Or Clyburn, for that matter.
There was even a time many years ago when some factions in the Democratic Caucus believed that former Rep. Jane Harman, D-Calif., could pose a threat to Pelosi. The two had a chilly relationship for years. Harman never lodged a challenge to Pelosi. 
Nor was Harman around long enough to outlast Pelosi, should the opportunity avail itself.
Meantime, speculation churned for years as Pelosi ushered in a series of other Democratic lieutenants who aspired to succeed her – but never got the chance because of the Speaker's longevity.
First in the queue was current Ambassador to Japan and former Chicago Mayor, White House Chief of Staff and Rep. Rahm Emanuel, D-Ill. But after helping Democrats win control of the House chairing the Democratic Congressional Campaign Committee (DCCC) in 2006 and becoming Democratic Caucus Chairman, former President Obama drafted Emanuel to serve as Chief of Staff.
Then came Sen. Chris Van Hollen, D-Md. Van Hollen was in the House at the time, but eventually moved to the Senate.
Focus turned to former Rep. Steve Israel, D-N.Y., for a time. Then current Health and Human Services Secretary and former Rep. Xavier Becerra, D-Calif. Rep. Joe Crowley, D-N.Y., was in the mix. But Crowley – like Cantor – eventually lost his primary to Rep. Alexandria Ocasio-Cortez, D-N.Y.
Schiff may have been the latest potential Pelosi successor. In fact, Schiff began a not-so-stealthy campaign to possibly succeed Pelosi. Several House Democrats told Fox that Schiff wouldn't have launched such an effort unless he had a either an implicit or explicit blessing from Pelosi. That's partly because Pelosi and Schiff have always enjoyed a special relationship. That was on exhibit when Pelosi tasked Schiff to serve as the lead manager during former President Trump's first impeachment trial. Schiff chairs the Intelligence Committee. The House Judiciary Committee chairman had customarily been the lead "prosecutor" in such impeachment proceedings. Not the chairman of the Intelligence Committee.
However, Schiff ultimately lacked the votes to succeed Pelosi. And House Democratic Caucus Chairman Hakeem Jeffries, D-N.Y., has all but wrapped up the deal to succeed Pelosi by acclamation.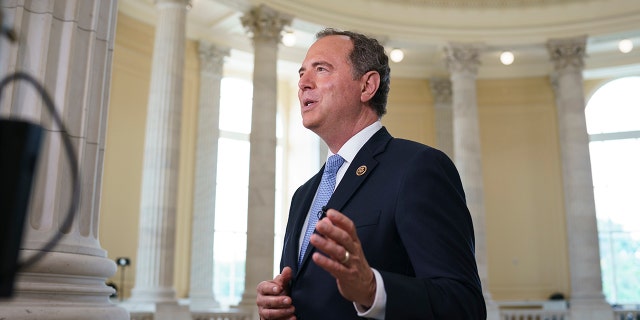 This is notable. Just two hours before Pelosi announced her retirement from the leadership, Jeffries didn't respond to a question from yours truly as to if he had "a plan in a drawer somewhere" to campaign for the Democrats' top leadership post. 
This is why it comes down to "particle politics." 
No one could have foreseen circumstances years ago that Jeffries would be the one who might succeed Pelosi – back when all of the focus was on Emanuel or Van Hollen.
CLICK HERE TO GET THE FOX NEWS APP
Who gets into leadership positions boils down to hard work. A bit of magic. A bit of luck. And really good timing.
Kevin McCarthy is now going for the gavel again. Rarely does anyone get a second chance at such a prime leadership post as Speaker. But that's the opportunity which has now come in McCarthy's direction.
But McCarthy's fate hinges on subatomic, political particles, now racing around the political supercollider.
Source: https://www.foxnews.com/politics/particle-politics-revisited
Michigan man pleads guilty to assisting Whitmer kidnapping scheme
A man accused of aiding a plot to kidnap Michigan's governor pleaded guilty Wednesday, the ninth conviction in state and federal courts since agents broke up an astonishing scheme by anti-government rebels in 2020.
Shawn Fix said he provided material support for an act of terrorism, namely the strategy to snatch Gov. Gretchen Whitmer at her vacation home in Antrim County. Prosecutors agreed to drop a weapon charge.
Fix trained with a militia, the Wolverine Watchmen, for "politically motivated violence," prosecutors have said, and hosted a five-hour meeting at his Belleville home where there was much discussion about kidnapping Whitmer.
MICHIGAN MAN CHARGED WITH AIDING WHITMER KIDNAPPING PLOT TO CHANGE PLEA
Fix, 40, acknowledged helping plot leader Adam Fox pinpoint the location of Whitmer's home, key information that was used for a 2020 ride to find the property in northern Michigan.
"Guilty," Fix told the judge.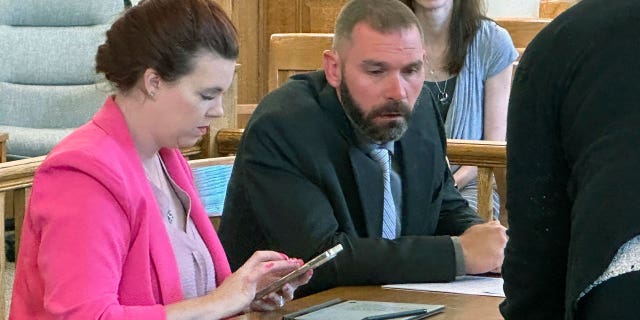 He appeared in an Antrim County court, one of five people charged in that leg of the investigation. A co-defendant pleaded guilty to a lesser charge in March, leaving three other men to face trial in August.
Fix, who faces a maximum penalty of 20 years in prison, agreed to testify if called by prosecutors.
The main kidnapping conspiracy case was handled in federal court, where four men, including ringleaders Fox and Barry Croft Jr., were convicted. Two others were acquitted.
WISCONSIN MAN CHARGED IN WHITMER KIDNAPPING PLOT TO CHANGE PLEA
Separately, three men were convicted at trial in Jackson County, the site of militia training, and are serving long prison terms.
Whitmer, a Democrat, was targeted as part of a broad effort by anti-government extremists to trigger a civil war around the time of the 2020 presidential election, investigators said. Her COVID-19 policies, which shut down schools and restricted the economy, were deeply scorned by foes.
But informants and undercover FBI agents were inside the group for months, leading to arrests in October 2020. Whitmer was not physically harmed.
CLICK HERE TO GET THE FOX NEWS APP
After the plot was thwarted, Whitmer blamed then-President Donald Trump, saying he had given "comfort to those who spread fear and hatred and division." Last August, after 19 months out of office, Trump called the kidnapping plan a "fake deal."
Utah Rep. Chris Stewart to step down from Congress in September
U.S. Rep. Chris Stewart, R-Utah, on Wednesday officially submitted his letter of resignation from Congress. 
In a letter to Utah Gov. Spencer J. Cox, Stewart said he would be stepping down as a member of the U.S. House of Representatives effective Sept. 15.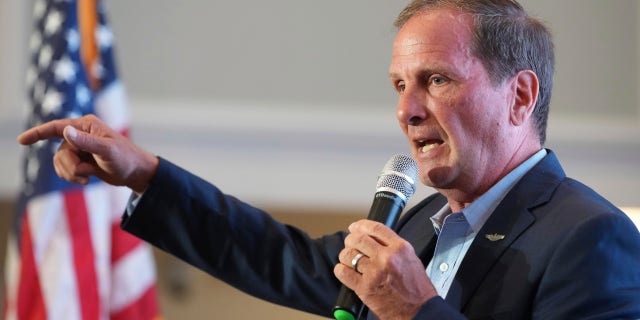 "It has been one of the great honors of my life to serve the good people of Utah in Congress," Stewart said.
Stewart, a six-term lawmaker, announced his plans to leave Congress last month due to his wife's illness. 
His resignation would leave open a Republican seat on the House Appropriations and Intelligence committees — and reduce an already narrow GOP majority to just four seats.
FBI WILLING TO ALLOW ALL HOUSE OVERSIGHT COMMITTEE MEMBERS TO VIEW BIDEN DOC ALLEGING CRIMINAL SCHEME: SOURCE
Utah law states that the governor must call for a special election in the event of a House vacancy. Once Stewart makes his resignation official, Republican Gov. Spencer Cox will have seven days to set the time for a primary and special election. 
The law requires those dates to be the same as municipal primary and general elections scheduled for this year, unless the state legislature appropriates funds to hold a separate election.
CLICK HERE TO GET THE FOX NEWS APP
Though Stewart's departure will mean one less Republican in the U.S. House of Representatives, it is not expected to affect House Speaker Kevin McCarthy's ability to steer a tight Republican majority. 
The district is reliably Republican and Stewart defeated a Democratic challenger by more than 30 percentage points in 2022.
Fox News' Chris Pandolfo contributed to this report. 
Trump attorneys notified former president is target of criminal investigation
Federal prosecutors reportedly notified former President Donald Trump's attorneys that he is the target of a criminal investigation regarding his handling of classified materials after serving as commander in chief, two sources with knowledge of the ongoing grand jury probe confirm to Fox News.
Trump's handling of classified materials after leaving office in 2021 has been the focus of an investigation led by Special Counsel Jack Smith, who was appointed as special counsel on the matter in November 2022.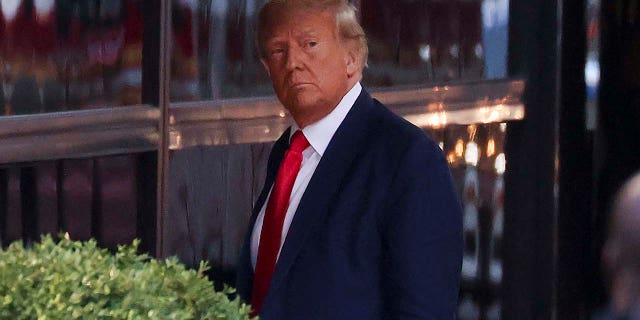 The appointment came just months after the FBI searched for missing classified documents in a raid at Trump's Mar-a-Lago estate in Florida on Aug. 8, 2022.
TRUMP LAWYERS MEET OFFICIALS AT DOJ AS SPECIAL COUNSEL PROBE ON CLASSIFIED DOCUMENTS NEAR END
That Justice Department notification came days ago, said sources, and is in indication the Special Prosecutor may be close to deciding whether to bring charges in the months long investigation. The fact prosecutors privately informed Trump's lawyers he is a target is another indication, sources said, that the former president's own actions on handling classified material are the focus of the investigation.
Notifying individuals they are a target is a routine part of criminal investigations done at the discretion of prosecutors, but charges may not ultimately be filed.
Trump's legal team met privately at the Justice Department with Smith and some of his team to discuss the grand jury investigation.
CLICK HERE TO GET THE FOX NEWS APP
To be clear, Trump has not, nor does this suggest that he will be charged with a crime.
The notification is simply to notify the former president that he has become a target, and to allow him time to present evidence in front of a grand jury.