'PANDEMIC OF VIOLENCE': Lightfoot's record on crime at the forefront of Chicago mayoral election
The Chicago mayoral election, set to take place early next year, comes amid an unprecedented spike in crime as incumbent Mayor Lori Lightfoot seeks to defend her post in the mayor's office against numerous challengers.
Several individuals have announced their candidacy in the race ahead of the Nov. 28 filing deadline and will face off in the Windy City's nonpartisan mayoral election slated for Feb. 28.
While there are a number of issues in focus ahead of the election, crime is a central priority for both candidates and voters. Homicides in the deep-blue city rose to their highest number in 25 years in 2021, according to police department records, outpacing New York City and Los Angeles.
Several candidates who aim to serve as Chicago's 57th mayor told Fox News Digital they believe that Lightfoot has not fulfilled promises to make the city a safer environment as they stressed the importance of supporting police and tackling crime head on.
CHICAGO MAYOR LORI LIGHTFOOT BLASTED OVER CITY'S VIOLENCE AFTER DECRYING COLORADO SHOOTING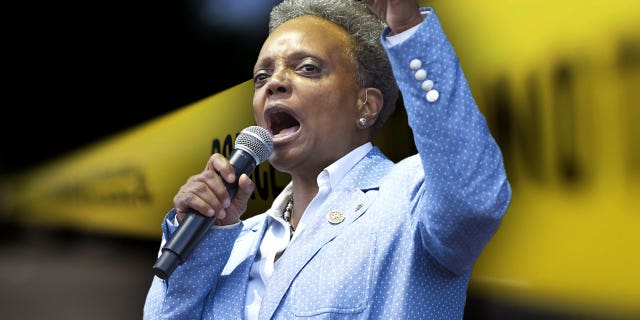 "Chicago needs a leader who understands our city, its people, its history and its character. It needs someone who is a consensus builder, someone who is willing to work with everyone from across the city, who doesn't get into feuds and has a thick skin. None of those things describe our current mayor," said Roderick Sawyer, the son of former Chicago Mayor Eugene Sawyer.
Looking to follow in his father's footsteps as mayor, Sawyer, a current member of the Chicago City Council who was elected to represent the South Side's 6th Ward in 2011, insisted that a "role such as mayor requires someone who has a history of working on budgets, passing legislation and finding practical solutions."
"We have a public safety crisis that I won't claim is entirely the fault of our current mayor, though she certainly hasn't helped," Sawyer said. "We need to address public safety and crime from a wide variety of angles. We have a level of crime anxiety that affects everyone, even those who don't live in our most crime-affected areas."
"Police reform is an important and frequently misunderstood component of crime reduction," he added. "We need a strong police force, but a police department is strongest when it is respected and welcomed in all communities, not feared in some. Reform is not a tool to weaken police but to empower them."
Sawyer believes that Lightfoot "does not play well with others" and "chooses petty feuds over leadership and her priorities are puzzling at best." Regarding Lightfoot's ability to lead, Sawyer, who noted that he grew up in a part of Chicago with a high crime rate, said the current mayor "is not respected or liked by the police department, and yet she has stood in the way of one of her primary campaign promises — meaningful police reform."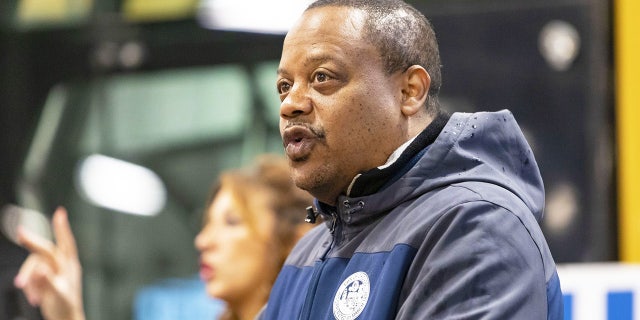 "I have a very positive working relationship with the police in my ward and all over the city — they know me as someone who has been here all of my life and wants to make our department stronger and more effective," he said.
Similarly, Frederick Collins, a 29-year veteran of the Chicago Police Department, told Fox that he believes Chicago needs "a leader who will not only listen to its citizens and their needs, but take charge of the immediate issues plaguing our city and get real results."
CHICAGO CRIME FRUSTRATIONS MOUNT AGAINST STATE'S ATTORNEY KIM FOXX AS 'MASS EXODUS' CONTINUES: SOURCE
"The citizens of this great city are sick and tired of this unprecedented crime wave, which has now touched neighborhoods like nothing before," Collins stated.
Collins, who made an unsuccessful ran for mayor of the city in 2015, said his experience as a law enforcement officer has prepared him with the ability to lead Chicago and "deploy tactics and methods that would help curb crime and get criminals off our streets."
"These politicians in this race only have theories and political wish lists on how to deal with crime and no real experience," he said. "Chicago has a litany of problems in need of an immediate resolution, but if we don't get this issue of crime under control, we will not have much of a city left."
If elected, Collins said one of his first priorities in office would be to "take the handcuffs off the police and allow them to do their jobs effectively and get rid of the so-called no-chase policy." Additionally, Collins said he would "deploy stop and frisk, considering police have body camera technology which would allow greater transparency into justifying why the individual(s) were stopped for reasonable cause."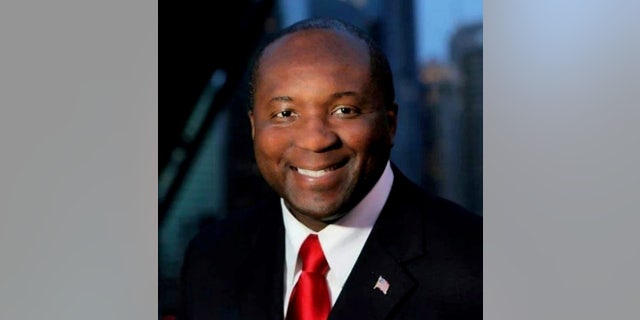 Asked about Lightfoot's leadership of the city and whether he believes she has been an effective leader, Collins said, "No! And here's why. When I speak to potential voters on their doorsteps or at a local grocery store, I ask them what they can point to that made their lives better in this city now than four or five or years ago. They can't name one, and this is no lie."
"Mayor Lightfoot has her shortcomings, but the voters know this, so I'm not going to focus on her. This is a job interview, and what I will demonstrate to the voters is the time is now to ditch the politicians and hire a public servant who believes in serving the people and not the other way around."
State Rep. Kambium Buckner, a Democrat who represents the 26th District in the Illinois House of Representatives, is also making crime a focus in the race. "We need a leader who will fight for Chicago, not against everyone else. We need a leader who is from this city and knows its people. We need a leader who understands how government works on all levels and has the experience to back it up," Buckner told Fox.
CHICAGO BLOODY WEEKEND SEES 15 SHOT, INCLUDING GIRL FATALLY STRUCK IN HEAD WHILE ON SIDEWALK
Asked about the most pertinent problems facing Chicago, Buckner said his "4-Star Plan," detailed on his website, will work toward "a safer and more just Chicago, improved education for all, economic opportunity and recovery, and stabilizing Chicago's finances."
"Chicagoans need both increased public safety and increased public security," Buckner said. "Public security is about making sure our law enforcement officers have what they need to protect communities from crime, and public safety is about making sure communities have the resources they need: a quality education, affordable housing, healthcare, and good paying jobs."
Buckner, a former intern for Illinois Democratic Sen. Dick Durbin, said Lightfoot "has not delivered on her promises" after she "promised us a safer Chicago and greater investment in the root causes of violence."
"People across this city have not been this afraid since the crime spikes in the 90s. Not only has the Mayor not delivered, but she has no plan," he said. "I, on the other hand, have a plan and the track record to back it up. I was instrumental in banning ghost guns in Illinois, making us the first state in the Midwest to do so."
"Chicago is suffering a horrifying pandemic of violence," Buckner added. "Crime, and homicides in particular, is the worst it's been since 1996. In 2021, a staggering 797 people were murdered, and shootings have gone up 53% since 2018. Carjackings — happening in neighborhoods across the city — have increased over 200% from 2019."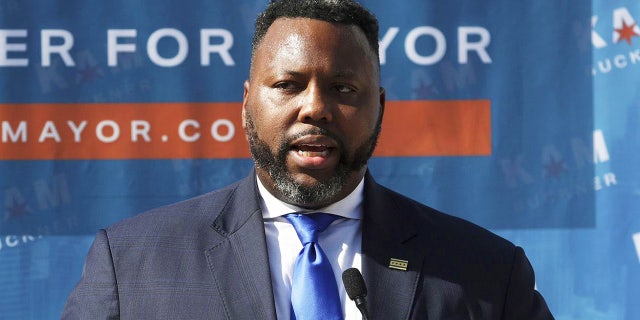 Buckner said he will address the crime wave in the city with a "Safer 77 plan," which includes "specifics about improved community policing, co-responder models for mental health crises, and increased security on the CTA to protect both passengers and employees."
Candidates seeking to run for mayor in Chicago are required to collect at least 12,500 petition signatures from registered voters in the city in order to appear on the ballot. Lightfoot previously told reporters that she would be submitting her signatures on the final possible day to submit petitions in an attempt to garner the final spot on the ballot.
"We will be filing on Nov. 28," she said. "There's no magic to it, but we'll wait til the 28th to file, the last day to file, as we did four years ago."
Under Chicago law, candidates who file on the final day are entered into a lottery for the last spot on the ballot, and candidates who file on the first possible day are entered into a lottery to appear first on the ballot. Candidates who file on those days hope to stand out by appearing at the top or bottom of the ballot in a crowded field of challengers.
Though the numbers of people shot or killed across the city are down this year, there has still been a 35% increase in all reported crimes in 2022, according to the Chicago Sun-Times.
Despite the rise in crime, Lightfoot has defended her record on the issue as mayor and touted a "multitiered strategy" to curb gang and gun crimes in August
CLICK HERE TO GET THE FOX NEWS APP
Lightfoot's office did not immediately respond to a request for comment on the issue of crime and how it will play a role in the Chicago mayoral race.
Other mayoral candidates in the race who did not respond to Fox News Digital's request for comment ahead of the election include Democratic Rep. Jesus "Chuy" Garcia, Ja'Mal Green, Sophia King, Cook County Commissioner Brandon Johnson, Alderman Sophia King, Paul Vallas and Willie Wilson.
Source: https://www.foxnews.com/politics/pandemic-violence-lightfoots-record-crime-forefront-chicago-mayoral-election
Dianne Feinstein described by WaPo, NYT, AP as 'centrist' Dem despite progressive voting record
The liberal media are portraying the late California Sen. Dianne Feinstein as a "centrist Democrat" despite her progressive voting record. 
Feinstein, who died Thursday night at age 90, is being widely remembered as a trailblazer for women in the Congress. 
According to FiveThirtyEight's congressional voting tracker last updated at the conclusion of the 116th Congress in January, Feinstein's record was "100%" aligned with President Biden. 
However, obituaries published by several news organizations are raising eyebrows for how they describe her politics. 
CNN DECLARES MCCARTHY PUSHED 'UNPROVEN CLAIMS' ON BIDEN IMPEACHMENT INQUIRY, QUIETLY ADMITS THEY WERE 'TRUE'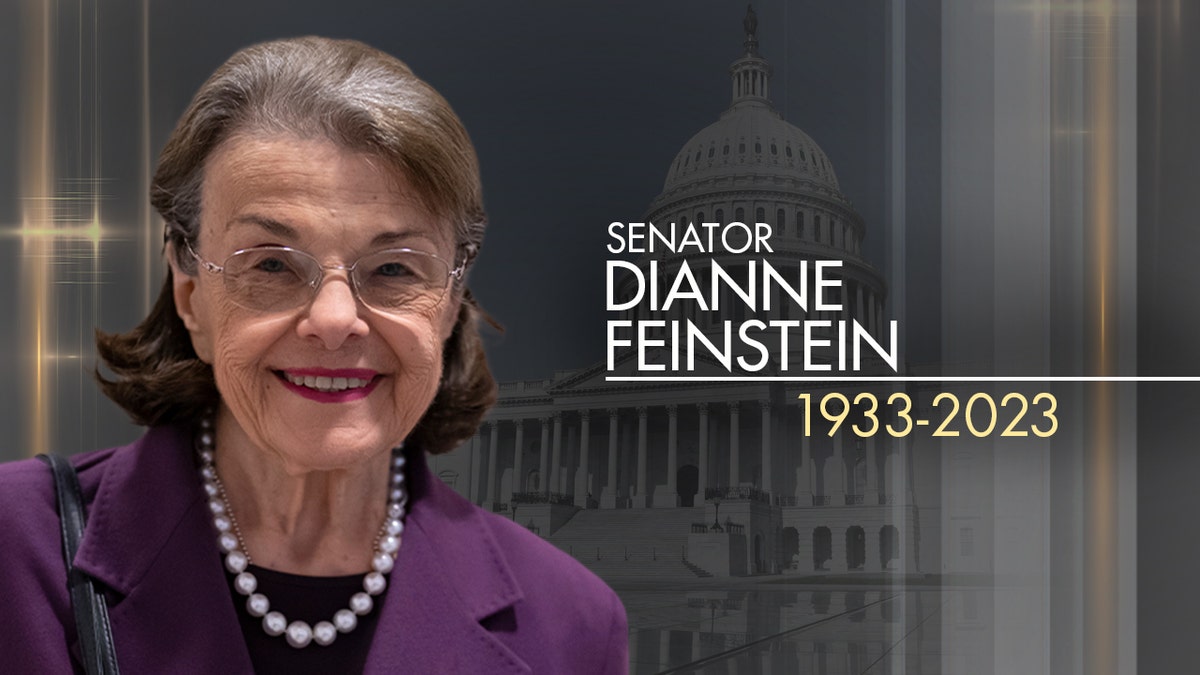 The Washington Post ran the headline "Dianne Feinstein, centrist stalwart of the Senate, dies at 90" while also calling her a "centrist Democrat" on social media. 
In the obituary, The Post declared she was "centrist from the start," citing the fact that "for a time, Mrs. Feinstein owned a handgun" and quoting her biographer who once said how early in her career she "started talking about how the center is so important." The Post then quickly pivoted to her work pushing the federal assault weapons ban in the 1990s. 
The New York Times similarly reported that Feinstein "called herself a political centrist" but went even further by saying she "often embraced conservative ideas."
BRUTAL WAPO COLUMN URGING BIDEN TO BOW OUT OF 2024 BECOMES LATEST IN LIBERAL MEDIA PILE-ON OF EMBATTLED POTUS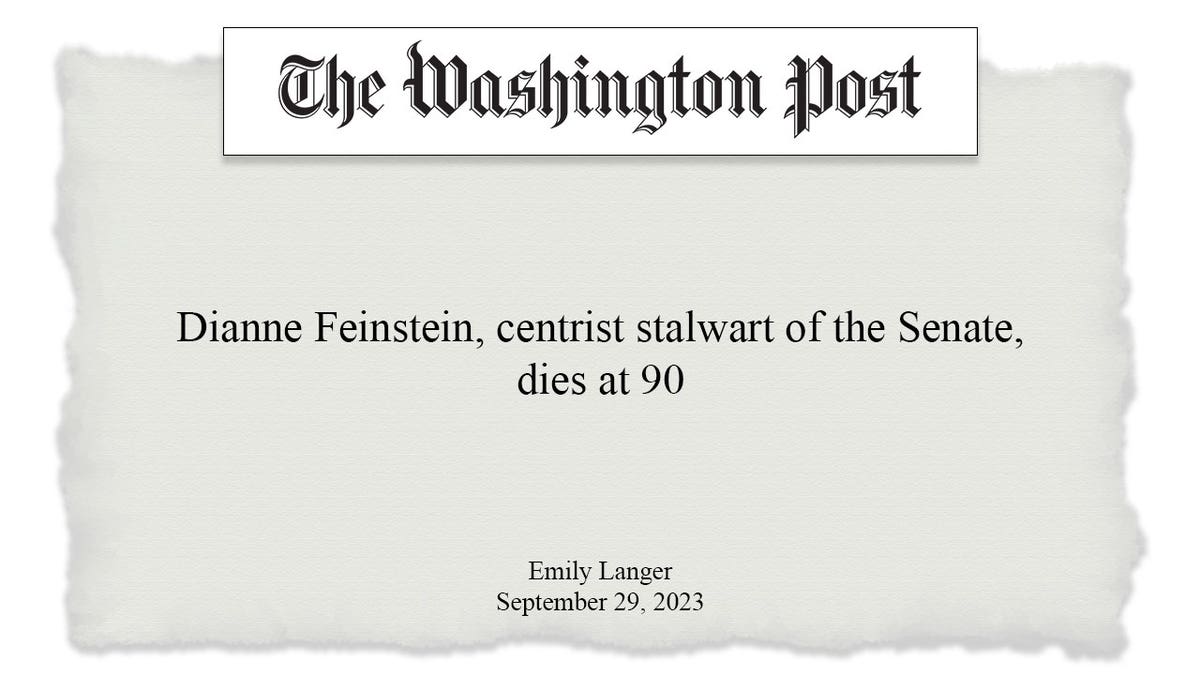 NBC News wrote about Feinstein, "A centrist Democrat, she was known for trying to find common ground with Republicans, sometimes drawing criticism from her party's liberal members."
The Daily Beast alleged Feinstein was "steeped in centrist policies no longer fit the times," citing her "warm embrace" of Sen. Lindsey Graham, R-S.C., during the contentious 2020 Supreme Court confirmation of Justice Amy Coney Barrett as an example. 
The Associated Press tried to have it both ways, calling her a "centrist Democrat" who was a "passionate advocate for liberal priorities." The AP's report was aggregated by several news outlets including PBS NewsHour. 
BIDEN'S FICTIONAL TALES FACT-CHECKED BY WAPO, NY TIMES BUT OUTLETS STOPPED SHORT OF DECLARING THEM 'LIES
The Los Angeles Times said she "was a centrist who leaned left."
"She often irked Democratic constituencies. Her party moved sharply to the left on immigration over her time in the Senate, but Feinstein maintained more centrist positions," the California paper wrote. "She favored stiffer security at the border, punishment for those who illegally employed migrants, and penalties for the so-called coyotes who smuggled them into the United States."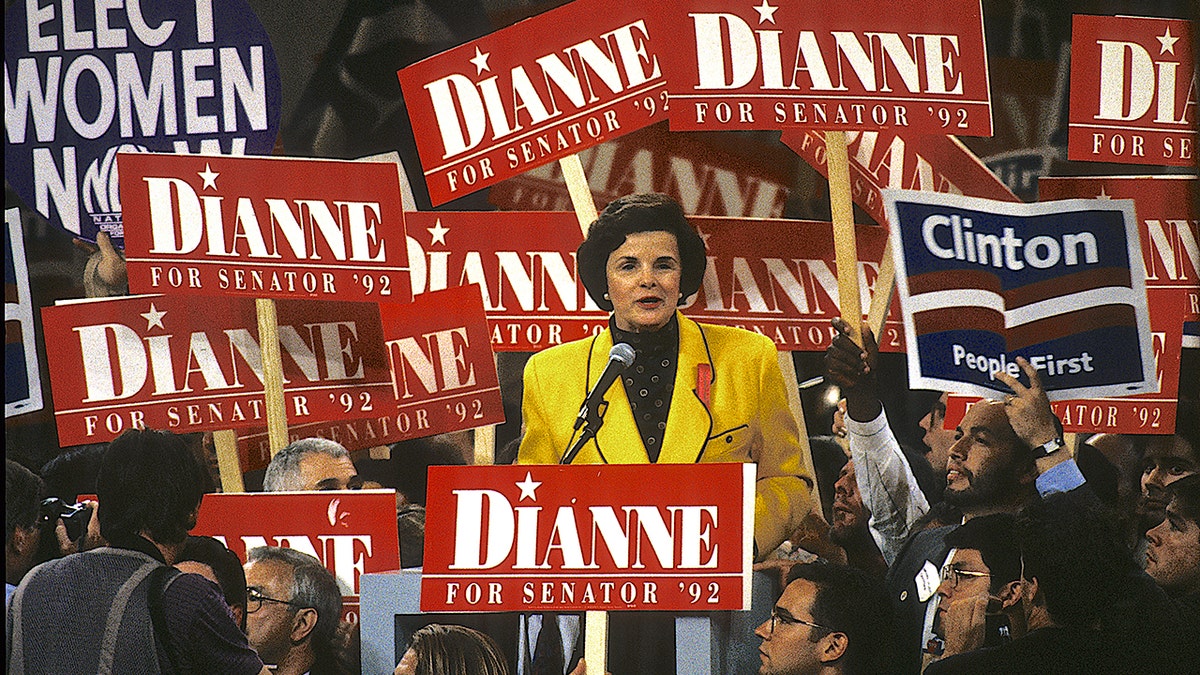 CLICK HERE TO GET THE FOX NEWS APP
Politico cited a 2015 profile of Feinstein from The New Yorker in its obituary, quoting, "Feinstein is sometimes described as a centrist, but it is because her views are varied, not because they are mild; she thinks of herself, more accurately, as a pragmatist."
Other outlets suggested there was a debate over Feinstein's politics among critics. ABC News wrote, "Her independence was often seen in more recent years as too moderate compared to other Democrats, especially as a representative of one of the country's most reliably blue states," despite her 100% voting record with Biden. 
Deadline Hollywood called her a "moderate Democrat" in its report but wrote on social media she was "considered by some to be a centrist Democrat and to the Right a far-left advocate."
For more Culture, Media, Education, Opinion and channel coverage, visit foxnews.com/media
House Republicans to vote on 'clean' stopgap funding bill despite conservative outrage
The House of Representatives will vote Saturday on a short-term spending bill aimed at avoiding a government shutdown.
The funding patch would last for 45 days past the end of the fiscal year, which concludes at midnight Sunday, Oct. 1. The bill would also include $16 billion for U.S. disaster relief aid that President Biden requested over the summer, Speaker Kevin McCarthy, R-Calif., said on Saturday. 
The bill would also be a "clean" extension of the current year's funding priorities, which were set by the Democrat-held Congress last year.
It comes after House Republicans tried and failed to pass a stopgap funding bill, known as a continuing resolution (CR), filled with conservative policy items like border security and spending cuts.
The bill is being expedited past normal processes, and will need two-thirds of the House for approval — meaning Democrats will have to vote in favor of the plan for it to pass.
THE SPEAKER'S LOBBY: THE HITCHHIKER'S GUIDE TO A POSSIBLE GOVERNMENT SHUTDOWN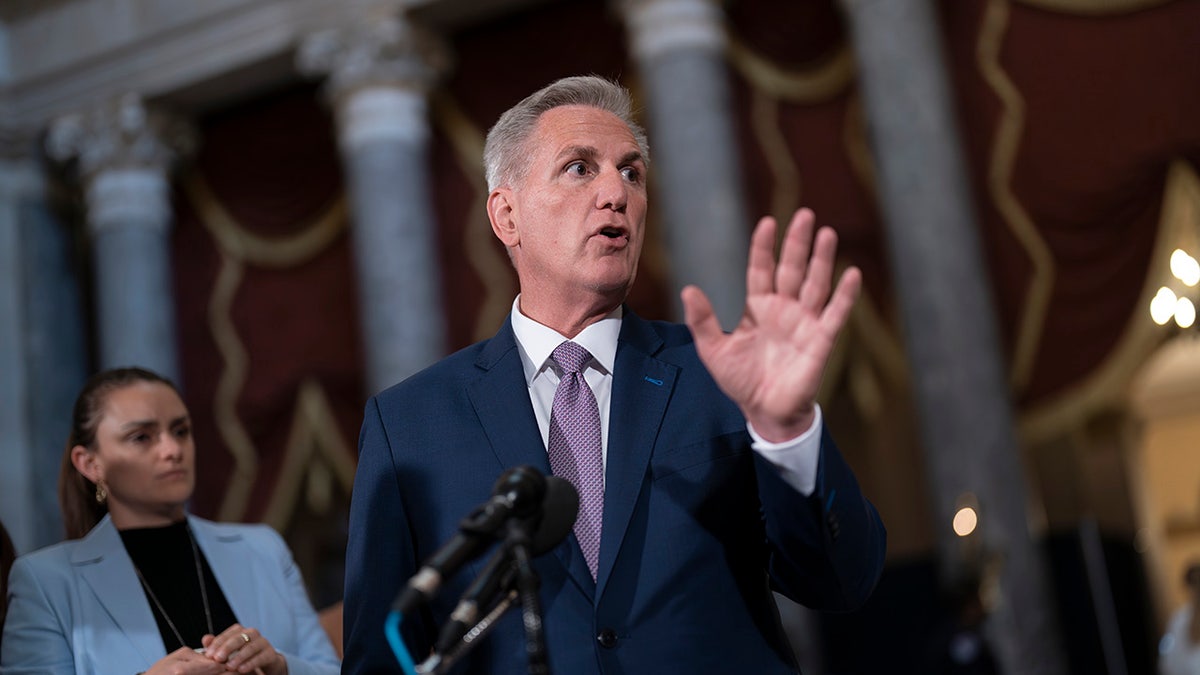 "We need more time to get the job done," McCarthy told reporters ahead of the vote. McCarthy said he did not want to "punish" military service members or border agents for the House's failure to pass a budget that ends wasteful spending and addresses border security.
"The House is going to act so government will not shut down. We will put a clean funding stopgap on the floor to keep government open for 45 days for the House and Senate to get their work done," McCarthy also said. "We will also, knowing what had transpired through the summer, the disasters in Florida, the horrendous fire in Hawaii, and also disasters in California and Vermont, we will put the supplemental portion that the president asked for in disaster there too."
Republicans' previous CR proposals did not get any Democratic support, and failed after enough GOP hardliners opposed them. Holdouts argued that a CR on principle is an extension of the previous Democratically-held Congress' priorities, and is the antithesis of the House GOP majority's promise to pass 12 individual spending bills laying out conservative priorities in the next fiscal year.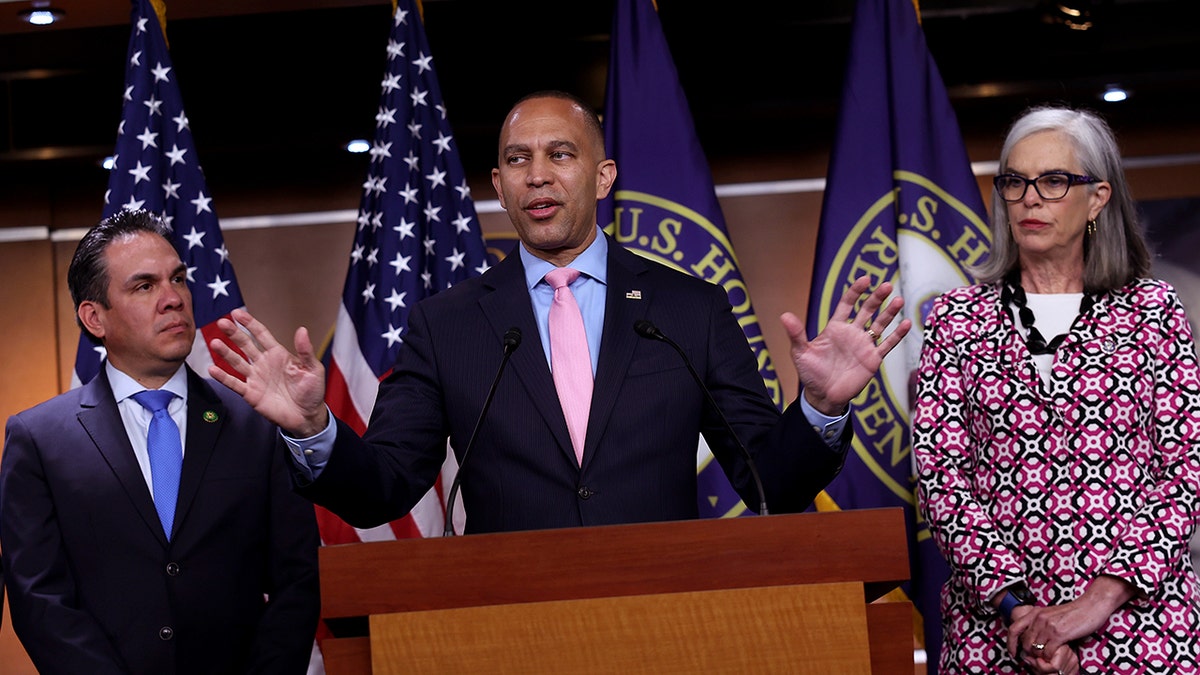 But the majority of lawmakers on both sides have acknowledged that some kind of stopgap is needed to give them more time to cobble those deals together. The current fiscal year ends at midnight tonight, meaning that if no agreement is passed by the House and Senate, thousands of government employees will be furloughed and "nonessential" federal programs will grind to a halt.
GOVERNMENT SHUTDOWN WOULD 'UNDERMINE' BIDEN ADMIN'S ECONOMIC 'PROGRESS': YELLEN
And despite Democrats clamoring for a "clean" CR, it's not immediately clear if they will support the bill being put forward by the GOP now. 
Rep. Andy Barr, R-Ky., told Fox News Digital that he believes Democrats will vote against the CR to hold out for the Senate's proposal, which also includes funding for Ukraine aid – something a large share of House Republicans oppose.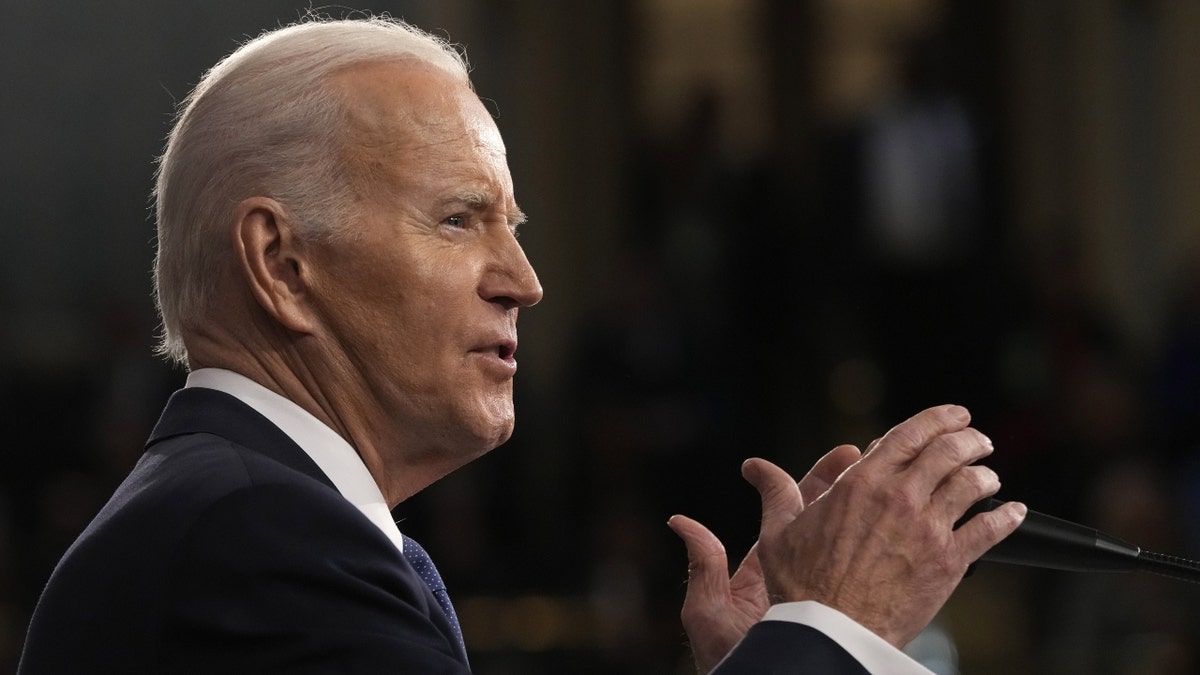 "I think this may fail because Democrats in the House want a Senate CR," Barr said. "So what could happen is a pretty low vote number on this…you'll have Democrats who are voting to shut the government down. And that's what you're gonna see. Democrats want to politicize this, and they're gonna vote to shut the government down."
CLICK HERE TO GET THE FOX NEWS APP
House Democratic Leader Hakeem Jeffries, D-N.Y., would not say where he would fall when speaking to reporters before the vote but complained about Republicans having "dropped this on us in the 11th hour."
House Republicans "lied every single step of the way," Jeffries said.
Ramaswamy, Burgum reject Gingrich's claim that 'the race is over,' Trump will be GOP nominee
GOP presidential candidates Vivek Ramaswamy and North Dakota Gov. Doug Burgum rejected claims from former House Speaker Newt Gingrich that "the race is over" and former President Donald Trump is the definitive 2024 Republican nominee at this time.
On "The Ingraham Angle" Thursday, Gingrich said Trump will absolutely be the nominee, and that the lower-tier candidates must ask themselves if they want to get behind him or watch President Biden get re-elected.
"There's no middle ground here, I don't think, because you're either going to get Trump as president or are you going to Biden. And Biden's re-election would be a disaster for the country," Gingrich said.
Burgum, polling last among the candidates who qualified for the second GOP primary debate Wednesday on FOX Business, said he has long been told the things he seeks cannot be achieved.
BIDEN'S UAW STRIKE PICKETING BLASTED AS SELF-DEFEATING
He said he was written off as a gubernatorial candidate in the previous North Dakota Republican primary by double digits, but has since found himself in the top job in Bismarck.
Burgum underlined that he was a strong supporter of Trump's in his past two electoral runs, but that he has since been outpolling the former president in the Flickertail State's GOP primary.
"I appreciate Newt's comments, but listen, I've spent my whole life having people tell me what I can't be and can't accomplish. So I'd say get in line with everybody else," Burgum said.
"They said you can't build a global tech company in North Dakota: We built one with 2000 people. We built a $1 billion company. We did it with kids from small town, and we ended up with customers in 132 around the world."
Burgun noted how in 2016, he trailed then-North Dakota Attorney General Wayne Stenehjem in major primary polls but ended up pulling off an upset, then winning the general election and being re-elected again in 2020.
"I've said all along, I'm going to be voting for the Republican. I'm running against Joe Biden. Joe Biden's policies on the economy, energy, national security, 180 degrees in the wrong direction. And then I've got again, I've got more business experience than the rest of the candidates on stage last night," he added.
NO FOX BUSINESS DEBATE CANDIDATE SUCCESSFULLY BURIED BIDENOMICS: KUDLOW
Burgum said a top issue for him is American energy independence, claiming North Dakota has more production potential than many OPEC nations the U.S. currently buys oil from and adding China's IP theft and influence threats are another major concern.
Ramaswamy also disagreed with the contention Trump's nomination is a lock. He argued Wednesday's debate was somewhat proof the field needs to be pared down, but that he has taken a different tact toward Trump than his opponets.
While former New Jersey Gov. Chris Christie spent much of the night antagonizing Trump, dubbing him "Donald Duck" for ducking the debate, Ramaswamy said he personally believes the mogul has been the best president in the 21st century.
"Everybody else is making their case versus Trump by bashing him and Monday morning quarterbacking some decision he made. My view is different," he said.
"I acknowledge he was the greatest president of the 21st century so far, but I have something that he doesn't, Laura. And it's really simple. I'm young. I have fresh legs. I'm able to reach the next generation in a way that Trump cannot. That's undeniable – And that's how we're going to take the America First movement to the next level."
Ramaswamy said that no matter who wins the GOP primary, the winning message belongs to America First movement championed by Trump, himself and others.
"My whole point is I'm an America first conservative, not a Trump first conservative, and not of a big first conservative. And so I'm the one person in this race. I'm not tearing anybody else down," he added.
For more Culture, Media, Education, Opinion, and channel coverage, visit foxnews.com/media.