Ohio residents demand answers two weeks after toxic chemical train derailment
Nearly two weeks after a train carrying toxic chemicals derailed in East Palestine, Ohio, community members packed a local high school auditorium on Wednesday night wanting answers to their health and safety concerns.
Norfolk Southern Corporation, the Atlanta-based operator of the derailed train, ultimately skipped the meeting, which was the first community meeting in the town of 5,000 people since the incident.
"We know that many are rightfully angry and frustrated right now. Unfortunately, after consulting with community leaders, we have become increasingly concerned about the growing physical threats to our employees and members of the community around this event stemming from increasing likelihood of the participation of outside parties," the company said in a statement. "With that in mind, Norfolk Southern will not be in attendance this evening."
The company said it has distributed $1.5m in helping residents cover the cost of evacuation and is setting up a $1m fund for the community for monitoring and air purifying efforts. The company faces multiple lawsuits from residents over the derailment.
"We are not going anywhere. We are committed to East Palestine and will continue to respond to community concerns," the company said in the statement.
Agitated residents wondered aloud where the company was, with one man standing up and saying: "We're scared, too."
The East Palestine mayor, Trent Conaway, told residents at the town hall that he is also seeking answers.
"We need our citizens to feel safe in their own homes," he told the crowd. "I need help. I'm not ready for this. But I'm not leaving, I'm not going anywhere."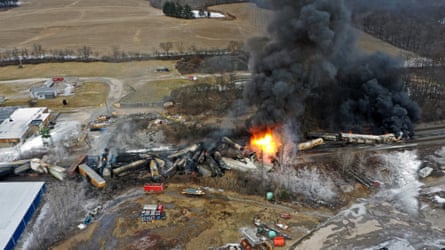 While health and environment officials have deemed the area safe, residents say the smell of chemicals still linger. Residents have complained of having trouble breathing, noxious smells, impacts on wildlife and ongoing concerns about water and soil contamination. An estimated 3,500 fish were killed by chemicals from the derailment in surrounding waterways, according to the Ohio department of natural resources.
Marcy Henry and her husband live just outside the one-mile evacuation radius of the train derailment in East Palestine, Ohio. They sheltered in place until evacuating to her parents' home in Pennsylvania during the controlled explosion and expressed dismay over her husbands' loss of wages due to missed work during the evacuation.
"I have concerns about what will happen in five, 10, 15 or 20 years. When we returned home our water smelled heavily of bleach," Henry said. "Driving to my home along State Route 170 near the creek, the smell took your breath away and burned your nose and throat."
Maura Todd, who lives within a one-mile radius of the derailment, returned to her home February 12 after staying with her parents in Kentucky. Coming back to East Palestine, she experienced nausea and headaches from the smell that lingered in her home.
"I just really don't feel comfortable with Norfolk Southern and I don't trust what they've said," Todd said. "It would be really nice if they would really clean the area up and get it back to where it was … We have a lot of people who really enjoy being outside, seeing nature, and this feeling of being safe, and that's something that was taken away."
The train derailed on the night of 3 February, with 50 out of 150 train cars heading from Conway, Pennsylvania, to Madison, Illinois, going off the tracks and causing a huge fire.
The train was carrying five chemicals that are used in plastic manufacturing, including vinyl chloride, a known carcinogenic that is highly flammable. Officials evacuated up to 2,000 residents over a fear of imminent explosion and ultimately released the chemical into pits that were then lit on fire. The chemical release saw huge plumes of black smoke being released into the sky. Residents were told on 8 February that it was safe to return to their homes after officials with the Environmental Protection Agency (EPA) tested air and water quality.
Nearly 300 homes that have been screened by the EPA for vinyl chloride and hydrogen chloride, a chemical made when vinyl chloride is burned, showed no evidence of the chemicals. The agency is still screening homes that participated in the voluntary screening program.
State officials told residents on 14 February that they should drink bottled water out of safety precautions, but the next day, the Ohio governor, Mike DeWine, announced Ohio EPA said municipal water is safe to drink.
Earthjustice, an environmental justice group, called on DeWine to declare a state of emergency to allow access to federal funding to help residents. Other groups have raised concerns about how little is known about the amount of chemicals released and the seemingly limited testing that is being done.
"This is clearly a very toxic brew of chemicals," Erik Olson, senior strategic director for health and food with the Natural Resources Defense Council, told Reuters. "And I've not seen any public accounting for how many pounds or gallons of any of these chemicals that were released."
Wires contributed to this story
Source: https://www.theguardian.com/us-news/2023/feb/16/ohio-train-disaster-derailment-toxic-chemicals-leak-east-palestine-open-house-public-meeting
No need to send it back: Netflix posts its final DVDs to customers
Most of Netflix's 238 million streaming customers around the world will be unaware that the company first launched 25 years ago as a DVD mailing service. Even fewer might realise that operation has continued, with under 1 million people still subscribing.
But now the company is finally hitting the stop button, with its five remaining US distribution centres mailing out their final discs to American customers on Friday.
These DVD diehards will be allowed to keep these titles rather than return them, meaning some will get up to 10 as a goodbye present from a business that boasted as many as 16 million subscribers at its peak.
"It is very bittersweet," Marc Randolph, Netflix's co-founder and the chief executive when the company shipped its first DVD, told Associated Press. "We knew this day was coming, but the miraculous thing is that it didn't come 15 years ago."
Netflix does not break out the number of DVD subscribers in its figures, but according to an AP estimate fewer than 1 million people now subscribe to the service.
Randolph came up with the idea of a DVD-by-post service in 1997 – in a challenge to then rental market leader Blockbuster – with his friend and fellow entrepreneur, Reed Hastings, who eventually succeeded Randolph as CEO. He only stepped aside from that role this year.
The first disc sent out by Netflix was Tim Burton's Beetlejuice in March 1998 and since then the company has shipped 5.2bn of them. Its most popular title was the Sandra Bullock vehicle The Blind Side.
However, Randolph said he knew that DVDs would not be the mainstay of the business and would be overtaken by watching films and TV shows through internet connections.
In 2011 Netflix decided to separate the DVD business from the streaming business, one year after Blockbuster went bankrupt – having turned down an opportunity in 2000 to buy Netflix for $50m (£41m) instead of trying to compete against it. The streaming giant is now worth about $166bn.
"From day one, we knew DVDs would go away, that this was transitory step," Randolph said. "And the DVD service did that job miraculously well. It was like an unsung booster rocket that got Netflix into orbit and then dropped back to Earth after 25 years. That's pretty impressive."
Evergrande halts share trading as woes mount for China property giant
Embattled Chinese property giant Evergrande has suspended share trading on the Hong Kong stock exchange only a month after it resumed trading after a 17-month suspension.
Trading in its two other units – the property services and electric vehicle groups – also stopped at 9am on Thursday, according to notices posted by the stock exchange.
The halt in trading comes a day after reports that the chair of Evergrande had been put under police surveillance. Hui Ka Yan, who founded Evergrande in 1996, was taken away earlier this month and is being monitored at a designated location, according to Bloomberg.
It is not clear why Hui might have been placed under residential surveillance, which falls short of a formal detention or police arrest and does not mean a criminal charge follows.
Evergrande had only resumed trading on 28 August after the company was suspended for 17 months for not publishing its financial results. Earlier this month, several employees of Evergrande's wealth management unit were arrested in Shenzhen on unspecified charges.
Two former executives were also reportedly detained recently. Pan Darong and Xia Haijun had resigned last year after it emerged that 13.4bn yuan (£1.5bn) of deposits had been used as security for third-party loans.
Earlier this week, Hengda Real Estate, Evergrande's primary unit in mainland China, missed principal and interest payments on a 4bn yuan bond. Hui resigned from his position as Hengda chair in 2021.
On Sunday, Evergrande said it was unable to issue new debt as Hengda was being investigated.
And on Friday it said meetings planned this week on a key debt restructuring plan would not take place, adding it was "necessary to reassess the terms" of the plan in order to suit the "objective situation and the demand of the creditors".
China's property sector is a key pillar of growth – along with construction, it accounts for about a quarter of GDP – and has experienced a dazzling boom in recent decades.
The massive debt accrued by the industry's biggest players has, however, been seen by Beijing in recent years as an unacceptable risk for the financial system and overall economic health.
Authorities have gradually tightened developers' access to credit since 2020 and a wave of defaults has followed – notably that of Evergrande.
Another Chinese property giant, Country Garden, narrowly avoided default in recent months, after reporting a record loss and debts of more than $150bn.
Agence France-Presse contributed to this report
Musk ditches X's election integrity team ahead of key votes around world
Elon Musk, owner of X, has confirmed he has ditched his team working to prevent disruption to elections, just days after the EU announced the platform, formerly known as Twitter, had the highest proportion of disinformation in three European countries.
Ahead of 70 elections around the globe in the coming year, the controversial businessman confirmed on X: "Oh you mean the 'Election Integrity' Team that was undermining election integrity? Yeah, they're gone."
According to reports, several staff working out of the Dublin office including the co-lead of election disinformation team, Aaron Rodericks, have left the company.
Overnight Musk appeared to give his first reaction to EU claims that X had the highest ratio of disinformation of the large social media platforms with a picture of three penguins bearing the logos of Facebook, Instagram, TikTok and YouTube saluting another penguin bearing the X logo.
Rodericks had recently secured an injunction against the company restraining the company from taking disciplinary action after he had posted information about the company's recruitment of staff for his team on his personal account.
He claimed the company did nothing after he had been subjected to a barrage of abuse from people who accused him of trying to suppress freedom of speech on X.
Last month he posted an advert on LinkedIn for eight new roles revealing he was seeking people with a "passion for protecting the integrity of elections and civic events, X is certainly at the centre of the conversation".
Sweeping new laws came into force in August, compelling social media platforms to remove fake accounts, disinformation and hate speech, with X rivals Facebook, TikTok, Instagram, Google and Microsoft all taking action and reporting back to the EU.
While Twitter quit the code of practice designed by the EU to help the companies comply with the new laws, Musk promised earlier this year he would comply with the rules.
Concerns over the platform's approach to content moderation under Musk's leadership have triggered an advertising boycott of the company, which relies on ads for the majority of its income.
Musk has admitted that advertising revenues have fallen by about 60% since he bought the business last year and has blamed anti-hate speech campaign groups for the decline. He is suing the Center for Countering Digital Hate over its coverage of X and has also threatened to sue the Anti-Defamation League, which has raised concerns about antisemitic content on the platform.
Farhad Divecha, managing director of London-based digital marketing agency Accuracast, said: "The fact that Elon Musk seems to have disbanded the team that deals with election integrity sends a clear signal that preventing disinformation or maintaining a level of integrity isn't a priority for X. This is one more factor adding to the concerns about brand safety, or ensuring brands aren't associated with objectionable content."
The company was approached for comment.