NHL backtracks after Florida Gov. Ron Desantis' office blasts league for 'discriminatory' job fair
After Florida Gov. Ron DeSantis' office blasted the National Hockey League for hosting a "discriminatory" job fair that only allows certain groups of people to attend, the league backtracked and said the event is open to all individuals over 18-years-old.
The event, titled "Pathway to Hockey Summit" is scheduled for on Feb. 2 during the 2023 All Star Festivities in Fort Lauderdale, Florida, and seeks to help "diverse job seekers who are pursuing careers in hockey."
According to a now-deleted post by the NHL promoting the event on LinkedIn, the event is only open to certain groups of people.
"Participants must be 18 years of age or older, based in the U.S., and identify as female, Black, Asian/Pacific Islander, Hispanic/Latino, Indigenous, LGBTQIA+, and/or a person with a disability. Veterans are also welcome and encouraged to attend," the event description states. 
NHL COACH BANS IPADS FROM BENCH: 'IT IS A MAJOR PROBLEM'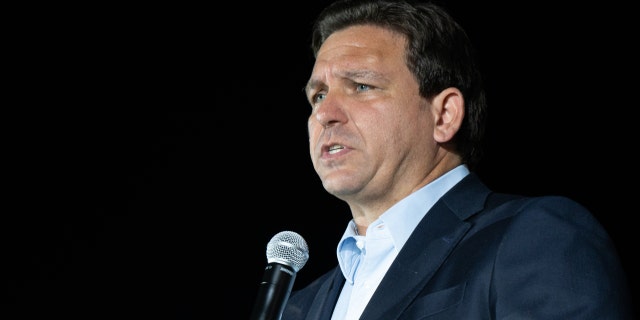 In a statement, Bryan Griffin, press secretary for DeSantis, said that the event is discriminatory.
"Discrimination of any sort is not welcome in the state of Florida, and we do not abide by the woke notion that discrimination should be overlooked if applied in a politically popular manner or against a politically unpopular demographic. We are fighting all discrimination in our schools and our workplaces, and we will fight it in publicly accessible places of meeting or activity," Griffin said.
DAMAR HAMLIN MAKES FIRST PUBLIC COMMENTS SINCE CARDIAC ARREST: 'THE LOVE HAS BEEN OVERWHELMING'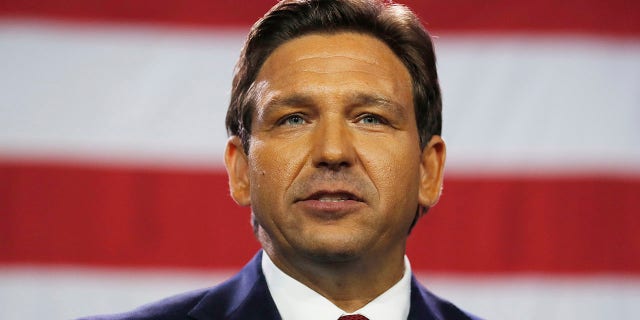 Griffin also said that the NHL should "immediately remove and denounce the discriminatory prohibitions it has imposed on attendance to the 2023 'Pathway to Hockey' summit."
In a statement to Fox News Digital, the NHL said the "original wording of the LinkedIn post associated with the event was not accurate."
"The Pathway to Hockey Summit is an informational and networking event designed to encourage all individuals to consider a career in our game – and, in particular, alert those who might not be familiar with hockey to the opportunities it offers," the NHL spokesperson said.
The NHL deleted the event posting from its LinkedIn account on Friday night.
In a further clarification, the spokesperson said the event is open to anyone ages 18 and older.
Several hockey teams are sending representatives to the event, including the Florida Panthers, Tampa Bay Lightning, San Jose Sharks, Chicago Blackhawks, Pittsburgh Penguins, Anaheim Ducks, Nashville Predators, Seattle Kraken, Washington Capitals, and the Carolina Hurricanes.
CLICK HERE TO GET THE FOX NEWS APP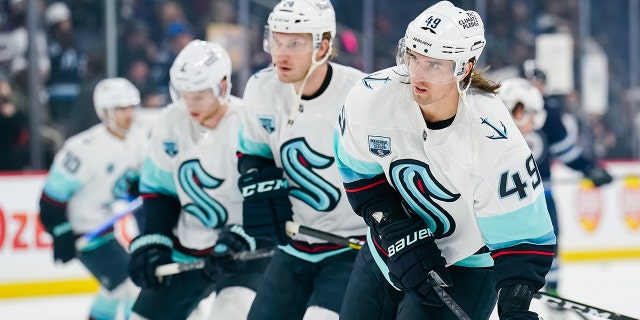 "The day will be filled with guest speakers and panelists, networking opportunities, and more!," the post says of the event.
Source: https://www.foxnews.com/politics/nhl-backtracks-florida-gov-ron-desantis-office-blasts-league-discriminatory-job-fair
Utah governor signs gender-affirming health care ban, school choice bills into law
Utah Gov. Spencer Cox on Saturday signed a bill banning gender-affirming surgery on minors who have not been diagnosed with gender dysphoria. 
The state's Republican-dominated Legislature prioritized the ban and considered a first draft of the measure less than 10 days ago, two days after the Legislature opened this year's session Jan. 17. Gov. Cox signed it a day after the Legislature sent it to his desk.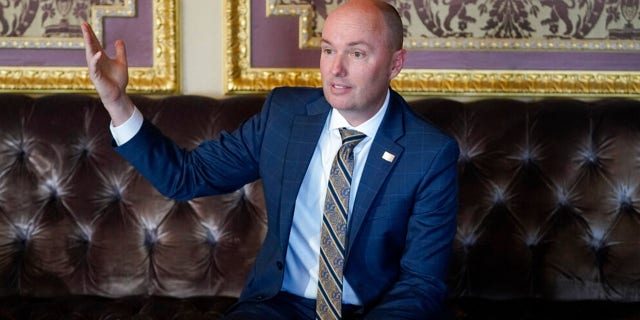 The governor said it was important to pause "these permanent and life-altering treatments for new patients until more and better research can help determine the long-term consequences."
VIMEO SCRUBS 'DEAD NAME' DOCUMENTARY PROFILING FAMILIES UPENDED BY TRANSGENDER IDEOLOGY
"While we understand our words will be of little comfort to those who disagree with us, we sincerely hope that we can treat our transgender families with more love and respect as we work to better understand the science and consequences behind these procedures," he said.
Among the critics is the ACLU of Utah, which on Friday urged Cox to veto the bill.
In a letter to Cox, the civil rights organization said it was deeply concerned about "the damaging and potentially catastrophic effects this law will have on people's lives and medical care and the grave violations of people's constitutional rights it will cause.
"By cutting off medical treatment supported by every major medical association in the United States, the bill compromises the health and well-being of adolescents with gender dysphoria. It ties the hands of doctors and parents by restricting access to the only evidence-based treatment available for this serious medical condition and impedes their ability to fulfill their professional obligations," the letter said.
TRANSGENDER WOMAN, WHO STALKED A GIRL AS A MAN, GRANTED TRANSFER TO SCOTLAND ALL-WOMEN'S PRISON: REPORT
The bill's sponsor, state Sen. Mike Kennedy, a Republican family doctor has said government overnight is necessary for vital health care policy related to gender and youth.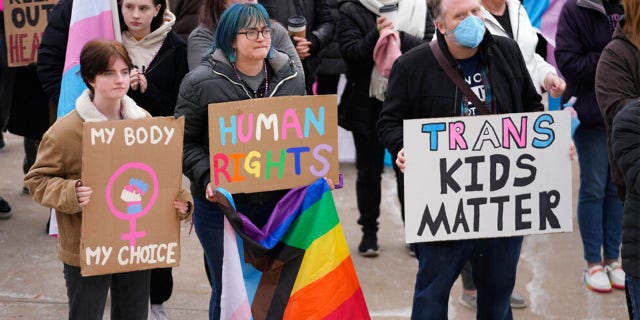 "Legislation that impacts our most vulnerable youth requires careful consideration and deliberation. While not a perfect bill, we are grateful for Sen. Kennedy's more nuanced and thoughtful approach to this terribly divisive issue," Cox said in a statement. 
"More and more experts, states and countries around the world are pausing these permanent and life-altering treatments for new patients until more and better research can help determine the long-term consequences."
Utah's bill comes as lawmakers in at least 18 states consider similar bills targeting health care for young transgender people.
CLICK HERE TO GET THE FOX NEWS APP
Cox also signed another measure that would give students school-choice style scholarships to attend schools outside the public education system. The bill also increased teacher pay and benefits in an effort to ease the state's teacher shortage.
The Associated Press contributed to this report. 
Poll shows 0% of Black voters had 'poor' voting experience in November despite Biden claim of 'Jim Crow 2.0'
A new poll shows 0% of Georgia's Black voters had a "poor" experience casting a ballot in the midterm elections in November, the first since new voting laws took hold in the Peach State.
The results of the University of Georgia poll and high turnout proved voters saw "through the lies" despite claims from Democrats and the White House that said the new law represents "Jim Crow 2.0," Republican Secretary of State Brad Raffensperger told Fox News Digital.
"Partisan critics of Georgia's elections described our processes and security measures as 'Jim Crow 2.0' designed to 'suppress' voters and 'subvert' elections," Raffensperger said in a statement this week. 
"But record-breaking midterm voter turnout, minimal voter wait times and an overwhelming majority of voters approving of how our election went prove that Georgia voters see through those lies. They know that Georgia elections are safe, secure and accessible to every legal voter."  
STACEY ABRAMS' GROUP ORDERED TO PAY NEARLY A QUARTER-MILLION DOLLARS IN LEGAL COSTS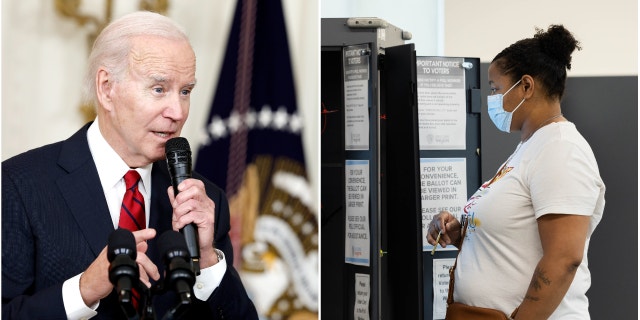 The poll showed 0% of Black respondents felt their voting experience was "poor" during the last election. Just over 72% of Black voters polled said the experience was "excellent" and 23.6% said the experience was "good."
Additionally, almost 99% of voters said they had no issues casting a ballot and 95.3% of voters said they waited less than 30 minutes.
According to the poll, which was answered by 1,253 Georgia residents who say they voted, 84.1% of Black voters said they strongly or somewhat agreed with the statement that it is "easy to cast a ballot in the state of Georgia" compared to 15.9% who disagreed or didn't know.
REPORTER CALLS OUT BIDEN FOR COMPLAINING OF 'POISON' POLITICS WHILE SMEARING REPUBLICANS AS 'SEGREGATIONISTS'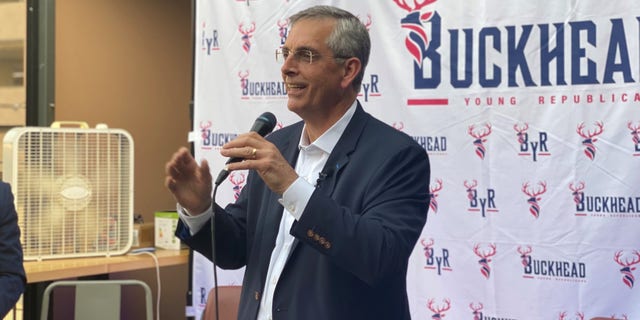 Georgia voter turnout has continued to shatter records despite the 2021 legislation that Democrats, including Georgia gubernatorial candidate Stacey Abrams and President Biden, insisted would make it harder for Black residents to vote.
In a March 2021 statement, Biden referred to the Georgia legislation as an "attack on the right to vote" containing provisions that "effectively deny the right to vote to countless voters."
WHITE HOUSE PRESSED ON BIDEN COMPARING GEORGIA VOTING LAW TO 'JIM CROW' DESPITE RECORD TURNOUT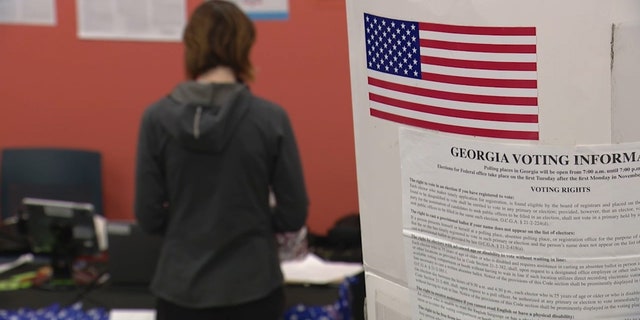 "This is Jim Crow in the 21st century," Biden said. "It must end. We have a moral and constitutional obligation to act."
Biden's Department of Justice filed a lawsuit against Georgia, saying the new law was "adopted with a racially motivated purpose" that has "no place in democracy today." 
CLICK HERE TO GET THE FOX NEWS APP
Georgia officials have insisted the law makes elections more secure with various voting safeguards, while also citing record turnout as evidence voter suppression isn't happening.
"When it came time to actually present evidence to support their ridiculous talking points in court, President Biden's DOJ and their liberal allies failed miserably," Raffensperger told Fox News Digital in September. "That's because the common sense election reforms in Georgia's Election Integrity Act, like photo-ID for all forms of voting, make sense.'
The White House did not immediately respond to a request for comment from Fox News Digital.
Rep. McCaul on Air Force general's prediction of 2025 war with China: 'I hope he's wrong … I think he's right'
Rep. Michael McCaul, R-Texas, weighed in on the prediction from four-star Air Force Gen. Mike Minihan, who warned his commanders to prepare for war with China in roughly two years' time.
Minihan predicted that fighting will come after China takes advantage of the U.S. being preoccupied with the 2024 election to take action against Taiwan, which will be focused on their elections next year as well.
"I hope he's wrong," McCaul told "Fox News Sunday" host Shannon Bream. "I think he's right though, unfortunately."
McCaul explained that China very much wants "reunification" of Taiwan with mainland China. He said that could come about through influencing the Taiwanese elections in early 2024.
CHINESE MILITARY AIRCRAFT, VESSELS CROSS INTO TAIWANESE SPACE IN LATEST THREAT OF FORCE
"But if they don't win in that one they are going to look at a military invasion, in my judgment. We have to be prepared for this."
McCaul said "as long as Biden is in office projecting weakness," there are "very high" odds of this happening. He cited the Biden administration's failure with the withdrawal from Afghanistan, which he said led to Russia invading Ukraine.
Later in the program, House Armed Services Committee ranking member Rep. Adam Smith, D-Wash., disagreed with McCaul and Minihan's assessment of possible war with China.
DEFENSE SECRETARY AUSTIN 'SERIOUSLY DOUBTS' CHINA INVASION OF TAIWAN IS 'IMMINENT'
"I want to be completely clear. It's not only not inevitable, it's highly unlikely," he said.
Smith acknowledged that "anything is possible" and the military should be prepared, said "generals should be very cautious" with what they say and should not be telling the world that the U.S. is going to war with China, most importantly because we're not."
The Democrat said that while the U.S. must be able to deter China, he is "very confident" that a military conflict can be avoided.
CLICK HERE TO GET THE FOX NEWS APP
NBC News reported Friday that Minihan, head of Air Mobility Command, warned air wing commanders in a memo that his "gut" tells him a conflict with China is coming. 
The general said "a fortified, ready, integrated, and agile Joint Force Maneuver Team ready to fight and win inside the first island chain" needs to be established to prepare for the looming fight, and instructed commanders to report back by Feb. 28 on steps they will take to prepare for the war against China.