A Nebraska truck driver officially logged five million miles on the road — only the second person in his company's 67-year history to earn the achievement — by hauling everything from potatoes to technology equipment and home goods from coast to coast across America.
"Milestones creep up out of nowhere after time," Tim Dean, 59, a professional truck driver for Werner Enterprises in Omaha, Nebraska, told Fox News Digital.
"You think, 'OK, that's kind of cool. How did this happen? How did I get here?' But I don't set long-term goals. My goals are daily, as in — the next mile being safe." 
NATIONAL TRUCKER APPRECIATION WEEK: AMERICA'S TRUCK DRIVERS ARE CELEBRATED FOR ESSENTIAL WORK
Trucks move roughly 72.6% of the nation's freight by weight, according to the American Trucking Association. 
There were 3.54 million truck drivers on the road last year and 13.86 million freight trucks registered in 2021, representing 5% of all motor vehicles.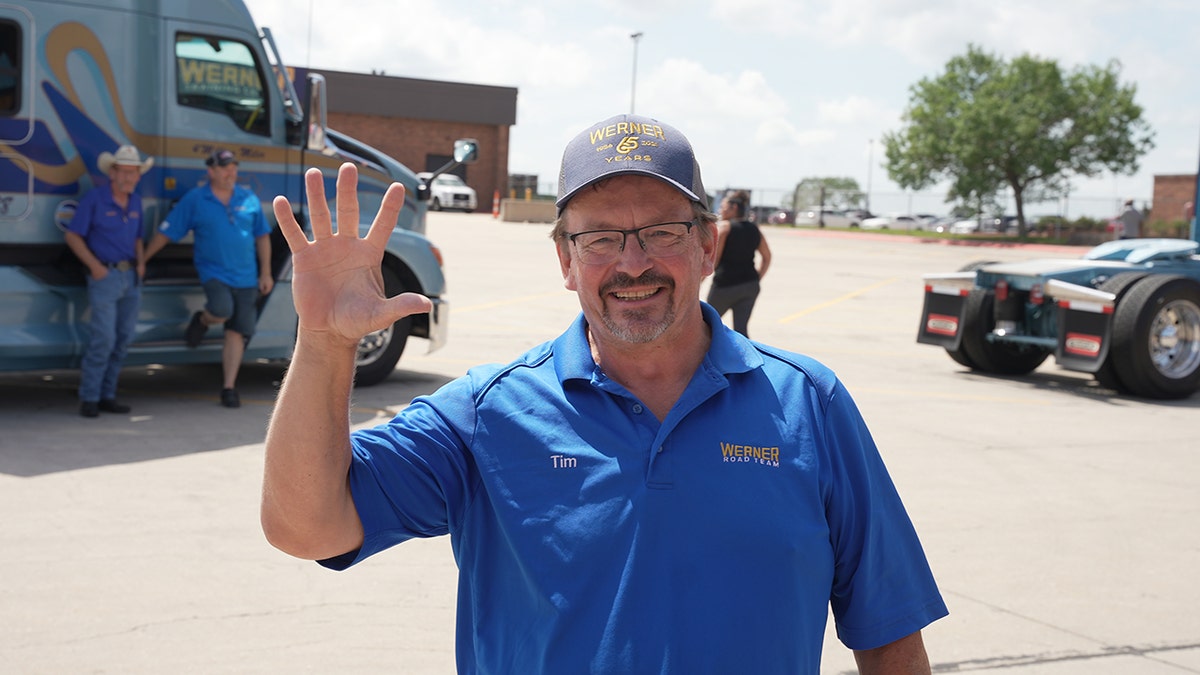 "I think about how great this country is and know that I'm doing my part," Dean said. 
"The military plays a big part in our security. My part is delivering the goods that keep people fed, roofs over our houses and cars to drive," he added. 
"You just sit where you're at right now and look at everything around you," he said. "It's been hauled by a truck."
THIS LABOR DAY, A GRATEFUL NOD TO THE LONG-HAUL TRUCKERS WHO KEEP AMERICA MOVING
Dean said he is proud to be part of the industry and proud to have worked for Werner for all 35 years of his career.
"Growing up in Omaha, Nebraska, I watched semi trucks go by on Interstate 80," Dean said.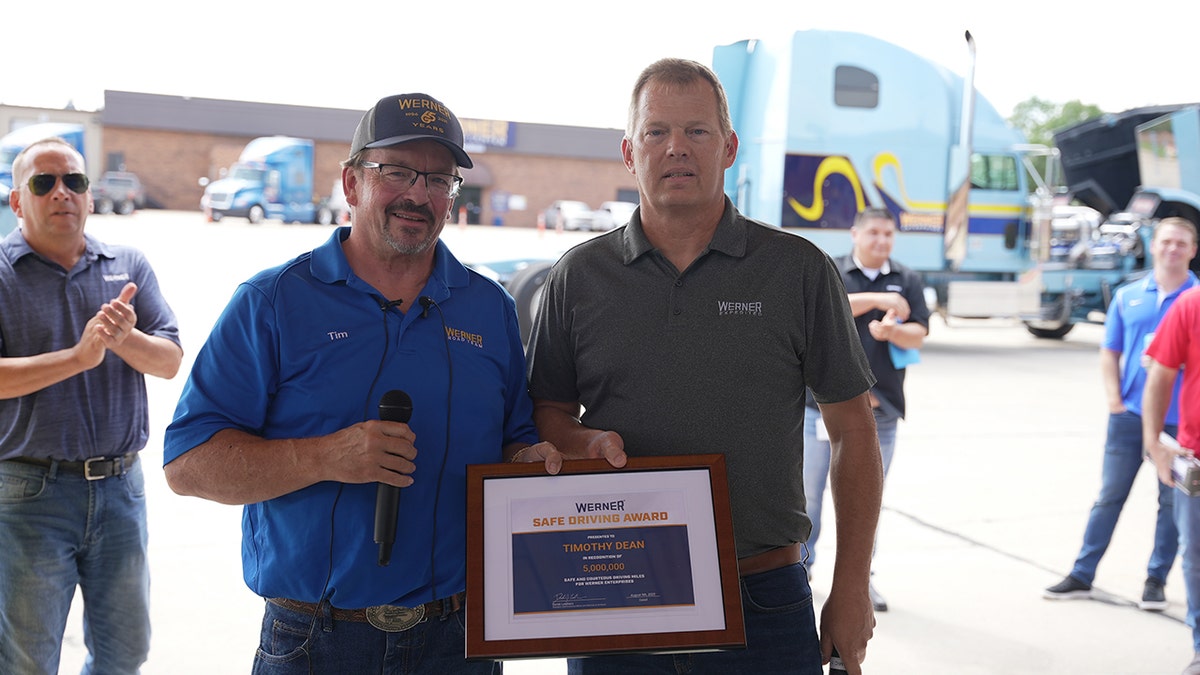 "I always kinda wondered where those trucks were going," he told Fox News Digital. 
"And after 35 years, I look out there and I still wonder. They're going everywhere. They're delivering all the goods throughout the country and being a part of that has been a gift."
During his time on the road, Dean has taken in the diverse landscape of a large portion of North America.
OHIO MEALS ON WHEELS VOLUNTEER RECEIVES AWARD AFTER LEARNING AMERICAN SIGN LANGUAGE FOR MEAL RECIPIENT
"I've been to four different provinces of Canada," he said. 
"I've been to all [of the] lower United States except for one state, of all things. Somehow I missed Vermont."
‼️ TIM DEAN ACHIEVES 5 MILLION ACCIDENT-FREE MILES!

Join us in congratulating Tim on this incredibly rare milestone! We were joined by Tim's family, Charley, a lineup of honking trucks and more in Omaha today during a surprise celebration in his honor!

https://t.co/mblVmS5k5s pic.twitter.com/r7oiIKUQTM

— Werner Enterprises (@One_Werner) August 10, 2023
Dean said his longest haul was from Macon, Georgia, to Needles, California — just over 2,000 miles — back in the early 1990s.
"That one took four days," he said. "In the early days, we went everywhere. Back then, we were allowed [to drive] 10 hours a day, so right around 600 miles a day."
ARIZONA STUDENTS RAISE NEARLY $10K FOR HEART SURGERY FOR TEACHER'S WIFE: 'MADE ME CRY'
Today, drivers can go 11 hours a day, Dean said.
He made other long hauls as well, carrying some interesting things in tow — such as transporting a computer and battery pack for Mobile Oil from Niagara Falls to Galveston, Texas.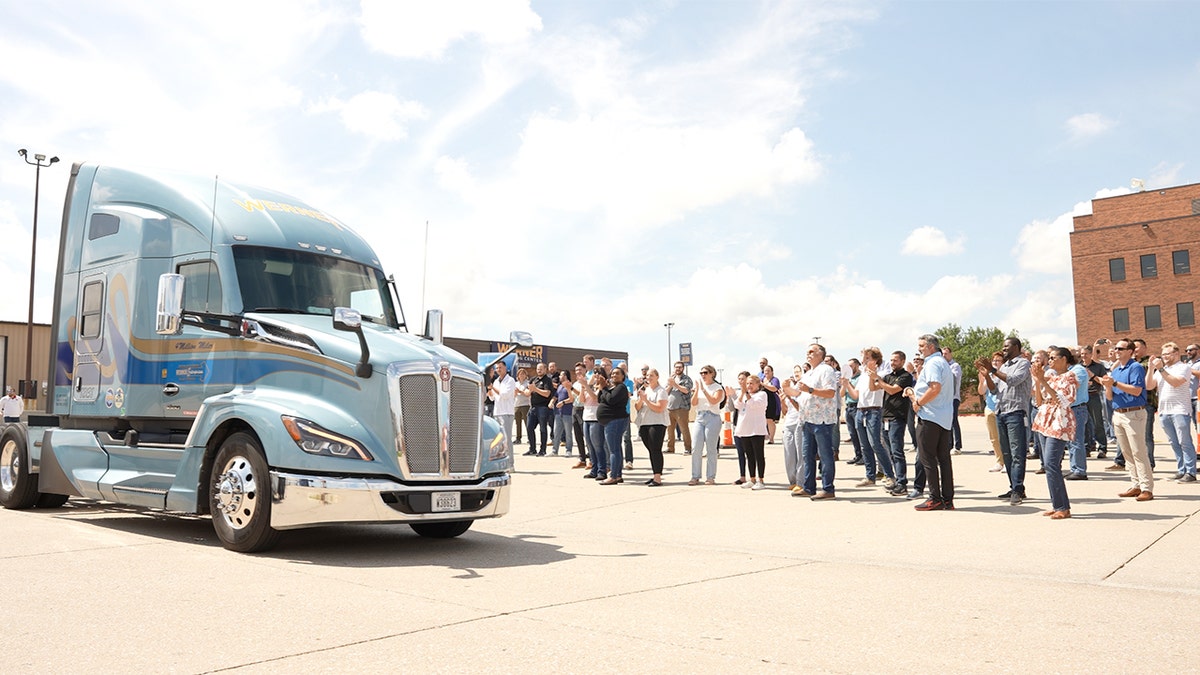 "It was equipment needed to run their sonar to try to find oil in the gulf," Dean said. 
"So that was kind of an interesting little trip. And when Omaha held the U.S. Olympic swim trials, I hauled the parts for the practice pool and delivered that. So over the years there's been different things that I've been able to deliver and be a part of."
MICHIGAN TEACHER BROUGHT TO TEARS AS STUDENTS, FAMILY SURPRISE HIM AFTER FINAL ROUND OF CHEMO
Dean said he's hauled loads of potatoes right off a farm as well as the chips they become after they're bagged and leave the processing plant.
When he's on the road, Dean is usually gone Sunday through Friday — but he keeps a fairly normal work schedule while away from home.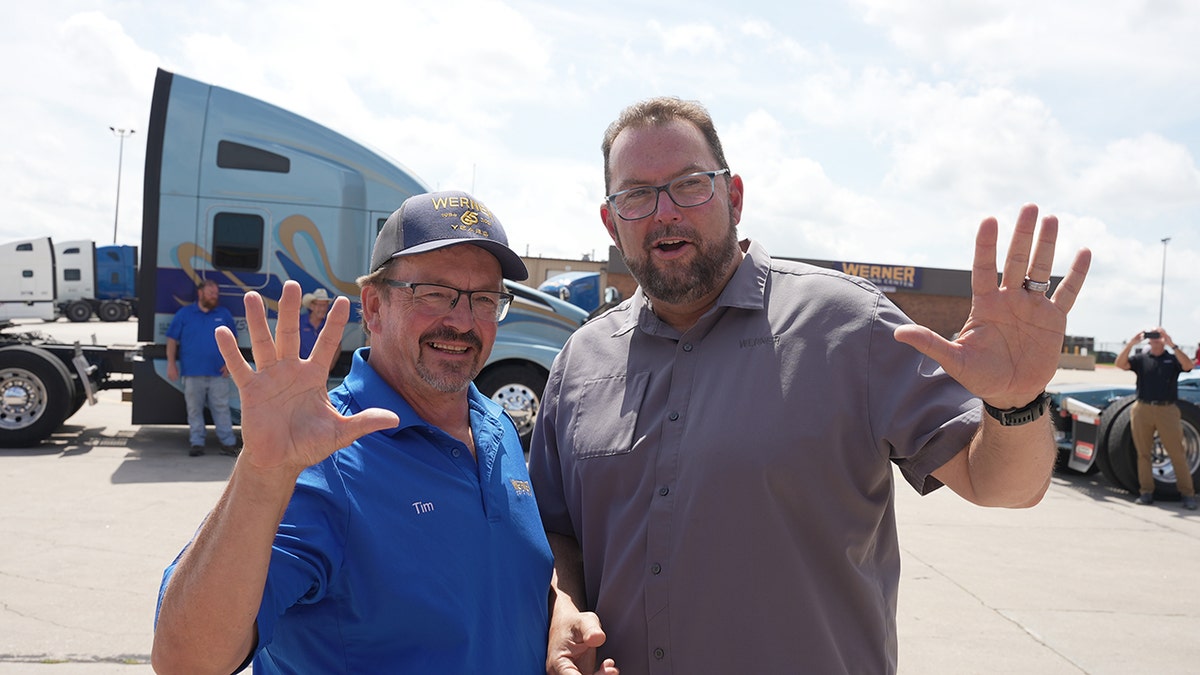 "I leave on Sunday, and drive about eight or nine hours on Monday, Tuesday, Wednesday, Thursday, Friday — then I'm home again on Saturday," Dean said. 
"So, I'm never overextending. I try to keep a normal circadian rhythm, a sleeping pattern of going to bed at night and getting up in the morning. Then I get into the right mindset by doing the pre-trip and focusing on safety. Without being safe, you don't get to where I'm at," he added. 
Technology has changed the trucking industry significantly since Dean started driving, making everything easier — from navigation to weather to keeping in touch with family.
TRUCKER RECORDS CREEPY GHOST-LIKE FIGURE ON ARIZONA HIGHWAY WHILE DRIVING ALONE: DASHCAM VIDEO
"In the early days, there was no GPS," Dean said. 
"Today with technology and communication, as you're not letting those devices interfere with your driving, you can utilize them to program your trip, find that safe haven in bad weather and call family. I remember the days when every rest area or truck stop had banks of pay phones for drivers to call home."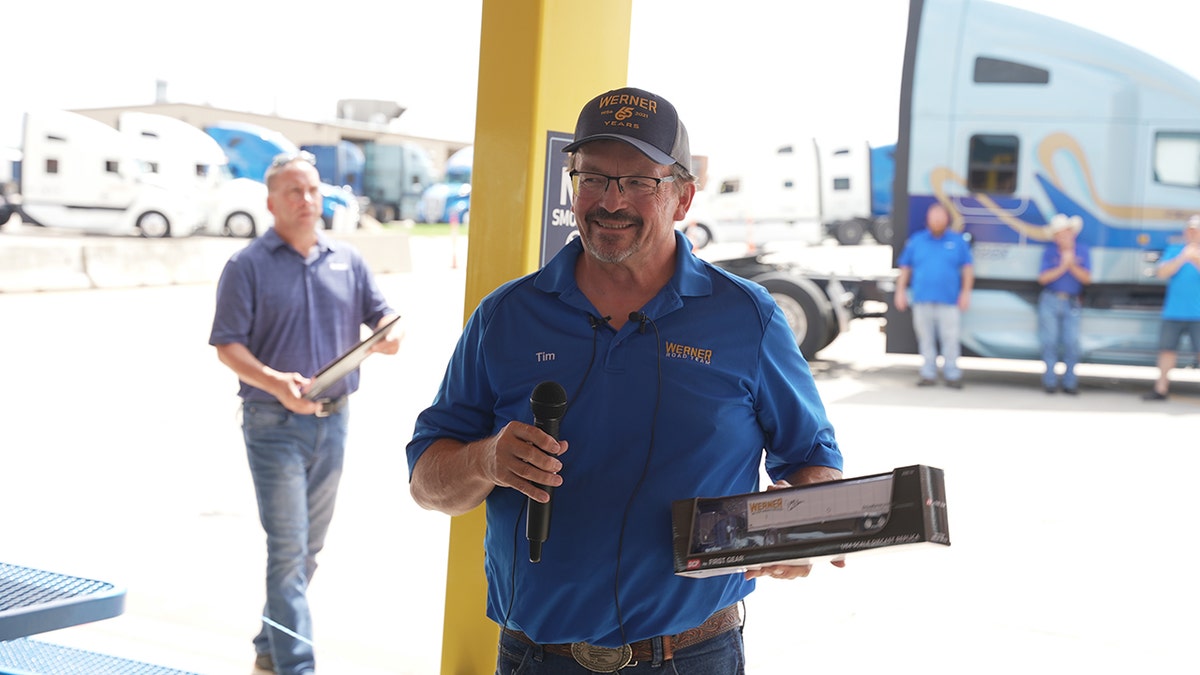 This month, as Dean celebrates 35 years of driving a truck, he also celebrates his 39th wedding anniversary. 
He credited "the support of family" for every single mile he's driven, he told Fox News Digital.
Angelo Gibson, vice president of operations at Werner Enterprises, said he knows what he has in an employee like Tim Dean.
"He's passionate and committed," Gibson said. "He truly believes in everything he does out on the road, whether it's behind the wheel or in a drop yard. And he's not just committed to his job. It goes far beyond him. He cares about the motoring public and he shows that every day."
TEACHER, DRIVING HOME FROM WORK, PULLS OVER TO SAVE CHOKING 100-YEAR-OLD WOMAN WITH HEIMLICH MANEUVER
Dean said there are a few things that are integral to the mindset of a successful truck driver in his view.
"If the good Lord continues to provide me with good health, the team here at Warner and the family — they may want to see me go at least maybe seven more years."

— Tim Dean
"First, [have] the willingness to provide a service for the United States, delivering the goods to the American public," he said. 
"You want to stay healthy," he added. "Eating right and getting proper rest are key to being successful and being safe. If you need an exercise program, definitely work that into your off-hour schedule."
He also said, "Start every day knowing where your route is going to take you and that your equipment is safe and ready to roll. Remember you're sharing the road with the motoring public." 
NORTH CAROLINA CAMPUS SECURITY OFFICER GOES VIRAL FOR HUGGING GRADUATING SENIORS BEFORE COMMENCEMENT
While a lot has changed in the trucking industry, Gibson of Werner Enterprises said one thing has remained the same.
"It really, truly is the people, the drivers that, as we say, keep America moving each and every day," said Gibson.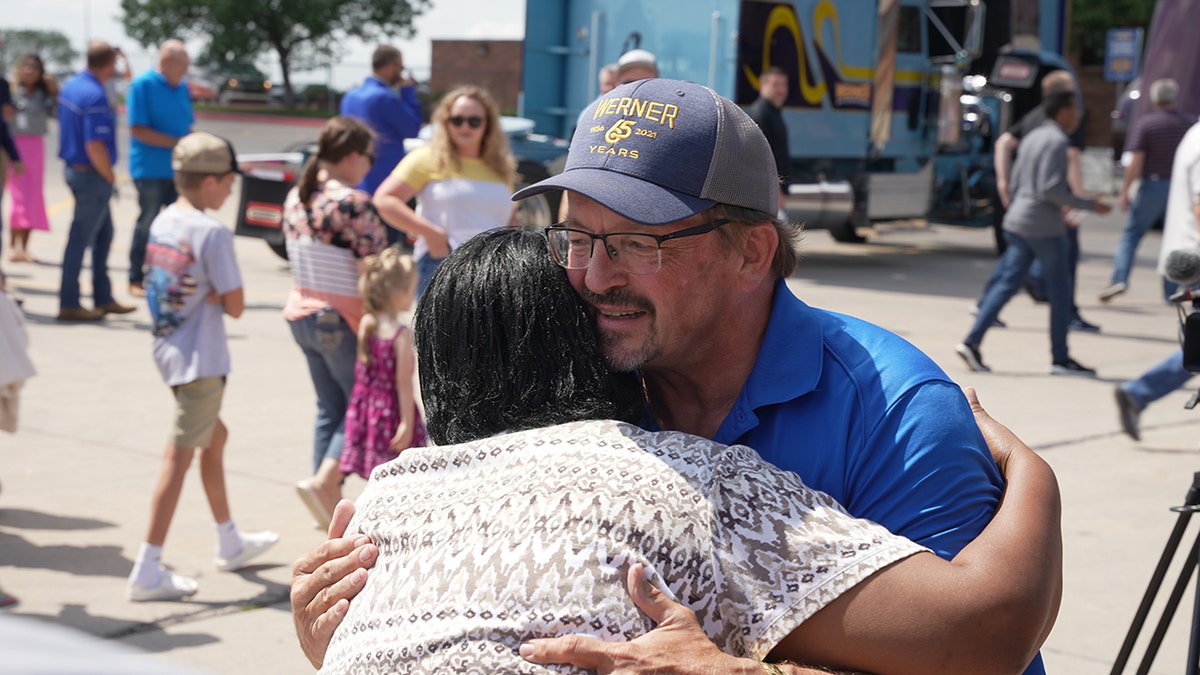 Sharing the credit for his five million miles is something Dean takes pains to do.
"Yeah, I did the driving, but a lot of people played a key part in me achieving five million. I give a lot of credit to my family for giving me a little extra drive to be safe and to Werner — the other drivers, the office, the management, all the top-to-bottom mechanics for keeping my trucks going. They all play a part in my success," he said.
GIRL IN NEBRASKA BRINGS HER GRANDPA TO DADDY-DAUGHTER DANCE: 'THEY HAD A GREAT TIME'
Serving as a mentor to other drivers is part of Dean's legacy, Gibson also said.
"We wouldn't be the same company without Tim," Gibson said.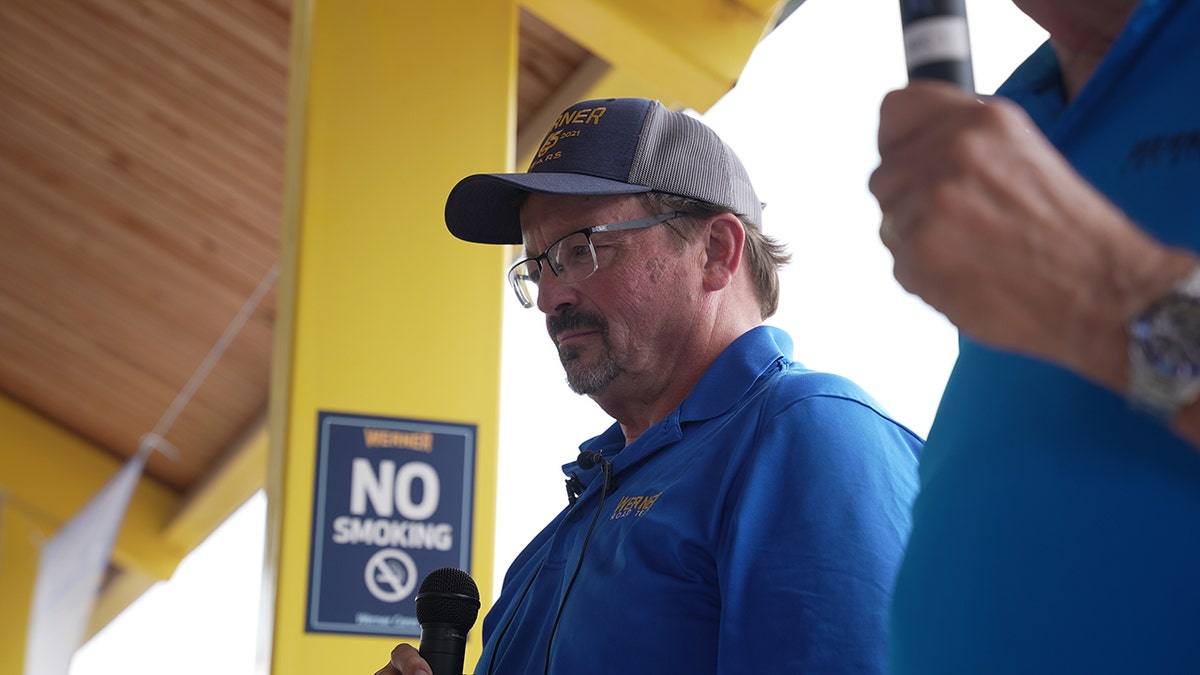 Dean isn't stopping at five million miles, he said. 
CLICK HERE TO SIGN UP FOR OUR LIFESTYLE NEWSLETTER
"I'm not 60 years old yet," he said.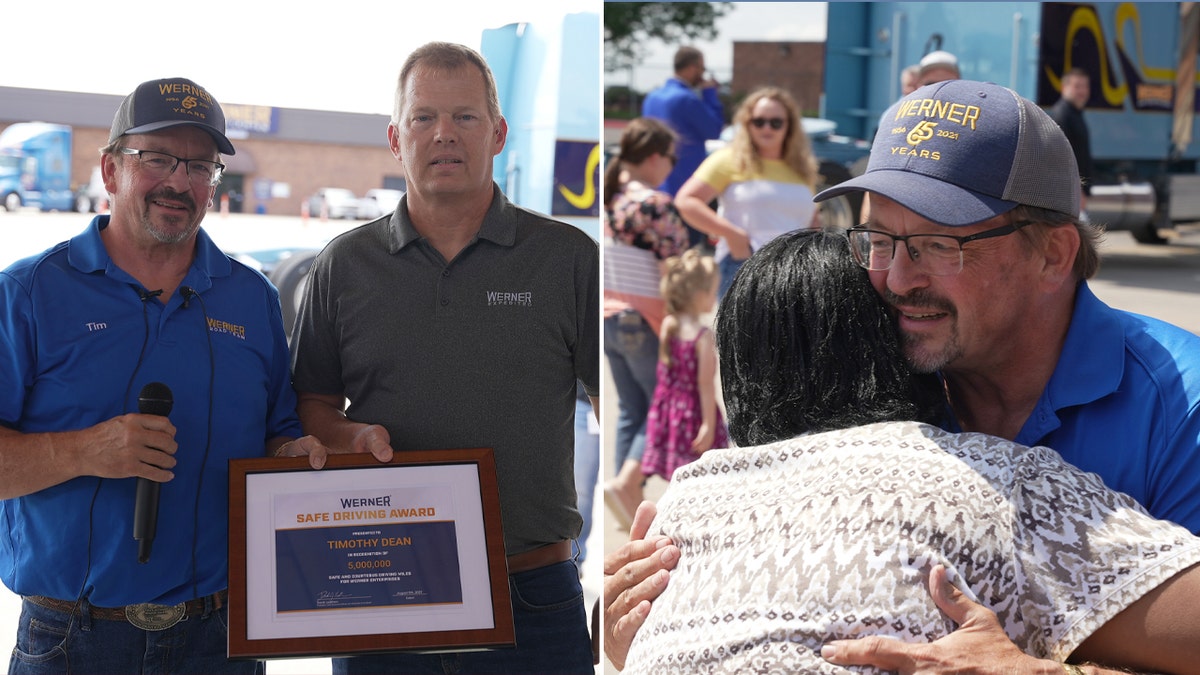 "If the good Lord continues to provide me with good health, the team here at Warner and the family — they may want to see me go at least maybe seven more years," Dean added.
CLICK HERE TO GET THE FOX NEWS APP
In those extra years, Dean said, he might just reach a record-breaking six million miles on the road.