Native American tribe plans protests, considers suing Biden admin over oil-leasing crackdown
EXCLUSIVE: The president of the Navajo Nation told Fox News Digital that he has ordered the tribe's attorney general to weigh legal action following the Biden administration's oil-leasing ban impacting Navajo citizens.
Buu Nygren, the president of the Navajo Nation, a federally recognized tribe in the U.S. southwest, said that the Navajo Justice Department was considering pursuing litigation after Interior Secretary Deb Haaland's recent order, and he plans to protest her upcoming visit to the reservation on Sunday. Last week, Haaland banned oil, gas and mineral leasing within 10 miles of the Chaco Culture National Historical Park in northwestern New Mexico for 20 years, an action strongly opposed by nearby Navajo communities.
"To totally disregard those local communities — it's unfair," Nygren told Fox News Digital in an interview Saturday. "There's no need to celebrate putting people into poverty, to celebrate undermining the Navajo Nation's sovereignty, undermining everything that comes into working with tribes, in this case, Navajo Nation."
"I tasked the attorney general to look into all our options, because I want to be doing justice for the local community," he continued. "As president, I've already told my attorney general to look into all the options. So, we're going to be moving forward with that as well."
NATIVE AMERICAN LEADERS REBUKE BIDEN ADMIN OVER OIL LEASING BAN: 'UNDERMINES OUR SOVEREIGNTY'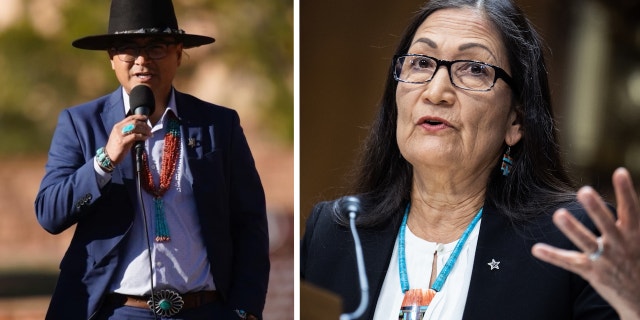 Nygren and other Navajo leaders, in addition to locals, have argued that the Department of the Interior's (DOI) action banning leasing will harm low-income Navajo citizens who depend on revenue from leasing their allotments within ten miles of Chaco Canyon mainly to fossil fuel companies. 
The allotments date back to the 1900s, when the federal government awarded them to Navajo citizens as a consolation when the tribe's territory was downsized.
"Since I've entered the legislative body for my Navajo people, I've listened to a lot of constituents out in that area and, you know, it's just emotional distress, psychologically as well, that they've talked about this — it really disturbs me to know how much more of a hardship that these folks are going to be experiencing out there," Brenda Jesus, who chairs the Navajo Nation Council's Resources & Development Committee, told Fox News Digital earlier this week.
REPUBLICANS RAISE ETHICS CONCERNS OVER BIDEN CABINET OFFICIAL WHO ORDERED OIL LEASING BAN
Jesus led a delegation of Navajo tribal leaders who met with lawmakers on Capitol Hill this week, making their case against the DOI's ban. Rep. Harriet Hageman, R-Wyo., who chairs a House panel on Indian affairs, said the action represented a "taking" of tribal lands and vowed congressional action following her meeting with the delegation.
Overall, there are currently 53 Indian allotments located in the 10-mile buffer zone around Chaco Canyon, generating $6.2 million per year in royalties for an estimated 5,462 allottees, according to Navajo Nation data. In addition, there are 418 unleased allotments in the zone that are associated with 16,615 allottees. 
According to the Western Energy Alliance, an industry group that represents oil and gas producers in the area, Navajo members will lose an estimated $194 million as a result of Haaland's actions.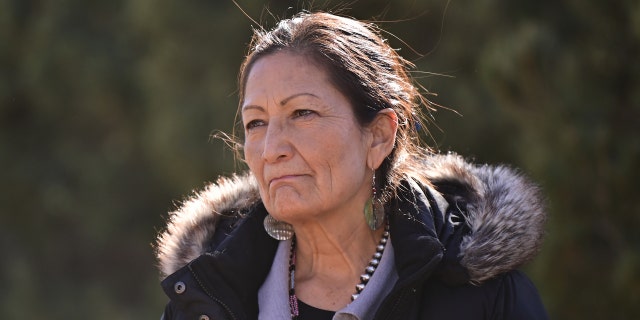 "You can't pound your chest on going after people in poverty," Nygren told Fox News Digital. "I don't know who would want to celebrate that. Personally, I think that's, I don't know, you got to not have a heart if you're going to put people that are already impoverished in third-world-country conditions and barely have enough to pay for gas, food, laundry, the daily necessities — to put them into an even tougher situation."
"To me, I don't know how anybody could sleep with that thought," he said. "Come to Navajo. It's tough. Everybody's struggling, everybody's trying to make a dollar, literally."
BIDEN ADMIN HIT WITH LAWSUITS FOR HIDING COMMUNICATIONS INVOLVING CABINET SECRETARY'S DAUGHTER
Haaland is expected to visit Chaco Canyon on Sunday to celebrate the action. Nygren said that Navajo citizens are planning to peacefully protest the event and that he has even faced calls to block the interior secretary's access to Navajo roads.
"You shouldn't celebrate beating up people in poverty," Nygren said.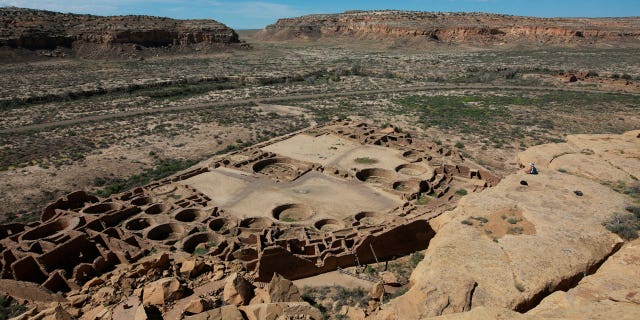 Nygren also noted that the Biden administration failed to offer any economic proposal to account for the income losses the Chaco land withdrawal would create for Navajo allottees. 
In addition, Nygren criticized Haaland for not properly consulting the Navajo Nation and the communities near Chaco Canyon that would be most impacted by the action. The tribe previously endorsed a five-mile buffer zone to protect the site while ensuring future drilling on oil-rich allotments, but has said that Haaland never considered the compromise.
CLICK HERE TO GET THE FOX NEWS APP
"For her to go all over the country and the world to talk about tribal sovereignty and tribal communities and this and that. But then when it comes down to it, to put tribal sovereignty into question. Actions speak louder than words, in my opinion," he said. 
While DOI stated Friday that the action won't impact existing leases or production on them, opponents of the ten-mile buffer zone said it would indirectly make Indian-owned allotments worthless. Because drilling on the Navajo allotments requires horizontal crossings that pass through federal land impacted by the ban, the action effectively ends all drilling in the area, they argued.
Source: https://www.foxnews.com/politics/native-american-tribe-plans-protests-considers-suing-biden-admin-over-oil-leasing-crackdown
New York Gov Hochul wants to 'limit' who crosses border, says it's 'too open right now'
Democrat New York Gov. Kathy Hochul on Sunday called on Congress to "limit" who crosses the border, saying it's "too open right now."
Ironically repeating what congressional Republicans have long demanded from the Biden administration, Hochul made the plea during an appearance on CBS's "Face the Nation."
CBS host Margaret Brennan noted there were no border provisions in the federal spending deal struck by House Speaker Kevin McCarthy this weekend to avoid a government shutdown, asking Hochul what she would want Congress to get done in the next 45 days.
"Well, shame on Speaker McCarthy and the Republicans in Congress, including the nine from New York State, who are complaining like crazy about the migrants but refuse to work with President Biden and come up with a sensible border strategy. It can be done. This can be done in a bipartisan way. Comprehensive immigration reform," Hochul began before Brennan interjected by asking what she was specifically wanting from Congress to address the migrant crisis in her state.
DEMOCRAT GOV KATHY HOCHUL CALLS IN NATIONAL GUARD AMID NEW YORK'S WORSENING MIGRANT CRISIS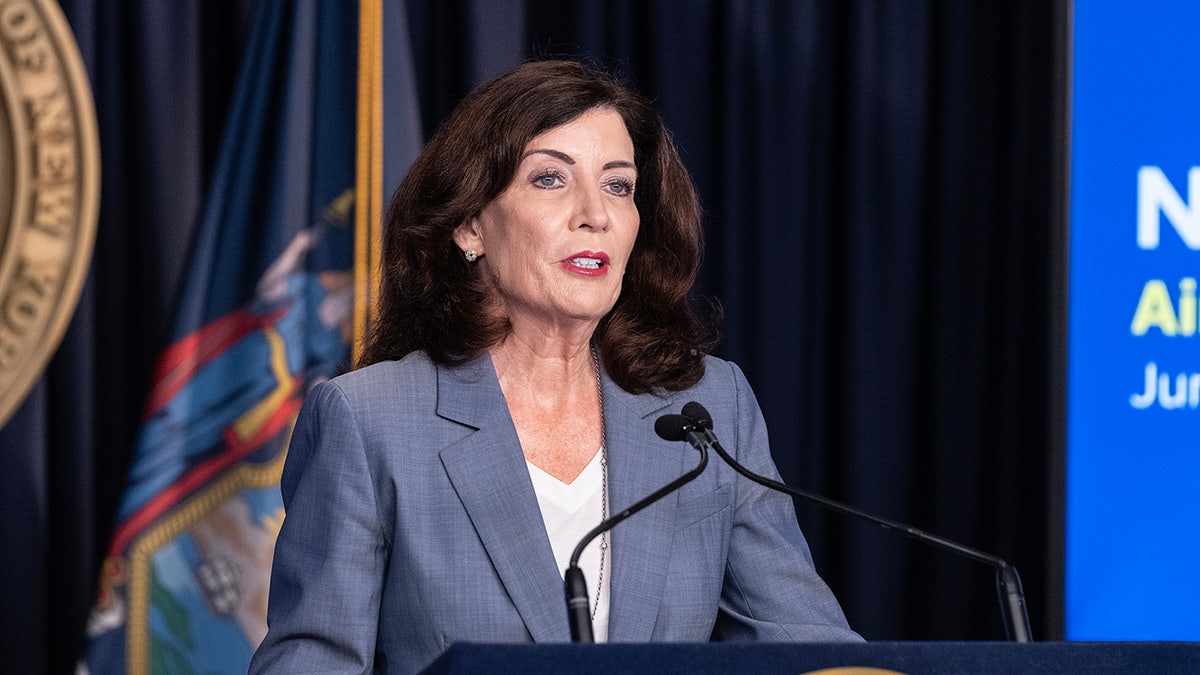 "Well, we want them to have a limit on who can come across the border. It is too open right now," Hochul said. "People coming from all over the world are finding their way through simply saying they need asylum. And the majority of them seem to be ending up in the streets of New York. And that is a real problem for New York City, 125,000 newly arrived individuals. And we are being taxed."
"We are always so proud of the fact that New York has the Statue of Liberty in our harbor. We are one of the most diverse places on Earth because of our welcoming nature, and it's in our DNA to welcome immigrants. But there has to be some limits in place. And Congress has to put more controls at the border and not in this budget threat, shutdown threat, talk about eliminating positions for Border Patrol when we actually need to double or quadruple those numbers. So, get back to work and do your jobs," the governor added.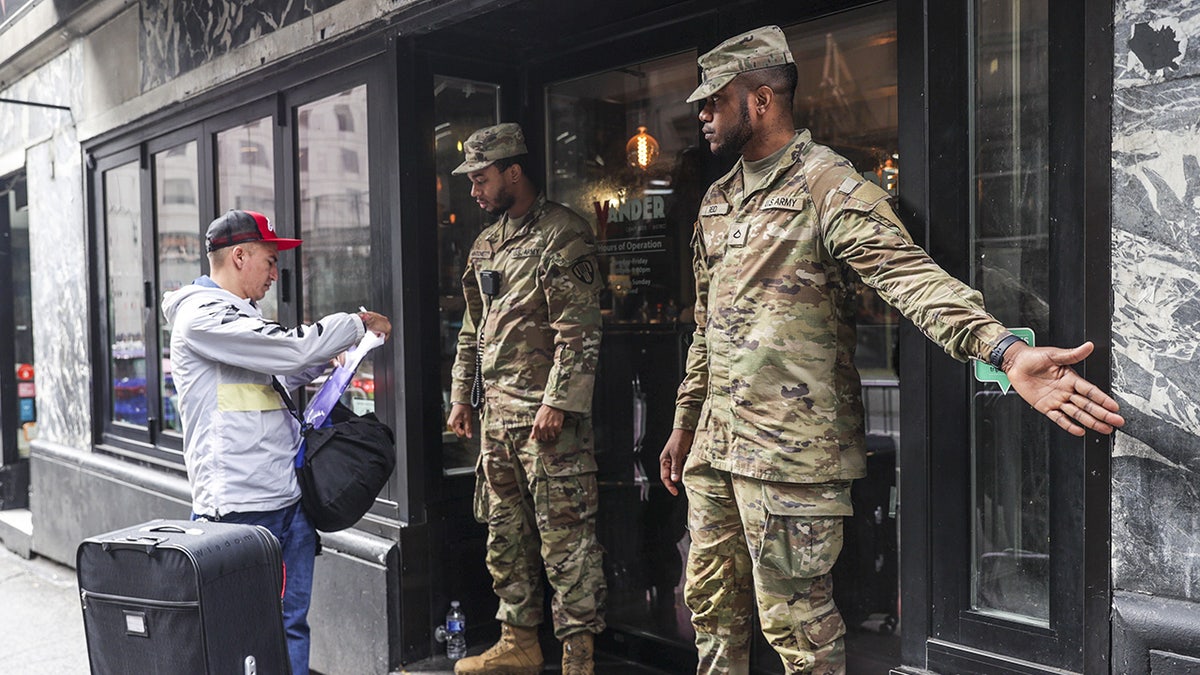 ADAMS REACTS TO BIDEN ADMIN LEGALIZING THOUSANDS OF MIGRANTS AFTER SAYING CRISIS WILL 'DESTROY' NYC
Several critics online unleashed on Hochul for apparently changing her tune since espousing New York as a sanctuary state and encouraging people to come in 2021.
More than 125,000 migrants have since arrived in New York City since last year, and Hochul recently secured a deal with the Biden administration to expedite work authorizations and delayed deportations for Venezuelans seeking asylum. Hochul activated an additional 150 National Guard members last week to address the migrant crisis and help with case management to get asylum seekers work permit. The move increased the total number of National Guard troops dedicated to the mission to 2,200.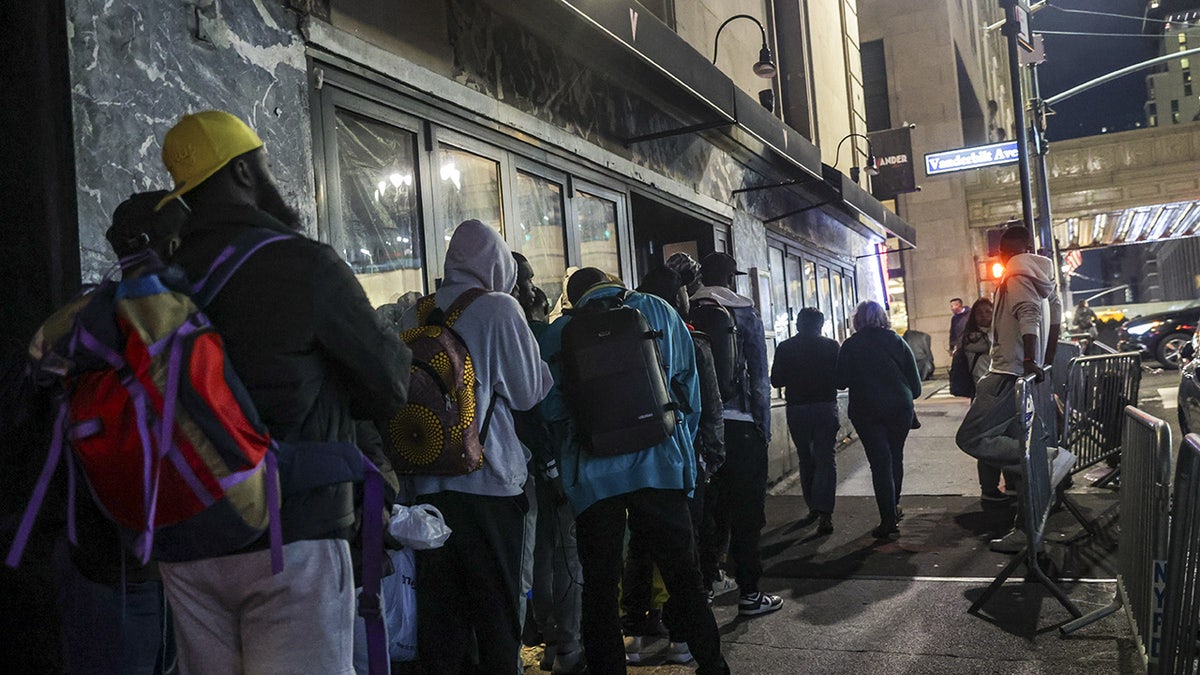 Yet New York City Mayor Eric Adams, whose relationship has soured with fellow Democrat Biden by repeatedly demanding more federal assistance on the migrant crisis over the past several months, has said the more new waves of arriving migrants are from African nations, China and even Russia, indicating a potential growing security risk compared to the initial influxes from Latin America. Adams is pushing a controversial "decompression strategy" to resettle migrants outside the city.
Gaetz slammed for bailing out Dems in budget battle, giving them potential leverage in ousting speaker
A bid by Rep. Matt Gaetz, R-Fla., to remove House Speaker Kevin McCarthy, R-Calif., has earned scorn from some fellow Republicans, who fear the Florida lawmaker is handing leverage to Democrats in the continuing battle over the budget.
"The only way he can be successful is if he has 200 plus Democrats," Rep. Jason Smith, R-Mo., said during an appearance on "Sunday Morning Futures" with host Maria Bartiromo. "Basically, Gaetz is going to work with Nancy Pelosi, Hakeem Jeffries, and the rest of the Democrats in order to remove the Republican speaker… If you remove a Republican speaker, that then puts the Democrats in power, these investigations will be done and stalled. That is unacceptable of Matt Gaetz."
Smith's comments come after the House passed a continuing resolution Saturday that will fund the government at current levels through mid-November, angering some Republicans who believe the measure is a violation of GOP promises to pass 12 individual spending bills that prioritize conservative polices.
MCCARTHY'S SPEAKERSHIP IN PERIL AFTER HOUSE PASSES STOPGAP FUNDING BILL: 'GO AHEAD AND TRY'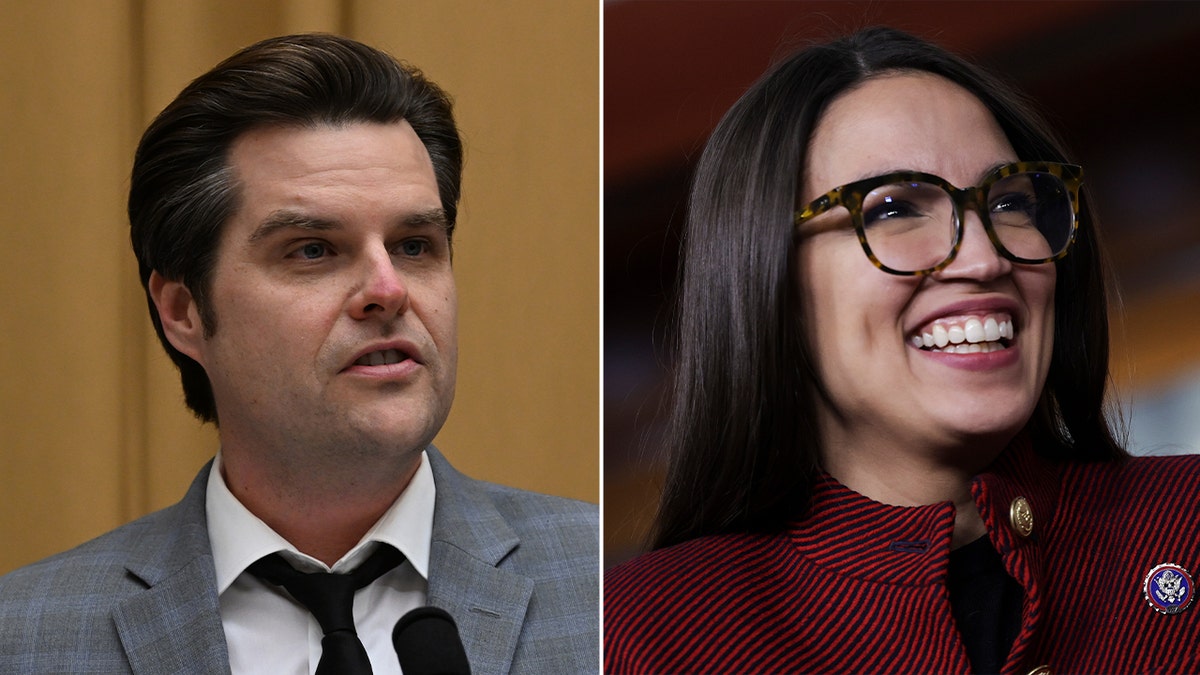 One such Republican was Gaetz, who opposed the resolution and threatened to trigger a House-wide vote on whether to remove McCarthy from the speakership.
Under the terms of a deal McCarthy struck with conservatives during the vote that elevated him to speaker, any lawmaker is allowed to trigger a vote, known as a motion to vacate, and attempt to remove him from the speakership.
"The one thing everyone seems to have in common is no one trusts Kevin McCarthy," Gaetz told reporters Saturday. "I've said that whether or not Kevin McCarthy faces a motion to vacate is entirely within his control, because all he had to do was comply with the agreement that he made with us in January."
Rep. Mike Lawler, R-N.Y., called Gaetz's comment on removing McCarthy a "diatribe of delusional thinking" during an appearance on ABC's "This Week" Sunday, noting that the government is currently divided and any bill the House hopes to pass will have to gain support from both the Senate and President Biden.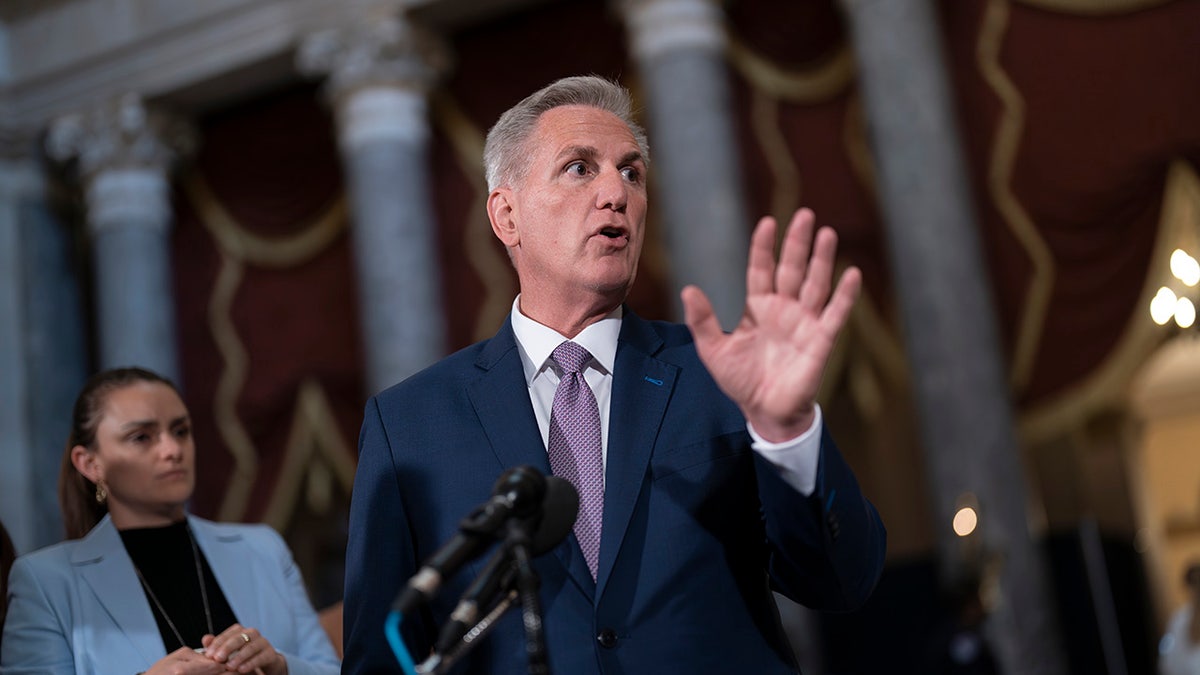 HOUSE ADOPTS 'CLEAN' STOPGAP FUNDING BILL AVERTING SHUTDOWN
"When you're trying to break the system, when you're trying to reform it, it takes time," Lawler said. "The only responsible thing to do was to keep the government open and funded while we complete our work."
While Lawler acknowledged that he shares the Florida lawmaker's concerns about current spending levels, he argued that putting a motion to vacate on the House floor would "delay the ability to complete" GOP efforts to pass a more conservative budget "over the next 45 days."
Sen. MarkWayne Mullin, R-Okla., tore into Gaetz during a Sunday interview on "FOX & Friends Weekend," saying the only thing he cares about is "self-promotion."
"Well, Matt Gaetz is not a principle guy. He's not a policy guy. He's about self-promotion. It's all about Matt Gaetz. And he's accusing Speaker McCarthy of working with the Democrats, which the irony of this is the only way he can possibly remove Speaker McCarthy is that he has to work with the Democrats," Mullin said. "And Speaker McCarthy will have 200 votes all day long and probably more from the Republicans. So that means the most he's going to get is 20. So he's going to have to work with 198 Democrats to remove the House Republican speaker."
"Matt Gaetz is all about himself," Mullin continued. "Remember, none of the networks would give him the time of the day after he was accused of sleeping with the underage girl and now all of a sudden he's found his fame because he opposes Speaker McCarthy and he's going to ride this horse as long as he can."
Rep. Gaetz has repeatedly denied this allegation and the Justice Department "confirmed to Congressman Gaetz's attorneys that their investigation has concluded and that he will not be charged with any crimes," according to a statement previously given to Fox News Digital.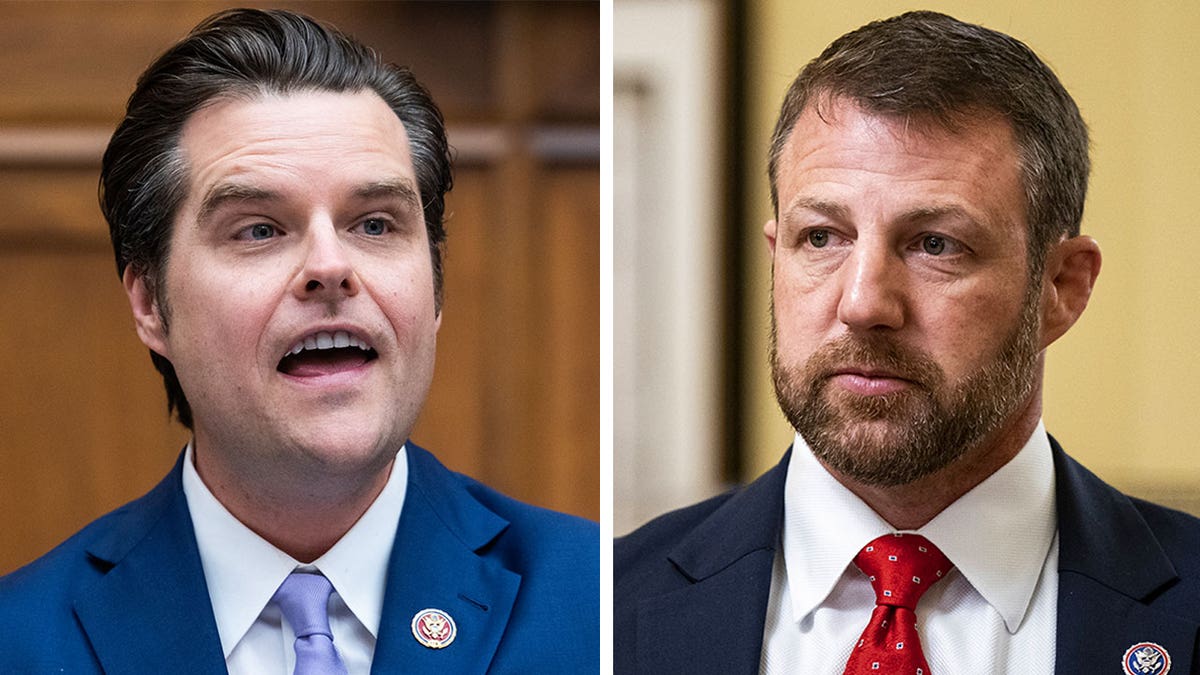 Former GOP House Speaker Newt Gingrich took to X, formerly known as Twitter, to ask whether Gaetz is "secretly an agent for the Democratic Party." 
"No one else is doing as much to undermine, weaken and cripple the House GOP," he added.
Rep. Greg Landsman, D-Ohio came to the defense of the center right Republicans arguing that Gaetz was only attempting to make himself "the center of attention."
"Every time we all work together, he loses his mind. He doesn't want the center left and center right to work together because he has to be the center of attention," Landsman said in a statement posted to X. "When we do, he creates chaos to grab attention back. Matt Gaetz has no interest in governing. This is all about TV appearances for him. If he says it's for any other reason, he's lying. Just let us govern, which is what most of us came here to do."
GAETZ BLOWS UP AT MCCARTHY IN CLOSED-DOOR HOUSE GOP MEETING: 'FIREWORKS'
Some Democrats struck a celebratory tone after the continuing resolution cleared the House Saturday, with Rep. Alexandria Ocasio-Cortez, D-N.Y., taking to X to boast the party had "stripped" GOP efforts to make cuts to Social Security.
"We just won a clean 45 day gov extension, stripped GOP's earlier 30% cuts to Social Security admin etc, staved off last minute anti-immigrant hijinks, and averted shutdown (for now)," Ocasio-Cortez said. "People will get paychecks and MTG (Marjorie Taylor Greene) threw a tantrum on the way out. Win-win."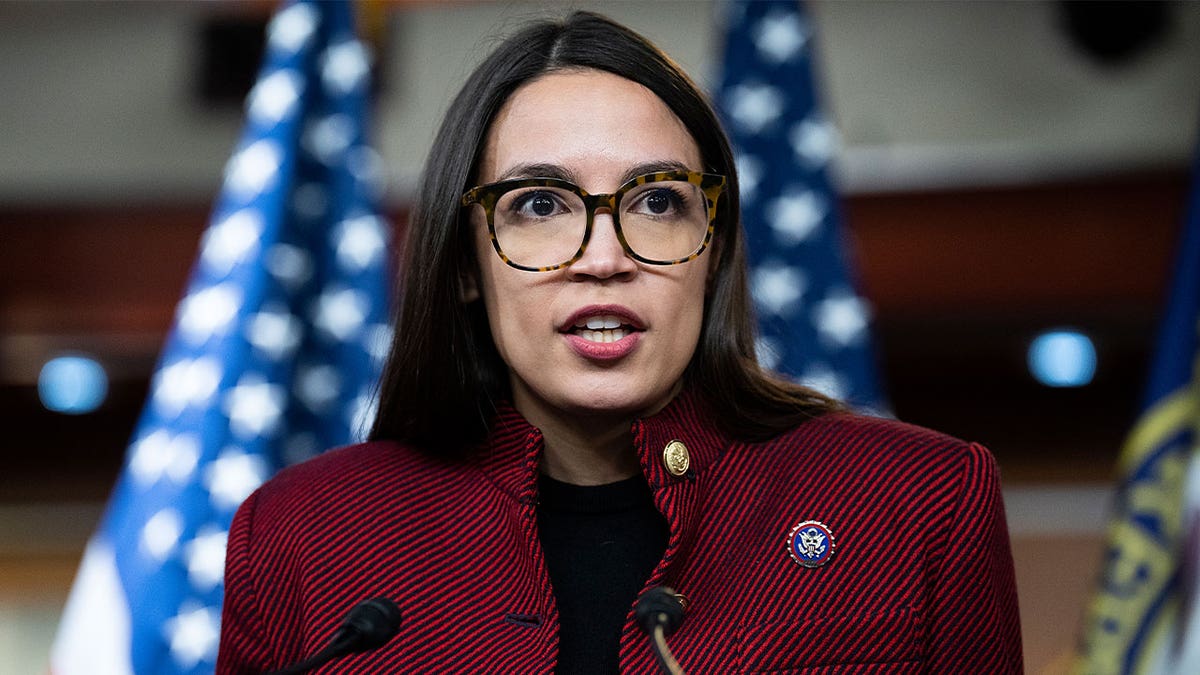 Meanwhile, McCarthy downplayed fears while speaking to reporters Saturday.
"I never fear of that. But if I lose my job over looking out for the American public, for taking a stand for our troops and our border agents, then I'm not quite sure what people want. Because this allows us the time to get the job done," McCarthy said. "If somebody wants to remove me from putting Americans first, then so be it."
During an interview on 'Face the Nation" Sunday, McCarthy said he will "survive" and Gaetz is "more interested in securing TV interviews."
"Let's get over with it. Let's start governing. If he's upset because he tried to push us into a shutdown and I made sure government didn't shut down, then let's have that talk," McCarthy said.
CLICK HERE TO GET THE FOX NEWS APP
For his part, Gaetz argued in comments to reporters Saturday that he was not focused on removing McCarthy, instead saying he will continue efforts to pass conservative budget bills.
"Right now, my focus is not on the motion to vacate. My focus is on averting a shutdown by passing these bills," Gaetz said. "And if we do have a shutdown, which may be the case, I certainly want it to be as short and painless as possible."
The offices of Gaetz and McCarthy did not immediately respond to a Fox News Digital request for comment.
Rep. Bowman shocks media, conservatives with 'garbage' statement after pulling fire alarm
Rep. Jamaal Bowman, D-N.Y., stunned conservatives and members of the media on Sunday after releasing multiple statements about pulling the fire alarm in a congressional office building. 
Bowman pulled the alarm on Saturday while lawmakers were voting on a bill to avoid a government shutdown. Bowman said in a statement that he was rushing to cast his vote on the bill. 
Bowman's chief of staff, Sarah Iddrissu, said that Bowman "didn't realize" he would trigger an alarm. 
"Congressman Bowman did not realize he would trigger a building alarm as he was rushing to make an urgent vote," Iddrissu wrote on X, formerly known as Twitter. "The Congressman regrets any confusion."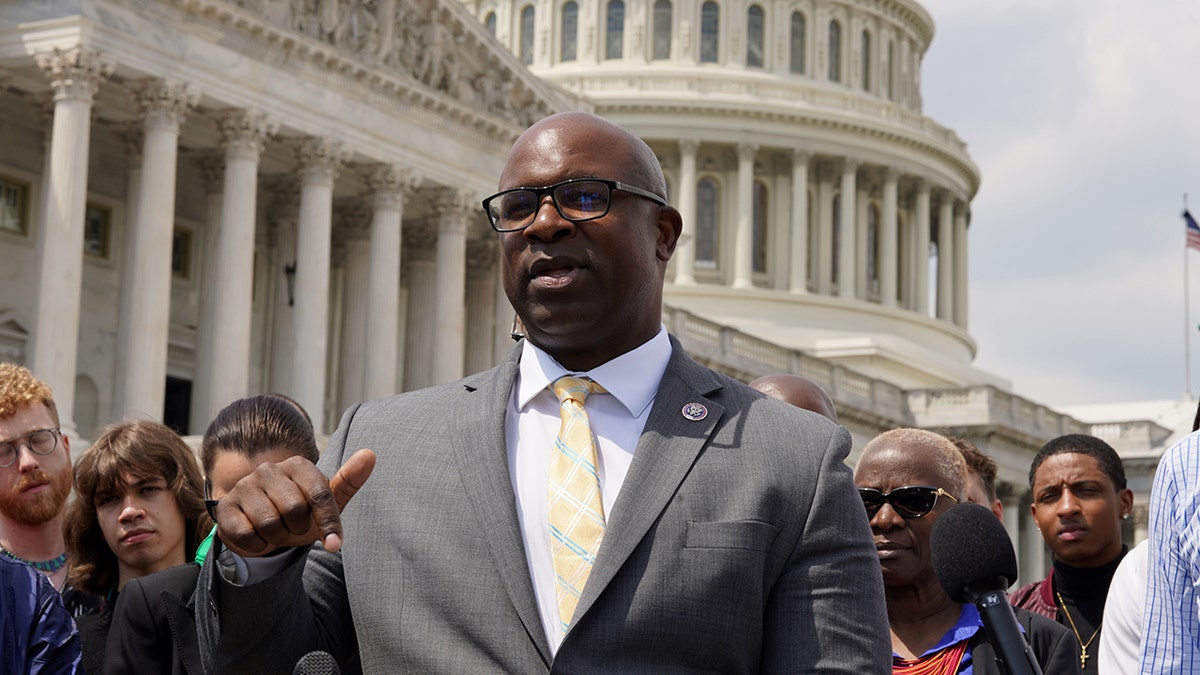 SENATE PASSES STOPGAP MEASURE IN 88-9 VOTE, AVERTING SHUTDOWN WITH THREE HOURS TO SPARE
Bowman posted another statement to X Saturday evening and again said he believed it would have opened the door.
"I want to personally clear up confusion surrounding today's events. Today as I was rushing to make a vote, I came to a door that is usually open for votes, but today would not be open. I am embarrassed to admit that I activated the fire alarm, mistakenly thinking it would open the door," Bowman said, apologizing for any confusion. 
He said that he did not intend to delay the vote, insisting it was the exact opposite. 
Rep. Ralph Norman, R-S.C., said the statement put out by Bowman's chief of staff was "complete garbage."
"He did not realize deliberately pulling a fire alarm would … trigger a fire alarm. This statement is complete garbage," he wrote.
Another Republican member of congress said the statement was "proof" of how far Democrats were willing to go in order to force a shutdown, while others doubted the excuse Bowman gave. 
DEMOCRAT SENATOR TEMPORARILY HELD UP STOPGAP VOTE HOURS BEFORE SHUTDOWN OVER UKRAINE FUNDING
Real Clear Politics' Mark Hemingway said the statement was a "blatant lie" and deserved to be treated as such.
Other commentators described it as the "worst statement ever" and questioned how Bowman could claim to have set the alarm off by "mistake."
Florida GOP chair Christian Ziegler, the chair of Florida's GOP, noted Bowman was a school principal and argued that his staff was lying. 
Rep. Alexandria Ocasio-Cortez, D-N.Y., also attempted to explain the incident on Sunday during an interview with CNN's Jake Tapper, who said Bowman's explanation made no sense.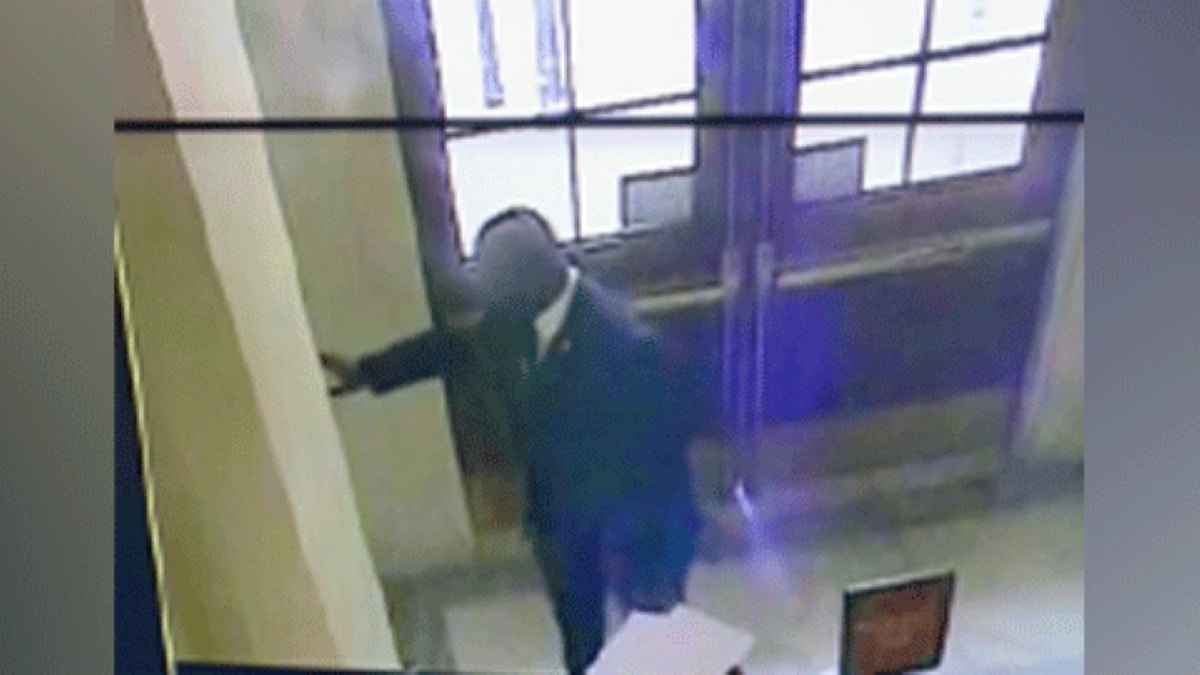 HOUSE ADOPTS 'CLEAN' STOPGAP FUNDING BILL AVERTING SHUTDOWN
"I think there's something to be said that the government's about to shut down, there's a vote clock that's going down, the exits that are normally open in that building were suddenly closed…" Ocasio-Cortez began to explain.
Tapper interjected and asked, "So he pulled the fire alarm?"
Ocasio-Cortez went on to suggest it was just a misunderstanding and said Bowman was cooperating with Capitol police. 
Fox News' Stephen Sorace contributed to this report.