National Geographic spotlights extraordinary photography as 'Pictures of the Year': Here are 10 great shots
National Geographic has released its roundup of the most intriguing photos of 2022.
The brand's "Pictures of the Year" issue showcased stunning photography captured in locations all around the world — and right here in the U.S. as well.
Of a whopping 2,238,899 total photos snapped by NatGeo's team of photographers, 118 were selected as the top shots.
FIVE US DESTINATIONS MADE NATIONAL GEOGRAPHIC'S 'BEST OF THE WORLD' TRAVEL LIST: ARE YOU SURPRISED?
The pictures were taken with the help of 4,000 pounds of gear shipped into the field by NatGeo staff photo engineer Tom O'Brien.
The images capture everything from scenic Mount Everest views to a tapir strolling through Emas National Park in Brazil.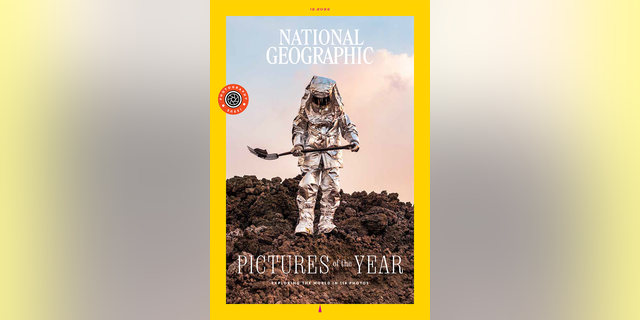 Here are 10 of National Geographic's best photos of the year.
SpaceX Falcon 9 rocket launch over Blue Cypress Lake, Florida
Photographer Mac Stone caught the SpaceX Falcon 9 rocket launching from Cape Canaveral in the early hours of June 19, 2022.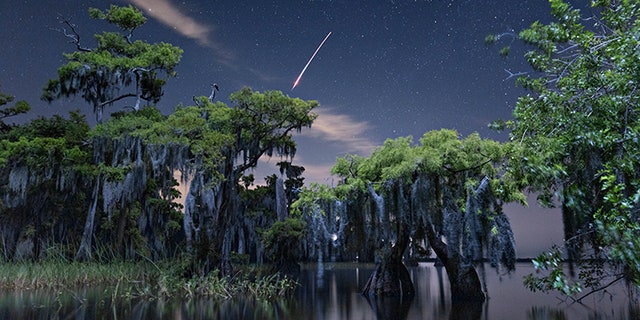 The rocket left a bright streak in the sky over bald cypress trees in Florida's Blue Cypress Lake.
This was the second time a SpaceX rocket snuck into one of Stone's frames while he was photographing at night in a remote swamp, according to National Geographic.
TERRIFYING CLOSE-UP OF AN ANT'S FACE GIVES HORROR MOVIE MONSTERS A RUN FOR THEIR MONEY
Stone said in a statement that the increased frequency of launches without fanfare "suggests that we have crossed over into a new era where cosmic missions are simply business as usual."
'Combined' photo of Bears Ears National Monument, Utah
Photographer Stephen Wilkes told Fox News Digital that he and his team endured rough terrain and windy weather to grab this unique shot of Bears Ears National Monument in Utah.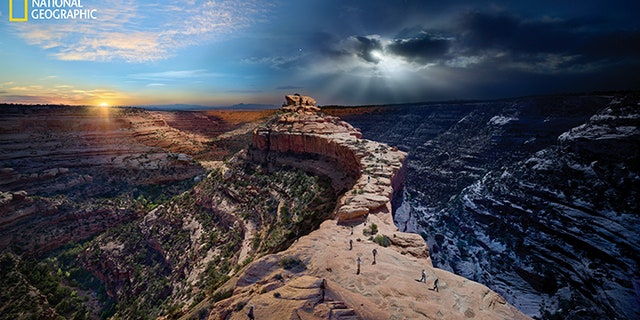 Wilkes took 2,092 photos over 36 hours and combined 44 of them, according to National Geographic, to show the sun, a full moon and the alignment of four planets.
CALIFORNIA CLIMBER LEADS FIRST-KNOWN ASCENT OF ONE OF THE TALLEST CLIFFS ON EARTH
"Beyond the sense of awe and beauty, there's a palpable sense of history with every step you take," he said.
Collecting samples from La Palma's Cumbre Vieja eruption in Canary Islands, Spain 
Spanish military emergency specialist Armando Salazar was photographed collecting samples from the eruption of La Palma's Cumbre Vieja volcanic ridge in Canary Islands, Spain.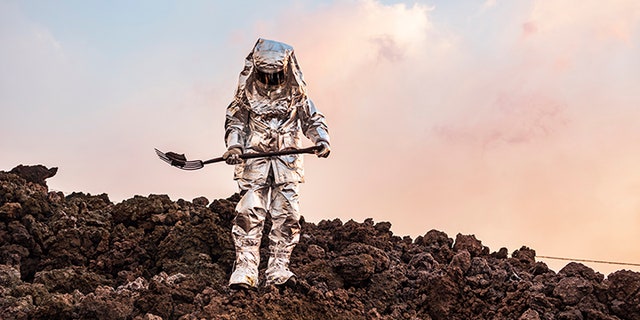 Photographer Arturo Rodriquez snapped a photo of Salazar doing his everyday duty as he steps across sizzling rocks and collects lava on a pitchfork.
Samples from the 2021 eruption can help scientists better understand the 86-day event and the site's potential for future blasts, National Geographic explained.
This photo made the cover of National Geographic's December 2022 "Pictures of the Year" issue.
Blur of tourists at Lincoln Memorial in Washington, D.C.
The Lincoln Memorial, visited by thousands of tourists each year, celebrated its centennial in 2022.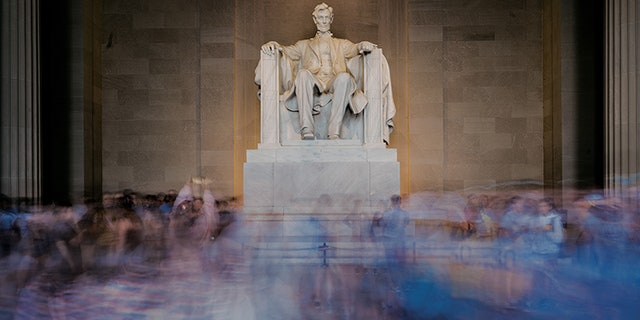 Photographer Sasha Arutyunova captured the hustle and bustle of tourism surrounding Washington, D.C.'s presidential monument made from 38,000 tons of marble, limestone and granite.
The long camera exposure blurs the crowds of different passersby who've treated the monument as a backdrop for protests, prayer vigils and celebrations of all kinds this year.
NORTH CAROLINA OWLS PHOTO WINS TOP PRIZE IN NATIONAL NEIGHBORHOOD PIC CONTEST: SEE OTHER STUNNING ENTRIES
"In using a long exposure, I was trying to capture a feeling of the sea of visitors to the memorial each year, while positioning the Lincoln statue as this steady constant," Arutyunova said.
Mother and daughter shelter from bombings in Przemysl, Poland
Mother-daughter duo, both named Oksana Hapbarova, embrace for a photo taken by photographer Anastasia Taylor-Lind.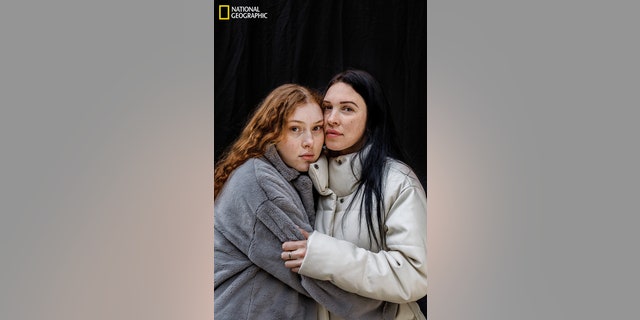 The pair waited out Russian attacks in a Kyiv bomb shelter at the onset of the war in Ukraine.
"For six days in the shelter, I couldn't sleep, because I was scared I would never wake up," the younger Hapbarova said.
Sailing between two icebergs in Greenland
Photographer Renan Ozturk made a risky move when he launched his camera drone from a moving boat to grab this shot.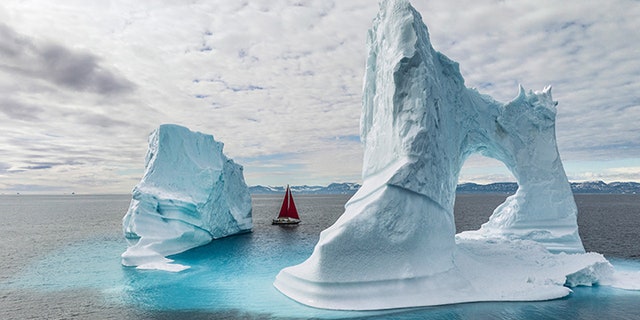 The National Geographic expedition ship Polar Sun was five weeks into its journey when Ozturk went exploring off the coast of Greenland.
As the ship veered between two ice-blue icebergs, Ozturk told National Geographic that he took a chance on getting the photo from the air.
"Launching the drone from a moving boat is always a dangerous and exciting affair," he said. "It was truly a once-in-a-lifetime experience to shoot such a feature."
A tapir beneath a harvest moon in Emas National Park, Brazil
Photographer Katie Orlinsky told Fox News Digital that this vivid shot of a tapir took a lot of patience and pure luck.
The tapir named Preciosa was spotted on a hazy morning under a harvest moon in Brazil's Emas National Park.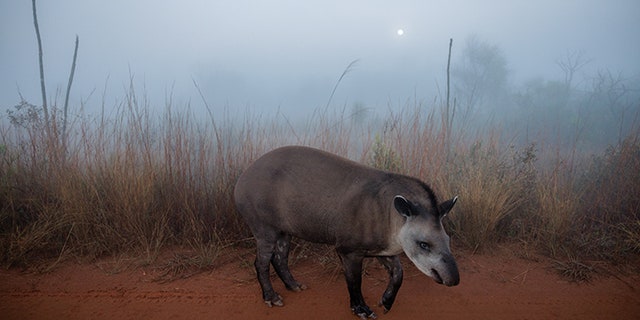 Preciosa wandered down the road as Orlinsky doubted ever spotting her again — but she noted how animals can behave strangely under full moons.
"It was definitely not this tapir's usual route," she told National Geographic.
The tapir species dates back some 50 million years as one of the few survivors of the Ice Age extinctions of megafauna — or really big mammals like mammoths.
STEVE IRWIN-LIKE WILDLIFE ENTHUSIAST SHARES JOY AT FINDING RARE PINE SNAKE IN SOUTH GEORGIA: 'INCREDIBLE'
Today, tapirs like Preciosa help regrow Brazil's degraded forests by eating fruit and spreading seeds, according to NatGeo.
Unfortunately, according to the International Union for Conservation of Nature, all tapir species are either threatened or endangered.
Recording baby brain activity – University of Virginia
Neuroscientists at the University of Virginia recorded the brain activity of nine-month-old Ian Boardman.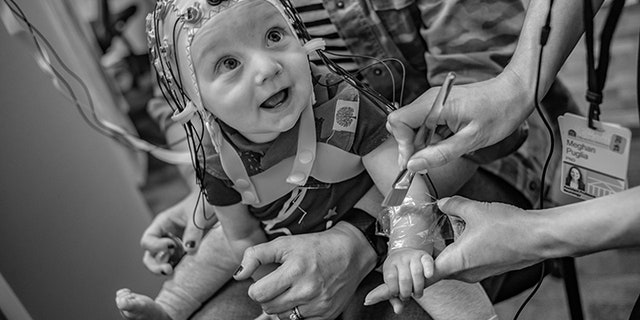 Photographer Lynn Johnson caught the moment in which baby Ian looks up and smiles at a doctor who's brushing his skin to activate nerve fiber responses.
Western Arctic caribou herd in Kobuk River Valley, Alaska
Photographer Katie Orlinsky used a drone to photograph a group of caribou trekking across the Alaskan landscape.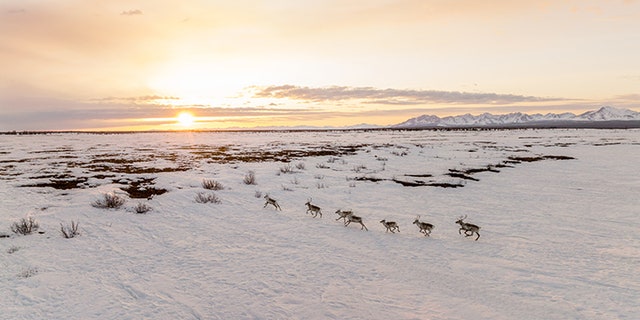 The Western Arctic herd is seen galloping across the Kobuk River Valley near the small town of Ambler, National Geographic reports, during its spring migration.
THREE US DESTINATIONS MAKE LONELY PLANET'S 'BEST PLACES TO VISIT' IN 2023: CAN YOU GUESS THE PICKS?
While caribou populations throughout North America are dwindling, the Western Arctic herd has also been whittled down to a record low of less than 200,000.
Hyenas at night in Masai Mara National Reserve, Kenya
This nighttime photo, taken by photographer Jen Guyton with an infrared camera, catches two hyenas baring teeth — and a little one caught in the middle.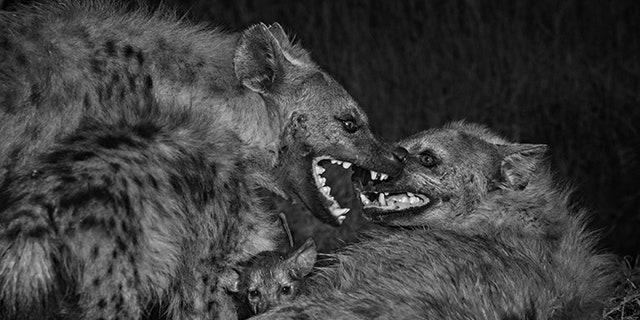 A dominant hyena female — named Moulin Rouge by scientists — towers over a submissive hyena called Palazzo, as Palazzo's cub peers out in between them.
CLICK HERE TO GET THE FOX NEWS APP
The African predators showed their frisky nature, stealing a tripod from Guyton during the shoot.
CLICK HERE TO SIGN UP FOR OUR LIFESTYLE NEWSLETTER
Anyone who would like to see more of this year's best photos from National Geographic can visit its website.
Source: https://www.foxnews.com/lifestyle/national-geographic-spotlights-extraordinary-photography-pictures-of-the-year
D-Day 79 years later: How FDR's powerful prayer united Americans
President Franklin D. Roosevelt trumpeted America's foundation of faith to inspire the nation in its finest hour: D-Day, June 6, 1944. 
"Almighty God: Our sons, pride of our nation, this day have set upon a mighty endeavor, a struggle to preserve our republic, our religion and our civilization, and to set free a suffering humanity," FDR said resolutely on D-Day, leading a prayer that crackled from radios coast to coast and to service members and occupied nations around the globe.
Some Americans believe that his stirring call to spiritual arms can unite the nation once again and pay tribute to the sacrifice and commitment of our military and veterans.
ON THIS DAY IN HISTORY, JUNE 6, 1944, US AND ALLIES INVADE NORMANDY IN GREATEST MILITARY INVASION
"FDR's prayer seemed to bring everybody together," said Chris Long of Akron, Ohio, leader of the D-Day Prayer Project, which installed the prayer permanently at the National World War II Memorial in Washington, D.C. in 2022. "We hope it can speak to generations to come."
Head of the Christian Alliance of America, Long launched the effort in 2011 to get the rousing text of Roosevelt's prayer, all 525 words of it, engraved in perpetuity at the national memorial.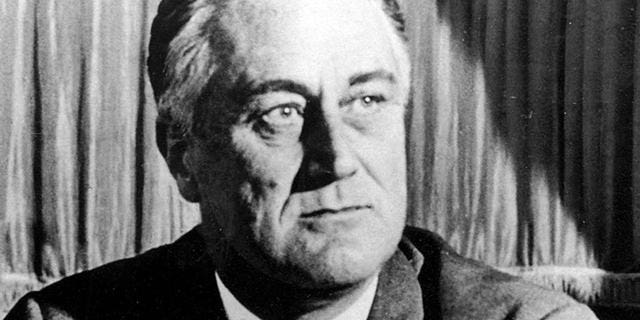 The WWII Memorial Prayer Act, sponsored by Sen. Rob Portman, R-Ohio and Rep. Bill Johnson, R-Ohio, was passed unanimously by the Senate in 2014 and enjoyed overwhelming bipartisan support in the House two weeks later. 
President Obama signed the bill into law on June 30, 2014, but no tax dollars were allotted to the project. 
The permanent memorial features brass plates engraved with the prayer mounted on a granite base. 
Long led a group in 2019, on the 75th anniversary of D-Day, that installed a temporary tablet listing the text of the prayer as a "placeholder," he said, for the future permanent installment within the National World War II Memorial's Circle of Remembrance.
WORLD WAR II'S D-DAY: PHOTOS REVEAL WORLD'S LARGEST AMPHIBIOUS INVASION
Funding for the permanent installment has come in fits and starts from private sources and citizens, most notably a $2 million donation by the Lilly Endowment Inc., said Friends of the National World War II Memorial executive director Holly Rotondi. 
She called the effort "a real labor of love."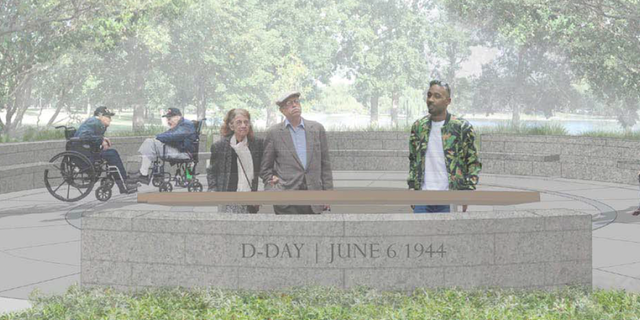 The memorial features brass plates engraved with the prayer mounted on a granite base. 
Spiritual mobilization of Americans
Roosevelt called for the spiritual mobilization of the American people as the massive D-Day invasion force stormed by air and sea into Normandy, France. 
The U.S. and the Allies landed 160,000 troops in France on the first day alone. The effort was supported by tens thousands of other members of the multinational armed forces who manned warships and aircraft.
The young lives of every soldier, sailor and airman hung upon the outcome of the invasion. 
The nation awoke on June 6, 1944, to learn that its heroic youth crawled from the sea and fell from the sky overnight in an effort to wrest an enslaved Europe from Hitler's clutches. 
Americans knew that the young lives of every soldier, sailor and airman, along with the fate of the free world, hung upon the outcome of the invasion.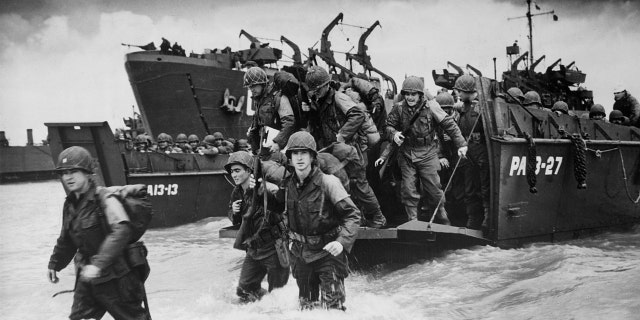 Roosevelt steeled frightened mothers and fathers, and a worried but determined nation, for the shocking human cost to come. 
"Men's souls will be shaken with the violences of war," the president said soberly.
MEET THE AMERICAN WHO HONORS THE MEMORY OF 200,000 FALLEN WAR HEROES
"Some will never return," he said. "Embrace these, Father, and receive them, Thy heroic servants, into Thy kingdom … I ask that our people devote themselves into a continuance of prayer … And, O Lord, give us faith. Give us faith in Thee; faith in our sons; faith in each other; faith in our united crusade."
"Men's souls will be shaken with the violences of war." — FDR 
More than 4,400 Americans were killed on D-Day alone, according to figures from the National D-Day Memorial in Bedford, Virginia. 
By the time the battle for Normandy was won in August 1944, as many as 29,000 American troops were dead and more than 100,000 were wounded or missing in action. 
The president wrote the prayer himself, with the help of his daughter Anna and her husband John Boettiger, according to the Franklin Delano Roosevelt Presidential Library and Museum in Hyde Park, New York.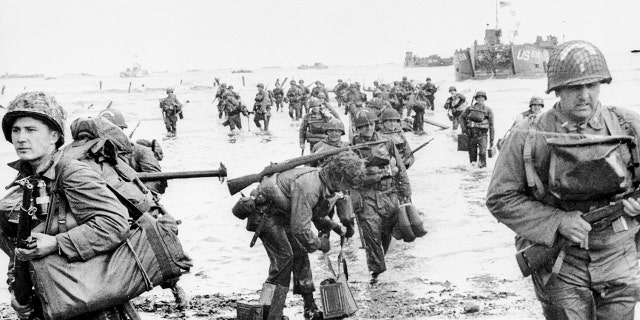 FDR could be heard shuffling the pages as he delivered the address on June 6. 
An estimated 100 million people worldwide heard Roosevelt's plea over the airwaves, said Long of the D-Day Prayer Project, including many of those living in fear in Nazi-occupied Europe.
'Friends and salvation'
"The best part about the invasion is that I have the feeling that friends are on the way," young Anne Frank wrote hopefully in her diary on June 6, while secreted away amid a "huge commotion in The Annex" of an Amsterdam apartment, as BBC news of the landings crackled over the radio. 
"The thought of friends and salvation mean everything to us!"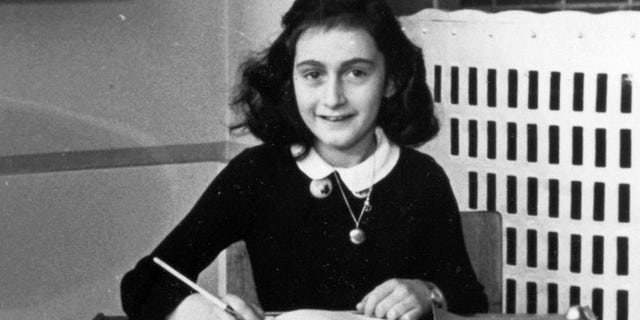 The 1959 Oscar-winning Hollywood version of the Jewish teen's tragic story shows the Frank family and other residents of The Annex singing and dancing joyously in celebration of the D-Day landings. 
Then they huddled around a concealed radio as Roosevelt's prayerful voice invoked "Almighty God" and delivered hope into their hidden little corner of Holland. 
D-DAY BATTLE SITES EVERY AMERICAN SHOULD SEE AS EPIC INVASION FASCINATION DRAWS MILLIONS TO NORMANDY 
"We'll need to be brave and endure the many fears and hardships and the suffering yet to come," the teenager wrote that day, her entry eerily echoing the words of promise and the warnings of reality that the American president shared in his global address. 
Americans by the millions instinctively responded to the news of the D-Day invasion by flooding churches and synagogues.
Several sources called FDR's faith-filled entreaties that day and the resulting response the largest mass prayer in human history. 
The text of it was reported the next day on the front page of almost every newspaper in America. 
The New York Times published the prayer, dutifully transcribed word for word, on its front page on June 7 under a dramatic scripted Gothic headline, "Let Our Hearts Be Stout."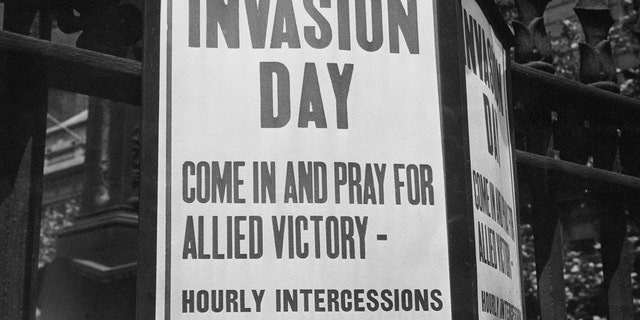 Americans by the millions instinctively responded to the news of the D-Day invasion by flooding their churches and synagogues.
"The impulse to pray was overwhelming," wrote author Stephen Ambrose in his book, "D-Day, June 6, 1944: the Climactic Battle of World War II." 
"Across the United States and Canada church bells rang … as a solemn reminder of national unity and a call to formal prayer. Special services were held in every church and synagogue in the land. Pews were jammed with worshippers," he wrote.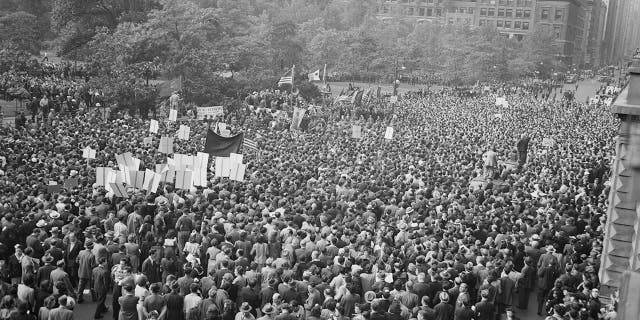 Mayor Fiorello LaGuardia of New York City hosted an impromptu prayer service on D-Day before a crowd estimated as large as 50,000 people in Madison Square Park in Manhattan. 
The bells of the historic Old North Church in Boston rang that morning, while schoolchildren "recited the Lord's Prayer in every classroom in Massachusetts," The Boston Herald reported that day. 
"The impulse to pray was overwhelming." — Stephen Ambrose
The Liberty Bell in Philadelphia rang for the first time in 109 years, among countless other chimes of support across the nation. 
"Philadelphia Mayor Bernard Samuel tapped the bell … sending its voice throughout the country," wrote Ambrose. "Then he offered a prayer."
Churches and synagogues opened around the clock to handle the flood of Americans seeking strength, comfort and unity in the pews of their houses of worship.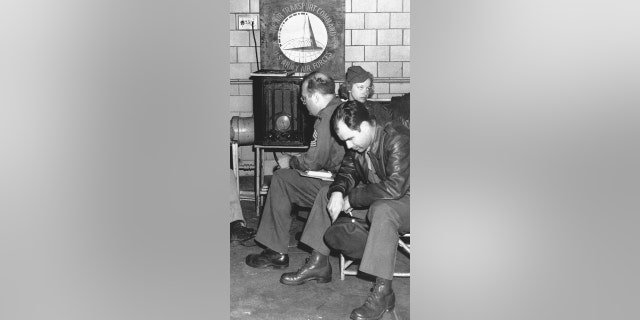 It's notable that D-Day was a Tuesday, not a typical day of church services, and the date of the invasion was a carefully guarded secret. 
Still, Americans awoke that morning, heard the news and reflexively rallied around their faith.
"Led by President Roosevelt, the entire country joined in solemn prayer yesterday for the success of the United Nations armies of liberation," wrote reporter Laurence Resner in a front-page story on The New York Times on June 7, 1944. 
D-DAY: EVERYTHING YOU NEED TO KNOW ABOUT THE HISTORIC WWII BATTLE
The newspaper's embrace of America's spiritual foundations wrapped around its editorial pages that day, too.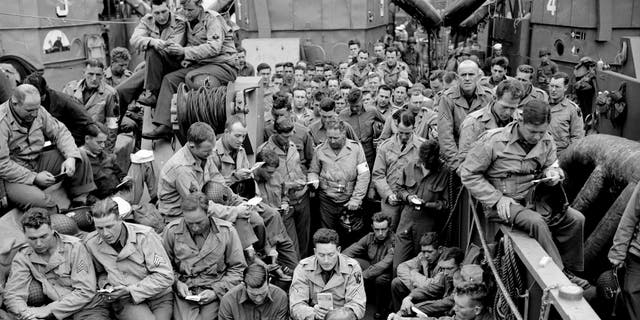 "This nation was born in the only revolution in history made in the name of God. It was born of the conception that the rights of man … are given him by God as the inalienable birthright of the human being," wrote The Times editorial board, led by Arthur Hays Sulzberger, great-grandfather of the outlet's current chairman, A.G. Sulzberger, on June 7. 
The editorial appeared under the headline, "Let Us Pray."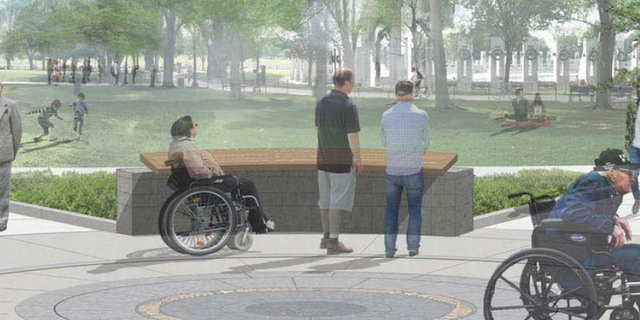 It continued: "We pray for the boys … we pray for our country … the cause prays for itself, for it is the cause of the God who created men free and equal."
Said Roosevelt to America, "Help us, Almighty God, to rededicate ourselves in renewed faith in Thee in this hour of great sacrifice."
'Need the same continuance of prayer' 
Long of the D-Day Prayer Project said he awoke one morning more than a decade ago, turned to his wife and told her of his idea of have the president's appeal to the faith of the American people etched for eternity at the nation's capital.  
He said he hopes the FDR prayer memorial can help bring the nation together in faith once again. 
CLICK HERE TO SIGN UP FOR OUR LIFESTYLE NEWSLETTER
As a sign of his hope, he cited the bipartisan support the bill received in 2014, allowing the project at the federal memorial to move forward. 
"I think it's true right now that the nation is in turmoil," said Long. 
CLICK HERE TO GET THE FOX NEWS APP
"This is a time when we need the same continuance of prayer that Roosevelt asked for on D-Day," he also said. 
"Not one prayer, but a continuance of prayer."
AI may have an 'eye' on growing babies: Could predict premature birth as early as 31 weeks
About 10% of all infants born in the U.S. in 2021 were preterm — which means they were delivered earlier than 37 weeks of pregnancy, per the Centers for Disease Control and Prevention (CDC).
Preterm births also make up about 16% of infant deaths.
Now, researchers from Washington University in St. Louis, Missouri, are looking to improve those odds through the use of artificial intelligence. 
They developed a deep learning model that can predict preterm births by analyzing electrical activity in the woman's uterus during pregnancy — then they tested the model in a study that was published in the medical journal PLOS One.
AI TOOL HELPS DOCTORS MAKE SENSE OF CHAOTIC PATIENT DATA AND IDENTIFY DISEASES: 'MORE MEANINGFUL' INTERACTION
"The key takeaway is that it is possible to take data as early as the 31st week and predict preterm birth up to the 37th week" — which surprised the researchers, Arye Nehorai, PhD, professor of electrical engineering at Washington University in St. Louis, told Fox News Digital.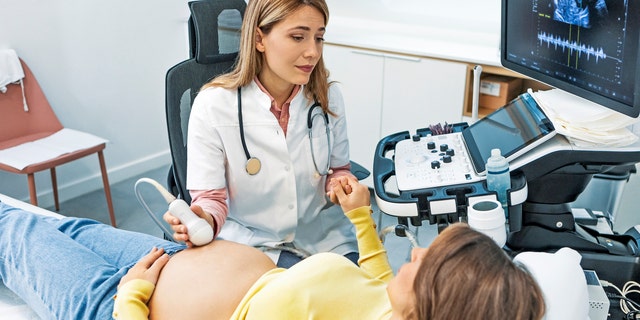 "The AI/deep learning automatically learned the most informative features from the data that are relevant to the prediction of preterm birth," he added.
Additionally, the findings indicate that preterm birth is an abnormal physiological condition, not just a pregnancy that happened to end early, Nehorai said.
During the study, the researchers performed electrohysterograms (EHGs), which use electrodes on the abdomen to record electrical activity in the uterus. 
They took recordings of these electrical currents from 159 pregnant women who were at least 26 weeks along and "trained" the AI model on that data.
RUPTURED BRAIN ANEURYSM LANDS SOCIAL MEDIA INFLUENCER IN MEDICALLY INDUCED COMA AFTER EMERGENCY C-SECTION
They combined this data with medical information such as the woman's age and weight, the fetal weight and any bleeding experienced in the first or second trimester.
Nearly 19% of the women in the study delivered preterm. In theory, the data from those women could be used as a benchmark for predicting premature birth.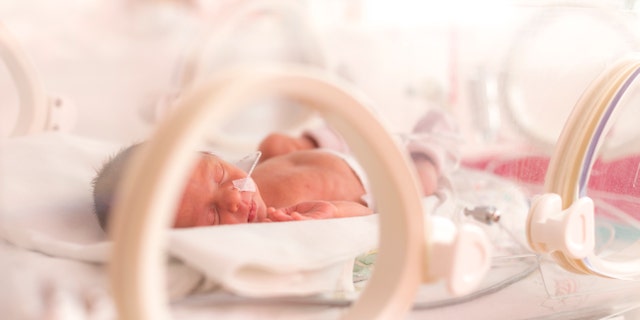 "The advantage of our approach is that is inexpensive to build," said Nehorai of the new research. "Our model was effective in prediction with shorter EHG recordings, which could make the model easier to use, more cost-effective in a clinical setting and possibly usable in a home setting." 
Looking ahead, the researchers believe that this method should be adopted by hospitals and obstetricians as part of women's regular pregnancy check-ups. It would then allow pregnant women to seek care and make lifestyle changes to protect the health of their baby as needed. 
"Our work contributes to the goal of using EHG measuring devices for accurately predicting preterm birth."
"A device dedicated to implementing our method should be built for this purpose," said Nehorai.
It is hard to say how long it might be before this kind of test becomes widely available, the researchers said.
"There are some EHG measuring devices already in the market — however, it has been challenging to predict preterm births from the EHG data," said Uri Goldsztejn, a PhD candidate in the department of biomedical engineering working under the supervision of Professor Nehorai at Washington University.
NEW AI 'CANCER CHATBOT' PROVIDES PATIENTS AND FAMILIES WITH 24/7 SUPPORT: 'EMPATHETIC APPROACH'
"Our work contributes to the goal of using EHG measuring devices for accurately predicting preterm birth," he told Fox News Digital.
EHG measurements usually take between 30 and 60 minutes, with additional time required for setting the device on the mother's abdomen, noted Goldsztejn.
"We showed that predictions could be made based on shorter EHG measurements, of under five minutes, without reducing the prediction accuracy too much," he told Fox News Digital. "This finding is significant, since the prolonged duration of EHG measurements is an important limitation for its adoption in clinical settings."
'Promise' of deep learning — but caveats
Dr. Suzy Lipinski, a board-certified OB/GYN at Pediatrix Medical Group in Denver, Colorado, was not involved in the study but shared her input on whether the deep learning technology could help solve the problem of preterm birth in the U.S.
"Being able to predict who is at risk before they present in labor would be highly beneficial," Lipinski told Fox News Digital. "The use of a deep learning model seems to hold promise; however, this study has a relatively small number of patients, so it cannot be determined how applicable this is to a larger population."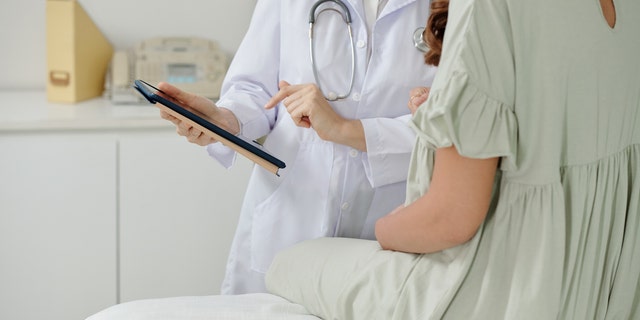 "Prior studies using AI have not shown great reliability, so this will need more studies and larger patient populations before we start using this method," she added.
Another potential limitation is that very few places use EHG measurements, the doctor pointed out. 
"The standard in most hospitals and offices is to use a tocodynamometer, which measures pressure, not electrical," she explained.
OZEMPIC, WEGOVY AND PREGNANCY RISK: WHAT YOU NEED TO KNOW ABOUT THE ISSUE
If EHG becomes the way to evaluate for preterm birth, then hospitals, birth centers and offices would all have to purchase new equipment, which could delay adoption in low-resource areas such as rural and inner cities, Lipinski said. 
"A higher rate of preterm birth in this study than the national average also raises questions about the applicability," she told Fox News Digital. "No demographics were given about the patient population, so there is no way to see how it reflects the population of the entire country."
"Being able to predict who is at risk before they present in labor would be highly beneficial."
There is also the chance of false positives, Lipinski pointed out.
"While this method does predict better than our current methods, there are still many patients that will be identified as at-risk that may not have a preterm birth," she said. "This false positive result will cause a large burden of stress on the patient, as well as increased utilization of health care resources."
If and when this becomes the new standard of care, Lipinski said, there would need to be improved treatments for preterm labor. 
"Our issues with preterm birth are two-fold: We have poor prediction, but also poor prevention options after 26 weeks," she added.
Researchers share study's main limitations
The study has two main limitations, according to Goldsztejn.
"First, we developed our work using around 160 samples from two public datasets," he said. "Although this amount of data was sufficient for our initial investigation, a far larger dataset would be required for developing and validating a medical product."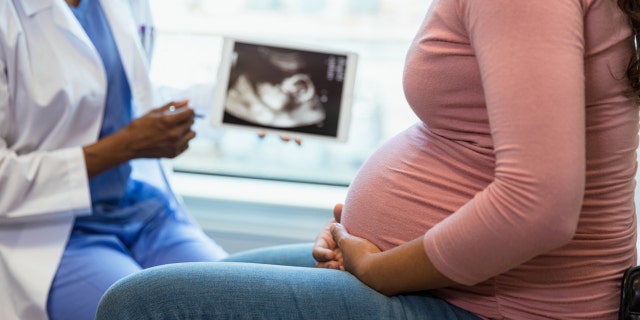 The second limitation comes from the nature of deep learning, which can produce accurate results but is usually hard to interpret, Goldsztejn said. 
"In other words, it is challenging to understand how the algorithm makes predictions," he explained.
CLICK HERE TO SIGN UP FOR OUR HEALTH NEWSLETTER
In a discussion of the findings in the medical journal, the authors noted that "although machine learning algorithms can contribute to improving health care and much research is yielding advances in this field, important challenges remain."
"A far larger dataset would be required for developing and validating a medical product."
Among those challenges: It can be difficult to identify the causes behind the algorithm's predictions, the researchers wrote.
CLICK HERE TO GET THE FOX NEWS APP
"In our case, although our predictions could influence pregnancy management, our predictions would need to be supplemented with additional medical examinations to determine which therapies are more likely to reduce the risk of preterm birth and improve its outcomes," the researchers also said. 
'Terrifying': Massachusetts man banned from Facebook after sharing cryptic letter about democracy's demise
A Massachusetts man helped fuel one of the biggest digital dust-ups and social-media mysteries of recent years. 
And after he did — Chad Jones then experienced the "terrifying" power of Big Tech titans to silence the voices of ordinary Americans. 
He's now doubling down on his efforts to speak out against tyranny in the digital town square and beyond. 
AI HAS POWER TO 'MANIPULATE' AMERICANS, SAYS SEN. JOSH HAWLEY, ADVOCATES FOR RIGHT TO SUE TECH COMPANIES
"I went MIA on social media for a while for sharing some pretty innocuous things," Jones, a venture investor working to bring alternative energy to impoverished nations around the world, told Fox News Digital in an interview. 
"The idea that they're stifling voices as part of the normal course of business is terrifying."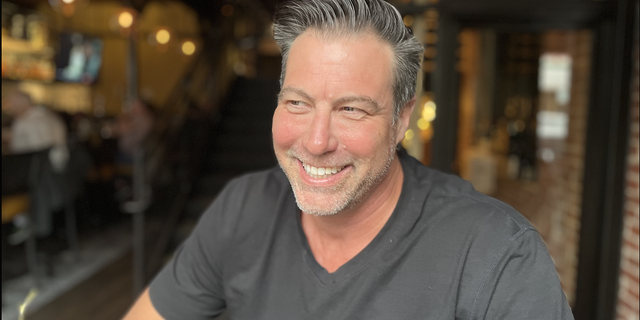 The social-media soap opera began in 2022 when Jones, originally from California, posted on his personal Facebook page a cryptic letter allegedly written in December 2021 by an 85-year-old retired California judge, Keith M. Alber. 
The letter claimed that the current endangered state of American democracy was predicted with frightening accuracy in the 1950s. 
The judge's shocking claim spawned a frenzied reaction on social media. 
"The idea that they're stifling voices as part of the normal course of business is terrifying."
"My first year of college was 68 years ago," Alber wrote in a brief letter to The Epoch Times in December 2021. 
"One class I took was political science. A half-page of my textbook essentially outlined a few steps to overturn democracy." 
Alber's letter enumerated those steps: "1) Divide the nation philosophically. 2) Foment racial strife. 3) Cause distrust of police authority. 4) Swarm the nation's borders indiscriminately and unconstitutionally. 5) Engender the military strength to weaken it. 6) Overburden citizens with more unfair taxation. 7) Encourage civil rioting and discourage accountability for all crime. 8) Control all balloting. 9) Control all media."
The judge's letter struck home with many readers, including Jones — who felt the textbook from decades ago predicted the crisis of democracy that the nation faces today.
It also spawned heated debate online — with members of each end of the American political spectrum claiming the other side was responsible for the fascist dystopia outlined by the judge.
Many people, however, doubted the authenticity of the letter, especially with the judge's failure to cite the name of the textbook. 
TRUMP ISSUES STATEMENT AFTER META ANNOUNCES END OF 2-YEAR FACEBOOK BAN, ALLOWING HIM TO RETURN TO PLATFORM
Snopes.com weighed in, claiming last May that it talked to Alber and that the letter was authentic. Alber died later last year. 
But, the outlet wrote, "One of the more popular postings of the article came from a Facebook account named Chad Jones. As of mid-May 2022, that post had been shared more than 11,000 times."
Jones was unaware that his post had gone viral until Fox News Digital contacted him last week. 
"The silent majority is no longer silent like they used to be."
Meta blocked him from his Facebook account soon after he posted the letter. He couldn't get access to the post, even as it continued to ignite thousands of responses. 
"When I looked at the letter, it really struck me as a variation of Saul Alinsky's 'Rules for Radicals,'" said Jones when asked what prompted him to share the letter.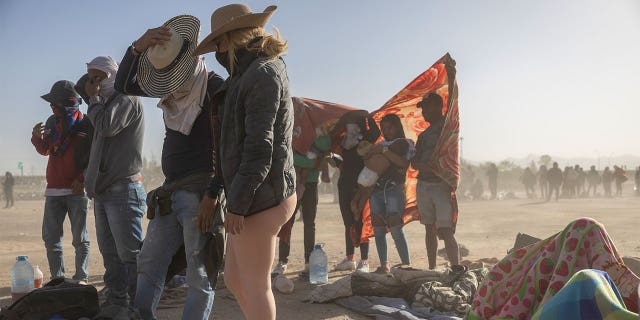 "The whole basis is to tear down our system and build something new and different, something not aligned with our traditional American concepts of individual freedom and personal liberty."
Thousands of people agreed with Jones; thousands more did not. 
It appeared to be a vigorous public debate. 
Yet Jones was silenced for sharing the letter that spawned the discourse and the entire post itself has disappeared since.
THE HOLY TRINITY IS A 'SUPERNATURAL CONCEPT' THAT LEADS TO SALVATION, VIRGINIA PASTOR SAYS
Jones reemerged on Facebook months later with an alternate account.
"It seems that silencing voices in the electronic town square falls right in line with what Alber wrote about," said Jones. 
Meta blocked Jones from his Facebook account … He couldn't access the post – even as it continued to ignite thousands of responses.
He said the experience has only stiffened his resolve to speak out on social media and other platforms. 
He feels that "millions of Americans" learned the same lesson when they were silenced for daring to challenge Anthony Fauci, the federal government and media during the COVID-19 panic.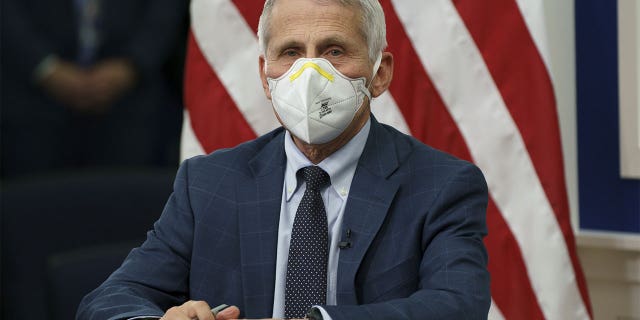 "The silent majority is no longer silent like they used to be," said Jones.
MOST ADULTS ARE DECLINING COVID BOOSTERS AS CDC WARNS OF HEALTH RISKS: 'RELATIVELY LITTLE PROTECTION' 
"They're no longer willing just to take their opinions silently to the voting booth. There are millions of us out there now fighting the effort to silence debate."
CLICK HERE TO SIGN UP FOR OUR LIFESTYLE NEWSLETTER
Jones uses Facebook only socially, he said. So he didn't suffer any financial or business distress. But he lost plenty personally. 
CLICK HERE TO GET THE FOX NEWS APP
"The one thing I do miss are the pictures, the memories, the reunion photos. I can't get back any of it. That kind of sucks," he said.
"It's all a little scary because I have kids. What kind of world will they be inheriting if we don't fight back?"