Nancy Pelosi told Emmanuel Macron that she crushes a hotdog every day on Capitol Hill
House Speaker Nancy Pelosi revealed her habit of eating a hot dog in the House Democratic cloakroom every day to French President Emmanuel Macron last week.
Pelosi made the comment during a Friday state dinner at the White House in a conversation with Macron and his wife, as well as President Biden and First Lady Jill Biden. Pelosi's daughter, Alexandra Pelosi, was also reportedly in attendance and turned the conversation toward American cuisine, according to The New York Times.
The younger Pelosi reportedly pressed Biden to reveal his favorite American staples.
"He said: 'Hot dogs, ice cream and spaghetti,'" Alexandra said. She then reported that her mother had jumped in to say she eats a hot dog on Capitol Hill every day. Macron and his wife reportedly appeared puzzled at the comment.
EUROPEAN OFFICIALS SAY US PROFITING FROM UKRAINE WAR, CALL INFLATION REDUCTION ACT 'VERY WORRYING'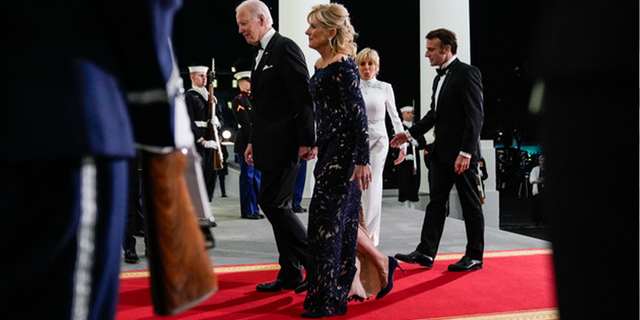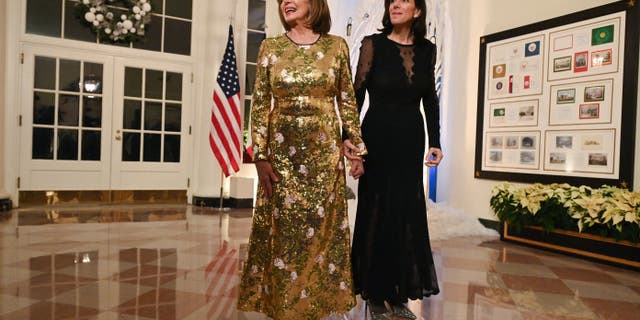 RUSSIA ACCUSES US OF 'DIRECT' PARTICIPATION IN UKRAINE WAR, BUT LAVROV OPEN TO TALKS
Biden went on to stay up late with the guests of honor, however, with the president reportedly sipping on cans of pop and chatting with Macron until nearly 1:00 a.m.
The state dinner came in honor of Macron's multi-day visit to the U.S., during which he and Biden reaffirmed the close friendship between the U.S. and France.
The pair held a joint press conference on Thursday detailing shared not only goals but also a few points of difference. Macron and other European leaders expressed frustration with Biden's Inflation Reduction Act, which they say could negatively impact Europe's economy.
While Biden made no apologies for the legislation, he did acknowledge some changes could be made. White House officials have insisted that the Inflation Reduction Act is not undermining the president's promise to Europe that "America is back" as a reliable ally.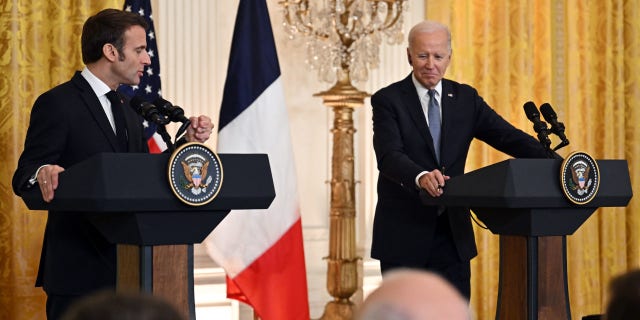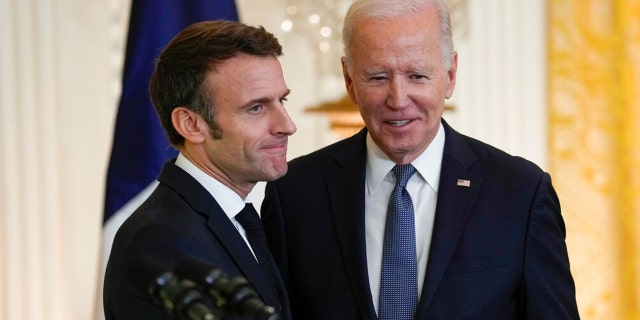 CLICK HERE TO GET THE FOX NEWS APP
"There's a lot we can work out, but the essence of it is we're going to make sure that the United States continues, and just as I hope Europe will be able to continue, not to have to rely on anybody else's supply chain. We are our own supply chain. And we share that with Europe and all of our allies. And they will, in fact, have the opportunity to do the same thing," Biden said Thursday.
Source: https://www.foxnews.com/politics/nancy-pelosi-told-emmanuel-macron-she-crushes-hotdog-every-day-capitol-hill
Biden vetoes bill cancelling his $400 billion student loan handout, vows he's 'not going to back down'
President Biden on Wednesday vetoed the bill that would have scrapped his $400 billion student loan handout and vowed he wasn't "going to back down" when it came to forgiving the college debt of millions across the country.
"Folks, Republican in Congress led an effort to pass a bill blocking my administration's plan to provide up to $10,000 in student debt relief and up to $20,000 for borrowers that received a Pell Grant. Nearly 90% of those relief dollars go to people making less than $75,000 a year," Biden said in a video posted on Twitter. 
"I'm not going to back down on my efforts to help tens of millions of working and middle class families. That's why I'm going to veto this bill," he said. 
AOC SAYS SUPREME COURT 'CORRUPTION' WILL KILL BIDEN STUDENT LOAN HANDOUT
Amid his railing against Republicans, Biden made no mention of the two Democratic senators, Joe Manchin, D-W.Va., and Jon Tester, D-Mont., who joined all Republicans in voting to advance the bill last week. Independent Arizona Sen. Kyrsten Sinema also voted in favor with the final tally coming to 52-46.
Biden also made no mention of Rep. Jared Golden, D-Maine, and Rep. Marie Gluesenkamp Perez, D-Wash., who joined Republicans in voting for the bill in the House of Representatives. The final House vote tally was 218-203.
The president went on to say that some of the members who voted for the bill had "personally received loans to keep their small business afloat during the pandemic," and supported "huge tax cuts for corporations and the wealthy." 
CHRIS CHRISTIE RIPS 'JUVENILE,' 'BABY' TRUMP AFTER FORMER PRESIDENT TARGETS HIM WITH FAT JOKES: 'LIKE A CHILD'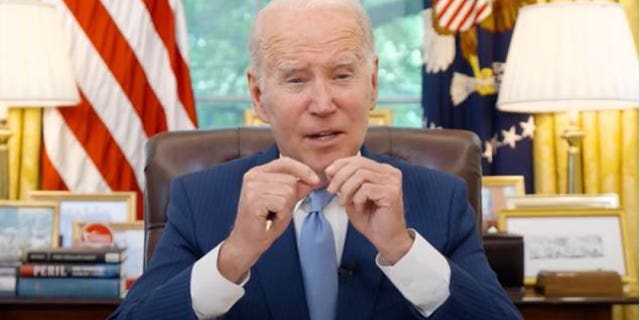 "But when it comes to hardworking Americans trying to get ahead, dealing with student debt relief, that's where they drew the line. I think it's wrong," he said.
"Let me make something really clear, I'm never going to apologize for helping working and middle class Americans as they recover from this pandemic. Never," he added before signing his veto of the bill.
Biden's veto of the bill marks his fifth veto since taking office.
Under the program announced last year, Biden said he would cancel up to $10,000 in student loans for people making less than $125,000, and up to $20,000 for students who received Pell Grants. That program was expected to cost the government more than $400 billion in lost debt repayment, but the program was put on hold after a court blocked it.
BIDEN JOINS AOC IN LINKING CANADIAN WILDFIRES TO 'CLIMATE CRISIS'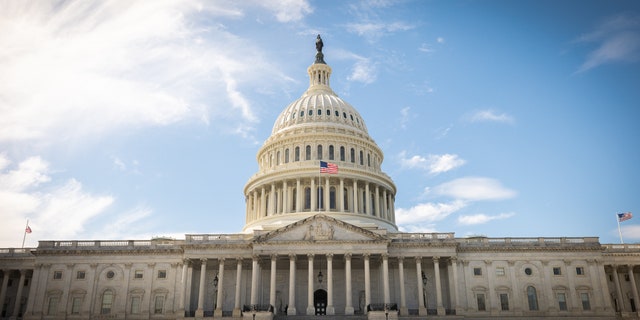 The resolution approved by the House and Senate was written under the Congressional Review Act, which lets Congress reject an executive branch policy as long as both the House and Senate pass a resolution disapproving of that policy.
Given the mostly partisan nature of the votes in the House and Senate, it's unlikely Congress will be able to find the two-thirds majority needed in each chamber to override Biden's veto.
CLICK HERE TO GET THE FOX NEWS APP
Fox News' Peter Kasperowicz contributed to this report.
Michigan man pleads guilty to assisting Whitmer kidnapping scheme
A man accused of aiding a plot to kidnap Michigan's governor pleaded guilty Wednesday, the ninth conviction in state and federal courts since agents broke up an astonishing scheme by anti-government rebels in 2020.
Shawn Fix said he provided material support for an act of terrorism, namely the strategy to snatch Gov. Gretchen Whitmer at her vacation home in Antrim County. Prosecutors agreed to drop a weapon charge.
Fix trained with a militia, the Wolverine Watchmen, for "politically motivated violence," prosecutors have said, and hosted a five-hour meeting at his Belleville home where there was much discussion about kidnapping Whitmer.
MICHIGAN MAN CHARGED WITH AIDING WHITMER KIDNAPPING PLOT TO CHANGE PLEA
Fix, 40, acknowledged helping plot leader Adam Fox pinpoint the location of Whitmer's home, key information that was used for a 2020 ride to find the property in northern Michigan.
"Guilty," Fix told the judge.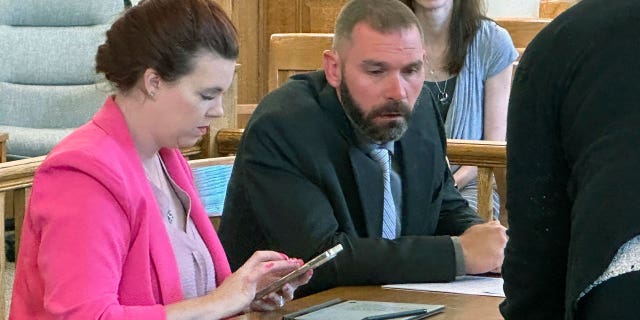 He appeared in an Antrim County court, one of five people charged in that leg of the investigation. A co-defendant pleaded guilty to a lesser charge in March, leaving three other men to face trial in August.
Fix, who faces a maximum penalty of 20 years in prison, agreed to testify if called by prosecutors.
The main kidnapping conspiracy case was handled in federal court, where four men, including ringleaders Fox and Barry Croft Jr., were convicted. Two others were acquitted.
WISCONSIN MAN CHARGED IN WHITMER KIDNAPPING PLOT TO CHANGE PLEA
Separately, three men were convicted at trial in Jackson County, the site of militia training, and are serving long prison terms.
Whitmer, a Democrat, was targeted as part of a broad effort by anti-government extremists to trigger a civil war around the time of the 2020 presidential election, investigators said. Her COVID-19 policies, which shut down schools and restricted the economy, were deeply scorned by foes.
But informants and undercover FBI agents were inside the group for months, leading to arrests in October 2020. Whitmer was not physically harmed.
CLICK HERE TO GET THE FOX NEWS APP
After the plot was thwarted, Whitmer blamed then-President Donald Trump, saying he had given "comfort to those who spread fear and hatred and division." Last August, after 19 months out of office, Trump called the kidnapping plan a "fake deal."
Utah Rep. Chris Stewart to step down from Congress in September
U.S. Rep. Chris Stewart, R-Utah, on Wednesday officially submitted his letter of resignation from Congress. 
In a letter to Utah Gov. Spencer J. Cox, Stewart said he would be stepping down as a member of the U.S. House of Representatives effective Sept. 15.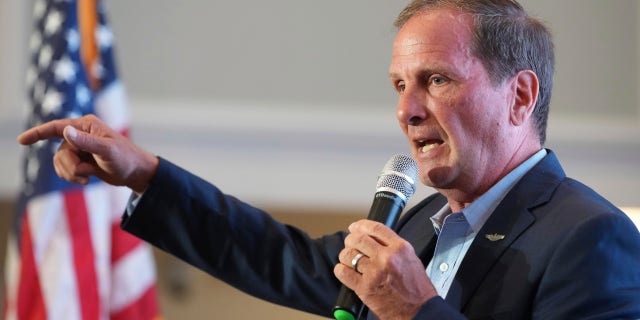 "It has been one of the great honors of my life to serve the good people of Utah in Congress," Stewart said.
Stewart, a six-term lawmaker, announced his plans to leave Congress last month due to his wife's illness. 
His resignation would leave open a Republican seat on the House Appropriations and Intelligence committees — and reduce an already narrow GOP majority to just four seats.
FBI WILLING TO ALLOW ALL HOUSE OVERSIGHT COMMITTEE MEMBERS TO VIEW BIDEN DOC ALLEGING CRIMINAL SCHEME: SOURCE
Utah law states that the governor must call for a special election in the event of a House vacancy. Once Stewart makes his resignation official, Republican Gov. Spencer Cox will have seven days to set the time for a primary and special election. 
The law requires those dates to be the same as municipal primary and general elections scheduled for this year, unless the state legislature appropriates funds to hold a separate election.
CLICK HERE TO GET THE FOX NEWS APP
Though Stewart's departure will mean one less Republican in the U.S. House of Representatives, it is not expected to affect House Speaker Kevin McCarthy's ability to steer a tight Republican majority. 
The district is reliably Republican and Stewart defeated a Democratic challenger by more than 30 percentage points in 2022.
Fox News' Chris Pandolfo contributed to this report.