Massachusetts Democrat resigns following backlash for comments about abortion and special needs children
Michael Hugo resigned as the chair of the Framingham Democratic Committee in Massachusetts on Thursday following weeks of backlash for complaining about the cost of special needs education for children who are not aborted.
"I have apologized profusely too many times, but it seems obvious to all objective observers that there is something unusual about this particular crisis, in that it has an extraordinary life," Hugo wrote in an email to the committee and obtained by Fox News. "Time will tell as to why this has become a – literally – international story, and why it has been amplified by the Chair of the Ashland Republican Committee."
He also said in his Thursday email that he made his decision after conversations with his wife and the Massachusetts state Senate President Karen Spilka, a fellow Democrat.
PARENTS PROTEST DEM WHO COMPLAINED ABOUT COST FOR NON-ABORTED DISABLED KIDS. WATCH:
WATCH MORE FOX NEWS DIGITAL ORIGINALS HERE
On Feb. 7, the Framingham City Council held a discussion regarding access to abortion and crisis pregnancy centers in Framingham. Hugo delivered a statement that said he was concerned over unborn babies with defects being misdiagnosed and becoming a strain on the city's school budget if born.
"That becomes a very local issue because our school budget will have to absorb the cost of a child in special education, supplying lots and lots of special services to the children who were born with the defect," Hugo said at the Feb. 7 meeting.
MOTHERS SHARE HOW CRISIS PREGNANCY CENTERS HELPED THEM WALK AWAY FROM ABORTION: 'HUGE ENLIGHTENMENT'
Just ahead of Hugo's resignation, Spilka called for Hugo to step down in a public statement given to the Framingham Source. She called his comments "egregious and totally unacceptable."
"As the sister and long-time legal guardian of a sister with Down Syndrome, I have dedicated my career to advocating for the rights and dignity of persons with disabilities, and my life to raising awareness of the challenges they face and the opportunities they deserve," she wrote. "It is in the best interest of the community that he steps aside."
MA REPUBLICAN GOVERNOR CHARLES BAKER SIGNS BILL PROTECTING ABORTION RIGHTS
On Feb. 26, the Framingham Democratic Committee voted down a motion to include a discussion about potentially removing Hugo at a future meeting, but voted unanimously to condemn his remarks.
Following the meeting, Hugo praised the vote, saying the members "heeded the call for furthering our commitment to the common good." He thanked them for their "understanding and empathy."
Parents, meanwhile, protested Hugo outside city hall on Tuesday night before a city council meeting. 
MASSACHUSETTS DEMOCRAT'S 'EUGENIC VIEW' ON SPECIAL NEEDS KIDS BLASTED BY ACTIVISTS: 'PRENATAL EXECUTION'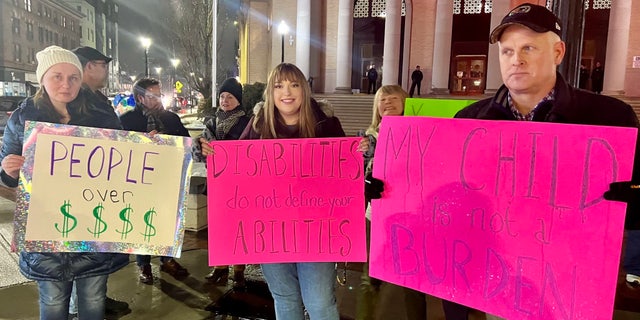 CLICK HERE TO GET THE FOX NEWS APP
Hugo, who initially planned to attend the meeting but confused the date, said he was unable to attend because he was at a dinner reception with senators and members of Congress.
To learn more about the backlash to Hugo, click here.
Source: https://www.foxnews.com/politics/massachusetts-democrat-resigns-following-backlash-comments-abortion-special-needs-children
Lawmaker says his state may need to 'divorce' from USDA over this ingredient in school lunches
A state lawmaker is aiming to "divorce" Iowa from federal regulations to ban margarine and vegetable public school meals over health concerns.
"Seed oils and margarine are wreaking havoc on the health of our children," Iowa state Rep. Jeff Shipley told Fox News. "Fake industrial fats like margarine are connected to a myriad of mental and physical illness."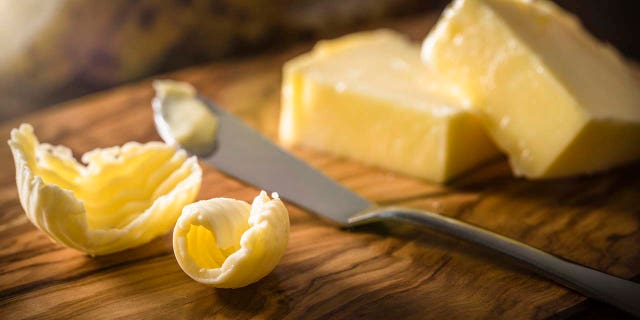 Shipley's legislation, House File 341, passed a subcommittee on Feb. 23. Some margarine, which is made up of vegetable oils and water, has been associated with higher cholesterol levels, according to Harvard Health. It also contains trans fat, which has been associated with increased depression, the National Library of Medicine reported in 2016.
MEDITERRANEAN, MIND DIETS SHOWN TO REDUCE SIGNS OF ALZHEIMER'S IN THE BRAIN, STUDY FINDS
"Animal fats, or higher quality saturated fats like olive or avocado oil are, essential nutrients for children's health and developments," Shipley said.
Both margarine and butter can have associated health risks.
WATCH MORE FOX NEWS DIGITAL ORIGINALS HERE
Jay Cowin, a registered nutritionist, previously told Fox News that seed oil was "full of polyunsaturated fatty acids like Omega-6, which can cause inflammation and liver damage. But compared to margarine, butter contains more saturated fats, which have been associated with a higher risk of heart disease.
And some experts found increased sugar and fat intake contributed to increased rates of depression and anxiety.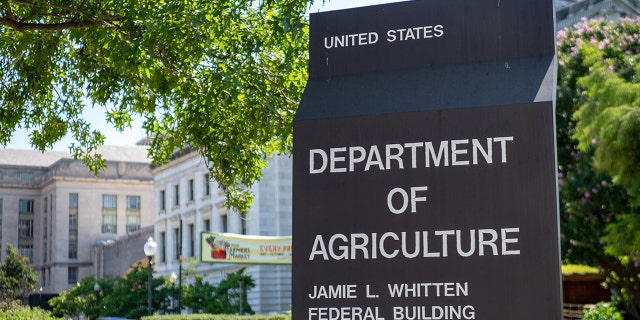 50 BIZARRE LAWS THAT HAVE EXISTED OR STILL EXIST IN AMERICA
Shipley told Fox News that his bill's text conflicts with guidelines from the U.S. Department of Agriculture, which provides funding for public school meals. The nutritional guidelines outlines limited sugar and sodium intake and specific low-fat alternatives for some foods. 
Shipley said the guidelines restricted "fat and protein, thus leaving children nutritionally starved and unhealthy." 
"Our commitment to the school meal programs comes from a common goal we all share – keeping kids healthy and helping them reach their full potential," Agriculture Secretary Tom Vilsack said in a recent press release on updated school meal guidelines. "Research shows school meals are the healthiest meals in a day for most kids, proving that they are an important tool for giving kids access to the nutrition they need for a bright future."
CLICK HERE FOR THE FOX NEWS APP
"Since it's become clear that the USDA guidelines are not supportive of children's health, ultimately we will need to divorce the state of Iowa from these guidelines," Shipley said, though he recognized his legislation could jeopardize USDA funding for Iowa school meals.
House File 341 is awaiting a full committee vote. 
WI Assembly set to vote on bill that would make it a felony to encourage, engage in violence during a riot
Anyone who encourages a riot or engages in violence during a riot would face felony charges under a bill Wisconsin's Assembly is poised to take up Wednesday.
The Republican-backed measure would make urging, promoting or organizing a riot a felony punishable by up to three years and six months in prison. Engaging in violence during a riot would a felony with up to six years in prison.
The bill defines a riot as a disturbance involving violence that's part of a gathering of at least three people. The act of violence must have a clear and present danger of property damage or personal injury.
WISCONSIN GOV. EVERS MOVES AGAINST STATE ABORTION BAN AHEAD OF SUPREME COURT ELECTION
Assembly approval would send the bill to the Senate. However, its prospects look dim. Democratic Gov. Tony Evers vetoed a similar bill last year that would have made attending a riot a misdemeanor with up to nine months' jail, and participating in a riot that causes property damage or injuries would have been a felony with up to three years and six months in prison.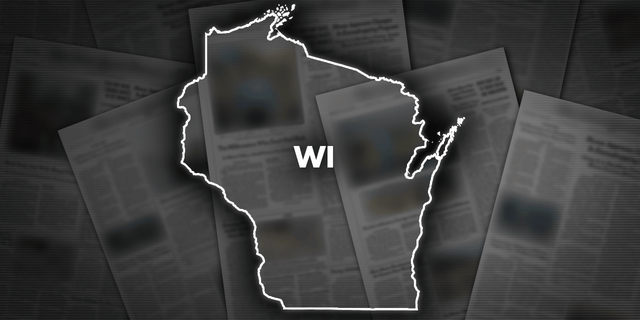 Evers said in his veto message that it's already a crime to refuse police orders to withdraw from an unlawful assembly, and that the bill could infringe on free speech rights.
CLICK HERE TO GET THE FOX NEWS APP
Republicans introduced the bill after protesters burned swaths of downtown Kenosha, Wisconsin, and damaged statues during demonstrations against police brutality in 2020.
Trump supporters outnumbered in New York as few take up Trump's call to 'PROTEST'
Former President Donald Trump's supporters are far outnumbered in New York City ahead of his potential arrest Wednesday, despite the Republican's call for his voters to "PROTEST, PROTEST, PROTEST."
Demonstrators cheering on the potential indictment against Trump gathered outside the offices of Manhattan District Attorney Alvin Bragg, drowning out the handful of protesters there supporting the former president, according to Politico. The grand jury is set to meet again Wednesday.
"I wish more people had shown up," Trump supporter Philippe Lejeune told the outlet.
Law enforcement sources say an indictment against Trump was unlikely to come down on Tuesday, however, saying it wouldn't come until Wednesday at the earliest. If Trump is truly indicted it may galvanize more of his supporters to protest.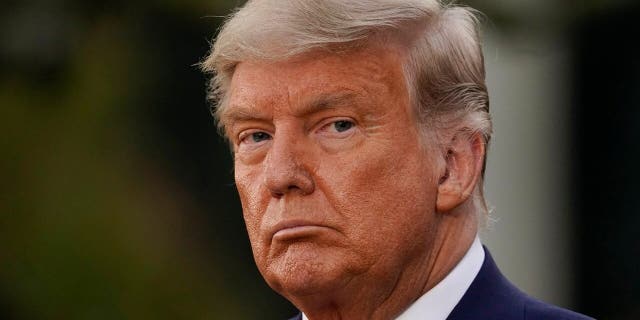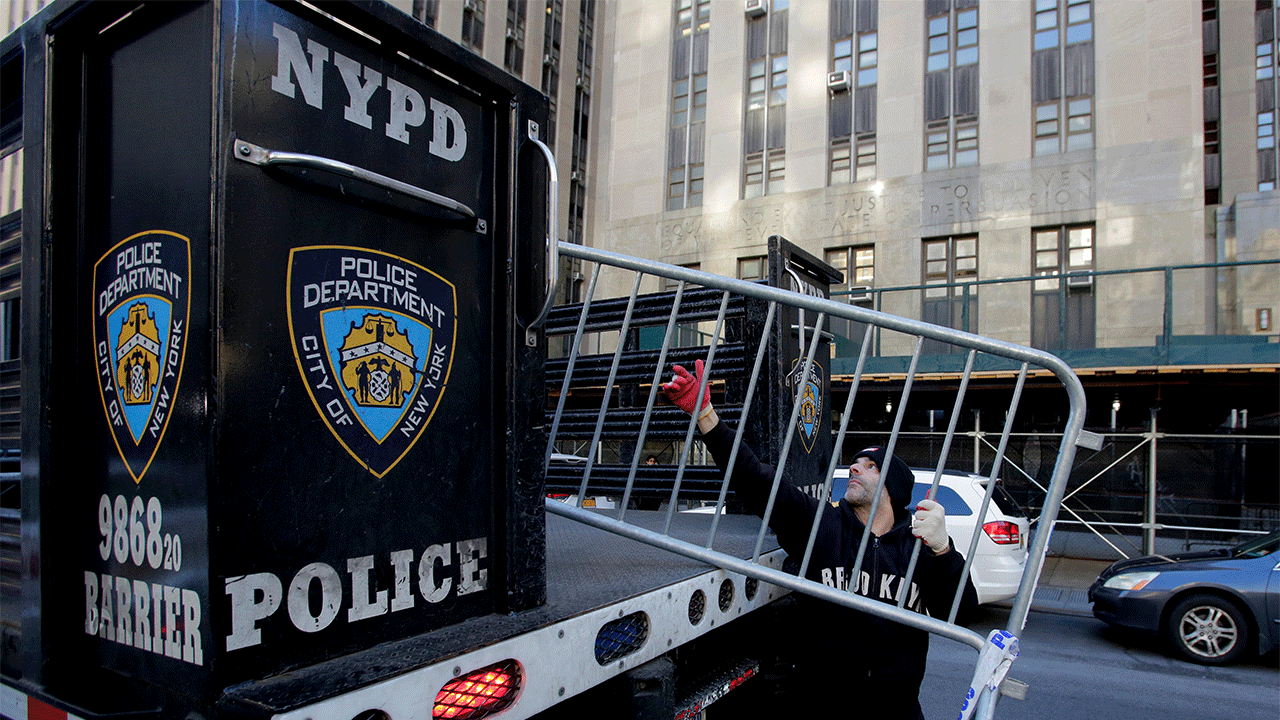 Out of an abundance of caution, the NYPD ordered all 36,000 of its officers to be in uniform and on standby in anticipation of Trump's potential arrest Tuesday. U.S. Capitol Police also erected barricades and called for more manpower ahead of the potential indictment, but few protesters showed up and Trump remains unmolested.
MCCARTHY DISCOURAGES PROTESTS AMID LOOMING TRUMP INDICTMENT: 'WE WANT CALMNESS'
The USCP clarified on Monday that it is not aware of any specific threat against the Capitol, but is making preparations out of an abundance of caution.
Several law enforcement groups were scheduled to meet at noon on Monday at NYPD headquarters in Manhattan to discuss the logistics of a potential indictment against Trump. The NYPD hosted the meeting, and attendees included Michael Magliano, chief of the Department of Public Safety, which oversees New York court officers, the head of the Secret Service's New York office, and a representative from the Manhattan District Attorney's Office.
Trump would be the first former president in U.S. history to face criminal charges if Bragg's office levels them. The potential indictment is expected to allege campaign finance infractions relating to records keeping, what some call a slim pretext for such a high-profile case.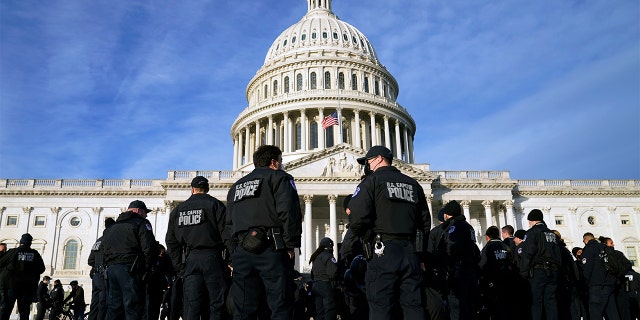 Some Democrats fear that the potential charges are not up to the task and could backfire, making it harder for allegations to stick relating to the other two investigations into Trump.
CLICK HERE TO GET THE FOX NEWS APP
Bragg's investigation is just one of three Trump is facing, and the charges stemming from it may be the easiest ones for Trump to defeat. A failed prosecution of the former president – whose opponents have long dreamed of locking him up – could only serve to bolster his common refrain that he is the victim of a "witch hunt."