Kirk Cameron is denied story-hour slot by public libraries for his new faith-based kids book
EXCLUSIVE: With a new children's book out that celebrates family, faith and biblical wisdom, actor-writer-producer Kirk Cameron cannot reach scores of American children or their families in many U.S. cities via the public library system because over 50 public libraries have either outright rejected him or not responded to requests on his behalf.
A story-hour program for kids and parents connected to new book releases is an activity that many libraries typically present to their patrons and communities. 
Many of the same libraries that won't give Cameron a slot, however, are actively offering "drag queen" story hours or similar programs for kids and young people, according to Cameron's book publisher and according to a review of the libraries' websites and current program listings. 
ACTOR AND WRITER KIRK CAMERON DEFENDS FAMILY, FAITH AND GOD IN NEW KIDS' BOOK
Some library programs promote gender fluidity, inclusion and diversity. Others offer "name change" clinics for older teens and adults who want to alter their official paperwork for gender-identity reasons.
Brave Books, Cameron's publisher, shared details of the story-hour requests — and the rejections received to date — with Fox News Digital exclusively this week. 
The Rochambeau Public Library in Providence, Rhode Island, for instance, told Cameron and his book publisher by phone, "No, we will pass on having you run a program in our space."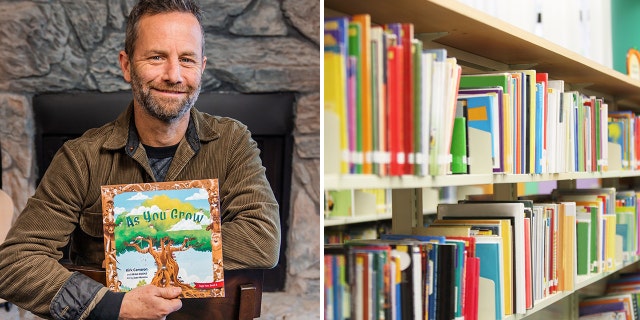 "We are a very queer-friendly library. Our messaging does not align," the library worker also told Brave Books. 
When the publisher asked the library official about filling out the proper form to apply for a story-hour slot, the individual replied, "You can fill out the form to reserve space, to run the program in our space — but we won't run your program." 
On its website, Rochambeau Public Library promotes a regular offering for young people called "Queer Umbrella." 
It is a "club and safe space where teens can learn, discuss and connect over queer history, art, community resources, and more," the listing spells out.
"You can fill out the form to reserve space … but we won't run your program."
It's "open to all members of the LGBTQ+ community who are 12+," the library's website listing also notes.
Fox News Digital reached out to the Rochambeau Public Library. An official first responded, "No comment," then added that the media query would be passed along to a supervisor. 
KIRK CAMERON: PUBLIC SCHOOLS GROOMING KIDS WITH CRITICAL RACE THEORY, 'SEXUAL CHAOS' AND 'RACIAL CONFUSION' 
Brave Books, as part of its extensive outreach to libraries for Kirk Cameron's new book, also contacted the City Heights/Weingart Branch Library in San Diego, California, hoping to be able to schedule Cameron for a story-hour program.
The publisher explained that this would be for "Kirk Cameron and his new children's book 'As You Grow.'"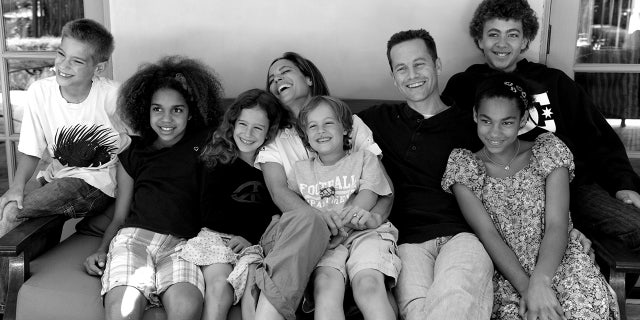 But the library representative told Cameron's publisher, "I don't think that's something that we would do." 
The library employee added, "Because of how diverse our community is, I don't know how many people you would get."
"I'm really sorry, but we are not interested."
Yet the same San Diego Library system actively hosts a number of "LGBTQIA events" that go beyond Pride Month, it notes on its website. 
The library system "collaborates" with other organizations to provide resources. It also hosts a teen queer book club, its website says.
"Telling our stories, highlighting the rich diversity … Those themes that are so important of love, acceptance and inclusion and seeing yourself represented in the books that are reading," a library official said, according to the library's website.
SURFER BETHANY HAMILTON OF HAWAII PUSHES PAST FEAR, TAKES ON NEW ADVENTURE
Fox News Digital reached out to this library for comment, but as of publication time did not hear back.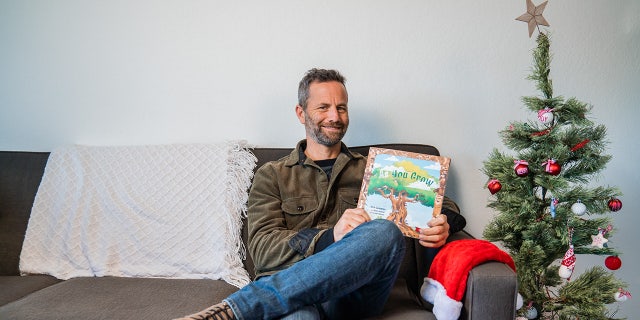 Cameron's book publisher also contacted the Alameda County Library system in California by phone and by email — and discussed its San Lorenzo location as a potential venue for a story presentation. 
A children's library representative at the San Lorenzo location told Cameron's publisher by phone, "You know, I'm really sorry, but we are not interested," Brave Books shared with Fox News Digital.  
The event, as the library advertised on its site, "is part of our 'Every Month Is Pride Month Series.'"
The San Lorenzo Library, however, hosted a "get free help" clinic this month with Bay Area Legal Aid attorneys and volunteers for those interested in "completing name and gender marker change court paperwork and updating identity documents such as CA birth certificates, driver's licenses/ IDs, passports and Social Security cards," the library notes on its website. 
The event, as the library writes on its site, "is part of our 'Every Month Is Pride Month Series.'"
FOX NEWS' JULIE BANDERAS REVEALS THE BACK STORY OF HER PRO-AMERICAN, ANTI-WOKE KIDS BOOK
Fox News Digital reached out to the library for comment. A county librarian said the larger library system posed a series of questions to Cameron's publisher via email, as is typical, the librarian said. 
"We receive many requests from authors to hold book promotion events at the library."
"We receive many requests from authors to hold book promotion events at the library," the librarian said. 
"For those we respond to, we typically ask [certain] questions [about format, cost, etc.]. We have every intention of getting back" to the publisher, the representative added in her email. 
However, Brave Books told Fox News Digital it promptly responded to those questions from the library and then called the library to follow up — and that's when it was told, "No, we are not interested" by phone.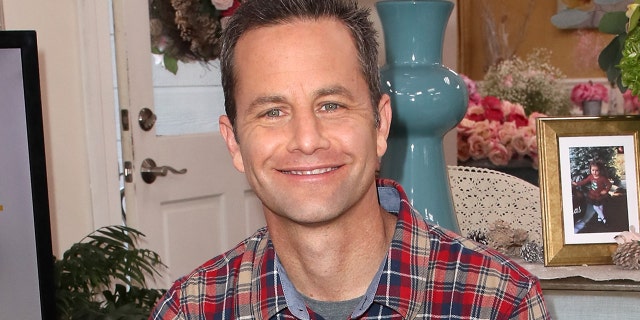 Brave Books also contacted the Indianapolis Public Library's central location about a possible story-hour presentation by Cameron, it told Fox News Digital. 
The library employee was not encouraging, saying the library has "a strategic plan in place."
The individual added, "Generally when we have author visits, those are coordinated through our departments. We really have a push. We have a strategic plan in place, so we are really looking at authors who are diverse. Authors of color. That's really been our focus."
"We have a strategic plan in place, so we are really looking at authors who are diverse. Authors of color."
When Brave Books pointed out that Cameron's book contributes in its own way to a diverse collection of ideas, beliefs and stories, the library representative replied, "Well, we are focusing on racial equity."
Fox News Digital reached out to the library for comment; the library indicated a response might be forthcoming, but as of publication time, there's been no response. 
CLASSIC CHILDREN'S BOOK QUIZ: HOW WELL DO YOU KNOW THE REAL STORY OF THESE BOOKS?
In yet another outreach effort, Brave Books tried the public library in Scarsdale, New York. 
A representative said, "Thank you for thinking of us, but we are not interested in this program," the publisher shared. 
Reacting to the news that he has yet to be booked into a single children's story hour at a public library in America for his new book — and commenting on the rejections and comments he's received — Cameron told Fox News Digital, "This is proof that more than ever, we are getting destroyed in the battle for the hearts and minds of our children."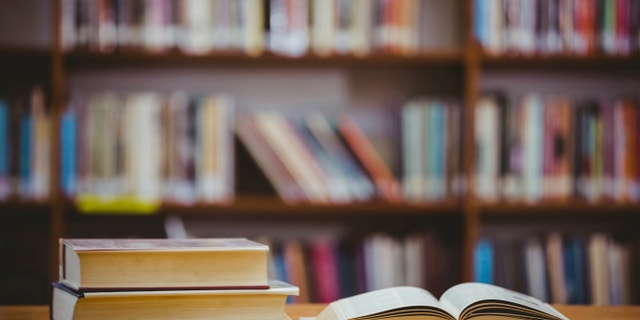 Cameron also said, "Publicly funded libraries are green-lighting 'gender marker and name change clinics' while denying a story time that would involve the reading of a book that teaches biblical wisdom. How much more clear can it get?"
He added, "We have to start fighting back, or we will lose our kids and this country."
Both he and Brave Books are announcing to the public, he said, that "for every purchase made at bravebooks.us, we will donate a book to a library near you from our Freedom Island [children's book] series that teaches pro-God and pro-family values."
"We have not been approved for a single book reading of 'As You Grow' from any library yet." — Brave Books
Trent Talbot, founder and CEO of the Texas-based Brave Books, said in a statement to Fox News Digital, "It is devastating to discover that many of our publicly funded libraries have now become indoctrination centers that refuse to allow biblical wisdom to be taught to our children."
He added, "The woke left understands that morality is instilled by the age of 10, and they want their morality to win, not the morality that the Bible teaches."
BIBLE VERSE OF THE DAY: WE'RE MADE FOR MUCH MORE THAN JUST 'CONFORMING' TO THIS WORLD
Brave Books told Fox News Digital on Tuesday, "All of the libraries that we have contacted [about possible story hours or book programs for Kirk Cameron] have hosted LGBTQ+ story times with drag queens in the past."
The company added, "We have not been approved for a single book reading of 'As You Grow' from any library yet."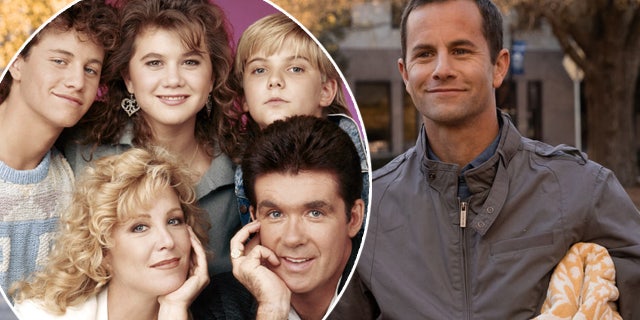 Cameron is the married father of six children, four of whom are adopted. 
The new book, "As You Grow," is "part of a whole universe of books, with a whole series of characters," he told Fox News Digital recently in an interview.
"It teaches biblical wisdom and the value of producing the fruit of the spirit: love, joy, peace, patience, kindness, goodness, gentleness, faithfulness, self-control."
VIRTUES OF COURAGE, COMPASSION, WORK, FRIENDSHIP: THESE MUST BE TAUGHT, SAY BILL BENNETT, ELAYNE BENNETT
As for how public libraries are funded: Local governments fund an overwhelming majority of them.
Only a small fraction of public library funding comes from donations, grants and federal funding.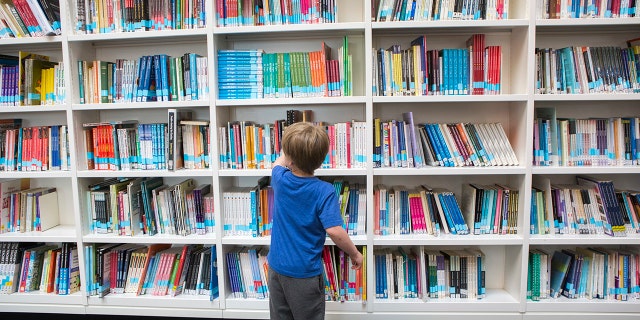 The proportions of library funding depend "on where the library is located," according to LanguageHumanities.org.
"In general," it says, "the municipality provides the greatest percentage of funding for public libraries — often at least half, if not more. These funds are gathered from local taxes, library fines, parking tickets and other tools used to generate revenue for a city or town."
The local funding that libraries receive represents a very small portion of city/local legislature budgets. (New York City, for example, spends less than 1% of its budget on library funding.)
CLICK HERE TO SIGN UP FOR OUR LIFESTYLE NEWSLETTER
Per capita public library expenditures vary widely from state to state.
The state with the highest per capita amount, New York, spent about $69 per capita in 2018 — while the lowest, Mississippi, spent $16.42, according to the American Academy of Arts & Sciences.
CLICK HERE TO GET THE FOX NEWS APP
As of 2019, there were approximately 9,000 public libraries in the U.S., according to the American Library Association. That data comes from the Public Libraries Survey, conducted every year by the Institute of Museum and Library Services. 
Meanwhile, Kirk Cameron and his book publisher said they will not give up their efforts to secure story-hour programs for kids in public libraries across America. 
Source: https://www.foxnews.com/lifestyle/kirk-cameron-denied-story-hour-slot-public-libraries-faith-kids-book
On this day in history, Jan. 28, 1986, space shuttle Challenger explodes, shocking the nation
On this day in history, Jan. 28, 1986, the space shuttle Challenger — scheduled for a routine launch from Cape Canaveral in Florida — exploded after just 73 seconds in flight, killing all seven Americans on board.
The disaster shocked the nation — and led to an immediate pause in the space shuttle program.
The cause of the disaster was found to be the failure of the primary and secondary redundant O-ring seals in a joint in the shuttle's right solid rocket booster (SRB).
ON THIS DAY IN HISTORY, JAN. 27, 1943, US EIGHTH AIR FORCE LAUNCHES BOMBING OFFENSIVE OVER NAZI GERMANY
While the mission on that fateful day in 1986 was supposed to be like any other routine mission, unusually cold temperatures caused the external tank to explode seconds into takeoff — causing the orbiter to disintegrate and the spacecraft to explode, according to NASA.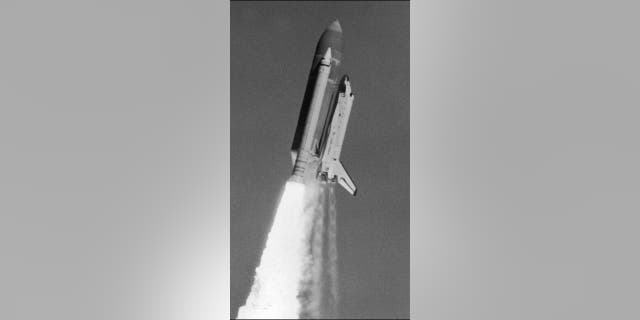 In addition to highly experienced astronauts, the Challenger carried a special passenger on board: teacher Christa McAuliffe. 
She was a social studies teacher from Concord, New Hampshire, chosen from among 10,000 others who applied to be the first private citizen in space, according to Britannica. 
CHALLENGER CREW LIKELY SURVIVED EXPLOSION BEFORE TRAGIC PLUNGE TO EARTH, BOOK CLAIMS
In her application, McAuliffe said she would keep a journal about her experience — and would include sections about her training, the flight experience and her feelings about returning to Earth.
One of the reasons McAuliffe was chosen, apparently, was her teaching experience — and the way she would be able to connect with children across the country.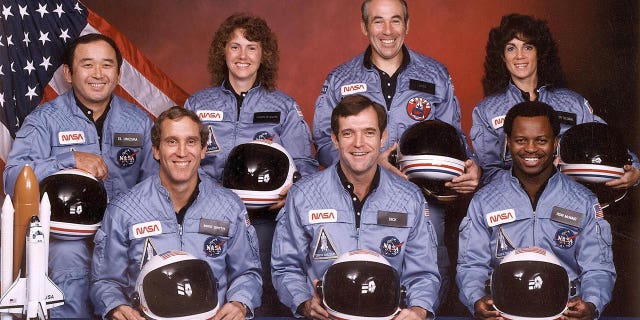 And that is why, on the day of the launch, scores of students in schools across the country watched as a teacher launched into space for the first time ever. 
NASA SUCCESSFULLY TESTS NEW ENGINE FOR DEEP SPACE EXPLORATION
It was unfortunate timing for young children to watch this particular launch — something President Reagan was worried about when he was deciding how to address Americans later that evening.
Leading up to Challenger
Americans had been visiting space for decades before that — the first time in 1961, with U.S. Navy test pilot Alan Shepard. 
Shepard was the second man in space following the Soviet Union's Yuri Gagarin just a mere weeks before. 
By 1969, space travel had progressed to visiting the moon — something the U.S. successfully completed with Apollo 11 that year.
DOCUMENTARY FILM CREW LOOKING FOR WWII PLANE DISCOVERS PIECE OF SPACE SHUTTLE CHALLENGER OFF FLORIDA COAST
However, with this success, Americans began to fear the government was spending too much on space, according to NASA. 
A reusable manned spacecraft then became a focus by the Nixon administration, and the space shuttle program was born.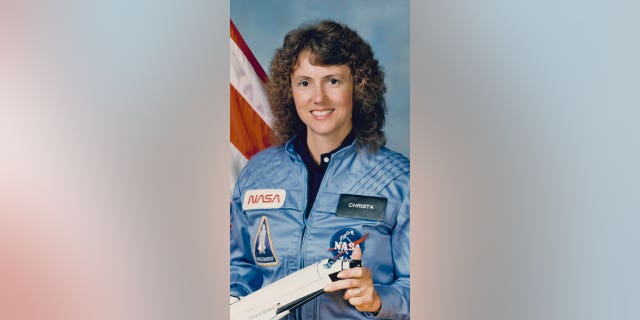 The Challenger's first mission was in April 1983 — and it quickly became one of the most popular spacecrafts to be used in the following three years, according to NASA.
The annual State of the Union address for early 1986 had been scheduled to take place on the evening of the Challenger's launch — but given the tragedy, President Reagan chose to delay the address by a week. 
"The future doesn't belong to the fainthearted; it belongs to the brave."
Instead, that night, Reagan did address the nation but from the familiar Oval Office instead.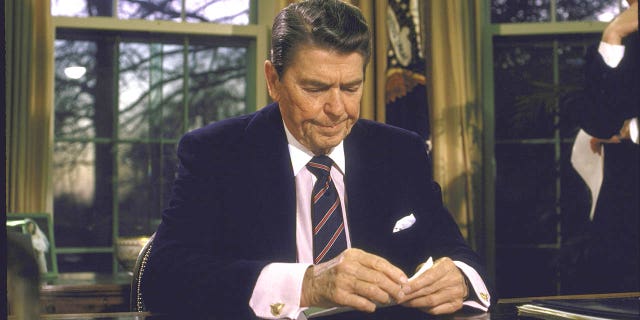 Reagan began by saying, "Ladies and gentlemen, I'd planned to speak to you tonight to report on the State of the Union, but the events of earlier today have led me to change those plans."
He went on, "Today is a day for mourning and remembering. Nancy and I are pained to the core by the tragedy of the shuttle Challenger. We know we share this pain with all of the people of our country. This is truly a national loss."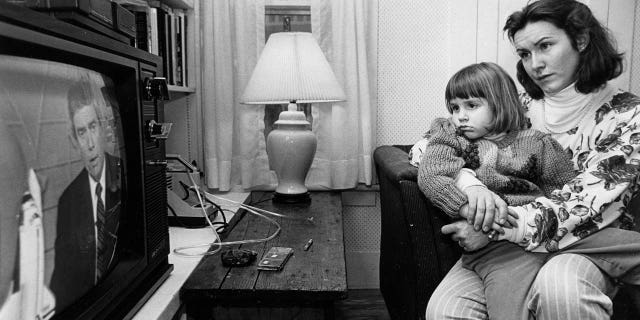 In his speech, Reagan also expressed a willingness to remain steadfast in the pursuit of space flight — but also, he focused on the families of those who were aboard the Challenger and on the children who were watching the flight from their classrooms or homes.
CLICK HERE TO SIGN UP FOR OUR LIFESTYLE NEWSLETTER
"I know it is hard to understand, but sometimes painful things like this happen," Reagan told the country that night.
"The future doesn't belong to the fainthearted; it belongs to the brave," Reagan also said.
"The Challenger crew was pulling us into the future — and we'll continue to follow them."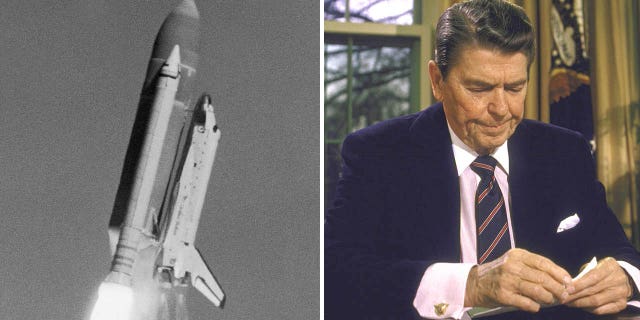 The next mission launch was over two-and-a half years later, in September 1988 — named the "Return to Flight" mission. 
The mission lasted for four days and included 64 orbits around the planet.
CLICK HERE TO GET THE FOX NEWS APP
It ended with a successful landing at Edwards Air Force Base in California, according to NASA. 
JCPenney partners with shelters to help senior dogs like Kofi of Texas find a home
JCPenney is partnering with local shelters around the country to help adoptable senior dogs find their forever homes. 
The large retailer is taking its well-known JCPenney-style portraits of the dogs — so that interested adopters can step forward to help animals in need. 
Kofi is a spaniel mix at the Dallas Pets Alive organization in Dallas, Texas — and he desperately needs a home.
AFTER 14 FAILED ADOPTIONS, NORTH CAROLINA PUP WITH 'UNLUCKY' HISTORY GOES VIRAL, FINALLY FINDS A HOME
Kofi is looking for a forever home where he could spend the last chapter of his life. 
He is well-behaved and considered docile — fully content with just sitting quieting next to his new owner, according to the organization.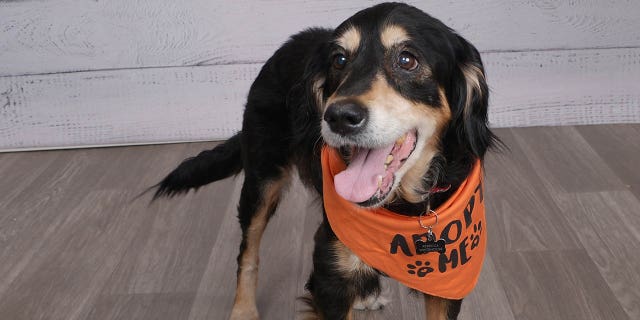 Kofi has a black-and-gold coloring and his fur is said to be silky soft — making him an easy dog to keep petting. 
He weighs roughly 35 pounds and enjoys going on walks, Fox News Digital is told.
"We're excited to give the senior dogs in these shelters their chance to shine."
He also gets along well with others — so having other pets or children in the house could be good for him. 
VAN GOGH, A ONE-EARED DOG IN DESPERATE NEED OF A NEW HOME, 'PAINTS' HIS WAY TO ADOPTION
Kofi is spayed, neutered, microchipped and up-to-date on all vaccines.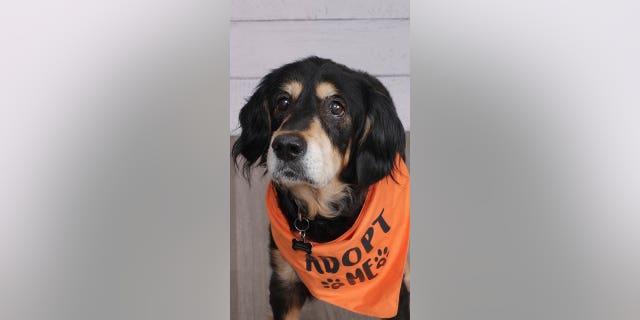 He is just one of the many dogs featured in JCPenney's new campaign about shelter dogs and JCPenney Portraits by Lifetouch. 
Bill Cunningham, JCPenney's vice president of marketing strategy, said the occasion is special for many reasons. 
WHITE SHEPHERD DOG IN HAMPTONS LOOKING FOR HER FOREVER HOME: 'GIVE HER A CHANCE'
"We're excited to give the senior dogs in these shelters, who are often less likely to be adopted, their chance to shine and encourage customers to get involved with their local communities to change a pet's life for the better," Cunningham said in a media statement.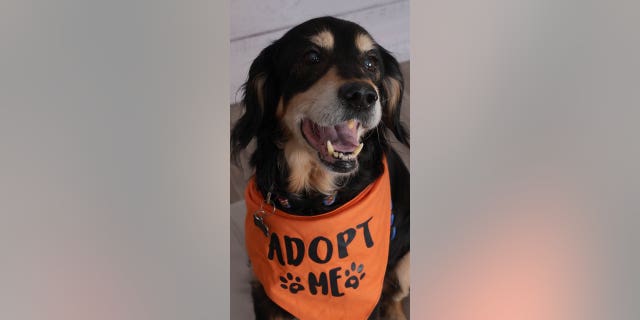 The partnership runs from Jan. 24 through Feb. 28. 
CLICK HERE TO SIGN UP FOR OUR LIFESTYLE NEWSLETTER
Those interested can visit JCP.com to see new adoptable pets … and some adorable portraits.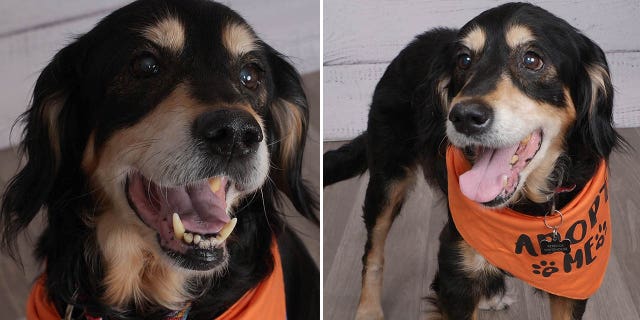 JCPenney will also be donating $1,000 to each of the 10 shelters it's partnered with to help animals find homes.
The shelters are located in 10 different cities around the country: Atlanta, Austin, Chicago, Dallas, Los Angeles, Louisville, Miami, Orlando, Philadelphia and Phoenix. 
CLICK HERE TO GET THE FOX NEWS APP
For more information on Kofi, anyone interested can visit dallaspetsalive.org or email adopt@dallaspetsalive.org.
They risked their lives for others: Author Richard Hurowitz remembers unsung heroes of the Holocaust
January 27 is International Holocaust Remembrance Day, designated as such by the United Nations. 
Why this date?  
On this date in history, Jan. 27, 1945, the infamous Nazi German slave labor and death camp, Auschwitz-Birkenau, was liberated by the Soviet army.
The day recalls the killing of six million Jews as well as millions of other people by the Nazi regime and collaborators.
REAGAN LIBRARY WILL HOST HOLOCAUST EXHIBIT IN NEW YEAR: 'SO EMOTIONAL,' SAYS SURVIVOR
But there are scores of interconnected stories as well.
"During the Holocaust," wrote Richard Hurowitz in a recent essay in The Wall Street Journal, "citizens from Denmark to Greece protected their Jewish neighbors from the Nazis by standing together."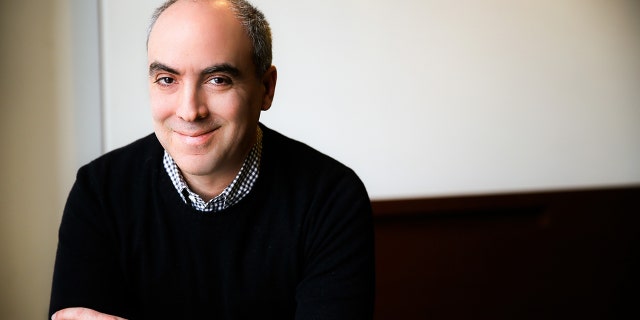 Most of these heroic individuals were and are still largely unknown. 
Remembering the horrors of war — and chronicling how brave people, in the face of fear, brutality and cruelty, stood up for other human beings even when their own lives were on the line — is the job of historians, authors, journalists and others who believe the truth needs to be passed along to new generations.
"In the Garden of the Righteous" pays tribute to those who risked everything for others.
In this spirit, writer and investor Richard Hurowitz has just released a new book, "In the Garden of the Righteous: The Heroes Who Risked Their Lives to Save Jews During the Holocaust" (HarperCollins), which pays tribute to those who risked their very existence to help others in trouble.
Among them are Adolf and Maria Althoff, who hid Jewish acrobatic performers in plain sight from the Nazis — and Italian cycling champion Gino Bartali, who faked long-distance practice runs to sneak forged identity papers that saved hundreds of people.
Hurowitz, based in New York, is publisher of The Octavian Report, a quarterly "journal of ideas." He is chief executive officer of Octavian and Company LLC, an investment firm.
Just ahead of International Holocaust Remembrance Day, Fox News Digital posed three questions to the author.
'An under-covered topic'
Fox News Digital: Why did you write this book now? 
Richard Hurowitz: Rescue during the Holocaust and the courage of those who risked their lives to save Jews and others is an extremely under-covered topic — yet people find it enormously inspirational.  
Oskar Schindler and Raoul Wallenberg are well known, but beyond those two archetypes very few rescuers have gotten the acclaim they deserve.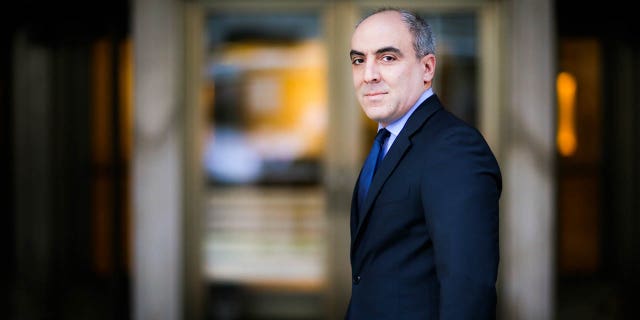 Some of the people rescued in my book were or went on to have enormous impact on the world — from the physicist Niels Bohr to the artist Mark Chagall to many members of royalty — while most were ordinary refugees.  
The book grew out of several profiles I wrote for newspapers of individual rescuers — and the response was extraordinary. 
NEW YORK CITY WOMAN WHOSE RELATIVES WERE KILLED IN HOLOCAUST GETS STRIPED PAJAMAS PULLED FROM SHELVES
I think people are looking for stories of inspiration and courage during our own difficult times. 
At a time of rising bigotry, anti-Semitism, polarization and conflict, I think these stories are extremely timely.
'I hope people are inspired'
Fox News Digital: If you wanted readers to have one memorable takeaway from your book, what would it be?
Hurowitz: I hope people are inspired by these stories and learn about some of history's forgotten heroes. 
And I hope they are inspired and remember that there is good in the world and that everyone can make a difference.  
It is not just in times of utmost peril like the Second World War. 
Indeed, we can avoid our society heading in that direction by standing up for the values of compassion, kindness and tolerance.  
There were even communities in Europe during the war — such as Denmark or the village of Le Chambon in France — where the entire group stood together against the Nazis. And were able to save almost all their Jewish neighbors.  
So I hope the book is a message of hope — and [that it] offers lessons on how we can make our world a better place.
'Rescues echo down through the generations'
Fox News Digital: What stays with you in terms of reporting and writing the book?
Hurowitz: I have had the profound experience, when I've written about rescuers, to hear from people I personally know who are alive today because their family was saved by them. 
Rescues echoes down through the generations. 
CLICK HERE TO SIGN UP FOR OUR LIFESTYLE NEWSLETTER
There are possibly one million people alive today because of the 10 rescues profiled in the book. 
CLICK HERE TO GET THE FOX NEWS APP
And at least some of [these people] many of us probably know — and some of them have themselves done extraordinary things that would have been lost to us had it not been for courage eight decades ago.