Kansas appeals court reinstates suit over ballot harvesting law
The Kansas Court of Appeals on Friday reinstated a lawsuit that challenged provisions of a voting law enacted in 2021 that opponents argue is unconstitutional and limits voting rights.
The lawsuit was filed in 2021 by Loud Light, the League of Women Voters of Kansas, the Topeka Independent Living Resource Center and the Kansas Appleseed Center for Law and Justice.
They challenged provisions of a law passed by the Republican-controlled Legislature that limit how many advance mail ballots individuals can collect and require election officials to match the signatures on an advance ballot to a person's voter registration record.
KANSAS REPUBLICANS PUSH FORWARD ON BALLOT HARVESTING CRACKDOWN
Kansas Attorney General Kris Kobach said Friday he would appeal the ruling.
Supporters of the law argued that restricting individuals from collecting and returning more than 10 advanced ballots per election would reduce "ballot harvesting" and limit voter fraud. Kansas Democratic Gov. Laura Kelly vetoed the measure, but lawmakers overrode her veto.
The unanimous opinion Friday, written by Judge Stephen Hill, said the two provisions impair the right to vote.
"It was by free elections that we gained statehood. Thus, voting rights are preserved in the Kansas Constitution," Hill wrote. "Great care must be taken when trying to limit or infringe on those rights. Voting was important then. Voting is important now."
The court sent the lawsuit back to Shawnee County District Court Judge Teresa Watson, who originally dismissed it in April 2022 after finding the restrictions were reasonable. The ruling does not strike down the law. But it requires Watson to review the lawsuit using "strict scrutiny," which is the highest standard of legal review.
Kobach called the ruling "the most radical election law decision in the country." He said the signature verification requirement protects people from having their votes stolen. He did not address the provision limiting the collection of ballots.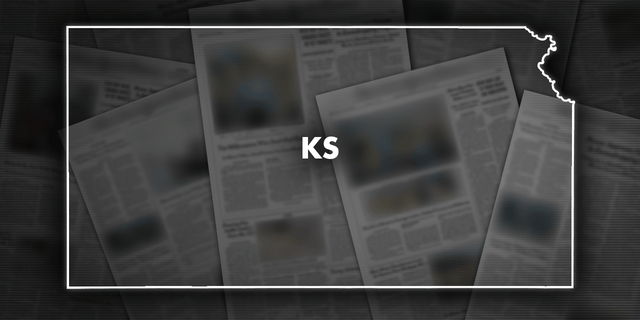 "It is clearly wrong," Kobach said in a statement. "The decision is directly contrary to what the U.S. Supreme Court has said, as well as what every state supreme court has said on the matter."
Davis Hammet, executive director of Loud Light, noted the ruling did not address whether the law is constitutional but said it was still a victory for voters.
"It clarified the right to vote is a fundamental constitutional right and said when election laws are challenged the courts will apply the highest level of scrutiny to those laws," Hammet said.
Hammet said the ruling is especially important in the aftermath of baseless claims that the 2020 election was not valid, which prompted a wave of misinformation and voter suppression laws across the country.
"What the court said here is (lawmakers) can't just restrict the right to vote," he said. "If you have a restriction, it has to be there for a compelling reason. You have to show you're not just stopping people from voting or having their votes count."
Jacqueline Lightcap, co-president of the League of Women Voters of Kansas, said the ruling supports many arguments that voting advocates have been making since 2021.
"We think the judge has some excellent points in saying voting is fundamental right and the earlier case was rushed out of district court," Lightcap said. "We're very excited to have the chance to get it heard again."
KANSAS LEGISLATORS STRUGGLE TO THWART 'WOKE' ESG INVESTMENT BY STATE
Secretary of State Scott Schwab said his office was reviewing the decision but said it "appeared to be a substantial change to the judicial standard of reviewing state election laws."
Kansas House Speaker Dan Hawkins, a Republican from Wichita, called the decision "shocking" and said it endangers all current election integrity laws.
"I am confident that Attorney General Kobach will swiftly appeal this egregious decision and Republicans in the House will support his efforts in every possible way," Hawkins said.
CLICK HERE TO GET THE FOX NEWS APP
The Kansas Supreme Court heard arguments last month on another provision of the law, which makes it a crime to impersonate election officials. Opponents said the provision would make it difficult to conduct voter registration drives.
Source: https://www.foxnews.com/politics/kansas-appeals-court-reinstates-suit-ballot-harvesting-law
Lawmaker says his state may need to 'divorce' from USDA over this ingredient in school lunches
A state lawmaker is aiming to "divorce" Iowa from federal regulations to ban margarine and vegetable public school meals over health concerns.
"Seed oils and margarine are wreaking havoc on the health of our children," Iowa state Rep. Jeff Shipley told Fox News. "Fake industrial fats like margarine are connected to a myriad of mental and physical illness."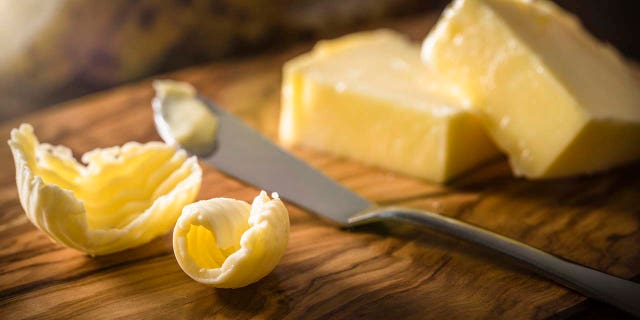 Shipley's legislation, House File 341, passed a subcommittee on Feb. 23. Some margarine, which is made up of vegetable oils and water, has been associated with higher cholesterol levels, according to Harvard Health. It also contains trans fat, which has been associated with increased depression, the National Library of Medicine reported in 2016.
MEDITERRANEAN, MIND DIETS SHOWN TO REDUCE SIGNS OF ALZHEIMER'S IN THE BRAIN, STUDY FINDS
"Animal fats, or higher quality saturated fats like olive or avocado oil are, essential nutrients for children's health and developments," Shipley said.
Both margarine and butter can have associated health risks.
WATCH MORE FOX NEWS DIGITAL ORIGINALS HERE
Jay Cowin, a registered nutritionist, previously told Fox News that seed oil was "full of polyunsaturated fatty acids like Omega-6, which can cause inflammation and liver damage. But compared to margarine, butter contains more saturated fats, which have been associated with a higher risk of heart disease.
And some experts found increased sugar and fat intake contributed to increased rates of depression and anxiety.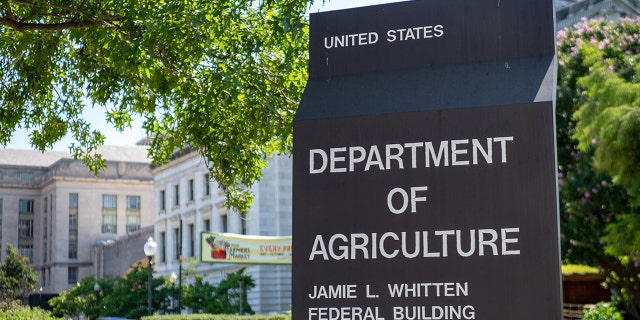 50 BIZARRE LAWS THAT HAVE EXISTED OR STILL EXIST IN AMERICA
Shipley told Fox News that his bill's text conflicts with guidelines from the U.S. Department of Agriculture, which provides funding for public school meals. The nutritional guidelines outlines limited sugar and sodium intake and specific low-fat alternatives for some foods. 
Shipley said the guidelines restricted "fat and protein, thus leaving children nutritionally starved and unhealthy." 
"Our commitment to the school meal programs comes from a common goal we all share – keeping kids healthy and helping them reach their full potential," Agriculture Secretary Tom Vilsack said in a recent press release on updated school meal guidelines. "Research shows school meals are the healthiest meals in a day for most kids, proving that they are an important tool for giving kids access to the nutrition they need for a bright future."
CLICK HERE FOR THE FOX NEWS APP
"Since it's become clear that the USDA guidelines are not supportive of children's health, ultimately we will need to divorce the state of Iowa from these guidelines," Shipley said, though he recognized his legislation could jeopardize USDA funding for Iowa school meals.
House File 341 is awaiting a full committee vote. 
WI Assembly set to vote on bill that would make it a felony to encourage, engage in violence during a riot
Anyone who encourages a riot or engages in violence during a riot would face felony charges under a bill Wisconsin's Assembly is poised to take up Wednesday.
The Republican-backed measure would make urging, promoting or organizing a riot a felony punishable by up to three years and six months in prison. Engaging in violence during a riot would a felony with up to six years in prison.
The bill defines a riot as a disturbance involving violence that's part of a gathering of at least three people. The act of violence must have a clear and present danger of property damage or personal injury.
WISCONSIN GOV. EVERS MOVES AGAINST STATE ABORTION BAN AHEAD OF SUPREME COURT ELECTION
Assembly approval would send the bill to the Senate. However, its prospects look dim. Democratic Gov. Tony Evers vetoed a similar bill last year that would have made attending a riot a misdemeanor with up to nine months' jail, and participating in a riot that causes property damage or injuries would have been a felony with up to three years and six months in prison.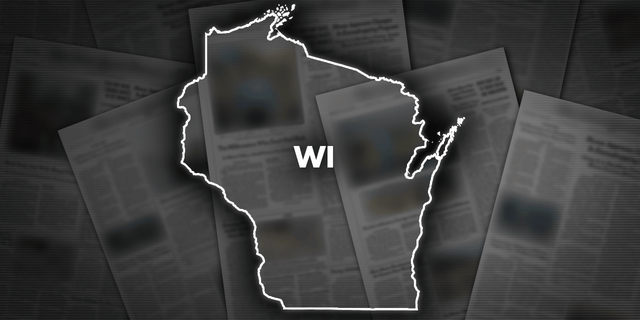 Evers said in his veto message that it's already a crime to refuse police orders to withdraw from an unlawful assembly, and that the bill could infringe on free speech rights.
CLICK HERE TO GET THE FOX NEWS APP
Republicans introduced the bill after protesters burned swaths of downtown Kenosha, Wisconsin, and damaged statues during demonstrations against police brutality in 2020.
Trump supporters outnumbered in New York as few take up Trump's call to 'PROTEST'
Former President Donald Trump's supporters are far outnumbered in New York City ahead of his potential arrest Wednesday, despite the Republican's call for his voters to "PROTEST, PROTEST, PROTEST."
Demonstrators cheering on the potential indictment against Trump gathered outside the offices of Manhattan District Attorney Alvin Bragg, drowning out the handful of protesters there supporting the former president, according to Politico. The grand jury is set to meet again Wednesday.
"I wish more people had shown up," Trump supporter Philippe Lejeune told the outlet.
Law enforcement sources say an indictment against Trump was unlikely to come down on Tuesday, however, saying it wouldn't come until Wednesday at the earliest. If Trump is truly indicted it may galvanize more of his supporters to protest.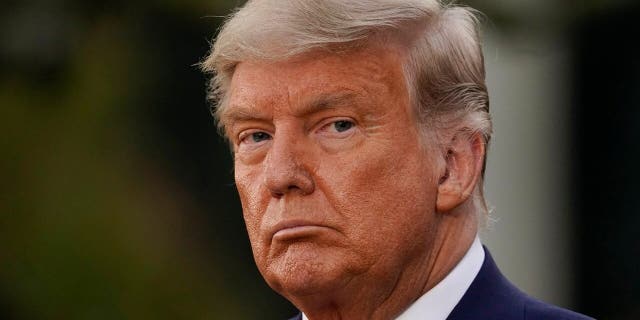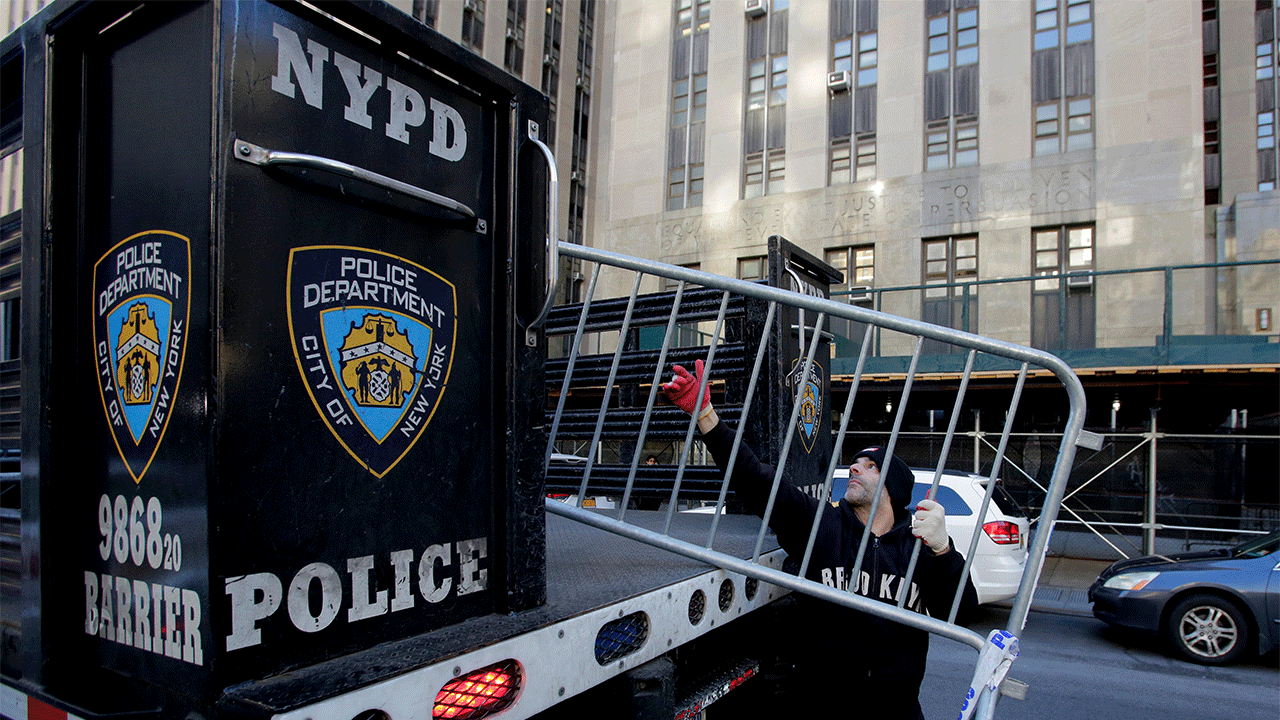 Out of an abundance of caution, the NYPD ordered all 36,000 of its officers to be in uniform and on standby in anticipation of Trump's potential arrest Tuesday. U.S. Capitol Police also erected barricades and called for more manpower ahead of the potential indictment, but few protesters showed up and Trump remains unmolested.
MCCARTHY DISCOURAGES PROTESTS AMID LOOMING TRUMP INDICTMENT: 'WE WANT CALMNESS'
The USCP clarified on Monday that it is not aware of any specific threat against the Capitol, but is making preparations out of an abundance of caution.
Several law enforcement groups were scheduled to meet at noon on Monday at NYPD headquarters in Manhattan to discuss the logistics of a potential indictment against Trump. The NYPD hosted the meeting, and attendees included Michael Magliano, chief of the Department of Public Safety, which oversees New York court officers, the head of the Secret Service's New York office, and a representative from the Manhattan District Attorney's Office.
Trump would be the first former president in U.S. history to face criminal charges if Bragg's office levels them. The potential indictment is expected to allege campaign finance infractions relating to records keeping, what some call a slim pretext for such a high-profile case.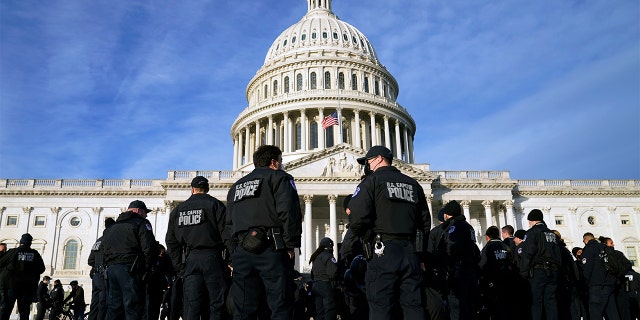 Some Democrats fear that the potential charges are not up to the task and could backfire, making it harder for allegations to stick relating to the other two investigations into Trump.
CLICK HERE TO GET THE FOX NEWS APP
Bragg's investigation is just one of three Trump is facing, and the charges stemming from it may be the easiest ones for Trump to defeat. A failed prosecution of the former president – whose opponents have long dreamed of locking him up – could only serve to bolster his common refrain that he is the victim of a "witch hunt."