Pop star Justin Bieber is stepping away from the limelight as his model wife Hailey Bieber continues to tout her lucrative beauty brand, Rhode.
Serving as Hailey's shadow in New York this week at appearances and interviews for her latest skin care drop, Bieber kept a low-profile wearing a zip-up, shorts and bright yellow Crocs. 
Bieber's attire was a stark contrast to Hailey, who showcased her figure in a short red strapless dress and heels. She also wore a massive "B" necklace around her neck.
In partnership with Krispy Kreme and inspired by its strawberry glazed doughnut, Hailey released a new flavor of her highly-coveted peptide lip treatment.
HAILEY BIEBER TALKS BABIES WITH JUSTIN BIEBER, EVOLVING MARRIAGE AMID HEALTH STRUGGLES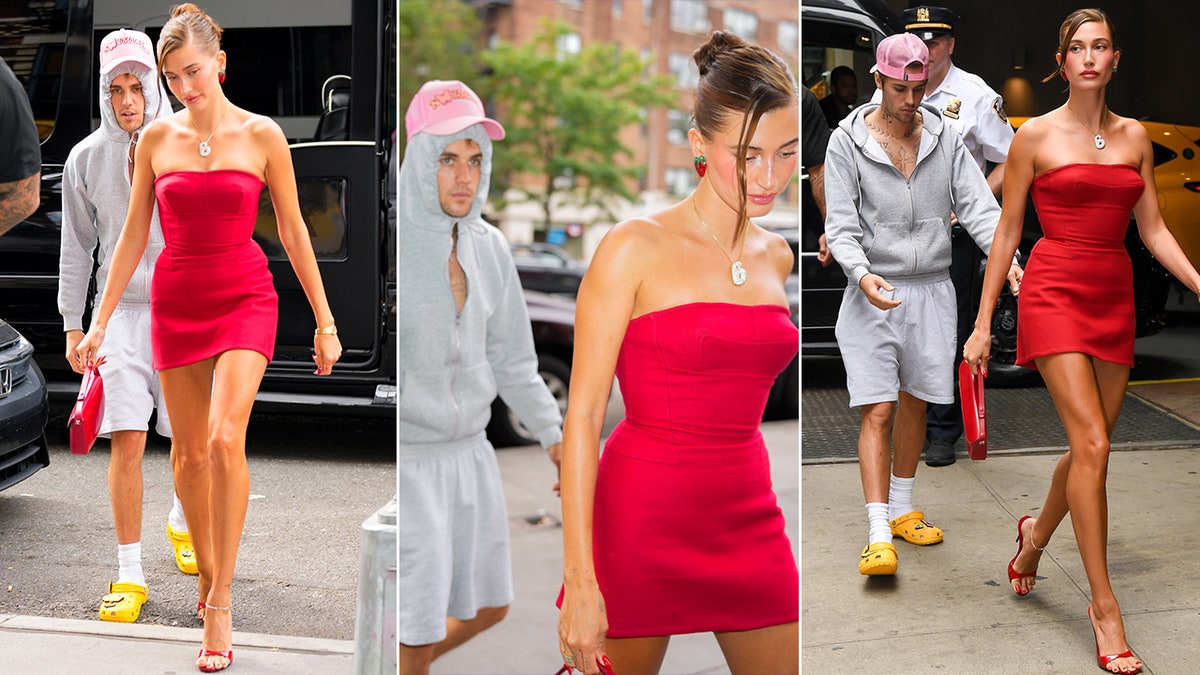 Bieber, who had not posted to social media for three months, returned to Instagram to promote his wife's collaboration, sharing photos of her new product and their subsequent visit to a Krispy Kreme location.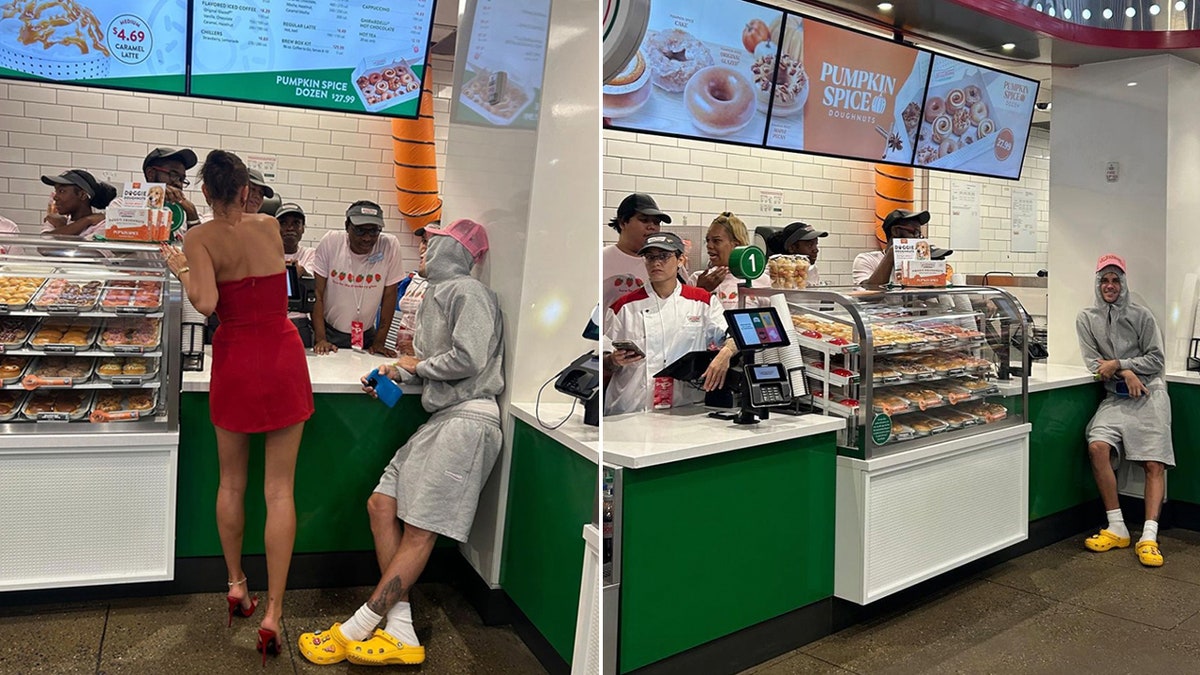 CLICK HERE TO SIGN UP FOR THE ENTERTAINMENT NEWSLETTER
The "Love Yourself" singer also debuted a ripped sweatshirt with his wife's name displayed on it in a picture that showed the model looking at her husband. The couple was with their two dogs, Piggy Lou and Oscar.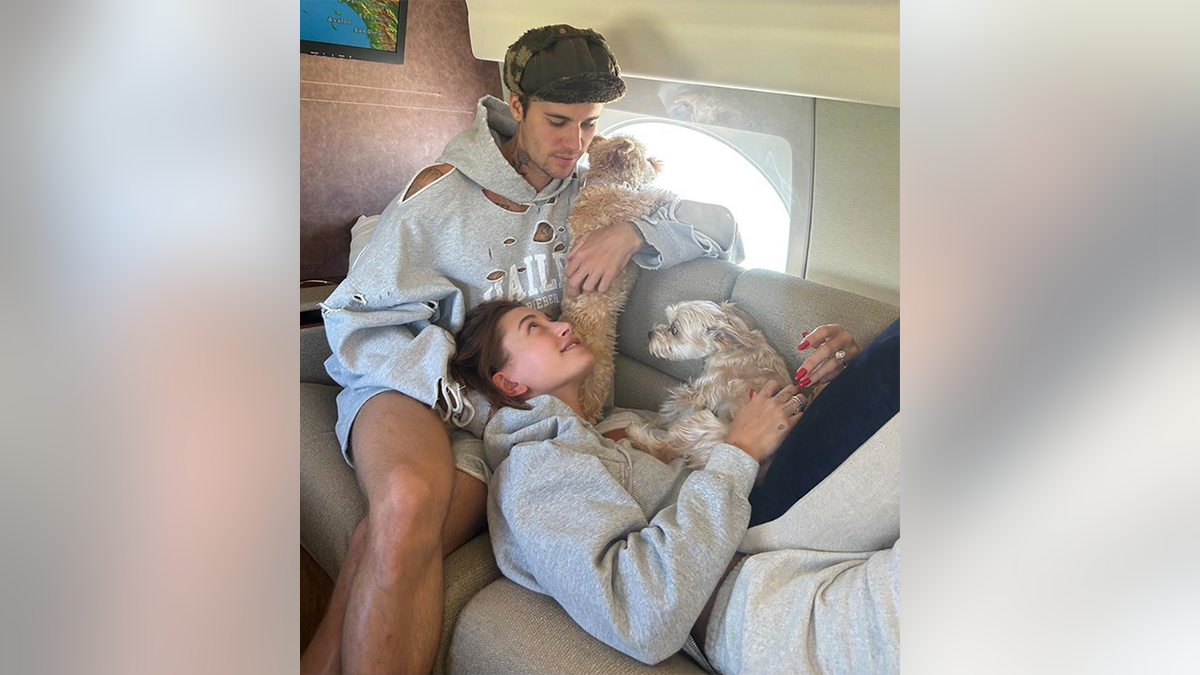 Bieber was also pictured carefully escorting his wife into a helicopter, placing his hand on her back as they caught a ride out of the city.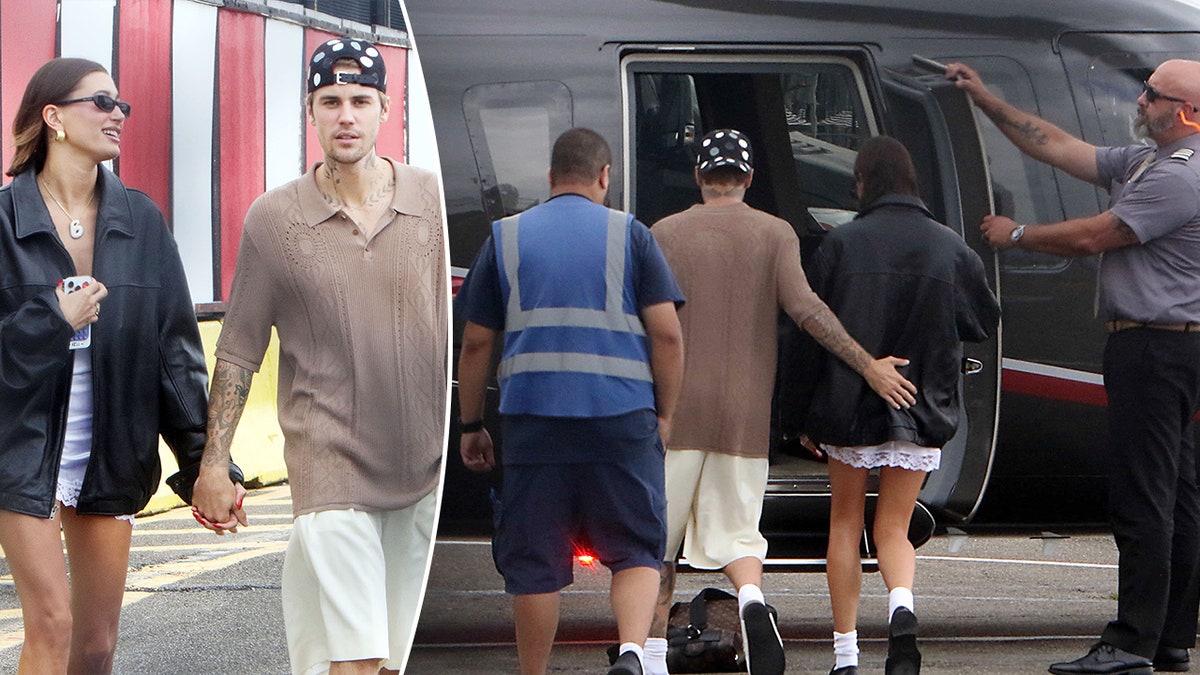 CLICK HERE TO GET THE FOX NEWS APP
Hailey's brand, Rhode, a tribute to her middle name (she was Hailey Baldwin before her marriage to Justin), launched last summer and was an immediate success, generating so much demand a waitlist for products was started. The company has five separate products.
"I think it would be very easy for me to just approve something that's 95% perfect and just be OK with the 95 instead of waiting for it to be 100%," Hailey told Forbes of her involvement in the company. "What I'm learning is that the quality of this brand is really, really important to me.
"I think it would be really awesome," she added, "if people just love the brand because they love the product," and not because of the family she was born into or the star she married.