Just Stop Oil opens door to more extreme protests, including 'slashing' famous artwork
Just Stop Oil, the British climate group that has staged protests defacing famous paintings and blocking busy city streets, said it was considering taking more extreme measures to protest new fossil fuel development.
In a blog post Wednesday, the group said it was obliged to escalate its actions because climate change posed such a large threat to humanity and future generations. While the group pushed back on media reports that it would soon begin slashing famous paintings, it said such actions could be taken in the future.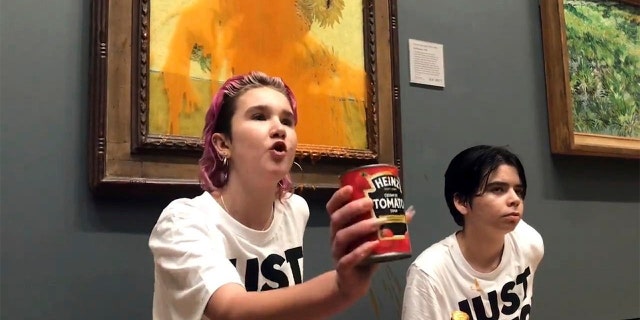 "What is a proportionate response to the knowledge that the government is knowingly planning to cut short your life by decades?
"That by encouraging new oil and gas they have condemned you to a future of fighting for a few miserable scraps of food to feed your starving children – assuming you feel brave enough to have children? How do young people even begin to process that gut-wrenching conclusion?"
CLIMATE ACTIVISTS EMBRACE EXTREME TACTICS, VIOLENCE AS DEADLINE TO 'SAVE THE PLANET' DRAWS NEAR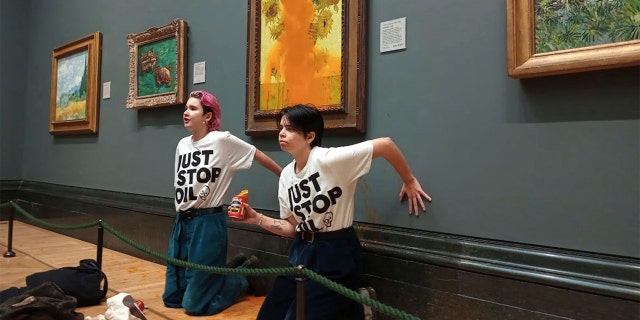 The Just Stop Oil blog post then compared the group to civil rights and women's rights activists of the 20th century. The group said its "nonviolent and accountable ethos" meant it would continue challenging the morality of existing social systems and reiterated its belief that more oil and gas drilling would harm billions of people.
"So yes, if no action is taken to end new oil and gas, ordinary people might actively consider slashing paintings as the Suffragettes did and yes, if the government does not address our demand for no new oil, we will consider escalating our actions," the group's post added. "It's what the Suffragettes did, it's what the Civil Rights movements did, it's what everyone does when the inalienable right to life and a livelihood are violated.
GEN Z CLIMATE ACTIVIST: THROWING PAINT, STOPPING TRAFFIC IS PRIVILEGED PROTEST AND UNHELPFUL
"We are engaged in nonviolent civil resistance. For now that means slowly marching around the streets of London, calling on ordinary people to take their first steps to help block and disable the cogs of the machine," it continued. "This is not a 'tactic' — it is an act of self respect, an act of solidarity, an act of love and necessity."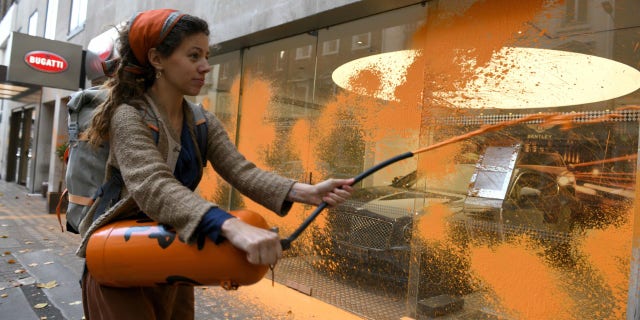 The group's extreme tactics have garnered widespread international attention. 
In October, activists with the group were arrested after they smashed cake on a wax figure of King Charles III at a museum in London. Weeks earlier, other members of the group poured tomato soup on a Vincent van Gogh painting worth millions of dollars located at another museum. The group's actions have also included members gluing themselves to famous artwork.
CLICK HERE TO GET THE FOX NEWS APP
Just Stop Oil has also organized actions blocking traffic in various city streets. In one case, activists blocked a busy road in London, forcing an ambulance and fire engine to take an alternative route.
The organization is part of the so-called A22 Network that is largely funded by California-based Climate Emergency Fund (CEF). The CEF's founding donor is Aileen Getty, the granddaughter of the Getty Oil founder.
Source: https://www.foxnews.com/politics/just-stop-oil-opens-door-more-extreme-protests-including-slashing-famous-artwork
Hot mic catches President Biden telling Cuban lawmaker he has to talk to him 'about Cuba'
A hot mic after the State of the Union Tuesday evening caught President Biden telling Sen. Bob Menendez that he has to talk to him "about Cuba."
Menendez, D-N.J., is a Cuban lawmaker and serves as Chairman of the Senate Foreign Relations Committee, an influential committee for initiating legislative proposals in the chamber. 
"Bob, I gotta talk to you about Cuba," Biden said to the senator. 
The moment was caught on C-SPAN cameras as Biden spoke with Menendez and Rep. Adam Schiff, who House Speaker Kevin McCarthy blocked from joining the House Intelligence Committee. 
BIDEN BOOED DURING STATE OF THE UNION FOR CLAIMING GOP WANTS TO CUT SOCIAL SECURITY, MEDICARE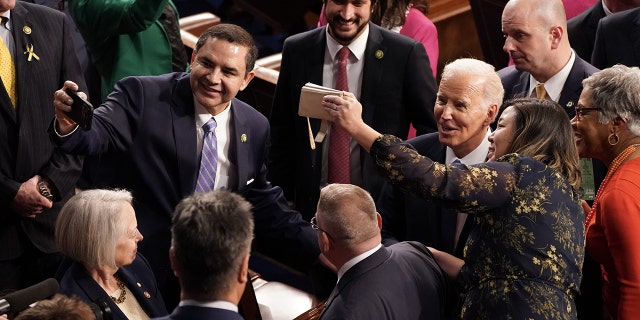 Menendez is heard replying, "Okay."
The lawmaker seemed confused by the president's comment.
"I'm serious," added Biden. 
BIDEN APPEARS TO GO OFF SCRIPT TO SAY US NEEDS OIL, GAS DRILLING
Menendez, the son of two Cuban migrants, has spent much of his time working in the House of Representatives and later the U.S. Senate on immigration and national security issues.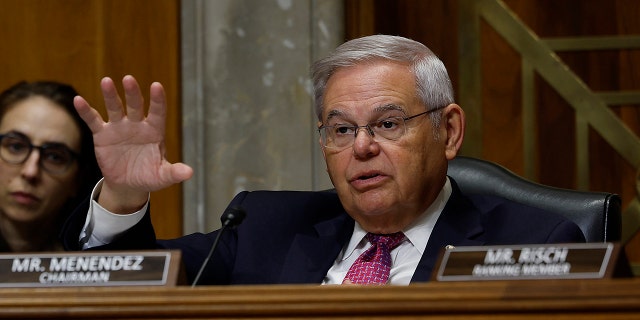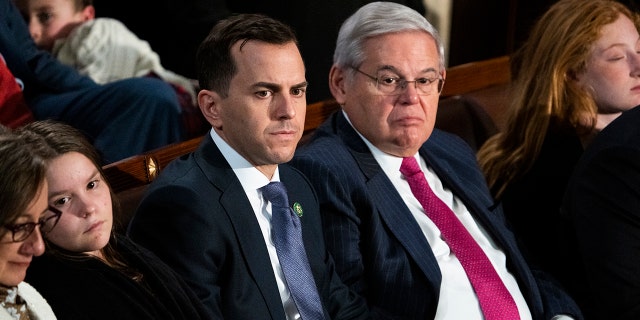 He is also credited with helping push through the Deferred Action for Childhood Arrivals (DACA) policy, which went into effect under former President Barack Obama.
Menendez is currently prioritizing his efforts on "competing with China, confronting the global pandemic, and restoring the United States' place as a leader around the globe," according to his official government website.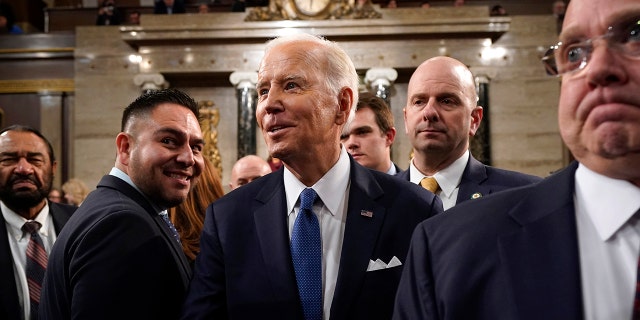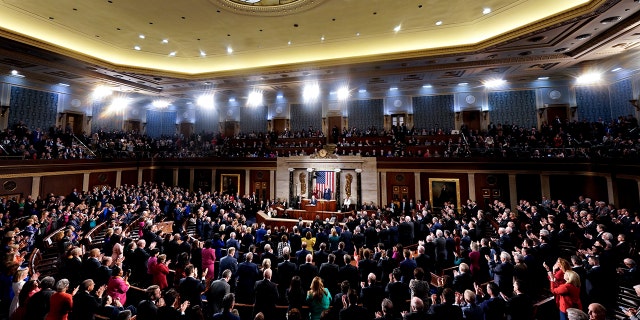 President Biden addressed competition with China during Tuesday evening's address, saying he welcomed competition but would act swiftly to push back on any action that threatens U.S. sovereignty. 
CLICK HERE TO GET THE FOX NEWS APP
"But make no mistake about it: as we made clear last week, if China's threatens our sovereignty, we will act to protect our country. And we did," said Biden, referencing the Chinese spy balloon that was shot down by the U.S. military last week.
Georgia Senate votes to block COVID-19 vaccine requirements at schools, government agencies
The Georgia Senate approved a measure Tuesday to prohibit schools and most state and local government agencies from mandating the coronavirus vaccine.
The legislation, Georgia State Senate Bill 1, passed the state Senate 31-21. The bill would not apply to healthcare providers subject to federal requirements that employees must be vaccinated to continue receiving federal payments.
A one-year ban on vaccine requirements was enacted last year, and this bill would make that measure permanent.
"We have lived for a year under the previous version of this law," said Republican state Sen. Greg Dolezal, the bill's main sponsor. "That law is set to sunset this summer so we just removed the sunset and said that we're never going to have a day in Georgia where governments refuse services to its constituents based on whether or not they have received a COVID-19 vaccine."
BIDEN ADMINISTRATION PUSHES BACK ON GOP EFFORT TO END VACCINE REQUIREMENT FOR INTERNATIONAL AIR TRAVELERS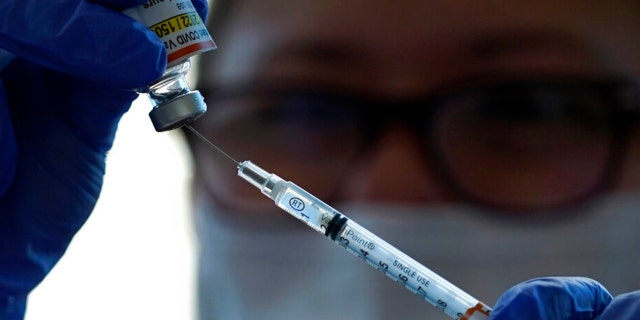 Dolezal said he does not believe the government should "discriminate against citizens" based on their vaccination status.
The current one-year ban passed in 2022 is set to expire on June 30.
"We know that there's been a movement building in America to demonize vaccinations and do it in the name of individual rights," Democrat Sen. Nan Orrock said, adding that lawmakers who voted for the new bill are "fundamentally signing on to the anti-vaccination movement" and tying the government's hands should COVID-19 worsen again.
The bill bans state agencies, local governments, schools and colleges from requiring proof of vaccination.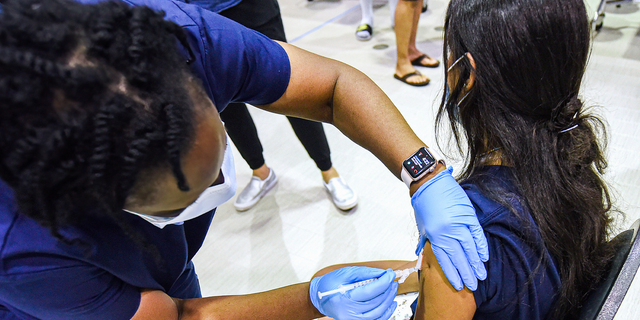 "When we throw bills up on the floor and take votes on them in the General Assembly that result in further undermining the public's faith in vaccines and in public health measures, I think that poses a danger to all of us in the long run," Orrock said. "It is not wise."
Republican Sen. Ben Watson, a medical doctor, said a mandate is not needed since the virus has become less severe.
"The science certainly has evolved, the disease certainly has evolved," Watson said.
COVID-19'S LASTING IMPACT: 'LESS ATTRACTIVE' PEOPLE WEAR MASKS MORE OFTEN THAN OTHERS, STUDY FINDS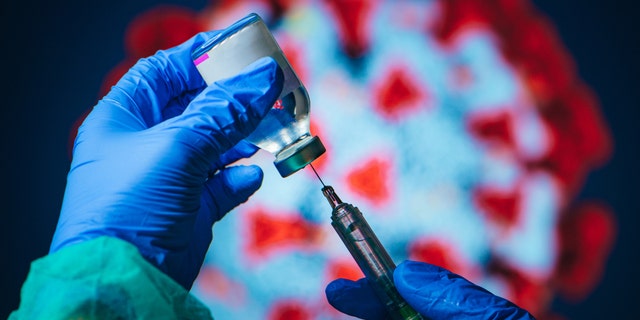 CLICK HERE TO GET THE FOX NEWS APP
Democrats, meanwhile, claim COVID-19 is less lethal thanks to vaccines and other public safety measures, and that there is no guarantee the virus will remain that way.
The bill now heads to the state House for consideration. 
Dolezal has said he plans to introduce a separate bill to make the current five-year ban on school mask mandates permanent.
The Associated Press contributed to this report
Biden's State of the Union touted economic success, but are Americans better off?
President Biden touted his economic accomplishments during his State of the Union address, but Americans across the country shared divided views on how their finances have fared two years into his term.
"If I didn't work in a restaurant, I don't think I'd be able to afford to eat," Romello, a Washington state resident, told Fox News. "I'm dipping into my savings now."
The cost of living is "crazy expensive" and rent is "mind-blowing," he said. 
But Michael, of Nashville, said his financial situation has improved.
"I make more money than I did three years ago," he said. 
AMERICANS SHARE HOW THEIR FINANCIAL SITUATION HAS CHANGED UNDER BIDEN'S PRESIDENCY:
WATCH MORE FOX NEWS DIGITAL ORIGINALS HERE
A recent Fox News poll reported that 61% of registered voters disapproved of Biden's handling of the economy. Additionally, 45% of respondents said economic conditions are "poor" while 35% answered "only fair."
"We're building an economy where no one's left behind," Biden said Tuesday during his State of the Union address. "Jobs are coming back, pride is coming back because of the choices we made in the last several years."
Laura of Bellingham, Washington, doesn't feel she's in a better position than before Biden took office.
"Definitely worse off, but I still sit in a role of privilege," she told Fox News. "So I'm fortunate enough to have weathered the storm without it being fully damaging to my family." 
BIDEN'S IRS PLANS TO CRACK DOWN ON WAITERS' TIPS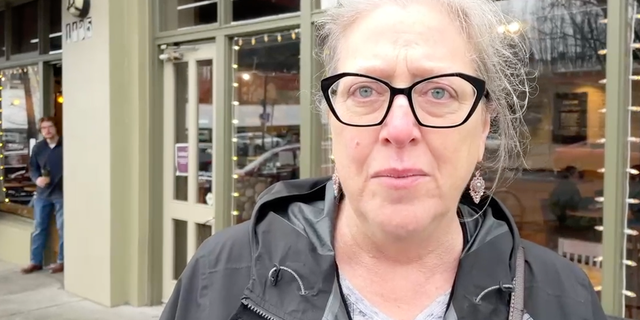 But Rich, a D.C. resident, said: "If you look at it closely, the jobs are way up, inflation is down, corporate earnings are way up, wages are up." 
"So, yes, all in all, I think the economy is doing better, although most people apparently do not think so," he continued.
U.S. employers added 517,000 jobs in January, and the unemployment rate dropped to 3.4% — the lowest since 1969, according to the Department of Labor. But some economists warned that labor participation rates are still below pre-pandemic levels, though others say the report shows promise for sectors hit hard by the pandemic.
FOX NEWS POLL: STATE OF THE UNION IS DYSFUNCTION, DISSATISFACTION AND DISAPPROVAL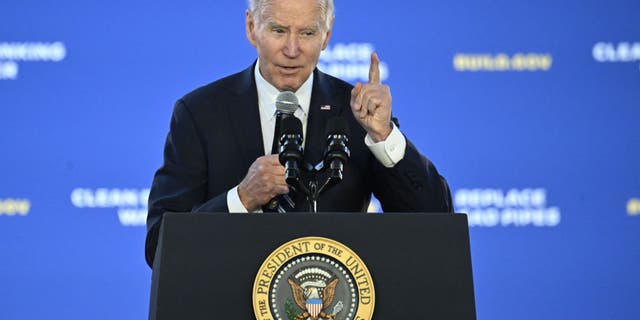 Meanwhile, some Americans told Fox News they're preparing for harder times ahead.
CLICK HERE TO GET THE FOX NEWS APP
"I'm being a little bit smarter and more frugal," Pola, of Austin, said. "Especially for somebody like me in the service industry, you definitely have a little bit tougher of a time making your money."
And a Nashville man said: "Things are more expensive, and I think it's just digging us into a deeper hole."
To watch the full responses, click here. 
Hannah Ray Lambert reported from Bellingham, Washington; Megan Myers from Washington, D.C.; Gabrielle Reyes from Austin; and Teny Sahakian from Nashville.