Joseph Stiglitz: tax high earners at 70% to tackle widening inequality
Joseph Stiglitz, the Nobel prize-winning Keynesian economist, has called for the super-rich to be subjected to taxes as high as 70% to help tackle widening inequality.
Stiglitz, who won the Nobel prize in economics in 2001 and pioneered many ideas about globalisation and inequality, said introducing a special worldwide income tax rate of 70% on the highest earners "would clearly make sense".
"People at the top might work a little bit less if you tax them more. But on the other hand, our society gains in having a more egalitarian, cohesive society," the former World Bank chief economist, 79, told Oxfam's Equals podcast.
Currently, the top rate of income tax in the UK is 45% on annual earnings above £150,000. In the US, the highest rate of tax is 37% on earnings above $539,901.
Stiglitz said that while an increase in the top rate on income would help lead to a more equal society, introducing wealth taxes on the fortunes accumulated by the world's wealthiest over many generations would have an even bigger impact.
"We should be taxing wealth at a higher rate, because much of the wealth is inherited wealth, [for example] – the young Walmarts, inherited their wealth," he said.
"One of my friends describes [this] as winning the sperm lottery – they chose the right parents. I think we have to realise that most of the billionaires have gotten much of their wealth out of luck."
He described proposals by the US senator Elizabeth Warren for a 2% tax on people with assets of more than $50m and 3% on those with more than $1bn as "very reasonable" and said they "would really go a long way to raising revenues that could alleviate some of our country's problems".
Stiglitz said the Covid-19 pandemic had worsened inequality to an "astounding" degree, arguing it "both exposed global inequalities, and exacerbated them".
"In a period where so many people found life so difficult, with losing their jobs, now dealing with food prices and oil prices going up, it is shocking how many people and rich corporations made off like bandits," he said.
Research published by Oxfam last week showed almost two-thirds of the new wealth amassed since the start of the pandemic has gone to the richest 1%. The charity found the best-off had pocketed $26tn (£21tn) in new wealth up to the end of 2021. That represented 63% of the total new wealth, with the rest going to the remaining 99% of people.
Oxfam said for the first time in a quarter of a century the rise in extreme wealth was being accompanied by an increase in extreme poverty. The charity said a tax of up to 5% on the world's multimillionaires and billionaires could raise $1.7tn a year, enough to lift 2 billion people out of poverty, and fund a global plan to end hunger.
More than 200 members of the super-rich elite last week called on governments around the world to "tax us, the ultra rich, now" to help address the inequality crisis.
The group of 205 millionaires and billionaires, including the Disney heiress Abigail Disney and The Hulk actor Mark Ruffalo, called on world leaders and business executives meeting in Davos for the World Economic Forum to urgently introduce wealth taxes to help tackle "extreme inequality".
Source: https://www.theguardian.com/news/2023/jan/22/joseph-stiglitz-economist-income-tax-high-earners-70-per-cent-inequality
Shell's actual spending on renewables is fraction of what it claims, group alleges
Shell has misleadingly overstated how much it is spending on renewable energy and should be investigated and potentially fined by the US financial regulator, according to a non-profit group which has lodged a complaint against the oil giant.
The US Securities and Exchange Commission (SEC) has been urged to act over Shell's most recent annual report in which it stated 12% of its capital expenditure was funneled into a division called Renewables and Energy Solutions in 2021. The division's webpage, which is adorned with pictures of wind turbines and solar panels, says it is working to invest in "wind, solar, electric vehicle charging, hydrogen, and more".
However, Global Witness, the activist group that has lodged the new complaint with the SEC, argues that just 1.5% of Shell's capital expenditure has been used to develop genuine renewables, such as wind and solar, with much of the rest of the division's resources devoted to gas, which is a fossil fuel.
"What Shell has said about the energy transition is not reflected in what they are doing," said Zorka Milin, senior adviser at Global Witness. "This business unit is fundamentally mislabeled, it has very little in the way of renewables and investors could be lulled into thinking Shell is doing far more on renewables than it is.
"This is greenwashing. Gas, whatever it may be, is not renewable, it's part of the problem. I hope the SEC opens an investigation and imposes appropriate penalties to stop this greenwashing."
Shell does not have a full breakdown of its renewable energy activity in its annual reports but Global Witness said that by examining the document they could find $288m in wind and solar investment in 2021, which is equivalent to 1.5% of Shell's capital expenditure. Much of the spending by the Renewables and Energy Solutions division appears to be on the trading and marketing of gas.
Should the SEC act over the issue, it will mark the most aggressive regulatory foray yet by the US federal government against a fossil fuel sector that is facing multiple lawsuits in several states for misleading investors and the public over what they knew about the climate crisis.
Shell, which is headquartered in London but is listed on the New York stock exchange, has denied misleading investors. "We're confident Shell's financial disclosures are fully compliant with all SEC and other reporting requirements," said a company spokeswoman.
The Shell spokeswoman said the company budgeted $20bn for "energy transition activities" in 2022, which is a third of its total operational and capital expenditure spending. This investment went towards renewable energy, hydrogen fuels, capturing carbon at the source of pollution and research and development, she said.
Most of the world's largest oil companies now accept that burning their product is causing global heating and have committed to the goals of the Paris climate agreement. But their shift away from fossil fuels has been ponderous – only about 5% of oil and gas company capital expenditure went to wind, solar and other renewables in 2022, according to the International Energy Agency. This was up from just 1% in 2019.
Last year was a particularly lucrative one for oil companies' traditional business model, with soaring fossil fuel costs in the wake of Russia's invasion of Ukraine prompting record profits for some of the wealthiest businesses in the world. Exxon made a record annual profit of nearly $56bn last year, while Chevron has reported a $36.5bn profit for 2022.
Milin said she hoped the SEC, which is separately mulling new requirements for companies to disclose their greenhouse gases, would act to deter other oil companies. "No more will we allow big polluters to pull the wool over our eyes while the world burns," she said. The SEC did not respond to a request for comment.
Bruce Huber, an expert in environmental law at Notre Dame University, said the new complaint highlights the external pressure that environmentalists are now placing upon fossil fuel companies.
"What we're seeing now is climate activists poring over the disclosures of energy firms with a fine-tooth comb, looking for any misstatements that could be the basis for liability or penalty," he said.
"Whether these tactics will actually induce Shell or its competitors to decarbonize is unclear, but even if not, those firms won't be able to sneeze without someone looking for a securities violation."
England to have almost no trains running on Wednesday as drivers strike
Rail passengers across Britain face more disruption on Wednesday, with no trains at all running on most routes in England as train drivers start the first of two days of strikes this week.
The seventh day of national action in the past year by the Aslef union will affect 14 operating companies, with all but four of them suspending services entirely.
Passengers have been asked to check before attempting to travel, with just a skeleton service on Greater Anglia, LNER and GWR. South Western Railway, where only depot drivers are striking, hopes to run a full service.
Strike action is not being taken at C2C or Merseyrail in England. Scotrail and Transport for Wales have settled pay claims and their services are not affected, although mainline cross-border routes to London will be severely affected or stopped entirely.
A further 24-hour strike by Aslef will be held on Friday.
The train drivers' union warned that more walkouts could follow, claiming that negotiations to settle the pay dispute have "gone backwards".
Simon Weller, assistant general secretary of Aslef, said an initial offer last month by negotiators from the Rail Delivery Group (RDG), of 8% over two years with strings attached, was "designed to fail".
The union was angered that it was immediately released to the press before it could respond, saying the move "broke all confidence".
Weller said train drivers were now infuriated by the detail of the offer and were pressing the union to call more action.
A spokesperson for the RDG said the proposed increase would take drivers' average salaries from £60,000 to nearly £65,000, and urged the union to "engage constructively to move talks forward".
According to the RDG, strikes since June have cost the industry about £480m in lost ticket revenue, compounding its financial shortfall and problems since Covid.
Hopes of a settlement with other unions have been raised, however, with the RMT still considering improved offers from train operators and in talks over the detail of a Network Rail offer that was rejected in a referendum before Christmas.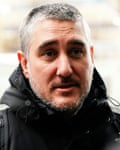 A third union, the TSSA, said on Tuesday it had now received two formal offers for all its members at train companies, which it would consider.
The union's organising director, Luke Chester, said: "There has been progress on a number of fronts – on pay, job security and the future working conditions of many members."
He said the TSSA would continue to ballot members for an extended strike mandate, after similar moves at the RMT and Aslef, which could mean industrial action continues through the summer.
The strikes on Wednesday come on the TUC's day of national action, with teachers and civil servants on strike.
The latter include Border Force officials, whose walkout could mean lengthy queues for inbound air passengers, although a first wave of action in December did not unduly disrupt airports.
Meta earnings drop by less than expected with boost from Reels
Meta investors got some good news in the social media company's latest earnings report on Wednesday, which showed a smaller drop in revenues than analysts had expected.
Meta, which also owns Instagram and Whatsapp, reported $32bn in revenue for the fourth quarter, which drove a rise in its stock price in extended trading on Wednesday.
The world's biggest social media company cut its cost outlook for 2023 by $5bn and announced a $40bn share buyback program.
Meta's costs and expenses climbed by 22% in the fourth quarter compared with a year earlier. In part, this was as a result of "charges related to our restructuring efforts" according the the company's release. Earlier it had also increased spending on the metaverse and on its short-form video content product Reels.
"2022 was a challenging year," said Mark Zuckerberg.
It said its investments in AI-surfaced content and Reels, a short video competitor with TikTok, were starting to pay off.
"The progress we're making on our AI discovery engine and Reels are major drivers of this," said Mark Zuckerberg, Meta's CEO, in a company statement. "Beyond this, our management theme for 2023 is the 'Year of Efficiency' and we're focused on becoming a stronger and more nimble organization."
Revenue fell 4% to $32.17bn from $33.67bn. Analysts were expecting $31.55bn.
Analysts had predicted the company would see a big drop in its fourth-quarter net income compared with the previous year due to shrinking ad revenue and higher costs.
With the better-than-expected results, Meta's shares jumped almost 18% in after-hours trading.
Despite the positive outlook, Zuckerberg called for more belt-tightening in what signals another tough year ahead for the company's employees.
In response to its revenue drop and the inflationary market pressures, Meta laid off 11,000 workers in November. It also reshuffled its management team. Zuckerberg has hinted to employees that more layoffs and management cuts may lie ahead in 2023.
"Meta rode the digital wave created by the lockdown and now it is trying to avoid the wipe out," ​​ wrote Tom Johnson, global chief digital dfficer at WPP's Mindshare Worldwide, just ahead of Meta's earnings report Wednesday. "The last six months have seen the company adjusting to ensure that it has a smooth passage out of the hyper growth period for digital advertising caused by lockdown and now it must battle with the tough economic environment that consumers find themselves in around the world."
It's been a difficult year for Meta, which has faced heightened competition from TikTok, a tepid digital advertising market and questions over Mark Zuckerberg's decision to focus the company on creating a new metaverse – a bet which may take years to pay off if it ever does.
And, in what some have criticised as an attempt to chase profits, Meta announced last week that it would allow Donald Trump to return to Facebook and Instagram soon, after banning him following the January 6 Capitol riots in 2021.
Critics charged the move was an attempt to increase flagging user engagement on the sites and thus goose Meta's profits.
"Mark Zuckerberg's decision to reinstate Trump's accounts is a prime example of putting profits above people's safety," said Derrick Johnson, the president of the NAACP, on Twitter. "It's quite astonishing that one can spew hatred, fuel conspiracies, and incite a violent insurrection at our nation's Capitol building, and Mark Zuckerberg still believes that is not enough to remove someone from his platforms."
The company's stock declined by more than 60% in 2022.
However there have been several recent bright spots for the company. Meta's new short video platform, Reels, which was designed to compete with Tiktok, is showing signs that it is catching on with users, as TikTok faces increasing regulatory pressures with some states banning its use on government-owned systems.
Meta also reportedly won court approval this week to proceed with its acquisition of the virtual reality startup, Within. The acquisition of the VR fitness company is expected to allow its technology to be integrated into Zuckerberg's metaverse.
Despite its big drop last year, Meta's stock has been climbing recently in 2023.
"Meta will need to figure itself out in 2023: is it a metaverse company or is it a short-form video company?" said Mike Proulx, an analyst at Forrester Research. "The problem is both business models are plagued with headwinds that basically handcuff Meta from delivering short-term business value."
Reuters and the Associated Press contributed to this report.