Jordan questions Biden's hiring of Pete Buttigieg amid East Palestine fallout: 'no transportation experience'
Why did President Joe Biden ever choose Pete Buttigieg to lead the Department of Transportation? That's exactly what Rep. Jim Jordan took to Twitter to ask on Friday as Buttigieg continues to face criticism for his handling — or lack of — a train derailment in East Palestine, Ohio.
The Norfolk Southern derailment, which took place on Feb. 3, has prompted health and environmental concerns as many of the 38 involved cars spilled toxic chemicals, including vinyl chloride, butyl acrylate, isobutylene, and other harmful chemicals, into the nearby area.
Jordan, R-Ohio, suggested in a tweet that Buttigieg's hiring "wasn't a good idea" as he has "no transportation experience."
"Maybe hiring a guy with no transportation experience to be the Secretary of Transportation wasn't a good idea?" Jordan asked.
BUTTIGIEG DODGES QUESTIONS WHILE HIS PRESS SECRETARY REFUSES TO BE ON CAMERA IN EAST PALESTINE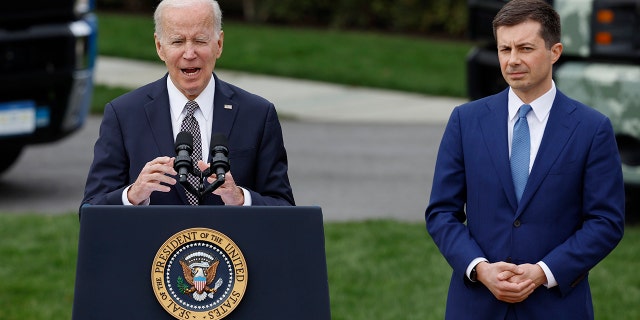 Buttigieg, a former mayor of South Bend, Indiana, ran against Biden during the 2020 Democratic presidential primary. He dropped from the race, endorsed Biden, and was later chosen to join Biden's administration.
He is also a former U.S. Navy intelligence officer.
"Secretary Pete's response to East Palestine has been a total disaster," Jordan added in another tweet.
"But don't worry, it was a 'lesson learned,'" the Republican continued, citing Buttigieg's own comment during an interview with CBS News. "Can you imagine the media's reaction if a Republican tried that bogus excuse?"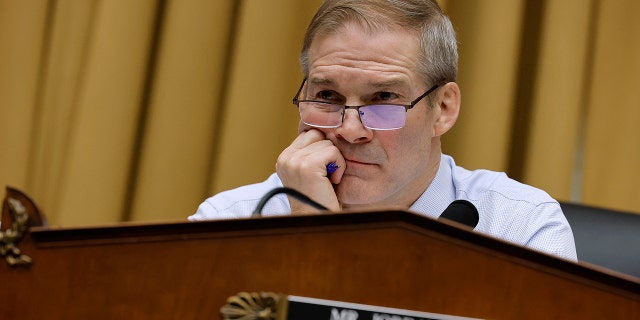 Buttigieg visited Ohio on Thursday, nearly three weeks after the East Palestine train derailment, and was also mocked for appearing to wear dress shoes while surveying the affected areas. Other officials wore heavy work boots as they trolled the muddy site of the catastrophic train derailment.
Ohio Senate GOP spokesperson Tom Evans wrote on Twitter, "Not shocked at all by Mayor Pete wearing dress shoes to East Palestine."
In another tweet, Jordan said: "The people of East Palestine have shown us once again that D.C. elites don't get Real America."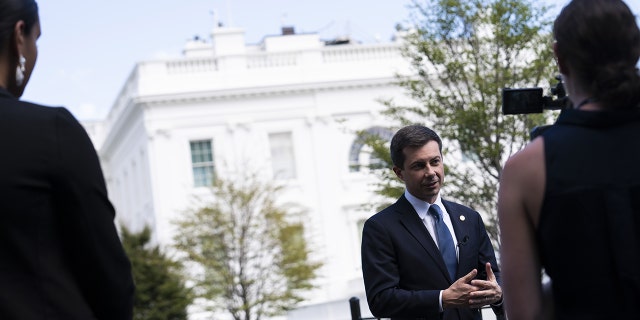 BUTTIGIEG MOCKED FOR APPEARING TO WEAR DRESS BOOTS WHILE ON THE GROUND IN EAST PALESTINE, OHIO
Buttigieg spoke during a news conference during his trip but did not answer the media, instead sending his press secretary, Kerry Arndt, to respond to reporters' inquiries.
A Department of Transportation spokesperson told FOX News Digital after the incident that "the secretary was wearing boots."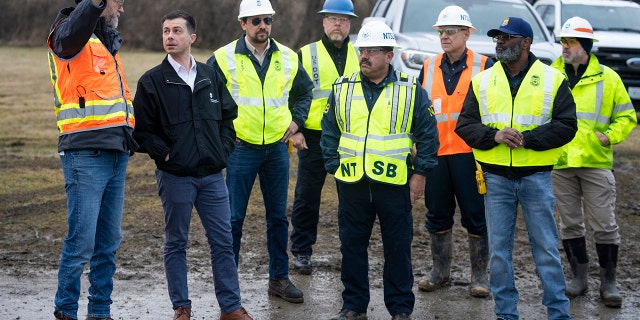 "We do not have a record of what brand they are," the spokesperson added.
Buttigieg put out a three-pronged plan to increase rail safety and accountability and made several public comments before his visit.
BUTTIGIEG BLAMES TRUMP, RUBIO AMIDST EAST PALESTINE DERAILMENT BACKLASH: 'NOW THAT IT'S CAMPAIGN SEASON'
Buttigieg has been subject to almost constant criticism from Republican lawmakers and others as he struggled to clear the supply chain crisis that saw shipping prices skyrocket under the COVID pandemic, provide clear answers for flight disruptions and Federal Aviation Administration system outages, or promptly address the train derailment in Ohio and others across the country.
Amid the backlash, Buttigieg has defended his response and has blamed former President Donald Trump and Republicans like Sen. Marco Rubio, R-Fla.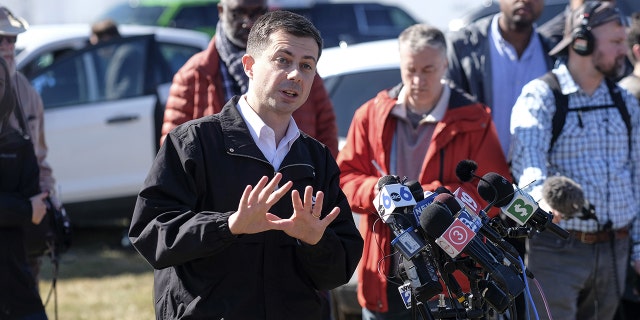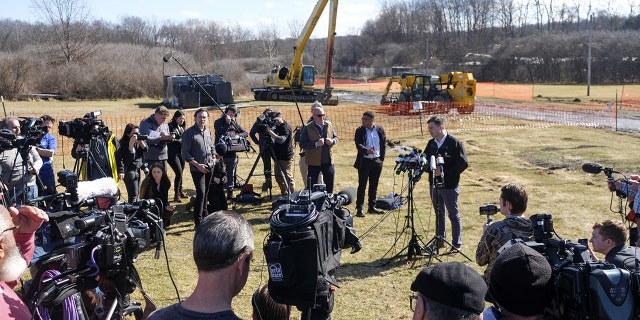 "You know, the sort of theatrics of Donald Trump being in Palestine were odd, but this is a community that voted overwhelmingly for him. The county that Palestine is in voted 71/29 for Donald Trump. I want you to reflect on the irony. In 2016, it was 68/26. This is a Trump county. What do you make of the fact he went there despite the fact the regulations he rolled back were partly responsible for this tragedy?" MSNBC's Joy Reid asked Buttigieg during a segment Thursday.
Buttigieg responded, "It was definitely an ironic thing to do."
"You take down regulations, you water down regulations, you weaken the power of the administration to deal with freight railroad companies, and then you show up wanting to be a great friend of the people who have been impacted by a rail disaster," he added.
CLICK HERE TO GET THE FOX NEWS APP
The Biden official continued, "You know, this is somebody who as far as I know never went to a derailment site when one of those happens on his watch. And there were thousands. Even ones with fatalities. Never even sent his Transportation Secretary to go. Now that it's campaign season, I guess things are different. We were there to work. We were there to get things done."
Rubio and other lawmakers have called for Buttigieg to resign.
Fox News' Lindsay Kornick contributed to this report.
Source: https://www.foxnews.com/politics/jordan-questions-bidens-hiring-pete-buttigieg-east-palestine-transportation-experience
Republicans will use hearing to assert Dems' 'culture war' policies hampering military recruitment
EXCLUSIVE: Republican senators are readying to make the case that the Pentagon's progressive military policies under the Biden administration are to blame for the Armed Forces' dire recruitment crisis. 
The Senate Armed Services Committee is holding a hearing at 9:30am this morning on the military's shortage of new troops, which the Center for Strategic and International Studies called "the worst recruiting crisis since the creation of the All-Volunteer Force nearly 50 years ago."
Sens. Joni Ernst, R-Iowa, and Rick Scott, R-Fla., members of the committee and military veterans themselves, drew a link to their own time serving the country when asked by Fox News Digital about the current personnel crisis.
"My family didn't have much growing up, and the Navy gave me the opportunity for a better life and a better education – it can provide that for so many kids across our nation. But unfortunately, this administration has made their focus more on pushing the failed agenda of the radical Left than building a lethal force and advertising the opportunities our military provides and how great our service can be for one's life," Scott said. "When our military is more focused on achieving some diversity metric rather than defeating our enemies, our national defense and the American people lose."
AIR FORCE GOES ON DIVERSITY, EQUITY, INCLUSION HIRING SPREE: TOP JOB PAYS UP TO $183,500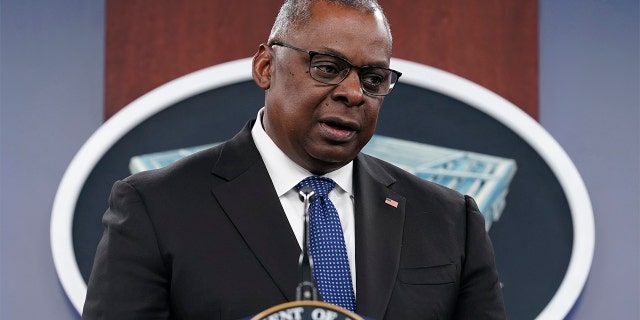 Ernst told Fox News Digital, "The military's purpose is to fight and win—not crusade for social causes.  As a combat veteran, this is personal to me. The Department of Defense must act urgently to fix waning recruitment and retention—and ultimately to build a more lethal force. Our adversaries are watching."
BIDEN ARMY SECRETARY RESPONDS TO 'WOKE' CRITICISMS, SAYS DEI PROGRAM 'IMPORTANT'
Sen. Eric Schmitt, R-Mo., another member of the panel, told Fox News Digital that he's looking to press the Pentagon officials at today's hearing on their commitment to upholding national safety rather than waging "culture wars at home."
"The goal of our military should be to meet global challenges facing America with decisive authority, not to wage culture wars at home," Schmitt said. "I look forward to questioning top military officials…to get more answers and ensure that our military is laser-focused on addressing the challenges that our adversaries pose to our country and our freedoms."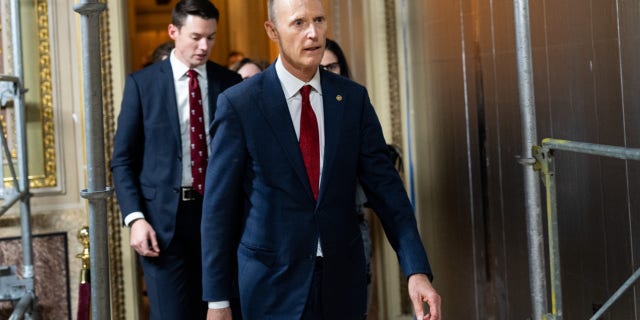 In a statement made to Fox News Digital late last week, the committee's top Republican, Sen. Roger Wicker, R-Miss., warned that "divisive" policies imposed by President Joe Biden's appointees are leaving the U.S. more vulnerable to its foreign adversaries.
"In the competition with China and Russia, our greatest asset is our people. The divisive social policies being pushed by senior Democrat appointees at the Pentagon are undermining this advantage," Wicker said.
DIVERSITY, EQUITY, INCLUSION WORKERS FRET COMPANIES AREN'T HIRING THEM ANYMORE: 'INSANE,' 'PATHETIC'
The personnel shortage has so far hit the Army the hardest, having fallen short of its 2022 recruitment goals by 25%. The Navy, Air Force and Marines all barely scraped by after dipping into their pools of deferred recruits – guaranteeing a setback in reaching this year's benchmarks.
Sen. Tommy Tuberville, R-Ala., referenced the dire recruitment statistics in his own comments to Fox News Digital.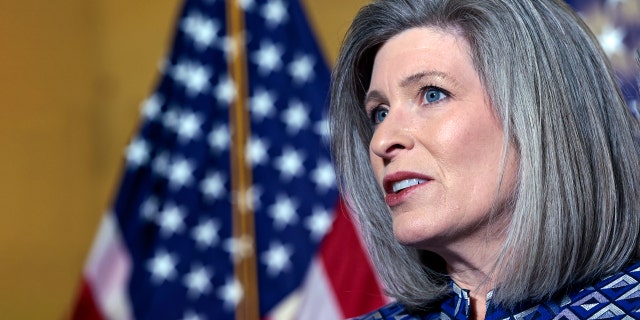 CLICK HERE TO GET THE FOX NEWS APP
"While the Biden administration declares climate change a national security threat, our real enemies are growing in strength and numbers," Tuberville said. "Last year the Army missed its recruitment goal by 15,000 recruits — more than an entire division. This year is shaping up to be even worse. This national security emergency ought to be a wake-up call for Pentagon leadership but they've refused to take responsibility. It's time for them to get serious about keeping our country safe."
Testifying at the Tuesday morning hearing will be the undersecretaries of the Army, Navy and Air Force.
Pentagon chief Lloyd Austin is expected on Capitol Hill later this week for a House hearing on Biden's Defense budget proposal.
Arkansas enacts bill banning transgender students from using bathroom of their choice in public schools
Arkansas joined several states on Tuesday by enacting a bill into law prohibiting transgender people at public schools from using the restroom that uses their gender identity.
Gov. Sarah Huckabee Sanders signed her name on the piece of legislation, which applies to multi-person restrooms and locker rooms at public schools and charter schools from kindergarten through 12th grade. 
"The Governor has said she will sign laws that focus on protecting and educating our kids, not indoctrinating them and believes our schools are no place for the radical left's woke agenda," Alexa Henning, Sanders' spokesperson, said in a statement to The Associated Press. "Arkansas isn't going to rewrite the rules of biology just to please a handful of far-left advocates."
The law won't go into effect until 90 days after the current legislative session ends on April 7 but will be in place before the 2023-24 school year begins.
ARKANSAS GOV. SARAH HUCKABEE SANDERS SIGNS BILL ALLOWING PRO-LIFE MONUMENT AT STATE CAPITOL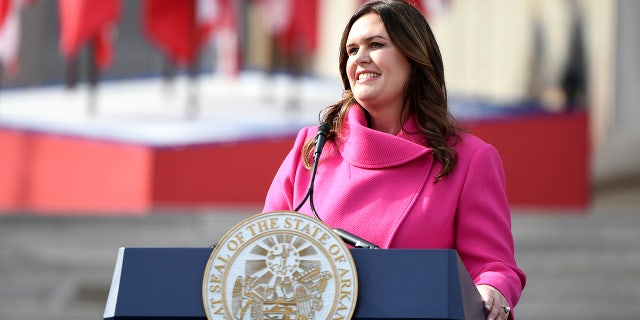 The new law also requires schools to provide reasonable accommodations for transgender students, such as single-person restrooms, though opponents have claimed the measure doesn't provide schools with funding to do so.
Superintendents, school administrators and teachers who violate the prohibition could be fined at least $1,000 from a state panel. Parents will also be able to file private lawsuits if the new law isn't enforced.
"Each child in our schools has a right to privacy and to feel safe and to feel comfortable in the bathroom they need to go to," Republican Rep. Mary Bentley, who sponsored the bill, told lawmakers earlier this year.
Clayton Crocket, who has a transgender daughter, told lawmakers a similar policy at his child's school led to feelings of further marginalization.
"She feels targeted, she feels discriminated against, she feels bullied, she feels singled out," Crockett said at a House panel hearing on the bill in January, according to The AP.
ARKANSAS GOV. SARAH HUCKABEE SANDERS SIGNS INTO LAW RESTRICTIONS ON 'ADULT' PERFORMANCES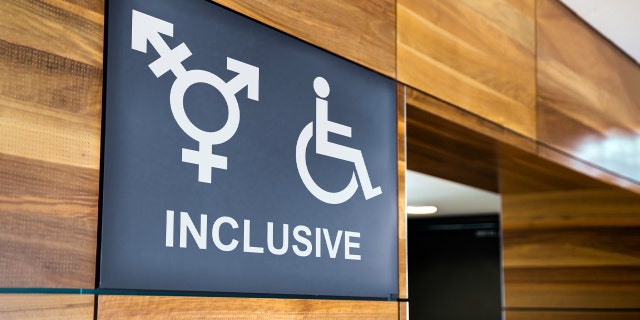 Six years after protests and boycotts led North Carolina to repeal its law banning transgender people from using the bathroom of their choice, proposals to enact bans or restrictions on transgender people have reemerged at a record pace across the country. 
According to the Human Rights Campaign, more than two dozen bills in legislatures aimed at limiting or banning gender-affirming care for minors, banning transgender girls from competing with biological girls, and placing restrictions on drag shows – mostly where children are present.
"They're singling out transgender people for no other reason than dislike, disapproval and misunderstanding of who transgender youth are," Paul Castillo, senior counsel and students' rights strategist for Lambda Legal, told The AP. "And the entire school population suffers as a result of these types of bills, particularly schools and teachers and administrators who are dealing with real problems and need to focus on creating a welcome environment for every student."
Another bill pending in Arkansas would charge someone who uses a public restroom or changing room not aligned with their biological sex when a minor is present with sexual indecency with a child, which is a misdemeanor.
Holly Dickson, executive director of the American Civil Liberties Union of Arkansas, told The AP the proposed bill is a "flagrant message" that proves some lawmakers "refuse to respect" transgender people's rights and humanity.
CLICK HERE TO GET THE FOX NEWS APP
Arkansas is now the fourth state to enact a "bathroom bill" in public schools. Similar laws are already in place in Alabama, Oklahoma and Tennessee, but lawsuits have been filed against the restrictions in the latter two states. Bills in Idaho and Iowa have also been passed by the legislature and await their governor's signatures.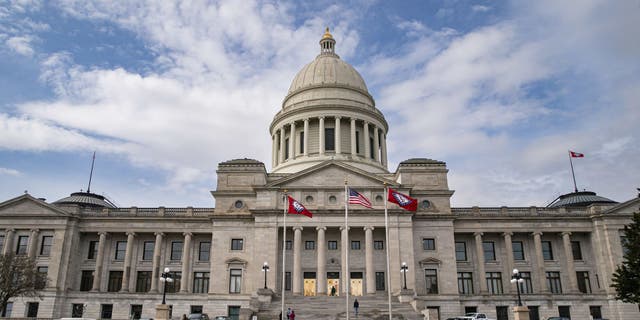 Sanders' signing of the bill on Tuesday comes a week after she approved legislation making it easier to sue medical professionals who provide gender-affirming care to minors, and a couple of weeks after she signed a bill that prohibits classroom instruction on gender identity and sexual orientation before 5th grade.
Fox News Digital reached out to Gov. Sanders for additional comment, but did not immediately hear back.
The Associated Press contributed to this report.
DeSantis jabs Trump's leadership style and character, says there is 'no daily drama' in governor's office
Florida Gov. Ron DeSantis cast himself as a pragmatic leader whose no-nonsense style could propel him to the White House, dismissing former President Trump's recent criticisms as nothing more than "background noise" that isn't worth engaging. 
The comments came during a wide-ranging interview with Piers Morgan, another frequent target of Trump's derision, that will air on Fox Nation this Thursday. 
"In terms of my approach to leadership, I get personnel in the Government who have the agenda of the people and share our agenda. You bring your own agenda in you're gone. We're just not gonna have that," DeSantis said, as Morgan detailed in a preview of the interview in the New York Post. 
"So, the way we run the Government I think is no daily drama, focus on the big picture and put points on the board and I think that's something that's very important."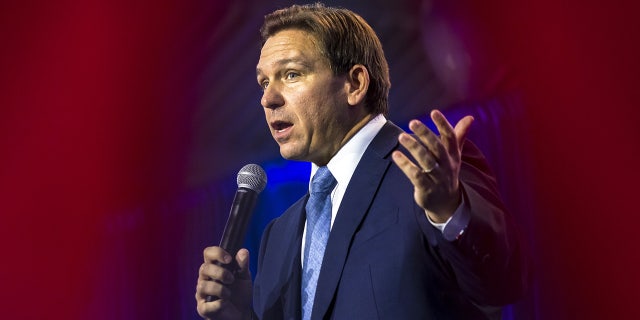 The interview took place on Monday just hours after DeSantis addressed a potential indictment of Trump in New York related to hush-money payments that the former president allegedly made to adult film star Stormy Daniels before the 2016 election. 
DeSantis ripped into Manhattan District Attorney Alvin Bragg as a "Soros-funded prosecutor" who is "pursuing a political agenda and weaponizing the office," but also took a subtle shot at Trump for the actions underlying the potential legal trouble. 
"I don't know what goes into paying hush money to a porn star to secure silence over some type of alleged affair — I just I can't speak to that," DeSantis said at a press conference earlier on Monday. 
TRUMP WORKS TO USE LOOMING INDICTMENT FOR 2024 CAMPAIGN ADVANTAGE OVER DESANTIS AND OTHER RIVALS
DeSantis doubled down on those comments in the interview with Morgan. 
"Well, there's a lot of speculation about what the underlying conduct is. That is purported to be it, and the reality is that's just outside my wheelhouse," DeSantis told Morgan. "I mean that's just not something that I can speak to."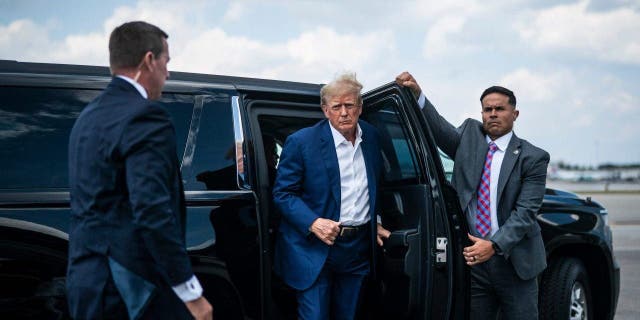 The Florida governor, who is yet to announce his candidacy for the 2024 presidential election but told Morgan to "stay tuned," also said that "truth is essential" and personal integrity matters for anyone in a position of power. 
"At the end of the day as a leader," DeSantis told Morgan. "You really want to look to people like our Founding Fathers, like what type of character, it's not saying that you don't ever make a mistake in your personal life, but I think what type of character are you bringing? So, somebody who really set the standard is George Washington because he always put the Republic over his own personal interest. When we won the American Revolution, Washington surrendered his sword."
DESANTIS TO DELIVER 'MAJOR POLICY SPEECH' AT HERITAGE LEADERSHIP SUMMIT AFTER SKIPPING CPAC
Trump took to TRUTH Social to criticize DeSantis after the initial comments at Monday's press conference. 
"Ron DeSanctimonious will probably find out about FALSE ACCUSATIONS & FAKE STORIES sometime in the future, as he gets older, wiser, and better known, when he's unfairly and illegally attacked by a woman, even classmates that are 'underage' (or possibly a man!)," Trump posted, alluding to unsubstantiated claims about DeSantis. "I'm sure he will want to fight these misfits just like I do!"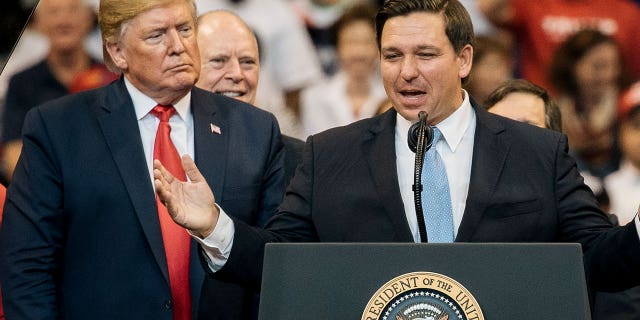 DeSantis dismissed the name-calling as "background noise," telling Morgan that it's "not important for me to be fighting with people on social media."
"I don't know how to spell the sanctimonious one. I don't really know what it means, but I kinda like it, it's long, it's got a lot of vowels. We'll go with that, that's fine," DeSantis told Morgan. 
"I mean you can call me whatever you want, just as long as you also call me a winner because that's what we've been able to do in Florida, is put a lot of points on the board and really take this State to the next level."
Others in the former president's orbit criticized DeSantis on Tuesday for doubling down on the criticism of Trump, with Donald Trump Jr. tweeting that DeSantis is running "to the liberal media on orders from his RINO establishment owners to attack my father."
Taylor Budowich, a former spokesperson for Trump who now runs a super PAC supporting his 2024 bid, tweeted on Tuesday that "DeSantis is choosing to go off half-cocked and take shots on some low-rent vlog."
"DeSantis' terrible political instincts are being reflected in all the public polls as he flames out faster than [Piers Morgan's] ratings," Budowich tweeted. 
CLICK HERE TO GET THE FOX NEWS APP
Trump has gained ground on DeSantis recently among Republicans, according to a Monmouth University poll released Tuesday, which found that 41% of GOP voters would like to see Trump as the 2024 nominee and 27% favor DeSantis. The two were tied at 33% in February, while DeSantis had a 13% lead in December.