'It's just crazy': Republicans attack US child labor laws as violations rise
As child labor law violations have been on the rise in the US, some state legislators are pushing for changes at state and federal levels to roll back protections in what some see as a threat to return child labor to the country.
The laws aim to expand permissible work hours, broaden the types of jobs young workers are permitted to do, and shield employers from liability for injuries, illnesses or workplace fatalities involving very young workers.
Child labor law violations have increased in the US, with a 37% increase in fiscal year 2022, including 688 children working in hazardous conditions, with the number likely much higher as the recorded violations stem from what was found during labor inspections.
The Department of Labor issued a press release in July 2022 noting child labor violations and investigations have increased since 2015.
Several high-profile investigations involving child labor have been exposed over the past year, including the use of child labor in Hyundai and Kia supply chains in Alabama, at JBS meatpacking plants in Nebraska and Minnesota, and at fast-food chains including McDonald's, Dunkin Donuts and Chipotle.
Amid these increases in child labor violations, legislative efforts have been introduced in several states to roll back child labor protections.
In Iowa, Republican legislators introduced a bill in January to expand the types of work 14- and 15-year-olds would be permitted to do as part of approved training programs, extend allowable work hours, and exempt employers from liability if these young workers are sickened, injured or killed on the job.
"It's just crazy to me that we are re-litigating a lot of things that seem to have been settled 100, 120 or 140 years ago," said Charlie Wishman, president of the Iowa AFL-CIO, which is opposing the bill.
Wishman added: "All of these protections have been put in place for a reason. Child labor law is there to make sure that kids are working in age-appropriate work activities or occupations that are appropriate for their age. We think this is a rewrite of our child labor laws in Iowa that are going way, way, way too far and has the potential to put kids in dangerous situations."
The bill would permit the director of Iowa workforce development or the Iowa department of education to grant exceptions from any provision that restricts the types of jobs 14- and 15-year-olds can do if the work is classified as part of a work-based learning program and also strips workers' compensation rights for these workers.
The protections being sought for companies are of particular concern to labor activists.
"In the Iowa legislation, one of the provisions is to exempt employers from civil liability due to the company's negligence. It is astounding that they would have the gall to knowingly acknowledge that more young people will be harmed, but focus on exempting businesses," said Marcy Goldstein-Gelb, co-executive director of the National Council for Occupational Safety and Health.
Goldstein-Gelb explained that throughout her career she has worked with families and co-workers of young workers who have died on the job, oftentimes in violation of child labor laws that industry groups have fought to repeal, such as in a case where a 16-year-old in Massachusetts was killed in 2000 while operating a golf cart on the job.
Young workers have much higher rates of non-fatal injuries on the job and the highest rates of injuries that require emergency department attention, Goldstein-Gelb noted. She argued that due to the vulnerability and inexperience of young workers, data on these workers is likely an undercount due to fears or barriers in being able to speak up and report dangerous situations or child labor law violations.
"I think there is this myth that you need to put young people in any possible job because there are openings. I think we are moving into a new age where we need to recognize that workers of all ages are seeking to earn a sustainable living and not put themselves in harm's way," added Goldstein-Gelb. "That's why there are workers taking actions around the country and that needs to be supported rather than just saying we're going to find people who have no alternative, the most vulnerable, and put them in jobs that are completely inappropriate."
Other states are currently or have pushed similar legislation to roll back child labor protections.
In Ohio, legislators reintroduced a bipartisan bill this year to extend working hours for 14- and 15-year-olds with permission from a parent or legal guardian, and called on Congress to adopt the same rollbacks at the federal level.
Legislators in Minnesota introduced a bill in January 2023 to extend work hours for 14- and 15-year-olds.
Republicans in Wisconsin passed a bill that was vetoed by Governor Tony Evers in this month that would have expanded work hours for 14- and 15-year-olds. The New Jersey governor, Phil Murphy, signed a similar law in 2022 that expanded work hours for 14- and 15-year-olds to work longer hours during summer months and on holidays and expanded allowable work hours for 16- and 17-year-olds.
At the federal level, Republican congressman Dave Joyce of Ohio drafted a bill in 2022 to expand working hours for 14- and 15-year-olds during periods when school is in session.
Advocates for legislative efforts to roll back child labor regulations have cited labor shortages, particularly in industries that rely on young workers, and have been strongly backed by the National Federation of Independent Business.
"We think these laws are really ill advised and just asking kids to have negative educational impacts," said Reid Maki, director of child labor issues and coordinator at the Child Labor Coalition, who argued it took significant efforts to enact child labor laws over 100 years ago, when there were thousands of children working long hours in unsafe jobs such as factories and mines.
Maki added: "Now there are states that want to go back toward that direction to deal with labor shortages by using teens, even to the extent of placing them in dangerous work environments – [it] doesn't make sense. It's disregarding their welfare."
He argued that child labor laws in the US need to be strengthened and updated, including closing existing loopholes that permit young workers, some as young as 12 years old, to work unlimited hours in many jobs in the agriculture industry with parental permission when school is not in session.
An estimated 300,000 to 500,000 minors work in the US agriculture industry annually, with 48% of all young worker fatalities between 2001 to 2015 occurring in the agriculture industry.
"In my office, we can't bring in a 12-year-old to make copies, 12 is too young, but we will take that same 12-year-old and put them in a field. The actual law allows them to work unlimited hours as long as school is not in session," added Maki. "There is basically no protection."
Source: https://www.theguardian.com/us-news/2023/feb/11/us-child-labor-laws-violations
Rupert Murdoch stepping down as chair of Fox and News Corp
Rupert Murdoch is stepping down as chair of Fox and News Corp – ending a seven-decade run as one of the world's most transformative and controversial media moguls.
In a note to staff first reported in the Murdoch-controlled Wall Street Journal, he wrote: "For my entire professional life, I have been engaged daily with news and ideas, and that will not change. But the time is right for me to take on different roles."
Murdoch, 92, will become chairman emeritus of the two corporations, the company said in a release.
Lachlan Murdoch, Murdoch's eldest son, now seems to be his successor. In the note Murdoch called Lachlan a "passionate, principled leader" who can take the companies into the future.
"On behalf of the Fox and News Corp boards of directors, leadership teams, and all the shareholders who have benefited from his hard work, I congratulate my father on his remarkable 70-year career," said Lachlan Murdoch, 52, in a statement.
"We thank him for his vision, his pioneering spirit, his steadfast determination, and the enduring legacy he leaves to the companies he founded and countless people he has impacted," he said.
The handover comes at a time of uncertainty in a media landscape that Murdoch dominated for so long. Fox is in a competition for eyeballs with much larger and better resourced broadcasters, at a time when Americans are swapping cable television for streamed entertainment, while News Corp, owner of the Times and the Sun newspapers in the UK, is battling for revenues as print sales fall away and advertising migrates to the big social media platforms.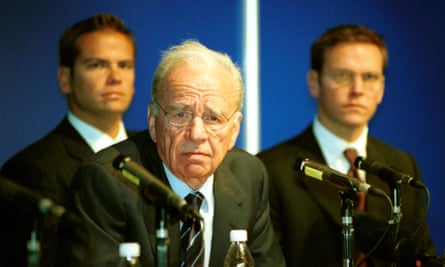 As his business expanded across continents, Murdoch faced numerous challenges and setbacks, emerging victorious from a confrontation with London's powerful print unions in the 1980s by moving his newspaper production to Wapping, and later closing his best selling News of the World tabloid in the wake of the phone hacking scandal.
The Fox founder's latest blow came five months ago when his news network paid $787.5m to settle a defamation suit brought by voting equipment company Dominion. Dominion charged that Fox had knowingly broadcast false and outlandish allegations that it was involved in a plot to steal the 2020 election.
Fox still faces a $2.7bn defamation suit filed by Smartmatic, a global election technology company, that also alleges Fox allowed its journalists and guests to broadcast falsehoods about its involvement in the 2020 election. Fox News forced out Tucker Carlson, its highest-rated host, after the settlement. Carlson has claimed his ousting was part of the settlement, a claim both Fox and Dominion deny.
The last two years have been tumultuous for Murdoch. As well as the huge lawsuits filed in the wake of Fox News' election coverage, Murdoch announced he was divorcing his fourth wife, the supermodel Jerry Hall. A hard-hitting Vanity Fair report also detailed a series of health problems for the nonagenarian, who reportedly broke his back in a fall on a yacht in January 2018, leaving him close to death.
In April this year, Murdoch abruptly called off his engagement to Ann Lesley Smith, 66, a former San Francisco police chaplain turned conservative radio host, reportedly because of his and his family's discomfort with Smith's evangelical views.
In his memo, Murdoch said: "Our companies are in robust health, as am I."
David Folkenflik, author of Murdoch's World: The Last of the Old Media Empires, said he had not heard of "anything about an immediate health crisis or scare but it doesn't mean that is not front of mind".
Folkenflik said as well as Murdoch's age, the election scandal and upcoming shareholder meetings for Fox and News Corp, parent company to its newspaper empire, may have led to the announcement's timing.
"Rupert Murdoch once called the hacking scandal 'the humblest day of his life'. But I think that by dint of his own personal involvement in the Dominion scandal, his own testimony, his own conscious decision not to intervene to prevent hosts from spreading very pernicious and utterly unfounded rumors of election fraud that pulls him front and center," said Folkenflik.
Murdoch's rise to become the most powerful media figure of his generation began when he inherited his father's interests in the Adelaide newspaper the News in 1952. By the 1980s, his newspaper empire spanned the globe and included the Australian, the Times, News of the World and the Sun in the UK and the New York Post in the US.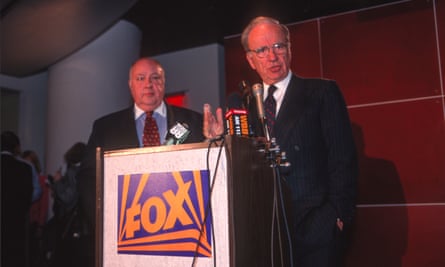 The empire expanded over the next decades, moving into television, publishing and film, taking over film studio Twentieth Century Fox in 1985, launching Sky Television in the UK in 1988, creating publisher HarperCollins in 1990 and launching Fox News in 1996.
As his power grew, so did his influence. Murdoch has shaped generations of politicians across the globe, from backing Margaret Thatcher in the UK in her war against the unions to supporting Donald Trump's victory over Hillary Clinton.
"He didn't stay within the lanes at all," said Folkenflik. "He was happy to influence policy from the invasion of Iraq to Brexit to Donald Trump, for whom he had great contempt but whose support he wanted. That paid off for him."
The company has also been mired in scandal. Guardian investigations uncovered routine hacking of the phones of politicians, celebrities and people in the news by News Corp journalists, causing international fury. Following the news that reporters had illegally accessed the voicemails of murdered schoolgirl Milly Dowler, Murdoch closed the News of The World – his biggest-selling newspaper – in 2011.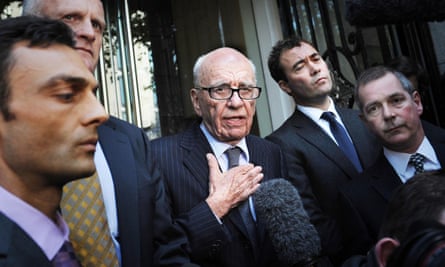 That scandal still dogs the company. Prince Harry is suing the publisher of the Sun over allegations of unlawful information gathering by its employees. The trial is set to start in January.
After a long battle with his younger brother, James, Lachlan Murdoch emerged as his father's heir apparent in 2019 after Fox sold its movie studio and top cable assets to Disney for $71bn. The Murdochs now control a far smaller media empire but one that includes its politically powerful newspaper assets and Fox News.
But while Lachlan Murdoch looks set to take over his father's empire, the length of his tenure is already being questioned.
In The Successor: The High-Stakes Life of Lachlan Murdoch, the longtime Murdoch watcher Paddy Manning claims shareholders are not keen on the Murdoch's succession plans.
"A Wall Street analyst who has covered the Murdoch business for decades and is completely au fait with the breakdown in the relationship between the brothers [Lachlan and James Murdoch], volunteers off the record that it would be 'fair to assume Lachlan gets fired the day Rupert dies'," writes Manning.
UAE oil company executives working with Cop28 team, leak reveals
Senior executives from the UAE's national oil company are working with the Cop28 team as the country ramps up its PR campaign ahead of the major UN climate summit later this year, leaked internal records show.
Two PR professionals from the Abu Dhabi National Oil Company (Adnoc) are identified as providing "additional support" to the team running the summit, according to a Cop28 communications strategy document obtained by the Centre for Climate Reporting (CCR) and the Guardian. It adds to growing evidence of blurred lines between the UAE's Cop28 team and its fossil fuel industry.
In January, Adnoc's chief executive, Sultan Al Jaber, who also serves as the UAE's climate change special envoy, was announced as Cop28 president, which is being hosted in Dubai in November and December. Since then, multiple reports have raised concerns about ties between his two teams. The Cop28 team previously stated that there were "clear governance guidelines in place to ensure the team can operate entirely independently from any other entity".
"It is wholly inappropriate for Adnoc staff to be doing PR for Cop28," said Pascoe Sabido, a researcher from Corporate Observatory Europe who co-coordinates the Kick Big Polluters Out coalition. He says the findings clearly demonstrate the close links between the oil company and the summit team.
Earlier this year, CCR and the Guardian revealed that several members of Adnoc staff had taken up important roles at the summit, including as climate negotiators. Some had even been seconded from ongoing roles with the oil company.
In June, the Guardian reported that Adnoc and Cop28 shared an IT system and that Adnoc staff were able to read emails sent to and from the Cop28 team. Adnoc had also been consulted on how to respond to a media inquiry about the summit. At the time, the Cop28 team insisted that the emails were held on a "standalone, firewall-protected network".
The two Adnoc communications executives named in the leaked document – Philip Robinson and Paloma Berenguer – have a combined 28 years of experience in the fossil fuel industry, according to their LinkedIn accounts. They both previously worked for Shell before joining Adnoc.
A Cop28 spokesperson said the two executives had not travelled as part of its team to New York for the UN general assembly this week and had not been involved in communications activities there.
"The COop28 team regularly receives queries not related to Cop28 that it directs to the appropriate UAE entities to answer," the spokesperson continued.
The document lays out the Cop28 team's public relations strategy and key talking points for Al Jaber and senior team members, who are attending the UN general assembly. The meeting at the UN will "set the tone, inform the climate agenda and shape the climate narrative in the lead up to Cop28", the document states.
Speaking at the UN on Wednesday, Al Jaber reiterated that a "phase down" of fossil fuels was inevitable and essential. But he stopped short of calling for a complete phase-out, which the UN secretary-general, António Guterres, has said is necessary to abate global heating.
"Actions are falling abysmally short," Guterres said. "To stand a fighting chance of limiting global temperature rise, we must phase out oil, coal and gas in a fair and equitable way."
The leaked communications plan makes no mention of a phase-down or phase-out of fossil fuels. Instead, it focuses on messaging around "fast-tracking the energy transition" by boosting global renewables capacity, reducing emissions from polluting industries and providing finance for green investments. As chief executive of Adnoc, Al Jaber is overseeing a major expansion of the company's oil and gas production.
"The Cop28 presidency has consistently stated that the phase-down of fossil fuels is inevitable, as part of a just and orderly energy transition, and it must go hand-in-hand with a rapid phase-up of zero-carbon alternatives," a Cop28 spokesperson said. "This position was reiterated on the floor of the United Nations."
Adnoc did not respond to requests for comment.
Sabido said: "The fossil fuel industry has consistently and repeatedly pushed back against a managed phase out of all fossil fuels because it means the end of the road for their core business." He called for measures to protect the UN from the "pervasive" influence of the fossil fuel industry and other oil-producing nations.
"Al Jaber and Adnoc have been part of this. But let's not pretend this is Al Jaber alone."
Peak China? Jobs, local services and welfare strain under economy's structural faults
When finding a job feels as unlikely as winning the lottery, playing the actual lottery may seem like a more productive use of time. In the first half of 2023, faced with a struggling economy, Chinese consumers spent 273.9bn yuan ($37bn/£30bn) on lottery tickets, an increase of more than 50% on the same period in 2022.
It's just the latest symptom of an economy in distress. A record high youth unemployment rate of 21.3% in June prompted the government to stop publishing data on the issue – along with other areas such as the consumer confidence index – all which showed China's economy was struggling.
Several factors have contributed to the unusually high youth unemployment rate. Education, real estate and technology – industries that graduates previously flocked to – have been hit by a regulatory storm in recent years which annihilated millions of jobs. And during the Covid-19 pandemic, more students stayed in education while the jobs market was all but frozen, leading to a pent-up supply of recent graduates on the jobs market.
But the bigger problems for the Chinese economy may be structural. Most of the people in the youth unemployment cohort are not recent college graduates but school leavers who are unable to get the types of service-sector jobs that have previously kept China's cities buzzing. Millions of would-be hospitality workers, security guards, couriers and nannies are unemployed. Educated, creative college graduates going without work is a problem for a "politically significant part of the workforce", says Eli Friedman, a professor who focuses on Chinese labour issues at Cornell University, but the fact that people are not finding more low end jobs is the "big concern".
Since 2013, as factories have moved to countries with cheaper labour, the number of people employed in manufacturing has been in decline. That has led to an "era of polarisation", according to a study published by economists at Stanford and Wenzhou universities, in which wages have risen for high-skilled professionals, while the surplus of workers at the low-skilled end of the economy has driven down wages.
Between 2004 and 2019, the share of people working in China's cities in the informal sector grew from 33% to about 60%. As well as contributing to yawning inequality, this hampers China's ability to boost its productivity rates. "You don't turn yourself into a high-income country with [close to] 70% of your economy in the informal sector," says Scott Rozelle, an economist who led the wage polarisation study.
'A peculiar time to be cutting entitlements'
Another problem created by the explosion in China's informal sector is that it inhibits the ability of local governments to collect taxes. Personal income tax accounts for just 6% of China's total tax revenues, compared with 24% in OECD countries. Only a tiny fraction of the country's population pay any income tax at all.
As a result, local governments are forced to rely on non-tax sources of revenue, such as land sales. Between 2012 and 2021, the share of local government revenues that came from land sales increased from 20% to 30%.
But in 2020, armed with the mantra that "houses are for living in, not for speculation", the government unleashed a wave of regulatory shocks to the real estate sector, prompting a record number of defaults and the worst slump in the housing market in the 21st century. That was bad news for local governments, which saw their land sale revenues fall by nearly a quarter in 2022.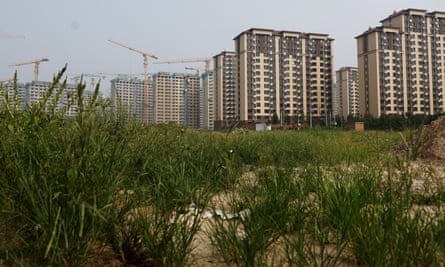 The slumping revenues exposed a problem that has been brewing for years. China's provincial governments have all but run out of money. Local government debt is estimated to total $23tn, and 22 municipalities are at medium or high risk of default, according to MacroPolo, a thinktank. The effects are already being felt across China.
In Hegang, a frosty coal-producing town near the Russian border, residents were left without heating, which is normally subsidised by the government, after the city made history by becoming the first to undergo fiscal restructuring in December 2021.
In February, the public bus operator in Shangqiu, a city of 7 million people in Henan province, said it was suspending services as it had run out of money to pay wages, insurance contributions or even to charge the electric buses.
In a bid to balance the books, Beijing has encouraged local governments to slash welfare payments, prompting pensioner protests earlier this year. With a rapidly ageing population and an already weak social safety net, it is a "peculiar time to be cutting entitlements", Houze Song, a MacroPolo fellow, has noted, especially because reducing benefits encourages people to stash away their money, hurting consumption.
And so China's economic problems risk falling into a vicious circle, where weak demand drags down employment and public revenue, which – in the absence of a free market – undermines the ability of the state to support jobs and economic confidence.