How can companies cut the UK's class pay gap?
It's no surprise that social class can affect your life chances, but recently the education secretary highlighted the problem with a stark statistic.
Children who show signs of low academic ability at the age of five, but who come from high-income families, are 35% more likely to become high earners than those who show signs of high ability but come from poorer families, said Justine Greening.
It was the latest reminder of the enduring impact of an individual's family background on their long-term prospects. In January, research by the Social Mobility Commission showed that, on average, professionals from poorer families earn almost £7,000 a year less than those from wealthier backgrounds.
Social mobility is often considered an educational issue, but it is clear from the Commission's findings that employers have a big role to play too. Not only do rich people get a disproportionate number of top jobs, but inequality also exists among colleagues with exactly the same role, education and experience. On average, those from poorer families will earn 7% less than their peers, equivalent to around £2,242 a year.
A range of theories have been advanced to explain the gap, including education differences, access to networks and class discrimination, as well as other, more specific factors. For instance, the Social Mobility Commission said that people from poorer backgrounds are less likely to ask for pay rises and sometimes even exclude themselves from promotion out of a fear of not fitting in.
Stefan Stern, director of the High Pay Centre which campaigns for greater income equality, says businesses need to do more to tackle the problem. "Britain has been struggling with this for such a long time," he says. "There are occasional shifts and improvements, but it's such a long-term, deep-seated thing – and it's not clear to me that it's getting any better."
Plenty of businesses claim to be making an effort. In fact, more than 190 employers have signed up to the government's Social Mobility Business Compact scheme, which aims to "address elitism and improve social mobility by encouraging businesses to open up opportunities to everyone".
As one of the lead signatories, Deloitte has introduced new ways to broaden out its recruitment. "We strongly believe that a person's background shouldn't dictate their future," says Emma Codd, managing partner for talent. "A socially diverse workforce is a critical business and economic imperative and we believe that we have an important part to play."
Among other initiatives, Deloitte has introduced a policy of university-blind recruitment, to try to minimise any elitist bias. And, since 2015, it uses so-called "contextualised academic data". The idea, it says, is that qualifications are considered in parallel with the circumstances they were attained in. So, for instance, three Bs at A Level would be recognised as exceptional if the school average was three Ds.
Just pay more
Despite official backing for such schemes – the government has granted 'champion' status to Deloitte, Linklaters, Telefónica and a number of other firms pledging to increase opportunities for people from lower-income backgrounds – some observers are sceptical about their potential to tackle the class pay gap.
"The real test is not just who they recruit, but who's there five or 10 years later and what's happened to them," says Stern. "It's a systemic problem, and short-term and PR measures aren't going to change anything."
Lee Elliot Major, CEO of the Sutton Trust, a thinktank focused on social mobility, agrees. "We seem to be going backwards in the workplace rather than forwards. It's not just wages, it's also whether the jobs have progression in them. We're almost going back to Victorian times in terms of inequality and opportunity.
"Companies need to think not just about access into the workplace, but how [employees] progress thereafter."
As a starting point, says Katherine Chapman, director of the Living Wage Foundation, businesses can help social mobility simply by paying better wages to lower-paid workers. With less stress about how to make ends meet, it can be easier to concentrate on securing the next career step or promotion, she argues.
Sign up to be a Guardian Sustainable Business member and get more stories like this direct to your inbox every week. You can also follow us on Twitter.
Source: https://www.theguardian.com/sustainable-business/2017/apr/27/how-can-companies-cut-the-uks-class-pay-gap
Elon Musk 'doesn't seem like' right person to own Twitter, says co-founder
Elon Musk "doesn't seem like" the right person to own Twitter, the social media platform's co-founder has said, adding that improvements to morale and content policies at the business have been reversed under its new proprietor.
In an interview with the Guardian, Biz Stone said positive changes he had helped oversee in recent years had been unwound by the Tesla chief executive.
Stone said running social media companies is "not really a win-win situation … it's always tough", because "50% of the people are gonna be happy, 50% of people are gonna be upset with you".
"You have to be OK with stuff that you just don't like or don't agree with being on there," said Stone, adding: "Otherwise, you should just go buy a magazine or a newspaper or something where it's OK to have a specific leaning."
Asked if Musk was the right owner for Twitter, Stone said: "It doesn't seem like it right now, but I could be wrong."
Musk has come under fire for temporarily banning journalists from the platform and reinstating previously banned accounts such as those belonging to the former US president Donald Trump and the self-proclaimed misogynist Andrew Tate.
Stone, who co-founded Twitter in 2006 with Jack Dorsey, Noah Glass and Evan Williams, returned to the business in 2017 at the behest of thenchief executive Dorsey to "guide the company culture, that energy, that feeling". Stone said improvements during his four-year stint, particularly in morale and overseeing content, have been lost under Musk.
"We made a lot of improvements in those areas. And that's all gone now."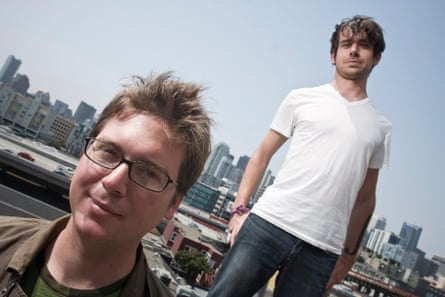 Musk has rowed back on a pledge to establish a "content moderation council" that would have overseen big content decisions and account reinstatements, instead relying on more arbitrary methods such as user polls hosted on his own Twitter account. He also fired approximately half of Twitter's workforce within days of buying the business for $44bn (£35bn) last year.
Stone added that employees should not have been named as part of the release of the so-called Twitter files, a series of internal documents detailing decisions such as the suspension of Donald Trump.
"When that happens, people get a lot of harassment," said Stone. "It's really bad." Twitter's former head of trust and safety, Yoel Roth, was reportedly forced to leave his home when Musk posted tweets misrepresenting Roth's 2016 academic thesis, "Gay Data".
Stone said the concept of Twitter would survive, regardless of the company's current financial struggles. "I don't know that Twitter as a company is going to succeed for ever but the idea of Twitter I think will be around," said Stone, pointing to the success of alternative platforms such as Mastodon.
"It would only matter that Twitter the idea continued. And that's happened. That seems to be happening already. Mastodon seems to be winning the open-source, decentralised version of Twitter. People seem to be going there."
He added: "I don't know the future. I don't know what's gonna happen and maybe things will be great in a year and [it] had to go through this trial by fire. But, right now it does not look good, I would say."
Stone spoke to the Guardian as he confirmed he is joining the board of Chroma, a Swedish startup in which he is also an investor. Chroma creates an audio-visual experience for mobile phone users, describing itself as "a world of sound experiences in a pocket" where users can change what they see and hear.
Describing Chroma's work as "soundplay", Stone added: "It's a new way to interact with sound and to play with sound." Last year Chroma collaborated with Venezuelan musician Arca to create Lux Aeterna, an app that creates an "ever-evolving, boundless audio-visual world".
Stone said his investment philosophy is simple – "do I like this person" and "do I think they can pull off this thing I would use myself?" He adds: "If those two answers are yes, I'm usually in."
Referring to Chroma's CEO and founder, Andreas Pihlström, he said: "I like working with Andreas. He is a really talented designer." Stone's co-investors in Chroma include Evan Sharp, the co-founder of digital pinboard platform Pinterest, and Ben Silbermann, the co-founder and CEO of Pinterest, where Pihlström worked as a creative director.
Stone, who has also invested in the messaging service Slack and Pinterest, added that he never thought of Twitter as being successful when he co-founded it in San Francisco.
"I tell young people – if you're doing something to try to get rich, it's probably not going to work. You should do something that you're just really enjoying working on and then you actually have a greater chance of becoming wealthy."
US economy grows strongly but interest rate rises starting to slow momentum
The US economy maintained a strong pace of growth in the fourth quarter as consumers boosted spending on goods, but momentum appears to have slowed considerably towards the end of the year, with higher interest rates eroding demand.
Gross domestic product – the broadest measure of economic health – increased at a 2.9% annualized rate last quarter, the commerce department said in its advance fourth-quarter GDP growth estimate on Thursday. The economy grew at a 3.2% pace in the third quarter. Economists polled by Reuters had forecast GDP rising at a 2.6% rate.
That could be the last quarter of solid growth before the lagged effects of the Federal Reserve's fastest monetary policy tightening cycle since the 1980s kick in. Most economists expect a recession by the second half of the year, though mild compared with previous downturns.
Retail sales have weakened sharply over the last two months and manufacturing looks to have joined the housing market in recession. While the labor market remains strong, business sentiment continues to sour, which could eventually hurt hiring.
Robust second-half growth erased the 1.1% contraction in the first six months of the year. For all for 2022, the economy expanded 2.1%, down from the 5.9% logged in 2021. The Fed last year raised its policy rate by 425 basis points from near zero to a 4.25%-4.50% range, the highest since late 2007.
Consumer spending, which accounts for more than two-thirds of US economic activity, was the main driver of growth, mostly reflecting a surge in goods spending at the start of the quarter. Spending has been underpinned by labor market resilience as well as excess savings accumulated during the Covid-19 pandemic.
But demand for long-lasting manufactured goods, which are mostly bought on credit, has fizzled and some households, especially lower-income, have depleted their savings. Business spending also lost some luster as the fourth quarter ended.
US activist investor who accused Adani of 'biggest con in corporate history' dares Indian group to sue
The US investor targeting Indian conglomerate Adani Group over what it claims is the "biggest con in corporate history" has dared the company to sue, given it would open the coal producer to further scrutiny.
Hindenburg Research's report has already wiped billions of dollars of value from the sprawling empire of Gautam Adani, the world's third richest man, and drawn in the contentious Carmichael coal and rail project in Queensland.
Hindenburg said in a statement that Adani had not responded to any of the substantive issues raised in its report that accused the company of engaging in a "brazen stock manipulation and accounting fraud scheme".
"Instead, as expected, Adani has resorted to bluster and threats," the statement said.
"Regarding the company's threats of legal action, to be clear, we would welcome it. We fully stand by our report and believe any legal action taken against us would be meritless.
"We have a long list of documents we would demand in a legal discovery process."
Activist investors like Hindenburg typically take a short position in a listed company they believe is heavily overvalued and has poor or fraudulent business practices.
Founded by Nate Anderson, Hindenburg is a US activist fund named after the 1937 airship disaster that looks for stocks that could crash. It has accused Adani of loading companies with debt that puts the entire group on a "precarious financial footing".
The battle comes amid a large scheduled fundraising attempt by Adani Enterprises, the company's listed flagship, in which Adani is seeking US$2.5bn from investors to fund capital expenditure and reduce debt.
Adani has threatened to seek "remedial and punitive" action against Hindenburg over what it said was a "maliciously mischievous, unresearched report".
"Clearly, the report and its unsubstantiated contents were designed to have a deleterious effect on the share values of Adani Group companies as Hindenburg Research, by their own admission, is positioned to benefit from a slide in Adani shares," Adani Group's legal head Jatin Jalundhwala said in a statement on Thursday.
The statement said Adani was disturbed by the "intentional and reckless attempt" of a foreign entity to mislead investors and the general public and sabotage the public offering.
Adani has previously said that allegations in the report had been discredited and rejected by India's highest courts, and that Hindenburg had not attempted to verify information with the company before publishing.
The Hindenburg report cited a series of transactions tied to Adani's Australian operations that it alleged may have allowed Adani to avoid disclosing large asset impairments to investors.
Located in Queensland's coal-rich Galilee Basin, the Adani project exported its first coal in late 2021, drawing opposition due to the fossil fuel's contribution to greenhouse gas emissions.
That project went ahead after the Queensland government struck a royalties deal with the miner that allowed it to defer payments, although the full details of the agreement have not been made public.
The Queensland government's resources department said media questions about the report should be directed to financial regulators.
The Australian Securities and Investments Commission, which declined to comment, would typically assess the report to determine if it should investigate.
The Greens industry spokesperson, Penny Allman-Payne, said the Hindenburg report raised concerns over Adani's actions, prompting questions over its right to operate in Australia.
"This should give Queensland Labor serious pause about its reckless and misguided decision to get into bed with Adani, and should call into question the company's future in Australia," Allman-Payne said.
More than US$9.4bn (A$13.2bn) in value was wiped off listed companies in the Adani network on Wednesday after the Hindenburg report was published. Those same companies fell further in early trading on Friday, after Indian markets were shut on Thursday, creating selling momentum.
The billionaire US investor Bill Ackman said in a tweet he found the Hindenburg report to be "highly credible and extremely well researched". He acknowledged the hedge fund he leads, Pershing Square, had not done any independent research into Adani.