'Greater Idaho' movement to absorb rural Oregon counties 'bad for the country,' top Dem warns
A campaign to have rural eastern Oregon secede from the blue state and join more conservative Idaho has "virtually no chance" of becoming a reality, according to Idaho's top state Senate Democrat.
"I'm very pleased this measure has virtually no chance of advancing into reality," Idaho Senate Minority Leader Melissa Wintrow, D, told Fox News Digital. "It would be bad for all involved and bad for the country, and I am opposed to it at all levels."
Wintrow was referring to a resolution making its way through the Idaho Legislature that wouldn't move the Idaho-Oregon border but rather call for formal talks between the states' legislatures about relocating the boundary line.
Last month, Idaho's House of Representatives passed the bill, which will now be debated in the state Senate. It's unclear if the bill will pass the Idaho Senate, but the chamber is, like the state's House, dominated by Republicans.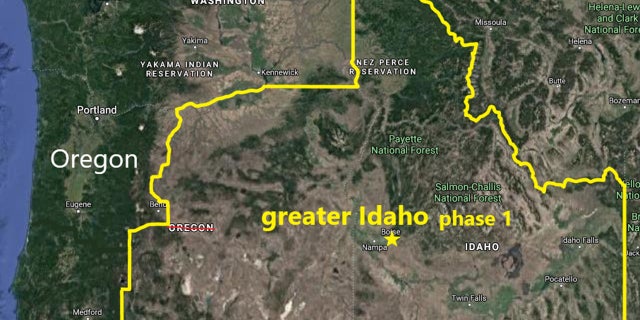 'GREATER IDAHO' MOVEMENT TO ABSORB CONSERVATIVE RURAL COUNTIES FROM LIBERAL OREGON GAINS MOMENTUM
Backers of the resolution support the so-called Greater Idaho movement, which seeks to incorporate about 13 Oregon counties, or 63% of the state's landmass and 9% of its population, within Idaho's borders.
Proponents of the idea argue it's about maintaining more traditional values, preserving a certain way of life, and being properly represented by the state's lawmakers.
"Yes, I am supportive of the Greater Idaho idea," Idaho Rep. Judy Boyle, R, told Fox News Digital. "I have lived along the Oregon border my entire life, so have many east Oregon friends. They have been quite frustrated with the liberal I-5 western Oregon corridor running their state and completely ignoring their values and needs. They have finally come down to asking the voters, county by county, if they want to join Idaho. Currently, 11 counties have said YES [sic]!"
Proponents of Greater Idaho note that 11 counties in eastern Oregon have voted for ballot measures to explore the move and that, according to some polling, Idahoans would welcome expanding the state boundary. In Oregon, meanwhile, polling has shown a roughly equal number of voters support and oppose the idea, with about one-fifth of the population undecided.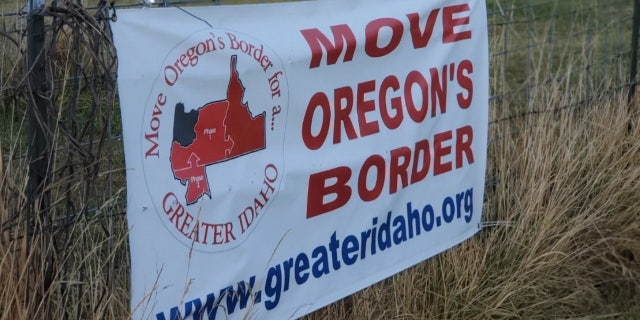 OREGON LAWMAKERS CONSIDER CUTTING MILLIONS FROM ADDICTION SERVICES AFTER DECRIMINALIZING DRUGS
Boyle argued the plan would be a win not only for eastern Oregon but also for Idaho.
"Advantages for Idaho are gaining citizens with likeminded conservative values, gaining another congressional seat, moving the Oregon 'legal' hard drugs several hundred miles away from Idaho's population center, allowing these new Idaho citizens to remain in their existing homes and generational old ranches which relieves the pressure on the Idaho housing market, and brings more businesses, jobs, and innovators into Idaho," she said.
However, some of Boyle's colleagues counter that Idaho lawmakers should be focusing on the residents of their own state. 
"I oppose wasting a single minute of our very short time in the Idaho Legislature working to solve the problems of a minority of Oregon's population instead of focusing our energy on the very real problems that we need to solve in Idaho," Rep. Ned Burns, D, told Fox News Digital. "The proposal to move state boundaries is virtually impossible to execute. In each state it would take a concurrent resolution passed by two-thirds of each body, then a vote of the citizens, then an amendment to the state constitutions, and finally an act of Congress signed by the president. The idea that this would happen is laughable."
Moving the Idaho-Oregon border would require the approval of both state legislatures as well as the U.S. Congress.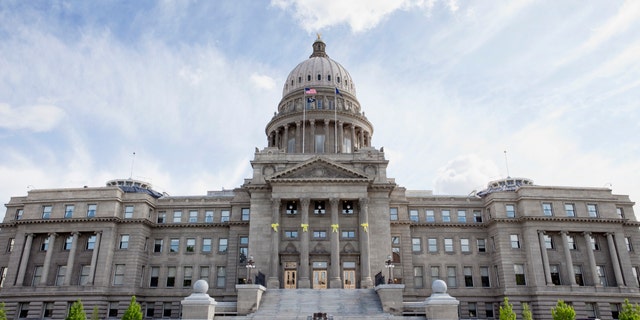 IDAHO JOINS TEXAS LAWSUIT AGAINST BIDEN'S WATERWAY PROTECTIONS RULE
Burns added that the U.S. political system works best "when there's a balance of different viewpoints," arguing that efforts "to build a one-party state lead to extremism and that can be very dangerous."
But now the measure is through the House and in the hands of the Senate. While the Senate vote may not fall entirely along party lines, don't expect the support of Wintrow, who echoed some of Burns' concerns.
"While there are vast political differences in our region, Greater Idaho is not the proper remedy for those differences," said Wintrow. "Our democratic republic depends on level heads coming together to find solutions to the issues that impact our citizens. Dividing state borders to create enclaves of politically like-minded people is the opposite of a healthy America."
Despite such criticism, proponents of the Greater Idaho movement believe they've gained momentum. Matt McCaw, a spokesperson for the Greater Idaho group, has said he's confident the measure under consideration will pass the legislature.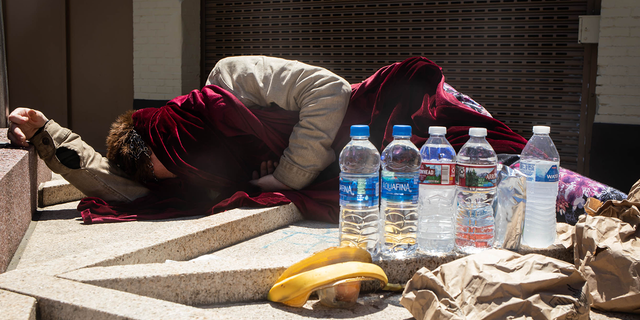 OREGON BILL WOULD PAY HOMELESS PEOPLE $1,000 A MONTH
Meanwhile, former Oregon House Speaker Mark Simmons recently penned an op-ed in the Idaho Statesman, a daily newspaper, to explain why he supports a Greater Idaho, saying if they're successful they'll be "freeing rural, conservative communities from progressive blue-state law."
Beyond values, supporters also point to a recent analysis by the Claremont Institute that found the state-line shift could benefit Idaho economically, providing an annual net benefit to Idaho's state government budget of $170 million.
However, critics have argued Oregon's sparsely populated areas have high rates of Medicaid enrollment and could be an added expense to Idaho taxpayers.
A "Greater Idaho" would be as big as Montana and twice as populous, with the new land increasing the state's population by about 21%.
CLICK HERE TO GET THE FOX NEWS APP
"Will it ever happen?" asked Boyle. "We won't know unless we give it a try. Our Idaho Legislative Memorial is simply saying to Oregon that we are willing to talk about the possibility and what that would look like."
Source: https://www.foxnews.com/politics/greater-idaho-movement-absorb-rural-oregon-counties-bad-country-top-dem-warns
Republicans will use hearing to assert Dems' 'culture war' policies hampering military recruitment
EXCLUSIVE: Republican senators are readying to make the case that the Pentagon's progressive military policies under the Biden administration are to blame for the Armed Forces' dire recruitment crisis. 
The Senate Armed Services Committee is holding a hearing at 9:30am this morning on the military's shortage of new troops, which the Center for Strategic and International Studies called "the worst recruiting crisis since the creation of the All-Volunteer Force nearly 50 years ago."
Sens. Joni Ernst, R-Iowa, and Rick Scott, R-Fla., members of the committee and military veterans themselves, drew a link to their own time serving the country when asked by Fox News Digital about the current personnel crisis.
"My family didn't have much growing up, and the Navy gave me the opportunity for a better life and a better education – it can provide that for so many kids across our nation. But unfortunately, this administration has made their focus more on pushing the failed agenda of the radical Left than building a lethal force and advertising the opportunities our military provides and how great our service can be for one's life," Scott said. "When our military is more focused on achieving some diversity metric rather than defeating our enemies, our national defense and the American people lose."
AIR FORCE GOES ON DIVERSITY, EQUITY, INCLUSION HIRING SPREE: TOP JOB PAYS UP TO $183,500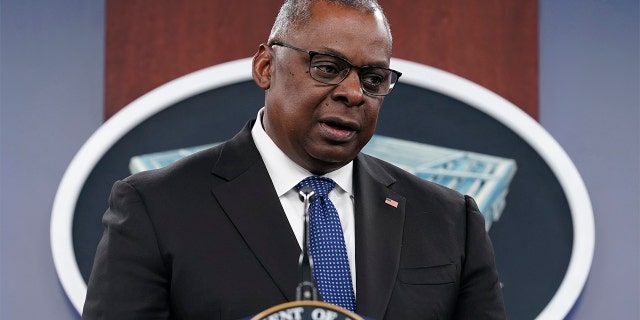 Ernst told Fox News Digital, "The military's purpose is to fight and win—not crusade for social causes.  As a combat veteran, this is personal to me. The Department of Defense must act urgently to fix waning recruitment and retention—and ultimately to build a more lethal force. Our adversaries are watching."
BIDEN ARMY SECRETARY RESPONDS TO 'WOKE' CRITICISMS, SAYS DEI PROGRAM 'IMPORTANT'
Sen. Eric Schmitt, R-Mo., another member of the panel, told Fox News Digital that he's looking to press the Pentagon officials at today's hearing on their commitment to upholding national safety rather than waging "culture wars at home."
"The goal of our military should be to meet global challenges facing America with decisive authority, not to wage culture wars at home," Schmitt said. "I look forward to questioning top military officials…to get more answers and ensure that our military is laser-focused on addressing the challenges that our adversaries pose to our country and our freedoms."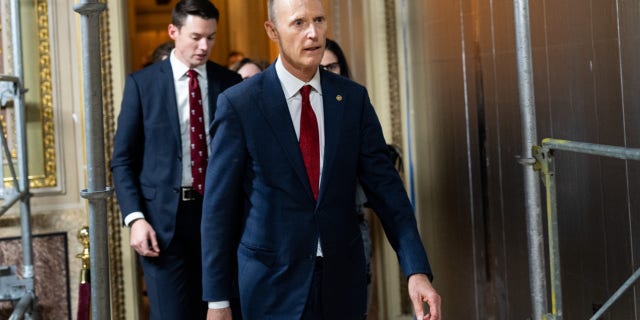 In a statement made to Fox News Digital late last week, the committee's top Republican, Sen. Roger Wicker, R-Miss., warned that "divisive" policies imposed by President Joe Biden's appointees are leaving the U.S. more vulnerable to its foreign adversaries.
"In the competition with China and Russia, our greatest asset is our people. The divisive social policies being pushed by senior Democrat appointees at the Pentagon are undermining this advantage," Wicker said.
DIVERSITY, EQUITY, INCLUSION WORKERS FRET COMPANIES AREN'T HIRING THEM ANYMORE: 'INSANE,' 'PATHETIC'
The personnel shortage has so far hit the Army the hardest, having fallen short of its 2022 recruitment goals by 25%. The Navy, Air Force and Marines all barely scraped by after dipping into their pools of deferred recruits – guaranteeing a setback in reaching this year's benchmarks.
Sen. Tommy Tuberville, R-Ala., referenced the dire recruitment statistics in his own comments to Fox News Digital.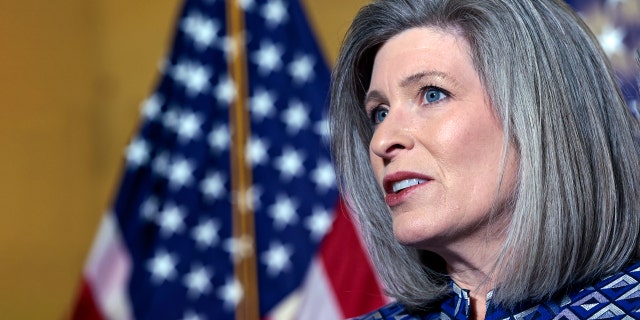 CLICK HERE TO GET THE FOX NEWS APP
"While the Biden administration declares climate change a national security threat, our real enemies are growing in strength and numbers," Tuberville said. "Last year the Army missed its recruitment goal by 15,000 recruits — more than an entire division. This year is shaping up to be even worse. This national security emergency ought to be a wake-up call for Pentagon leadership but they've refused to take responsibility. It's time for them to get serious about keeping our country safe."
Testifying at the Tuesday morning hearing will be the undersecretaries of the Army, Navy and Air Force.
Pentagon chief Lloyd Austin is expected on Capitol Hill later this week for a House hearing on Biden's Defense budget proposal.
Arkansas enacts bill banning transgender students from using bathroom of their choice in public schools
Arkansas joined several states on Tuesday by enacting a bill into law prohibiting transgender people at public schools from using the restroom that uses their gender identity.
Gov. Sarah Huckabee Sanders signed her name on the piece of legislation, which applies to multi-person restrooms and locker rooms at public schools and charter schools from kindergarten through 12th grade. 
"The Governor has said she will sign laws that focus on protecting and educating our kids, not indoctrinating them and believes our schools are no place for the radical left's woke agenda," Alexa Henning, Sanders' spokesperson, said in a statement to The Associated Press. "Arkansas isn't going to rewrite the rules of biology just to please a handful of far-left advocates."
The law won't go into effect until 90 days after the current legislative session ends on April 7 but will be in place before the 2023-24 school year begins.
ARKANSAS GOV. SARAH HUCKABEE SANDERS SIGNS BILL ALLOWING PRO-LIFE MONUMENT AT STATE CAPITOL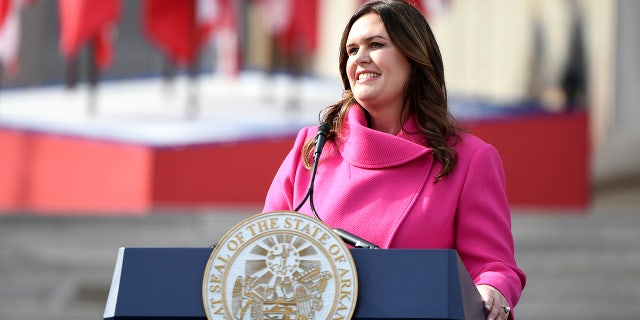 The new law also requires schools to provide reasonable accommodations for transgender students, such as single-person restrooms, though opponents have claimed the measure doesn't provide schools with funding to do so.
Superintendents, school administrators and teachers who violate the prohibition could be fined at least $1,000 from a state panel. Parents will also be able to file private lawsuits if the new law isn't enforced.
"Each child in our schools has a right to privacy and to feel safe and to feel comfortable in the bathroom they need to go to," Republican Rep. Mary Bentley, who sponsored the bill, told lawmakers earlier this year.
Clayton Crocket, who has a transgender daughter, told lawmakers a similar policy at his child's school led to feelings of further marginalization.
"She feels targeted, she feels discriminated against, she feels bullied, she feels singled out," Crockett said at a House panel hearing on the bill in January, according to The AP.
ARKANSAS GOV. SARAH HUCKABEE SANDERS SIGNS INTO LAW RESTRICTIONS ON 'ADULT' PERFORMANCES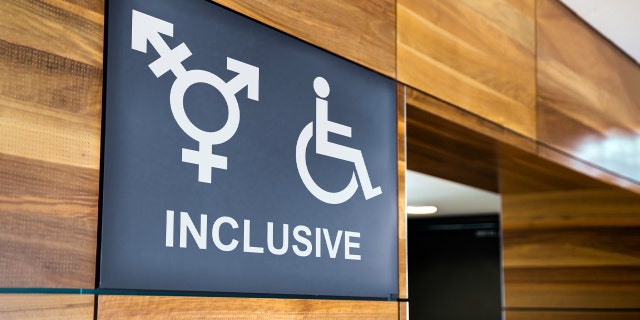 Six years after protests and boycotts led North Carolina to repeal its law banning transgender people from using the bathroom of their choice, proposals to enact bans or restrictions on transgender people have reemerged at a record pace across the country. 
According to the Human Rights Campaign, more than two dozen bills in legislatures aimed at limiting or banning gender-affirming care for minors, banning transgender girls from competing with biological girls, and placing restrictions on drag shows – mostly where children are present.
"They're singling out transgender people for no other reason than dislike, disapproval and misunderstanding of who transgender youth are," Paul Castillo, senior counsel and students' rights strategist for Lambda Legal, told The AP. "And the entire school population suffers as a result of these types of bills, particularly schools and teachers and administrators who are dealing with real problems and need to focus on creating a welcome environment for every student."
Another bill pending in Arkansas would charge someone who uses a public restroom or changing room not aligned with their biological sex when a minor is present with sexual indecency with a child, which is a misdemeanor.
Holly Dickson, executive director of the American Civil Liberties Union of Arkansas, told The AP the proposed bill is a "flagrant message" that proves some lawmakers "refuse to respect" transgender people's rights and humanity.
CLICK HERE TO GET THE FOX NEWS APP
Arkansas is now the fourth state to enact a "bathroom bill" in public schools. Similar laws are already in place in Alabama, Oklahoma and Tennessee, but lawsuits have been filed against the restrictions in the latter two states. Bills in Idaho and Iowa have also been passed by the legislature and await their governor's signatures.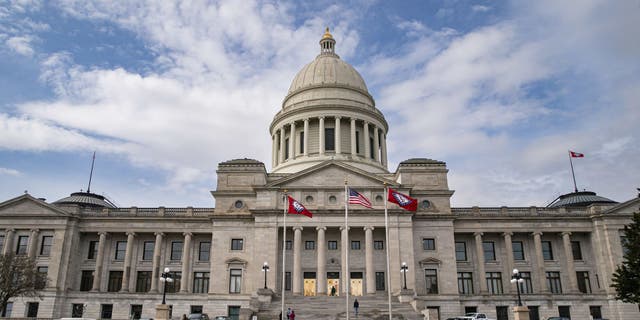 Sanders' signing of the bill on Tuesday comes a week after she approved legislation making it easier to sue medical professionals who provide gender-affirming care to minors, and a couple of weeks after she signed a bill that prohibits classroom instruction on gender identity and sexual orientation before 5th grade.
Fox News Digital reached out to Gov. Sanders for additional comment, but did not immediately hear back.
The Associated Press contributed to this report.
DeSantis jabs Trump's leadership style and character, says there is 'no daily drama' in governor's office
Florida Gov. Ron DeSantis cast himself as a pragmatic leader whose no-nonsense style could propel him to the White House, dismissing former President Trump's recent criticisms as nothing more than "background noise" that isn't worth engaging. 
The comments came during a wide-ranging interview with Piers Morgan, another frequent target of Trump's derision, that will air on Fox Nation this Thursday. 
"In terms of my approach to leadership, I get personnel in the Government who have the agenda of the people and share our agenda. You bring your own agenda in you're gone. We're just not gonna have that," DeSantis said, as Morgan detailed in a preview of the interview in the New York Post. 
"So, the way we run the Government I think is no daily drama, focus on the big picture and put points on the board and I think that's something that's very important."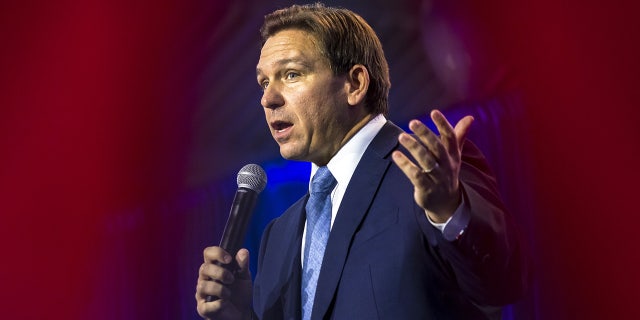 The interview took place on Monday just hours after DeSantis addressed a potential indictment of Trump in New York related to hush-money payments that the former president allegedly made to adult film star Stormy Daniels before the 2016 election. 
DeSantis ripped into Manhattan District Attorney Alvin Bragg as a "Soros-funded prosecutor" who is "pursuing a political agenda and weaponizing the office," but also took a subtle shot at Trump for the actions underlying the potential legal trouble. 
"I don't know what goes into paying hush money to a porn star to secure silence over some type of alleged affair — I just I can't speak to that," DeSantis said at a press conference earlier on Monday. 
TRUMP WORKS TO USE LOOMING INDICTMENT FOR 2024 CAMPAIGN ADVANTAGE OVER DESANTIS AND OTHER RIVALS
DeSantis doubled down on those comments in the interview with Morgan. 
"Well, there's a lot of speculation about what the underlying conduct is. That is purported to be it, and the reality is that's just outside my wheelhouse," DeSantis told Morgan. "I mean that's just not something that I can speak to."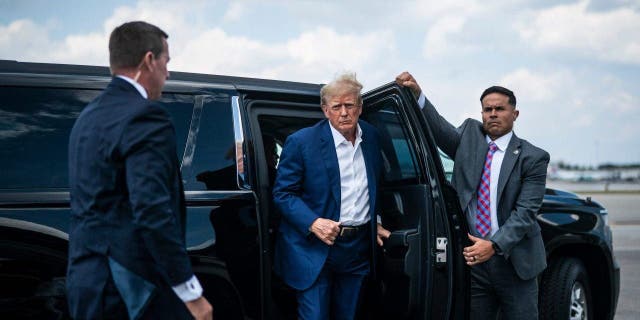 The Florida governor, who is yet to announce his candidacy for the 2024 presidential election but told Morgan to "stay tuned," also said that "truth is essential" and personal integrity matters for anyone in a position of power. 
"At the end of the day as a leader," DeSantis told Morgan. "You really want to look to people like our Founding Fathers, like what type of character, it's not saying that you don't ever make a mistake in your personal life, but I think what type of character are you bringing? So, somebody who really set the standard is George Washington because he always put the Republic over his own personal interest. When we won the American Revolution, Washington surrendered his sword."
DESANTIS TO DELIVER 'MAJOR POLICY SPEECH' AT HERITAGE LEADERSHIP SUMMIT AFTER SKIPPING CPAC
Trump took to TRUTH Social to criticize DeSantis after the initial comments at Monday's press conference. 
"Ron DeSanctimonious will probably find out about FALSE ACCUSATIONS & FAKE STORIES sometime in the future, as he gets older, wiser, and better known, when he's unfairly and illegally attacked by a woman, even classmates that are 'underage' (or possibly a man!)," Trump posted, alluding to unsubstantiated claims about DeSantis. "I'm sure he will want to fight these misfits just like I do!"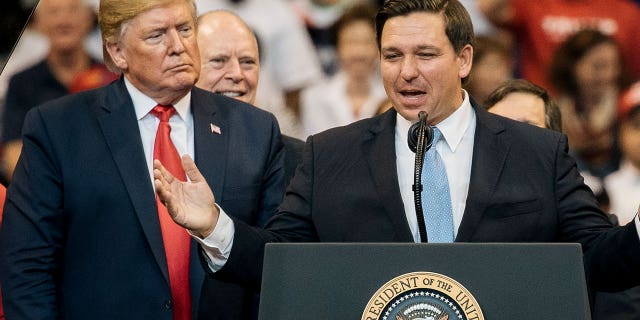 DeSantis dismissed the name-calling as "background noise," telling Morgan that it's "not important for me to be fighting with people on social media."
"I don't know how to spell the sanctimonious one. I don't really know what it means, but I kinda like it, it's long, it's got a lot of vowels. We'll go with that, that's fine," DeSantis told Morgan. 
"I mean you can call me whatever you want, just as long as you also call me a winner because that's what we've been able to do in Florida, is put a lot of points on the board and really take this State to the next level."
Others in the former president's orbit criticized DeSantis on Tuesday for doubling down on the criticism of Trump, with Donald Trump Jr. tweeting that DeSantis is running "to the liberal media on orders from his RINO establishment owners to attack my father."
Taylor Budowich, a former spokesperson for Trump who now runs a super PAC supporting his 2024 bid, tweeted on Tuesday that "DeSantis is choosing to go off half-cocked and take shots on some low-rent vlog."
"DeSantis' terrible political instincts are being reflected in all the public polls as he flames out faster than [Piers Morgan's] ratings," Budowich tweeted. 
CLICK HERE TO GET THE FOX NEWS APP
Trump has gained ground on DeSantis recently among Republicans, according to a Monmouth University poll released Tuesday, which found that 41% of GOP voters would like to see Trump as the 2024 nominee and 27% favor DeSantis. The two were tied at 33% in February, while DeSantis had a 13% lead in December.