GOP lawmakers respond after Biden swaps Russian 'death merchant' for Brittney Griner, excluding Paul Whelan
President Biden announced a prisoner swap with Russia on Thursday, offering Russian arms dealer Viktor Bout in exchange for Brittney Griner. Still, some conservatives are amiss that the president excluded American Paul Whelan. 
Rep. Dan Crenshaw, R-Texas, took to Twitter demanding an answer from the Biden administration on why the Iraq war veteran was excluded from the deal. 
"This was likely not a simple 'choose him or her' situation. But if it was, you choose the guy that served our country, Paul Whelan. We should get an explanation from this administration immediately," Crenshaw wrote.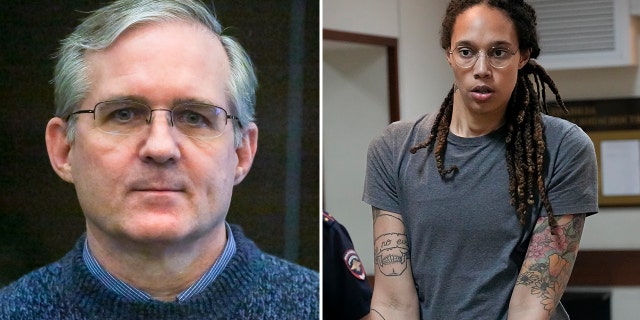 Those same sentiments were shared by Rep. Adam Kinzinger, R-Illinois, who simply asked: "What about retired marine who has been unjustly detained for years, Paul Whelan?"
BRITTNEY GRINER RELEASED FROM RUSSIAN PRISON IN SWAP FOR CONVICTED ARMS DEALER
He added: "Surely an arms dealer is worth two innocent people?"
In a subsequent tweet, Kinzinger congratulated Griner on her release and defended that calling for Whelan's release was not "unreasonable."
"It is not in any way partisan, or unreasonable, to both congratulate Brittany on her freedom while being critical that the man who has been in captivity for years, was again skipped over. I have been engaged in this for years after receiving this three years ago today," the Republican lawmaker wrote.
The rep also shared a statement from Jonathan Franks, the spokesperson for Bring Our Families Home, who also congratulated Griner's release while saying Whelan "deserves better" from the Biden administration.
"We celebrate the long overdue return of Brittney Griner and her safe return home to her wife, family, teammates, and the WNBPA who fought for her relentlessly," the campaign spokesperson said. "While we celebrate Brittney's homecoming, our hearts break for the Whelan family. Paul Whelan has been let down and left behind at least three times by two Presidents."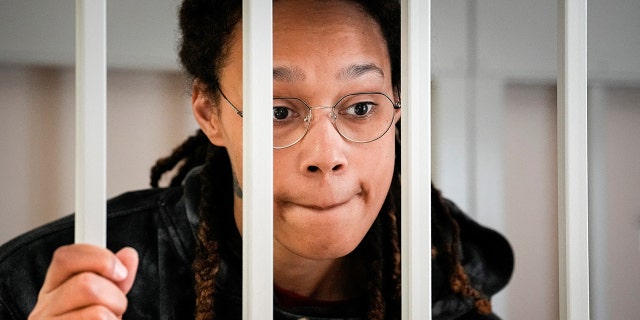 BRITTNEY GRINER'S LEGAL TEAM MET WITH WNBA STAR AT RUSSIAN PENAL COLONY: 'DOING AS WELL AS COULD BE EXPECTED'
Franks added: "He deserves better from his government, and our Campaign implores President Biden to urgently secure Paul's immediate return using all tools available."
On Thursday, Fox News host Tucker Carlson similarly argued that "Paul Whelan's case would be a priority for any American government."
"Here you have a man who's actively served the United States in the Marine Corps and then possibly as an intel asset in a hostile foreign country. That man is languishing in a Russian prison cell for the rest of his useful life," Carlson added during a segment on "Fox News Tucker Carlson Tonight."
He continued: "So not surprisingly, American authorities in Washington promised to do everything possible to bring this man home. But it turns out they didn't mean a word of it."
During Biden's announcement earlier in the day, he referenced Whelan and said today's prisoner swap was "not a choice of which American to bring home."
"Sadly, for totally illegitimate reasons, Russia is treating Paul's case differently than Brittney's," the president said. "And while we have not yet succeeded in securing Paul's release, we are not giving up. We will never give up."
White House press secretary Karine Jean-Pierre echoed these remarks during an exchange with Fox News report Peter Doocy. 
"In this prisoner swap, why did Russia get such a better deal?" Doocy plainly asked. 
OOPS! WHITE HOUSE PRESS SECRETARY JEAN-PIERRE READS WRONG SCRIPT DURING BRIEFING
"The choice was Brittney or no one at all. Bring home one American or no American at all," Jean-Pierre responded. 
Doocy continued: "We got a professional athlete but we gave up a prolific arms dealer who was convicted of trying to kill Americans who was called the 'merchant of death' —."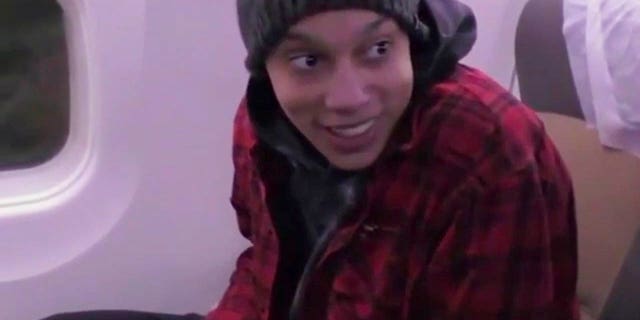 " — the professional athlete is also an American citizen," Jean-Pierre interjected. "So, let's not forget that."
COWBOYS STAR RIPS BIDEN OVER BRITTNEY GRINER RELEASE, WALKS BACK SCATHING TWEETS
She added: "The president said this was the best opportunity to bring Brittney home and he is going to continue to do everything he can to bring Paul Whelan home just like he did Trevor Reed."
Trevor Reed is a US citizen and former Marine who was released via a prisoner swap with Russia in April 2022. 
During an appearance on MSNBC's "Alex Wagner Tonight," Jean-Pierre suggested Russia views Whelan as a spy, or different than an ordinary U.S. citizen.
"But sadly, regrettably, Russia was not being negotiating in good faith with Paul Whelan because they categorized him very differently. They saw him totally, illegitimately, charged him for something that, again, that was illegitimate. And so, therefore, we were not able to secure his release," she said. "But we want to make it very clear the president wants to make it very clear that he will continue to make sure to bring Paul home safely and secure his release."
CLICK HERE TO GET THE FOX NEWS APP
The White House spokesperson also dismissed any inclination that Biden could have negotiated the deal further to include Whelan.
"I'll say this, this is not a decision that this president that President Biden made lightly. He believed this was an opportunity to bring Brittany home and he wanted to make sure that was we're able to do that," she said.
Jean-Pierre concluded: "Look, this deal was specific and very and very targeted at Brittany because we knew we had a deal and we knew we were able to secure her release."
Source: https://www.foxnews.com/politics/gop-lawmakers-respond-biden-swaps-russian-death-merchant-brittney-griner-excluding-paul-whelan
Trump joins calls for Biden admin to 'shoot down' suspected Chinese spy balloon
Former President Trump has weighed in on the suspected Chinese spy balloon hovering above the northern United States, calling on President Biden and his administration to "shoot" it down.
"SHOOT DOWN THE BALLOON," Trump wrote in a Friday morning post to Truth Social.
Trump, who announced last November that he would make a third run for the White House in 2024, is not the only one calling for the Biden administration to take immediate action amid tension with China.
Former South Carolina Gov. Nikki Haley, who is expected to announce her 2024 presidential bid later this month, also called for aggressive action from the Biden administration.
CHINA CONFIRMS BALLOON IS THEIRS, AS SPOKESPERSON CLAIMS IT IS CIVILIAN RESEARCH AIRSHIP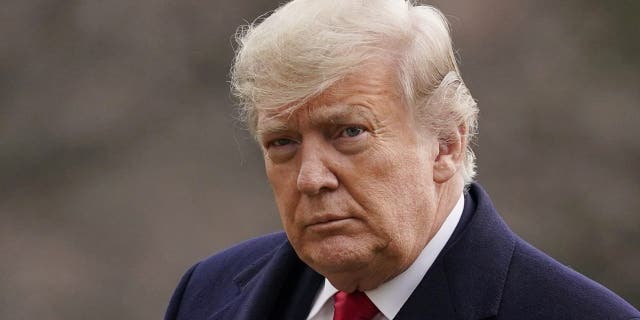 "Shoot down the balloon. Cancel Blinken's trip. Hold China accountable," Haley wrote in a tweet. "Biden is letting China walk all over us. It's time to make America strong again."
The Pentagon addressed the suspected surveillance balloon that was detected over Billings, Montana and said Thursday that while they considered taking down the possible threat, they ultimately decided against any action due to "the risk to safety and security of people on the ground from the possible debris field," according to Secretary of Defense Lloyd Austin.
"From the spy balloon to the Chinese Communist Party spying on Americans through TikTok to CCP-linked companies buying American farmland, I'm deeply troubled by the constant stream of alarming developments for our national security," Gov. Greg Gianforte, R-Mont., wrote in a statement addressing the high priority concern.
The suspicious balloon, reportedly the size of three school buses, is currently being tracked by the U.S. government, but Montana lawmakers do not believe the Biden administration is doing enough to combat the potential threat.
Sen. Steve Daines, R-Mont., a fifth generation Montanan, demanded there be a "full security briefing from the administration on this situation."
'SHOOT IT DOWN': MONTANA GOP DEMAND BIDEN TAKE OUT SUSPECTED CHINESE SPY BALLOON HOVERING OVER US FOR DAYS
"Shoot. It. Down. The Chinese spy balloon is clear provocation. In Montana we do not bow. We shoot it down. Take the shot," Rep. Ryan Zinke, R-Mont., a former Navy SEAL, tweeted urgently on Thursday.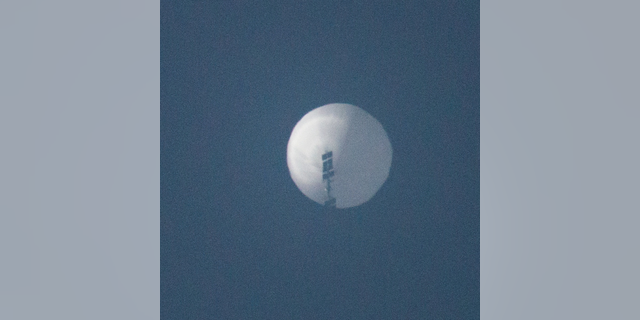 "The fact that this balloon was occupying Montana airspace creates significant concern that Malmstrom Air Force Base (AFB) and the United States' intercontinental ballistic missile (ICBM) fields are the targets of this intelligence gathering mission," Daines wrote in a letter to Austin amid growing concerns over the balloon.
The People's Republic of China confirmed Friday that the balloon craft floating over Montana is Chinese.
"The airship is from China. It is a civilian airship used for research, mainly meteorological, purposes," a Chinese Foreign Ministry spokesperson confirmed Friday. "Affected by the Westerlies and with limited self-steering capability, the airship deviated far from its planned course."
The spokesperson said China regrets the incident.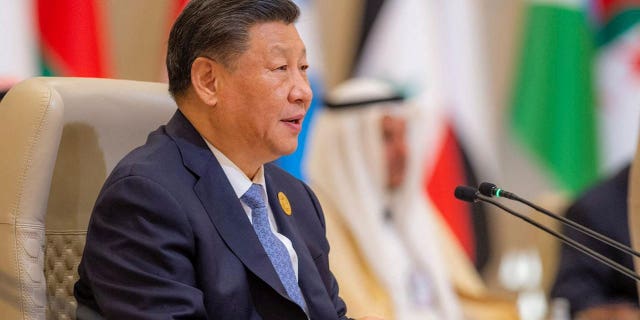 CLICK HERE TO GET THE FOX NEWS APP
The statement continued, "The Chinese side regrets the unintended entry of the airship into US airspace due to force majeure. The Chinese side will continue communicating with the US side and properly handle this unexpected situation caused by force majeure."
Announcing an investigation by China's government to look into the reports of the balloon, Foreign Ministry spokesperson Mao Ning said Friday during a daily briefing that "China is a responsible country and has always strictly abided by international laws, and China has no intention to violate the territory and airspace of any sovereign countries."
She also urged U.S. officials and Chinese authorities to proceed "calmly and carefully" amid the investigation.
Fox News' Timothy H.J. Nerozzi and Aubrie Spady contributed to this article.
House GOP announces aggressive, first-of-its-kind effort to combat ESG movement
EXCLUSIVE: Republican leaders on the House Financial Services Committee are creating a first-of-its-kind task force to coordinate their response to various proposals related to the environmental, social and governance (ESG) movement.
Financial Services Committee Chairman Patrick McHenry, R-N.C., said Friday that the ESG working group would lead the Republican effort to combat the threat ESG policies pose to U.S. capital markets. He added that Financial Services Oversight Subcommittee Chairman Bill Huizenga, R-Mich., would lead the initiative and appointed another eight GOP committee members to serve on the working group.
"Progressives are trying to do with American businesses what they already did to our public education system—using our institutions to force their far-left ideology on the American people," McHenry said in a statement shared with Fox News Digital. "Their latest tool in these efforts is environmental, social, and governance proposals. This is why I am creating a Republican ESG working group led by Oversight & Investigations Subcommittee Chair Bill Huizenga."
"This group will develop a comprehensive approach to ESG that protects the financial interests of everyday investors and ensures our capital markets remain the envy of the world," he continued. "Financial Services Committee Republicans as a whole will continue our work to expand capital formation, hold Biden's rogue regulators accountable, and support American job creators."
REPUBLICAN STATES ARE PLANNING AN ALL-OUT ASSAULT ON WOKE BANKS: 'WE WON'T DO BUSINESS WITH YOU'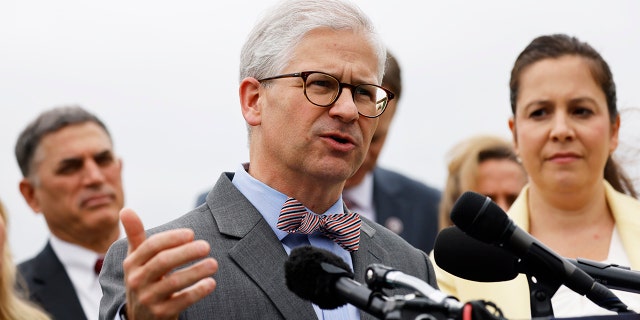 According to McHenry, the working group will be focused on reining in regulatory overreach from the Securities and Exchange Commission (SEC), reinforce the materiality standard — which requires corporations to disclose key information to investors — "as a pillar" of the financial disclosure regime and hold those who misuse the proxy process that gives shareholders a saying in company decisions accountable.
The task force will ultimately organize Republican efforts to fight back against the ESG movement, educate congressmen on the issues and develop policy proposals.
LOUISIANA DIVESTS FROM BLACKROCK OVER ESG POLICIES: 'WOULD DESTROY LOUISIANA'S ECONOMY'
"Last year, the Supreme Court ruled in West Virginia vs EPA that government bureaucracies cannot arbitrarily expand their own regulatory reach," Huizenga said in a statement. "The SEC's climate disclosure rule is a prime example of this overreach that would have a wide-ranging impact on hard-working Americans across all walks of life." 
"I look forward to leading our committee's ESG working group, which will focus on promoting strong, vibrant capital markets, while defending the interests of all retail investors," the Michigan lawmaker added.
In addition to Huizenga, fellow committee members Reps. Ann Wagner, R-Mo., Barry Loudermilk, R-Ga., Bryan Steil, R-Wis., Andrew Garbarino, R-N.Y., Byron Donalds, R-Fla., Monica De La Cruz, R-Texas, Erin Houchin, R-Ind., and Andy Ogles, R-Tenn., will serve on the working group.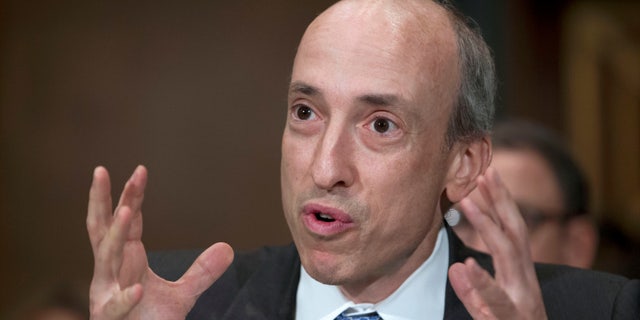 The ESG movement, which has picked up steam over the last few years, broadly seeks to promote a green energy transition and left-wing social priorities through the financial sector and major corporations. 
CLICK HERE TO GET THE FOX NEWS APP 
It has largely been spearheaded by massive trillion-dollar asset managers and financial institutions like BlackRock, State Street and Vanguard, which have used their large stakes in large companies to push the adoption of ESG standards. The firms often utilize their outsized influence during the proxy voting process.
The movement has also been supported by Democratic lawmakers and the Biden administration which has moved ahead with various ESG actions over the last 12 months. 
For example, in March 2022, SEC Chairman Gary Gensler, who President Joe Biden appointed a year earlier, unveiled rules requiring publicly-listed companies to disclose climate-related information, an action that Republicans and business industry leaders warned may be unconstitutional. 
And late last month, a Labor Department rule went into effect allowing retirement plan managers to factor ESG standards into investment decisions.
House Homeland Security chair rips 'weak' Biden for hiding Chinese spy balloon, emboldening adversaries
EXCLUSIVE: House Homeland Security Committee Chairman Mark Green on Friday criticized the Biden administration for failing to keep Congress informed about the discovery of a Chinese spy balloon floating above the U.S., and said his committee should have been notified by the administration instead of the media.
"The Committee on Homeland Security of the U.S. Congress — a co-equal branch of government — should not be finding out about a CCP spy balloon over Montana in the news," Green told Fox News Digital exclusively.
Green said the Biden's weakness toward China and other countries is only emboldening U.S. adversaries, and said the committee "cannot stand by" the Chinese Communist Party attempts to overtake the U.S.
GOP PRESSURES BLINKEN TO STAND UP TO CHINA'S XI AFTER SPY BALLOON DISCOVERED: 'YOU MUST RAISE THIS'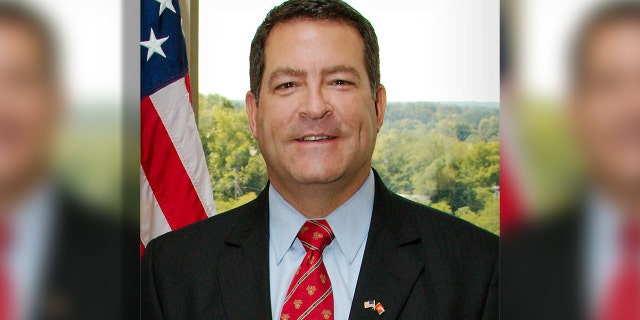 "The Biden administration owes us, and the American people, answers — now! Our adversaries around the world see a weak president in Joe Biden and are testing their boundaries. Time and time again, the President has failed in countering, curbing, and competing with Beijing," Green told Fox News Digital.
"We cannot stand by as the CCP continues to exercise threats of intimidation in an unbridled attempt to overtake the U.S.," Green continued, promising action by the committee.
US GOVERNMENT MONITORING SUSPECTED CHINESE SPY BALLOON OVER NORTHERN STATES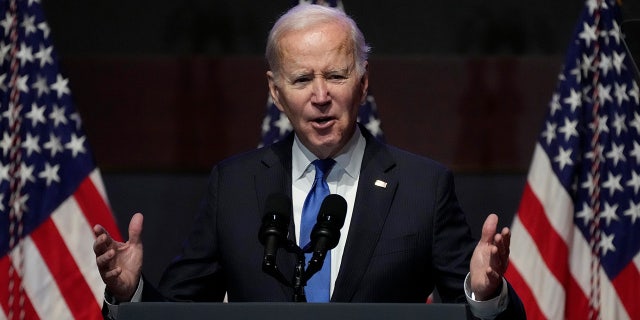 The People's Republic of China confirmed Friday that the balloon floating over the northern United States is Chinese.
China claimed that the airship is a civilian research craft that was blown far off course by prevailing winds, and that it regrets the incident.
"The airship is from China. It is a civilian airship used for research, mainly meteorological, purposes," a Chinese Foreign Ministry spokesperson confirmed Friday. "Affected by the Westerlies and with limited self-steering capability, the airship deviated far from its planned course."