George Santos becomes treasurer of his own campaign following indictment
Rep. George Santos, R-N.Y., named himself treasurer of his re-election campaign in a new filing with the Federal Election Commission late Friday afternoon. The new filing comes a little over a week after the congressman pled not guilty to federal charges. 
Santos now becomes the fourth treasurer of his campaign and committees since January. He had previously filed paperwork naming Andrew Olson treasurer of the campaign, following the departure of his longtime treasurer Nancy Marks amid a number of controversies surrounding the fundraising and spending of his campaign money. 
Olson's name is now notably absent from the filings; however, the email address "apolson1964@gmail.com" is still listed along with a Washington, D.C., PO box. 
Fox News Digital reached out to Santos' office for comment but did not immediately hear back. 
TRUTH-CHALLENGED REP SANTOS FACES FIRST STEP TO EXPULSION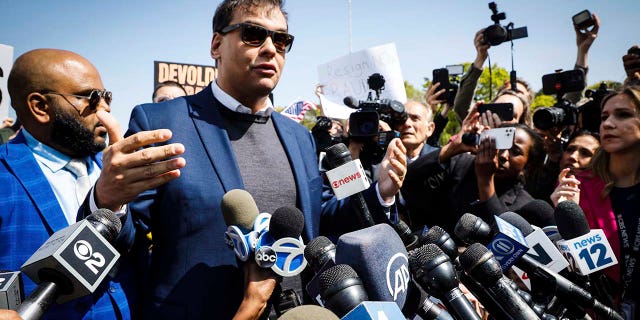 The new filings come a little over a week after Santos pled not guilty to federal charges, hours after a 13-count indictment was unsealed against him.
The indictment was made public in the U.S. District Court for the Eastern District of New York and charged the congressman with seven counts of wire fraud, three counts of money laundering, one count of theft of public funds and two counts of making false statements to the House of Representatives.
HOUSE GOP LEADERS REACT TO SANTOS INDICTMENT: 'THERE IS A LEGAL PROCESS'
Just two days prior to the new filings being made, House Republicans blocked an effort by Democrats to expel the embattled congressman in a party-line vote that referred the matter to the House Ethics Committee.
The expulsion resolution, which was initially introduced by Rep. Robert Garcia, D-Calif., in February, had seven Democrats, including all five on the Ethics Committee, vote present, with Republicans making up all the yes votes and Democrats all the no votes.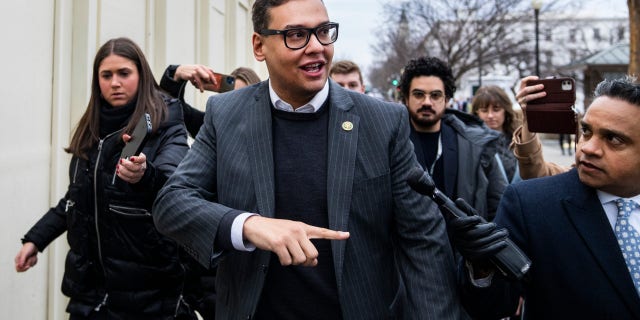 Santos later responded to the vote, telling reporters on Capitol Hill "everybody is innocent until proven guilty." 
'SERIAL LIAR' GOP REP'S RE-ELECTION BID SETS SOCIAL MEDIA ABLAZE: 'FUNNIEST PRIMARIES'
"You cannot behave as judge and jury in this procedure. I thank leadership for allowing this procedure. Quite frankly there were seven Democrats who agreed and voted present on this procedure," Santos said. 
The embattled congressman has come under fire for allegedly fabricating large parts of his résumé after flipping New York's 3rd Congressional seat last year, with his victory partly due to his inspirational backstory which he now admits was largely fictitious.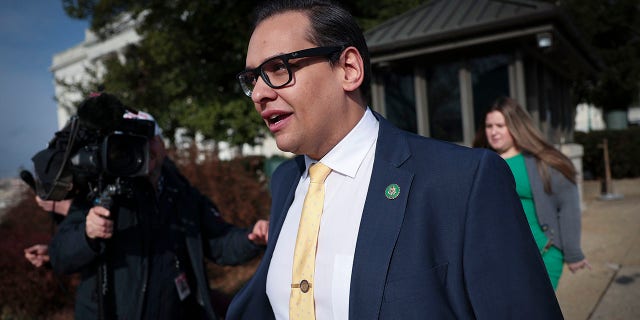 Santos announced his re-election campaign in mid-April, tweeting out, "TAKING BACK our country and restoring greatness back to New York."
REP. SANTOS GETS FIRST REPUBLICAN PRIMARY CHALLENGER, AN AIR FORCE VET AND FORMER JP MORGAN VP
"Good isn't good enough, and I'm not shy about doing what it takes to get the job done," Santos said in a statement released. "I'm proud to announce my candidacy to run for re-election and continue to serve the people of NY-3." 
CLICK HERE TO GET THE FOX NEWS APP
Fox News' Brandon Gillespie contributed to this report. 
Source: https://www.foxnews.com/politics/george-santos-becomes-treasurer-own-campaign-following-indictment
RFK Jr. says it's 'hypocritical' to blame Canada for wildfires, 'foolish' to attribute problem to single cause
Democratic presidential candidate Robert F. Kennedy Jr. said it's "hypocritical" to blame Canada for the wildfire smoke coating parts of the East Coast and prompting air-quality concerns, arguing that the same problem is afflicting U.S. forests.
Fox News Digital reached out to Kennedy's campaign seeking a statement from the candidate on the current air-quality levels in parts of the U.S. and whether he believes Canada should pay some kind of penalty for the smoke coming across America's northern border.
"It would be hypocritical to blame Canada for a problem that afflicts U.S. forests as well," Kennedy said in exclusive comments to Fox News Digital. "Besides, attributing wildfires to a single cause would be foolish. Decades of fire suppression, the loss of apex predators and keystone species, ecological disruption due to pesticides, changing climate, soil loss leading to intensified flood-drought cycles and depletion of aquifers all may contribute to the problem."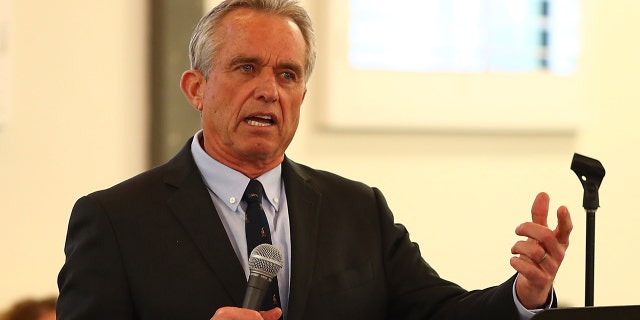 TO FILTER OUT CANADA'S WILDFIRE SMOKE, PEOPLE MAKE DIY AIR PURIFIERS WITH DUCT TAPE
Smoke from ongoing wildfires in Canada has traveled as far as South Carolina, casting a thick haze that caused air quality in New York City and Washington, D.C., to drop to record lows. A number of professional sports teams have even postponed games over air-quality concerns. 
Many environmental activists and liberal politicians, such as President Biden and Rep. Alexandria Ocasio-Cortez, D-N.Y., have blamed climate change for the problem. 
"Between NYC in wildfire smoke and this in PR, it bears repeating how unprepared we are for the climate crisis," Ocasio-Cortez tweeted. "We must adapt our food systems, energy grids, infrastructure, healthcare, etc ASAP to prepare for what's to come and catch up to what is already here."
Senate Majority Leader Chuck Schumer, D-N.Y., echoed that sentiment on social media.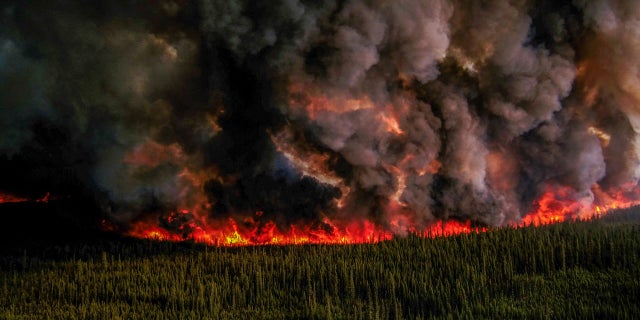 CLIMATE CHANGE ACTIVISTS IGNORING CRUCIAL FACTOR BEHIND WILDFIRES, TRUMP ADMIN SECRETARY SAYS
"These Canadian wildfires are truly unprecedented, and climate change continues to make these disasters worse," Schumer wrote on Twitter. "We passed the Inflation Reduction Act to fight climate change, and we must do more to speed our transition to cleaner energy and reduce carbon in the atmosphere."
However, many Republicans counter that these fires are the product of poor forest management, arguing that forests need to be managed through actions such as logging, controlled burns and forest thinning in order to reduce the risk of catastrophic wildfires.
"To be candid, if you look at these issues throughout the United States and Canada, over time, it's possible that climate is changing," former Interior Secretary David Bernhardt told Fox News. "At the same time, you can say that forest management practices in many places have contributed greatly to having a much higher fuel load, and fuel loads are a large driver of catastrophic wildfire."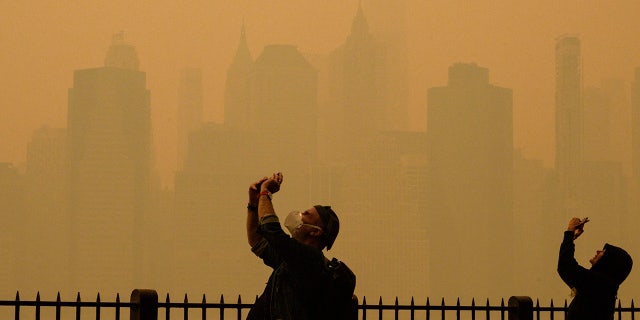 REP. RYAN ZINKE RIPS POLITICIANS 'COMPLAINING' ABOUT SMOKE IN DC, BLAMES FIRES ON LACK OF FOREST MANAGEMENT
"If you don't use methodologies to clear some of that excess product out, that just is sitting there, literally, as a tinderbox box for a match," he added. "In this case, what we're seeing from Canada . . . is fires that are largely caused by lightning, strikes with an element of a very, very high fuel load."
Earlier this week, Rep. Ryan Zinke, R-Mont., lambasted politicians who are "complaining" about the Canadian wildfire smoke on Capitol Hill but "won't allow" forest management in Western states.
"I have zero empathy for D.C. politicians complaining about the smoke," Zinke tweeted. "If you won't allow us to responsibly manage forests, you should have to deal with the consequences just like we do in the West." 
CLICK HERE TO GET THE FOX NEWS APP
The congressman also posted a video of him standing in front of the Washington Monument that was masked by smoke.
"Whether you're a climate change activist or denier, it doesn't relieve you of the responsibility to manage our forests," said Zinke. "And if you don't manage our forests, this is what happens. So welcome to Montana, Washington, D.C."
As for Kennedy, the latest national polling indicates that he's grabbing double-digit support as he challenges President Biden in the Democratic primary.
Trump to make first public speech since federal indictment over classified docs
Former President Donald Trump on Saturday afternoon will make his first public appearance since his federal indictment over his handling of classified documents when he addresses the state Republican conventions in Georgia and North Carolina as part of his 2024 presidential bid.
The 2024 front-runner was indicted Friday on 37 federal counts, including willful retention of national defense information, conspiracy to obstruct justice and false statements.
The indictment accuses Trump of failing to comply with demands to return classified documents — including plans for a retaliatory attack on an unnamed foreign power — he had gathered in Mar-a-Lago. Other documents include defense and weapon capabilities of the U.S. and details of the U.S. nuclear program.
TRUMP INDICTED ON 37 FEDERAL COUNTS OUT OF SPECIAL COUNSEL JACK SMITH'S INVESTIGATION INTO CLASSIFIED RECORDS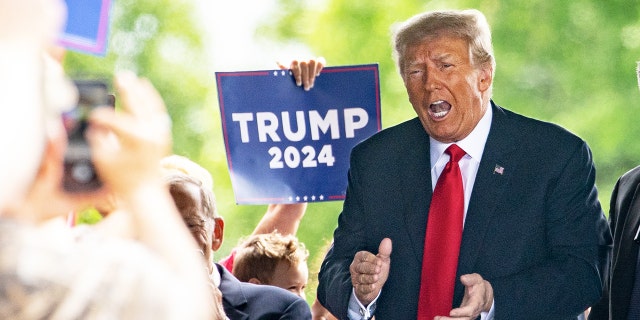 "The unauthorized disclosure of these classified documents could put at risk the national security of the United States, foreign relations, the safety of the United States military, and human sources and the continued viability of sensitive intelligence collection methods," the indictment says.
It also accuses him of storing the documents in a bathroom and other places at the residence, and of even bragging and showing off the documents to visitors. In one instance he is said to have told individuals of a document "as president I could have declassified it," and, "Now I can't, you know, but this is still a secret."
He is also said to have directed an aide to move boxes of documents demanded by a grand jury subpoena while claiming to have fully cooperated. The FBI opened a criminal investigation into the matter in March 2022.
Trump has dismissed the indictment as "election interference" and a witch hunt.
"This is the most corrupt administration in history — there has never been an administration so corrupt, and they're just starting to find it right now," Trump told Fox News Digital this week. "They are trying to deflect all of their dishonesty by bringing this ridiculous boxes hoax case."
He added: "They're not going to get away with it."
EXCLUSIVE: TRUMP SAYS INDICTMENT IS 'ELECTION INTERFERENCE AT THE HIGHEST LEVEL'
Trump is likely to express similar sentiments on Saturday, when he will speak before overwhelmingly supportive crowds who will largely share his belief that the charges are politically motivated.
EXCLUSIVE: TRUMP SAYS INDICTMENT IS 'ELECTION INTERFERENCE AT THE HIGHEST LEVEL'
The indictment adds additional legal turmoil to Trump's bid for re-election, coming after he was indicted in New York in an alleged hush money scheme earlier this year. He will make his first federal court appearance on Tuesday.
Other Republicans on the campaign trail, including those who have been extremely critical of the former president, have largely declined to attack him over the indictment so far, and have shared the sentiment that the prosecution is politically motivated.
CLICK HERE TO GET THE FOX NEWS APP
"The weaponization of federal law enforcement represents a mortal threat to a free society. We have for years witnessed an uneven application of the law depending upon political affiliation," Florida Gov. Ron DeSantis said as news of the indictment emerged.
Fox News' Brooke Singman, Jake Gibson and Bill Mears contributed to this report.
Native American tribe plans protests, considers suing Biden admin over oil-leasing crackdown
EXCLUSIVE: The president of the Navajo Nation told Fox News Digital that he has ordered the tribe's attorney general to weigh legal action following the Biden administration's oil-leasing ban impacting Navajo citizens.
Buu Nygren, the president of the Navajo Nation, a federally recognized tribe in the U.S. southwest, said that the Navajo Justice Department was considering pursuing litigation after Interior Secretary Deb Haaland's recent order, and he plans to protest her upcoming visit to the reservation on Sunday. Last week, Haaland banned oil, gas and mineral leasing within 10 miles of the Chaco Culture National Historical Park in northwestern New Mexico for 20 years, an action strongly opposed by nearby Navajo communities.
"To totally disregard those local communities — it's unfair," Nygren told Fox News Digital in an interview Saturday. "There's no need to celebrate putting people into poverty, to celebrate undermining the Navajo Nation's sovereignty, undermining everything that comes into working with tribes, in this case, Navajo Nation."
"I tasked the attorney general to look into all our options, because I want to be doing justice for the local community," he continued. "As president, I've already told my attorney general to look into all the options. So, we're going to be moving forward with that as well."
NATIVE AMERICAN LEADERS REBUKE BIDEN ADMIN OVER OIL LEASING BAN: 'UNDERMINES OUR SOVEREIGNTY'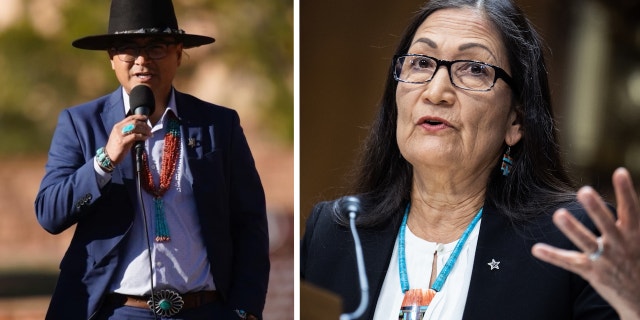 Nygren and other Navajo leaders, in addition to locals, have argued that the Department of the Interior's (DOI) action banning leasing will harm low-income Navajo citizens who depend on revenue from leasing their allotments within ten miles of Chaco Canyon mainly to fossil fuel companies. 
The allotments date back to the 1900s, when the federal government awarded them to Navajo citizens as a consolation when the tribe's territory was downsized.
"Since I've entered the legislative body for my Navajo people, I've listened to a lot of constituents out in that area and, you know, it's just emotional distress, psychologically as well, that they've talked about this — it really disturbs me to know how much more of a hardship that these folks are going to be experiencing out there," Brenda Jesus, who chairs the Navajo Nation Council's Resources & Development Committee, told Fox News Digital earlier this week.
REPUBLICANS RAISE ETHICS CONCERNS OVER BIDEN CABINET OFFICIAL WHO ORDERED OIL LEASING BAN
Jesus led a delegation of Navajo tribal leaders who met with lawmakers on Capitol Hill this week, making their case against the DOI's ban. Rep. Harriet Hageman, R-Wyo., who chairs a House panel on Indian affairs, said the action represented a "taking" of tribal lands and vowed congressional action following her meeting with the delegation.
Overall, there are currently 53 Indian allotments located in the 10-mile buffer zone around Chaco Canyon, generating $6.2 million per year in royalties for an estimated 5,462 allottees, according to Navajo Nation data. In addition, there are 418 unleased allotments in the zone that are associated with 16,615 allottees. 
According to the Western Energy Alliance, an industry group that represents oil and gas producers in the area, Navajo members will lose an estimated $194 million as a result of Haaland's actions.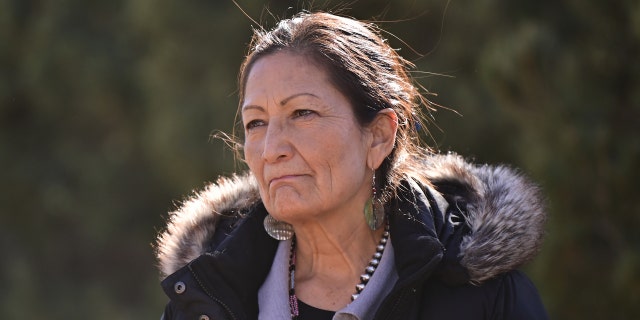 "You can't pound your chest on going after people in poverty," Nygren told Fox News Digital. "I don't know who would want to celebrate that. Personally, I think that's, I don't know, you got to not have a heart if you're going to put people that are already impoverished in third-world-country conditions and barely have enough to pay for gas, food, laundry, the daily necessities — to put them into an even tougher situation."
"To me, I don't know how anybody could sleep with that thought," he said. "Come to Navajo. It's tough. Everybody's struggling, everybody's trying to make a dollar, literally."
BIDEN ADMIN HIT WITH LAWSUITS FOR HIDING COMMUNICATIONS INVOLVING CABINET SECRETARY'S DAUGHTER
Haaland is expected to visit Chaco Canyon on Sunday to celebrate the action. Nygren said that Navajo citizens are planning to peacefully protest the event and that he has even faced calls to block the interior secretary's access to Navajo roads.
"You shouldn't celebrate beating up people in poverty," Nygren said.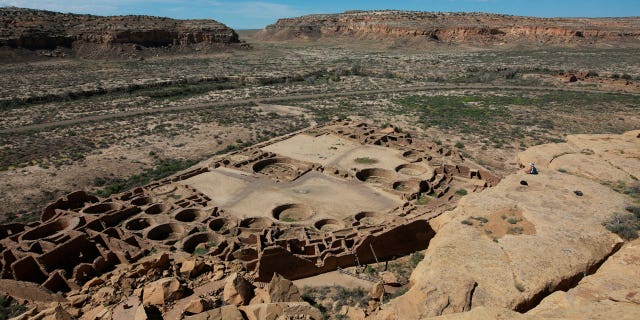 Nygren also noted that the Biden administration failed to offer any economic proposal to account for the income losses the Chaco land withdrawal would create for Navajo allottees. 
In addition, Nygren criticized Haaland for not properly consulting the Navajo Nation and the communities near Chaco Canyon that would be most impacted by the action. The tribe previously endorsed a five-mile buffer zone to protect the site while ensuring future drilling on oil-rich allotments, but has said that Haaland never considered the compromise.
CLICK HERE TO GET THE FOX NEWS APP
"For her to go all over the country and the world to talk about tribal sovereignty and tribal communities and this and that. But then when it comes down to it, to put tribal sovereignty into question. Actions speak louder than words, in my opinion," he said. 
While DOI stated Friday that the action won't impact existing leases or production on them, opponents of the ten-mile buffer zone said it would indirectly make Indian-owned allotments worthless. Because drilling on the Navajo allotments requires horizontal crossings that pass through federal land impacted by the ban, the action effectively ends all drilling in the area, they argued.