For Super Bowl Sunday, over/under at 1.45 billion chicken wings eaten in first-ever 'Wing King Sports Book'
"Wing King" and poultry prognosticator Drew Cerza says bet the ranch on Super Bowl Sunday.
He set the over/under at 1.45 billion chicken wings eaten in the first "Wing King Sports Book," citing data from the National Chicken Council and his own analysis of the industry. 
The Kansas City Chiefs face the Philadelphia Eagles on Sunday in Super Bowl LVII. 
"Americans are just as passionate about chicken wings as we are about football," Cerza told Fox News Digital in an exclusive release of the nation's first-ever Buffalo wing betting odds. 
AMERICA'S BEST CHICKEN WINGS: 6 LOCAL HOTSPOTS THAT RULE THE ROOST, SAY EXPERTS
"Chicken producers are back at full capacity across the country and producing more chickens, creating a healthy supply of wings," he said.
Drumsticks are -130 favorites to be consumed more than flats on Sunday, according to the Wing King Sports Book.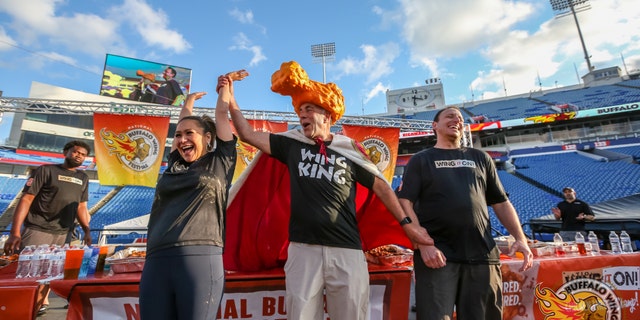 Buffalo wings remain a solid -150 favorite against the field of all other wing flavors. 
Ranch dressing is a heavy -170 favorite over blue cheese (+160), while dippers should outnumber non-dippers 7 to 3 at Super Bowl parties and sports bars this year. 
In betting parlance, -170 means someone must bet $170 to win $100. The Wing King Sports Book is purely for fun, Cerza notes. 
MEET THE AMERICAN WHO INVENTED BUFFALO WINGS, DISRUPTED ENTIRE CHICKEN INDUSTRY
He earned his royal "Wing King" status as founder of the National Buffalo Chicken Wing Festival, held each September at Highmark Stadium, home of the Buffalo Bills.
Top-ranked female Miki Sudo was the champion eater at the 2022 festival, consuming 233 chicken wings in 12 minutes, to just 224 for the legend Joey "Jaws" Chestnut.
"Americans are just as passionate about chicken wings as we are about football." — "Wing King" Drew Cerza
The National Buffalo Wing Festival is the "Super Bowl of Buffalo wings," says Cerza. 
The event debuted in 2002. About 22,000 people attended last year. 
The odds in the Wing King Sports Book reflect Cerza's actual analysis of wing consumption trends across the United States.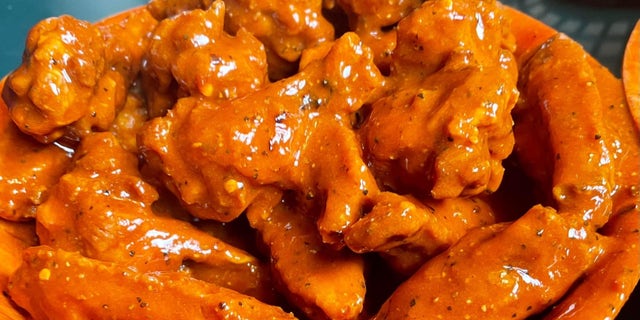 The underdog status of blue cheese may shock wing enthusiasts in certain parts of the country, where the delectable little poultry parts are rarely, if ever, offered with ranch dressing.
"Blue cheese is the favorite dipping sauce for wings largely in the Northeast," said Cerza. "Ranch rules in much of the rest of the country."
Super Bowl Sunday is annually the biggest day in the nation for wing enthusiasts. The chicken industry has long cited a figure of about 1 billion wings consumed for the annual NFL championship game. 
But a variety of factors set the stage for Americans to flock to their favorite wing joints this year in record numbers. 
AMERICA'S BEST HOT WINGS ARE SERVED BY THE BLIND RHINO OF CONNECTICUT, POULTRY PUNDITS DECLARE
The national supply of chicken wings has rebounded in recent months after a long period of disruptions during the depths of the COVID-19 pandemic, said the Wing King. 
Increased supply has led to a 22% decrease in wing prices from recent highs, he said. 
COVID, meanwhile, actually led to an increase in the appreciation of wings because they were a popular delivery and take-out item.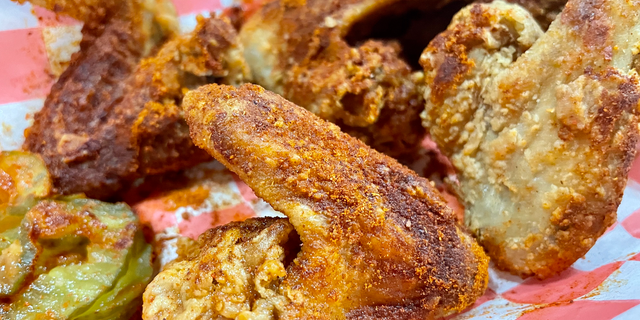 "Lastly, thank goodness that the pandemic is over," said Cerza, "and people are back to gathering at full capacity at Super Bowl parties and sports bars."
Cerza, a native of Buffalo, credits the fortunes of the Buffalo Bills in the early 1990s for fueling America's obsession with chicken wings. 
The franchise reached the Super Bowl a record four years in a row (1990-93), causing national media and football fans to take interest in what was then a local culinary phenomenon.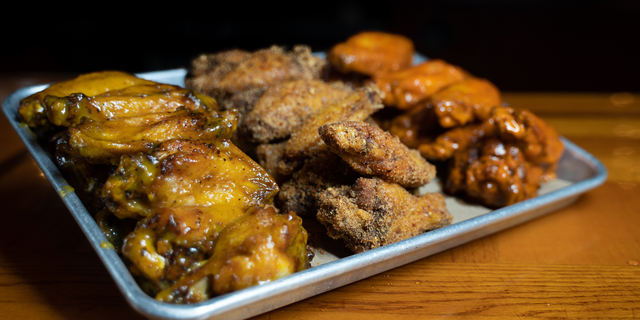 "Wings are now a national obsession," said the Wing King. 
"Even chefs take their wings seriously and take pride in their sauces. Wings have become a center-of-the-plate dish. They're no longer just an appetizer."
CLICK HERE TO SIGN UP FOR OUR LIFESTYLE NEWSLETTER
Some other wing odds this year: Pick-up/delivery is a -170 favorite over eat-in wings; 60% of Buffalo-style wings consumed will be medium heat, to just 5% extra hot; and non-breaded wings are major -175 favorites over breaded wings.
CLICK HERE TO GET THE FOX NEWS APP
"Consumption of breaded wings in Buffalo is punishable by 20 years in prison," said Cerza, citing a little-known ordinance in his hometown.
Local laws may differ in your community. 
Source: https://www.foxnews.com/lifestyle/super-bowl-sunday-over-under-1-45-billion-chicken-wings-eaten-wing-king-sports-book
Tampa's treasured 'Cigar City' culture enjoys revival as tourists, newcomers flock to Florida
Tampa, Florida – Cigar culture is deeply ingrained in Tampa, Florida, and enjoying a sudden spirited revival amid the city's wider ascendancy in recent years. 
"Cigar City" produced more than 500 million cigars annually in the 1930s, making Tampa the center of global manufacturing.
By the 1970s almost all of Tampa's scores of cigar makers had vanished. 
Like other sectors of American industry, the cigar makers found cheaper labor and more inviting business and tax environments overseas. 
TAMPA IS TOP OF MIND: WHERE TO GO, WHAT TO EAT, AND WHY YOU SHOULD VISIT BEFORE IT'S TOO LATE
However, signs of Tampa's new embrace of the cigar lifestyle are everywhere in Tampa today. 
J.C. Newman Cigar Co., which dubs itself American's oldest family-owned cigar maker, recently underwent a major overhaul to turn itself into a center of tourism and hospitality in historic Ybor City.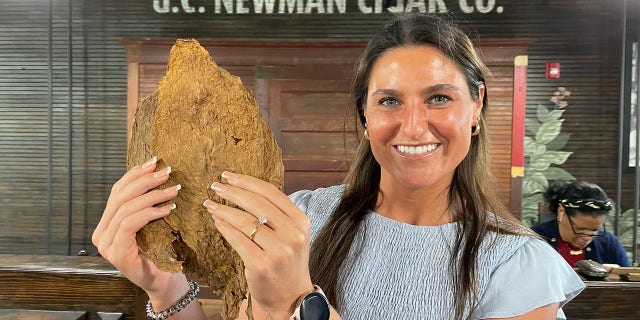 Local cigar cafés such as Tabanero Cigars are expanding both their retail and online business amid a wave of new tourists and new residents flocking to the region. 
Hockey fans, meanwhile, can smoke cigars at the Diamond Crown Lounge at Amalie Arena in downtown Tampa — home of the 2020 and 2021 Stanley Cup champion Tampa Bay Lightning.
"We believe in the enjoyment of craftsmanship." — Tampa cigar maker Yanko Maceda 
It's the only space in an NHL arena where fans can smoke cigars and watch live hockey action, according to Cigar Aficionado.
Tampa's unique pro-sports amenity is a tribute to the importance of cigars in local culture. 
"We believe in the enjoyment of craftsmanship," Ybor City entrepreneur Yanko Maceda of Tabanero Cigars told Fox News Digital.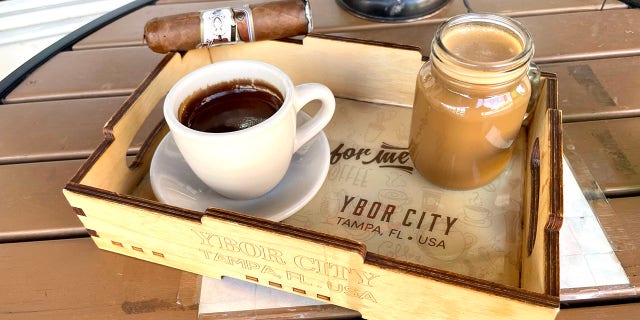 Guests visit his cigar café, and many others like it in Tampa's historic district, to smoke hand-rolled robustos seated on faux-leather couches, sipping rich, dark Cuban coffee while reading Hemingway or making new friends. 
TAMPA IS BIRTHPLACE OF THE CUBAN SANDWICH, AMERICAN CULINARY CLASSIC FLAVORED BY MANY CULTURES
Tampa's cigar culture suggests a quiet and Old World sophistication — the Good Life — missing in many parts of a digital society that moves with breakneck speed today.
"This is how civilized men should live." — patron at Tabanero Cigars in Ybor City, Tampa
"This is how civilized men should live," said a visitor from Toronto, sitting outside Tabanero beneath palm trees smoking a cigar and drinking a cortadito (espresso with steamed milk) on a recent sun-splashed and warm winter day. 
Nearby, J.C. Newman Cigar Co. in Ybor City dubs itself American's oldest family-owned cigar maker. 
Founded in 1895, it stands proudly as the last of Tampa's glory-era cigar makers.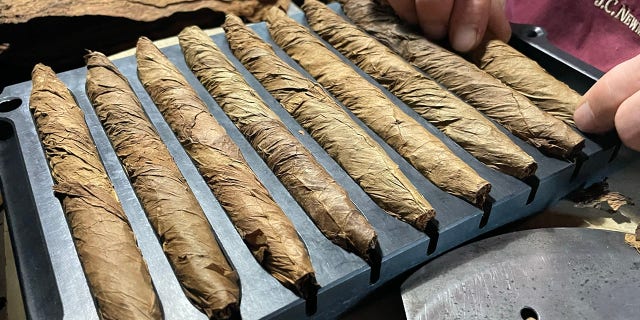 Newman spent the last several years refurbishing its stately brick factory into a tourist and hospitality destination and museum.
Guests can learn about local history, host wedding receptions or business meetings — or learn to roll their own cigars in Friday night classes. 
TERRIFIC TAMPA: 5 FAVORITE SPOTS FROM 'POLITICS FOR PATRIOTS' IG CELEBRITY ROGAN O'HANDLEY
It plans to open a working tobacco farm in Ybor City, a living museum of American agriculture, by the end of the year.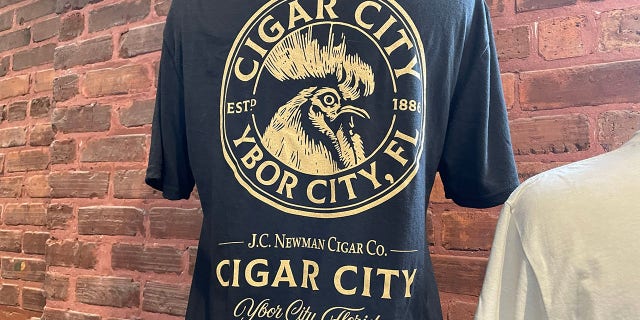 It will be built around a post-Civil War tobacco barn recently found and reclaimed from the Florida panhandle. 
"People can come down here, plant [tobacco], pick it, hang it in the barn, put it in bales, age it and roll their own cigars with tobacco we'll grow right here in Tampa," Bobby Newman, the third-generation co-owner with brother Eric of J.C. Newman, told Fox News Digital.
He cites agro-food tours such as the Kentucky Bourbon Trail as inspiration for what the Newmans hope to build in Ybor City. 
Renewed interest amid COVID
Several factors have fueled Tampa's cigar resurgence, say local aficionados. 
COVID-19 inspired renewed interest in hand-crafted cigars as people locked in at home sought leisurely pursuits and comforts.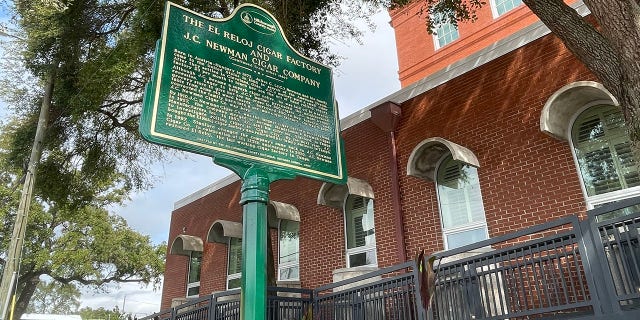 "Cigars, premium cigars, have never been more popular," said Neman. 
He said that, during COVID, "Who knew that so many people would stay home and drink their favorite beverages while smoking a ton of handmade cigars?"
An influx of tourists and new residents, meanwhile, have flooded Tampa from big northern cities where cigars are frowned upon — or even banned. 
They look at cigars, and the ability to smoke them openly in Tampa, as a taste of American tradition and Florida freedom. 
The trend has been buoyed by a rediscovery of City Cigar legacy and lore.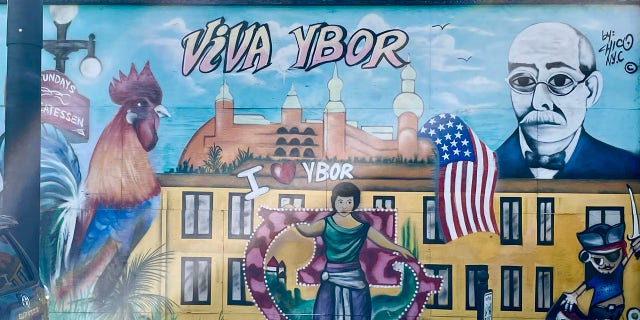 Ybor City is one of America's great historic neighborhoods — one of only three National Historic Landmark Districts in all of Florida. 
It was built, quite literally to make cigars.
Neighborhood namesake Vicente Martínez Ybor was born in Spain in 1818 and became a cigar maker in Cuba before fleeing for Key West in 1869. 
CLICK HERE TO SIGN UP FOR OUR LIFESTYLE NEWSLETTER
He purchased 40 acres of land northeast of downtown Tampa and moved his cigar-making operation there in 1885. 
Scores of cigar makers followed, giving Tampa its well-earned reputation as Cigar City.  
A great cigar is "well-balanced, like a craft beer or a good bourbon," Maceda, of Tabanero Cigars, told Fox News Digital.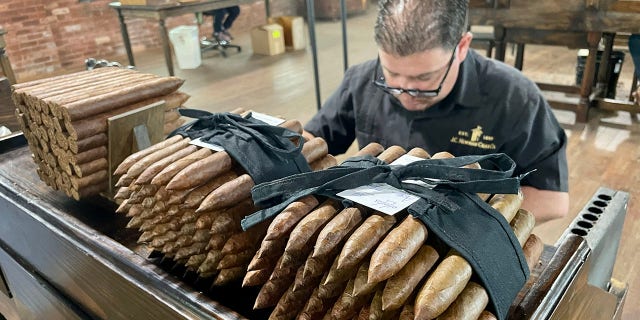 "From the first sip to the end of the glass, you'll always have a rush of flavors." 
CLICK HERE TO GET THE FOX NEWS APP
A great cigar, he added, should also be "well constructed, so you have a really slow burn. And definitely aging … makes a huge difference."
He added, "A well-aged cigar will give you a beautiful experience."
Woman's hilariously honest obituary for her dad goes viral: 'Equal parts dare devil and lush'
A woman from Georgia has gone viral for the candid and humorous obituary she wrote for her father eight days after his death.
Halliea Milner, the owner of Go With It Farm in Sandy Springs, Georgia, shared a 715-word obituary on Facebook that honored her late father, Kenneth "Kenne" Joseph Pluhar Jr.
Pluhar died on his birthday – March 2 – at the age of 62, according to Milner. 
ARIZONA GRANDMOTHER'S M&M-THEMED FUNERAL CASKET GOES VIRAL
He died "after losing a battle with sepsis" while admitted into an intensive care unit at a local hospital in Alton, Illinois, Milner wrote.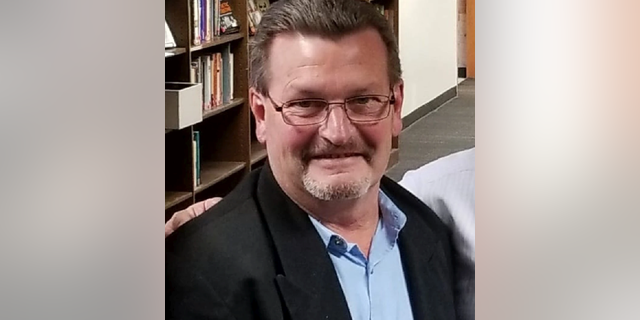 She described her father as an outdoorsy person who was "hard as nails" and "stubborn."
Pluhar's three true loves were "hunting, fishing and drinking," according to Milner. He also enjoyed listening to country and western music.
"Like every sad cowboy song, he couldn't stay married, but that didn't keep him from trying. Again. And again." Milner wrote of her father. "He had a total of 4 legal marriages (and divorces) and one common law marriage under his belt – that we know of."
Milner noted that she is Pluhar's only known child, and that she too is a mother of one.
BROTHER'S HEARTFELT OBITUARY FOR SISTER GOES VIRAL: 'I NEEDED YOU TOO' 
Pluhar grew up in Oakridge, Tennessee, and worked as a carpenter.
"Kenne had a green thumb, was outdoorsy and was a skilled carpenter – this meant that he was great at growing his own weed and was champion of 'hide and seek for $2k a week' when he worked for the union," Milner wrote. "He actually was a halfway decent carpenter – people bragged about his 'craftsmanship' – if you could convince him to show up and work, which most people weren't capable of accomplishing."
Milner wrote that while Pluhar was known to start fights, he had a strong friendship that spanned 50 years.
She noted that her father was "emotionally unavailable and yet overly sensitive, all rolled into one," which Milner considers a "family trait."
'SMOKING HOT WIFE' WRITES VIRAL OBITUARY FOR 'DEAD SEXY' HUSBAND 
Pluhar also liked to tell "a good story," one which includes how he saved a life by being a doomsday prepper, according to Milner.
"Kenne was good at just about anything he tried to be good at and was wicked smart – but that didn't stop him from trying his best to do absolutely nothing except drink, smoke, and listen to music," Milner wrote.
Pluhar is survived by his father, Kenneth Joseph Pluhar, Sr., his siblings, his daughter, Halliea Milner, his granddaughter and a "plethora of nieces and nephews that he terrorized and traumatized in countless and original manners," his obituary states.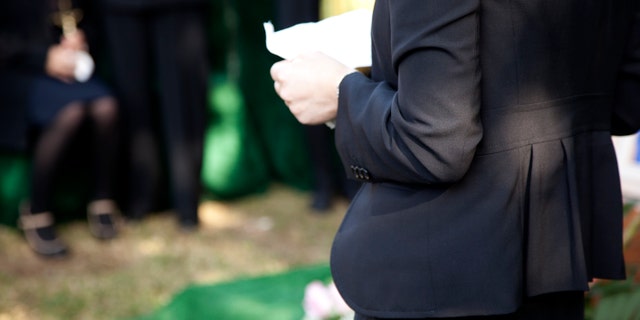 "Truly, it was survivorship when it came to Uncle Kenne," Milner wrote.
CLICK HERE TO SIGN UP FOR OUR LIFESTYLE NEWSLETTER
Pluhar was preceded in death by his mother, Connie Mckinnon Donnelson, who he called "mommy" until the day he died, according to Milner.
"Proof positive that even the biggest a——- (jerks) have a soft side, you just may have to dig deeper to find it," Milner continued.
Fox News Digital reached out to Milner for comment.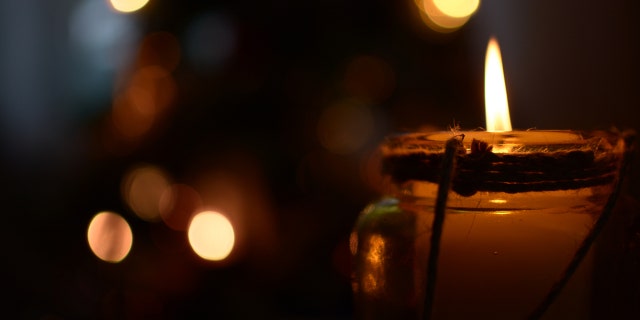 Milner's obituary has gone viral and countless social media users have offered their sympathies in addition to their thoughts on Pluhar's recapped life.
FOLLOW US ON FACEBOOK FOR MORE FOX LIFESTYLE NEWS
"This is brilliantly and hilariously written," one Facebook user wrote to Milner. 
"Quite the tribute," another user shared. "He clearly had a rather unique place in your life."
"Talk about a GREAT obit. All the grit and grime with sprinkles of love," another user commented. "You truly get a sense of who and what he was all about."
Pluhar's obituary has been published in local newspapers.
Multiple articles in Psychology Today, a human behavior magazine, state that humor can help people cope with grief and stress.
CLICK HERE TO GET THE FOX NEWS APP
Milner told local news station Fox 8 Cleveland WJW, which is affiliated with Nexstar KTVI, that it took her about 45 minutes to write her father's obituary.
The Milner and Pluhar family will host a celebration of life event in the "good old fashioned Kenne way" in Woodriver, Illinois, on Friday, March 24.
On this day in history, March 21, 1952, first rock concert held in Cleveland, ends in chaos, conflict
The first rock 'n' roll concert, the ill-fated yet legendary Moondog Coronation Ball, pulsed from the stage of the former Cleveland Arena amid chaos and controversy on this day in history, March 21, 1952. 
"There was a sense of dynamite going off," Indiana University professor emeritus and rock 'n' roll historian Glenn Gass told Fox News Digital.
"Right from the start, it was seen as dangerous music. Kids loved it. Parents hated it. Great. What a way for rock 'n' roll to get its start."
ON THIS DAY IN HISTORY, MARCH 20, 1854, REPUBLICAN PARTY FOUNDED TO OPPOSE EXPANSION OF SLAVERY
The oversold show ended early and, fittingly, in a conflict with authorities — which quickly became a hallmark of the explosive, controversial and bawdy new musical art form.
"Described as the 'Big Bang of rock 'n' roll,' the concert was organized by DJ Alan Freed and music store owner Leo Mintz and was headlined by saxophonist Paul Williams and his Hucklebuckers," writes Guinness World Records in its confirmation of the show's pioneering status in live-music history.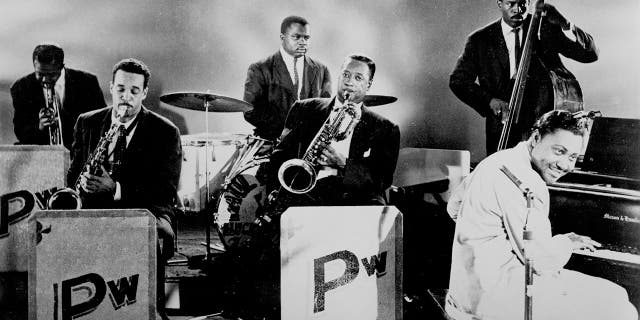 "The event was credited with 'bringing Black and White kids together to dance in post-war America, but was abandoned after approximately 30 minutes due to overcrowding and rioting after more than 20,000 revelers stormed the 9,950-seat venue."
The concert was co-headlined by guitarist Tiny Grimes, according to promotional posters from the landmark event. 
"Described as the 'Big Bang of rock 'n' roll,' the concert was organized by DJ Alan Freed and music store owner Leo Mintz." — Guinness World Records
Apparently only Williams, the opening act, got to perform before the show was cut short in haste by local officials as crowds of ticket holders gathered on Euclid Avenue were unable to get into the arena. 
"In 1948, at the age of 33, Williams recorded 'The Hucklebuck,' an instrumental considered by many music historians to be an important precursor to rock 'n' roll," writes Blackpast.org.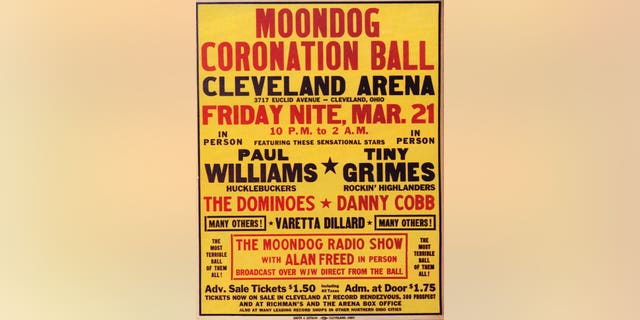 "At a time when record companies promoted 'race' records only among African Americans, Williams' song became a major crossover hit among both Black and White audiences."
Fellow headliner Grimes recorded with artists such as Charlie Parker and Billie Holiday and pioneered rock sound with his up-tempo jazz-guitar style, according to various sources. 
PASTOR AND MUSICIAN SAVED BY HIS MOTHER'S PRAYERS AFTER HE WAS PRONOUNCED DEAD, HE SAYS
DJ Freed proved the real breakout star of the first rock concert.  
He was "the boundary-smashing, trend-setting evangelist of rock 'n' roll," writes the Rock & Roll Hall of Fame, which made him a member of its charter class of 1986, alongside the genre's greatest early icons, including Chuck Berry, Buddy Holly, Elvis Presley and Little Richard.
"Freed was the most effective proselytizer rock and roll has ever known." — Rock & Roll Hall of Fame
Freed, among other claims to fame, is credited with popularizing the phrase rock 'n' roll as its aggressive beats and sexually suggestive lyrics swept over American radio in the 1950s and soon conquered pop culture.
"Freed was the most effective proselytizer rock 'n' roll has ever known," writes the Rock Hall.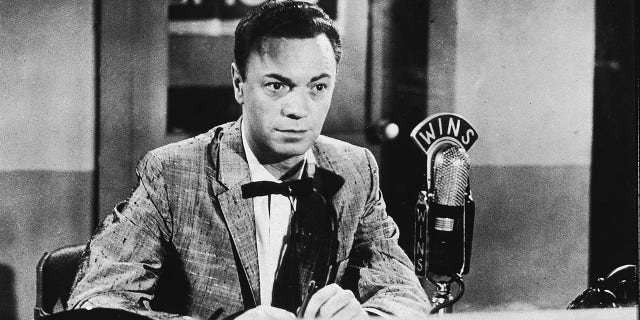 "Spreading the word from a radio pulpit that kicked off nightly to the strains of Freddie Mitchell's 'Moondog Boogie,' Freed kept time to the music by smashing his hand on a telephone book. He first conquered Cleve­land over WJW, and then moved his show to New York's flagship WINS."
Freed's celebrity soon extended far beyond the radio studio. 
MEET THE AMERICAN WHO INVENTED THE ELECTRIC GUITAR AND INSPIRED ROCK 'N' ROLL
He appeared in numerous movies that popularized rock's earliest stars, including "Go, Johnny, Go," alongside American music icons Berry, Jackie Wilson and Ritchie Valens. 
The movie was released in June 1959, four months after Valens was killed in a plane crash with Buddy Holly and the Big Bopper.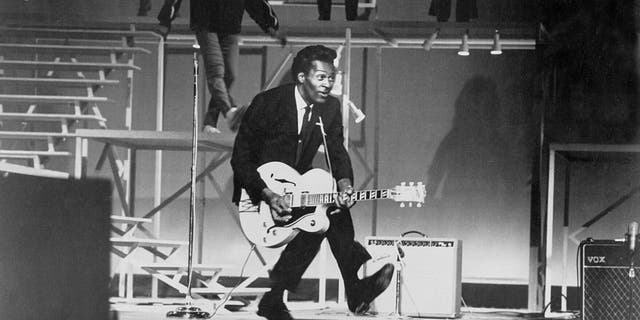 Freed has also been celebrated on TV and in various rock songs. 
"He had an amazing ability to find new music and new artists," Jason Hanley, vice president of education for the Rock Hall, told Fox New Digital. 
"He got rock 'n' roll to reach a much bigger audience than it would have otherwise." 
"There was a sense of dynamite going off." — Glenn Gass, rock 'n' roll historian
Freed's career ended in disgrace, however. 
CLICK HERE TO SIGN UP FOR OUR LIFESTYLE NEWSLETTER
He was indicted on charges of tax fraud in 1964 and became the center of the "Payola" scandal in which radio stations were accused of taking money from record labels to play their music. 
The legend of the Moondog Coronation Ball, and Freed's ability to see the future of music, changed global pop culture forever.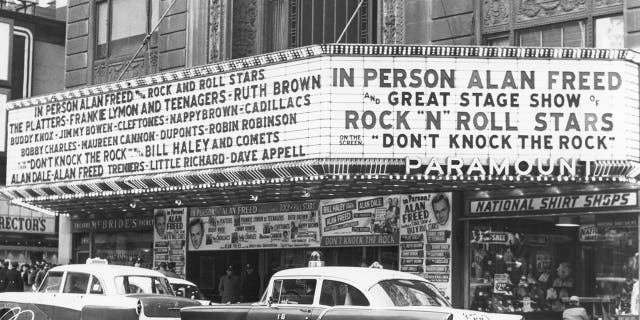 Metallica, Motley Crue and AC/DC, among others, played before 1.6 million people in Moscow in 1991, in what's widely proclaimed the largest rock 'n' roll concert in history. 
"Crocodile Rock" crooner Elton John is in the midst of his COVID-interrupted global Farewell Yellow Brick Road tour. 
Billboard in January proclaimed it the biggest selling concert tour of all time. It's netted $818 million across 278 concerts with dates still on the docket. 
CLICK HERE TO GET THE FOX NEWS APP
Cleveland rose to prominence as a birthplace of rock 'n' roll, and became home of Rock Hall of Fame in 1995, thanks largely to Freed's impact, said Hanley. 
"Cleveland has always been a rock 'n' roll town, and a gospel town, an R&B town and one of the great music towns," he said.