Ex-Theranos executive Sunny Balwani sentenced to nearly 13 years in prison
Sunny Balwani, the former Theranos executive and ex-romantic partner of Elizabeth Holmes, has been sentenced to nearly 13 years in prison over his role in the now-defunct blood testing firm.
The sentence is slightly longer than that given to Holmes, who was his accomplice in one of Silicon Valley's biggest scandals, just a few weeks ago.
Balwani, who spent six years as Theranos's chief operating officer, was convicted in July on all 12 charges brought against him for defrauding Theranos investors and patients. His sentencing comes after co-conspirator Holmes received more than 11 years on 18 November on four charges of defrauding investors. She was acquitted on patient-related charges.
Balwani's sentence was less than the 15 years sought by federal prosecutors, who depicted him as a ruthless, power-hungry figure. But it is substantially longer than the four to 10 months sought by his lawyers.
Throughout his 13-week trial, which began in March, Balwani's lawyers painted the executive as a tireless worker who "put his money where his mouth is", investing $15m of his own fortune into Theranos.
Prosecutors argued Balwani, who at one point oversaw the Theranos lab, steered the company along with Holmes. "I am responsible for everything at Theranos," Balwani's text messages shared in court said. "All have been my decisions too."
Lawyers for Balwani had requested he receive only probation and no prison time, arguing that his personal investment losses in Theranos constituted sufficient punishment. They also argued he did not seek the "fame or media attention" that Holmes did as head of the company.
Prosecutors meanwhile urged a sentence of 15 years and $803m in restitution. They argued that through inaccurate blood tests at Theranos, Balwani had shown "conscious or reckless risk of death or serious bodily injury" toward patients and deserved a longer sentence than Holmes.
"Mr Balwani is not a victim. He is the perpetrator of the fraud," prosecutor Jeffrey Schenk said in closing arguments for Balwani's trial.
The sentencing of Balwani marks the latest milestone in the years-long saga of Theranos, which Holmes founded after dropping out of Stanford at 19 years old. Promising a revolutionary technology that could run hundreds of health tests on just a drop of blood, Theranos attracted big-name backers such as the former secretary of state Henry Kissinger and media mogul Rupert Murdoch.
After years of promoting the technology, Holmes and Balwani were warned that the blood tests were inaccurate, but they continued to raise money from investors, and deployed the technology in some Walgreens stores.
The US district judge Edward Davila said the financial statements drawn up by Balwani "weren't just projections, they were lies" and "a true flight from honest business practices".
Theranos was at one point valued at more than $9bn, but began to crumble after reporting in the Wall Street Journal in 2015 revealed shortcomings and inaccuracies in its core technology. Holmes and Balwani were charged with fraud after the company dissolved in 2018.
The outcomes of both trials have been seen as harbingers for a new era in Silicon Valley, in which companies can no longer ride unchecked hype and make false promises to secure funding.
The former federal prosecutor Amanda Kramer said the harsher sentence seemed appropriate, given that the jury in Balwani's trial had convicted him on every count while jurors in Holmes' separate case acquitted her on some charges and deadlocked on others.
"It's not surprising that he got a more severe sentence because his misconduct was more severe," Kramer said.
Balwani and Holmes met around the same time she dropped out of Stanford University to start Theranos in 2003. While on the witness stand in her trial, Holmes accused Balwani of manipulating her through years of emotional and sexual abuse. Balwani's attorney has denied the allegations.
Source: https://www.theguardian.com/technology/2022/dec/07/former-theranos-exec-sunny-balwani-prison-sentence
Elon Musk 'doesn't seem like' right person to own Twitter, says co-founder
Elon Musk "doesn't seem like" the right person to own Twitter, the social media platform's co-founder has said, adding that improvements to morale and content policies at the business have been reversed under its new proprietor.
In an interview with the Guardian, Biz Stone said positive changes he had helped oversee in recent years had been unwound by the Tesla chief executive.
Stone said running social media companies is "not really a win-win situation … it's always tough", because "50% of the people are gonna be happy, 50% of people are gonna be upset with you".
"You have to be OK with stuff that you just don't like or don't agree with being on there," said Stone, adding: "Otherwise, you should just go buy a magazine or a newspaper or something where it's OK to have a specific leaning."
Asked if Musk was the right owner for Twitter, Stone said: "It doesn't seem like it right now, but I could be wrong."
Musk has come under fire for temporarily banning journalists from the platform and reinstating previously banned accounts such as those belonging to the former US president Donald Trump and the self-proclaimed misogynist Andrew Tate.
Stone, who co-founded Twitter in 2006 with Jack Dorsey, Noah Glass and Evan Williams, returned to the business in 2017 at the behest of thenchief executive Dorsey to "guide the company culture, that energy, that feeling". Stone said improvements during his four-year stint, particularly in morale and overseeing content, have been lost under Musk.
"We made a lot of improvements in those areas. And that's all gone now."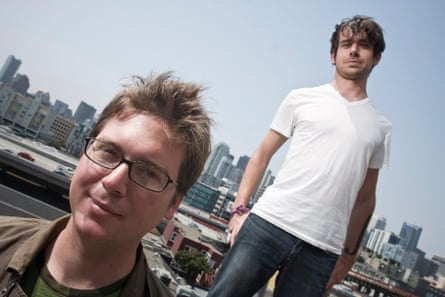 Musk has rowed back on a pledge to establish a "content moderation council" that would have overseen big content decisions and account reinstatements, instead relying on more arbitrary methods such as user polls hosted on his own Twitter account. He also fired approximately half of Twitter's workforce within days of buying the business for $44bn (£35bn) last year.
Stone added that employees should not have been named as part of the release of the so-called Twitter files, a series of internal documents detailing decisions such as the suspension of Donald Trump.
"When that happens, people get a lot of harassment," said Stone. "It's really bad." Twitter's former head of trust and safety, Yoel Roth, was reportedly forced to leave his home when Musk posted tweets misrepresenting Roth's 2016 academic thesis, "Gay Data".
Stone said the concept of Twitter would survive, regardless of the company's current financial struggles. "I don't know that Twitter as a company is going to succeed for ever but the idea of Twitter I think will be around," said Stone, pointing to the success of alternative platforms such as Mastodon.
"It would only matter that Twitter the idea continued. And that's happened. That seems to be happening already. Mastodon seems to be winning the open-source, decentralised version of Twitter. People seem to be going there."
He added: "I don't know the future. I don't know what's gonna happen and maybe things will be great in a year and [it] had to go through this trial by fire. But, right now it does not look good, I would say."
Stone spoke to the Guardian as he confirmed he is joining the board of Chroma, a Swedish startup in which he is also an investor. Chroma creates an audio-visual experience for mobile phone users, describing itself as "a world of sound experiences in a pocket" where users can change what they see and hear.
Describing Chroma's work as "soundplay", Stone added: "It's a new way to interact with sound and to play with sound." Last year Chroma collaborated with Venezuelan musician Arca to create Lux Aeterna, an app that creates an "ever-evolving, boundless audio-visual world".
Stone said his investment philosophy is simple – "do I like this person" and "do I think they can pull off this thing I would use myself?" He adds: "If those two answers are yes, I'm usually in."
Referring to Chroma's CEO and founder, Andreas Pihlström, he said: "I like working with Andreas. He is a really talented designer." Stone's co-investors in Chroma include Evan Sharp, the co-founder of digital pinboard platform Pinterest, and Ben Silbermann, the co-founder and CEO of Pinterest, where Pihlström worked as a creative director.
Stone, who has also invested in the messaging service Slack and Pinterest, added that he never thought of Twitter as being successful when he co-founded it in San Francisco.
"I tell young people – if you're doing something to try to get rich, it's probably not going to work. You should do something that you're just really enjoying working on and then you actually have a greater chance of becoming wealthy."
US economy grows strongly but interest rate rises starting to slow momentum
The US economy maintained a strong pace of growth in the fourth quarter as consumers boosted spending on goods, but momentum appears to have slowed considerably towards the end of the year, with higher interest rates eroding demand.
Gross domestic product – the broadest measure of economic health – increased at a 2.9% annualized rate last quarter, the commerce department said in its advance fourth-quarter GDP growth estimate on Thursday. The economy grew at a 3.2% pace in the third quarter. Economists polled by Reuters had forecast GDP rising at a 2.6% rate.
That could be the last quarter of solid growth before the lagged effects of the Federal Reserve's fastest monetary policy tightening cycle since the 1980s kick in. Most economists expect a recession by the second half of the year, though mild compared with previous downturns.
Retail sales have weakened sharply over the last two months and manufacturing looks to have joined the housing market in recession. While the labor market remains strong, business sentiment continues to sour, which could eventually hurt hiring.
Robust second-half growth erased the 1.1% contraction in the first six months of the year. For all for 2022, the economy expanded 2.1%, down from the 5.9% logged in 2021. The Fed last year raised its policy rate by 425 basis points from near zero to a 4.25%-4.50% range, the highest since late 2007.
Consumer spending, which accounts for more than two-thirds of US economic activity, was the main driver of growth, mostly reflecting a surge in goods spending at the start of the quarter. Spending has been underpinned by labor market resilience as well as excess savings accumulated during the Covid-19 pandemic.
But demand for long-lasting manufactured goods, which are mostly bought on credit, has fizzled and some households, especially lower-income, have depleted their savings. Business spending also lost some luster as the fourth quarter ended.
US activist investor who accused Adani of 'biggest con in corporate history' dares Indian group to sue
The US investor targeting Indian conglomerate Adani Group over what it claims is the "biggest con in corporate history" has dared the company to sue, given it would open the coal producer to further scrutiny.
Hindenburg Research's report has already wiped billions of dollars of value from the sprawling empire of Gautam Adani, the world's third richest man, and drawn in the contentious Carmichael coal and rail project in Queensland.
Hindenburg said in a statement that Adani had not responded to any of the substantive issues raised in its report that accused the company of engaging in a "brazen stock manipulation and accounting fraud scheme".
"Instead, as expected, Adani has resorted to bluster and threats," the statement said.
"Regarding the company's threats of legal action, to be clear, we would welcome it. We fully stand by our report and believe any legal action taken against us would be meritless.
"We have a long list of documents we would demand in a legal discovery process."
Activist investors like Hindenburg typically take a short position in a listed company they believe is heavily overvalued and has poor or fraudulent business practices.
Founded by Nate Anderson, Hindenburg is a US activist fund named after the 1937 airship disaster that looks for stocks that could crash. It has accused Adani of loading companies with debt that puts the entire group on a "precarious financial footing".
The battle comes amid a large scheduled fundraising attempt by Adani Enterprises, the company's listed flagship, in which Adani is seeking US$2.5bn from investors to fund capital expenditure and reduce debt.
Adani has threatened to seek "remedial and punitive" action against Hindenburg over what it said was a "maliciously mischievous, unresearched report".
"Clearly, the report and its unsubstantiated contents were designed to have a deleterious effect on the share values of Adani Group companies as Hindenburg Research, by their own admission, is positioned to benefit from a slide in Adani shares," Adani Group's legal head Jatin Jalundhwala said in a statement on Thursday.
The statement said Adani was disturbed by the "intentional and reckless attempt" of a foreign entity to mislead investors and the general public and sabotage the public offering.
Adani has previously said that allegations in the report had been discredited and rejected by India's highest courts, and that Hindenburg had not attempted to verify information with the company before publishing.
The Hindenburg report cited a series of transactions tied to Adani's Australian operations that it alleged may have allowed Adani to avoid disclosing large asset impairments to investors.
Located in Queensland's coal-rich Galilee Basin, the Adani project exported its first coal in late 2021, drawing opposition due to the fossil fuel's contribution to greenhouse gas emissions.
That project went ahead after the Queensland government struck a royalties deal with the miner that allowed it to defer payments, although the full details of the agreement have not been made public.
The Queensland government's resources department said media questions about the report should be directed to financial regulators.
The Australian Securities and Investments Commission, which declined to comment, would typically assess the report to determine if it should investigate.
The Greens industry spokesperson, Penny Allman-Payne, said the Hindenburg report raised concerns over Adani's actions, prompting questions over its right to operate in Australia.
"This should give Queensland Labor serious pause about its reckless and misguided decision to get into bed with Adani, and should call into question the company's future in Australia," Allman-Payne said.
More than US$9.4bn (A$13.2bn) in value was wiped off listed companies in the Adani network on Wednesday after the Hindenburg report was published. Those same companies fell further in early trading on Friday, after Indian markets were shut on Thursday, creating selling momentum.
The billionaire US investor Bill Ackman said in a tweet he found the Hindenburg report to be "highly credible and extremely well researched". He acknowledged the hedge fund he leads, Pershing Square, had not done any independent research into Adani.