Elon Musk 'resolves' Apple row over 'removal of Twitter from iPhone store'
Elon Musk has said he has "resolved" a misunderstanding with Apple over his claim that Twitter was being threatened with removal from the iPhone maker's app store.
The new Twitter owner tweeted on Wednesday that he had had a "good conversation" with Apple CEO Tim Cook and that Apple had "never considered" removing the social media platform from its app store.
On Monday, Musk used his Twitter account to claim that Apple had broached removing Twitter for unspecified reasons. The Tesla CEO then indicated it was related to moderation standards at Twitter, while he launched a series of tweets criticising Apple including its policy of taking a cut of up to 30% from app sales.
Musk's original claim that Apple was threatening to remove Twitter from its app store indicated a deepening of the platform's financial problems. The Tesla CEO has already admitted that Twitter has suffered a "massive drop in revenue" due to advertisers pausing their spending on the platform, reflecting concerns of a surge of inappropriate content on the platform after Musk's takeover.
However, being sanctioned by one of Twitter's key app distributors – alongside Google's Play store – would cut off the platform from potential customers. Last month, Twitter's former head of trust and safety, Yoel Roth, described such a scenario as "catastrophic". Apple's app store guidelines state that the company will not accept apps that produce content or behaviour that "we believe is over the line". Musk recently posted an internal presentation that showed Twitter's daily user numbers climbing above 250m, compared with just under 238m in the summer.
Musk, a self-described "free speech absolutist", has reinstated Donald Trump's Twitter account and declared an amnesty for permanently suspended accounts. It also emerged this week that Twitter will no longer enforce its policy against Covid-19 misinformation.
Musk received a shot across the bows from the European Union over content moderation on Wednesday when the European Commission, the EU's executive arm, warned Twitter must "significantly increase" efforts to comply with new online legislation covering issues including hate speech and disinformation.
The intervention over the Digital Services Act (DSA) by Thierry Breton, the EU's commissioner for the internal market, signalled Twitter was at risk of a substantial fine or even a ban, which are among the punishments for breaches of the act.
However, Breton said a video call with Musk about the DSA was "constructive" and that the Tesla CEO had "committed to comply" with the act.
Source: https://www.theguardian.com/technology/2022/dec/01/elon-musk-resolves-apple-row-over-removal-of-twitter-from-iphone-store
Hollywood writers agree to end five-month strike after new studio deal
Hollywood writers are officially ending their five-month strike, after union leaders approved an agreement made with the Alliance of Motion Picture and Television Producers and sent the full details of the new contract to union members for ratification.
The Writers Guild of America (WGA) said in a statement on Tuesday evening that writers would be free to work starting after midnight local time, while a ratification vote takes place on a new three-year contract with Hollywood studios that won concessions on writers' payment, terms with streaming shows, and the use of artificial intelligence.
Negotiators for the Writers Guild of America (WGA) and an alliance of studios, streaming services and production companies reached a tentative agreement on Sunday after five marathon days of talks.
On Sunday, the WGA hailed the three-year agreement as "exceptional – with meaningful gains and protections for writers in every sector of the membership".
Late-night and daytime television shows are expected to return to the air quickly. But most TV and film productions cannot yet resume as the actors' strike is still under way, and the strikes have already affected the production and release schedules for the coming months.
The move brings a dramatic chapter in Hollywood to a close after the strike – one of the longest in the industry's history –brought productions to a halt, sending shockwaves across Los Angeles and beyond.
In May, the WGA voted overwhelmingly to authorize its 11,500 members to strike for the first time in 15 years amid stalled negotiations with major studios. Writers argued they were receiving worse pay and less stable work in the online-streaming era. The union also demanded additional protections around studios' use of artificial intelligence.
Writers spent months on picket lines outside major studios from Los Angeles to New York, including Amazon, Netflix, Paramount and Warner Bros. A few months after the writers began their strike, the Hollywood actors' union Sag-Aftra undertook similar action, in what amounted to a historic "double strike", the first such action in over six decades.
The writers' strike, which lasted 146 days, was just five days shy of becoming the longest strike in the guild's history.
A summary of the deal with the studios was made public on Tuesday. Writers won concessions across multiple areas they said were crucial, including residual payments for shows on streaming platforms, more transparency on viewership numbers for streaming platforms such as Netflix, minimum numbers of writers for pre-development "mini rooms", and guidelines for the use of artificial intelligence.
Members are set to vote on the deal between 2 and 9 October.
The agreement with the WGA came after negotiators renewed talks following a months-long impasse. Four top industry executives – Bob Iger, the Disney CEO; David Zaslav, the Warner Bros Discovery CEO; Ted Sarandos, the Netflix co-CEO; and Donna Langley, the NBCUniversal Studio group chair – took part in this week's negotiations.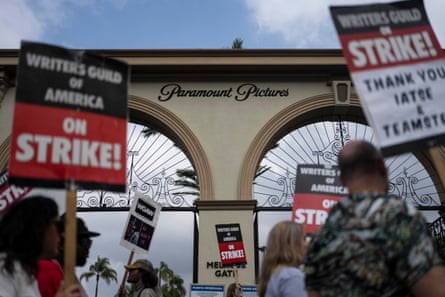 The end of the Hollywood actors' strike may not be on the horizon yet, but the deal for writers has ignited a new spirit of optimism and animated those who are still picketing. The deal could provide a path forward to resolve the actors' strike, as the WGA agreement addresses concerns similar.
"For a hot second, I really thought that this was going to go on until next year," said Marissa Cuevas, an actor who has appeared on the TV series Kung Fu and The Big Bang Theory. "Knowing that at least one of us has gotten a good deal gives a lot of hope that we will also get a good deal."
Writers' picket lines had been suspended, but they were encouraged to walk in solidarity with actors, and many were on the lines on Tuesday, including Mad Men creator Matthew Weiner, who picketed alongside friend and ER actor Noah Wyle, as he has throughout the strikes.
"We would never have had the leverage we had if Sag had not gone out," Weiner said. "They were very brave to do it."
Striking actors have also voted to authorize their leadership to potentially expand their walkout to include the lucrative video-game market, a step that could put new pressure on Hollywood studios to make a deal with performers who provide voices and stunts for games.
Sag-Aftra, the Screen Actors Guild-American Federation of Radio and Television Artists, announced the move late Monday, saying that 98% of its members voted to go on strike against video-game companies if negotiations are not successful.
Some of the same issues are at play in the video-game negotiations as in the broader actors' strike, including wages, safety measures and protections on the use of artificial intelligence.
Lois Beckett and agencies contributed reporting
Las Vegas hospitality workers vote to authorize strike
Hospitality workers in Las Vegas have voted to authorize a strike if their union does not reach a contract deal with dozens of hotels on the Las Vegas strip.
Thousands of workers attended the strike vote on Tuesday at the Thomas & Mack Center on the University of Nevada – Las Vegas (UNLV) campus. The union slogan headlining the event was: "One job should be enough."
Of the 53,000 members, 95% voted in favor of authorizing the strike.
"Companies are generating record profits, and we demand that workers aren't left behind and have a fair share of that success," said Ted Pappageorge, secretary-treasurer for the Culinary Union, in a statement.
"As companies reduce labor, there are less workers who have even more responsibilities and are doing more work instead of spending quality time with their families, and that has to change. Workers have built this industry and made it successful and that's why we are demanding that workers share in that prosperity," he said.
Pappageorge said the two sides were still "far apart" after months of negotiations with the largest three gaming companies in Las Vegas.
Among the asks from the union include "winning the largest wage increases ever negotiated in the history of the Culinary Union" amid high inflation rates in recent years, the high cost of living in Las Vegas, and furloughs during the beginning of the Covid pandemic that greatly affected hospitality workers.
The union is also pushing for reducing housekeeping workloads, mandating daily room cleaning, which was eliminated throughout much of the hotel industry during the pandemic, expanding safety protections for workers on the job, and adding clarifying language to a no-strike clause that gives casino workers the right to respect picket lines and does not prevent the union from taking action against non-union restaurants on casino properties.
"My job got so much harder since the pandemic and I'm in constant pain at work. When I get home I feel guilty that I don't have energy to spend time with my son, help him with his homework, or even cook dinner some nights," said Evangelina Alaniz, a guest room attendant at the Bellagio and a Culinary Union member for 18 years. "Often, I have to go to bed so I have enough strength to go to work the next day and serve the guests."
The union has not yet set a strike deadline, but workers are currently working under expired contracts at 22 locations among MGM Resorts, Caesars Entertainment, and Wynn/Encore Resorts. Negotiations began in April, with contract extension agreed upon in June that expired in early September as the union noted a lack of substantial progress.
In 2018, 25,000 hospitality workers voted to authorize a strike, with contracts settled with employers soon after the vote.
Bankman-Fried asks judge for three suit jackets and slacks to wear at fraud trial
Sam Bankman-Fried, the jailed former cryptocurrency billionaire known for his casual appearance, has asked a US judge for permission to dress up for his forthcoming fraud trial.
In a Tuesday night court filing, Bankman-Fried's lawyers asked a judge to order US marshals and Brooklyn jail officials to provide their client with three suit jackets and pairs of slacks to wear in the courtroom.
They also asked that Bankman-Fried be given four dress shirts, three ties, one belt, four pairs of socks, two pairs of shoes and "appropriate undergarments".
The request will be reviewed by the federal judge Lewis Kaplan in Manhattan. Bankman-Fried's trial is due to begin on 3 October and could last six weeks.
Jailed inmates do not have access to their own clothing. Judges often let them wear business attire in court, to avoid possible juror bias if they wore prison garb.
Bankman-Fried, 31, has pleaded not guilty to stealing billions of dollars in customer deposits from FTX, the now-bankrupt cryptocurrency exchange he founded in 2019.
As he rode a boom in bitcoin and other digital assets to an estimated $26bn fortune, Bankman-Fried was known for his unkempt mop of curly hair and wearing rumpled shorts, T-shirts and sneakers even when entertaining the likes of former US president Bill Clinton and ex-British prime minister Tony Blair.
Kaplan revoked Bankman-Fried's $250m bail on 11 August and remanded him to the Metropolitan detention center in Brooklyn after ruling he likely tampered with witnesses.
At most court appearances since his December 2022 arrest, Bankman-Fried has worn suits. He wore a beige-colored prison uniform at an August hearing following his jailing.
In July, federal prosecutors asked the court to jail the defendant, saying he "crossed a line" by sharing his former romantic partner Caroline Ellison's personal writings with the New York Times. They argued that such press was intended to discredit Ellison, who is expected to testify against him at his scheduled 2 October trial.
Bankman-Fried had previously been largely confined to his parents' home in Palo Alto, California, on $250m bond after being extradited from the Bahamas, where FTX was headquartered.