Elon Musk 'doesn't seem like' right person to own Twitter, says co-founder
Elon Musk "doesn't seem like" the right person to own Twitter, the social media platform's co-founder has said, adding that improvements to morale and content policies at the business have been reversed under its new proprietor.
In an interview with the Guardian, Biz Stone said positive changes he had helped oversee in recent years had been unwound by the Tesla chief executive.
Stone said running social media companies is "not really a win-win situation … it's always tough", because "50% of the people are gonna be happy, 50% of people are gonna be upset with you".
"You have to be OK with stuff that you just don't like or don't agree with being on there," said Stone, adding: "Otherwise, you should just go buy a magazine or a newspaper or something where it's OK to have a specific leaning."
Asked if Musk was the right owner for Twitter, Stone said: "It doesn't seem like it right now, but I could be wrong."
Musk has come under fire for temporarily banning journalists from the platform and reinstating previously banned accounts such as those belonging to the former US president Donald Trump and the self-proclaimed misogynist Andrew Tate.
Stone, who co-founded Twitter in 2006 with Jack Dorsey, Noah Glass and Evan Williams, returned to the business in 2017 at the behest of thenchief executive Dorsey to "guide the company culture, that energy, that feeling". Stone said improvements during his four-year stint, particularly in morale and overseeing content, have been lost under Musk.
"We made a lot of improvements in those areas. And that's all gone now."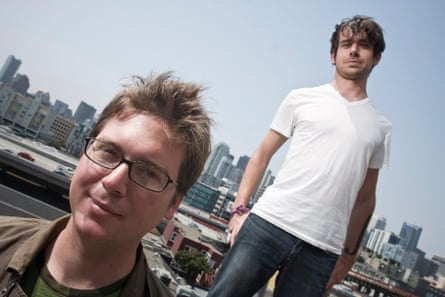 Musk has rowed back on a pledge to establish a "content moderation council" that would have overseen big content decisions and account reinstatements, instead relying on more arbitrary methods such as user polls hosted on his own Twitter account. He also fired approximately half of Twitter's workforce within days of buying the business for $44bn (£35bn) last year.
Stone added that employees should not have been named as part of the release of the so-called Twitter files, a series of internal documents detailing decisions such as the suspension of Donald Trump.
"When that happens, people get a lot of harassment," said Stone. "It's really bad." Twitter's former head of trust and safety, Yoel Roth, was reportedly forced to leave his home when Musk posted tweets misrepresenting Roth's 2016 academic thesis, "Gay Data".
Stone said the concept of Twitter would survive, regardless of the company's current financial struggles. "I don't know that Twitter as a company is going to succeed for ever but the idea of Twitter I think will be around," said Stone, pointing to the success of alternative platforms such as Mastodon.
"It would only matter that Twitter the idea continued. And that's happened. That seems to be happening already. Mastodon seems to be winning the open-source, decentralised version of Twitter. People seem to be going there."
He added: "I don't know the future. I don't know what's gonna happen and maybe things will be great in a year and [it] had to go through this trial by fire. But, right now it does not look good, I would say."
Stone spoke to the Guardian as he confirmed he is joining the board of Chroma, a Swedish startup in which he is also an investor. Chroma creates an audio-visual experience for mobile phone users, describing itself as "a world of sound experiences in a pocket" where users can change what they see and hear.
Describing Chroma's work as "soundplay", Stone added: "It's a new way to interact with sound and to play with sound." Last year Chroma collaborated with Venezuelan musician Arca to create Lux Aeterna, an app that creates an "ever-evolving, boundless audio-visual world".
Stone said his investment philosophy is simple – "do I like this person" and "do I think they can pull off this thing I would use myself?" He adds: "If those two answers are yes, I'm usually in."
Referring to Chroma's CEO and founder, Andreas Pihlström, he said: "I like working with Andreas. He is a really talented designer." Stone's co-investors in Chroma include Evan Sharp, the co-founder of digital pinboard platform Pinterest, and Ben Silbermann, the co-founder and CEO of Pinterest, where Pihlström worked as a creative director.
Stone, who has also invested in the messaging service Slack and Pinterest, added that he never thought of Twitter as being successful when he co-founded it in San Francisco.
"I tell young people – if you're doing something to try to get rich, it's probably not going to work. You should do something that you're just really enjoying working on and then you actually have a greater chance of becoming wealthy."
Source: https://www.theguardian.com/technology/2023/jan/27/elon-musk-doesnt-seem-like-right-person-to-own-twitter-says-co-founder
'It's just crazy': Republicans attack US child labor laws as violations rise
As child labor law violations have been on the rise in the US, some state legislators are pushing for changes at state and federal levels to roll back protections in what some see as a threat to return child labor to the country.
The laws aim to expand permissible work hours, broaden the types of jobs young workers are permitted to do, and shield employers from liability for injuries, illnesses or workplace fatalities involving very young workers.
Child labor law violations have increased in the US, with a 37% increase in fiscal year 2022, including 688 children working in hazardous conditions, with the number likely much higher as the recorded violations stem from what was found during labor inspections.
The Department of Labor issued a press release in July 2022 noting child labor violations and investigations have increased since 2015.
Several high-profile investigations involving child labor have been exposed over the past year, including the use of child labor in Hyundai and Kia supply chains in Alabama, at JBS meatpacking plants in Nebraska and Minnesota, and at fast-food chains including McDonald's, Dunkin Donuts and Chipotle.
Amid these increases in child labor violations, legislative efforts have been introduced in several states to roll back child labor protections.
In Iowa, Republican legislators introduced a bill in January to expand the types of work 14- and 15-year-olds would be permitted to do as part of approved training programs, extend allowable work hours, and exempt employers from liability if these young workers are sickened, injured or killed on the job.
"It's just crazy to me that we are re-litigating a lot of things that seem to have been settled 100, 120 or 140 years ago," said Charlie Wishman, president of the Iowa AFL-CIO, which is opposing the bill.
Wishman added: "All of these protections have been put in place for a reason. Child labor law is there to make sure that kids are working in age-appropriate work activities or occupations that are appropriate for their age. We think this is a rewrite of our child labor laws in Iowa that are going way, way, way too far and has the potential to put kids in dangerous situations."
The bill would permit the director of Iowa workforce development or the Iowa department of education to grant exceptions from any provision that restricts the types of jobs 14- and 15-year-olds can do if the work is classified as part of a work-based learning program and also strips workers' compensation rights for these workers.
The protections being sought for companies are of particular concern to labor activists.
"In the Iowa legislation, one of the provisions is to exempt employers from civil liability due to the company's negligence. It is astounding that they would have the gall to knowingly acknowledge that more young people will be harmed, but focus on exempting businesses," said Marcy Goldstein-Gelb, co-executive director of the National Council for Occupational Safety and Health.
Goldstein-Gelb explained that throughout her career she has worked with families and co-workers of young workers who have died on the job, oftentimes in violation of child labor laws that industry groups have fought to repeal, such as in a case where a 16-year-old in Massachusetts was killed in 2000 while operating a golf cart on the job.
Young workers have much higher rates of non-fatal injuries on the job and the highest rates of injuries that require emergency department attention, Goldstein-Gelb noted. She argued that due to the vulnerability and inexperience of young workers, data on these workers is likely an undercount due to fears or barriers in being able to speak up and report dangerous situations or child labor law violations.
"I think there is this myth that you need to put young people in any possible job because there are openings. I think we are moving into a new age where we need to recognize that workers of all ages are seeking to earn a sustainable living and not put themselves in harm's way," added Goldstein-Gelb. "That's why there are workers taking actions around the country and that needs to be supported rather than just saying we're going to find people who have no alternative, the most vulnerable, and put them in jobs that are completely inappropriate."
Other states are currently or have pushed similar legislation to roll back child labor protections.
In Ohio, legislators reintroduced a bipartisan bill this year to extend working hours for 14- and 15-year-olds with permission from a parent or legal guardian, and called on Congress to adopt the same rollbacks at the federal level.
Legislators in Minnesota introduced a bill in January 2023 to extend work hours for 14- and 15-year-olds.
Republicans in Wisconsin passed a bill that was vetoed by Governor Tony Evers in this month that would have expanded work hours for 14- and 15-year-olds. The New Jersey governor, Phil Murphy, signed a similar law in 2022 that expanded work hours for 14- and 15-year-olds to work longer hours during summer months and on holidays and expanded allowable work hours for 16- and 17-year-olds.
At the federal level, Republican congressman Dave Joyce of Ohio drafted a bill in 2022 to expand working hours for 14- and 15-year-olds during periods when school is in session.
Advocates for legislative efforts to roll back child labor regulations have cited labor shortages, particularly in industries that rely on young workers, and have been strongly backed by the National Federation of Independent Business.
"We think these laws are really ill advised and just asking kids to have negative educational impacts," said Reid Maki, director of child labor issues and coordinator at the Child Labor Coalition, who argued it took significant efforts to enact child labor laws over 100 years ago, when there were thousands of children working long hours in unsafe jobs such as factories and mines.
Maki added: "Now there are states that want to go back toward that direction to deal with labor shortages by using teens, even to the extent of placing them in dangerous work environments – [it] doesn't make sense. It's disregarding their welfare."
He argued that child labor laws in the US need to be strengthened and updated, including closing existing loopholes that permit young workers, some as young as 12 years old, to work unlimited hours in many jobs in the agriculture industry with parental permission when school is not in session.
An estimated 300,000 to 500,000 minors work in the US agriculture industry annually, with 48% of all young worker fatalities between 2001 to 2015 occurring in the agriculture industry.
"In my office, we can't bring in a 12-year-old to make copies, 12 is too young, but we will take that same 12-year-old and put them in a field. The actual law allows them to work unlimited hours as long as school is not in session," added Maki. "There is basically no protection."
Chinese billionaire tech banker Bao Fan goes missing
A billionaire Chinese dealmaker has gone missing, plunging one of the country's top investment banks into turmoil.
Bao Fan, the founder and executive director of China Renaissance, is a major figure in the Chinese tech industry and has played an important role in the emergence of a string of large domestic internet startups.
Shares in China Renaissance slumped after the bank announced to the Hong Kong stock exchange on Thursday that it had been unable to contact Bao, without giving further details.
The stock plunged 50% at one point after the statement, before clawing back to about 30% down.
According to the financial news outlet Caixin, the 52-year-old had been unreachable for two days as of Thursday evening.
The executive committee of China Renaissance told employees not to worry in a message on Friday morning. "[We] believe that everyone has had a restless night. At this time, [we] hope that you do not believe in or spread rumours," the message said, according to the Wall Street Journal.
Bao's disappearance is raising concerns over a possible renewed crackdown on China's finance industry as President Xi Jinping persists in his longstanding campaign against corruption.
The Chinese government has cracked down on several big industries, including technology, education and real estate, as part of Xi's "common prosperity" drive to "keep income distribution and the means of accumulating wealth well-regulated".
At least six billionaires have been cowed under Xi, including Jack Ma, the founder of the e-commerce giant Alibaba, who disappeared for three months in 2020 after criticising market regulators.
Willer Chen, a senior analyst at Forsyth Barr Asia, told Bloomberg the executive's absence "could be a long-term overhang on the stock, given Bao is the key man for the company".
Wang Wenbin, a spokesperson for China's foreign ministry, said he was "not aware of the relevant information" when asked about Bao's disappearance.
"But I can tell you that China is a country under the rule of law," he said. "The Chinese government protects the legitimate rights of its citizens in accordance with the law."
China Renaissance has developed into a global financial institution, with more than 700 employees and offices in Beijing, Shanghai, Hong Kong, Singapore and New York.
Bao founded the bank in 2005 after working at Morgan Stanley and Credit Suisse. He competed against Wall Street stalwarts to win mandates on huge deals and stock market listings.
The group has supervised the initial public offerings of several domestic internet giants, including that of the leading e-commerce firm JD.com. Bao also facilitated a 2015 merger between the ride-hailing firm Didi and its main rival at the time, Kuaidi Dache.
Desmond Shum, a Chinese former tycoon, speculated that Bao may have been a target because of his insider knowledge of such deals. Mergers of big companies often involve political as well as business connections.
The case of China Renaissance is reminiscent of a pattern of investigations into the country's leading financiers in recent years.
In 2017, the Chinese-Canadian businessman Xiao Jianhua was arrested by mainland authorities and received a 13-year jail sentence under corruption charges last August.
Known to hold close ties to top Chinese Communist party leaders, the billionaire was reportedly abducted from his Hong Kong hotel room by plainclothes police officers from Beijing. At the time of his arrest, Xiao was one of the richest people in China, with an estimated fortune of $6bn.
According to Caixin, the China Renaissance president, Cong Lin, was taken into custody last September as authorities launched an investigation into his work at the financial leasing unit of the state-owned bank ICBC.
Over 100 children illegally employed by US slaughterhouse cleaning firm
More than 100 children have been discovered to be illegally employed by a slaughterhouse cleaning firm across the country, federal authorities said.
The Department of Labor announced that a federal investigation found Wisconsin-based Packers Sanitation Services Inc (PSSI) employed at least 102 children, ranging from 13 to 17 years old, to work overnight shifts at 13 meat processing facilities in eight states.
The investigation discovered that children were working with hazardous chemicals and cleaning meat processing equipment including back saws, brisket saws and head splitters. At least three minors suffered injuries while working for PSSI, one of the country's largest food safety sanitation service providers.
The states in which the children were employed include Arkansas, Colorado, Indiana, Kansas, Minnesota, Nebraska, Tennessee and Texas. The processor which had the largest number of employed minors is JBS Foods, with 27 children employed, followed by Cargill Inc, which had 26 employed children.
Other processors include Tyson Food, George's Inc, Buckhead Meat of Minnesota, Gibbon Packing Co, Greater Omaha Packing Co Inc, Maple Leaf Farms and Turkey Valley Farms.
According to court documents, a 14-year-old child who worked at a Nebraska facility from 11pm to 5am five to six days a week from December 2021 to April 2022, cleaned machines "used to cut meat".
At one point, the child fell asleep in class and also missed class after suffering injuries as a result of chemical burns. Several other children were also reported to have suffered from chemical burns.
The Department of Labor assessed PSSI $15,138 for each minor-aged employee who was employed in violation of the law. According to the news release, PSSI has paid $1.5m in civil money penalties.
"The child labor violations in this case were systemic and reached across eight states, and clearly indicate a corporate-wide failure by Packers Sanitation Services at all levels," said Jessica Looman, the department's principal deputy administrator of the wage and hour division.
"These children should never have been employed in meat packing plants and this can only happen when employers do not take responsibility to prevent child labor violations from occurring in the first place."
Meanwhile, Michael Lazzeri, a Chicago-based regional administrator with the labor department, said that when the wage and hour division arrived with warrants, "the adults – who had recruited, hired and supervised these children – tried to derail our efforts to investigate their employment practices".
During fiscal year 2022, there was a 37% increase in child labor law violations across the country, with at least 688 children working in dangerous conditions.
Despite the Department of Labor's warnings that child labor violations have increased since 2015, Republican lawmakers across the country have in recent months been pushing for the expansion of the types of approved work, as well as work hours.
"Now there are states that want to go back toward that direction to deal with labor shortages by using teens, even to the extent of placing them in dangerous work environments – [it] doesn't make sense. It's disregarding their welfare," Reid Maki, director of child labor issues and coordinator at the Child Labor Coalition, told the Guardian.