'Do you know these WWII veterans?': Missouri historical society asks for help in identifying unnamed heroes
A historical society in Missouri is hoping to place names to the American soldiers' faces as part of a neighborhood mystery linked to World War II.
The McDonald County Historical Society is asking for the public's help in identifying 65 veterans — all included in a photo album created during the war, as local boys and young men left their homes in the southwest corner of Missouri to serve their country.
"There are roughly 115 veterans in the album that needed to be identified," Hazel Sheets, director of the McDonald County Library in Pineville, Missouri, told Fox News Digital. 
WITH WORLD WAR II AIRMAN'S REMAINS FOUND, RELATIVE FINALLY 'HAS CLOSURE' FOR WHOLE FAMILY
When she inherited the project — known as the "Bonnibel Sweet Album" — Sheets began submitting photos of the unidentified veterans, one at a time, to the local newspaper and posting them on social media in the hope that someone might recognize a family member or family friend.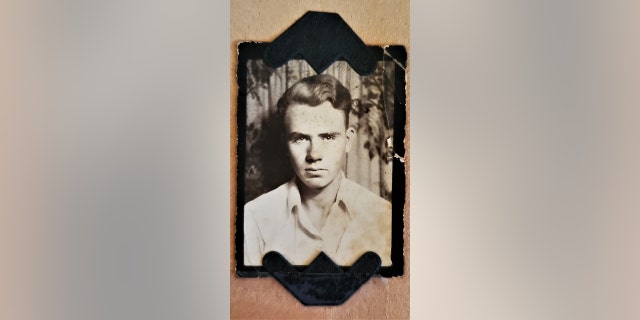 "As of today, 50 of the photos have been named," Sheets said. 
"Since I started posting the photos, I have received help in identifying 21 [more] of those photos. There are still about 65 photos that need to be identified." 
The photos are part of an album compiled by Bonnibel Brown Sweet, who helped run her family's business, a drug store called Brown's Sundries. It was located in the town square, according to Lynn Tatum, board chair of the McDonald County Historical Society.
"The drug store was kitty-corner from the old courthouse where our museum is housed now," Tatum told Fox News Digital.
US AIRMAN'S REMAINS FORMALLY IDENTIFIED 79 YEARS AFTER B-24 CRASHED DURING WORLD WAR II
"Bonnibel ran the place with her sister for, I think, 50 years," Tatum added. 
"She was a surrogate mother to all of the kids walking to school — and became more than that," Tatum went on. "She was like a counselor. Kids would go in and practice their speeches for school and she gave advice. She became a very beloved character in our county."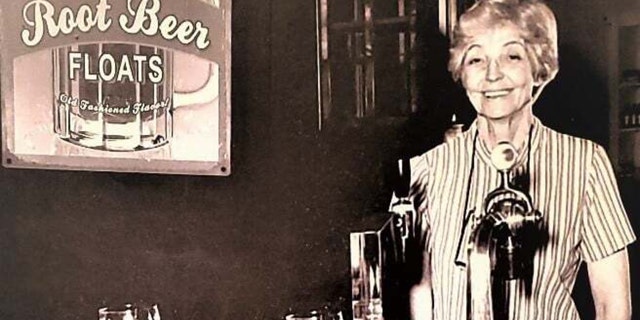 During WWII, Sweet watched from her corner store as young men waited for a bus to take them away from the wooded hills of Pineville to basic training and then off to wherever they were stationed for service.
"Many of those kids that she had been nurturing had grown up and had signed up to go to war," Tatum said. 
"She was a surrogate mother to all of the kids walking to school and became more than that … She became a very beloved character in our county."

— Lynn Tatum
"They were so dear to her that when they went off to war, she gave each one of them a silver dollar to remind them that they had someone back home who loved them," she said.
PATRIOT REMEMBERED: MILITARY MOM MEMORIALIZES SON WHO DIED IN NATIONAL GUARD HELICOPTER CRASH WITH NEW BOOK
She told them to use the silver dollar for anything they needed during their service — a phone call, a cab ride or a bite to eat. 
In return for her love and the silver dollar, many of them sent her letters and photographs, which she collected in an album.
"Some of the photographs had no names with them," Tatum said, "but she knew their names. She also put up a great big map of Europe on her wall in the drug store. It included France and Italy and all of those countries where so many of them went."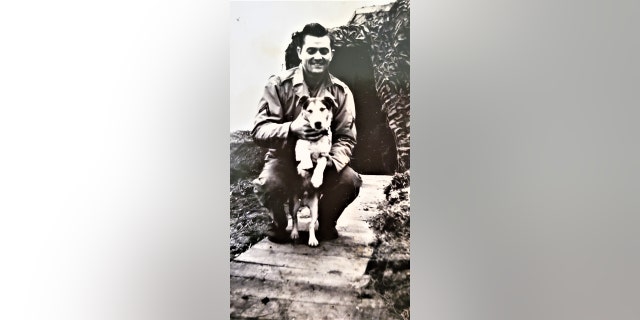 Tatum explained that Sweet, after receiving word from a local serviceman, would put a push pin on the map, marking where that person was stationed.
"So people could come into the store and it was like a little news outlet for where the young men were," Tatum said.
WWII VET, 100, LIVES 'CHARMED LIFE' IN SPITE OF SURVIVING GREAT DEPRESSION, DUST BOWL STORMS AND A GLOBAL WAR
Over 120 young men mailed their photos to the drug store. There are also two servicewomen's photos in the album.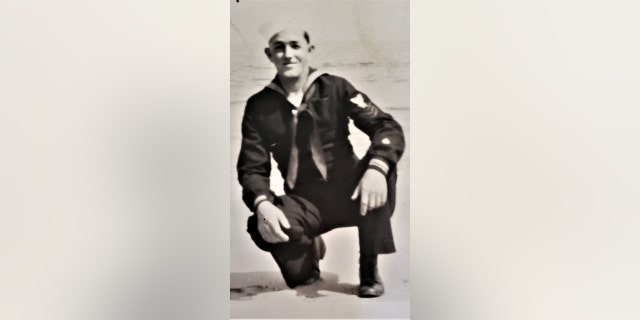 Sweet ran the business from 1929 to 1978. 
After she died in 1996, the album was passed along to her daughter, Donna Lou Sweet Goodman, who moved to the East Coast after she got married.
Members of the McDonald County Historical Society led an effort to recreate Brown's Sundries, the drug store where so many soldiers said their goodbyes and returned home to Pineville.
MINNESOTA WWII VETERAN CELEBRATES TURNING 100 YEARS OLD, WISHES TODAY'S YOUNG PEOPLE HAD 'MORE BACKBONE'
"Donna Lou was very helpful to us when we started the big exhibit," Tatum said. "She gave us some money and some artifacts from the drugstore."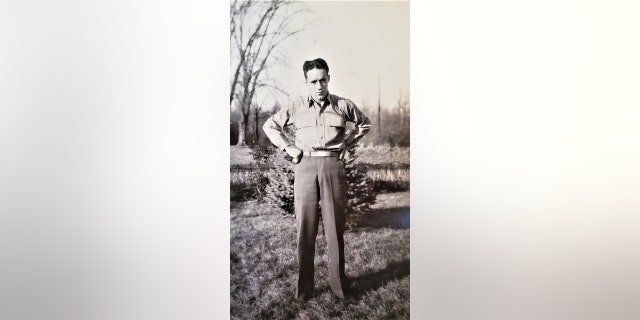 Today, when kids visit the museum, they can pretend to order a soda at the fountain, sit at a booth or on stools at the counter, pay at an old-fashioned cash register and listen to music on a jukebox.
Before Sweet Goodman died, she passed the album along to her son, Bonnibel Sweet's grandson, Michael Goodman, who today lives in New Orleans, Louisiana.
WWII VETERAN CELEBRATES 100TH BIRTHDAY, REVEALS HIS SECRETS AND 'LIFETIME OF INSPIRATION'
"He decided he would donate the album to the McDonald County Historical Society, so that he did," Tatum said.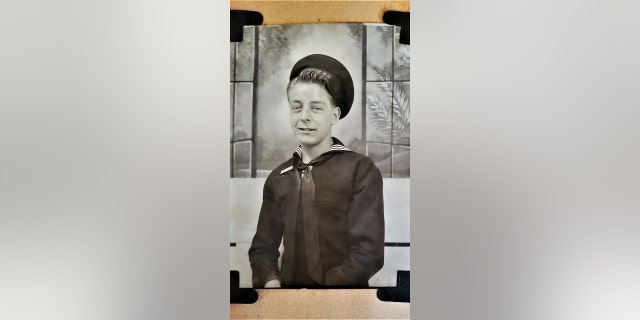 Tatum said that when she and Sheets got the album a few years ago, about a third of the photos had names.
She added that the society is a long way from identifying all of the veterans.
"Every once in a while we hit gold and somebody calls in."
Still, she applauds Sheets for launching a plan to try naming them all.
"Every once in a while we hit gold and somebody calls in, and then Hazel [Sheets] will do her best to research," Tatum said. 
"We listen carefully to the wording when people say, 'I think this is someone I know,' or 'This person looks like this family.' And we wait until we've got a pretty clear identification of the person."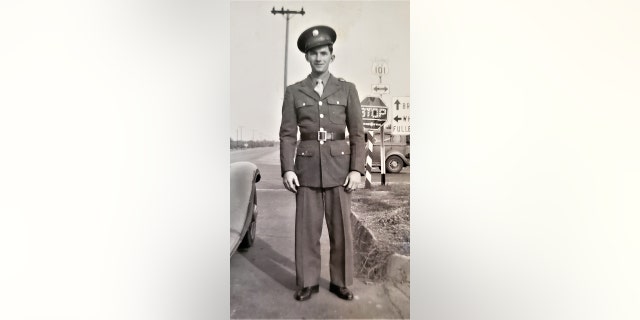 With the album back in Pineville, lots of stories surrounding Bonnibel Sweet have been uncovered, Tatum said.
"A friend of mine, who now has passed, came into the museum one day and said, 'Here's a story,'" Tatum said. "He said, 'Bonnibell was gone somewhere and her pipes broke. She had a flood in her house, so somebody called a handyman.'"
CLICK HERE TO GET THE FOX NEWS APP
"He was moving furniture around in her living room, and when he lifted the coffee table, the top came off," Tatum continued. "The legs of the coffee table were hollow and inside were stacks of silver dollars.'"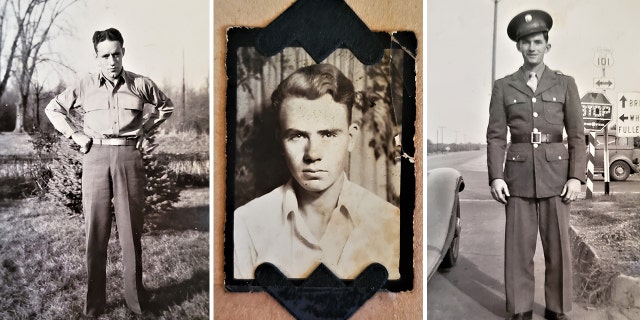 Tatum said that a neighbor reportedly called the bank president, who safeguarded the silver dollars until Sweet returned from her out-of-town trip.
"We try to keep those fun stories alive," Tatum added.
CLICK HERE TO SIGN UP FOR OUR LIFESTYLE NEWSLETTER
If you recognize any of the service members shown in the photos in this article, please contact the McDonald County Library at 417-223-4489.
Source: https://www.foxnews.com/lifestyle/do-know-wwii-veterans-missouri-historical-society-asks-help-identifying-heroes
Ohio firefighters find 118-year-old time capsule buried in fire station: Here's what was inside
A team of firefighters has uncovered treasure hidden in their fire department that's nearly 12 decades old.
Captain Ryan Redmon and a group of six firefighters from the City of Marion Ohio Fire Department were on a mission to retrieve an old department cornerstone from a retired fire station that was about to be demolished, but they ended up finding something truly unexpected.
The Marion Fire Department (MFD) has recently been researching the history of their department, going back to 1848, by digging up some information — both figuratively and literally, Captain Redmon told Fox News Digital.
ALABAMA MUSEUM OF LOST LUGGAGE DISPLAYS UNPACKED 'TREASURES,' FROM OLD ARTIFACTS TO AUTOGRAPHED MEMORABILIA
On May 25, Redmon and the firefighters went down to the old Marion Fire Department Station No. 2, which was built in 1905, to excavate their department's cornerstone for preservation purposes before the building was scheduled to be torn down.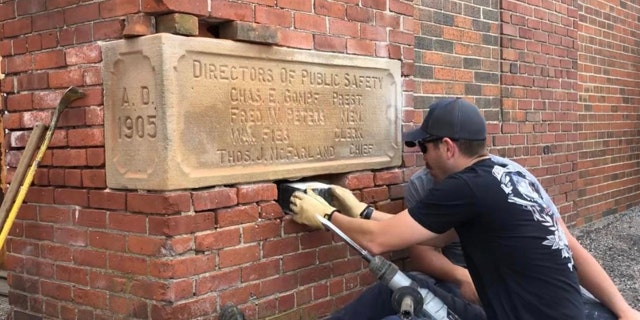 After spending nearly 30 minutes on the excavation, Redmon and his men quickly realized the cornerstone was deeper into the building than anticipated, so they called in professionals to complete the removal.
As Redmon and his team were about to leave, they pulled out one last brick and saw a copper box fall out of the sandstone, Redmon shared.
Redmon and the other firefighters on the scene took it back to the station excited to show everyone their new discovery.
ANCIENT ROMAN 'REFRIGERATOR' DISCOVERED IN MILITARY BARRACK WITH PRESERVED BONES: 'SHROUDED IN MYSTERY'
"Obviously, everybody wanted us to open it right away, and we wanted to, trust me. It was killing us to see what was in there," Redmon commented.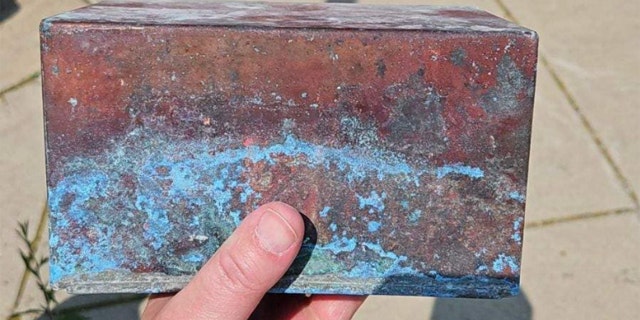 The MFD has been working on the written history of their department, but nothing in their prior research led them to believe there would be a time capsule hidden in the 1905 fire station.
"We've done so much history work around the station and I feel like we've got a pretty good grasp on our past and where we've been, and [to] discover something like [this], there's no written record of it," Redmon stated.
"We scoured newspapers, we scoured old records [and] there was never any mention of a time capsule in there, so it was very exciting," he added.
SUNKEN JEWELS, BURIED TREASURE UNCOVERED IN THE BAHAMAS FROM ICONIC 17TH CENTURY SPANISH SHIPWRECK
The time capsule was placed near the cornerstone of the old MFD station on July 20, 1905, according to a letter found in the capsule written by the fire chief at the time, Redmon added.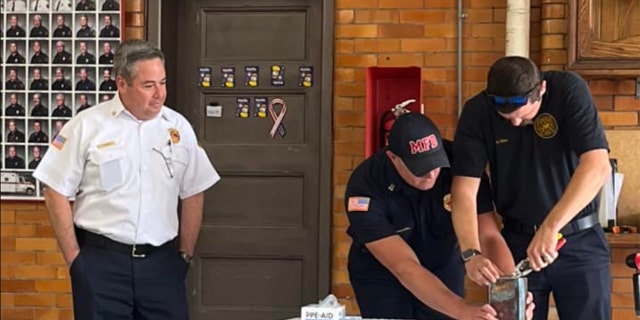 "Firemen aren't exactly known for being gentle, delicate creatures with things," Redmon joked. "So we took it to the historical society in town."
The copper box had been soldered shut on the edge and wasn't easy to pry open, according to Redmon.
On May 31, the MFD invited the residents of Marion to be a part of a public opening of the time capsule.
BURIED TREASURE FOUND IN TEXAS SCHOOL: PURSE FROM 1950S REVEALS WOMAN'S LIFE, OPENS 'WINDOW INTO PAST'
Inside the 118-year-old copper box were dozens of well-preserved memorabilia referencing the department including: nine MFD badges from the "turn of the century," an invitation to the 1878 "Northwestern Ohio Volunteer Fireman's Association Fireman's Games" (which is still held today), four newspapers from July 1905 and so much more, according to the City of Marion Ohio Fire Department Facebook page.
Redmon took note of the differences between the "turn of the century era" badges that had been found in the time capsule, detailing the difference in style and size.
"There has been talk about trying to back to that style now that we know that's our history and that's kind of where we came from. In the future, maybe we can go back to that," Redmon commented.
One of Redmon's favorite discoveries in the box was the letter from Chief McFarland, the department's fire chief for almost 40 years, he added.
KANSAS FINDS 71-YEAR-OLD TIME CAPSULE INSIDE COURTHOUSE: HERE'S WHAT'S INSIDE
"He has kind of got his touch on everything. To have an actual letter from him was very [exciting]."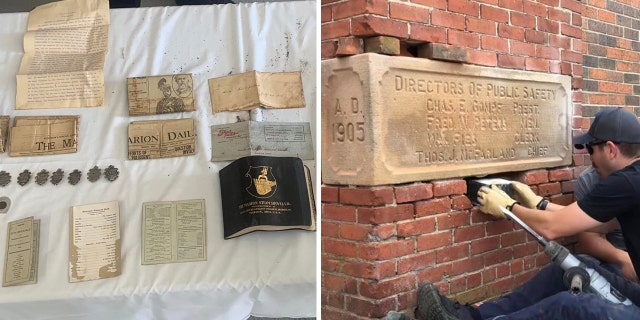 Redmon gave a lot of credit to Andrew Niles, a firefighter on his team, who has been heading up the department's historical research and was the one to open the time capsule.
One of the biggest takeaways for Redmon is knowing that he now has a tangible place in the history of the MFD.
CLICK HERE TO SIGN UP FOR OUR LIFESTYLE NEWSLETTER
"I was becoming a part of history because I was involved in this opening and this finding," he shared.
The MFD is planning on taking an item from the 1905 time capsule, most likely one of the badges, and placing it in a new time capsule that will be buried in the construction of the new fire station, Redmon added.
CLICK HERE TO GET THE FOX NEWS APP
The hope is that another 118 years will pass by before the new capsule is opened and someone will be able to discover a 236-year-old badge, paying homage to the history and legacy of the Marion Fire Department, Redmon said.
On this day in history, June 7, 1942, Battle of Midway ends in decisive US victory
On this day in history, June 7, 1942, the Battle of Midway — regarded as one of the most decisive U.S. victories in its war against Japan — came to an end.  
The Battle of Midway was an Allied naval victory and a major turning point in World War II. 
The battle was fought between Japanese and American carrier forces near the Midway Atoll, a territory of the United States in the central Pacific, from June 4-7, 1942.
On June 4, 1942, the Battle of Midway began. 
ON THIS DAY IN HISTORY, JUNE 6, 1944, US AND ALLIES INVADE NORMANDY IN GREATEST MILITARY INVASION
Midway Island is a fairly isolated atoll, so named because it is midway between North America and Asia in the North Pacific Ocean, according to National Geographic.
Midway's importance grew for commercial and military planners, says the National Oceanic and Atmospheric Administration (NOAA).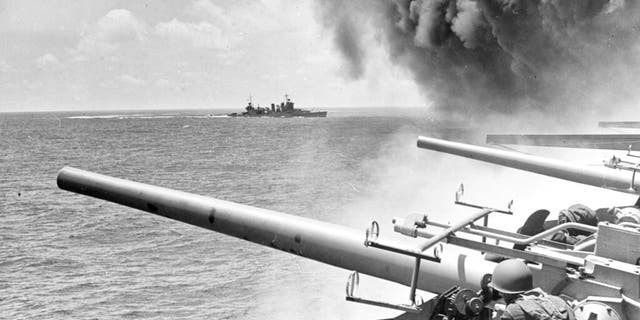 In the 1930s, Midway became a stopover for Pan American Airways' "flying clippers" — seaplanes crossing the ocean on their five-day transpacific passage, the same source indicates.
Midway was an incredibly strategic location, multiple sources say. 
"The Imperial Japanese Navy planned to use it to secure their sphere of influence in the Pacific theater of the war," according to National Geographic. 
D-DAY 79 YEARS LATER: HOW FDR'S POWERFUL PRAYER UNITED AMERICANS
"The Japanese had not lost a naval battle in more than 50 years, and had nearly destroyed the American fleet just six months earlier in a surprise attack on Pearl Harbor, Hawaii." 
The American success at Midway was a major victory over the Imperial Japanese Navy. 
Pearl Harbor is about 1,300 miles east of Midway, says the same source.
In preparation, American military and intelligence forces worked together to defeat the Japanese.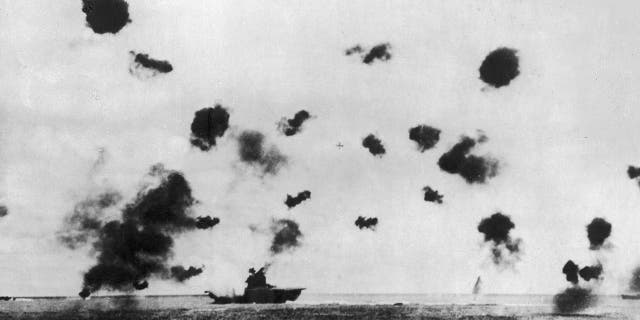 Code breakers were able to decipher Japanese naval code, allowing American leaders to anticipate Japanese maneuvers, notes National Geographic. 
Because of this, the U.S. Navy was then able to launch a surprise attack on the larger Japanese fleet in the area and the Battle of Midway turned the tide of the war, says the same source. 
WORLD WAR II'S D-DAY: PHOTOS REVEAL WORLD'S LARGEST AMPHIBIOUS INVASION
The American success at Midway was a major victory over the Imperial Japanese Navy as all four Japanese carriers — Akagi, Hiryu, Kaga and Soryu — had participated in the attack on Pearl Harbor, says the National WWII Museum.
The Battle of Midway is often referred to as the turning point of the war in the Pacific.
"Sinking those Japanese carriers represented a resounding defeat over the enemy fleet which had wrought such destruction only six months before," the same source says.
CLICK HERE TO SIGN UP FOR OUR LIFESTYLE NEWSLETTER
The Imperial Japanese Navy would not be capable of overcoming the loss of four carriers and over 100 trained pilots — and with the loss at Midway, the Japanese offensive in the Pacific was overturned and the United States began offensive action in the Pacific, says the National WWII Museum.
The Battle of Midway is widely considered the most decisive U.S. victory of that period.
It is often referred to as the turning point of the war in the Pacific.
CLICK HERE TO GET THE FOX NEWS APP
Midway Atoll has since been designated as a National Memorial to the Battle of Midway, says the National Oceanic and Atmospheric Administration.
Invisible AI's 'intelligent agent' cameras can see what autoworkers and machines are doing wrong
Tesla CEO Elon Musk often refers to the automobile factory as "the machine that builds the machine," but there are plenty of human workers involved in even the most highly automated plants.
They remain a key part of the exceedingly complex process that is automobile assembly but need to operate as efficiently as their mechanical counterparts to keep cars and trucks coming off the line with a combination of quality and speed.
Weeding out issues and making sure everything is running smoothly has traditionally meant sending quality control personnel up and down the lines to get eyes on the action. But now there's a way to automate that job with better results than ever before.
WHAT ARE THE FOUR MAIN TYPES OF AI?
Palo Alto-based Invisible AI was founded by veterans of the autonomous car industry who saw an alternative for the artificial intelligence-driven machine vision technology they were working on that could come to market long before the mass acceptance of self-driving cars.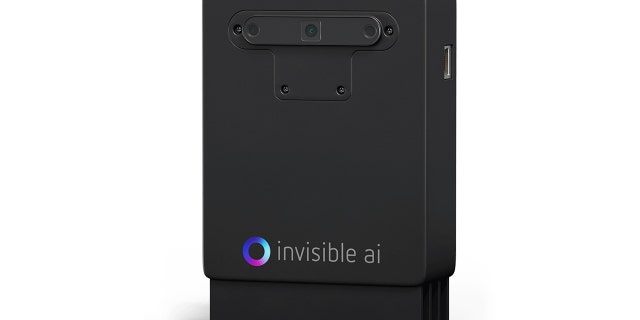 The company designed a network of cameras that can monitor an assembly line in real time and spot even the smallest things going wrong.
"Productivity, safety and quality are always top of mind in manufacturing, especially auto," Invisible AI CEO Eric Danzinger told Fox News Digital.
The self-contained units are equipped with stereoscopic vision and onboard processing that allows them to be easily set up in a factory without having to tap into the facility's own networks.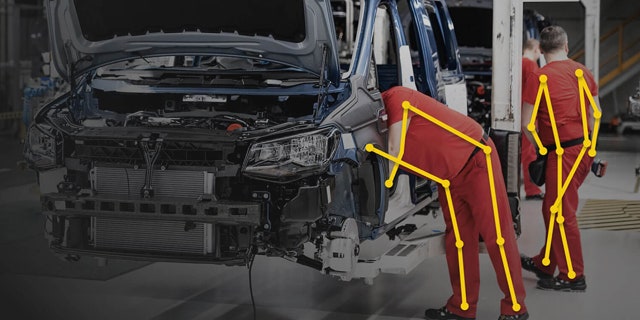 "Our AI is not just about watching one workstation but about getting that view across the line about where you're hitting production bottlenecks, where you're seeing deviations from how the work is supposed to be done and where you're seeing issues like bad reaches that can cause physical issues for your workers," Danzinger said.
The cameras don't need to be programmed with the assembly process. They only have to scan a single, correct cycle, and then the system can determine if anything deviates from it later.
"Our AI system analyzes the video, from raw pixels, to understand the pattern of work that's happening and then compares those patterns so we can tell if someone is following a standard," Danzinger explained. "All of that is being done by an intelligent agent in the cameras so a person doesn't have to.
"If you have 100 cameras on one section of an assembly, you are actually seeing in 3D the living, breathing line."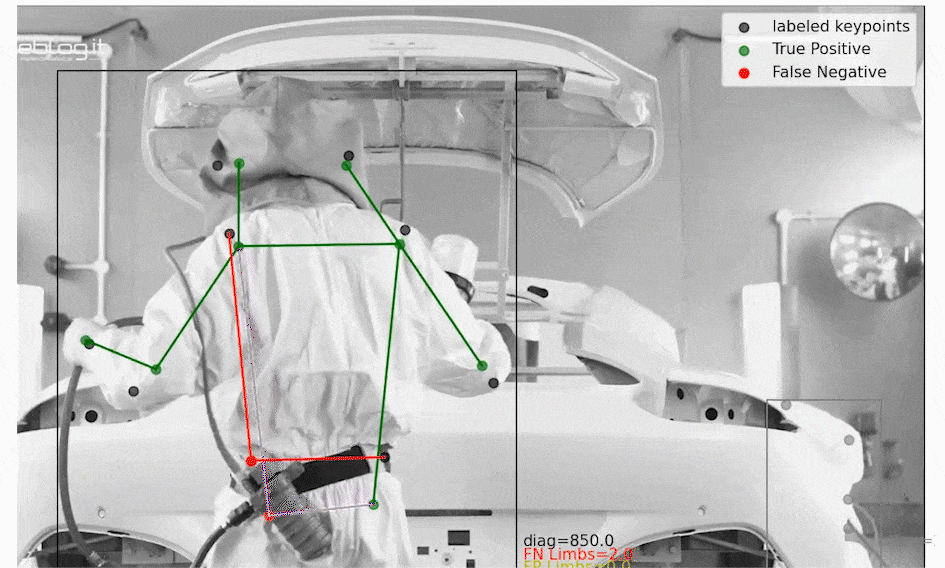 Pricing varies by application, but Danzinger said the cost is far less than bringing in a consulting team or trying to accomplish the same work manually, which really can't be done given the scope of what the system is capable of. 
Since they're self-contained, installing all the cameras can be done in a couple of days between shifts.
"Our system has become the place you can go to help frontline employees understand the work being done," Danzinger said.
"There are a million things happening. People are sick, bad parts are coming from suppliers, machines are broken down. … To be able to know what's going on, what's the most crucial component to fix, how do I meet my numbers? That's the most important thing."
CLICK HERE TO SIGN UP FOR THE FOX NEWS AUTOS NEWSLETTER
Invisible AI has collected a roster of a dozen automotive parts suppliers and four original equipment manufactures as clients, including Toyota, which uses the system at a factory in Indiana.
Toyota declined to provide comment for this report, but Senior Engineer Jihad Abdul-Rahim said when the project was announced last year that "Invisible AI is not only helping us find opportunities for improvement on the assembly lines, but we're also constantly finding new use cases for their technology, such as ergonomics analysis to proactively prevent injuries."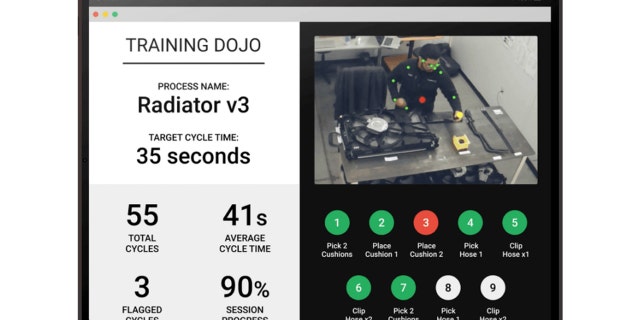 Danzinger said details about its other customers and how they are using the system is confidential and that Invisible AI can't provide details on their behalf.
As far as privacy is concerned, the system doesn't have facial recognition technology, and it can blur faces captured on video. But the point of it is to offer direct feedback, so it is not an entirely anonymized analytical tool.
CLICK HERE TO GET THE FOX NEWS APP
"Most of what we see is helping workers have a voice and raise their hand to say, 'This is broken. We need help fixing it,' and actually getting a response," Danzinger said.