Many people may scream for ice cream — but not everyone may have an ice cream maker lying around the kitchen. 
"You don't need an ice cream maker to create the easiest, most delicious ice cream ever," said Sheri Silver, a New York-based food photographer of SheriSilver.com, who's offering a no-churn ice cream recipe to Fox News Digital.
"Start with a two-ingredient base, then add your choice of mix-ins," she continued, noting that this cobbler version contains a quick cook peach purée, buttery streusel and a cinnamon crunch swirl. 
TIKTOK FOOD TREND OF COTTAGE CHEESE ICE CREAM HAS PEOPLE WONDERING: IS IT HEALTHY?
Read on for a delicious dessert that'll help you cool off at the close of summer.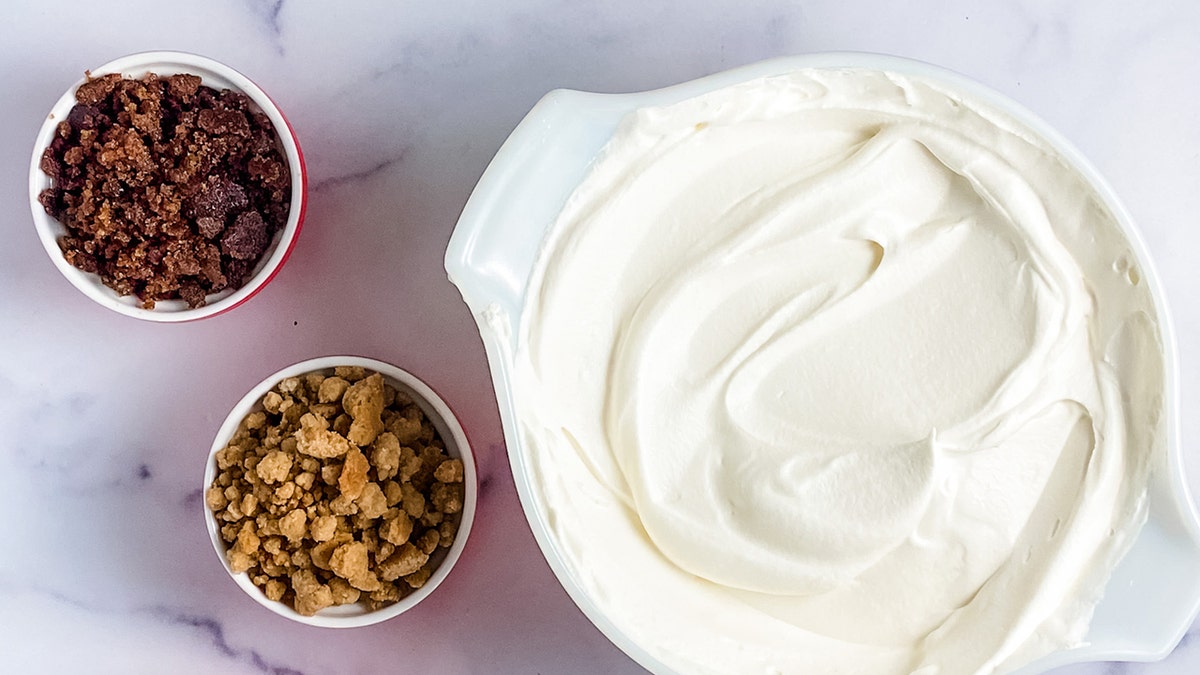 No-Churn Cobbler Ice Cream by Sheri Silver of SheriSilver.com 
Yield: 8-10 servings
EASY BANANA PUDDING RECIPE WITH WAFERS AND WHIPPED TOPPING: 'SATISFY THAT CRAVING'
Prep time: 30 minutes
Cook time: 20 minutes
Ingredients:
3 peaches, peeled and chopped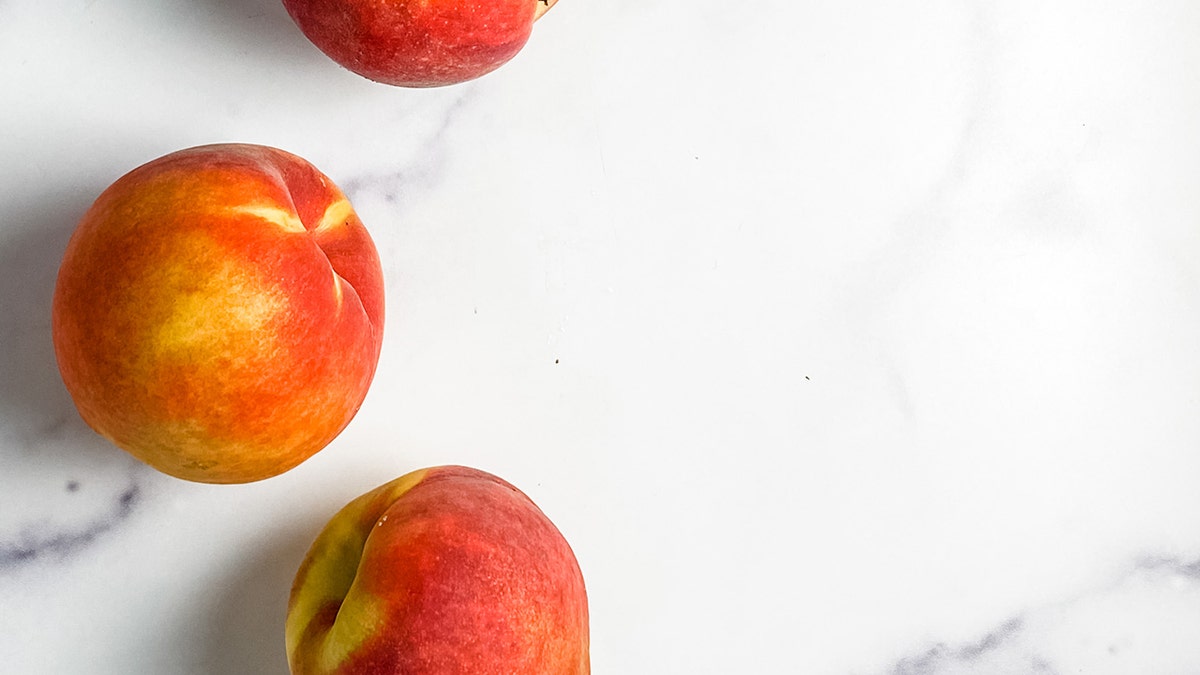 8 tablespoons unsalted butter, divided
1 cup sugar, divided
2 teaspoons cinnamon, divided
'SILKY' PEANUT BUTTER PIE TAKES 20 MINUTES TO PREPARE — AND YOU DON'T NEED AN OVEN: TRY THE RECIPE
3/4 cup flour
1/2 teaspoon kosher salt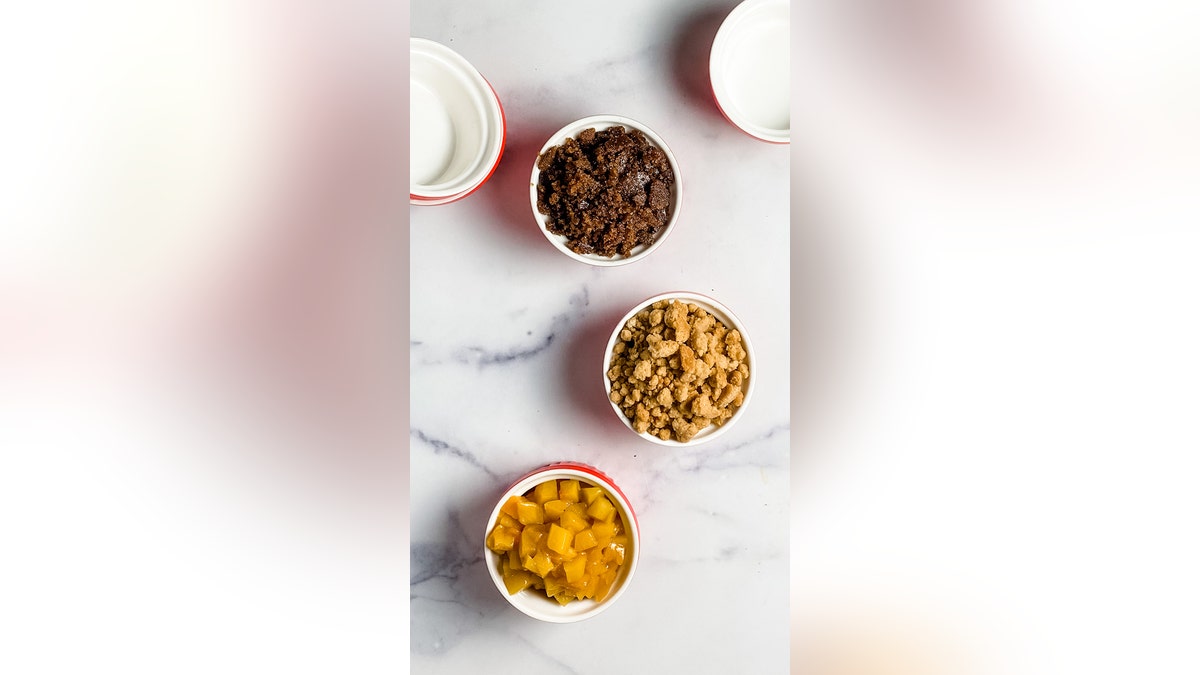 14-ounce can sweetened condensed milk
2 cups heavy cream
CHOCOLATE 'LASAGNA' FOR A UNIQUE, DELECTABLE DESSERT: TRY THE RECIPE
Directions:
Pre-heat the oven to 350 degrees; line 2 baking sheets with parchment paper.
In a medium saucepan, bring your chopped fruit and honey to a boil. 
Cook for 10 minutes, stirring frequently, or until fruit has softened but still retains its shape. 
Cool to room temperature; wipe out the pan.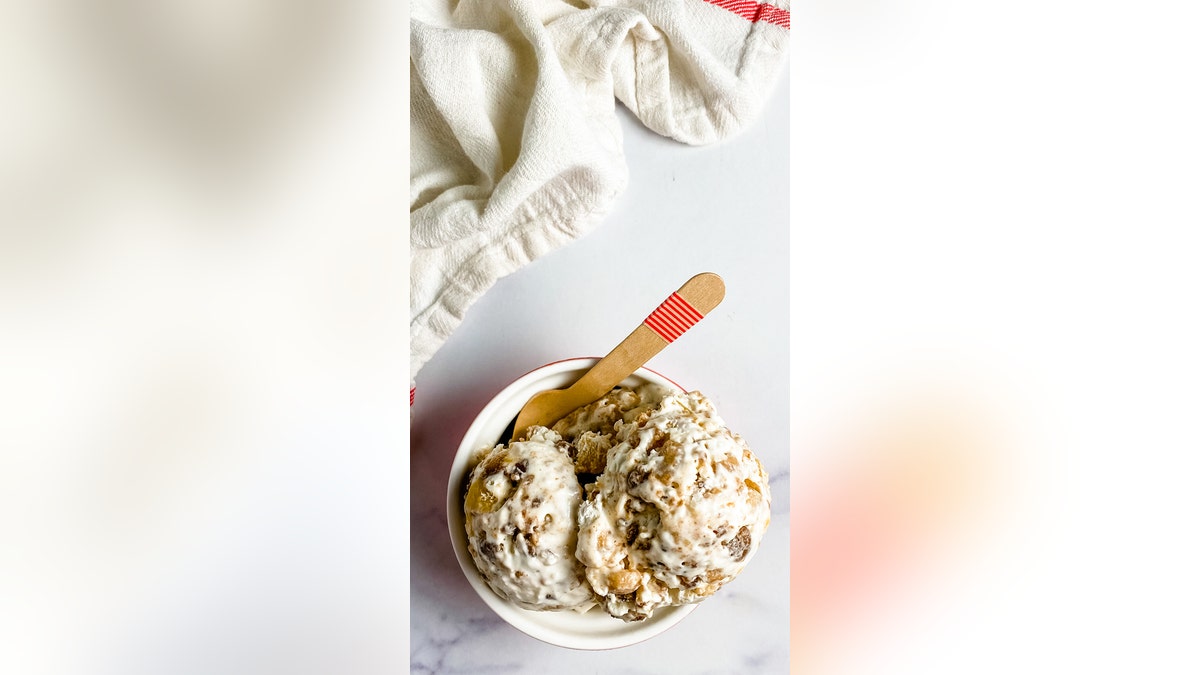 Melt 4 tablespoons of the butter in your wiped out pan. Remove from heat and add 3/4 cup of sugar and 1 1/2 teaspoons of cinnamon. 
Spread on one of your prepared baking sheets and bake for 10 minutes. 
Cool to room temperature and crumble into small pieces.
CLICK HERE TO SIGN UP FOR OUR LIFESTYLE NEWSLETTER
Wipe out the saucepan and melt the remaining 4 tablespoons of butter. Remove from heat and add the remaining 1/4 cup of sugar, the brown sugar, the remaining 1/2 teaspoon of cinnamon, flour and salt. 
Stir until combined and spread onto your prepared baking sheet, breaking the mixture up into small clumps. 
Bake for 10 minutes, stirring occasionally. Let cool to room temperature.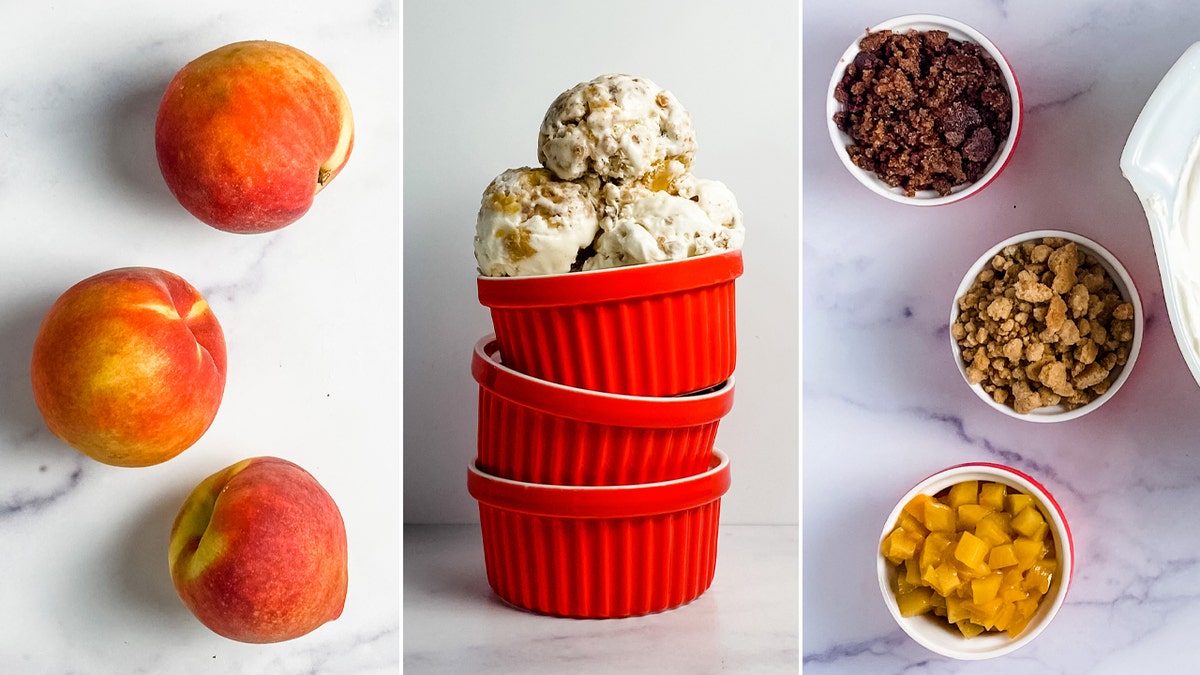 Line a loaf, square or springform pan with parchment paper. Pour the condensed milk into a large bowl. Whip the cream until stiff peaks form and fold one-fourth into the condensed milk to lighten it. 
Add the remaining whipped cream and fold till completely incorporated.
Pour 1/3 of the ice cream base into your prepared pan; smooth with the back of a spoon. 
ICE CREAM QUIZ! HOW WELL DO YOU KNOW THSE SWEET FACTS ABOUT THE POPULAR DESSERT?
Add 1/3 of the peaches, followed by 1/4 each of the cinnamon crunch and streusel. Repeat with the remaining ingredients, finishing with the cinnamon crunch and streusel.
CLICK HERE TO GET THE FOX NEWS APP
Run a thin knife through the mixture to blend the ingredients, cover with plastic wrap and freeze overnight.
This original recipe is owned by sherisilver.com and was shared with Fox News Digital.