Classic authors quiz! How well do you know the facts about these great authors and their works?
March Madness quiz! How well do you know the popular NCAA tournament?
After their two kids died in a falling tree accident, parents rent billboard 'to save another life'
An Indiana mother and father are alerting people about an overlooked danger after the tragic loss of their two young children last year.
On April 23, 2022, Crystal and Brian Clark, along with their son Xander, 9 and daughter, Ziva, 8, went out to Indian Oaks, a nearby campground that the family frequently visited.
It had been fairly windy that day but the sun was shining, Crystal Clark told Fox News Digital.
GEORGIA MOM OF 6-YEAR-OLD CHILD WHO CLMBED INTO HOT CAR AND DIED HAS URGENT WARNING FOR PARENTS
"I decided after [lunch] we should go for a golf cart ride because it was a beautiful day," Crystal Clark added.
After seeing some friends go for a ride, the Clarks decided to do the same and meet up at their favorite fishing spot.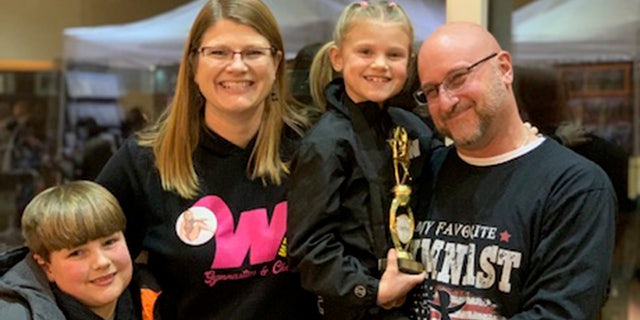 "Ziva was taking their fish off [the line] 'cause that was one of her favorites things to do, and then she'd kiss it and then she'd toss it back in the water," said Crystal Clark.
"She loved everything," she added. 
"She loved every animal, fish or not."
MAINE MOM RAISES THE ALARM AFTER HER BABY DAUGHTER DIES FROM SWALLOWING A WATER BEAD
Xander was very excited to go fishing that day, but the family decided to instead go for one more ride on the golf cart, with the parents in the front and the kids in the back, before settling down to fish.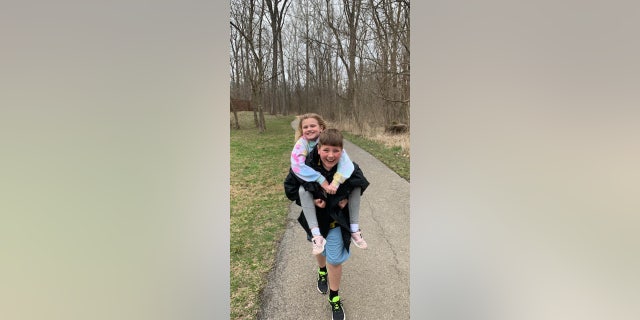 "The trails are always open. People drive their cars to get to their campers, so it's not like it was in a rural area that wasn't used often," Crystal Clark noted.
The family had decided to make their way back when the parents heard a loud noise.
"It was so loud, you didn't know which direction it was coming," Crystal Clark recalled.
FLORIDA DOCTOR ISSUES VIRAL BBQ GRILL BRUSH WARNING ON TIKTOK AFTER CHILD'S VISIT TO HER EMERGENCY ROOM
"We didn't know until it was too late."
A tree had collapsed onto a Ford F-150 and the branches fell on top of the Clarks' golf cart, which then rolled off the roof, hitting their children in the back — less than six inches behind their parents.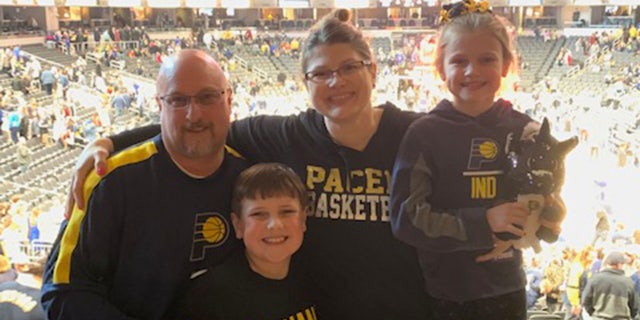 Both children were pronounced dead at the scene, FOX 59 in Indianapolis reported at the time.
After their children's deaths, it took the Clarks about seven weeks to return to their family's beloved campsite. 
Yet while there, Crystal Clark shared a "crazy idea" with her husband that she said she'd been thinking about for a while.
NEW YORK MOM WHOSE BABY STRUGGLED WITH RSV HAS URGENT MESSAGE FOR PARENTS
"What do you think about doing a billboard with the kids on it to try and spread awareness to save another life?" Crystal Clark said she told her husband.
"You worry about your children falling out of a tree. You don't worry about a tree falling on them."
Brian Clark did not think it was "crazy" at all.
Crystal Clark said that in October, she reached out to a company about advertising on a billboard, but she had a difficult time at her first go.
She then took to her own Facebook page to spread awareness about the necessity of checking trees after a storm or windy day.
BABY IN PENNSYLVANIA ON ROAD TO RECOVERY AFTER SWALLOWING TWO WATER BEADS: 'NOT WORTH THE RISK'
"Today is a windy day. Please check your trees. Please be aware, you could save a life," she wrote on Facebook.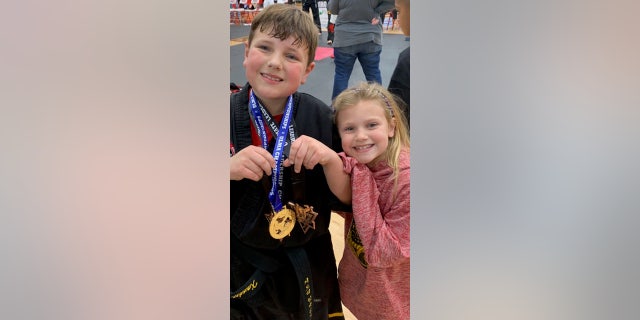 "The next thing I know, I get a contact from Lamar billboards," Crystal Clark said.
The company "heard what happened," she said, "and were very much wanting to help us."
FLORIDA CHILD DIES AFTER BEING LEFT IN A HOT CAR, 11TH IN US THIS YEAR: 'HORRIBLE — AND YET WE EXPECT IT'
On the week of March 6, 2023, Lamar Advertising installed the Clarks' billboard.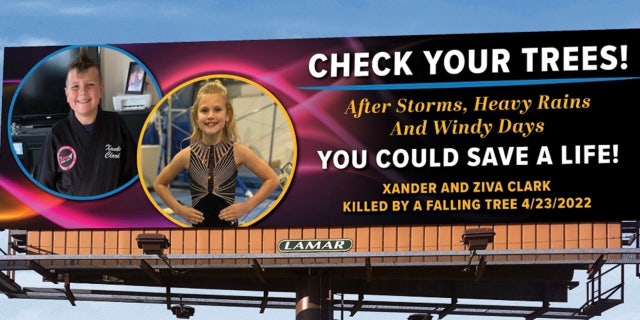 It reads: "Check your trees! After Storms, Heavy Rains and Windy Days. You would save a life! Xander and Ziva Clark — killed by a falling tree 4/23/2022."
"I bawled by eyes out at just helpful they have been," Crystal Clark said of the company.
After the first billboard went up, Lamar put up nine digital billboards across central Indiana, without telling the Clarks and without asking for any additional fee — but simply "out of the kindness of their heart," Crystal Clark said.
POLICE WARN PARENTS ABOUT 'SCHOOL PHOTO' TREND OF OVERSHARING ON SOCIAL MEDIA
The Clarks are now focused on spreading their warning in the hope that "nobody else has to deal with what we are dealing with," Brian Clark told Fox News Digital.
"[The] bottom line is just to get somebody to think and check something before, you know, it happens to them, too."

— Brian Clark
"Crystal says it all the time, 'You worry about your children falling out of a tree. You don't worry about a tree falling on them,'" he said. 
While falling trees may appear to be a "freak accident," they're not as rare as people think, the Clarks said.
Through their outreach, the couple said, they've heard from people who have found themselves in similar situations.
CALIFORNIA MOM KILLED BY FALLING TREE ON HIKE WITH SON'S BOY SCOUT TROOP: REPORT
"It's just something that you don't think about … [The] bottom line is just to get somebody to think and check something before, you know, it happens to them, too," said Brian Clark.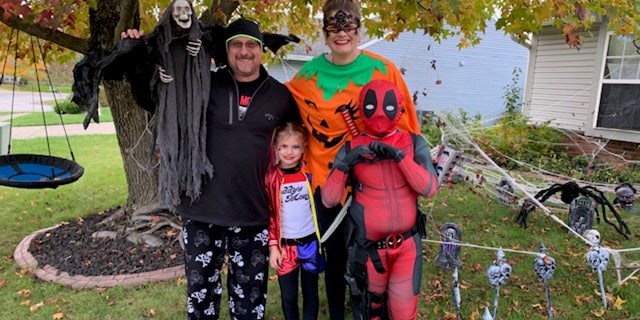 Bert Cregg, a professor in the Department of Horticulture at the Michigan State University College of Agriculture & Natural Resources, wrote in an online article, "Damaged trees and hanging tree limbs are extremely dangerous. Trees that are damaged in storms often have decay or other hidden defects and can drop without warning."
In addition, various types of damage can occur to trees "from violent weather," according to Lindsey Purcell, an urban forestry specialist at Purdue University's Department of Forestry & Natural Resources.
"All parts of the tree should be inspected during a post-storm assessment," Purcell noted in an informational online brochure about trees and storms.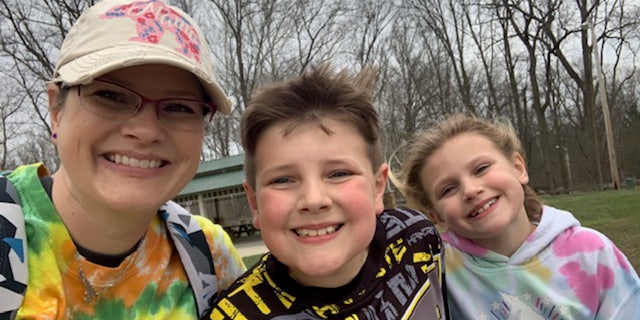 The unimaginable may have happened at Indian Oaks, but that place will always be full of fond memories of the kids, the Clarks noted.
TREE IN ALABAMA FALLS ON HOME AND KILLS 2 KIDS, INJURES 3
"Of the three years that we were out there, that was probably the most our children grew," Brian Clark said. "Being away from computers, and games and TVs … Our kids got that freedom to be able to be outside and do things that not everyone gets to do on a regular basis."
The children both loved the outdoors and were very active, their parents said.
Rain or shine, their son Xander could be found shooting hoops, even if it meant he was "slipping and sliding all over the porch," Brian Clark said.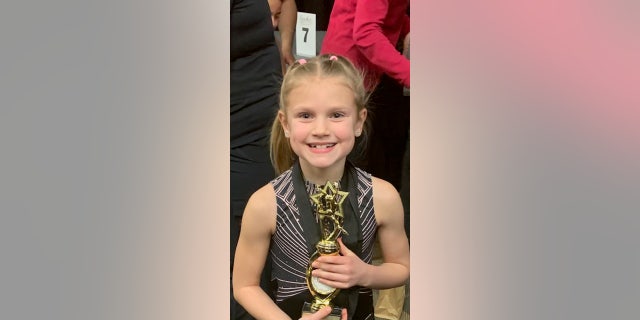 Daughter Ziva was a competitive gymnast with aspirations of going to the Summer Olympics, and if that did not work out she would try and go for the Winter Olympics and be a professional snowboarder, Brian Clark said with a laugh.
MOST US STATES FAILING TO PROTECT SCHOOLS' WATER FROM LEAD CONTAMINANTS
Xander, a third grader, loved science and math and dreamed of being a scientist.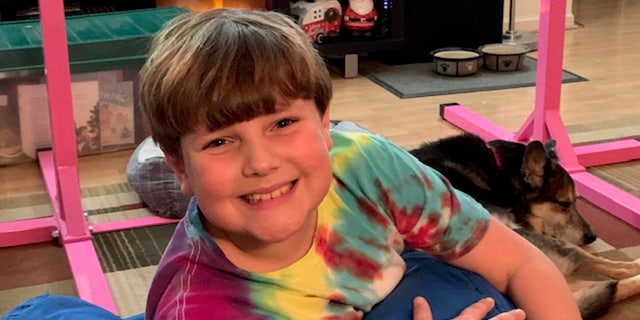 "Xander was always the one asking all the questions. He always loved to learn," Brian Clark said.
Ziva was known as the "firecracker" of the two.
The second-grader enjoyed serving as the "assistant" at school by helping her classmates with projects, or being the first one to volunteer to bring a friend to see the nurse, Crystal Clark said. 
"She would draw out his fun and he would reel her in and teach her things as well."

— Brian Clark about his late children
As brother and sister, the kids were the perfect pair and "were a good balance" of each other, Brian Clark said.
"She would draw out his fun, and he would reel her in and teach her things as well," he added.
Crystal Clark said she has been amazed by the outreach and the responses the family has received to their story.
CLICK HERE TO SIGN UP FOR OUR LIFESTYLE NEWSLETTER
While they'll continue to raise awareness, the parents have found this time of healing to be very emotionally and physically draining, they said.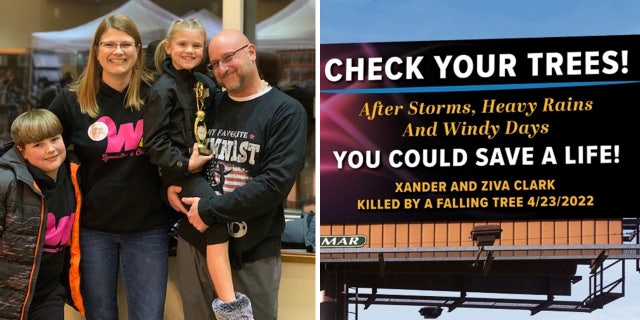 "You think it would be easy because we are talking about our kids, but it's also because we've lost them [that it] hurts," Crystal Clark said. 
"We want to talk about them but the grief of it's just really hard."
CLICK HERE TO GET THE FOX NEWS APP
The Clarks hope the billboards are working and that their message is preventing something like this from happening to anyone else.
"We really could have just saved a life by putting this out there," said Crystal Clark.
Tampa's treasured 'Cigar City' culture enjoys revival as tourists, newcomers flock to Florida
Tampa, Florida – Cigar culture is deeply ingrained in Tampa, Florida, and enjoying a sudden spirited revival amid the city's wider ascendancy in recent years. 
"Cigar City" produced more than 500 million cigars annually in the 1930s, making Tampa the center of global manufacturing.
By the 1970s almost all of Tampa's scores of cigar makers had vanished. 
Like other sectors of American industry, the cigar makers found cheaper labor and more inviting business and tax environments overseas. 
TAMPA IS TOP OF MIND: WHERE TO GO, WHAT TO EAT, AND WHY YOU SHOULD VISIT BEFORE IT'S TOO LATE
However, signs of Tampa's new embrace of the cigar lifestyle are everywhere in Tampa today. 
J.C. Newman Cigar Co., which dubs itself American's oldest family-owned cigar maker, recently underwent a major overhaul to turn itself into a center of tourism and hospitality in historic Ybor City.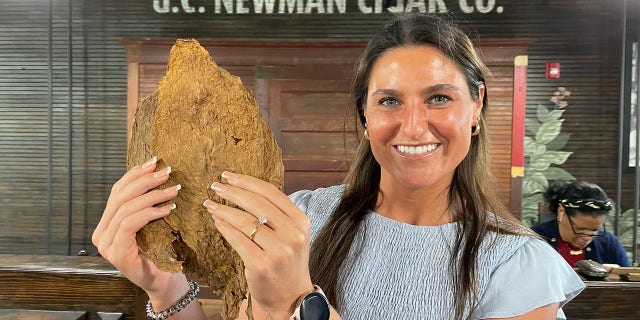 Local cigar cafés such as Tabanero Cigars are expanding both their retail and online business amid a wave of new tourists and new residents flocking to the region. 
Hockey fans, meanwhile, can smoke cigars at the Diamond Crown Lounge at Amalie Arena in downtown Tampa — home of the 2020 and 2021 Stanley Cup champion Tampa Bay Lightning.
"We believe in the enjoyment of craftsmanship." — Tampa cigar maker Yanko Maceda 
It's the only space in an NHL arena where fans can smoke cigars and watch live hockey action, according to Cigar Aficionado.
Tampa's unique pro-sports amenity is a tribute to the importance of cigars in local culture. 
"We believe in the enjoyment of craftsmanship," Ybor City entrepreneur Yanko Maceda of Tabanero Cigars told Fox News Digital.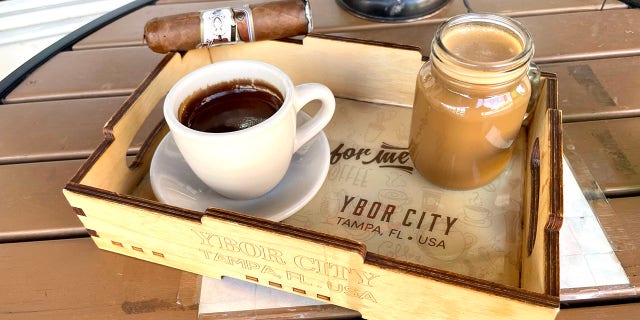 Guests visit his cigar café, and many others like it in Tampa's historic district, to smoke hand-rolled robustos seated on faux-leather couches, sipping rich, dark Cuban coffee while reading Hemingway or making new friends. 
TAMPA IS BIRTHPLACE OF THE CUBAN SANDWICH, AMERICAN CULINARY CLASSIC FLAVORED BY MANY CULTURES
Tampa's cigar culture suggests a quiet and Old World sophistication — the Good Life — missing in many parts of a digital society that moves with breakneck speed today.
"This is how civilized men should live." — patron at Tabanero Cigars in Ybor City, Tampa
"This is how civilized men should live," said a visitor from Toronto, sitting outside Tabanero beneath palm trees smoking a cigar and drinking a cortadito (espresso with steamed milk) on a recent sun-splashed and warm winter day. 
Nearby, J.C. Newman Cigar Co. in Ybor City dubs itself American's oldest family-owned cigar maker. 
Founded in 1895, it stands proudly as the last of Tampa's glory-era cigar makers.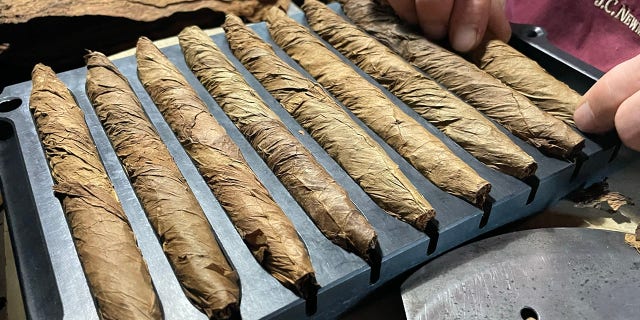 Newman spent the last several years refurbishing its stately brick factory into a tourist and hospitality destination and museum.
Guests can learn about local history, host wedding receptions or business meetings — or learn to roll their own cigars in Friday night classes. 
TERRIFIC TAMPA: 5 FAVORITE SPOTS FROM 'POLITICS FOR PATRIOTS' IG CELEBRITY ROGAN O'HANDLEY
It plans to open a working tobacco farm in Ybor City, a living museum of American agriculture, by the end of the year.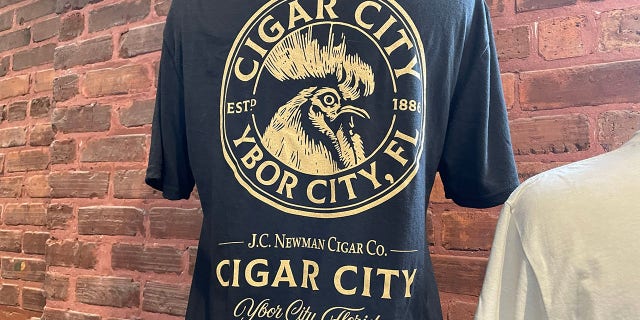 It will be built around a post-Civil War tobacco barn recently found and reclaimed from the Florida panhandle. 
"People can come down here, plant [tobacco], pick it, hang it in the barn, put it in bales, age it and roll their own cigars with tobacco we'll grow right here in Tampa," Bobby Newman, the third-generation co-owner with brother Eric of J.C. Newman, told Fox News Digital.
He cites agro-food tours such as the Kentucky Bourbon Trail as inspiration for what the Newmans hope to build in Ybor City. 
Renewed interest amid COVID
Several factors have fueled Tampa's cigar resurgence, say local aficionados. 
COVID-19 inspired renewed interest in hand-crafted cigars as people locked in at home sought leisurely pursuits and comforts.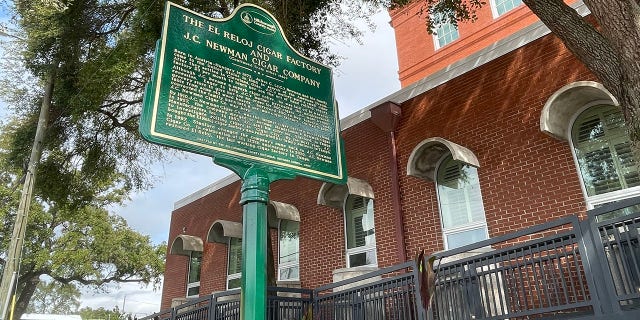 "Cigars, premium cigars, have never been more popular," said Neman. 
He said that, during COVID, "Who knew that so many people would stay home and drink their favorite beverages while smoking a ton of handmade cigars?"
An influx of tourists and new residents, meanwhile, have flooded Tampa from big northern cities where cigars are frowned upon — or even banned. 
They look at cigars, and the ability to smoke them openly in Tampa, as a taste of American tradition and Florida freedom. 
The trend has been buoyed by a rediscovery of City Cigar legacy and lore.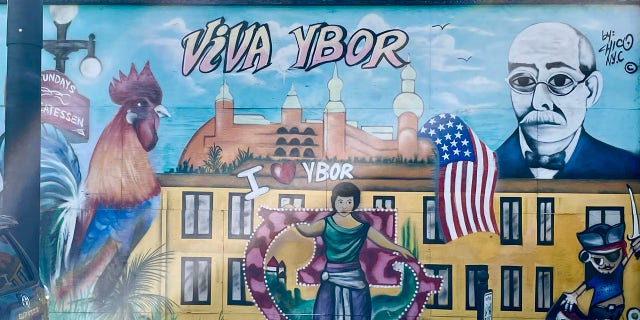 Ybor City is one of America's great historic neighborhoods — one of only three National Historic Landmark Districts in all of Florida. 
It was built, quite literally to make cigars.
Neighborhood namesake Vicente Martínez Ybor was born in Spain in 1818 and became a cigar maker in Cuba before fleeing for Key West in 1869. 
CLICK HERE TO SIGN UP FOR OUR LIFESTYLE NEWSLETTER
He purchased 40 acres of land northeast of downtown Tampa and moved his cigar-making operation there in 1885. 
Scores of cigar makers followed, giving Tampa its well-earned reputation as Cigar City.  
A great cigar is "well-balanced, like a craft beer or a good bourbon," Maceda, of Tabanero Cigars, told Fox News Digital.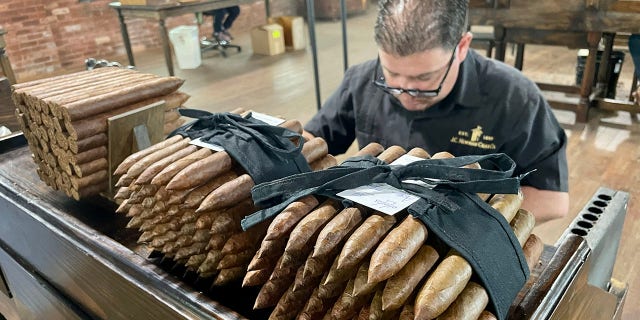 "From the first sip to the end of the glass, you'll always have a rush of flavors." 
CLICK HERE TO GET THE FOX NEWS APP
A great cigar, he added, should also be "well constructed, so you have a really slow burn. And definitely aging … makes a huge difference."
He added, "A well-aged cigar will give you a beautiful experience."