Chili's offers restaurant careers to military veterans through a seamless transition program
Popular restaurant brand Chili's is offering a practical way for military veterans to ease back into civilian life.
A new Department of Defense-funded program called SkillBridge aims to promote a seamless transition for service members returning to the workforce.
Veterans are offered the opportunity to spend their final three months of service working a "real world" job — with the potential of jumping right into employment once they exit the military.
NEW ENGLAND CELEBRATES VETERANS DAY AS RESTAURANTS SERVE OVER 20,000 FREE, 'SCRATCH-MADE' MEALS TO HEROES
Chili's is the first and so far only restaurant brand to adopt the new program — and the feedback has been very strong.
Air Force veteran Leslye Kinsey is one to know, since she's transitioned smoothly into her new job as manager of the bar and to-go orders at Chili's Grill & Bar in Hendersonville, Tennessee.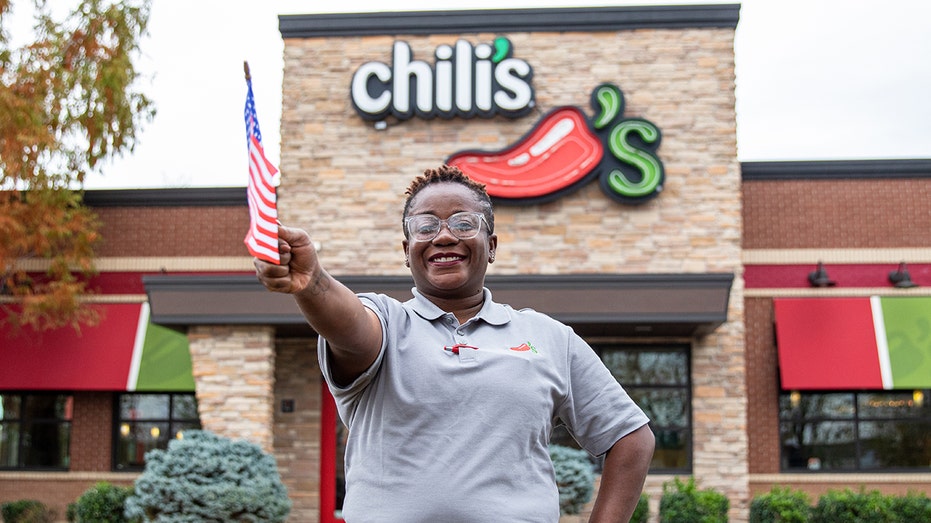 Kinsey told Fox News Digital that the program set her up for success by linking the skills she used while working in services in the Air Force with her civilian position.
MILITARY VETERANS BENEFIT FROM BBQ SAUCE: SAILOR JERRY GIVES 100% OF PROFITS TO SUPPORT AMERICA'S HEROES
"I have a lot of the skills that were needed for this job," she said.
"The majority of my career was [spent in] food service, so a lot of the training and the cooking and a lot of the different hospitality and customer service things, I did do."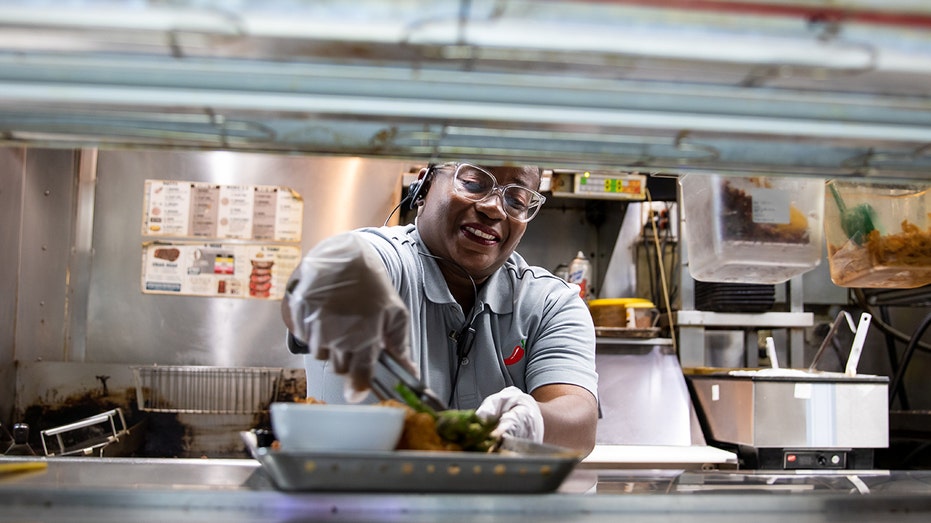 "So when I came to Chili's, it was a lot of the same — I'm just learning to do things the Chili's way."
Washington-born Kinsey was active in the Air Force for 22 years. She did seven deployments and was able to train others and learn about "a lot of different cultures."
Ahead of her retirement in June 2022, Kinsey received information about Chili's program from the education center on base.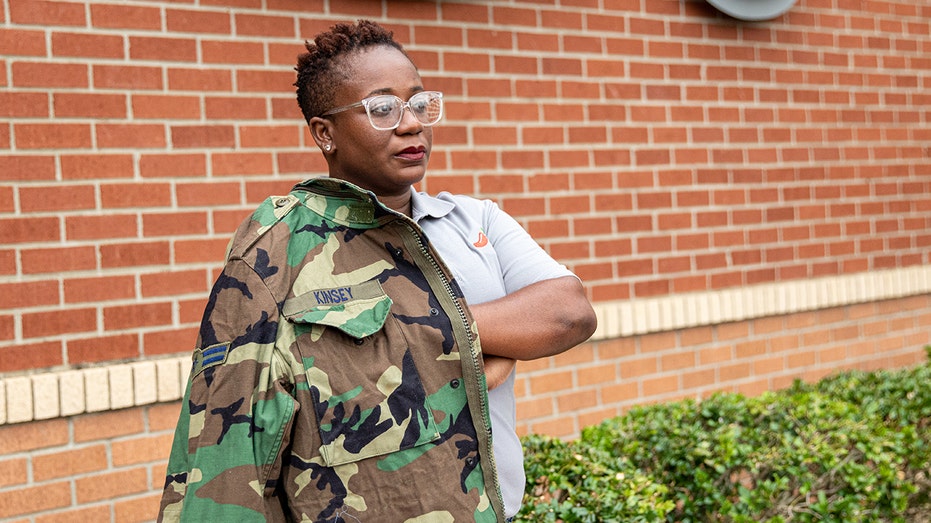 Kinsey said it's been a "great experience" so far since she was selected by Chili's. She started her new job about five months ago.
"It's good to see how my military career actually helps and how it translates over to the civilian sector," she said. 
Aaron White, chief people officer of Chili's, told Fox News Digital in an interview that the company is "extremely proud" to be the only restaurant brand involved in the program.
VETERANS DAY IS NOT ALWAYS EASY FOR OUR HEROES – HERE'S WHAT TO SAY AND DO
"We're excited and honored to be the only restaurant offering this fast-track for transitioning," she said.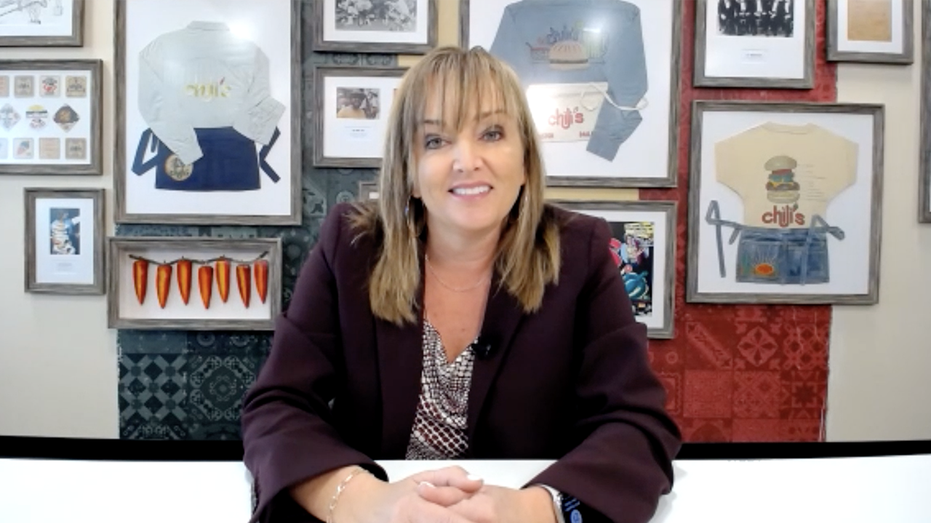 The Dallas-based White said that veterans are "particularly desirable" for management positions at Chili's, since most of them have great leadership skills.
"It's about being able to lead a team and being able to hold teams accountable," she said.
Nine military veterans have found success to date at Chili's locations across the country.
Veterans who come on board undergo "extensive, hands-on training" for skills to work alongside team members and restaurant guests.
White reported that feedback from the program has so far been "great," as nine military veterans have found success to date at Chili's locations across the country.
Kinsey encouraged other service members exiting the military to look into the SkillBridge program to gain "valuable job skills" for future employment.
"It helped me because it gave me a location and it helped me establish myself," she said. 
VETERANS DAY AND ITS HISTORY: 6 KEY FACTS TO KNOW
"Rather than just getting out of the military without a plan, I had somewhere to go and I had something to do," she said.
The veteran projected that she'll continue to "grow and learn" in her career with Chili's, and that she hopes to earn the rank of general manager in the future.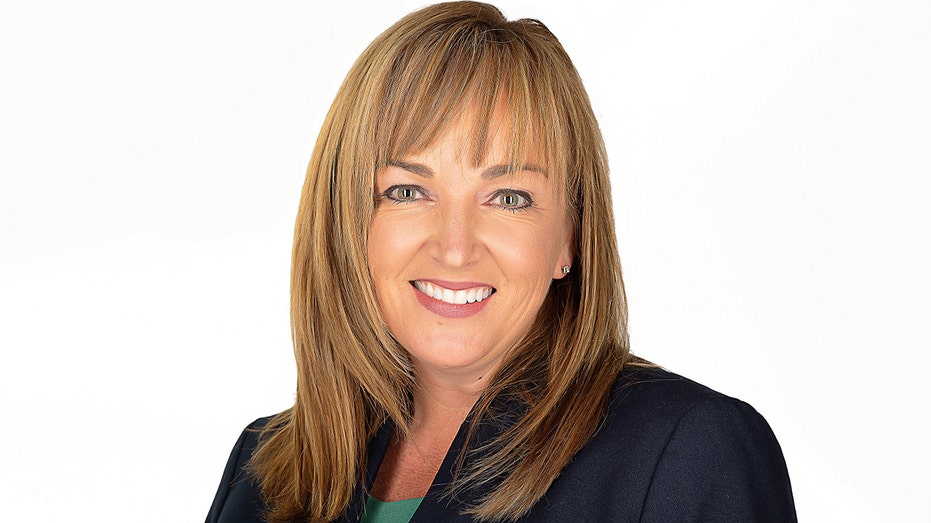 Chili's has been involved in the program for nearly a year, and it's proven to be a "great fit" for the brand, according to White.
"Our passion really is about making everyone feel special and this connection that we've made with the military is near and dear to our hearts," she said.
"To be able to help them transition to civilian life has been amazing for our teams and also for them."
White, who's been with Chili's for 21 years, said the program has helped the brand retain team members and attract new and desirable talent.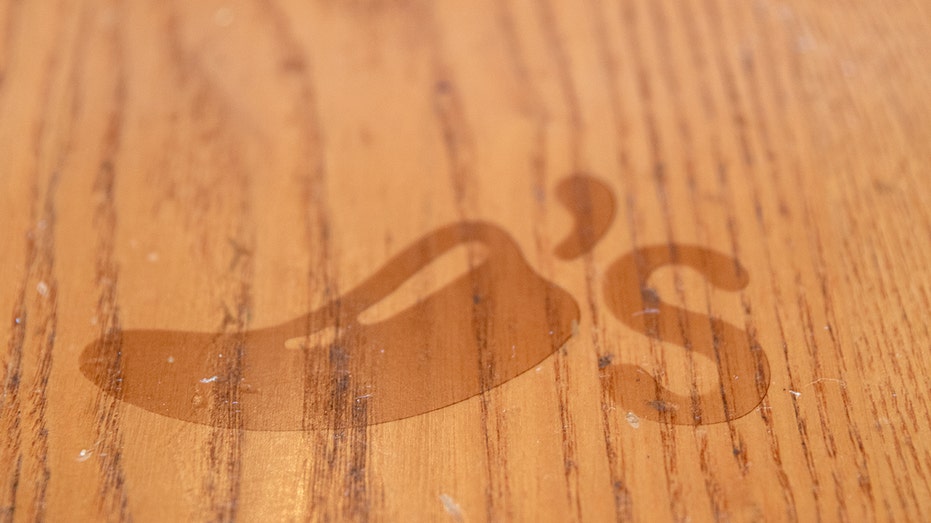 Kinsey urged other companies to consider adopting a program like SkillBridge to help veterans find employment.
"That way we can reduce our homeless population and actually give our veterans a chance once they get out — and show them that they're not forgotten," she said.
GET FOX BUSINESS ON THE GO BY CLICKING HERE
Kinsey shared a message to America's former heroes in honor of Veterans Day.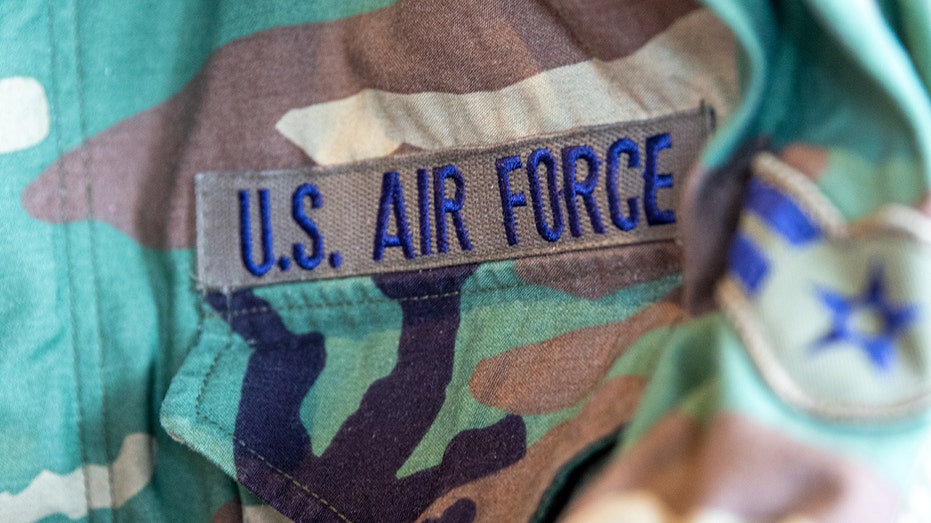 "You are not forgotten — and your sacrifices are valid," she said. 
"We appreciate everything that you did and all the sacrifices that you made to establish our freedoms — and we thank you for that."
Chili's continues to give back to America's men and women in uniform by keeping up its tradition of feeding veterans for free on Veterans Day.
CLICK HERE TO READ MORE ON FOX BUSINESS
"Thank you for defending our nation and our freedom," White said.
Source: https://www.foxbusiness.com/lifestyle/chilis-offers-restaurant-careers-military-veterans-seamless-transition-program
Groundhog Day quiz! How well do you know the facts about this unique day?
10 facts about Black History Month that are well worth knowing during observances in February
Every February, the nation celebrates Black History Month by honoring the contributions African Americans have made throughout history, while also recognizing that the fight for racial justice continues.
Previously, the theme for Black History Month was Black Health and Wellness, as outlined by the Association for the Study of African American Life and History (ASALH), which is headquartered in Washington, D.C. This year, the association has announced the month's theme is "Black resistance" with a planned virtual festival hosted by the association throughout February. 
"African Americans have resisted historic and ongoing oppression, in all forms, especially the racial terrorism of lynching, racial pogroms and police killings since our arrival upon these shores," said the ASALH in a statement. 
BLACK HISTORY IS AMERICAN HISTORY
"These efforts have been to advocate for a dignified self-determined life in a just democratic society in the United States and beyond the United States political jurisdiction," added the association.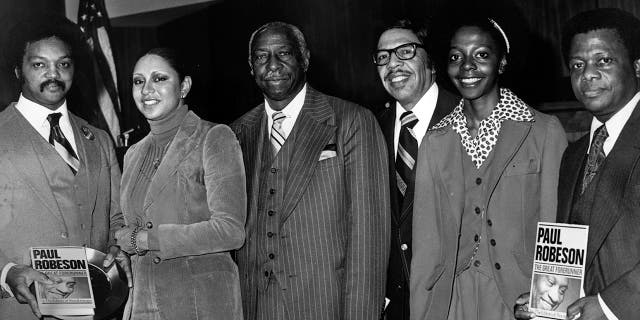 Scores of events across the country – in cities, communities, college campuses and more – are scheduled for this month.
10 key facts about Black History Month
1. The current population of Black and African Americans is 46.9 million, the U.S. Census Bureau reports. Also, 89.4% of African Americans age 25 and older had a high school diploma or higher in 2020, as Fox10 Phoenix reported.
2. A founder of ASALH, Carter G. Woodson, first had the idea of celebrating Black history. Woodson was born in 1875 to newly freed Virginia slaves. He later earned a Ph.D. in history from Harvard University. He worried that Black children were not being taught about their ancestors' achievements in American schools in the early 1900s, as Fox 10 noted.
3. By the late 1960s, Negro History Week – the precursor for this month's celebrations and events – changed into what is now known as Black History Month. In February 1969, a group of Black activist students and teachers at Kent State conducted the first celebration of Black History Month. Within a decade, Black social and cultural institutions throughout the country were celebrating the month, and by 1976, President Gerald Ford officially recognized it. 
4. The month of February was picked for Black History Month because it contained the birthdays of President Abraham Lincoln and Frederick Douglass. Lincoln was born on Feb. 12, and Douglass, a former slave who did not know his precise birthday, celebrated his date of birth on Feb. 14, Fox 10 also noted.
MEET THE AMERICAN WHO FIRST RECORDED THE BLUES, NATION'S ORIGINAL POP DIVA MAMIE SMITH 
5. ASALH has celebrated Negro History Week and Black History Month for 96 years. Woodson, along with the association, announced in 1926 that the second week of February would commemorate the achievements of Black Americans. Initially, prominent Black leaders and newspapers supported the idea, and some education centers along the East Coast observed the monthly celebration. 
6. Fifty years after the first celebrations, President Gerald R. Ford officially recognized Black History Month at the country's 1976 bicentennial. Ford called on Americans to "seize the opportunity to honor the too-often neglected accomplishments of Black Americans in every area of endeavor throughout our history," as History.com noted.
WORDS MY UNCLE, MARTIN LUTHER KING JR., WOULD SHARE IN OUR TROUBLED TIMES
7. Forty years after Ford's recognition of Black History Month, President Barack Obama delivered this message, in part, from the White House: "Black History Month shouldn't be treated as though it is somehow separate from our collective American history or somehow just boiled down to a compilation of greatest hits from the March on Washington or from some of our sports heroes… It's about the lived, shared experience of all African Americans."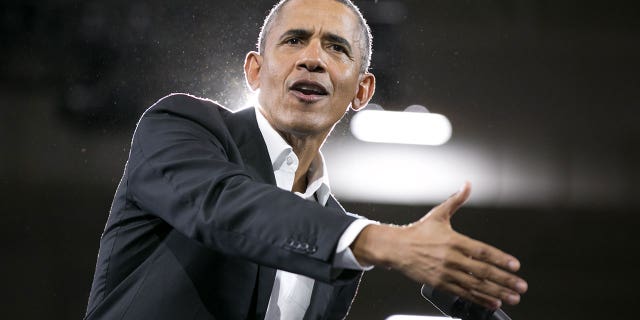 8. Canada also commemorates Black History Month in February. Although Black Canadians are approximately 3.5% of the country's total population, community leaders and activists still celebrate the historical achievements of the Black community. Canadian politicians Jean Augustine and Donald Oliver were instrumental in getting Black History Month officially recognized in the country by 2008. 
CLICK HERE TO SIGN UP FOR THE LIFESTYLE NEWSLETTER
9. At the time of Negro History Week's launch in 1926, Woodson believed the teaching of Black history was key to the physical and intellectual survival of the race: "If a race has no history, it has no worthwhile tradition, it becomes a negligible factor in the thought of the world, and it stands in danger of being exterminated," he said in part, as the Journal of Negro History reported.
10. The 2023 theme for Black History Month is resistance; past themes have included Black health and wellness, family, migration and Black women in American culture and history, among others.
Reddit user asks her adult daughter to pay half the monthly rent and utilities — family drama ensues
A Reddit user sought advice from others on whether it was OK or not for her to ask her adult daughter to split the rent with her.
Reddit user "throwaway_dating224" posted on the "Am I the A*****e" (AITA) subreddit on Jan. 30 asking if she was in the wrong for wanting her live-in 25-year-old daughter to pay part of the house rent payment.
The user said her daughter moved into her home in 2019 while she was attending college. 
REDDIT USERS SIDE WITH FATHER OF THE BRIDE WHO WAS SNUBBED BY 'BRIDEZILLA' DAUGHTER WHEN HE DIDN'T EAT CAKE 
It's unclear from the post whether the daughter had moved out, then moved back in; but the daughter has since graduated from college and gotten a paying job, although not enough to move out on her own. 
"I have asked her to split the cost of rent and utilities in half with me … and [she] doesn't consider it fair," the user wrote.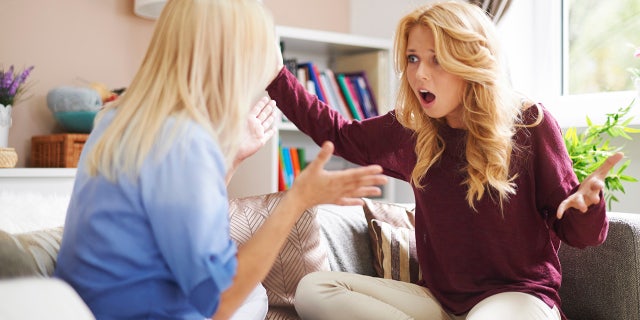 The poster said her daughter does not want to live with her and has told her that she's saving money for continued education or a down payment on a house. 
The mother and daughter live in an area with a high cost of living, the Redditor said — but their rent is below average for the area. 
"Why are you too tired to move your stuff but not too tired to cash your daughter's checks?"
Additionally, the mother said her daughter refuses to invite guests to the house, as she is "embarrassed at the state of the house," repeatedly asking her mother to get rid of items in the home to make space for more of her things. 
REDDIT USER SAYS HE CONTACTED HIS WIFE'S BOSS ABOUT HER LONG WORK HOURS, PUTTING HIM IN THE 'DOGHOUSE'
The mother claims she tends to be tired after work and finds it hard to clean up after herself once she's back home.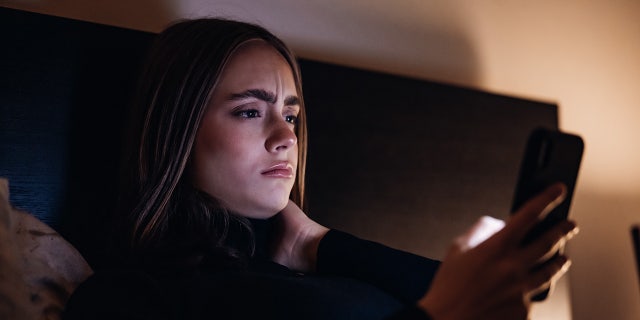 The Redditor ultimately wanted to know if it's OK to ask her daughter to split the rent costs 50-50. 
An expert weighs in
This scenario is an example of a classic power struggle between a child and a parent, California-based parenting expert Stef Tousignant told Fox News Digital.
As a parent, there are three choices for how to approach this situation, Tousignant, a parenting expert for Parentdifferently.com, said. 
"Use your power to force or coerce, give in and let your child dictate the complete outcome — or use love, empathy and patience to come up with a solution with your child," she also said. 
ANNOYING PEOPLE SAY THESE 75 THINGS, ACCORDING TO REDDIT USERS
The daughter in this situation is aware of the consequences of her actions as well as the concept of personal boundaries, said Tousignant, who recommended that the mother and daughter have a civil conversation. 
"Why should she pay half when the home is filled with all [of] your things?"
"The mother needs to come to the table with compassion for her daughter but boundaries for herself — and the daughter needs to come to the table with respect for her mother and accountability for her actions," the expert recommended.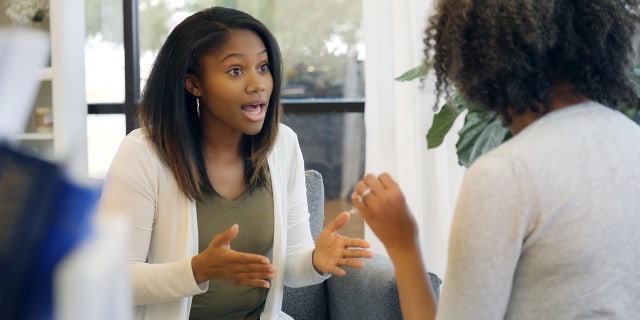 Reddit users offered varying opinions on the hot topic. 
"Why should she pay half when the home is filled with all [of] your things?" one commenter wrote, addressing the mother. 
CLICK HERE TO SIGN UP FOR OUR LIFESTYLE NEWSLETTER
Another user commented to the mom, "Why are you too tired to move your stuff but not too tired to cash your daughter's checks?"
On the other hand, some users agree that the daughter should be pitching in and helping with expenses — but maybe not at a 50-50 split.
CLICK HERE TO GET THE FOX NEWS APP
"Charging her rent? Fine, no problem there," one Reddit user responded. 
"But if she doesn't have … use of half the space in the home yet, then remedy that before you charge her or adjust the rent [percentage] accordingly," the same user added.