Buttigieg insists congressional intervention to prevent rail strike is 'best way forward'
MEMPHIS, Tenn. – Transportation Secretary Pete Buttigieg is urging Congress to come together in a bipartisan fashion to pass legislation to prevent a looming rail strike that would cripple the American economy, calling it the "best way forward" amid stalled labor negotiations between the major freight railroads and four hold-out unions.
Buttigieg's comments came during a Tuesday evening interview with Fox News Digital at the Memphis International Airport, where he touted a $174 million investment from the Department of Transportation (DOT) for the production of de-icing pads at the facility 
"Where I hope to see it going is bipartisan cooperation to move this quickly through Congress and get it to the president's desk," Buttigieg said. "Look, I don't care what your politics are, America can't have a rail shutdown. There is no substitute for a well-functioning rail system in the country."
Buttigieg insisted a prior agreement reached in September by rail companies and union negotiators — which, according to the Association of American Railroads, would provide rail workers a 24% wage increase during the five-year period from 2020 through 2024, including an immediate payout on average of $11,000 upon ratification — should be implemented through congressional action.
PELOSI, SCHUMER AGREE TO MOVE RAILROAD UNION BILL 'ASAP' AFTER WHITE HOUSE MEETING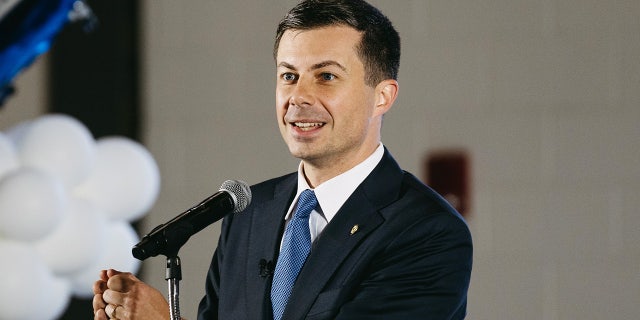 "Now, this tentative agreement that was reached at the bargaining table back in September, no side got everything they wanted, but the companies and the union leaders agreed on this framework. Now, the president is asking Congress to enact that framework and prevent the possibility of a shutdown."
When asked about potential backlash from congressional intervention, Buttigieg said, "we have encouraged the parties to resolve this at the table when things were beginning to get to an impasse. Pursuant to his authority, the president initiated that process that created the presidential emergency board. All of that set things in motion to get to that tentative agreement. Now we're at a point where it is going to require an act of Congress to see that through and enact the deal."
"It is the best way forward for us as a country, for our economy, and it means taking those hard fought negotiated outcomes that the parties, companies and Labor sat at the table and worked out, carrying those through and most importantly, avoiding a shutdown that would be devastating for workers and families across the country," he added.
However, the intervention is already being met with opposition from both sides of the political aisle, setting the stage for a potential gridlock in Congress that could carry on past the Dec. 9 strike deadline. Rail workers and unions are calling for additional sick days to be included into the contract.
"If the rail industry can afford to spend $25.5 billion this year to buy back its own stock and hand out huge dividends to its wealthy shareholders, please do not tell me it cannot afford to guarantee paid sick days to its workers and provide them with a decent quality of life," Sen. Bernie Sanders, I-Vt., said Tuesday.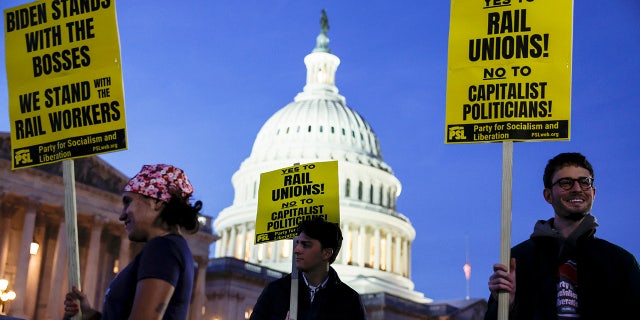 Sen. Marco Rubio, R-Fla., has criticized President Biden for seeking to impose a union contract that had been rejected by rank-and-file railroad workers.
"Just because Congress has the authority to impose a heavy-handed solution does not mean we should," said Rubio. "It is wrong for the Biden Administration, which has failed to fight for workers, to ask Congress to impose a deal the workers themselves have rejected."
WITH RAIL STRIKE LOOMING, BIDEN SAYS HE HAS 'NOT DIRECTLY ENGAGED,' CONTRADICTING WHITE HOUSE PRESS SECRETARY
The Association of American Railroads, which represents giant carriers including BNSF, CSX, Norfolk Southern and Union Pacific, estimates a rail shutdown would cost the U.S. economy $2 billion a day – and every American would feel it.
Biden warned Tuesday that if rail work stoppage occurs, up to 765,000 Americans "could be put out of work in the first two weeks alone."
Following Biden's call for congressional intervention, House Speaker Nancy Pelosi and Senate Majority Leader Chuck Schumer said Tuesday they would work to pass legislation and implement a labor agreement for railroad workers.
The U.S. rail system moves cargo equal to 467,000 long-haul trucks each day, transporting hazardous chemicals, fertilizers, apparel, household and perishable goods. With the trucking industry already short-handed and a shortage of around 80,000 drivers, it would be impossible for other shipping options to fill the void if rail freight halts.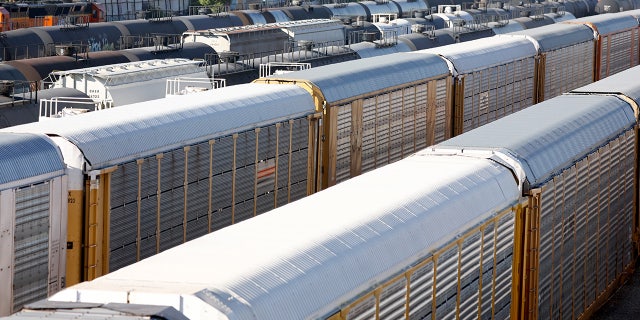 Touting the DOT's investment in the creation of a 3.3-million-square-foot de-icing facility at Memphis International Airport, which is home to FedEx's largest air cargo sorting facility, Buttigieg said. "This is a major investment that includes over $173 million in federal support, because these de-icing facilities make it possible for our supply chains to work the way that they need to."
"We're talking about massive air operations. This is actually the busiest air cargo hub in North America. And we need to make sure that we're doing everything we can to move goods efficiently and affordably. There's been a lot of attention on passenger air travel. Cargo, air transportation is just as important to our economy. We want to shine a light on the equipment, but most importantly on the people who get that done, especially going into the holiday season."
CLICK HERE TO GET THE FOX NEWS APP
Buttigieg — who ran for president in the 2020 Democratic presidential primaries — was also asked about 2024 and whether he would make a similar commitment to that of California Gov. Gavin Newsom, who dismissed speculation last week that he would challenge Biden in 2024 should he decide to seek re-election to the White House.
"I can't talk about campaigns and elections while I'm in this capacity, but the president's made clear his intentions," Buttigieg said. "I'm proud to be part of this team and very proud to support everything the president is doing. We've got a lot to show for it and our work is just beginning."
Fox News' Haris Alic and Breck Dumas contributed to this article.
Source: https://www.foxnews.com/politics/buttigieg-insists-congressional-intervention-prevent-rail-strike-best-way-forward
Arizona Republicans elect former Trump official Jeff DeWit to become next party chair, will replace Kelli Ward
Republicans in Arizona appointed Jeff DeWit as the party's next chairman Saturday. The selection comes as Republicans in the battleground state hope to unite under new leadership and win back statewide elections.
DeWit, a former Trump aide who worked on both of his presidential campaigns, will replace Kelli Ward, a Trump ally who has embraced and echoed his election denial claims. 
He won 70% of the votes over several other nominees, including Steve Daniels, who vowed to drastically change the state's election system by requiring all votes to take place in person on one day, with ballots counted by hand.
"I'm going to work for you, and we're going to unify," DeWit said after his victory. "And we're going to get back to beating Democrats and winning elections."
DEMOCRATIC ARIZONA GOV. KATIE HOBBS DEFENDS DECISION TO KEEP BUSSING MIGRANTS OUT OF STATE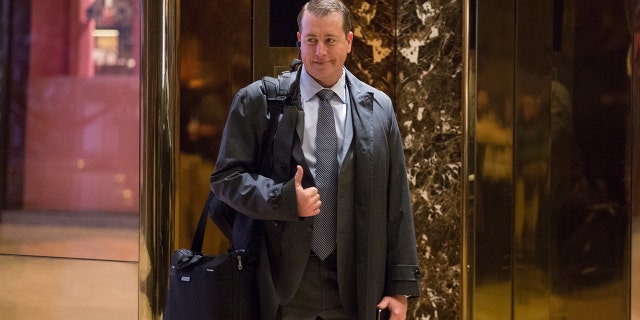 DeWit was supported by Kari Lake, who lost the race for governor but became an influential voice in the party; Mark Finchem, a former candidate for secretary of state; retired Gen. Michael Flynn and others. 
Lake said DeWit also received a last-minute endorsement from Trump, but the former president did not post the endorsement on social media, which he regularly does.
AZ GOV. KATIE HOBBS CREATES COMMISSION TO STUDY STATE'S PRISON PROBLEMS
During Ward's four-year tenure as party chair, Republicans lost three U.S. Senate races and elections for governor, secretary of state and attorney general. She has called for Arizona Attorney General Mark Brnovich to investigate newly elected Gov. Katie Hobbs for potential wrongdoing during her campaign. She has also faced criticism over the party's spending.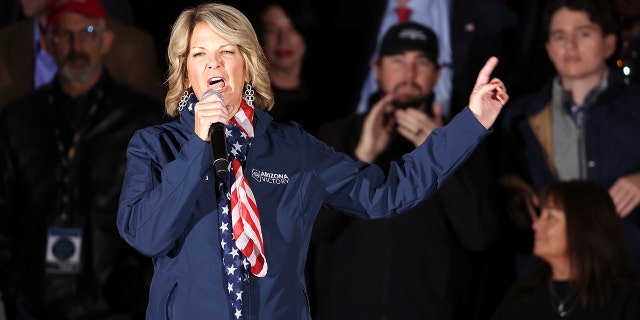 DeWit was elected state treasurer in 2014 and resigned in 2018, just before his term ended as he was confirmed as chief financial officer of NASA under Trump. He led Trump's Arizona campaign in 2016 and was chief operating officer of Trump's 2020 campaign.
Arizona Democrats elected Yolanda Bejarano, a senior national official in the Communications Workers of America union, to be their party chair.
The selection was the first contested election for the Democratic chair in 12 years. 
Bejarano was backed by most of the state's elected Democrats, but Hobbs supported Steve Gallardo, the only Democrat on the Maricopa County Board of Supervisors.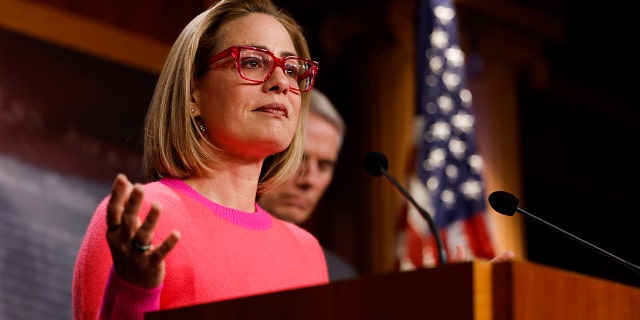 Outgoing Democratic Chair Raquel Teran declined to run for another term. She is also looking to run for the U.S. House seat being vacated by Rep. Ruben Gallego, who's running for the Senate. The seat is safely Democratic.
CLICK HERE TO GET THE FOX NEWS APP
The 2024 election includes several races with national implications including the presidential race and independent Sen. Kyrsten Sinema's seat. 
The Associated Press contributed to this report.
Trump joins Biden, Obama in condemning 'horrible' beating of Tyre Nichols: 'Never should have happened'
Former President Donald Trump joined the chorus of those responding to graphic footage from the bodycams of five Memphis police officers who repeatedly beat 29-year-old Tyre Nichols. The footage was released to the public Friday, Jan. 27.
"I thought it was terrible. He was in such trouble. He was just being pummeled. Now that should never have happened," Trump said during an interview with The Associated Press Saturday.
The footage shows the officers punching, kicking, pepper spraying and tasing Nichols, a 29-year-old Black father and delivery driver, following a traffic stop on Jan. 7. 
He died three days later, on Jan. 10. The officers were charged with his murder.
TYRE NICHOLS' LAST WORDS HEARD ON NEWLY RELEASED BODYCAM FOOTAGE: 'I'M JUST TRYING TO GET HOME'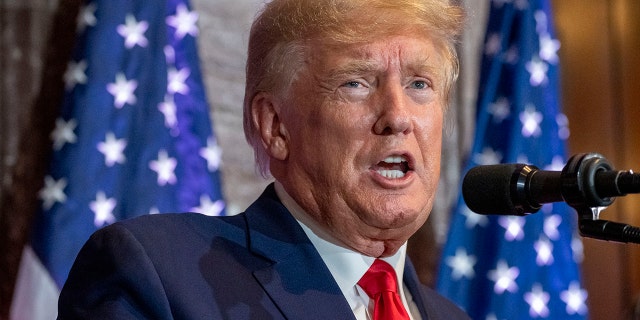 Trump, who is running for the White House in 2024, said hearing Nichols repeatedly call out to his mother during the assault was particularly difficult. He said it was "a very sad moment."
"That was really the point that got me the most, to be honest with you," the former president said.
Trump said Memphis police were taking a "strong step" in disbanding the SCORPION police unit involved in the attack, which was created to target violent offenders in areas beset by high crime. SCORPION stands for Street Crimes Operation to Restore Peace in Our Neighborhoods.
TENNESSEE SHERIFF OPENS NEW INVESTIGATION INTO TWO DEPUTIES AFTER TYRE NICHOLS BODYCAM VIDEO RELEASE
It has been "permanently" deactivated as a result of the Jan. 7 incident, Memphis officials announced.
Trump also called the video "pretty conclusive," as the officers face murder charges.
He also suggested the traffic violation was not the officers' motivation for the beating.
"Look, the tape was perhaps not totally conclusive but, to me, it was pretty conclusive and it was vicious and violent and hard to believe — over a traffic violation," Trump said.
Warning: The contents of the below video are graphic in nature.
Trump previously discouraged violent protests that erupted across the country in the summer of 2020 following the police killing of George Floyd in Minneapolis, which he also condemned.
"When the looting starts, the shooting starts," Trump tweeted, sparking backlash. The tweet was also flagged by Twitter as glorifying violence.
REACTION SWIFT AFTER TYRE NICHOLS POLICE FOOTAGE RELEASED; 'THESE MEN WERE STREET FIGHTING,' FORMER COP SAYS
The former president defended his comments as attempting to discourage escalation, not a call to shoot those who are looting.
He later centered his 2020 reelection bid around "law and order" and supporting law enforcement.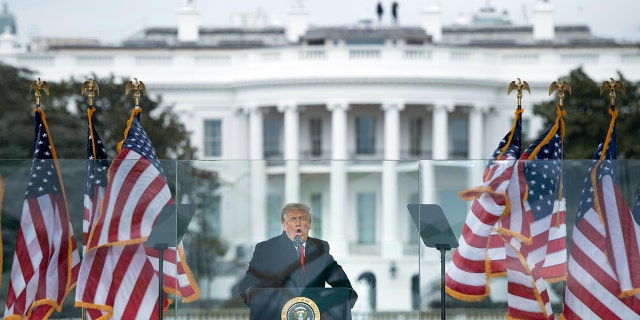 Trump, while in office, signed an executive order encouraging better police practices.
Former President Barack Obama also responded to the Tyre Nichols bodycam footage.
In a joint tweet, Barack and Michelle Obama said that Nichols' death is a "painful reminder" for America.
"The vicious, unjustified beating of Tyre Nichols and his ultimate death at the hands of five Memphis police officers is just the latest, painful reminder of how far America still has to go in fixing how we police our streets," the couple said.
President Joe Biden also addressed the video.
"My heart goes out to Tyre Nichols' family and to Americans in Memphis and across the country who are grieving this tremendously painful loss. There are no words to describe the heartbreak and grief of losing a beloved child and young father," he wrote in a statement Friday night.
CLICK HERE TO GET THE FOX NEWS APP
The Associated Press contributed to this report.
Trump appears to take aim at potential 2024 GOP rivals, says he doesn't have much 'competition'
SALEM, N.H. – Former President Donald Trump took aim at his potential rivals for the Republican presidential nomination as he kicked off a new phase of this 2024 White House campaign with a stop in the state that first launched him towards the presidency.
Pointing to his 2020 renomination as the sitting president, Trump on Saturday recollected during a speech in the first-in-the-nation presidential primary state of New Hampshire that he didn't have much competition. 
Then, as he looked to a potential 2024 GOP primary field that might eventually include rivals such as Florida Gov. Ron DeSantis, former Vice President Mike Pence, and other well known Republicans, Trump asserted that "I don't think we have competition this time either to be honest."
The former president also pushed back against recent criticism from political pundits that the first months of his third White House campaign have been anything but impressive.
TRUMP STOPS IN NEW HAMPSHIRE, SOUTH CAROLINA, KICK OFF NEW PHASE FOR HIS 2024 CAMPAIGN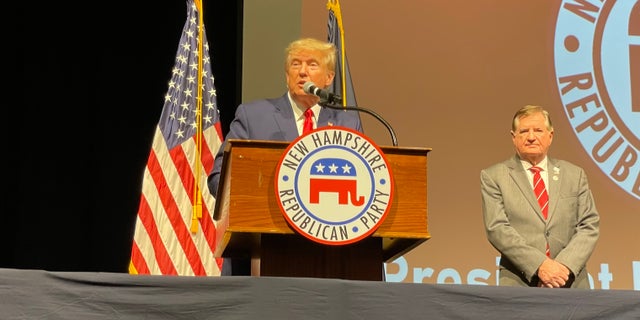 "They said he's not campaigning… maybe he lost his step," Trump said as he imitated his critics. 
The former president then stressed that "I'm more committed now than I ever was."
Trump made his comments as he gave the headline address to hundreds of party leaders, elected officials and activists attending the New Hampshire GOP's annual meeting. 
New Hampshire, which for a century has held the first primary in the race for the White House, was the scene of Trump's first election victory in 2016, igniting him towards the GOP presidential nomination and eventually the White House. 
2024 WATCH: TRUMP'S IN — HERE'S WHO ELSE MAY JOIN THE GOP PRESIDENTIAL PRIMARY FIELD
Trump's visit to New Hampshire — first reported by Fox News earlier this week — was his first stop of the day. He later headed for South Carolina, another crucial early voting state that holds the third contest in the GOP's presidential nominating calendar, directly after New Hampshire.
The Saturday afternoon gathering South Carolina's state capitol building — where he is expected to announce his leadership team in the Palmetto State with Sen. Lindsey Graham and Gov. Henry McMaster on hand — will be Trump's first 2024 campaign event since announcing his candidacy in mid-November at his Mar-a-Lago club in Palm Beach, Florida.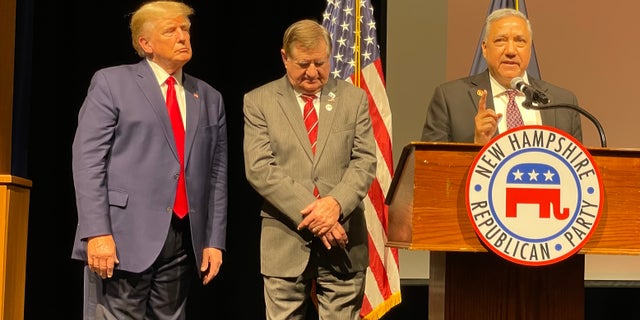 As he builds his leadership teams in the early voting states, the former president announced that Steve Stepanek is "coming on board as the senior adviser for my New Hampshire campaign"  
Stepanek, a former state lawmaker and businessman who co-chaired Trump's 2016 campaign in the Granite State, on Saturday finished up four years steering the state party committee.
The former president received a very warm welcome from the crowd in New Hampshire, as Trump supporters and allies have expanded their grip over the state party in recent years.
FIRST ON FOX: TRUMP STOPPING IN NEW HAMPSHIRE AHEAD OF SOUTH CAROLINA ON SATURDAY
"We're starting right here as a candidate for president…. This is just the beginning of our agenda. I look forward to returning many times," Trump touted.
And he predicted that "one year from now we will win the New Hampshire primary and the with the help of the good people of this state… we'll take back the White House." 
While Trump's the only major Republican to date to launch a 2024 presidential campaign, and while he remains the most popular and influential politician in the GOP and the party's most ferocious fundraiser when it comes to energizing the grassroots.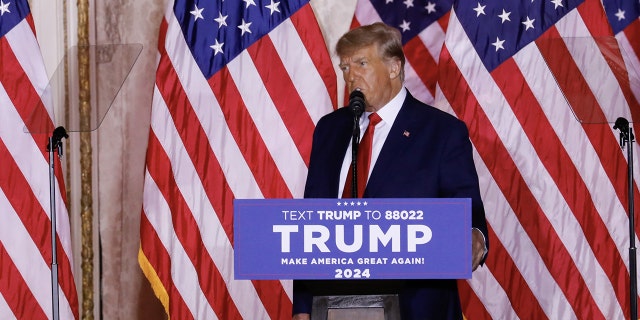 But political pundits from both the left and the right torched his campaign launch, and he's been criticized by Democrats and some Republicans for controversial actions and comments he's made during the past two months. Plus, in the wake of a lackluster performance by the GOP in the midterm elections — when the party underperformed in what may expected to be a red wave election — Trump has also been blamed for elevating polarizing Republican nominees who ended up losing in November. 
While he didn't take sides in New Hampshire's combustible GOP primaries in September, the MAGA-style candidates who won the U.S. Senate and both congressional nominations went down in flames in November's general election.
DESANTIS TOPS TRUMP IN CRUCIAL PRIMARY STATE POLL
Two days before the former president's arrival in the Granite State, a new public opinion poll by the University of New Hampshire Survey Center suggested that Republican Gov. Ron DeSantis of Florida held a double-digit lead over Trump in a hypothetical 2024 GOP presidential nomination matchup in the first primary state.
DeSantis, whom pundits expect will declare his candidacy for president later this year but who has yet to say if he'll launch a campaign, stood at 42% support in the survey of likely GOP presidential primary voters in New Hampshire, with Trump at 30%. The poll is energizing DeSantis supporters — including two outside political groups with no ties to governor, one national and one New Hampshire based — which are trying to convince the Florida governor to run for president. Both groups set up booths at the NHGOP meeting in Salem.
Until recently, Trump was the clear and overwhelming front-runner in the early 2024 GOP presidential nomination polls. But in a handful of national surveys released last month, Trump trailed DeSantis, whose standing with conservatives across the country has soared over the past three years. DeSantis was overwhelmingly re-elected in November for a second term leading Florida, a one-time battleground state that's turned increasingly red the past two cycles.
WHY THE REPUBLICAN PRESIDENTIAL NOMINATION RACE IS OFF TO A SLOW START
Trump allies and supporters highlight that public opinion polling has long undercounted the former president's support, dating back to his first campaign for the White House in 2016.
And Trump, during his comments in New Hampshire, touted his poll position in numerous surveys, claiming that "we are so far ahead in the polls."
The former president took aim at his successor in the White House, criticizing President Biden on multiple fronts, including the current president's proposal to move New Hampshire down a notch in the Democratic Party's nominating calendar, which has infuriated both Democrats and Republicans in the Granite State.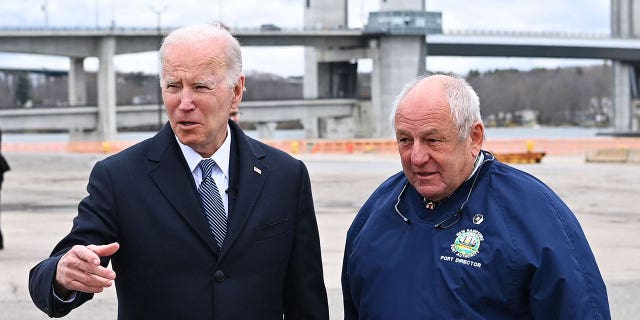 Republicans are not altering their nominating calendar, keeping New Hampshire second in their schedule after the Iowa caucuses.
"I make this solemn pledge — when I'm back in the White House I will ensure that New Hampshire remains the home of the first in the nation Republican primary for many, many years to come," Trump highlighted.
Trump's stops in New Hampshire and South Carolina appear to be a move to plant a flag as his campaign starts to move into a higher gear.
"It's going to be the first of many trips," Trump campaign senior adviser Chris LaCivita told Fox News. "It's something we've been looking forward to do. The early bird gets the worm. It's all about getting out, organizing, getting your people together, getting them motivated, getting them excited."
LaCivita emphasized that "we're starting early and starting aggressive and putting this organization together, I think bodes well for the future."
While Trump was the first candidate to announce, the field for the GOP presidential nomination will likely soon grow. Some of the likely or potential contenders hail from the two states Trump was stopping in on Saturday. Former two-term South Carolina Gov. Nikki Haley, who served as ambassador to the United Nations during the Trump administration and Sen. Tim Scott of South Carolina appear to moving towards launching possible campaigns. And in New Hampshire, Republican Gov. Chris Sununu is also mulling a bid.
CLICK HERE TO GET THE FOX NEWS APP 
"New Hampshire is full of tire kickers. We love to put candidates through their paces and Donald Trump is no exception to that. He's going to have to work just like any other candidate who wants to win New Hampshire. He's certainly shown he can do that. He did that in 2016 pretty handily. And he has without question the best infrastructure of any candidate, so he's well positioned," veteran New Hampshire conservative activist Greg Moore told Fox News. 
But Moore, the longtime state director for Americans for Prosperity, emphasized that Trump is "still going to have to prove himself to New Hampshire voter just like every other candidate."