Border Patrol Union says White House 'propagandists' not telling full story on crisis: 'doesn't come close'
The country's largest union of border parol agents says the White House is offering a veiled picture of the migrant crisis at the U.S.-Mexico border that "does not come close" to reality.
The National Border Patrol Council (NBPC), which represents approximately 18,000 agents, took to Twitter Saturday to praise the "few outstanding reporters" that consistently cover the ongoing struggle by agents to contain the migrant surge but said White House "propagandists" are dominating the narrative.
"The amount of media coverage you see of the border mayhem by a few outstanding reporters doesn't come close to capturing the full extent of what's really going on," NBPC said. "Believe the propagandists in the WH or believe the agents who patrol the border 24/7 and see it firsthand."
To them, the choice is simple: "Believe the propagandists or believe the facts."
BIDEN HAS ABSOLUTELY 'NO DESIRE' TO ENFORCE THE LAW AT THE BORDER: REP. PAT FALLON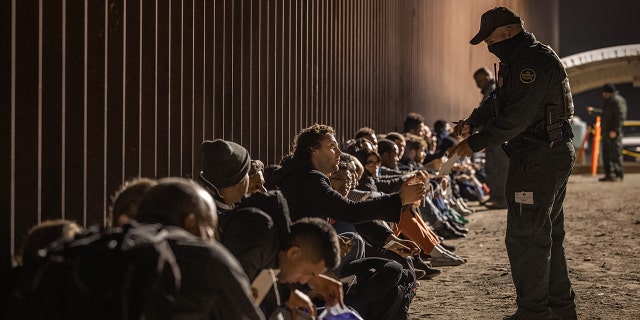 In a series of tweets, NBPC called for Congress to impeach Homeland Security Secretary Alejandro Mayorkas and said the migrant crisis is a "certified disaster" under his and President Biden's management.
"Arrests up over last year again…but some in open border crowd would have you believe they're 'down 90% under Biden,'" the union continued in another tweet.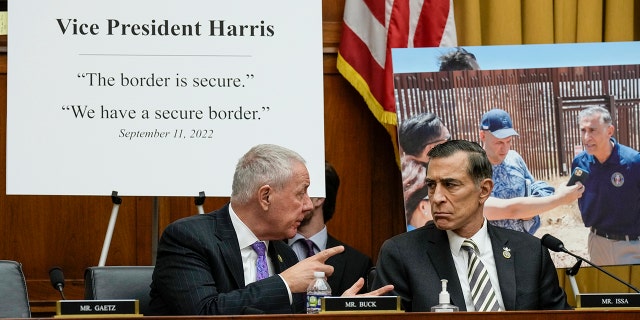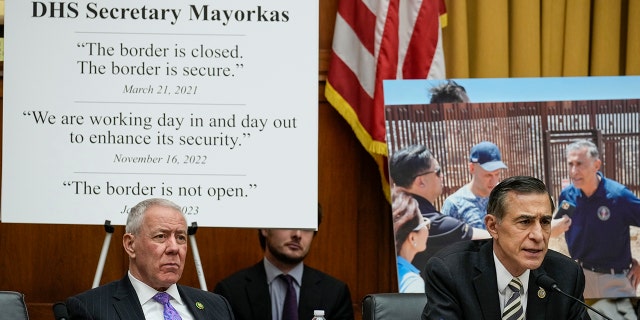 Then, sharing a tweet from Fox News' Griff Jenkins, the NBPC said reporters who cover the migrant crisis may face criticism, but that does not make their reporting any less true.
"If someone reports the truth about what's going on at the border, and is falsely attacked and labeled by radical morons to silence them, does it make what he or she reported less true?" the NBPC asked in another tweet.
MIGRANT ENCOUNTERS AT SOUTHERN BORDER HIT 1,000,000 MARK FOR FY 2023, OUTPACING PRIOR YEAR: SOURCES
Migrant encounters at the southern border crossed the one million mark for Fiscal Year 2023, marking what multiple Customs and Border Protection (CBP) sources told Fox News was an unprecedented pace for encounters.
As of Friday, the total migrant encounters at the border were at 1,008,217 for the fiscal year, which began in October.
This rate far surpasses that of FY2021, where there were more than 1.7 million encounters overall.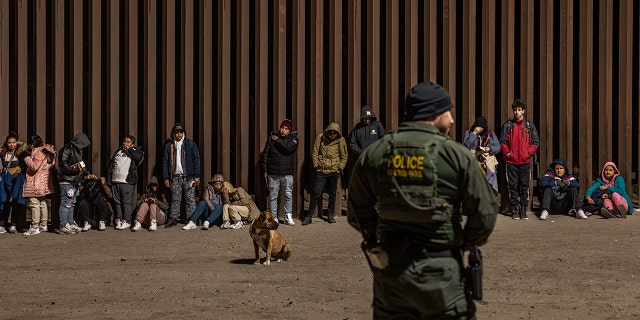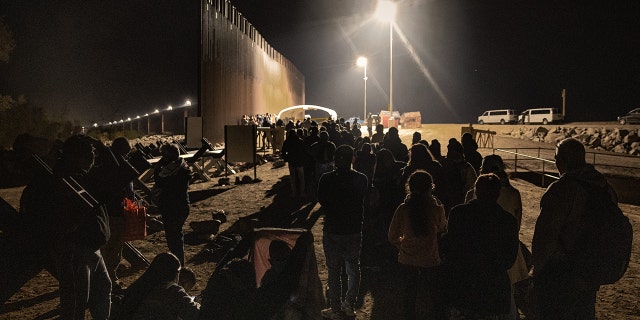 It is still well ahead of the FY2022 rate, which reached 839,819 by March 1 — well under the 1 million mark — and over 2.3 million overall.
Hitting one million so early in the year has some agents concerned numbers spike again over the spring, as warmer weather and more agreeable conditions make crossing the border more appealing.
"Agents know leadership throughout the agency and the administration will celebrate two months of lower numbers instead of acknowledging the daunting task of being tasked at the border with yet another historical and preventable situation," an agent told Fox News.
President Biden has called on Congress to enact immigration reform to address border security and amnesty for millions of migrants already in the U.S.
"America's border problems won't be fixed until Congress acts. If we won't pass my comprehensive immigration reform, at least pass my plan to provide the equipment and officers to secure the border. And a pathway to citizenship for Dreamers, those on temporary status, farm workers, and essential workers," Biden said in his State of the Union address.
The congressional battle for a potential immigration bill could be a long one as the Democrat-controlled Senate, and the Republican-majority in the House of Representatives will have to agree with the president.  
AT ARIZONA BORDER, JUDICIARY COMMITTEE HEARS FROM OFFICIALS ON MASSIVE MIGRANT SURGE 
Republican lawmakers visited the U.S. southern border earlier this week with Mayor Douglas Nicholls of Yuma, AZ, who praised the opportunity for those running the country to see the growing crisis firsthand.  
Democratic lawmakers did not join on the trip and instead called it a "stunt."
"Having the attention this week from Republican members of the Judiciary Committee was important that will start changing some minds and opening up some of the discussion," the mayor said.
Nicholls noted a delegation of Democrats will be visiting "later this month or the next" where he hopes to provide them with similar information on the border.
CLICK HERE TO GET THE FOX NEWS APP
"That's what it is about, educating people so that when they get into the decision-making mode they will see there are real issues that need to be addressed," he added during an interview on Fox News Live.
The Biden administration, including Secretary Mayorkas, has claimed the southern border is under control and has mostly denied there being a crisis.
Fox News'  Adam Shaw and Griff Jenkins contributed to this report.
Source: https://www.foxnews.com/politics/border-patrol-union-white-house-propagandists-not-telling-full-story-crisis-doesnt-come
Wyoming judge to consider allowing abortions to resume as sweeping ban gets challenged in court
A judge will hear arguments Wednesday over whether abortions will be allowed in Wyoming while a sweeping new ban gets challenged in her court.
The ban took effect Sunday, making abortion illegal in Wyoming despite earlier rulings by Teton County District Court Judge Melissa Owens that blocked an earlier ban hours after it took effect last summer.
Owens will now consider whether to block the new ban, too, while a lawsuit proceeds.
WYOMING OUTLAWS ABORTION PILLS, BECOMING FIRST STATE TO ENACT BAN
She's not expected to immediately weigh in, though, on a different new Wyoming abortion law: a first-in-the-nation ban on abortion pills. Abortion-rights supporters are also seeking to stop that law, signed by Republican Gov. Mark Gordon on Friday, but it is not set to take effect until July 1.
So far, Owens has sympathized somewhat with the two nonprofits, two doctors and two other women who have sued to block Wyoming's broader abortions bans.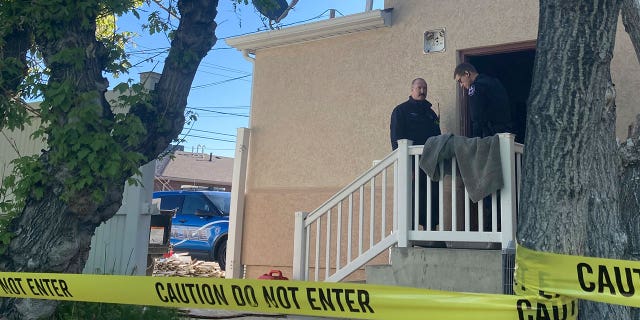 In July, Owens found that their concerns that the law would harm women and doctors and violate the state constitution could have merit. State lawmakers then wrote their new law to try to override those objections.
Owens in her July decision found that a 2012 state constitutional amendment guaranteeing the right to make one's own health care decisions could allow abortion.
WYOMING PUSHES TO FOREFRONT OF ABORTION BAN EFFORTS AFTER IMPLEMENTING BAN ON PILLS THAT TERMINATE PREGNANCIES
The new sweeping ban asserts that abortion is not health care and the amendment therefore doesn't apply to abortion.
Gordon expressed reservations about the new ban, even as he allowed it to take effect without his signature. He said voters should resolve the constitutionality of abortion in Wyoming instead of the Legislature addressing abortion piecemeal, year after year.
CLICK HERE TO GET THE FOX NEWS APP
Wyoming has only one abortion provider, a women's health clinic in Jackson that only provides medication abortions but has been forced to stop after the state's broad ban took effect this week.
Wellspring Health Access has been planning to open a clinic in Casper that would provide surgical and medication abortions. After an arson attack prevented that clinic from opening as planned last summer, organizers hoped to open it next month.
Mexican president backs Trump, says potential indictment is 'fabrication' to keep him off 2024 ballot
Mexican President Andrés Manuel López Obrador appeared to side with for former President Donald Trump amid his ongoing legal battle with the Manhattan district attorney's office, slamming the potential indictment as a way to prevent Trump from seeking the White House in 2024.
"Right now, former President Trump is declaring that they are going to arrest him," López Obrador said Tuesday during a press conference, according to transcribed remarks from Newsweek. "If that were the case… it would be so that his name doesn't appear on the ballot."
The comments from López Obrador, who often disagrees with Trump and has served as president of Mexico since 2018, come as Manhattan District Attorney Alvin Bragg weighs whether to bring charges against Trump amid the leading Republican's third run for president.
An indictment, if handed down from a grand jury, could come as early as Wednesday, a source told Fox News. The earliest Trump could appear in court if charged would be next week. If indicted, the U.S. Secret Service and the New York Police Department would discuss how the former president would surrender.
TRUMP HAS NOT BEEN NOTIFIED WHETHER MANHATTAN DA PLANS TO BRING CHARGES: SOURCES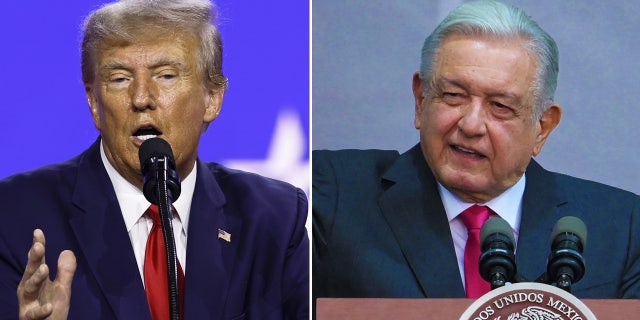 Insisting that the supposed charges against Trump are a "fabrication," López Obrador said that he has also been at the center of attempts to prevent him from obtaining political office.
"I say this because I too have suffered from the fabrication of a crime, when they didn't want me to run," López Obrador said from the press conference. "And this is completely anti-democratic…. Why not allow the people to decide?"
Trump said Tuesday evening that he had not been formally notified about plans to bring charges against him, sources familiar told Fox News Digital, amid speculation of a possible imminent indictment.
Sources told Fox News, however, that there remains a real chance that Bragg may choose not to indict the former president.
If an indictment is brought, Trump's attorneys would immediately be notified. If indicted and notified, Trump's attorneys would be able to begin negotiating the terms of a court appearance with the Manhattan district attorney's office.
TRUMP FORCEFULLY DISPUTES 'FAKE' ABC NEWS REPORT HE 'MISLED' HIS ATTORNEYS CONCERNING CLASSIFIED DOCUMENTS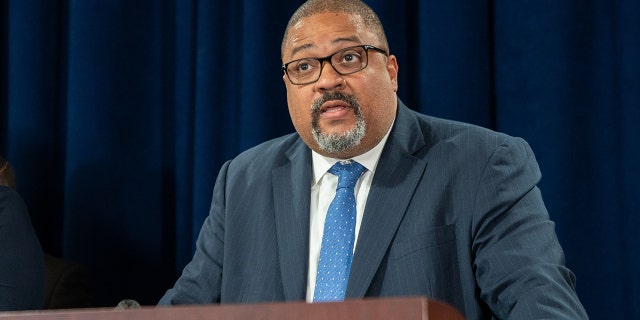 Multiple sources told Fox News that at least one more witness is expected to appear before the grand jury when it convenes Wednesday at 2 p.m. in Manhattan. It is unclear at this point who the witness or witnesses are.
The possible charges stem from the $130,000 hush-money payment that then-Trump lawyer Michael Cohen made to adult film actress Stormy Daniels, whose legal name is Stephanie Clifford, in the weeks leading up to the 2016 presidential election in exchange for her silence about an alleged sexual encounter with Trump in 2006. Trump denies that he had sex with Daniels.
Federal prosecutors in the U.S. Attorney's Office for the Southern District of New York opted out of charging Trump related to the Daniels payment in 2019, even as Cohen implicated him in his plea deal. The Federal Election Commission also tossed its investigation into the matter in 2021.
Cohen has said Trump directed the payments. Cohen paid Daniels $130,000 through his own company and was later reimbursed by Trump's company, which logged the payments as "legal expenses." Karen McDougal, a former Playboy model who allegedly had a relationship with Trump, received a $150,000 payment through the publisher of the supermarket tabloid National Enquirer.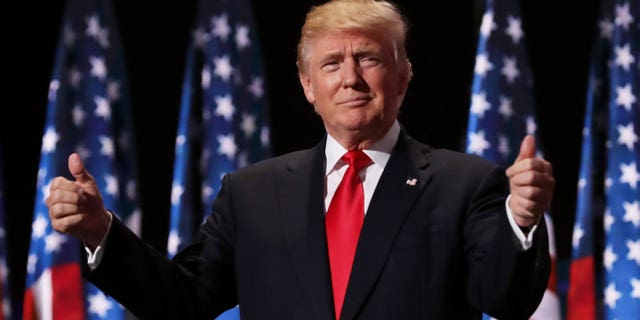 CLICK HERE TO GET THE FOX NEWS APP
The Trump Organization "grossed up" Cohen's reimbursement for Daniels' payment for "tax purposes," according to federal prosecutors who filed the 2018 criminal charges against Cohen for the payments.
Trump has repeatedly denied wrongdoing with regard to the payments made to Daniels, and he has repeatedly said the payments were "not a campaign violation" but rather a "simple private transaction."
Fox News' Brooke Singman and Marta Dhanis contributed to this article.
Republicans will use hearing to assert Dems' 'culture war' policies hampering military recruitment
EXCLUSIVE: Republican senators are readying to make the case that the Pentagon's progressive military policies under the Biden administration are to blame for the Armed Forces' dire recruitment crisis. 
The Senate Armed Services Committee is holding a hearing at 9:30am this morning on the military's shortage of new troops, which the Center for Strategic and International Studies called "the worst recruiting crisis since the creation of the All-Volunteer Force nearly 50 years ago."
Sens. Joni Ernst, R-Iowa, and Rick Scott, R-Fla., members of the committee and military veterans themselves, drew a link to their own time serving the country when asked by Fox News Digital about the current personnel crisis.
"My family didn't have much growing up, and the Navy gave me the opportunity for a better life and a better education – it can provide that for so many kids across our nation. But unfortunately, this administration has made their focus more on pushing the failed agenda of the radical Left than building a lethal force and advertising the opportunities our military provides and how great our service can be for one's life," Scott said. "When our military is more focused on achieving some diversity metric rather than defeating our enemies, our national defense and the American people lose."
AIR FORCE GOES ON DIVERSITY, EQUITY, INCLUSION HIRING SPREE: TOP JOB PAYS UP TO $183,500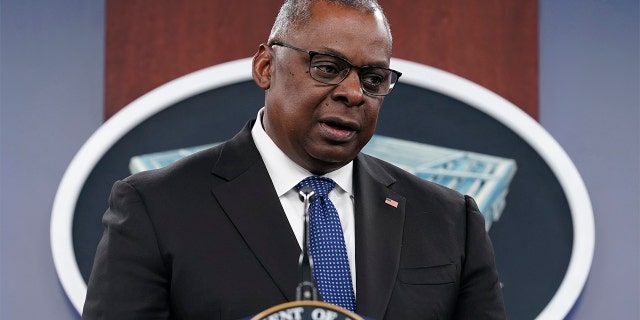 Ernst told Fox News Digital, "The military's purpose is to fight and win—not crusade for social causes.  As a combat veteran, this is personal to me. The Department of Defense must act urgently to fix waning recruitment and retention—and ultimately to build a more lethal force. Our adversaries are watching."
BIDEN ARMY SECRETARY RESPONDS TO 'WOKE' CRITICISMS, SAYS DEI PROGRAM 'IMPORTANT'
Sen. Eric Schmitt, R-Mo., another member of the panel, told Fox News Digital that he's looking to press the Pentagon officials at today's hearing on their commitment to upholding national safety rather than waging "culture wars at home."
"The goal of our military should be to meet global challenges facing America with decisive authority, not to wage culture wars at home," Schmitt said. "I look forward to questioning top military officials…to get more answers and ensure that our military is laser-focused on addressing the challenges that our adversaries pose to our country and our freedoms."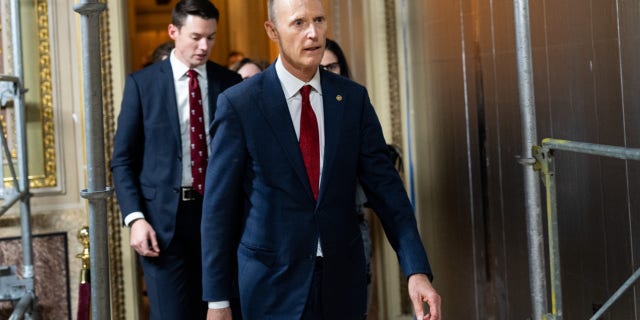 In a statement made to Fox News Digital late last week, the committee's top Republican, Sen. Roger Wicker, R-Miss., warned that "divisive" policies imposed by President Joe Biden's appointees are leaving the U.S. more vulnerable to its foreign adversaries.
"In the competition with China and Russia, our greatest asset is our people. The divisive social policies being pushed by senior Democrat appointees at the Pentagon are undermining this advantage," Wicker said.
DIVERSITY, EQUITY, INCLUSION WORKERS FRET COMPANIES AREN'T HIRING THEM ANYMORE: 'INSANE,' 'PATHETIC'
The personnel shortage has so far hit the Army the hardest, having fallen short of its 2022 recruitment goals by 25%. The Navy, Air Force and Marines all barely scraped by after dipping into their pools of deferred recruits – guaranteeing a setback in reaching this year's benchmarks.
Sen. Tommy Tuberville, R-Ala., referenced the dire recruitment statistics in his own comments to Fox News Digital.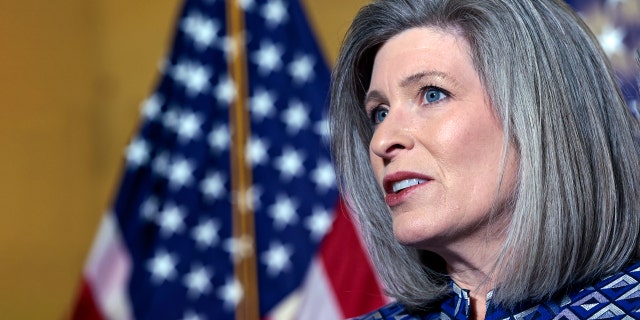 CLICK HERE TO GET THE FOX NEWS APP
"While the Biden administration declares climate change a national security threat, our real enemies are growing in strength and numbers," Tuberville said. "Last year the Army missed its recruitment goal by 15,000 recruits — more than an entire division. This year is shaping up to be even worse. This national security emergency ought to be a wake-up call for Pentagon leadership but they've refused to take responsibility. It's time for them to get serious about keeping our country safe."
Testifying at the Tuesday morning hearing will be the undersecretaries of the Army, Navy and Air Force.
Pentagon chief Lloyd Austin is expected on Capitol Hill later this week for a House hearing on Biden's Defense budget proposal.