Biden wrong to say he'll do 'nothing' differently in future, Dem lawmaker says, urges inflation task force
Democrat Rep. Elissa Slotkin said Thursday that she disagrees with President Biden's pledge to do "nothing" differently in the next two years of his presidency, calling on the administration to implement an inflation task force to improve voter confidence heading into 2024.
During a press conference at the White House on Wednesday, a reporter asked Biden what he plans to change in the next two years, citing polls that found 75% of voters are unhappy with the direction of the country under his leadership. Biden said he plans to do "nothing" differently, adding, "They're just finding out what we're doing."
Slotkin told Fox News that the president's complacency sends the wrong message to voters who showed that inflation is a top issue in Tuesday's midterm elections. The lawmaker urged the White House to make inflation a top priority for the remainder of Biden's first term.
BIDEN VOWS 'NOTHING' DIFFERENT IN NEXT TWO YEARS DESPITE MAJORITY SAYING US HEADED IN 'WRONG DIRECTION'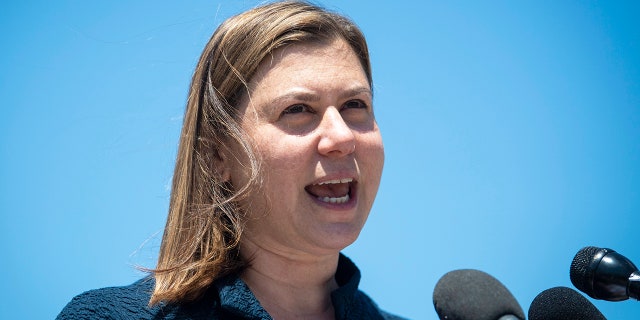 "No, I think honestly figuring out how we address inflation has got to be one issue, and I've talked about this with some senior levels of the administration, just some sort of inflation task force, some sort of process so we know at the beginning of every press conference, at the begging of every briefing…that our government is focused on that first," she said Thursday on "America Reports."
"That's personally what I would do. I'm not sure that straight nothing was the answer I would have given. But, if the midterms are a referendum on how the president is doing, or at least that's common wisdom, we certainly had a different result than we were expecting across the country."
The lawmaker, who won re-election in Michigan's 8th Congressional District after being considered one of the more vulnerable House Democrats seeking re-election, maintained her distance from President Biden throughout her campaign.
CLICK HERE FOR THE LATEST ELECTION RESULTS FROM FOX NEWS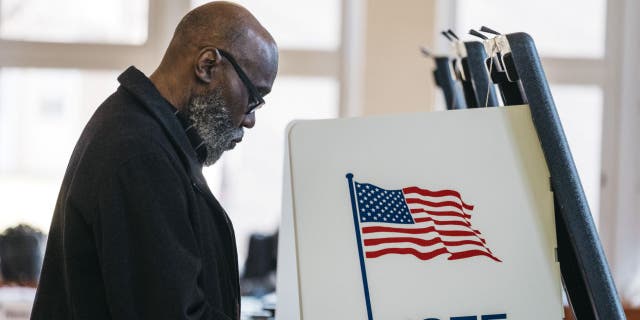 When asked in October during an appearance on NBC News' "Meet the Press" whether she would support President Biden in 2024 if he sought re-election, Slotkin said she would support "the sitting president" if he chooses to run because that followed precedent. However, she quickly called for new leadership "across the Democratic Party."
Pointing to the results of the midterms on Thursday, Slotkin cautioned both Republicans and Democrats against putting up extreme candidates in future elections, arguing that the voters appear to be "kind of over that."
"I think also a lot of extreme candidates were put up around the country, and I just really believe the voters are kind of over that, and they just want practical reasonable people on both sides of the aisle to represent them, and they voted that a couple of days ago," she said.
CLICK HERE TO GET THE FOX NEWS APP
"…At this point, people are just looking for someone who plays in the center and is a pragmatist, they don't like the extremes on either side of the aisle and I think that's what we're starting to see."
Source: https://www.foxnews.com/media/biden-wrong-say-hell-do-nothing-differently-future-dem-lawmaker-urges-inflation-task-force
'FASCISM': Florida Dem lashes out at DeSantis for targeting group that hosted 'Drag Queen Christmas' with kids
A Democrat from the Florida Congressional delegation is taking aim at Florida GOP Gov. Ron DeSantis over his decision to file a legal complaint against the institution responsible for hosting "A Drag Queen Christmas" event, which children were allowed to attend.
The governor filed a six-count legal complaint against the Orlando Philharmonic Foundation for "exposing minor children to lewd sexual acts during a drag show that took place in Orlando on December 28," local outlet The Floridian reported Friday.
Responding to DeSantis' complaint, which could result in the state revoking the institution's liquor license, freshman Rep. Maxwell Frost, D-Fla., accused to the governor of being a fascist.
"We've got to call this what it is: FASCISM in action. Queer celebration is anything but obscene," Frost, who was elected to represent the Sunshine State's 10th Congressional District in 2022, wrote in a tweet.
RON DESANTIS FILES LEGAL COMPLAINT AGAINST ORLANDO FOUNDATION FOR ALLEGEDLY SEXUALIZING KIDS WITH DRAG SHOW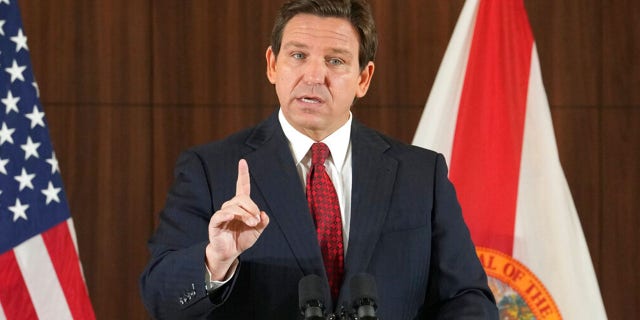 "We cannot tolerate DeSantis and his attempt to erase our communities," he added. "I wholeheartedly condemn this attack and remain in solidarity with our beautiful LGBTQ+ family in Orlando."
Fox News Digital reported DeSantis opening an investigation into the December show last year for allegedly exposing children to "sexualized acts."
The show featured sexually provocative content like displays of prosthetic breasts and genitalia, "portrayals of simulated masturbation," as well as "sexualized adaptations of popular children's Christmas songs" including one called "Screwdolph the Red-Nippled Reindeer," according to Florida's complaint.
The event was held at the Broward Center of the Performing Arts in Fort Lauderdale and held as part of the national tour of "A Drag Queen Christmas."
At the time, DeSantis Press Secretary Bryan Griffin confirmed the administration's investigation. In a statement published last year, Griffin said: "The Department of Business and Professional Regulation (DBPR) is aware of multiple complaints about a sexually explicit performance marketed to children held in Fort Lauderdale on December 26th. The Department is actively investigating this matter."
FLORIDA AG INVESTIGATING DRAG SHOW FOR EXPOSING KIDS TO 'SEXUALIZED ACTS': WE WILL 'NOT SIT BACK'
The Floridian's Friday report provided the latest developments in the investigation, claiming DeSantis has filed the six-count charge through the DBPR.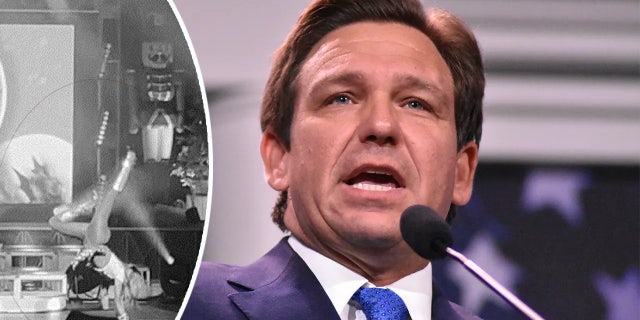 The official complaint claimed, "On December 28, 2022, Respondent hosted and supported a ticketed event titled 'A Drag Queen Christmas' ('the Show') on the Licensed Premises and sold alcoholic beverages to patrons in attendance. Respondent promoted the Show using targeted, Christmas-themed promotional materials that did not provide notice to the sexually explicit nature of the Show's performances or other content."
The complaint also charged that the show provided "promotional materials" that "unequivocally stated '[a]ll ages welcome.'"
CLICK HERE TO GET THE FOX NEWS APP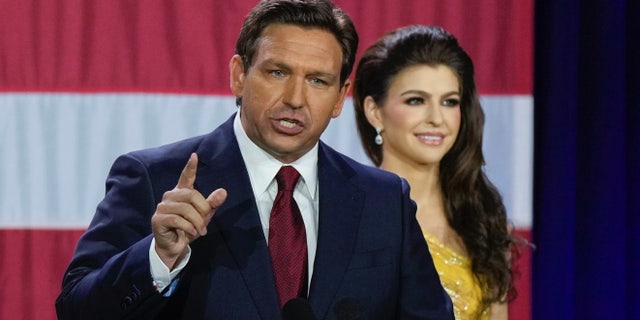 In addition, the administration claimed that, "prior to the show," it "sent a letter to Respondent notifying Respondent that '[s]exually explicit drag show performances constitute public nuisances, lewd activity, and disorderly conduct when minors are in attendance'" and warned that if it failed to keep minors away from the show it would be "subject to penalties up to and including revocation" of its liquor and tobacco license.
The complaint charged that the foundation "nevertheless allowed minors to attend the Show," despite the warning.
Fox News' Gabriel Hays contributed to this article.
California reverses COVID vaccine requirement for students as it ends Newsom emergency declaration
California officials confirmed Friday that children will not be required to receive the COVID-19 vaccine to attend schools. 
Nearly all restrictions put in place by Gov. Gavin Newsom have been lifted and the state's coronavirus emergency declaration officially ends on Feb. 28.
However, the policy – first put in place in 2021 – had come from the Department of Public Health and was not impacted by the emergency declaration lifting. 
The department told Fox News Digital in an emailed statement on Saturday morning that COVID-19 immunization is an important tool for keeping kids healthy and schools open and that it strongly recommends vaccination against the disease, noting that it had contributed to keeping children there in school. 
"The state's SMARTER Plan continues to provide an adequate framework to address the current COVID-19 situation, and has led to the decision to end the COVID-19 State of Emergency on February 28, 2023," the department explained. "As such, CDPH is not currently exploring emergency rulemaking to add COVID-19 vaccinations to the list of required school vaccinations, but we continue to strongly recommend COVID-19 immunization for students and staff to keep everyone safer in the classroom. Any changes to required K-12 immunizations are properly addressed through the legislative process."
It also noted that mobile vaccination services remain available for any K-12 school in California.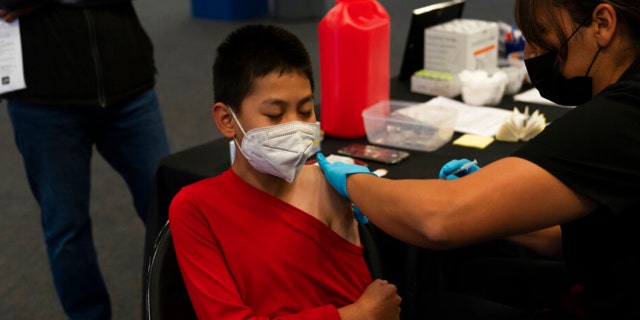 KENTUCKY GOV. BESHEAR SAYS EXPANDED COVID MEDICAID COVERAGE SOON TO END
California was the first state to issue a statewide stay-at-home order.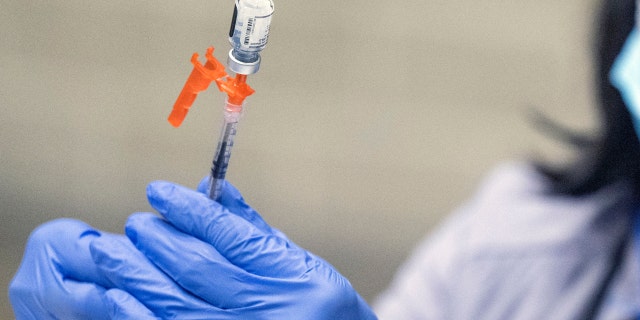 CALIFORNIA DA CALLS NEWSOM A 'MENACE TO PUBLIC SAFETY' IN ESCALATING WAR OF WORDS OVER POLICE OFFICER'S DEATH
Most states did not follow California's lead when it came to instituting a vaccine mandate for public schools.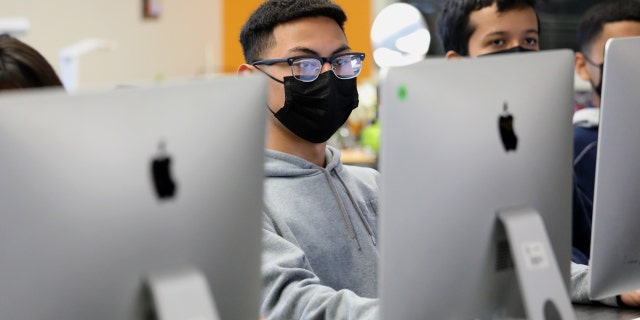 CLICK HERE TO GET THE FOX NEWS APP
However, schools in the District of Columbia plan to require the vaccine starting in the fall. 
The Associated Press contributed to this report. 
Chinese spy balloon raises alarm bells over China buying up US land
A Chinese balloon craft floating over the northern United States has re-energized concerns among experts and lawmakers over China's ongoing efforts to buy land across the U.S., with some voices observing a "pattern" of suspected espionage activities near American military sites.
China on Friday confirmed the balloon is Chinese, claiming it's a civilian research craft that was blown far off course by prevailing winds. However, Pentagon spokesperson Brig. Gen. Pat Ryder described the craft during briefings on Thursday and Friday as a high-altitude surveillance balloon.
"Instances of this kind of balloon activity have been observed previously over the past several years," said Ryder. "Once the balloon was detected, the U.S. government acted immediately to protect against the collection of sensitive information."
The suspected spy balloon was spotted over Montana, home to one of the nation's three nuclear missile silo fields at Malmstrom Air Force Base.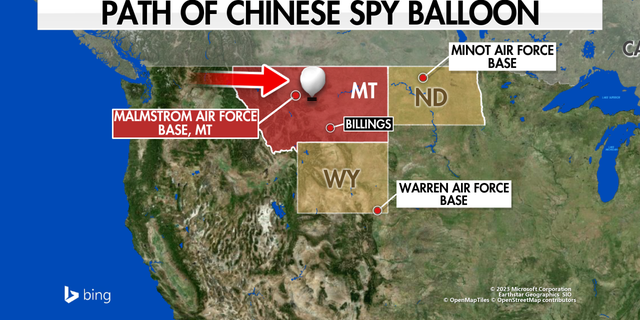 CHINESE SPY BALLOON OVER CENTRAL US, WILL BE IN US AIRSPACE FOR 'A FEW DAYS,' PENTAGON SAYS
U.S. officials have previously warned about Chinese companies, such as the telecommunications giant Huawei, purchasing land near critical infrastructure in Montana and potentially capturing sensitive information regarding intercontinental ballistic missiles under the direction of the 341st Missile Wing at Malmstrom Air Base.
"Set against that destructive power is a completely serene and wide-open landscape. It's just wheat fields and big sky country," FCC Commissioner Brendan Carr said in 2021 while describing a trip to the base two years earlier. "Except for one thing: There are cell towers all around those Montana missile fields that have been running on Huawei equipment."
The Chinese surveillance balloon has prompted Montana lawmakers to push for a ban on Chinese agricultural land purchases in the state.
"This really shows that there are nations out there that want to spy on us. Senate Bill 203 prevents those adversarial nations from purchasing our ag production land and our critical infrastructure," Montana state Sen. Ken Bogner told local outlet KTQV. "The Ag production land hits issues of food security — we help feed the entire nation. And the critical infrastructure is things like oil refineries, telecommunication facilities. So, it's a plethora of things to make sure that we're protected as much as we can be here in the state."
More broadly, experts told Fox News Digital that the balloon is indicative of a larger Chinese espionage effort.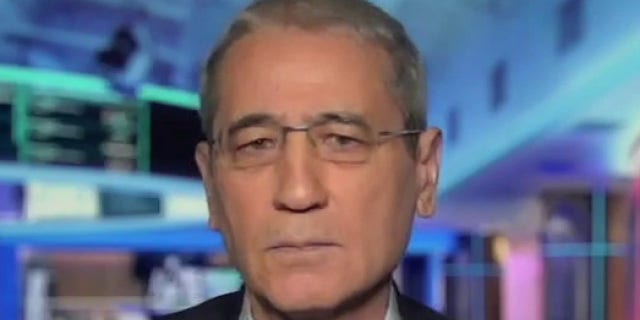 CHINA EXPERT SOUNDS ALARM ON SPY BALLOON HOVERING OVER US: 'IT'S VERY DANGEROUS WHAT THEY'RE DOING'
"China has stepped up its espionage activities against sensitive military facilities," said Gordan Chang, author of "The Coming Collapse of China and The Great U.S.-China Tech War." "This is clearly part of a pattern."
Last summer, the Chinese company Fufeng Group, a food manufacturer, made headlines for purchasing 370 acres of land in Grand Forks, N.D., some 15 miles away from Grand Forks Air Force, a center for both air and space operations.
The Air Force this week denied Fufeng Group its building permits for a wet corn milling plant on the land, calling the project a "significant threat to national security."
In Texas, meanwhile, a Chinese company owned by a former Chinese soldier with ties to the ruling Communist Party bought 130,000 acres near Laughlin Air Force Base, where pilots are trained.
Texas Republicans and Gov. Greg Abbott are seeking to ban Chinese citizens and businesses from buying property in the Lone Star State.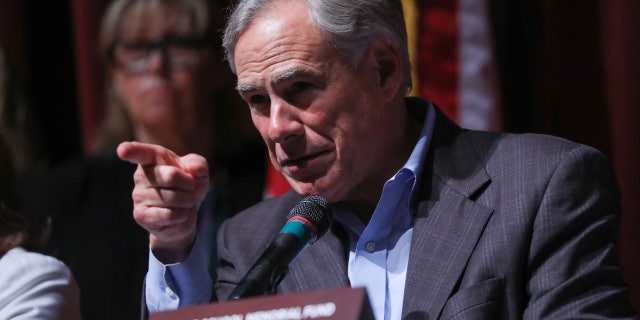 STEFANIK, ROUNDS LEAD BIPARTISAN BILL TO PREVENT CHINA, FOREIGN ADVERSARIES FROM BUYING INTO US AGRICULTURE
Florida and Virginia are among other states where leaders have been backed similar bans.
"Whether this is actually part of plan or not, these purchases are suspiciously close to sensitive military facilities and therefore shouldn't be allowed," said Chang.
He argued that until the U.S. gets a hold of these suspicious activities on agricultural land, the U.S. needs to institute a prohibition on Chinese land purchases.
"No Chinese entity should own farm or ranch land in U.S., full stop, including land involved in food processing," said Chang. "Chinese parties that own this land should either have it expropriated with compensation or, if there was criminal activity, forfeiture statues should be used to take it away."
Beyond the states, lawmakers at the federal level have also been pushing to crack down on Chinese entities buying U.S. land.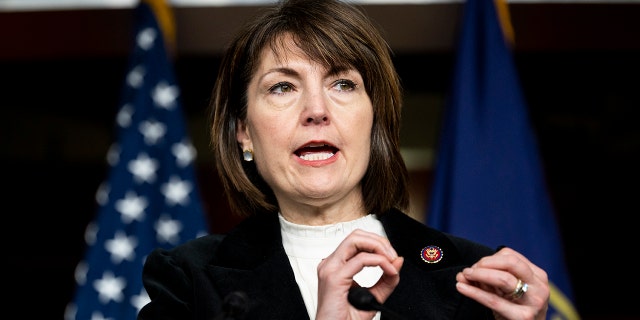 AFTER CHINESE BALLOON ENTERS US AIRSPACE, BIDEN SECRETARY OF STATE POSTPONES TRIP TO CHINA
In the Senate, Sens. Mike Rounds (R-S.D.) and Jon Tester (D-Mont.) introduced legislation that would blacklist China and other "foreign adversaries" from investing in, purchasing, or otherwise acquiring land or businesses involved in agriculture.
In the House, Reps. Cathy McMorris Rodgers (R-Wash.) and Dan Newhouse (D-Wash.) introduced similar legislation to block China from purchasing American farmland.
"As more reports come in, it is becoming apparent the Chinese Communist Party is deliberately testing how the United States will respond to their provocative actions," Newhouse told Fox News Digital. "This is yet another example of their alarming aggression. President Biden must act swiftly to confront this situation."
"As a member of the House Select Committee on China," he continued, "I am eager to further investigate the aggressive actions of the CCP and seek avenues to hold them accountable."
Rodgers' office echoed those sentiments and the need to remain vigilant.
"The situation unfolding is worrisome. The congresswoman believes that under no circumstances should an aircraft operated by the Chinese government be flying in American airspace conducting surveillance," said Rodgers spokesman Kyle VonEnde. "She continues to monitor the situation closely and is grateful to the servicemen and women of Fairchild Air Force Base, whose swift response once again demonstrates just how vital their strategic mission is to keeping our skies safe from adversaries in the Pacific arena."
Both bills were introduced this week not long before the Chinese surveillance balloon became public.
Several prominent Republicans called for President Biden to shoot down the Chinese balloon, while others demanded an intelligence briefing. Biden declined to shoot down the Chinese spy balloon, but Secretary of State Antony Blinken postponed a trip to China following the controversy over the balloon
The Pentagon said Friday the craft doesn't pose a military or physical threat to people on the ground but continues to track its movement.