Biden says 'more important things' than border visit, despite 59 trips to Delaware, 8 stops for ice cream
President Joe Biden said Tuesday that he hasn't visited the U.S.-Mexico border because "there are more important things going on," despite traveling to Delaware 59 times and stopping for ice cream eight times since taking office.
Biden defended his decision to skip visiting the border while in Arizona, telling Fox News White House correspondent Peter Doocy, "There are more important things going on."
Biden made the defense while boarding Marine One to travel to Phoenix ahead of semiconductor manufacturer TSMC's announcement to increase its chip investment in the state to $40 billion.
"They're going to invest billions of dollars in a new enterprise," the president said.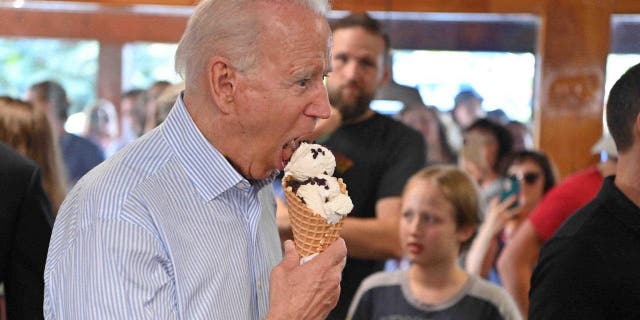 BIDEN DEFENDS SKIPPING BORDER VISIT WHILE IN ARIZONA, SAYS THERE ARE 'MORE IMPORTANT THINGS'
When Donald Trump was president, Biden described "horrifying scenes" at the U.S. southern border of "kids being kept in cages" and federal agents "ripping children from their mothers' arms." But nearly two years into his presidency, Biden has never visited the border despite thousands of illegal immigrants flooding into the country every day.
To Biden, "more important things" than visiting the border apparently include 59 trips to his home state and eight separate stops for his favorite dessert.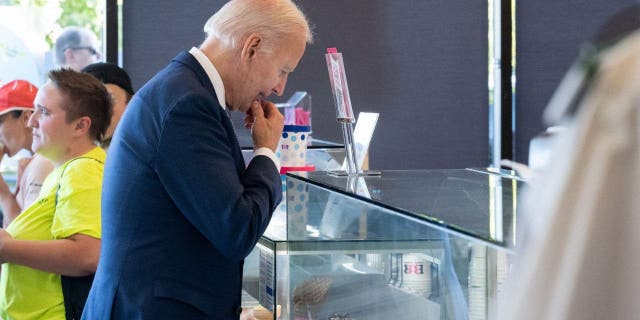 A Fox News Digital analysis found last month that Biden's regular trips to Delaware have cost taxpayers upward of $11 million since the start of his presidency.
The trips require taxpayer dollars to fund costs associated with the use of either Air Force One or Marine One, as well as security costs for the Secret Service.
BIDEN'S FREQUENT DELAWARE TRIPS HAVE COST TAXPAYERS AT LEAST $11 MILLION
The $11 million receipt for Biden's Delaware trips is probably a significant underestimate since it does not tally many other miscellaneous costs. These include spending for additional helicopters that travel along with him, travel to or from military airports before or after an Air Force One flight, and accommodations for staff who accompany him.
Biden also loves his ice cream and so does the media. The president has stopped for ice cream at least eight times since taking office, and it almost always makes national news.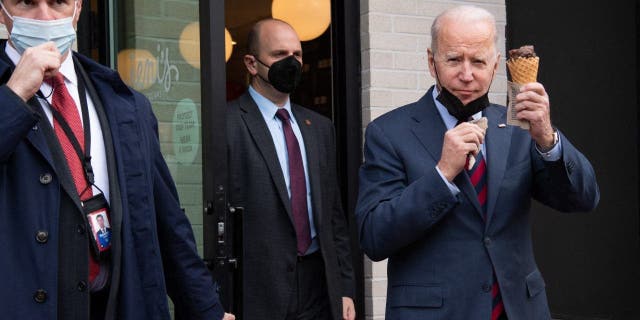 Biden was criticized in October for an appearance at a Baskin-Robbins in Portland, Oregon, when he claimed the economy is "strong as hell" while munching on a chocolate chip ice cream cone.
"I'm not concerned about the strength of the dollar. I'm concerned about the rest of the world. Our economy is strong as hell," the president said while inflation was at a whopping 8.2%
Most recently, Biden was pictured eating ice cream last week with French President Emmanuel Macron at the Fiola Mare restaurant in Washington, D.C.
White House assistant press secretary Abdullah Hasan told Fox News Digital in a statement that Biden's top priority is the economy, not the border.
"The President was clear that his top priority is investing in the American economy and in American communities, out-competing China, and bringing back American jobs from overseas," Hasan said. "In fact, as Fox News' own analysis showed, the economy is the top issue for most Americans. If anyone believes that shouldn't be the President's top priority too, they should say that out loud."
"Of course, the President is also taking action to secure our border and build a fair, orderly, and humane immigration system," Hasan continued. "He's secured more funding than all of his predecessors to support the men and women of the Department of Homeland Security, put forward a comprehensive immigration reform proposal, and brought 20 world leaders together to jointly manage the migration challenge impacting the entire Western Hemisphere."
"President Biden is focused on real solutions, not political stunts. And if border security is such a top priority for Republican officials, voting against President Biden's request for record funding for the Department of Homeland Security is an odd way to show it."
CLICK HERE TO GET THE FOX NEWS APP
Fox News' Patrick Hauf contributed to this report.
Source: https://www.foxnews.com/politics/biden-says-more-important-things-border-visit-59-trips-delaware-8-stops-ice-cream
Hot mic catches President Biden telling Cuban lawmaker he has to talk to him 'about Cuba'
A hot mic after the State of the Union Tuesday evening caught President Biden telling Sen. Bob Menendez that he has to talk to him "about Cuba."
Menendez, D-N.J., is a Cuban lawmaker and serves as Chairman of the Senate Foreign Relations Committee, an influential committee for initiating legislative proposals in the chamber. 
"Bob, I gotta talk to you about Cuba," Biden said to the senator. 
The moment was caught on C-SPAN cameras as Biden spoke with Menendez and Rep. Adam Schiff, who House Speaker Kevin McCarthy blocked from joining the House Intelligence Committee. 
BIDEN BOOED DURING STATE OF THE UNION FOR CLAIMING GOP WANTS TO CUT SOCIAL SECURITY, MEDICARE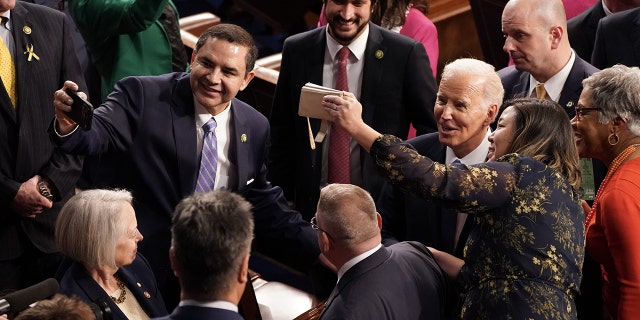 Menendez is heard replying, "Okay."
The lawmaker seemed confused by the president's comment.
"I'm serious," added Biden. 
BIDEN APPEARS TO GO OFF SCRIPT TO SAY US NEEDS OIL, GAS DRILLING
Menendez, the son of two Cuban migrants, has spent much of his time working in the House of Representatives and later the U.S. Senate on immigration and national security issues.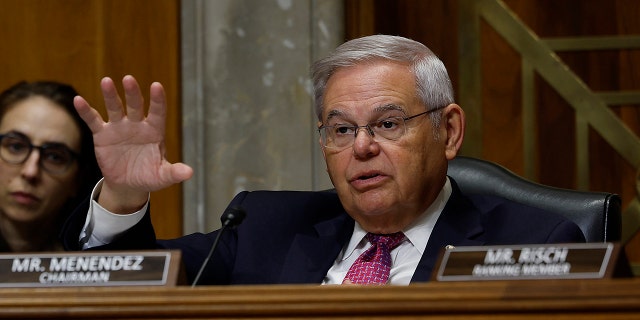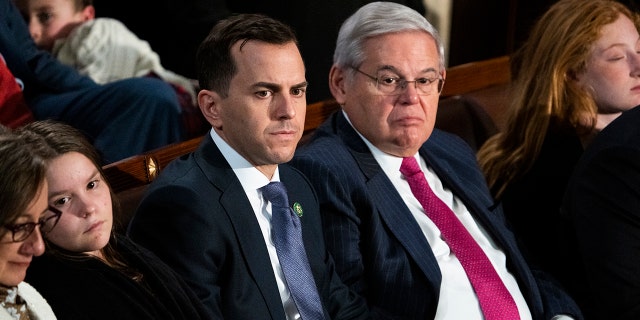 He is also credited with helping push through the Deferred Action for Childhood Arrivals (DACA) policy, which went into effect under former President Barack Obama.
Menendez is currently prioritizing his efforts on "competing with China, confronting the global pandemic, and restoring the United States' place as a leader around the globe," according to his official government website.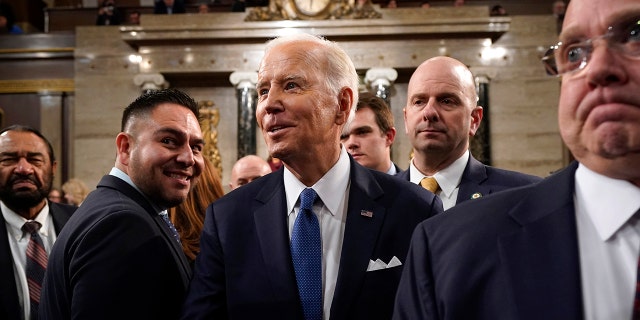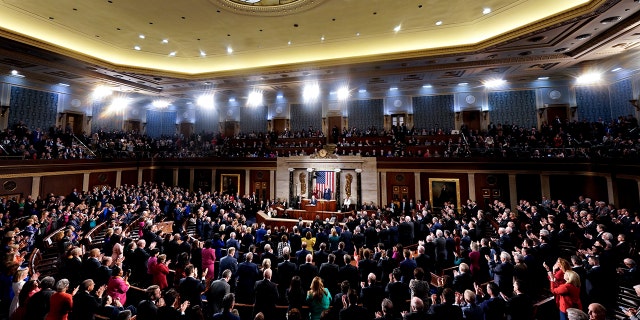 President Biden addressed competition with China during Tuesday evening's address, saying he welcomed competition but would act swiftly to push back on any action that threatens U.S. sovereignty. 
CLICK HERE TO GET THE FOX NEWS APP
"But make no mistake about it: as we made clear last week, if China's threatens our sovereignty, we will act to protect our country. And we did," said Biden, referencing the Chinese spy balloon that was shot down by the U.S. military last week.
Georgia Senate votes to block COVID-19 vaccine requirements at schools, government agencies
The Georgia Senate approved a measure Tuesday to prohibit schools and most state and local government agencies from mandating the coronavirus vaccine.
The legislation, Georgia State Senate Bill 1, passed the state Senate 31-21. The bill would not apply to healthcare providers subject to federal requirements that employees must be vaccinated to continue receiving federal payments.
A one-year ban on vaccine requirements was enacted last year, and this bill would make that measure permanent.
"We have lived for a year under the previous version of this law," said Republican state Sen. Greg Dolezal, the bill's main sponsor. "That law is set to sunset this summer so we just removed the sunset and said that we're never going to have a day in Georgia where governments refuse services to its constituents based on whether or not they have received a COVID-19 vaccine."
BIDEN ADMINISTRATION PUSHES BACK ON GOP EFFORT TO END VACCINE REQUIREMENT FOR INTERNATIONAL AIR TRAVELERS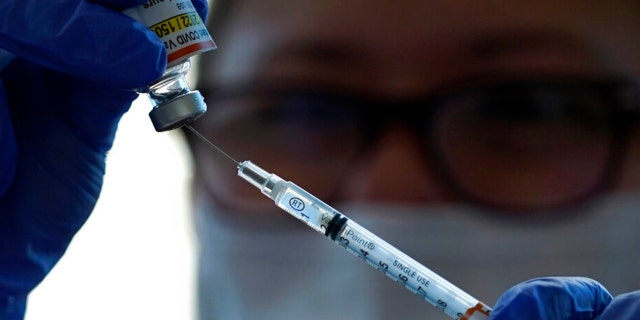 Dolezal said he does not believe the government should "discriminate against citizens" based on their vaccination status.
The current one-year ban passed in 2022 is set to expire on June 30.
"We know that there's been a movement building in America to demonize vaccinations and do it in the name of individual rights," Democrat Sen. Nan Orrock said, adding that lawmakers who voted for the new bill are "fundamentally signing on to the anti-vaccination movement" and tying the government's hands should COVID-19 worsen again.
The bill bans state agencies, local governments, schools and colleges from requiring proof of vaccination.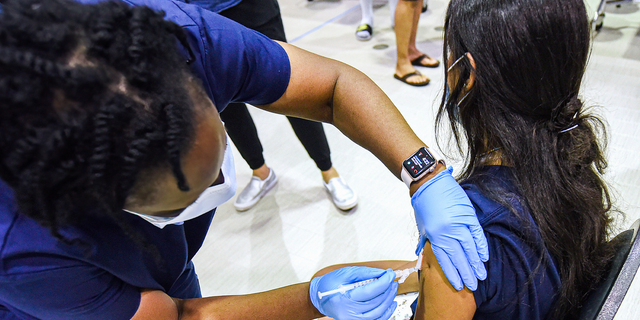 "When we throw bills up on the floor and take votes on them in the General Assembly that result in further undermining the public's faith in vaccines and in public health measures, I think that poses a danger to all of us in the long run," Orrock said. "It is not wise."
Republican Sen. Ben Watson, a medical doctor, said a mandate is not needed since the virus has become less severe.
"The science certainly has evolved, the disease certainly has evolved," Watson said.
COVID-19'S LASTING IMPACT: 'LESS ATTRACTIVE' PEOPLE WEAR MASKS MORE OFTEN THAN OTHERS, STUDY FINDS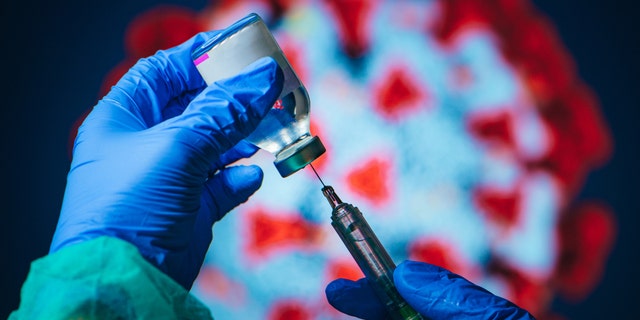 CLICK HERE TO GET THE FOX NEWS APP
Democrats, meanwhile, claim COVID-19 is less lethal thanks to vaccines and other public safety measures, and that there is no guarantee the virus will remain that way.
The bill now heads to the state House for consideration. 
Dolezal has said he plans to introduce a separate bill to make the current five-year ban on school mask mandates permanent.
The Associated Press contributed to this report
Biden's State of the Union touted economic success, but are Americans better off?
President Biden touted his economic accomplishments during his State of the Union address, but Americans across the country shared divided views on how their finances have fared two years into his term.
"If I didn't work in a restaurant, I don't think I'd be able to afford to eat," Romello, a Washington state resident, told Fox News. "I'm dipping into my savings now."
The cost of living is "crazy expensive" and rent is "mind-blowing," he said. 
But Michael, of Nashville, said his financial situation has improved.
"I make more money than I did three years ago," he said. 
AMERICANS SHARE HOW THEIR FINANCIAL SITUATION HAS CHANGED UNDER BIDEN'S PRESIDENCY:
WATCH MORE FOX NEWS DIGITAL ORIGINALS HERE
A recent Fox News poll reported that 61% of registered voters disapproved of Biden's handling of the economy. Additionally, 45% of respondents said economic conditions are "poor" while 35% answered "only fair."
"We're building an economy where no one's left behind," Biden said Tuesday during his State of the Union address. "Jobs are coming back, pride is coming back because of the choices we made in the last several years."
Laura of Bellingham, Washington, doesn't feel she's in a better position than before Biden took office.
"Definitely worse off, but I still sit in a role of privilege," she told Fox News. "So I'm fortunate enough to have weathered the storm without it being fully damaging to my family." 
BIDEN'S IRS PLANS TO CRACK DOWN ON WAITERS' TIPS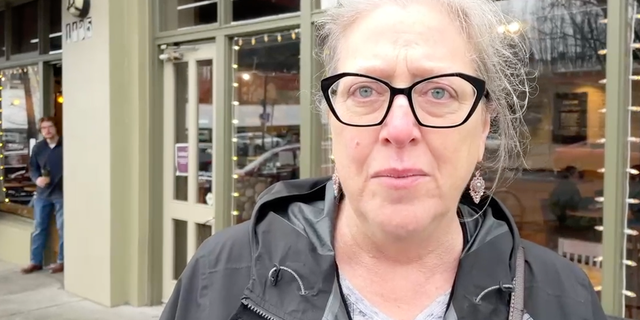 But Rich, a D.C. resident, said: "If you look at it closely, the jobs are way up, inflation is down, corporate earnings are way up, wages are up." 
"So, yes, all in all, I think the economy is doing better, although most people apparently do not think so," he continued.
U.S. employers added 517,000 jobs in January, and the unemployment rate dropped to 3.4% — the lowest since 1969, according to the Department of Labor. But some economists warned that labor participation rates are still below pre-pandemic levels, though others say the report shows promise for sectors hit hard by the pandemic.
FOX NEWS POLL: STATE OF THE UNION IS DYSFUNCTION, DISSATISFACTION AND DISAPPROVAL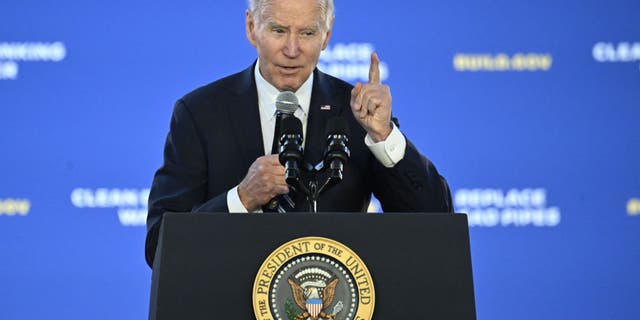 Meanwhile, some Americans told Fox News they're preparing for harder times ahead.
CLICK HERE TO GET THE FOX NEWS APP
"I'm being a little bit smarter and more frugal," Pola, of Austin, said. "Especially for somebody like me in the service industry, you definitely have a little bit tougher of a time making your money."
And a Nashville man said: "Things are more expensive, and I think it's just digging us into a deeper hole."
To watch the full responses, click here. 
Hannah Ray Lambert reported from Bellingham, Washington; Megan Myers from Washington, D.C.; Gabrielle Reyes from Austin; and Teny Sahakian from Nashville.