Amazon enters the age of robots. What does that mean for its workers?
Trapped in a metal cage in a corner of a 350,000 sq ft Amazon warehouse outside Boston last week a lonely yellow robot arm sorted through packages, preparing items to be shipped out to customers who demand ever-faster delivery. Soon it will be joined by others in a development that could mean the end of thousands of jobs and, Amazon argues, the creation of thousands of others.
As the robot worked, a screen displayed its progress. It carefully packed a tub of protein powder, next came a box of napkin rings then … a tube of hemorrhoid cream. As 100 journalists from around the world snapped pictures, someone switched the screen to hide the cream.
One day soon the robot, called Sparrow, could do the work of the hundreds of thousands of people that Amazon now employs to sort the 13m packages it delivers each year. Using computer vision and artificial intelligence Amazon says Sparrow can already identify about 65% of its product inventory, tell if an item is damaged and discard it, and adjust its suction cup "hand" to handle different objects – all jobs currently done by human hands. As it learns, it gets better by the day.
Sparrow, which will probably start rolling out next year, was just one of the new army of robots on display for the first time at Amazon's "Delivering the Future" conference last Thursday. Other innovations included an autonomous green robot called Proteus – a giant Roomba lookalike capable of shifting heavy loads around cavernous warehouses. The company also showed off its latest drone which it hopes will allow the company to deliver 500m packages by air by the end of the decade. Another corner of Amazon's BOS27 warehouse had been kitted out with fake grass, fake house fronts complete with welcome mats, and a giant electric-powered delivery van fitted with tech to inform drivers about the best routes and give "coaching" for better driving. Behind a white picket fence, a drone sat on the lawn, an image of how Amazon believes millions of its customers will one day receive their orders.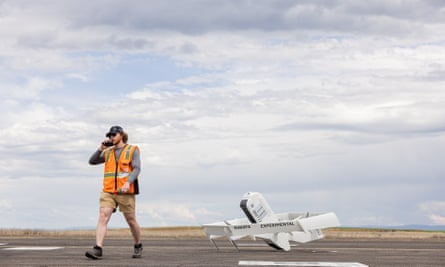 The 2020s will be the "age of applied robotics", said Tye Brady, chief technologist at Amazon Robotics. "Robots will be doing meaningful tasks and extending human capability. I feel like it's taken 50 years to get here. It's exciting!"
In recent years Amazon has become one of the world's largest private employers, with a payroll of more than 1.6 million as of 2021. That growth has not come without pain. Amazon is fighting tooth and nail to stop US warehouse workers angered by low wages and relentless pressure from forming unions and Wall Street has been critical of its perceived over-hiring. Robot packers, robot movers and robot deliveries could be an answer to those issues.
Brady disagrees. People have predicted that robots will destroy the labour market for decades. As far back as 1933 the economist John Maynard Keynes prophesied widespread technological unemployment was coming "due to our discovery of means of economizing the use of labour outrunning the pace at which we can find new uses for labour".
"I just don't see that at all," said Brady. "We made our first serious investment in robotics over 10 years ago and in those 10 years we created more than a million jobs." More robots will boost the efficiency of warehouses meaning they can store more goods, Amazon will sell more stuff and more people will be needed to make sure everything runs smoothly, he said.
"The need for people to solve problems and use common sense will always be there," he said. "We are nowhere near that with robotics. It's not even close. We have millions of years of evolution for the human brain that's powered off 20 watts and a banana, that's incredible."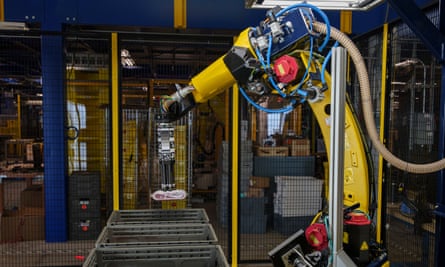 Brady may be right on job numbers. A recent report from the US government's Bureau of Labor Statistics said there was "little support" for the idea that the new era of smart machines would lead to job destruction. Economists even have a term for it – the "lump of labor" fallacy. Innovation may destroy occupations but there is no fixed number of jobs and new ones take their place. Warehouse jobs, for example, replaced retail jobs as online shopping decimated shopping malls.
But all this change isn't necessarily good for workers. In a paper for the University of Berkley's Labor Center, Beth Gutelius and Nik Theodore also concluded that tech innovations at warehouses were unlikely to cost significant job losses. But, they argued, employers "may use technology in ways that decrease the skill requirements of jobs in order to reduce training times and turnover costs. This could create adverse effects on workers, such as wage stagnation and job insecurity."
Such arguments are unlikely to slow Amazon's robot revolution. The company is the largest manufacturer of industrial robots in the world. Its Boston facilities already produce 330,000 robots a year. And all to ensure ever faster delivery of toothpaste – or hemorrhoid cream. And that is what people want, said Brady: "We will react and we will obsess about what the customer wants and if they want their toothpaste faster, we will help them get their toothpaste faster," he said.
Source: https://www.theguardian.com/technology/2022/nov/11/amazon-robots-jobs
'Financial pariah': Adani crisis grows with protests in India over fraud claims
The crisis engulfing beleaguered Indian conglomerate Adani Group is spilling into politics, with hundreds of members of India's opposition parties taking to the streets to demand a probe into fraud claims that are weighing on the broader Indian market.
Adani has lost about US$115bn from its listed entities, representing well over half its value, in a fortnight of heavy selling sparked by allegations by US investor Hindenburg Research that the conglomerate is engaged in a "brazen stock manipulation and accounting fraud scheme".
Adani, a ports-to-power conglomerate that owns the Carmichael coal and rail project in Queensland, has denied the allegations in a detailed 413-page response. It won a rare reprieve from the stock rout on Tuesday after it repaid more than US$1.1bn in loans earlier than expected, easing some concerns over its debt load.
Share prices of several of the group's entities, including its flagship Adani Enterprises, rose in early trading in Mumbai on Tuesday, although overall losses are steep. The conglomerate is also due to report what will be closely watched financial results.
Now in its third week, the Adani crisis threatens to escalate further after both houses of India's parliament adjourned on Monday for a third consecutive sitting day amid demands for the matter to be debated in parliament and a supreme court inquiry into the allegations. The prime minister, Narendra Modi, is seen as close to the conglomerate's chairman, Gautam Adani, and his government has been accused of protecting the Adani Group from scrutiny.
"It is clear that the Modi government is running away," Jairam Ramesh, the general secretary of the opposition Congress party, said.
Opposition members have protested across the country this week, including outside several offices of a state-owned insurer and bank, both of which have exposure to Adani group companies. On Monday, over 200 members of the Congress party were detained for staging protests in Assam.
Mark Humphery-Jenner, an associate professor of finance at the University of New South Wales, said while the decision by Adani to make early loan repayments assuages some concerns, investors remain sceptical of its worth.
"It does seem like the market isn't really believing what Adani is trying to say," Humphery-Jenner said.
"The market doesn't believe that Adani is worth anywhere near what it was, or potentially what it is currently trading at."
Along with the stock selloff, bonds issued by Adani companies are trading at distressed levels amid fear that it might not meet loan obligations.
"Adani is being treated as a financial pariah at the moment," Humphery-Jenner said.
The plunging share prices and recent decision to abandon a share sale raises questions over where Adani will turn to raise capital and whether it will need to sell assets.
Adani has said it has an "impeccable track record" of servicing its debt.
The wealth of the company's billionaire chairman has slid alongside the value of his companies. After sitting alongside Jeff Bezos and Bill Gates among the world's richest just a couple of weeks ago, Adani has dropped out of the top 20, according to the Bloomberg billionaires index.
Fed says more interest rate rises needed to cool inflation
The Federal Reserve chair, Jerome Powell, has said that more interest rates rise will be needed to cool inflation and the red-hot US jobs market.
"We think we are going to need to do further rate increases," Powell said on Tuesday at the Economic Club of Washington. "The labor market is extraordinarily strong."
The Fed chair's comments came hours ahead of Joe Biden's State of Union address to Congress at which he is predicted to tout his administration's economic record, including strong job growth.
The US added 517,000 new jobs in January – far higher than expected and a sign of the continuing strength of the jobs market. The report came two days after the Fed announced another quarter-point increase in its benchmark interest rate, its eighth consecutive rate increase as the central bank fights to tame inflation.
"The disinflationary process, the process of getting inflation down, has begun and it's begun in the goods sector," Powell said in Washington. "But it has a long way to go. These are the very early stages of disinflation."
Reacting to the stronger-than-expected employment report, analysts now expect interest rates to rise above 5% to ease wage pressure in the labor market and begin to cool inflation to the Fed's 2% target. In December inflation stood at 6.5%.
While some have begun to declare victory over inflation, Powell said last week that officials need "substantially more evidence" to be confident that inflation is heading downward.
"The reality is we're going to react to the data," Powell said on Tuesday. "So if we continue to get, for example, strong labor market reports or higher inflation reports, it may well be the case that we have to do more and raise rates more than is priced in."
Crisis at Adani Group intensifies as Indian activists stage protests
The crisis engulfing the Adani Group has intensified as hundreds of members of India's opposition parties took to the streets to press for an investigation into allegations by a US short-seller against India's second-biggest business group which triggered its market rout.
The Adani Group said on Monday that its major investors, known in India as "promoters", had pledged to prepay $1.1bn (£916m) in share-backed loans due for repayment by September 2024. The repayments include shares in Adani's ports business, Adani Green Energy and Adani Transmission.
Shares in Adani Port & Special Economic Zone jumped 9% after the announcement.
Members of the opposition Congress party have been urging the prime minister, Narendra Modi, to order an investigation into the Adani Group companies after a US-based short-selling firm, Hindenburg Research, accused them of various fraudulent practices. The Adani Group has denied any wrongdoing.
In Delhi, Congress party workers threw fake currency notes in the air and chanted slogans. Some burned a suitcase plastered with images of Modi and the Adani Group head, Gautam Adani. Some protesters scaled police barricades and were detained and taken away in police vans.
Opposition party workers in the financial capital, Mumbai, and the southern city of Chennai gathered outside the offices of a state-run bank and the country's largest insurer, which are known to have investments in Adani shares.
So far, there is no sign the fracas is spreading across India's financial sector and the protests are more a reflection of political theater rather than spontaneous public outrage. Lawmakers disrupted parliament for a third day on Monday as calls mounted for India's market regulator to look into Hindenburg's claims.
Adani and his companies have lost tens of billions of dollars as investors dumped their shares. Last week, the group cancelled a $2.5bn share offering, promising to provide refunds to investors.
The billionaire's fortune had grown by more than 2,000% in recent years. Critics say he has benefited from strong relationships with Modi and his government, while others point out he also prospered under previous administrations.
"What action has been taken, if ever, to investigate the serious allegations made over the years against the Adani Group?" Jairam Ramesh, the Congress party's general secretary, said in a statement issued over the weekend. "Is there any hope of a fair and impartial investigation under you?" he said in a reference to Modi.
Shares in Adani Enterprises, the group's flagship, wobbled on Monday and were down 2.1% by mid-afternoon. Its market value has shrunk by more than 50% since the Hindenburg report. Stock in five other Adani listed companies fell by 5% to 10%.
The move to repay share-backed borrowing early addressed one of the key concerns raised by Hindenburg: heavy borrowing using group shares as collateral. Adani said the pledge by major shareholders to repay that debt was "in continuation of promoters' assurance to prepay all share-backed financing".
The wild swings in share prices have highlighted concerns over corporate governance, especially as the country tries to woo foreign investors.
On Saturday, the Securities and Exchange Board of India (SEBI) issued a rare statement seeking to calm investors.
"During the past week, unusual price movement in the stocks of a business conglomerate has been observed," the market regulator said, without naming the Adani Group. It said mechanisms were in place to deal with volatility in specific stocks. The SEBI would examine any information before taking appropriate action, it said.
On Friday, the finance minister Nirmala Sitharaman dismissed concerns that the controversy would alarm global investors, saying India's financial markets were "very well regulated".
Adani built a fortune in trading and in coal mining and then branched into construction, power generation, operation of ports and airports, manufacturing defence equipment and running a media company.
Before the latest troubles, Bloomberg's billionaire index listed Adani as Asia's richest person and the world's third wealthiest. Bloomberg's rankings now put him at 21st wealthiest after his net worth sank to $59bn from $120bn.