Alec Baldwin accuses 'Rust' crew members of negligence in new lawsuit
Alec Baldwin has filed a lawsuit over last year's fatal shooting on the set of "Rust," alleging negligence of several of the film's crew members while seeking to "clear his name."
The lawsuit, filed in Los Angeles Superior Court on Friday, names the Western's first assistant director, armorer, ammunitions supplier and prop master as defendants.
Baldwin's cross-complaint follows a lawsuit filed last year by the film's script supervisor, Mamie Mitchell. The civil suit accused Baldwin of "playing Russian roulette" by pointing a Colt .45 revolver at the film's cinematographer, Halyna Hutchins, accidentally shooting and killing her. Director Joel Souza was also injured in the October 2021 shooting.
"More than anyone else on that set, Baldwin has been wrongfully viewed as the perpetrator of this tragedy," an attorney for Alec Baldwin, Luke Nikas of Quinn Emanuel, said in the complaint. "By these cross-claims, Baldwin seeks to clear his name and hold cross-defendants accountable for their misconduct."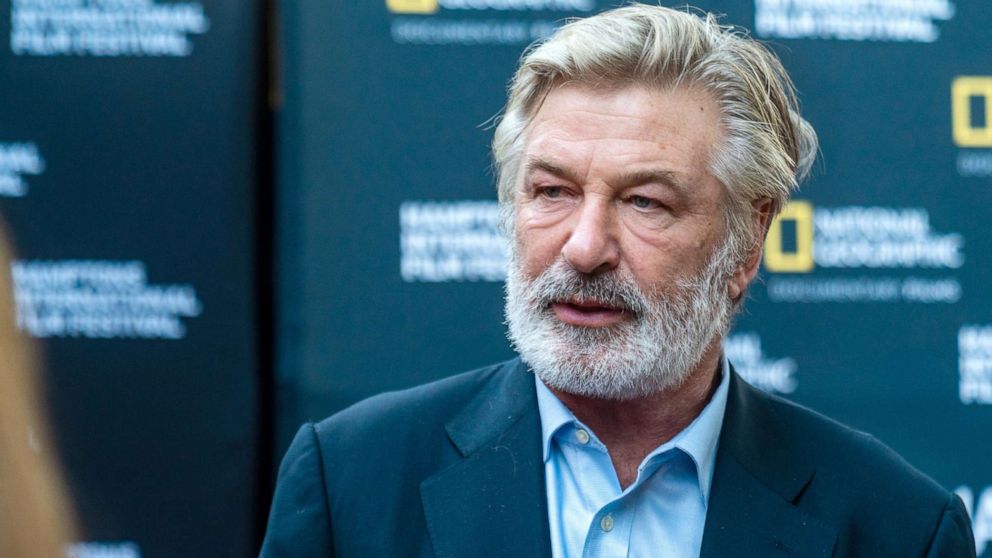 Hutchins was killed by a live round inside the gun, authorities said. Questions have surrounded how live ammunition made it onto the New Mexico set and into the prop gun and whether proper safety precautions were taken by crew members.
Those named in Baldwin's lawsuit have denied any culpability amid an investigation into the shooting and other lawsuits.
Mamie Mitchell's lawyer, Gloria Allred, issued a statement late Friday night responding to Baldwin's lawsuit, saying his "cross complaint is a shameful attempt to shift the blame to others, just as he has done since he fired the fatal shot which killed Ms. Hutchins."
"[Baldwin] claims that everyone else was negligent and that everyone else is at fault," Allred continued. "Mr. Baldwin appears to argue that he is the only one that is truly innocent … It was [Baldwin] that failed to make sure that the gun did not contain live ammunition in violation of industry protocols and common sense. [He] cannot escape [his] responsibility for this terrible tragedy by pointing [the] finger at everyone else.
The film's first assistant director, Dave Halls, had handed the gun to Baldwin while proclaiming "cold gun," to let the crew know a gun with no live rounds was being used, according to a search warrant affidavit. Halls reportedly told investigators that he didn't know there were any live rounds in the gun when he gave it to Baldwin, according to the affidavit.
Baldwin's suit alleges that the film's armorer, Hannah Gutierrez-Reed, "failed to check the bullets or the gun carefully" and had been acting "recklessly," including allegedly taking the film's prop guns to a shooting range for target practice.
An attorney for Gutierrez-Reed has previously said that his client had no idea where the live rounds came from, and that she was not in the church where the rehearsal was taking place.
Earlier this year, Gutierrez-Reed filed a lawsuit accusing Albuquerque prop house PDQ Arm and Prop LLC of providing the set live rounds in a box that was only supposed to contain dummy rounds.
In an interview with ABC News days after the shooting, Seth Kenney, the owner of the prop house, denied that the live round and other live rounds investigators found on the set came from his company.
"It's not a possibility that they came from PDQ or from myself personally," Kenney said. "When we send dummy rounds out, they get individually rattle tested before they get sent out."
Baldwin's suit additionally alleges that the film's prop master, Sarah Zachry, failed to disclose that Gutierrez-Reed "was a safety risk to those around her."
The lawsuit claims Baldwin has "suffered substantial damage" as a result of the defendants' alleged negligence.
"He has suffered physically and emotionally from the grief caused by these events. Not a day goes by that he doesn't think about, and suffer from, the events that happened that day," the complaint states. "Baldwin has also lost numerous job opportunities and associated income. For example, he's been fired from multiple jobs expressly because of the incident on 'Rust' and has been passed over for other opportunities."
He is seeking an unspecified amount of damages, including indemnification against any damages that may arise from Mitchell's lawsuit
After a year-long investigation into the shooting, the Santa Fe County sheriff's office last month turned over its report to the local district attorney, who will decide whether to press criminal charges against anyone involved in the shooting.
Last month, the family of Hutchins reached a settlement in its wrongful death lawsuit against the producers of the film, including Baldwin.
Source: https://abcnews.go.com/Entertainment/alec-baldwin-accuses-rust-crew-members-negligence-lawsuit/story?id=93139863
Book Review: Explosive debut novel 'Fireworks Every Night' is a bittersweet celebration of survival
"Fireworks Every Night" by Beth Raymer (Random House)
C.C.'s isn't your typical rags-to-riches story. She remembers growing up in a single-wide with her older sister, stay-at-home mom and car-salesman dad. But she also remembers when they moved to Florida after everything in the car lot burned down — including their home — launching them into a comfortable middle-class life and a fresh start in a state her dad proudly brags has fireworks every night.
"Fireworks Every Night" is Beth Raymer's debut novel, but not her first book. Following her 2010 memoir "Lay the Favorite," she borrows from her life to create a deeply personal story of a dysfunctional family.
Having grown up in West Palm Beach, Raymer puts her local knowledge to use as her protagonist — a resident of Loxahatchee, Florida — rattles off the schools she plays basketball against, and how worn down or rich they are. She's familiar with the Baker Act and who's been institutionalized through its use. She knows all the neighborhoods and has eaten at Benny's on the Beach.
If the gorgeous cover designed by Elizabeth A. D. Eno isn't enough to draw you in, let the heartbreakingly determined main character and the promise of an earnest look at the skeletons in her closet convince you.
In adulthood, C.C. is engaged to a well-educated and absurdly wealthy man — a far cry from the childhood in which she learns what it means to fight for survival. Hopping between the two timelines in stark juxtaposition, the full picture of C.C.'s life emerges.
As kid-C.C.'s home life comes completely unraveled, the story morphs from tragicomedy to horror, revealing how her family fell apart and left her sister struggling with addiction, her mother chronically absent and her father homeless. All the while, adult-C.C. is juggling a host of modern stresses: the viability of having children, climate change, living in a world that makes it far too easy to compare yourself with the 8 billion others who inhabit it, and reconciling your self-worth with the balance in your bank account.
Raymer launches addiction, homelessness, neglect and poverty shamelessly into the lexicon, treating C.C. and her family with nothing less than respect.
A nature motif runs throughout the story, blurring the line between animal and human and calling into question what is "natural" in a world so unnaturally shaped by people. Animals play a quiet but pivotal role throughout "Fireworks Every Night," shaping Raymer's engrossing novel into a bittersweet celebration of the scrappy Americans who are finding a way to survive even as the elite push humans and animals alike out of their habitats.
Book Review: 'White House by the Sea' tells storied Kennedy tale through family's compound
"White House By the Sea: A Century of the Kennedys at Hyannis Port" by Kate Storey (Scribner)
The history of the Kennedy family is so well-chronicled — from the modern Camelot legend surrounding John F. Kennedy's presidency to the series of tragedies that marked the family throughout the 20tb century — that it's hard to imagine new ways to tell their story.
But Kate Storey does just that in "White House By the Sea: A Century of the Kennedys at Hyannis Port" — revisiting the family's history through their time at the famed Kennedy compound on Cape Cod.
Storey, the senior features editor at Rolling Stone magazine, weaves a fascinating narrative about the Kennedy family using Hyannis Port as the backdrop. The book traces the family's ties to the compound back to the 1920s, when Joseph Kennedy bought Malcolm Cottage, what became known as the Big House.
Many of the stories feel so familiar, from Joseph Kennedy Jr.'s death during World War II to John F. Kennedy Jr.'s fatal plane crash in 1999. The compound was also the setting for much happier occasions, including John F. Kennedy's presidential acceptance speech and the wedding of Arnold Schwarzenegger and Maria Shriver.
Storey gives them a fresh look with new details and well-sourced reporting that opens up a traditionally private community — "what's left of Camelot," she writes.
Storey's research gives the book a more intimate feel than many other histories of the Kennedy family, introducing figures that aren't as well-known but played a key role in the family and its compound. Fittingly, it's written in an accessible way that makes the book a welcome beach read.
Fox News unveils primetime lineup with Jesse Watters in Tucker Carlson's former time slot
Jesse Watters will fill the Fox News Channel time slot left vacant by the firing of Tucker Carlson, part of a dramatic revamp of the network's evening lineup announced on Monday.
Greg Gutfeld's late-night show that combines news and comedy will move up an hour to start at 10 p.m. Eastern, displacing Laura Ingraham. She'll shift to 7 p.m., the hour that Watters has occupied. Sean Hannity will stay in his 9 p.m. time slot, Fox said. The new lineup debuts on July 17.
The announcement comes roughly two months after Fox News fired Carlson shortly after settling a defamation lawsuit with the voting machine maker Dominion Voting Systems on the eve of trial. The case, which centered on the network's airing of false claims following the 2020 presidential election, exposed a trove of private messages sent between Fox hosts, including Hannity and Carlson, in which they criticized peers at the network.
Carlson has since begun doing occasional monologues for Twitter, although Fox is attempting to get him to stop the broadcasts.
Fox has seen its ratings tumble since Carlson exited. Carlson averaged 3.25 million viewers at 8 p.m. in the first three months of the year, and the string of guest hosts who replaced him the past two months usually reached under 2 million, making the network's command more tenuous.
The lineup change signals that Fox is doubling down on its opinionated evening programming strategy, with three sharp-tongued men filling the prime-time hours. It's something of a triumphant return for Watters, who got his start at the 8 p.m. hour, doing man-in-the-street interviews and other features for Bill O'Reilly before O'Reilly's firing in 2017.
It also means double duty for Gutfeld and Watters, who are both panelists on "The Five" and will continue there. The late-afternoon political talk show has become Fox's most popular program.
Keeping that show's chemistry intact appeared to be a priority for Fox. Gutfeld said in a Wall Street Journal interview last week that he would no longer appear on "The Five" or do his late-night show if he were to get Carlson's old time slot.
Trace Gallagher, who has worked at Fox since the network began in 1996, will host a news show at 11 p.m., filling the hour that Gutfeld is leaving vacant.
"The unique perspectives of Laura Ingraham, Jesse Watters, Sean Hannity, and Greg Gutfeld will ensure our viewers have access to unrivaled coverage from our best-in-class team for years to come," Fox News CEO Suzanne Scott said in a statement.