Alec Baldwin accuses 'Rust' crew members of negligence in new lawsuit
Alec Baldwin has filed a lawsuit over last year's fatal shooting on the set of "Rust," alleging negligence of several of the film's crew members while seeking to "clear his name."
The lawsuit, filed in Los Angeles Superior Court on Friday, names the Western's first assistant director, armorer, ammunitions supplier and prop master as defendants.
Baldwin's cross-complaint follows a lawsuit filed last year by the film's script supervisor, Mamie Mitchell. The civil suit accused Baldwin of "playing Russian roulette" by pointing a Colt .45 revolver at the film's cinematographer, Halyna Hutchins, accidentally shooting and killing her. Director Joel Souza was also injured in the October 2021 shooting.
"More than anyone else on that set, Baldwin has been wrongfully viewed as the perpetrator of this tragedy," an attorney for Alec Baldwin, Luke Nikas of Quinn Emanuel, said in the complaint. "By these cross-claims, Baldwin seeks to clear his name and hold cross-defendants accountable for their misconduct."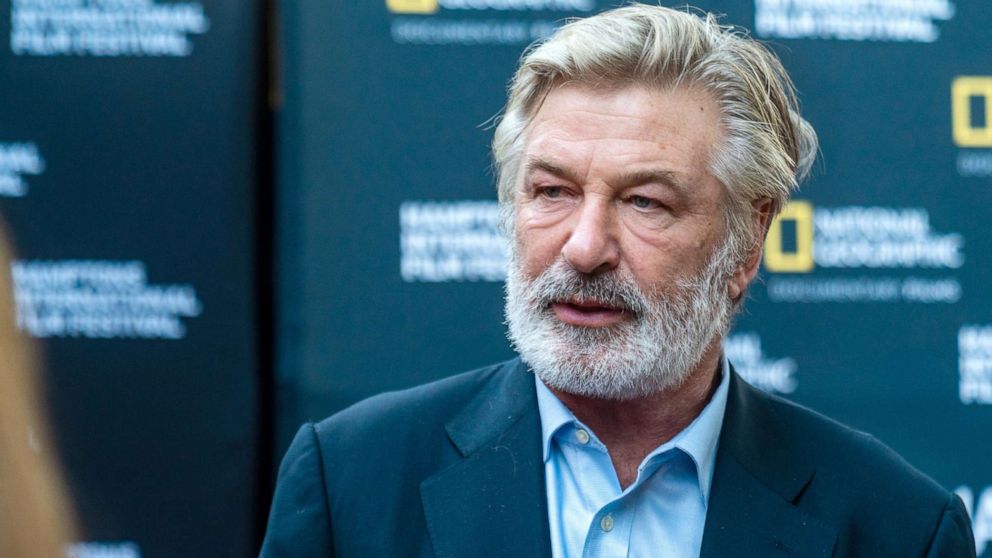 Hutchins was killed by a live round inside the gun, authorities said. Questions have surrounded how live ammunition made it onto the New Mexico set and into the prop gun and whether proper safety precautions were taken by crew members.
Those named in Baldwin's lawsuit have denied any culpability amid an investigation into the shooting and other lawsuits.
Mamie Mitchell's lawyer, Gloria Allred, issued a statement late Friday night responding to Baldwin's lawsuit, saying his "cross complaint is a shameful attempt to shift the blame to others, just as he has done since he fired the fatal shot which killed Ms. Hutchins."
"[Baldwin] claims that everyone else was negligent and that everyone else is at fault," Allred continued. "Mr. Baldwin appears to argue that he is the only one that is truly innocent … It was [Baldwin] that failed to make sure that the gun did not contain live ammunition in violation of industry protocols and common sense. [He] cannot escape [his] responsibility for this terrible tragedy by pointing [the] finger at everyone else.
The film's first assistant director, Dave Halls, had handed the gun to Baldwin while proclaiming "cold gun," to let the crew know a gun with no live rounds was being used, according to a search warrant affidavit. Halls reportedly told investigators that he didn't know there were any live rounds in the gun when he gave it to Baldwin, according to the affidavit.
Baldwin's suit alleges that the film's armorer, Hannah Gutierrez-Reed, "failed to check the bullets or the gun carefully" and had been acting "recklessly," including allegedly taking the film's prop guns to a shooting range for target practice.
An attorney for Gutierrez-Reed has previously said that his client had no idea where the live rounds came from, and that she was not in the church where the rehearsal was taking place.
Earlier this year, Gutierrez-Reed filed a lawsuit accusing Albuquerque prop house PDQ Arm and Prop LLC of providing the set live rounds in a box that was only supposed to contain dummy rounds.
In an interview with ABC News days after the shooting, Seth Kenney, the owner of the prop house, denied that the live round and other live rounds investigators found on the set came from his company.
"It's not a possibility that they came from PDQ or from myself personally," Kenney said. "When we send dummy rounds out, they get individually rattle tested before they get sent out."
Baldwin's suit additionally alleges that the film's prop master, Sarah Zachry, failed to disclose that Gutierrez-Reed "was a safety risk to those around her."
The lawsuit claims Baldwin has "suffered substantial damage" as a result of the defendants' alleged negligence.
"He has suffered physically and emotionally from the grief caused by these events. Not a day goes by that he doesn't think about, and suffer from, the events that happened that day," the complaint states. "Baldwin has also lost numerous job opportunities and associated income. For example, he's been fired from multiple jobs expressly because of the incident on 'Rust' and has been passed over for other opportunities."
He is seeking an unspecified amount of damages, including indemnification against any damages that may arise from Mitchell's lawsuit
After a year-long investigation into the shooting, the Santa Fe County sheriff's office last month turned over its report to the local district attorney, who will decide whether to press criminal charges against anyone involved in the shooting.
Last month, the family of Hutchins reached a settlement in its wrongful death lawsuit against the producers of the film, including Baldwin.
Source: https://abcnews.go.com/Entertainment/alec-baldwin-accuses-rust-crew-members-negligence-lawsuit/story?id=93139863
Vatican Swiss Guard slayings back in spotlight with new book
ROME — The mother of a Swiss Guard member accused of committing one of the most sensational crimes in recent Vatican history – fatally shooting his commander and the senior officer's wife before killing himself — is turning to the United Nations and Pope Francis in hopes of getting some closure nearly a quarter-century after the slayings.
Muguette Baudat was on hand Tuesday as her lawyer, Laura Sgro, a veteran defense attorney in Vatican criminal trials, detailed her efforts to pry information out of the Vatican and access the court file into the May 4, 1998 slayings that are recounted in Sgro's new book, "Blood in the Vatican."
"I've been waiting for more than 24 years, so I don't expect anything," Baudat said at a book launch event. But she added: "The book is very important."
Within hours of the slayings, the Vatican spokesman announced that Baudat's 23-year-old son, Cedric Tornay, a noncommissioned Swiss Guard officer, had killed Col. Alois Estermann and Estermann's Venezuelan-born wife, Gladys Meza Romero, with his service revolver and then turned the gun on himself. The spokesman said a buildup of resentment over a reprimand by Estermann and the denial of a decoration, combined with a ″peculiar″ psychology, led to Tornay's violent acts.
Nine months later, in February 1999, the Vatican released a 10-page summary of its internal investigation that confirmed its initial assessment. It concluded that Tornay was solely responsible for the murder-suicide but added that his marijuana use and a brain cyst the size of a pigeon's egg could have impaired his reasoning.
Baudat spent two decades campaigning for more information and hired Sgro in 2019, asking for the Vatican investigation to be reopened. She said her request was not spurred by a belief that the Vatican was responsible, but rather to end the secrecy with which it has always handled the case.
Last year, the Vatican secretary of state intervened personally in the case and asked the Vatican tribunal to pay "particular attention" to Baudat's request. Sgro was granted access to the court file.
In the book, Sgro details what she found in the file, as well as the conditions imposed on her by the Vatican prosecutor for viewing it: She wasn't allowed to make copies but could only view the documentation in the tribunal, with two gendarmes standing behind her back monitoring her at all times. She was allowed to take some notes but not too many since she was explicitly barred from copying the text. She had to submit her notes to the prosecutors' office after each viewing session, which took place over the course of a year.
And what she discovered in reading the court file, she said Tuesday, "confirmed all the doubts that the mother had about an investigation conducted in an absolutely superficial way."
Sgro noted that at least 20 people were allowed access to the crime scene in the moments after the slayings, including chaplains, monsignors and the Vatican spokesman, none of whom wore protective gear. No fingerprints or blood samples were taken, and no DNA tests performed.
A handwriting analysis of a letter, purportedly from Tornay to his mother and foreshadowing the killings, was done on a photocopy, not the original document. The corpses were moved around the Estermann apartment, as was furniture, according to 38 photographs taken by a Vatican newspaper photographer that were in the court file. Autopsies were performed not in a hospital morgue but in the crypt of a chapel inside the Vatican walls.
"After one hour, Cedric was given up as the guilty one and the investigation was built around this, and this is absolutely the most alarming thing," Sgro said.
The lawyer alleged that the conditions in which she was forced to work to view the file, as well as the mother's long fight to find information about her son, constituted human rights violations that should be taken up by the U.N. Human Rights Council in Geneva.
There was no indication Tuesday whether the U.N. might take up her case, since such complaints must show a consistent pattern of "gross violations" of human rights, such as the policy of apartheid in South Africa.
Sgro said she had little other recourse since the Holy See is not a signatory to the European Convention on Human Rights, and therefore not a party to the European Court of Human Rights in Strasbourg, where such appeals would normally be heard. The Holy See enjoys observer status at the U.N. and has received criticism from U.N. human rights experts over the clergy sexual abuse scandal.
Sgro said she sent a copy of "Blood in the Vatican" to Pope Francis and he responded with a personal letter. His response, she said, gave her hope that the Vatican might be ready to acknowledge that its original investigation was flawed and that Tornay's legacy might somehow be rehabilitated even if he is confirmed as the killer.
"It's a small drop after 24 years of silence," Sgro said. "Let us hope this drop becomes a glass of water, then a lake."
Clarence Gilyard, 'Die Hard' and 'Matlock' actor, dies at 66
Clarence Gilyard Jr., a popular supporting actor whose credits include the blockbuster films "Die Hard" and "Top Gun" and the hit television series "Matlock" and "Walker, Texas Ranger," has died at age 66
NEW YORK — Clarence Gilyard Jr., a popular supporting actor whose credits include the blockbuster films "Die Hard" and "Top Gun" and the hit television series "Matlock" and "Walker, Texas Ranger," has died at age 66.
His death was announced this week by the University of Nevada, Las Vegas, where he taught stage and screen acting. Additional details were not immediately available Tuesday.
"Professor Gilyard was a beacon of light and strength for everyone around him at UNLV," the school's film chair, Heather Addison, said in a statement. "Whenever we asked him how he was, he would cheerfully declare that he was 'Blessed!' But we are truly the ones who were blessed to be his colleagues and students for so many years."
Gilyard was a Moses Lake, Washington, native. He had a prolific career as an actor, starting in the 1980s with appearances in "Diff'rent Strokes," "The Facts of Life" and other shows. He then appeared in two of the biggest movies of the decade: "Top Gun," in which he played Sundown, a radar intercept officer, and "Die Hard," when he was featured as a villainous computer maven whose one liners included "You didn't bring me along for my charming personality."
In the 1990s, he was on the side of law enforcement in "Matlock," playing opposite Andy Griffith, and "Walker, Texas Ranger," which starred Chuck Norris. His other credits include "The Karate Kid: Part II," a stage production of "Driving Miss Daisy" and an appearance alongside "Die Hard" star Bruce Willis in a commercial for DieHard batteries.
Review: Slice into the holiday spirit with 'Violent Night'
The holiday season is upon us and how better to celebrate than watching Santa slip several pool balls into a Christmas stocking, swing them in the air menacingly and see him cave in someone's face?
Such is "Violent Night," a film that clearly no one wanted but somehow nicely acts as a chaser to all the sticky sentimentality this time of year. It is billed as an "alt-Christmas action-comedy" and it may be a litmus test of who is your real tribe: If you think watching Santa try to strangle a guy with Christmas lights is funny, this is the film for you.
Directed by Tommy Wirkola, "Violent Night" has taken the season's naughty or nice dichotomy deeply to heart, offering pounds of gore and wounds that spurt mini-fountains of blood along with tooth-aching sweetness about believing in Santa and the true meaning of Christmas.
It's easy to initially dismiss it as an "SNL" digital short that got high on its own tinsel but there is a sort of perverse glee to seeing Santa suck on the tip of a candy cane until it is a sharp shard and then plunge it into a bad guy's neck. Isn't it time for Kris Kringle as a sociopath?
Few people can balance all these demands as Santa except David Harbour, who specializing in gruff-on-the-outside, sweet-on-the-inside teddy bears. This time, his beard soaked in blood, he must save an ultra-rich family from a murderous group of home invaders with automatic weapons and military training.
On his side: "Christmas magic," which he reveals multiple times he does not understand and which allows the screenwriters — Pat Casey and Josh Miller — a yuletide-sized logical loophole. They've even given Santa an origin story as a centuries-old Viking raider with a fondness for crushing skulls with a hammer. He'd be on the naughty list, naturally.
We initially meet Santa in the present day at an English pub. It's Christmas Eve and he's hammered. There are other men dressed as Santas this night, but they're just pretenders, like "Bad Santa." He's the real thing.
Tonight, Santa is worn-out and fed-up. The children these days just demand more and more presents — just grubby consumers. He even calls them junkies. "I forgot why I started doing it in the first place," he says. "Maybe this is my last year."
During his rounds, he happens to linger too long at the Lightstone family compound in Connecticut. A ruthless gang has just stormed inside hoping to relieve the family of $300 million and trapping Santa with just his magic bag of presents and a pent-up desire to hurt people.
John Leguizamo, so often the comedy relief in films, here is as heavy as it gets, an anti-Christmas madman who tortures with a nutcracker and gets some of the best over-the-top lines like "Christmas dies tonight" and "Time to kill Santa." The film soon moves into "Die Hard" territory as terrorists play cat-and-mouse with a good guy inside the building.
Santa connects with one of the hostages — a little girl (Leah Brady, sparkling like an ornament) — who still believes in Santa. "You are more than the presents you bring," she tells him. And so he proves that Christmas is indeed alive by systematically murdering every single bad guy and girl with a sledgehammer, aided by his new friend's "Home Alone" boobytrapping skills and all to a soundtrack of Christmas songs by Burl Ives, Bryan Adams and Slade.
This is not a Norman Rockwell vision of Santa, of course. He has a torso full of tattoos and sutures his own wounds with Christmas tree ornament hooks. He vomits, impales baddies in spiky Christmas decorations and uses the sharp parts of a pair of ice skates with surgical precision. Few films have earned their R rating better. All that's missing is you as long as you think it's time to add a little blood to Christmas?
"Violent Night," a Universal Pictures release that opens nationwide in theaters Friday, is rated R for "strong bloody violence, language throughout and some sexual references." Running time: 112 minutes. Two and a half stars out of four.
———
MPAA definition of R: Restricted. Under 17 requires accompanying parent or adult guardian.
———
Online: https://www.violentnightmovie.com
———
Mark Kennedy is at http://twitter.com/KennedyTwits